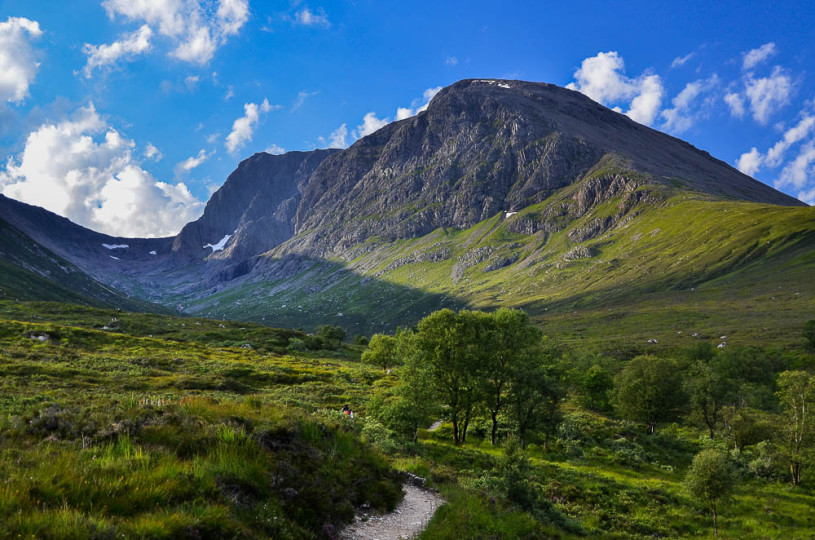 Hill runners all love a challenge. Not content with doing a Munro, or even two which are side by side, they have such as the Island Peaks Race where they sail from Oban and climb three mountains sailing by boat between them and finish in Ayrshire; or they do the three highest peaks in each of the three countries on the British mainland driving between them by fast car. But the biggest challenges are those which rely on the runner tackling the environment. There are three big 'rounds' that are regarded as classics.
In England there is the Bob Graham Round: "a fell running challenge in the English Lake District. It is named after Bob Graham (1889–1966), a Keswick guest-house owner, who in June 1932 broke the Lakeland Fell record by traversing 42 fells within a 24-hour period. Traversing the 42 fells, starting and finishing at Keswick Moot Hall, involves 66 miles (106 km) with 26,900 feet (8,200 m) of ascent."
In Wales there is the Paddy Buckley Round: "a long distance fell running challenge in Snowdonia. The route is a circuit of just over 100 km long taking in some 47 summits. The Round has the reputation of being somewhat tougher to complete than its English equivalent, the Bob Graham Round. Although no official time limit is set, an arbitrary 24 hours is applied, although the first completer exceeded the original aim of 24 hours.
And in Scotland we have the Charlie Ramsay Round: a long distance hill running challenge near Fort William. The route is a circuit of 58 miles, taking in 24 summits with a total climb of around 28,500 feet. Ben Nevis, Great Britain 's highest peak, is included in the route along with 22 other Munros. This article is from the Fellrunner magazine of Winter 1987 by Martin Stone. An Excellent article, it even includes a map of the route and split times. [As a bonus, there is a note of the new Bob Graham Club members]