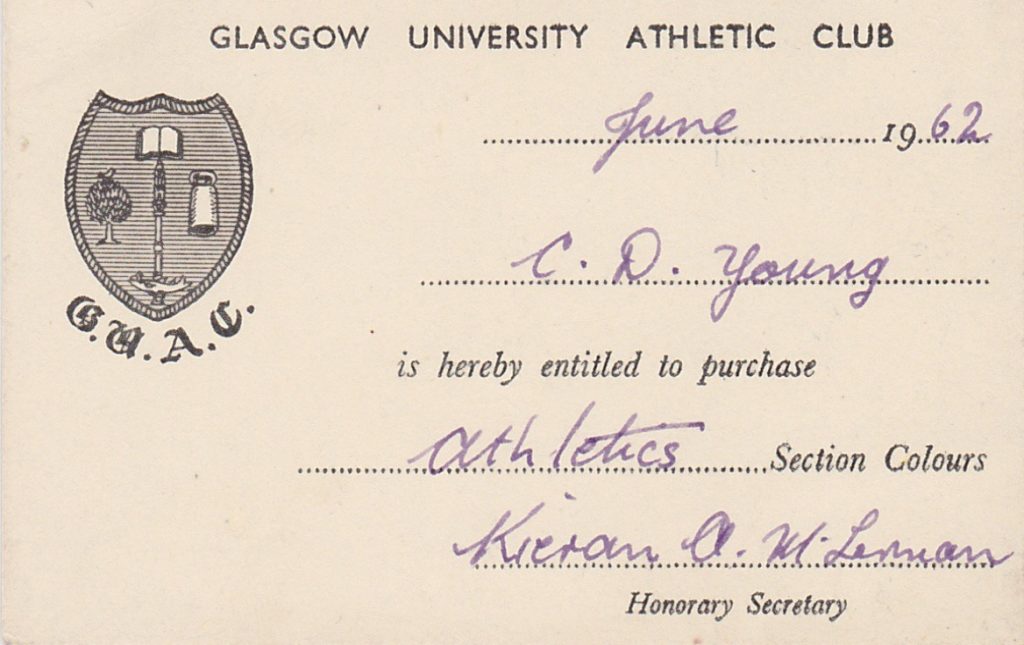 Colin Young, talking about his time at Glasgow Universitry and the award of Colours, has this to say:
When I was at Glasgow between 1958 and 1962. I was awarded my colours for athletics so was entitled to buy the dark green tie with a laurel wreath logo – which I wore regularly. A card was issued by GUAC which you took to the authorised supplier – either Rowans or Forsyth's – and made the appropriate purchase. Club ties were common in those days and Rowans in particular had a whole window round the side of the building filled with an array of smart and sober neckwear.
Colours were given to those of us who turned out regularly for the team but didn't meet the standard for a blue by – for example – winning the Inter-Varsities. The colours gave encouragement to those who filled the lower places in the inter university meetings and were an acknowledgement of the teamwork required to win contests. As a 120 yard hurdler I had little chance of beating the first-string athletes – Bobby Mills, Frank Crawley, or Gordon Brown. However, in those days points were awarded as 5, 3, and 1, for first second and third so the second-string runner had a very important role in the overall competition. First and second together counted for 8 points and first and third gave a useful 6 points. Our team captain in my first year – John Asher- was always most encouraging to those of us filing the second and third places and in a memorable phrase he once voted myself and one of the other athletes those who had " got the finger furthest out" that day, for unexpectedly filing second and third places to help win a match!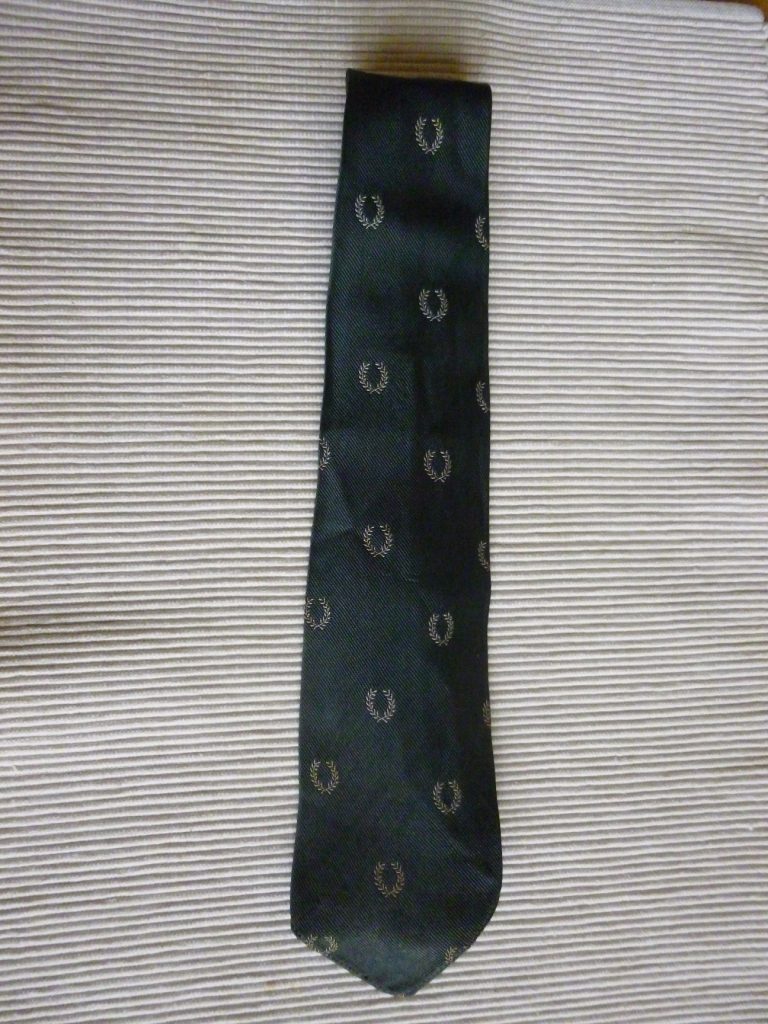 The GU Colours tie.
The Edinburgh Uuniversity website tells us that Colours were awarded for services to and dedication to University Sport and to University Sports Clubs. It adds: Colours reward those individuals have given time and effort above and beyond the call of duty to their chosen sport or Club. University Sport could not operate without these volunteers organising and co-ordinating Clubs and the Colours award recognises this endeavour.
Successful nominees for Sports Union Colours tend to show good club commitment, including an exceptional playing or appearance record, have a history of service to the Club through serving on Club Committees or in other positions, or have a good history of coaching and encouraging new members. Successful candidates tend to go beyond the duties of their Committee positions. Nominees will be a playing member of the Sports Union (though not necessarily to a high standard) and will be available to represent the University in the first instance (i.e. they prioritised the University Club over other commitments).
The university lists 65 'sports' eligible for the award of Colours including Archery, Association Football, Women's Assn Football, .and end with Wakeboard & Waterski, Weightlifting and Windsurfing and surfing.
Colin Young was a student at Edinburgh University and won his Colours there giving him an interesting 'double colours' – Glasgow and Edinburgh Universities. He says of this spell:
"Athletes who participated regularly for Edinburgh but whose performances didn't justify the award of a Blue were awarded a "Green". Somewhat confusingly this was sometimes called a Half Blue – presumably because the recipient could move up to a Full Blue if his or her performance in subsequent seasons justified it. Some universities awarded half blues to sports which did not merit the status of a full blue – as described elsewhere by Sandy Sutherland – but I don't know if this was the case at Edinburgh.
The "Greens" tie was a simple bottle green one with a silver stripe -which doesn't really convey much except to those few who know what it means. However there was also a very smart bottle green blazer which could be purchased – complete with the university badge. I guess this had the advantage over the blues blazer that it could be worn as casual wear after leaving university without being as noticeable as the blues blazer. An authorisations card from EUAC was needed to allow purchase of Green Colours from R.W. Forsyth."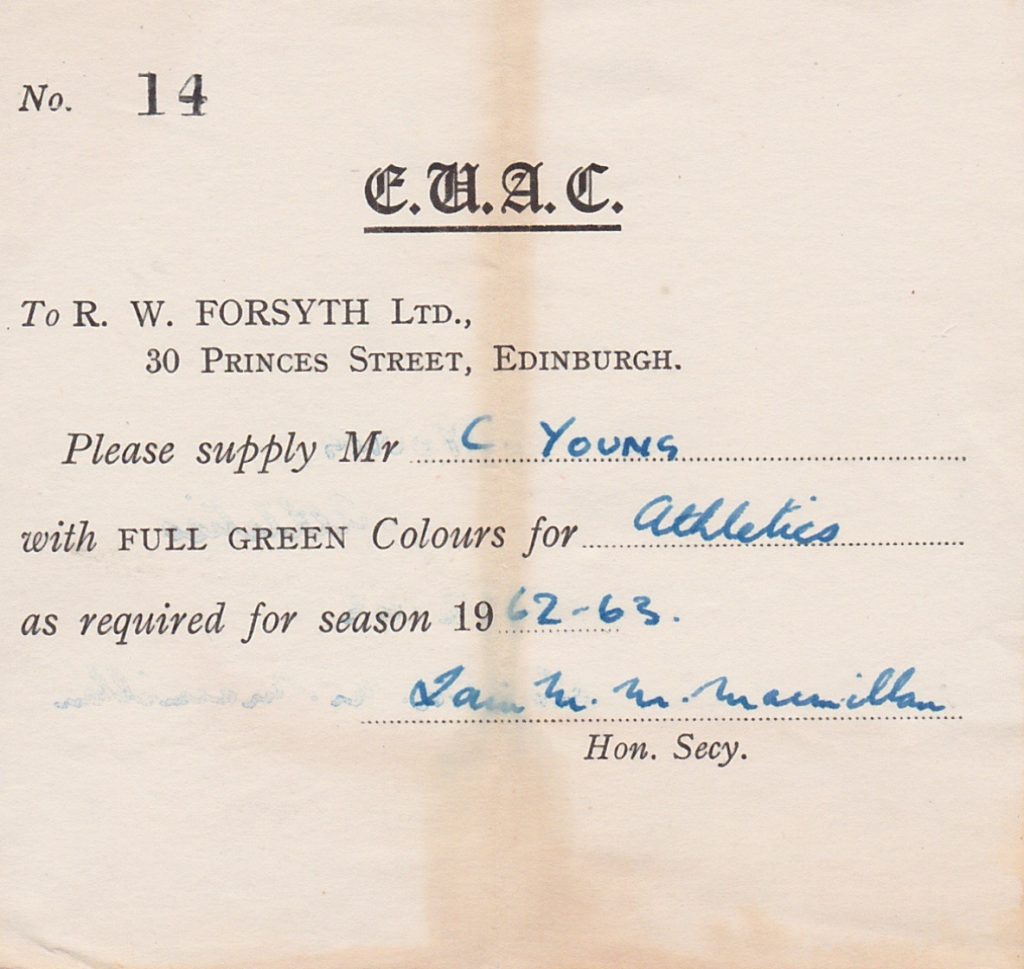 Aberdeen University in 2020: Colours Awards. The AUSA Sport Colours Awards are for individuals who have made an outstanding contribution to their club or to sport at Aberdeen. The award takes into account not only sporting performance and achievement but also positions of responsibility, fundraising and developing new players among others. They are awarded at two levels, Colours and Colours with Distinction and are presented each year at the Sports Union AGM.
Colin Youngson thinks that (back in the late 1960s and early 70s) Aberdeen University Club Colours were awarded to athletes who were not yet good enough to be nominated for Half-Blues or indeed Blues. They might be promising first-team newcomers, valuable regular members of the first team, or hard triers who were popular because they made the absolute best of limited talent. He recalls receiving Club Colours (a small tracksuit badge with the university crest) in his first year with Aberdeen University Hare and Hounds (as well as a Half-Blue); but does not remember gaining Club Colours for the Athletics Club, despite going on to obtain Half and Full Blues on the track.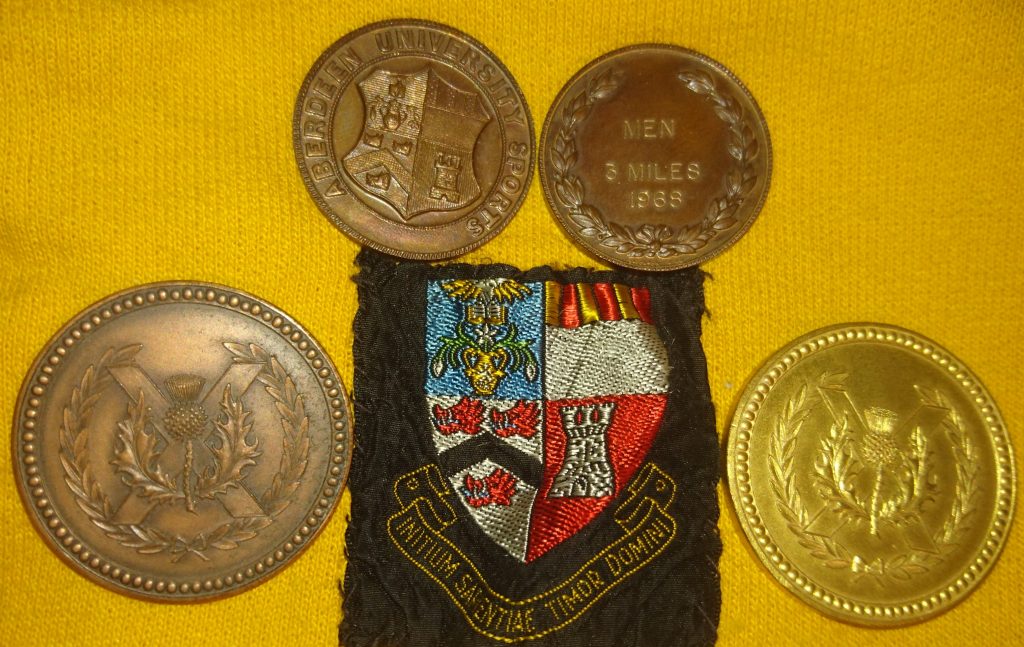 The Aberdeen University practice was to award those attaining colours to wear a patch, illustrated bottom centre above, on their tracksuit. Also shown above are some of the medals that the University awarded for championships. We also have examples of medals presented by both Glasgow and Edinburgh. These are shown below. Edinburgh first, front on top, then reverse: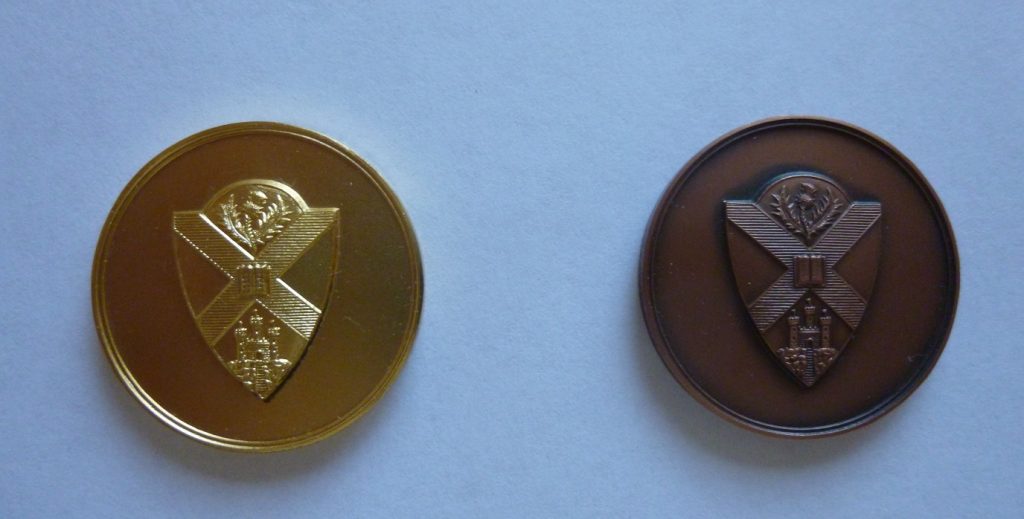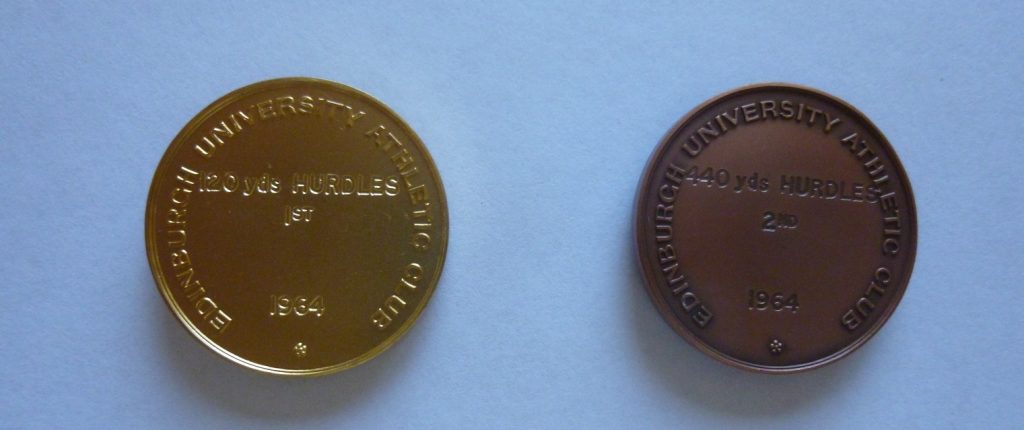 Then Glasgow :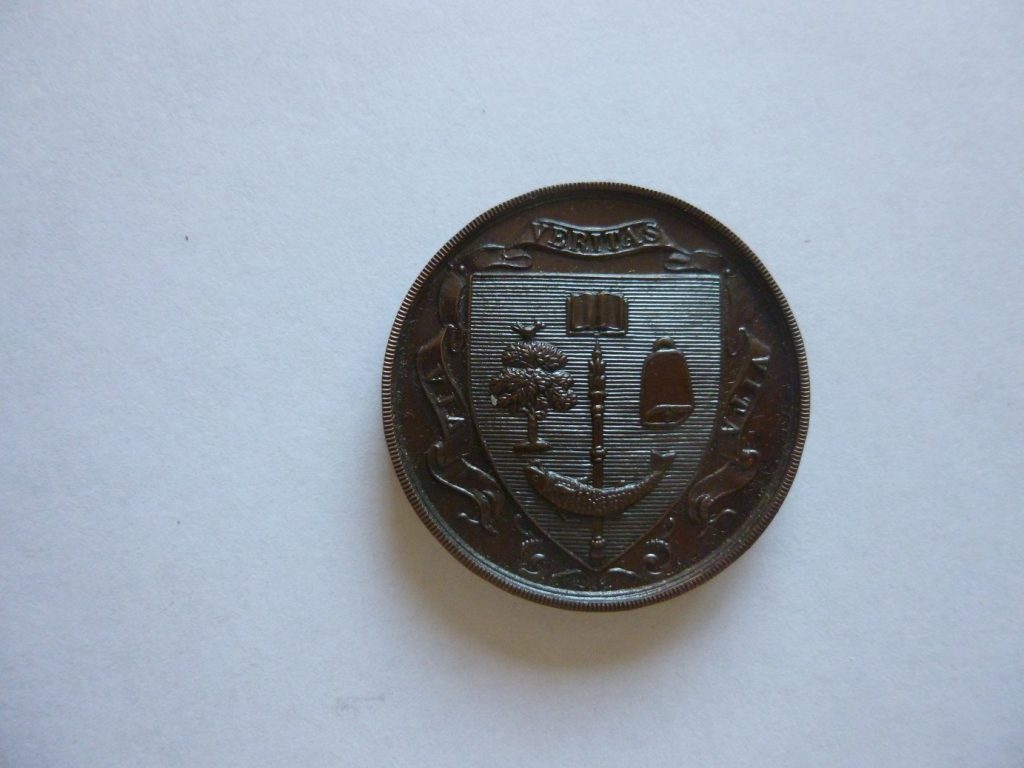 St Andrews: Colours are awarded to students who have demonstrated extreme sporting excellence not at the standard of a Half-Blue, have enhanced student experience or have enhanced club engagement. The range of sports involved is as noted in the article on Blues
University of the Highlands and Islands: Colours: To receive a Colour, athletes, where applicable, need to serve and play for their club and to be regular first team members, representing the team in at least 65% of the eligible matches, recording at least one victory.