DON RITCHIE: THE HILL-RUNNING EXPERIENCE
Donald Alexander Ferguson Ritchie M.B.E. (1944-2018) became renowned as Don Ritchie, who was reckoned by a leading expert to be the greatest Ultra-Distance runner of the 20th Century. Before he realised that road and track racing between 50km and 24 hours would be his best events, Donald took part in many Scottish hill races plus one in England and another in Switzerland. From his excellent autobiography "The Stubborn Scotsman", here are a few extracts.
In 1964, he took part in two hill races: at the Glenurquhart Highland Games (near Drumnadrochit); and Knockfarrel (near Strathpeffer).
1965 featured Donald's first attempt at the classic Ben Nevis Race: I completed the course in 2-10-21, starting and finishing in King George V Park in Fort William. My diary entry for the race included: We lined up at the start after being checked. There was a false start, but we got underway on the second attempt. It was a fast start, and I kept up with Peter Duffy until the car park. After we started on the mountain path, I lost a lot of places since I was extremely tired and soon had to walk. My back ached from stooping. I kept to the path all the way to the top where it was misty. There we were given a marker on a string, which you put round your neck. I made up quite a few places on the way down, although I had to take care not to lose control, as this could be very dangerous. As I was nearing the bottom the man in front of me fell, so I stopped and asked if he was okay. He said that he was so I continued; my legs felt queer when I started to run on the road again. I was soon back, in the field where we had started, glad to be finished. We were given lemon squash and a seat in the first aid tent. We got showered in the British Aluminum Hostel, and then high tea at K.K. Cameron's. I enjoyed my day.
In 1966 he ran two hill races in successive weeks: At the Glenurquhart Highland Games at Drumnadrochit on 27th August I ran in the half-mile handicap and in the one-mile handicap, finishing 7th and 3rd respectively. I then ran in the hill race and recorded my diary: In the hill race I ran easily with the leaders and was 3rd at the top and still in contact. I took the lead, from Mike Davis of Reading and Ian Grant on the descent and led onto the path but, by the road, Ian had taken the lead. I passed him and kept ahead back to the Games field, where I piled on the pace on the track so that I could not be caught. There were 19 in this race so I was pleased with my victory.
After the Ben Nevis race the following Saturday, I wrote in my diary: went off quite hard from the start to get up with Mike Davis, who I had decided to follow. As we ascended the path, I was surprised that I found it relatively easy, compared to last year. I was able to run well and got past some runners. At the 'Red Burn', where there is a choice of route, I chose the path in preference to the scree, which Davis and a few others chose. I was still going surprisingly well and at the top I was 9th. I stopped to put my shoe on properly as my heel had come out. On the way down I was passed by about five runners, while I only passed one. I fell once but managed to continue and passed another fellow only to be re-passed further down. When I got back to the road my legs felt very queer and I was tired. I closed on the chap ahead but did not catch up. I finished thirteenth in 1-54-34: an improvement of 36 places and 15-47 over last year. Peter Duffy was 2nd at the top and finished eighth in 1-51-01, his best ever. If I try this race again, I require to get stronger, to be able to run up faster and also practise running downhill. I think that I will stick to the path going up. After my shower I had my cuts cleaned by a Red Cross lady. The coffee made with milk was very good.
Allan MacRae of Lochaber AC won in 1-43-49, from Bobby Shields of Clydesdale Harriers (1-45-49) and there were 117 finishers. Next day I was a little stiff, but not nearly as bad as the previous year, but my arms were very painful and so were my shoulders and ribs.
1967 included a third Ben Nevis race, after a second win at Glenurquhart: One Sunday in August I went for a training run up and down Ben Nevis while my Grandfather timed me and found that my time from the car park to the top and back was 2 hours. I was very tired indeed and stopped three times for drinks from streams. On the way down I became dizzy and had to stop and rest for some seconds. I tried a different descent and was quite pleased about it.
At the Glenurquhart Highland Games at Drumnadrochit I ran in the hill-race and finished first in 20-44, beating Mike Davis from Reading. I took an early lead and flogged myself up the hill and reached the top first. There I was delayed as a woman from the Civil Defence insisted on signing her name on my race number. She presumably delayed the others by a similar length of time. I managed to stay in front on the downhill section and, reaching the road, pushed on and finished about 100yds ahead of Davis, feeling ill from my effort.
On the 2nd of September I was back at 'The Ben' race and finished 11th; my diary entry was: I felt easy for a start and ran with the leaders, but as we reached the hill I began to slow slightly and then ran with Peter Duffy for a while and felt quite good. Shortly before half way up we were enveloped in mist and it became bitterly cold as wind and a mixture of sleet and rain blasted us. By the time I was reaching the top, my hands and feet were numb. As I turned at the top I began to shiver as I faced the blast and could not stop shivering and could not run fast. My head began to feel light and I had difficulty staying upright. I strayed off the path on the way down and as a result lost some time. I began to feel warmer as I got lower, but I fell once. Eddie Campbell passed me going at a great pace, giving me a shock. I reached the road and managed to pass one runner and reduce Eddie's lead from half a mile to 22 seconds at the end. I was disappointed at missing 10th place, which is the last of the medals. My time was 4-27 slower than last year due to the bad conditions. I was, however, only 2-22 behind Peter Duffy who finished in 8th place, the same place as he occupied last year. Mike Scott finished 30th, My club-mate, Brian Craig, after reaching the top, collapsed on the way down and was taken down on a stretcher suffering from exposure. He was taken to the Belford Hospital where he was given a warm bath to bring back the heat to his body. I had given Brian a lift through from Keith, so I was responsible for getting him back. He was released from Hospital at about 9pm so we reached his home in Keith at about 12-30 and I reached home at 2am.
Bobby Shields had won the race in 1-41-11 from Mike Davies who finished in 1-45-07. There were 131 finishers in this classic race that year.
In 1969 Donald won three hill races: On the morning of the 5th of July, I drove to Caol near Fort William, where I picked up my Grandfather and continued to Kinlochleven to compete in the Mamore Hill Race, which is 17 miles in length and is part of the Kinlochleven Highland games. My diary entry was: At the start I had thoughts of wanting to win this race and ran with the leaders, Ian Leggett and Peter Duffy, for the first three miles up and over the tough ridge. Shortly after this Leggett pushed on, Peter and I resisted going with him, and we were soon joined by Ian Donald and Bobby Shields, both of Clydesdale, who ran with us for a while. Ian set out in pursuit of Leggett and caught him while Shields went away on the rough section round the side of the Mamore. When I reached the top of the route with Peter, the leading trio were out of sight and by the time we had made our way gingerly down we were passed by another runner, so there were now three of us fighting for fourth place. On reaching the road my legs felt useless and I was unable to go with the runner who had caught us on the descent when he increased pace. Peter and I just ambled along as best we could but, after about a mile, I began to feel my legs were recovering, so I was able to run faster. I left Peter and about two miles later caught the Dumbarton runner who had been with us as we started the road back and also caught Shields. I was now 3rd and could see that I was catching Ian Donald. I caught and passed him and shortly after saw Leggett about 600yds ahead, but I did not think that I had a chance of catching him. However, I realized that I was gaining on him and I felt a cold shiver pass through me when I knew that I could catch him. I caught him sooner than expected because, as I rounded a corner, he was walking only 50yds ahead. In the lead I ran harder, determined not to be beaten now and began to feel quite strong over the last section through the town and into the Games field to enjoy my moment of success. Peter finished 4th. My nipples were bleeding because of my sodden vest rubbing on them causing two great blood-stained patches on my vest. The weather was bad with a howling gale and very heavy showers of rain.
At the end of August: I got my work finished by 12:00 again and after lunch, drove to Glenurquhart and had just enough time for a toilet visit and warm-up before the hill race at 4:00pm. I had quite a tussle with Alan McRae and Mike Davis. Mike passed me on the descent, but I caught him on the road and after a brief pause at his shoulder I pushed on and beat him by 90yds in 21-29. Alan McRae, the winner of the Ben Nevis Race in 1966 was third. Alan told me that his training was 20 miles a day and an example was 8 miles in the morning in boots on a soft surface and 12 miles of fartlek on roads at night.
On Saturday the 13th of September I again finished my dairy work by midday and drove to Strathpeffer for the Knockfarrel hill race. Thirteen runners and Tom Mackenzie of Inverness Harriers, who was also an official of the North of Scotland AAA, had assembled there, but the organizers, Ross-shire roads, appeared to have forgotten about the race. We decided to have a race anyway and Peter Duffy led along the old railway line until bushes blocked our way. We found an opening leading up to the fields and Peter got out first and was 30yds away by the time I got through and could start running again. On the ridge I lost control and tumbled, which shook and winded me, so Peter pulled further ahead. A quick descent and two better than usual gate clearances brought me to within 10yds of Peter by the farm. I then ran hard to catch him and on doing so ran past trying to look powerful although I was feeling tired and doubted if I could hold the lead to the finish. I managed to hang on to finish in 39-33, which was 15s inside my previous best for this course. Peter was fifteen seconds behind and Joe Clare was third in 42-27. Tom Mackenzie happened to have three plaques in his car, so he presented these to the first three.
In mid-April 1970, Donald finished second (2.25.44) in the Shettleston Marathon. The day after, as I had been staying overnight with Peter and Rita Duffy, I went with Peter to the Chevy Chase 20 miles Fell Race from Wooller in Northumberland. I started off at the back of the field and jogged along and found myself passing runners one by one. It was a tough run and conditions were made difficult by the deep snow, mist and cold wind approaching the summit of Cheviot. I finished 18th of the 50 or so starters in 3-08. The winner recorded 2-44 and Peter, who lost his way at one point finished 12th in 3-04. I did not feel particularly shattered, but my left Achilles tendon was painful; it had been sore before I started this run. I wore my tracksuit during the event and I was glad I had because the snow had a hard crust, which would have cut bare legs when one's feet went through the surface on each step.
Completing this race a day after the marathon was not a good idea, for my left Achilles tendon, which had been damaged in the marathon, was made worse and on Monday I had a lot of discomfort on trying to jog. (Typically, Donald persevered and, only two weeks later, won a silver medal in the Scottish Ten Miles Track Championship.)
Two weeks after his very first ultra (The Two Bridges 36 miles road race), came Donald's last Ben Nevis Race: After another week of the usual routine of driving, working, running, eating and sleeping I ran in the Ben Nevis race again after vowing not to do so last year. For some reason when the race started I was in the tent taking my tracksuit off, so I had to make up a 60yds deficit before I reached the back of the field and by this time the leaders were 100yds ahead. By the start of the Ben path I was 20th. I was pleasantly surprised at my strength on the climb and reached the top in 11th. If I could have run down with more abandon and my eyes had not been watering, I could have caught some of the runners ahead as they were definitely within catching distance. As it was, I feared becoming badly injured, ran down cautiously and was passed by 13 runners before reaching the road, which was disheartening, although I managed to re-pass 3 on the road to finish 21st in 1-55-02. After this, I decided, definitely, not to run this race again, because my downhill running was not good enough and I did not intend to try to improve this. Jeff Norman won in 1-40-45 from Dave Cannon and Mike Davies.
In 1971, he finished third in the Mamore Hill Race and, not long afterwards, completed a very hot and tiring Enschede Marathon in Holland: A week later, on the 11th of September, I ran in the Cairngorm 10 miles Hill Race and managed to lead Sandy Keith by 40 yards at the summit turn. Thankfully I managed to maintain my lead to the finish, despite very painful blisters that developed under my heels from the fast downhill running on the road section. I finished in 1-15-31, ahead of Colin Martin, 1-16-58 and Sandy Keith 1-17-12.
As Donald Ritchie learned to peak properly for ultra-distance races, he avoided racing injury-causing hill racing. However, a final two extremely hilly events are well worth mentioning:
1973: On Friday, 13th July, I travelled to Jura, for the 'Bens of Jura' hill race. This required driving to Kennacraig, by Tarbert on Loch Fyne, where I left my car and caught the ferry to Port Askaig on the isle of Islay. From there I boarded the Feolin ferry across to Jura, then caught the waiting mini-bus to Craighouse. I booked into the Jura Hotel and walked round part of the course, covering about 10 miles.
On 14th of July, I had a very hard time in the 'Bens of Jura' race of 16 miles over 7 mountain summits, including the 'Paps of Jura' for a total of 7500 feet of ascent and descent. My diary entry was: The course was dreadful and, if I had seen it properly before the race, I probably would not have started it. On Friday there was a mist so I could not see more than the third hill. I started quite easily and at the first top I was 3rd and within catching distance of the leaders. I maintained this gap until the third top but, when I started the descent from this, I had to scramble down a cliff and then 2000 feet of a scree slope. My ankles got badly banged and cut so I could not run down the scree like the others and I lost a lot of ground. I felt exasperated and decided that my aim now, must be to finish in one piece, rather than race for a high placing. I lost a couple of places going up the fourth top, but I had moved back to 4th by the top. The descent from this one was extremely dangerous and I lost more places. We were now climbing the 'Paps of Jura', which had very steep sides and looked a bit like volcanoes but with pointed tops. At the top of the sixth, I was 7th, but the descent from this one was suicidal with a precipice most of the way round the North side. One competitor; John Marstrand started an impressive avalanche as he descended the very steep scree slope. I made my way painfully and slowly down some very steep scree. At the top of the seventh and final hill I was 8th and after stumbling down through the rough boggy ground, to reach the bridge, which was the last checkpoint, I was 9th. On the 3 miles of road to the finish at Craighouse village hall, I passed two and finished 7th in 4-29-13. Bobby Shields of Clydesdale Harriers was first in 3-54. This is a race I will not try again. I was the only non-hill-running specialist participating. At night there was a Ceilidh in the village hall, which we all enjoyed. The summits in the order of climbing were: Dubh Bheinn (1725ft), Glas Bheinn (1839ft), Aonach Bheinn (1636ft), Beinn A'Chaolais* (2407ft), Beinn An Oir* (2571ft), Beinn Shiantaidh* (2477ft) and Corra Bheinn (1867ft) [* indicates the 'Paps of Jura'.]
I could not run for the following five days because my leg muscles were far too painful.
1979: SWISS MOUNTAIN CHALLENGE
I had received an invitation from J.C. Pont, to run in the Sierre to Zinal mountain race in Switzerland, which I had accepted. I contacted some of my running pals to find if they would be interested in participating in this race and combine it with a holiday in France/Switzerland. All agreed so on Tuesday the 31st of July, with Graham Laing as my passenger, I drove to Birmingham via Kirkcudbright over 2 days. In Birmingham Mal Pickering joined us and I drove on to John Lamont's home in Epsom. John Lamont had arranged for Graham to meet someone from Shaftsbury Harriers, with a view to Graham joining this club as a second claim member and he would not be going further with us. Ron Maughan joined us at John's and we were soon on our way to Dover, with John driving his well-laden Vauxhall Viva. Rather than search for a campsite near Dover we slept in the car, fairly close to the seafront, after sampling some Fremlings 'Tusker Ales'. We caught the ferry to Calais next morning and in the evening we ran for about 9 miles in Amiens. I had trouble with my left knee, which became swollen and stiff. For the next 3 days we drove down through France in stages: Vittry-Le-Francois, St Laurent, camping and running until we reached Chamonix. There we stayed for a few days enjoying the good weather and magnificent scenery and some challenging runs, one up to a glacier.
On our way over to Switzerland Ron and I ran for 73 minutes up to 6500 feet from Col de Montets, enjoying the scenery, cool air and sunshine. John discovered that he had lost his passport somewhere in Switzerland, probably at our last campsite. A telephone call to the site office informed us that it had not been handed in, so we were advised to go to the British Embassy in Geneva to get temporary documentation for John. We drove there, located the Embassy and after hearing John's story an official did the needful. She also invited us to have our passports stamped with the Embassy logo, for its rarity value. Later that day we arrived in Sierre where I registered for the race and was given my agreed 'expenses' and the address of my host family, who would provide 4 days 'board and lodging'. John, Mal and Ron entered the event too. We then had a day to relax before the race on Sunday the 12th of August.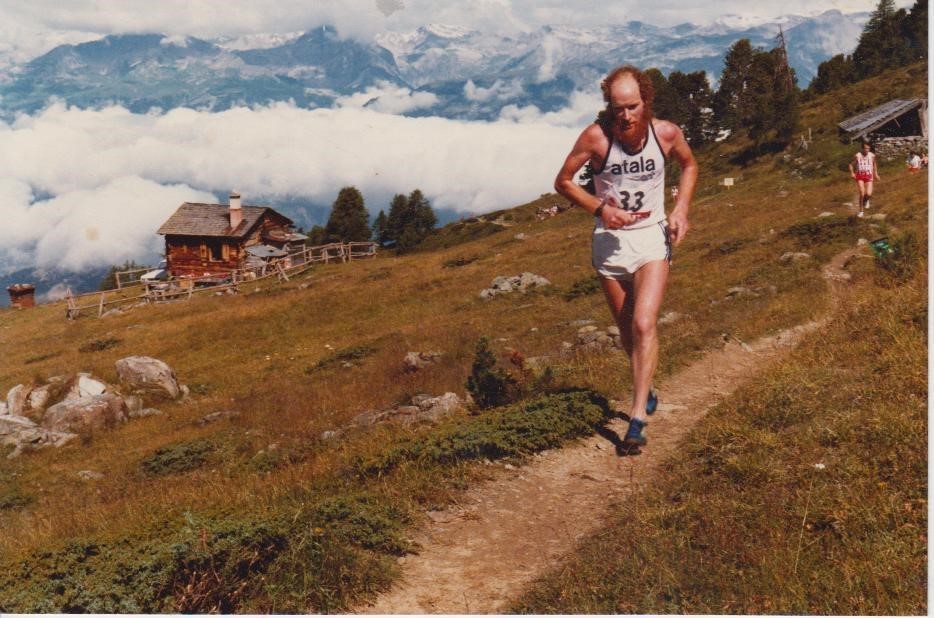 The 6th edition of the 31Km Sierre-Zinal Mountain Race started at 08:00 and required 2000 metres of ascent. I had to walk most of the early part, as did others because of the steepness of the ascent through the trees. Many passed me on this section, but later, when I was able to run, I pulled back a lot of places. When the path became narrow and stony I slowed a lot as I picked my way along. The views across to the mountains were spectacular when I got a chance to look. Also I became very tired and despite slowing I did not recover, which might have been due to the altitude of up to 2387 metres on that section. On the 745m descent to the finish in Zinal I lost many places finishing 129th in 3-20-47. John was the best of us three, finishing 107th in 3-16-43 followed by Mal, 118th in 3-18-42 and Ron, 300th in 3-48-58. There were 1051 participants listed in the race results booklet, which reflects the popularity of this race. There were 1117 'tourists', who set off at 04:30 to walk the course.
*
Donald was a very good hill runner, of that there is no doubt. It was not what he will be remembered for and his many ultra distance records will always take precedence in the minds of most. There are others though, who did run on other surfaces but who were natural hill and fell runners. Maybe it is in the genes! At any rate the Shields twins, Bobby and Jim, were more at home on the hills than on any other surface. Bobby had a whole series of victories in some of the hardest races, he was also second, after leading to the final race, to Dave Cannon in the first ever British Fell Racing championship. Jim excelled as a vet and even competed for Great Britain in the world triathlon championships. They're up next.