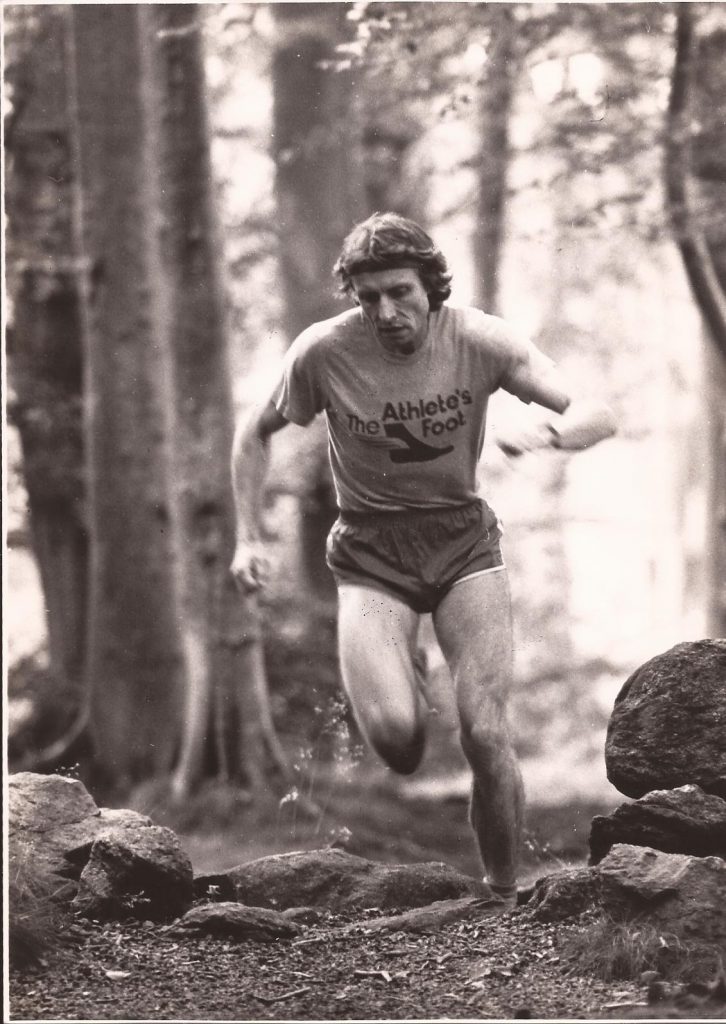 Meldrum Barclay Edwards M.B.E (1943-2019) ran mainly for Aberdeen AAC, won the Scottish Junior National XC, represented Scotland in the International Cross-Country Championships, won the 1988 M45 Scottish Veterans Cross-Country title, and became a local legend in his home city, due to endless enthusiasm for running and cheerful support of so many athletes and charities.
After a great deal of success (on track and road as well as country), due to over-training, he became chronically injured after coming close to making the GB marathon team for the 1968 Olympics. Four years later a physio succeeded in making Mel flexible enough to start racing again – this time as a hill runner.
Here are some extracts from his hill career highlights.
"I found that some hill races were so compulsive that I went back to them year after year: namely Cairngorm, Achmony at Drumnadrochit, the Three Peaks, Ben Lomond and Carnethy. There was something perpetually reassuring to know that a year later you could arrive at a venue at say 12 noon, and the same officials and the same runners would be there.
In 1975 I won my first Fell race, Knockfarrel, and took second place in Cairngorm, Lomonds of Fife and Achmony. The following year was full of interesting experiences and saw me travelling further afield to sample new hills, taking 8th at Carnethy (in those days it started and finished in the town park) and 82nd in the Three Peaks Race in Yorkshire. (Three weeks before Achmony, I had lost out in a battle for fourth place at Creag Dubh by 0.5 of a second to a 20-year-old Fraser Clyne, who should have had more respect for his elders. At Achmony, we led the field to the top and then, on the road near the finish, Fraser passed me. As we entered the Games park for the final battle, my wife Kareen said that, written all over my face, was the expression "this b….. is not going to beat me again!" and a desperate kick took me to a three second win.)
That year, a classic race was born: Eddie Campbell's Lairig Ghru. 28 miles of the roughest, toughest terrain around. Eddie had been telling us about his plan at other races. It turned out to be a beautiful day and thirteen bold heroes lined up outside Braemar Police Station just after 11 a.m. on June 19th. Eddie's race briefing went like this. "Thanks for turning up, Lads. Now this is Braemar Police Station, the start, and we're going to run through the Lairig to Coylumbridge, turn left and finish at Aviemore Police Station. It's about 28 miles. Ready? ….GO!" We all thought, "Hey, wait a minute, what about marshals, drinks, race numbers…?" but off we set. Andy Pratt won in 3.12.40 with me about a minute behind – and Andy's time remained a record for almost 20 years."
"1977 was also full of hills and thrills. This was the year I decided to put on a local race and Scolty was born. This was to become a Fraser Clyne preserve, and there cannot be many races in Britain which have been dominated by one runner over such a long period. I never won Scolty but had a few second places. It was a knackering weekend. Saturday was running round the course setting out the flags, often with Fraser's help. Sunday was running it, doing the prizegiving, then going round with Kareen taking in the flags, before typing up the results in the evening ready for posting after some sneaky photocopying.
I improved to 41st in the Three Peaks in the Spring, but suffered in the latter stages and vowed that one year I would beat this course instead of the other way round. Carnethy (sixth), Chevy Chase (twelfth), Cairngorm (second) and Achmony (3rd) all passed by, but the jewel in the crown was the fantastic Sierre to Zinal in Southern Switzerland. This race is exceptional, 28 km and 1900 metres ascent. I finished 99th out of 1000 and vowed to return. The route is surrounded by 5 mega-mountains and each year the finisher's medal depicts a different mountain. The secret is to try and get the set.
In 1978 I competed in four races I hadn't tried before: Ben Nevis (37th), the Half Ben (9th), Ben Lomond (8th) and the delightful Knock Hill in Crieff – this is an evening race with a gala atmosphere and lots of youngsters turn out. At Knock, I moved through the field, passing kent faces, until only one rival remained in front. He didn't look familiar and, although I kicked like hell as we entered the Square at the finish, he got home by ten metres. He turned round and, as I went to shake his hand, he said, "It's okay, you've won. I'm in the fun run!" It turned out to be Jim McKechnie, a professional runner who hadn't been allowed to enter the main race. Thankfully, those archaic days are gone.
1979 was a cracker. 3000 miles run, no days off, 36 years of age and going like a train. 13th in Carnethy and 3rd in Knockfarrel heralded a determined attempt to crack the Three Peaks Race. Two extremely long runs in the penultimate week before the event seemed to do the trick as, for the first time, I got up Ingleborough without feeling like death slightly warmed up. On the way to the finish I was in the teens and kept controlling it so I didn't blow up. 17th! Perseverance pays off!
For the past four years I had come second in Cairngorm and was getting fed up having a big lead at the summit then getting passed, usually by course record holder Bobby Shields. This year followed the same pattern, but when I was overtaken just before the Ptarmigan restaurant by Bobby and Ronnie Campbell, I dug in and refused to get dropped. We descended with about 20 metres covering the three of us, and when we came to the flat section with under a mile to go, I kicked. Nothing happened …. the gaps stayed the same. We hit the horrible final 600 metres upgrade to the finish …. and the gaps stayed the same. All three of us were under the record with Bobby winning in 72.15 and me seven seconds back in third. One of my most memorable and satisfying races on the hills.
I had been planning to have a crack at the late Eric Beard's Four Cairngorm 4000 feet tops record nine days later, but came out of the Cairngorm race with a hamstring injury. Happily, although I started the attempt with doubts about the leg, it did not trouble me and I reduced Eric's time by some seven minutes to 4 hours, 34 minutes 8 seconds, with great navigational help from Dave Armitage. The record still stands 19 years on, but will be broken by someone more talented than me, as long as they get good weather and are as psyched up as I was. (I remember my spectating father being shocked by my oaths of excitement with two miles to go, as I realised I was going to take the record!)
In 1980 I developed my fascination with the Cairngorms and went back to run Glenmore Lodge to Cairngorm to Ben Macdui and return to the Lodge in 2.30.53. This is worth having a crack at.
I returned to Sierre-Zinal in 1981, then in 1982 began preparation for an assault on the veteran scene the following year. Kentmere was usually a championship race, so I had a recce of it, coming 49th. In August I travelled to Strasbourg for the Oberhaslach to Rocher de Mutzig race with my Cambridge University friend Mike Turner and, as is the custom on the Continent, entered as a vet – being in my 40th year. I came third vet in 1.38, and this is the nearest I have come to dying (literally) in a race. I took a drink with about three miles to go, choked and found I was unable to carry out the normally simple task of actually breathing. Fortunately, air eventually began to get through to my lungs, so I concentrated on the next task – getting a vets prize.
1983 was a mega-year. I had a real crack at the British Vets Championships, and Kareen and I saw a lot of England as we covered a good few thousand miles. You had to do ten races: three short, three long and three medium, plus one more. I did eleven: Kentmere (4th), Three Peaks (8th), Ben Lomond (2nd), Northern Counties (9th), Fairfield Horseshoe (4th), Buckden Pike (3rd), Kinniside (2nd), Melantee (4th), Borrowdale (18th), Burnsall (4th) and Thievely Pike (4th). This took me to fourth place in the championship behind Paul Murray (Horwich), Andy Phillipson (Gosforth) and Norman Matthews (Horwich). This was tough but satisfying, even though I finished the season like a zombie."
"In 1984, I completed my 100th hill race, won the Scottish Vets Championship race at Ben Lomond in tenth place and also the inaugural Scottish Vets Championship Grand Prix along English lines. I retained that title the following year, but the highlight was setting up a time for the Cairngorm Six 4000s with Dave Armitage and Phil Kammer. We took 11 hours 39 minutes 4 seconds for the 12, 000 foot climb, the 40 mile trek round Ben Avon, Beinn a Bhuird, Cairngorm, Ben Macdui, Cairn Toul and Braeriach. I have always maintained that I was the third strongest of the three in this one. Dave and Phil were naturals at this distance, whereas I had great problems getting on board the necessary food and fluid."
"1988 was the year which saw a major shift in my targets and, from nine hill races I went to two in 1989 (Craig Dunain and Scolty). I was really getting stuck into cross country and road races, since my old leg problem disappeared. Still, there were three long ones. One of Kath Butler's aims was to have a crack at a time for the 4 Cairngorm 4000s. We ran round the Three Peaks in 4 hours 52, then Kath, her husband Eddie and I tackled the big one on 16th July. Kath had a blinder and was really strong in the latter stages, setting a time of 6.44.58, which still stands. The three of us tackled Sierre-Zinal a month later. Kareen was seven months pregnant with Myles and I remember, as I lay on a makeshift hospital bed on a drip after the race, thinking, "I am not coping with these long ones. I'd better play it safe if I want to make it to fatherhood" And so I came off the hills and raced on country and roads. It seemed to work, as I got my first international vest for twenty years only weeks later in the Scotland v England v Wales Vets Cross Country.
One thing is worthy of mention. After all these hill races, I never succumbed to an injury. I believe the hills made my quads so strong that they protected my knees, whereas road running does little favours for quad strength."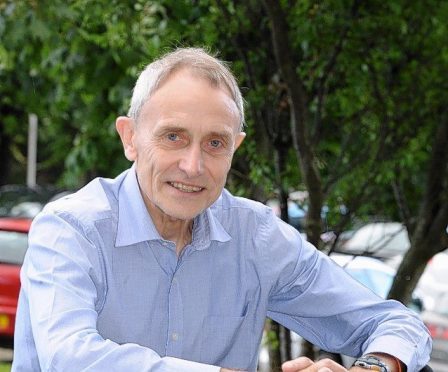 Most Scots endurance athletes feel the call of the hills at some point in their careers – for some it is something that they enjoy doing but not what they are best at so their career is mainly on the track or roads; for others it is a life changing experience and their whole athletic career becomes hill oriented. Phil Dolan is one such. An international runner on the track over 10,000m and twice representing his country in the world cross-country championship too. Penny Rother won Scottish championships on track, road and country before turning to the triathlon. Colin Donnelly was an out-and out hill man. Bobby Quinn and Tommy Murray were multi-champions on all surfaces before taking to the hills late in their career and making a success of that. Short profiles of all five are coming up.