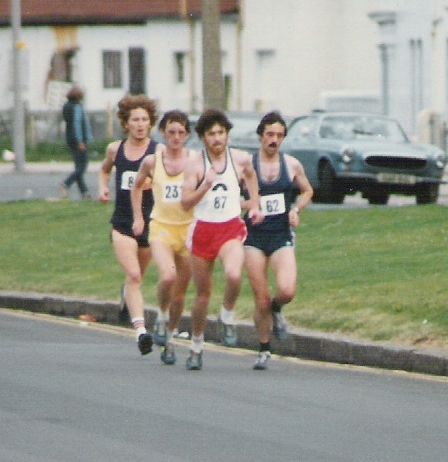 Phil Dolan Leading Doug Gunstone in the Saltcoats Road Race
EXTRACTS FROM A PROFILE OF PHIL DOLAN by Brian McAusland
Phil Dolan was also among the most versatile endurance runners and ran with distinction on the track (where he ran for Scotland), on the country (where he raced in two World Championships and competed for several small Scottish teams on the Continent) as well as on the roads and over the hills where he set numerous course records.
All Clydesdale Harriers run on the hills at some point and Phil was no exception. The club has produced hill runners who have smashed records all over Scotland: Bobby Shields, Ian Donald, Brian Potts, Ian Murphy and more recently John Kennedy in very long hill races like the Lairig Ghru and Prasad Prasad in the shorter ones such as the Callander Crags and Ben Sheann. Phil ran all distances. He ran the short Neilston Pad race three times and won it. He also ran in the medium distance Carnethy Hill race where he ran it once finishing second to Martin Weeks of Bingley Harriers.
His favourite however must have been the really gruelling Mamore Hill race at Kinlochleven. The trail went from the Island Park in the village round to the start of the Lairig Mhor, now part of the West Highland Way, over part of the Lairig and then up to the 2500 feet shoulder of A'Cailleach before plunging down to the road and then racing seven miles on the road back to the park. Many of the very best in Britain had run this one including Alastair Wood from Aberdeen who set a course record. Phil not only set a record for the course but then broke his own record the following year with a time of 1:37:23. And that was for fourteen miles including almost 3000 feet of ascent. (As a side note to this, he helped me win a trophy for a race I never ran. Having raced the event several times I was down to compete as part of a four man club team. I failed to turn up because of illness but with only three to count the club won and was presented with four plaques. I got my plaque the following Tuesday at Whitecrook!) These races at Kinlochleven must rank among Phil's best ever runs and had hill running had the profile it has at present he would surely have added to the national vests won for track and cross country. The Mamore was not the only one he ran but was the one in which he placed himself firmly in the ranks of superb hill runners.
Phil also ran the much shorter Cathkin Braes Hill Race in 1975 in 24:06 from Alan Partridge of East Kilbride AAC who was timed at 24:11 avenging his second place to the same athlete of a year earlier. He also ran the race in 1977 as part of his preparation for the Boston Marathon. The furthest he travelled for a hill race was to the Isle of Man in 1970 when he ran the Peel Hill race defeating the Olympic silver medallist and world class steeplechaser Maurice Herriott from Birmingham who was the pre-race favourite. In fact, the officials were so confident that Herriott would win it that they stood there, not realising Phil had been to the top and back, until he handed them the card given to all athletes at the top! Herriott knew better and told Phil that he had figured him as his main rival when he saw him warming up. At the same meeting which lasts for several days, Phil won the 1500 metres Island Championship and was victorious over the reigning champion in the 800 metres. Quite a week's work.
Any review of Phil's career must come to the conclusion that he was one of the best all round endurance athletes that Clydesdale Harriers has ever produced. His top performances stand comparison with any of the Scottish athletes of his generation and he had victories over several of the domestic 'greats' at that time. What were his best performances? On the country he had his international vests; on the roads his marathon in Boston where he defeated many of the world's top competitors in temperatures seldom experienced in Scotland; on the hills, the two Mamore victories must be a source of great pride to him; and finally, using his talents and gifts for running to raise money for those less fortunate was well recognised by those outside the sport. Phil was a great credit to his family, to the club, to the sport and mainly to himself.
EXTRACTS from a profile of COLIN DONNELLY by Brian McAusland
Colin Donnelly was born in 1959 and has excelled in two branches of long-distance athletics: cross-country and, especially, hill running. An internet debate about who is Britain's best-ever fell-runner comments: "Colin Donnelly had (and still has) the speed and endurance to set even more records. He has more or less soloed every long-distance challenge there is, without support or route advice. If he was better organised, he could have achieved more than anyone else. Perhaps that is the way the great man likes things to be: out there on his own, doing things his own way".
He burst onto the hill-running scene with victory in the Ben Nevis Race in 1979 – the youngest man to win this famous event. He won it again in 1986; and lost to Gary Devine by only five seconds in 1988. In the interim Colin Donnelly had dominated fell-running, especially near his home in Wales, where he set many records, some of which have never been beaten, for example the Welsh 3000s (26 miles from the top of Snowdon to Foel Fras, including some 13,000 feet of ascent and fourteen summits). In 1988, when he was a local Eryri Harrier, Colin's time was an astounding four hours 19 minutes.
Colin Donnelly's hill race victories are countless, but include the Snowdon Race, Cader Idris (6 wins), Buckden Pike, Shelf Moor, Carnethy, Kentmere Horseshoe and the Manx Mountain Marathon (31.5 miles, 8000m ascent).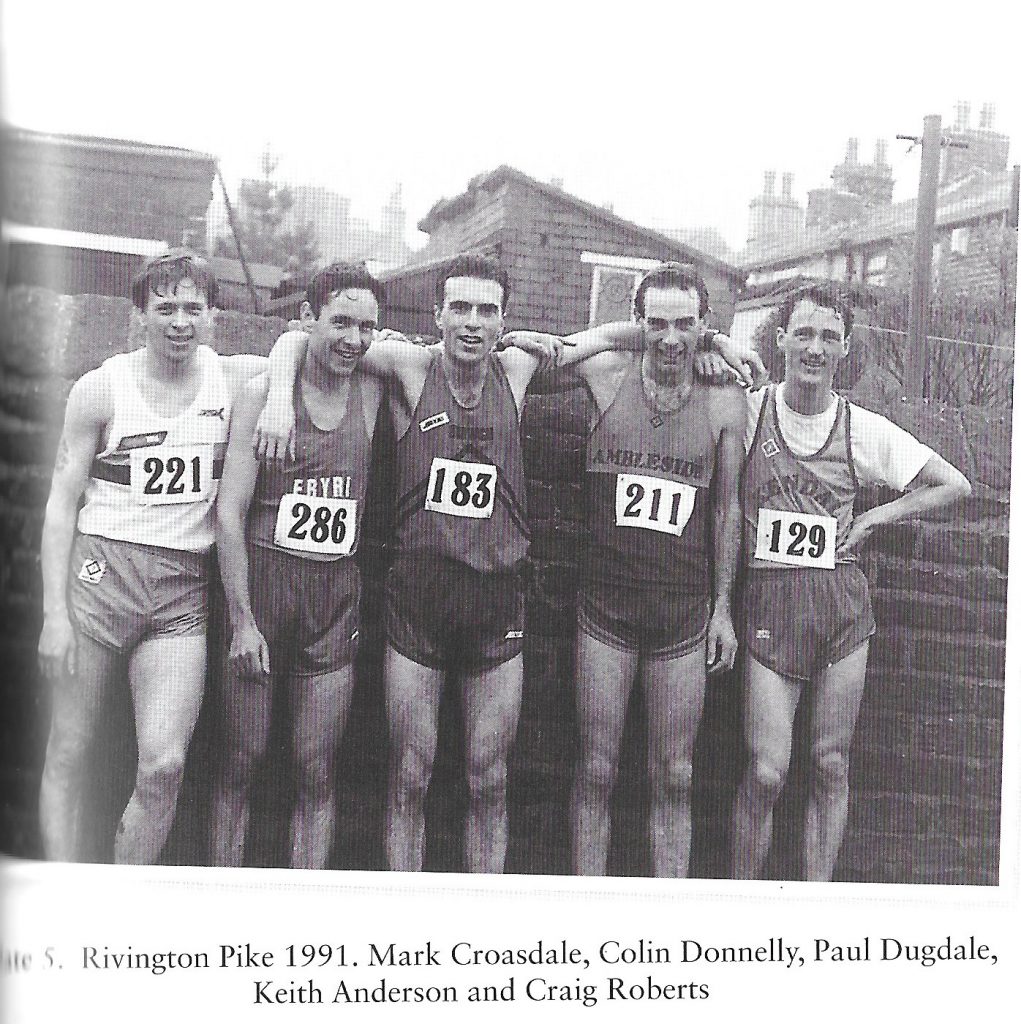 Colin Donnelly was British Fell-Running Champion three times in the late 1980s. In the WMRA World Mountain Running Trophy, he represented Scotland in eighteen successive races between 1985 and 2002 (plus another one in 2004): an almost unbelievable record. Colin's greatest run, which displayed exceptional descending skills, secured a silver medal in the 1989 men's individual short race at Chatillon-en-Diois, France. In addition, he was in the Scottish team (Tommy Murray, Bobby Quinn, Colin Donnelly and Graeme Bartlett) that won silver medals in 1995 (Arthur's Seat, Edinburgh).
On the 22nd of September 2001, in Ustron, Poland, Colin Donnelly won the M40 Masters World Mountain Running Championship by the enormous margin of 91 seconds. In 2002 (Innsbruck, Austria) he was third; and in 2005 (Keswick, England) second M45 to Dave Neill of England. Colin Donnelly shows no sign of retiring or even slowing down much.
JACK MAITLAND: FELL RUNNER AND VERSATILE ATHLETE
The British Triathlon website describes Jack as "A rather quiet and modest man, Jack's affable mien defies his lifetime commitment to winning. He competed at world-class level in a handful of some of the toughest sports: in orienteering, fell running, triathlon and duathlon, winning a range of national and international events. He represented Great Britain many times in various World and European Championships and was the top performing Scottish athlete in the demonstration triathlon at the Commonwealth Games in Auckland in 1990. Over the past decade, he has been identifying and coaching talented young triathletes and building a performance centre around them to suit their individual needs. Until recently he was working from the Triathlon High Performance Centre at Leeds Metropolitan University, where he moulded his athletes into World and European champions. He created a culture of ongoing success and played a colossal role over the last 10 years in coaching Alastair and Jonathan Brownlee to be Olympic gold and bronze medallists and World Champions."
For the magazine "Fellrunner", Steve Chilton interviewed Jack Maitland at Leeds. Here is an abbreviated version of an illuminating article:
"He was also previously an outstanding fell runner, having won the British Fell Champs back in 1986. I was there to interview him as he was a contemporary of, and fierce rival of, Kenny Stuart and John Wild. He had just started running the fells in the incredible 1983 fellrunning championships season, when Stuart and Wild went head-to-head over the full season of 15 races. As he progressed over the next couple of years, he became perhaps their chief rival, and eventually succeeded Kenny Stuart as British Champion in the 1986 season. As he progressed over the next couple of years, he became perhaps their chief rival, and eventually succeeded Kenny Stuart as British Champion in the 1986 season.
I sat opposite him, watching his craggy face break into frequent laughs as he recalled incidents from his career. He had brought along his own training diaries for the mid-eighties, which proved really useful when we started looking back at races in which he had raced Stuart and Wild in that period.
Maitland was born in Aboyne in Aberdeenshire in 1962, and attended Aberdeen University to study Computer Science in 1978-82. He took a year out working at making orienteering maps, by hand as this was before the advent of computer cartography. It allowed him to train for his sport, basically. He went and trained in Norway, then moved to Leeds to do a postgraduate course in teacher training. He made the British Junior and Senior Orienteering squad, so orienteering was his main sport initially.
When he went to University, he joined the swimming club, the volleyball club and the running club. But, really, he only did running and orienteering. Meeting Colin Donnelly at the university was something of a catalyst for doing more fell running.
He recalls, 'I had done some hill races in the area of Scotland I come from as a kid, like at the Highland Games for instance. I started running to support my orienteering really. I had one slight skirmish with the professional running scene. The pros didn't like it if you went and raced against them. Once I started doing amateur races, I got the message that I wasn't welcome in the pro scene anymore.'
Maitland is often touted as one of the best descenders on the fell scene. However, he played down his own ability somewhat. 'I think when I first started going on the continent for mountain races, I was bringing my British skills where it was suddenly better than those that were already racing. I wasn't the best descender in British running. At the time Kenny and John were at their peak I was racing for third place. Maybe I was a better descender than the other challengers like Sean Livesey and Dave Cartridge.'
I asked Jack to analyse his own ability over different courses. He chuckled, 'I liked to race. In fact, I did a fantastic amount of racing. In 1984 I did 107 races, 38 orienteering, 27 fell and a mixture of road and triathlon, with 26 wins. I ran 22 miles short of 4,000 miles that year.'
Jack continued, 'in 1983 I had done a bit less but did do three marathons, and was still really an orienteer at heart. I enjoyed all distances. I think I probably liked up and down races rather than the horseshoes. It didn't matter really. I liked a Blisco or a Ben Lomond.'
'Then I came back to Europe in March and raced the fell and mountain running season [and won the British Fell Champs]. I didn't do any triathlon until the end of the season. I did the Annecy-Le Semnoz mountain race (coming 7th) and they said there is a triathlon next week why not stay and do that. I said I haven't got a bike and so they lent me one!' That was the Annecy Triathlon on 31st August, in which he came second.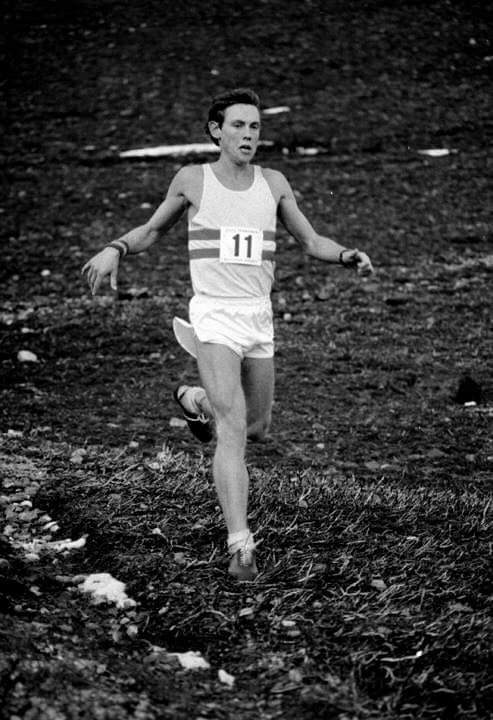 Jack (wearing an Aberdeen AAC vest) at the 1985 Carnethy Hill Race. He finished second behind record-breaker Kenny Stuart
(Photo by Graham MacIndoe)
After that he did a mix of fell and triathlon races for a few years. At the end of 1989 he did the World Mountain Champs and came 10th in an uphill only race. 'I think I knew I wasn't going to win a medal and that I had reached my limit.
The Commonwealth Games was including triathlon in 1990 and I knew I could get in the Scotland team. I did, and having done that I thought I would see if I could get in the British triathlon squad. Fell running had seemed a solo thing really and I enjoyed the team aspect of orienteering and triathlon.'
Being a fellow-vegetarian, I wondered what had prompted Maitland and whether it affected his sport in any way. He replied, 'I became vegetarian when I was orienteering and have had no issues around protein intake for instance. I had a few health issues from overtraining and got a bit anaemic, but who knows really. A lot of the top Norwegians were veggies and we went on an Eastern Europe trip and the food was horrible so we tried a veggie diet. Me being stubborn, I carried on!'
Jack Maitland certainly left his mark on fell running before moving on to triathlon and then coaching. He still has the course records for Pendle from 1984 and Blisco from 1987. His take was that he thought, 'that the Pendle course may have changed, I find it hard to believe otherwise, but don't think Blisco has.'
He was involved in club athletics for a while. 'I moved to Leeds and joined Pudsey and Bramley. People like Gary Devine were probably the main driving force at the time. I would hang out with them and also some of the Bingley guys.'
Jack feels that the highlight of his fell career was probably winning the British Championship. In mountain racing it would be winning Mount Cameroon and the Everest marathon (both in 1989).
'You remember the wins, don't you? I won Burnsall but never won the Ben, Snowdon or the Three Peaks. I had a lot of seconds! I came against some very classy athletes in that era. I think I got the most I could out of myself, for instance in that Snowdon race.'
(Jack Maitland set his best marathon time (2.23.27) in 1983. He actually raced the Scottish Senior National XC in 1985. In a respectable 34th place, he was fourth Aberdeen AAC counter (behind Graham Laing, Colin Youngson and Fraser Clyne (who for once had a bad one) but in front of Scottish Marathon Internationals Peter Wilson and Graham Milne. The team finished fourth.)
So, what is life like for Jack Maitland these days? He obviously gives a lot of time to his triathletes. He revealed that he does a lot of yoga now. 'I ride my bike with my athletes once a week, but just with the women now! I follow the fell scene a bit, and I still get The Fellrunner.'
Steve Chilton is author of 'The Round: in Bob Graham's footsteps' https://itsahill.wordpress.com/ 1989)
For Scotland in the World Mountain Running Trophy Long Course event, Jack took part seven times between 1985 and 1992, finishing first Scot in five of those. His best finishing position was 10th; and the team was 4th in 1988.
Jack also ran the World Short Course event three times in succession (1985-1987). He finished first Scot twice, with 11th place in both 86 and 87.)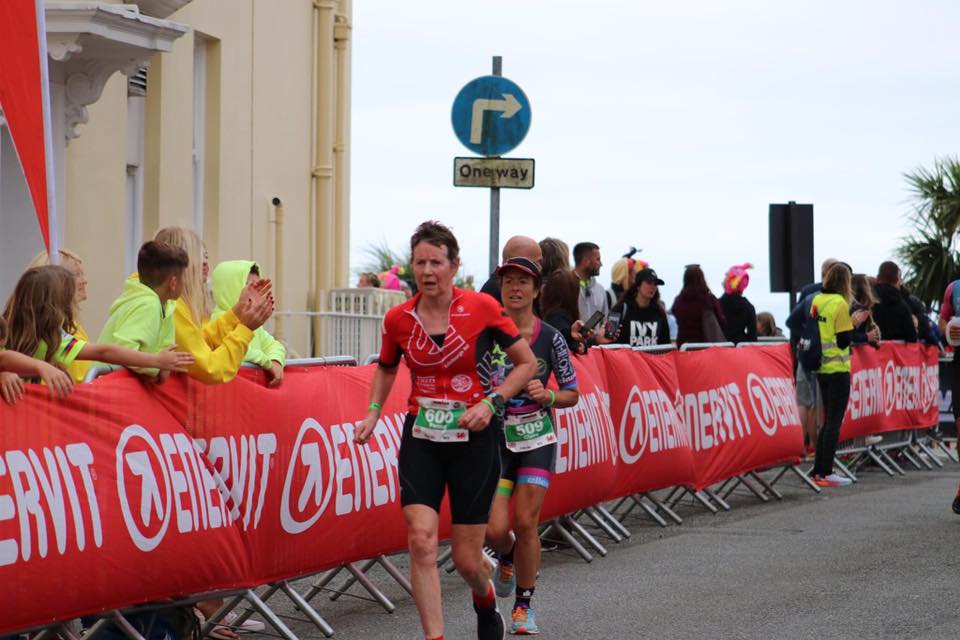 EXTRACTS FROM A PROFILE OF PENNY ROTHER by Brian McAusland
"I was racing on the roads, cross country and track….nothing very outstanding but I was representing Scotland on road and country. At this time I also started hill running (cross country was rather tame and more like cross playing field)
I loved training and racing in the hills and represented Scotland in 4 Hill running World Cups (1988 Keswick, 1991 Zermatt, 1993 Gap and Telfes in 1996). In 1988, the Scottish Team (Tricia Calder, Joyce Salvona, Barbara Murray and me) won Team Bronze medals in the World Mountain Running Championships.
This was a full house – I had represented Scotland on the track-once in 1976, Cross country worlds 1988, hill running world cup 1988 and a number of internationals on the roads between 1985 and 1988.
(In the World Mountain Running Championships, Penny Rother was 11th and second Scot in Keswick; 34th and third Scot in Zermatt; in Gap (France) she was 42nd and third Scot; and in Telfes 48th and third Scot. Marvellous running by any standards.)
EXTRACTS FROM A PROFILE OF ROBERT QUINN by Brian McAusland
"With all the success he has had why did Robert add in hill and mountain running? He reckons that he was always a good climber and being light with a good strength to weight ratio so he was suited to it in a way that many cross-country runners are not. It was also a good way to re-invigorate his running career and extend international running well into his thirties. Spending summers racing over the most beautiful mountains in Europe and beyond he describes as 'great' – and who would disagree? His record is fantastic. Look at the international results in the table below. For full details you can go to the World Mountain Running Association Website at www.wmra The World Championships tend to be held in September. the Europeans in July and the Commonwealths have only been held once – in September 2009.
Year
Event
Place
Venue
1994
World Mountain Trophy 8th Germany
8th
Germany
1995
World Mountain Trophy 7th Edinburgh
7th
Edinburgh
1996
World Mountain Trophy 17th Austria
17th
Austria
1997
European Mountain Running Trophy 23rd Austria
23rd
Austria
1998
World Mountain Trophy 3rd France
3rd
France
1999
World Mountain Trophy 9th Borneo

European Mountain Running Trophy 8th Austria

9th

8th

Borneo

Austria

2000
European Mountain Running Trophy 6th Poland
6th
Poland
2001
European Mountain Running Trophy 16th Slovenia
16th
Slovenia
2002
World Mountain Trophy 39th Austria
39th
Austria
2009
Commonwealth Mountain Running Championships 10th Keswick
10th
Keswick
There is also a Grand Prix for Mountain Running – see the link above – which involves races all over the Continent including major championships. Robert actually won one of the major Grand Prix events in 1999 at Lenzerhide. His overall world ranking in 1999 was third, in 2000 fifth, and in 2001 he was ninth."
EXTRACT FROM A PROFILE OF TOMMY MURRAY by Brian McAusland
"Since he did not consider his long loping stride with a high kick to be suitable for success in marathons, Tommy waited until 1995 to consider training for one. He was invited to an established race in Eindhoven, Holland, and 'set about changing my training regime dramatically, with the weekly mileage rising from 60 mpw to 100.' However, the invitation fell through since the organisers obtained a cheap deal on some Kenyan runners. 'With no marathon to run and feeling as fit as a butcher's dog, I started to look for another race to do.' Doug Gillon, of the Glasgow Herald asked if Tommy would be interested in taking part in the World Mountain Running Championship which for the first time ever was to be held in Edinburgh round Arthur's Seat.
Tommy easily won the Scottish trial race at Dreghorn, beating amongst others 'my pal Bobby Quinn, an established athlete on the mountain racing circuit.' When the World Championship started, England's Martin Jones went right to the front, at too fast a pace to maintain for 7.5 miles. By two miles, Tommy was in the lead and working hard, forcing himself up and down Arthur's Seat several times. Unfortunately, Fregonzi of Italy caught up and raced down the final descent 'like a kamikaze pilot on a mission.' Tommy started to gain on him once they reached level ground but the finish came too soon. However, Tommy was more than happy to win two silver medals at a world championship – both individual and team. Italy won, with Scotland second and the auld enemy England third. After this fine result, Tommy obtained lottery funding for the next four years 'which I saw as just reward for the years I had given athletics.' He ran three more World Mountain Running Championships in Austria, the Czech Republic and Borneo in Malaysia, but never ran quite as well as he had in Edinburgh."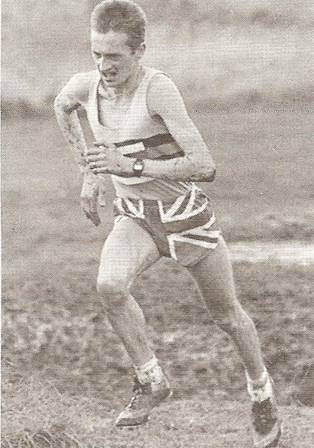 Hill running is possibly the most equal opportunities sport on the calendar. There have been times when women's side of the sport has been more successful than the men's. Names like Angie Mudge, Christine Menhennet, Helen Diamantides and many others have been really wonderful adverts for the sport. Maybe time to look at some of them! Angie Mudge next.