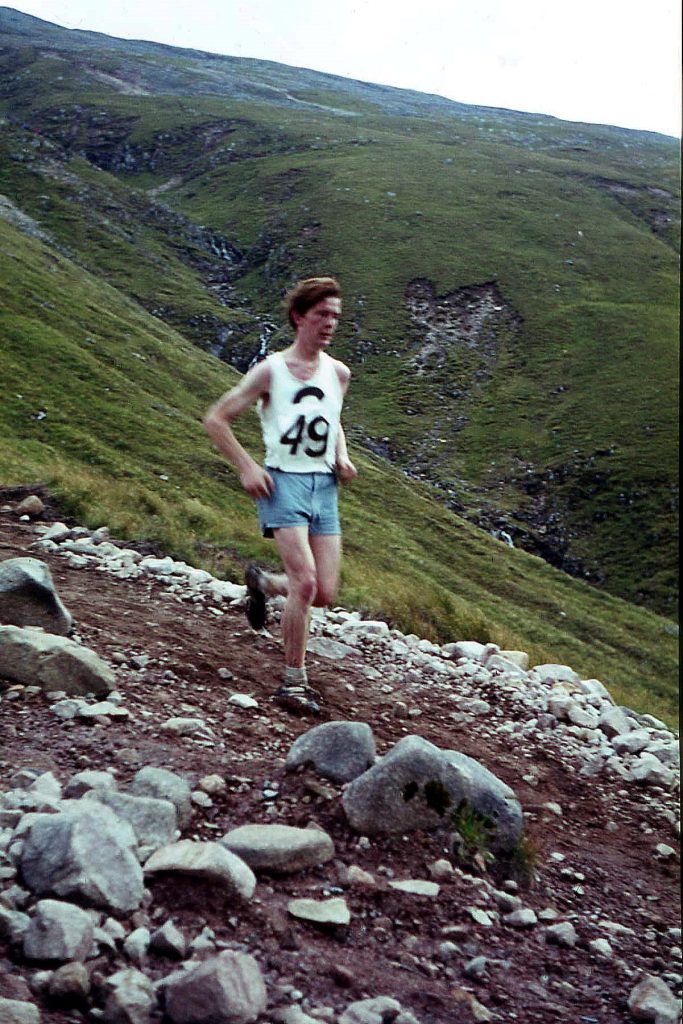 Young Bobby Shields running in the Ben Nevis race
EXTRACTS FROM A PROFILE OF BOBBY SHIELDS by Brian McAusland
"Although Bobby Shields of Clydesdale Harriers ran on the track and the roads as well as over the country he really loved the hills and raced on them all over the country from the Kilpatricks in Clydebank to England, Wales and Ireland. The Ben Nevis race is one of the most gruelling in the United Kingdom but if Bobby was a specialist in hill running, he was a specialist's specialist in the Ben Race! He was placed in the top ten eleven times. He was 1st 1967, 2nd in 66, 3rd in 65, 73 and 74, 4th in 65, 5th in 70, 6th in 68, 7th in 81, 8th in 69 and 71 and eleventh in 64! Furthermore, his eleventh in 1964 gave him twelve first eleven places in twelve years! Evidence enough of his ability and durability on the hills.
His best time for the event is an astonishing 1:31:58! He did of course run in almost every hill every hill event in Scotland and we can't cover them all over a 25-year period but some of the highlights can be listed.
* Mel Edwards of Aberdeen was a good friend and rival who recalls the results between the two of them in the Cairngorm Hill Race in which Bobby won three times (1972, 1974 and 1979 when he set a record of 1:12:15), was second once (1981) and third twice (1974 and 1980). The 1979 race was particularly memorable with Bobby winning in 1:12:15 from Ronnie Campbell in 1:12:19 and Mel in 1:12:22 – three runners covered by seven seconds after such a long and hard race. He also set records almost everywhere he ran – the Maidens of Mamore is another example of that.
* On 21st August 1976 the one-off Maidens of Mamore race was held over Na Gruagaichean and Binnean Mor. Bobby won in 1:43:40 with Ronnie Campbell second in 1:45:51 and twin brother Jim Shields third in 1:52:24. Clydesdale Harrier and good friend of Bobby's Ian Donald was eighth in 2:03:44.
He was well known all over the British Isles for his prowess on the hills having raced in England and Wales and completed many feats of hill running endurance with the best runners of all time on the fells of England and mountains of Ireland. He also ran for several different clubs on the hills and fells – eight of his Ben races were in the colours of Lochaber AC, for instance, and he represented Kendal AC in England and Lagan Valley in Ireland
When the British Fell Runner of the Year competition was started in 1972 Bobby led the competition right up to the very last race when Dave Cannon from Cumbria snatched it from him. The competition involves selecting a prescribed number of races from three different categories which include short, medium and long races and adding the points so gained. On another occasion Bobby shared first place. Dave particularly remembered finishing third in the Ben Nevis in 1973 beaten by Bobby and Harry Walker, another noted English Fell Runner and winner of the race.
Not only a runner, Bobby Shields has also been responsible for two races that are among the most serious tests of strength in any hill runner's calendar. The race over the 95 mile West Highland Way is now established in the athletics calendar but few realise that it came about as the result of a personal challenge between Bobby and his friend Duncan Watson in 1987 – two of Scotland's best ever long distance hill runners. It is now in 2007 an almost over-subscribed event.
He also created the Arrochar Alps Hill Race with fellow Clydesdale Harrier Andy Dytch in 1987. This one covered 21 kilometres, took in four Munros – Ben Vorlich, Ben Vane, Ben Ime and Ben Narnain – with a total ascent of 2400 metres and was used as a British Championship race in 1988."
EXTRACTS FROM A PROFILE OF JIM SHIELDS (BOBBY'S TWIN) by Brian McAusland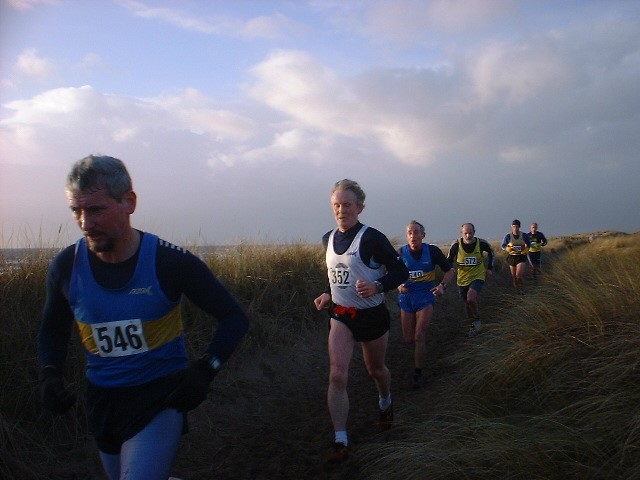 Jim Shields, 352
After some time living in Canada, Jim Shields ran for Clydesdale Harriers on track and roads but mainly over the country and on the hills. He ran in five Edinburgh to Glasgow Relays, took part in the Glasgow to Fort William Relay and even ran in the straight through Glasgow to Fort William race before it was a regular event. As a good club man he turned out in County, District and National championships and open races.
In the 80's and 90's he headed up a superb group of hill runners including Scottish Internationalists and record holders Brian Potts, Ian Murphy and Christine Menhennet. He ran in all the top hill races in the country and took part in the Ben Nevis race no fewer than 17 times. However, his knees and ankles did not take too kindly to all the hill running and he thought his career was over. When subsequently he was diagnosed to have M.E. it really seemed that his athletics days were behind him. The shortest walk was a problem and the illness kept him off his work as a painter with BAe Systems in Scotstoun. But he never gave up and because of the problems with his knees he took up cycling and swimming as soon as he was able to do so.
Jim improved his diet and built up his fitness gradually. He took up triathlons and became so fit that he was selected for the M55 British team in the 2001 World Triathlon Championships in Edmonton. His finishing position was a very good 5th.
In the last week of August 2001, Jim ran in the World Hill Running Trials in the Glentress Forest at Peebles and won his M55 age group race (over 8000 metres climbing to 1900 feet) by almost a minute and gained selection for the world event in Poland. Came the race – the World Veterans Mountain Running Trophy Race – a month later and he finished second after a sprint for the line with a local man. Jim's feat of winning a medal in a major championship was unmatched in the club's 116 years up to that point. He followed the medal winning performance with a win in a local race the next day! The trophy was much admired on his return but not as much as the actual race performance.
Jim went on running triathlons at home and abroad and winning Scottish championships but the performances in 2001 were to be the highlights. To take part in the officially designated trial competitions, gain selection and then perform as well as he did in the actual championships is a wonderful feat. In addition, Jim is a loyal Clydesdale Harrier of over fifty years standing and a superbly talented sportsman who brings credit to himself, his family and his club.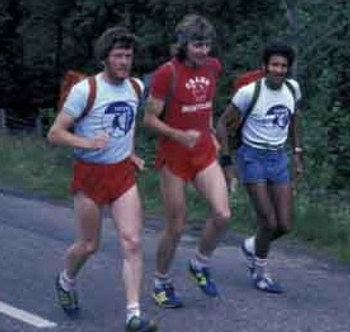 Bobby Shields, Mel Edwards and Charlie Ramsay
Excerpts from 'Stud marks on the summits' by Bill Smith. Published 1985.
"Brian Finlayson was born 3/6/47 at Falkirk but now lives in Edinburgh. He is employed as a bank official. Brian ran for Forth Valley Harriers before transferring to Lochaber AC in 1972.
He gained a 'Blue' for cross country at Strathclyde University after representing Scottish Universities. Brian won the 1977 North of Scotland cross country championship.
His interest in hill racing was a natural extension of this interest in hill-walking, rock climbing and snow and ice climbing – and later ski-ing. He climbed all the Munros by the age of 23 and before that had been a cyclist.
In the Ben Nevis Race, Brian Finlayson was a close second to Dave Cannon on three occasions: 1971, 1972 and 1974. These he considers his finest performances, since Cannon was a superb hill racer, who won the 1973 British Fell Running Championship and became a prominent GB International Marathon runner. However, Brian says: "My biggest regret, looking back particularly at the Ben Races, was not spending more time sharpening my speed on the road – and this cost me a number or wins."
Between 1970 and 1976, Brian Finlayson won at least 25 hill races, including: Ben Lomond five times; Eildon; Bens of Jura; Cairngorm three times; Half Nevis three times; Goatfell; Glenurquhart; Creag Dubh; Melantee twice; and Lomonds of Fife twice.
He finished 7th in the 1972 fells championship; 14th in 1973; 4th in 1974; 3rd in 1975; and 14th in 1976, but did not take the championship very seriously, since he did not believe in organising his lifestyle to conform with competing in certain races where points were available. For Brian Finlayson, winning the Ben Nevis Race would have been more satisfying that becoming Fell Runner of the Year.
"At my peak, going back to 1974, I trained hard in the winter months, up to 110-120 miles per week, and then raced frequently but selectively in the summer period. I recall a steady build-up in mileage and quality, with the finishing touches taking the form of fast, hard repeat sessions on a half mile 1:3 hill."
He has not run a hill race since 1977, but has climbed in the Pyrenees, Swiss Alps and Yugoslavia, and in 1980 climbed Kilimanjaro and Mount Kenya: "the latter by the technically quite difficult South Face route."
Brian and his wife intend to continue their mountaineering pursuits and he has no plans to resume hill running: "I thoroughly enjoyed racing, but do not feel inclined to race again at a time when I am not 'racing fit'. Rather it was a phase in my life about which I have wonderful memories – and I plan to keep it that way."
*
Hill runners are very gregarious people – they all know that just to run and finish most hill races takes a lot of training, a lot of determination and a life style that most can't contemplate. The Shields twins are no different and Bobby is seen above starting an epic run with Mel Edwards. Mel was one of the kindest and most gentle men you could hope to find but you can't do the running he did, turn in the times he did or collect the scalps of other runners by being gentle with yourself. He was an amazing person and a superbly talented runner while always being considerate of others. There is the story of him going for the train home after winning the 1967 Harlow Marathon and sharing the carriage with a really depressed man. He asked what the problem was and he said he had run the Marathon and run badly and finished last. Mel thought for a minute and asked what the man's position was, he was told and he then said that the man had beaten several other runners who had dropped out. "At least you had the guts to finish!" Mel said. And he added they had all trained for the race, so the guy's run wasn't that bad. By the time the train reached the next stop, the chap was feeling much better. The next page here is about Mel as a hill runner.
..