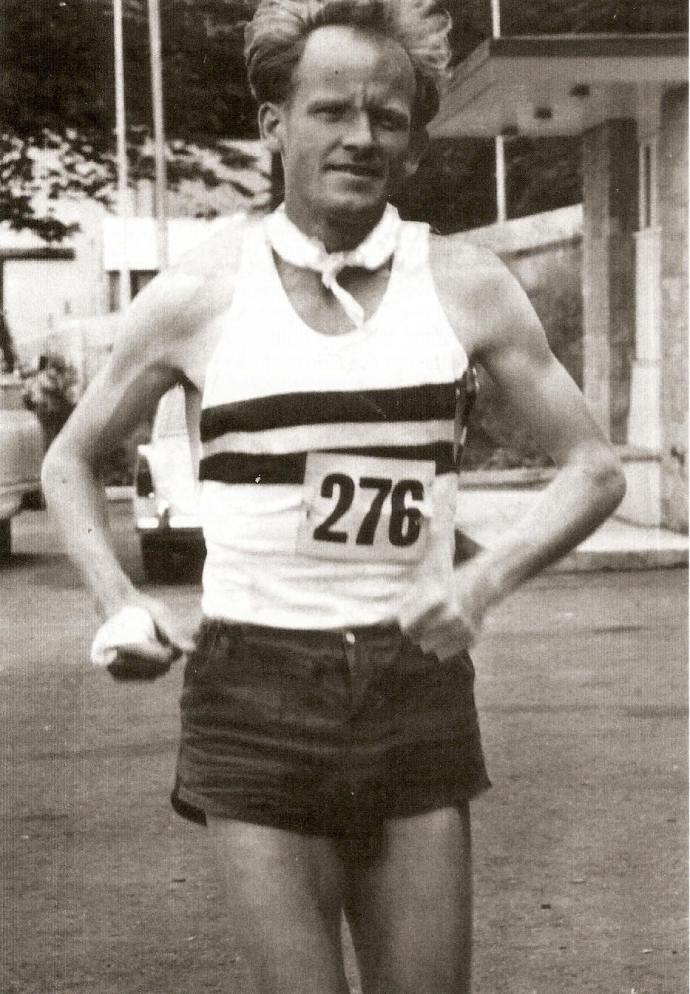 Alastair Wood was one of Scotland's greatest ever distance runners – Scottish and British international runner, multi champion over a range of events – with talents that stretched from the mile and steeplechase on the track via cross-country triumphs to world class road running. It is difficult to think of another Scottish runner with such a comprehensive record. However there were times when he found himself in the middle of a dispute or controversy not of his own making and two of these are tackled here by Colin Youngson, using new material from the Scottish Marathon Club Minutes starting with a look at why he was not selected for the Empire Games in 1966.
1966: Why was Alastair Wood overlooked for Empire and Commonwealth Games Marathon selection; and his European best time never accepted by the Scottish Marathon Club or the Scottish Athletics Association?
Alastair Wood's profile on this website under Marathon Stars starts as follows.
"Alastair Wood came to marathon running with a record of athletic achievement at all levels of the sport that might have justified him in retiring or stopping. Instead he went on to become one of the great figures of Scottish and British distance running.
One of many honours that were justly awarded to him was the Achilles Club gold medal. The Achilles Club is an elite and exclusive athletics club composed only of former students at Oxford and Cambridge Universities. Founded in 1920 it has added a great deal to the sport and is known and respected all over the globe. Since 1949, the Achilles Club has awarded annually two gold medals, for the best performance by a club member on Track/Road and Field. Recipients of the Track award include Roger Bannister, Chris Chataway, Chris Brasher, David Hemery and Richard Nerurkar. The only Scottish athlete to obtain this prestigious medal was Alastair Wood (Oxford University and later Aberdeen AAC), who won it twice:
*in 1962 [when he was a close second (to that year's European and Empire champion Brian Kilby) in the AAA Marathon; and a splendid fourth in the European Marathon];
*and 1966 [when the Achilles Club records state that Wood had run a marathon in 2.16.06; and set a new GB and European Best Marathon Time of 2.13.45 in the Forres marathon]. For some obscure reason, the latter time has never been accepted by the SAAA, but was ratified by the AAA in 1967, and is now recognised by the Association of Road Running Statisticians (www.arrs.net) as the fastest time of the year in 1966]. Alastair was also narrowly pushed into second by Jim Alder in the AAA championships in 1967, with 2.16.21." As late as 1971, aged 38, he ran 2.16.06 in the International Maxol Marathon in Manchester, only 23 seconds behind Alder.
During every year in the 1960s, the SMC sent three prominent club members (for example Secretary Jimmy Scott, Vice-President Joe Walker and President Dunky Wright) to form part of the SAAA sub-committee that decided who should be awarded the Donald McNab Robertson Trophy as Scottish Road Runner of the Year. Alastair Wood won the Scottish Marathon Championship in 1962, 1964, 1965, 1967, 1968 and 1972. He was chosen to receive the Robertson Trophy in 1962, 1964, 1965 and 1967. Previously, while concentrating on the Track, he had won the 1959 SAAA Crabbie Cup for best Championship performance; and the Coronation Cup as the outstanding athlete of 1962.
In the light of Wood's high status as a marathon runner and a Scottish International athlete, what happened in 1966? Why was he ignored for Jamaica Commonwealth Games Marathon selection? Why was his Forres European Best Time never ratified by the SMC/SAAA?
The man himself, in an interview with Mel Edwards twenty years later (in 1987) remembered the situation as follows.
"Wood: The Commonwealth Games were in Kingston, Jamaica and I went for marathon selection. The only trouble was that I couldn't get any guidance on the selection procedure. The Scottish championships were at Westerlands in early June and I asked John Anderson – who was the National coach and advising me on my training – if he could ascertain whether this was the race on which selection was to be based. He couldn't find anyone who could tell him but suggested that if the winner of the race was to be selected then I had to do it. Anyway, I was in excellent shape and travelled to Glasgow. However, it was extremely hot and the tar was running on Great Western Road. No one would confirm that the winner would gain selection so, since the times were going to be slow, I didn't run, as it would have done my chances of selection no good.
Edwards: The Polytechnic Marathon from Windsor to Chiswick was two weeks later on the 10th of June and Jim Alder and yourself went for selection in that one?
Wood: Yes, Again, it was very hot but at least I knew that if I beat Jim I would almost certainly be picked. We both suffered and Jim finished sixth and I was two minutes behind in ninth. Jim deservedly gained selection and I was very ill with dehydration. I was pretty demoralised and decided to retire. This lasted all of ten days and, although I couldn't face long runs, I got stuck into sessions like 60 x 200 metres.
About four weeks after the Poly I went North for the Inverness – Forres Marathon (on the 9th of July). It was a cool day and I felt so good that I knew I was on a blinder. I reached ten miles in under 50 minutes and then slowed deliberately because I thought I'd blown it. I still came home in 2:13:45, a European record. There was considerable disbelief about the time but the course had been measured by surveyors and the North of Scotland AAA. Anyway, the next year (1967) the course started 200 yards or so back from the previous starting line, and although I found this one much harder I still did 2:13:44." (Actually, Alastair Wood's memory was wrong in 1987, because in 1967 he won in 2.16.16; and the 2.13.44 win was in 1970, over a different course that was later found to be three-quarters of a mile short.)
Don Ritchie, the great world record breaking ultra-distance runner, was third in the 1966 Inverness to Forres Marathon, and later wrote: "It seems likely that the course measurement may have been done in a car; and therefore the ten mile point seemed a little early but the twenty mile point seemed right enough. Add a following wind and AJW's great form and his fantastic finishing time of 2.13.45 was explained."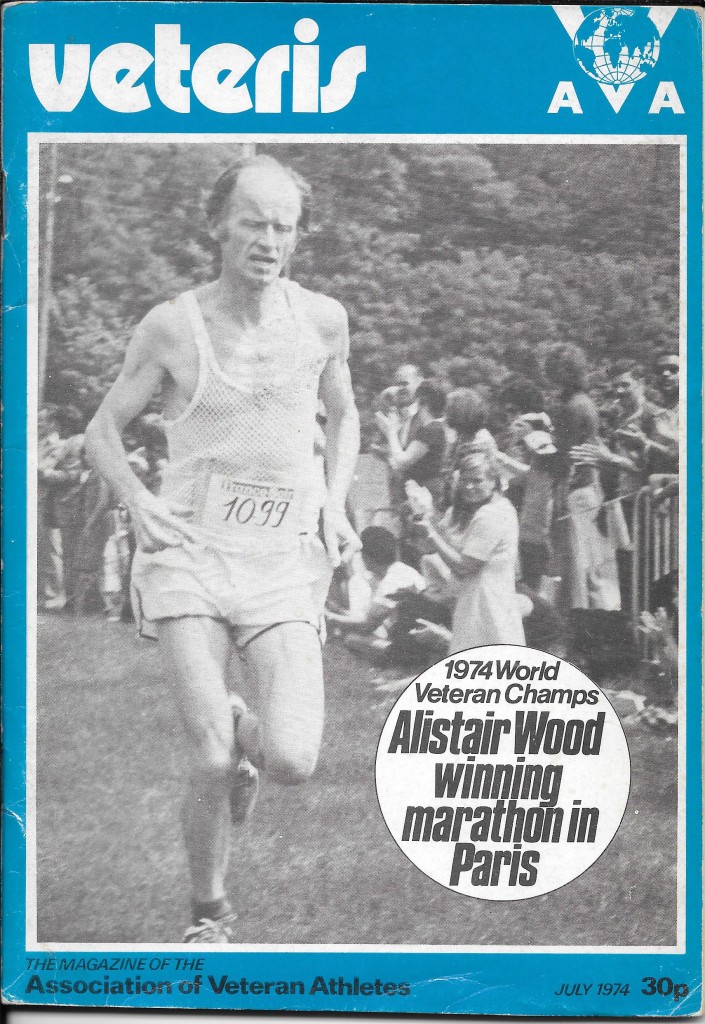 Now that interview was a long time after 1966, and it could be that Alastair's version of events is open to a degree of doubt. But assuming that the Scottish selectors had enough cash to send two marathon runners to Jamaica, which it seems they did, why not, as well as Alder, select Wood, with his fine record as an international marathon runner?
The selection procedure was indeed unclear. On the 28th of May, Charlie McAlinden (Irish but living in Glasgow) won the uncomfortably hot 1966 Scottish Marathon Championship in 2.26.31, with Gordon Eadie second in 2.28.19. Neither was selected for Jamaica.
The 1966 Commonwealth Games Marathon was run on Thursday 11th August, so there was plenty of time for Wood to be selected to travel to Jamaica and race. (Indeed, the main Scottish team had not been selected until July 4th.) It seems very likely that he would have had an excellent chance of winning a medal.
CAN THE SMC MINUTES BOOK CAST LIGHT ON THIS SCENARIO?
Alastair Wood became a member of the Scottish Marathon Club in May 1964.
In August 1965 there was a mention of the 1966 Scottish Marathon Championship probably being run at the beginning of June. (In actual fact it took place on the 28th of May 1966, along with the District Track and Field Championships.) What follows is from the SMC Minute Book which is quoted directly.
March 1966. At the last meeting of the British Empire and Commonwealth Games Council it was announced that Mr D. McL. Wright had been appointed Commandant of the Scottish Team for the 1966 Games in Jamaica. (Dunky was always chosen as the SMC SAAA representative; and had been President of the SAAA in 1959. He was a high-profile influential official.)
20th June 1966. Mr Wright took the opportunity to apprise the meeting of the circumstances in which J. Alder had been chosen to represent Scotland at the Empire Games in the Marathon. Tradition was that our Marathon Champion usually goes but it had been known that AJ Wood and AF Murray, with other possibles, had decided to run in the AAA Championships instead of the Scottish because of the closeness of the dates. It was considered inadvisable to run in both events and it was their opinion that better performances were likely to be shown in the British Championship, when competing at this standard. The Selection Committee, aware of this, decided to wait for the result of the British Championship and, if a Scot finished in the first 6, to select him as our representative. Jim Alder did in fact finish 6th. AJ Wood finished 9th. AF Murray was unable to compete due to cartilage trouble.
15th August 1966: Gordon Eadie became SMC club champion again. Jim Alder had won for Scotland the Empire Games Marathon. Alder was voted to be an Honorary Life member: joining Dunky Wright, Joe McGhee and Dale Greig.
There followed a discussion in which the question was asked why only one competitor was entered for Scotland, and not 3, in view of the wealth of talent available. The method of selection was the point in question, and it was the unanimous opinion of the Committee to deplore the tendency of some Scottish runners to bypass the Scottish Marathon Championship in favour of the AAA event in certain years. It was agreed that we should strive for all competitors to take part in the 'Scottish' and that this race should be the only qualification for Empire Games selection.
The Donald Robertson trophy, by 5 votes to 4, was awarded to Gordon Eadie rather than Jim Alder. A casting vote by the Chairman (D.M. Bowman at this meeting) decided this debate.
21st November 1966: Gordon Eadie (also the Robertson Trophy recipient in 1960) had won the 1966 Liverpool to Blackpool race, beating Bernard Gomersall (a London to Brighton winner) by nearly ten minutes. Then he had won the Edinburgh to Glasgow Race (42 miles) in a new record time of 4.41.21.
Competent Business: Mr Wright referred to the discussion at the 20th June meeting on selection of men for the Empire Marathon. If A Wood had run and won the SAAA marathon, he would have been selected. The selection committee decided to await the result of the AAA marathon two weeks later and if a Scot finished in the first 6 he would be chosen. In the event, J Alder finished 6th and was chosen. A Wood finished 9th. Time was of great importance.
(CJY: What on earth did that mean? Surely 2.13.45 should have been a time that mattered! On this occasion, Mr Wright may not have lived up to his surname.)
AGM 30th March 1967. Competent Business: Inverness to Forres Marathon. Mr Goodwin mentioned the record time by A Wood in 1966 as being the 3rd fastest in the World. Mr D Wright replied that, so far, no claim had been made to the SAAA by either Wood or the promoters for its recognition and until this was done the SAAA could do nothing in the matter.
21st August 1967. A Wood had won the Scottish Marathon Championship again. Inverness to Forres Race: The Secretary (J.R. Scott) drew attention to the time credited to Alastair Wood at Forres in July 1967 of 2.16.16 compared with his 1966 time of 2.13.45 which had been the subject of much speculation. The Secretary had checked the course himself and it appeared to be the full marathon distance as his speedometer agreed with the marked points on the course. Any discrepancy could be on the actual ground (Grant Park) at the finish. It was agreed that he should write the Forres secretary for confirmation of the course.
AGM 27th March 1968. Mr Goodwin asked about the Inverness to Forres Marathon won by AJ Wood in a time now recognised as a British Record. Mr Wright said the SAAA were still awaiting information from Forres, and Mr Joseph Walker supported him in this and said that the SAAA had asked for this and nothing had come back. It was agreed that we write the Forres Secretary again for details, certifying the distance and asking for the names of the timekeepers.
20th May 1968: Discussion about measuring the SAAA Marathon route, already contested in 1967 and due again in 1968. Mr Walker had used a wheel which had 228 turns on the Grangemouth 440 yards track. They had then measured the marathon course by quarter mile stages. Apparently, the Shettleston Marathon course had used a cycle rev counter which was acceptable.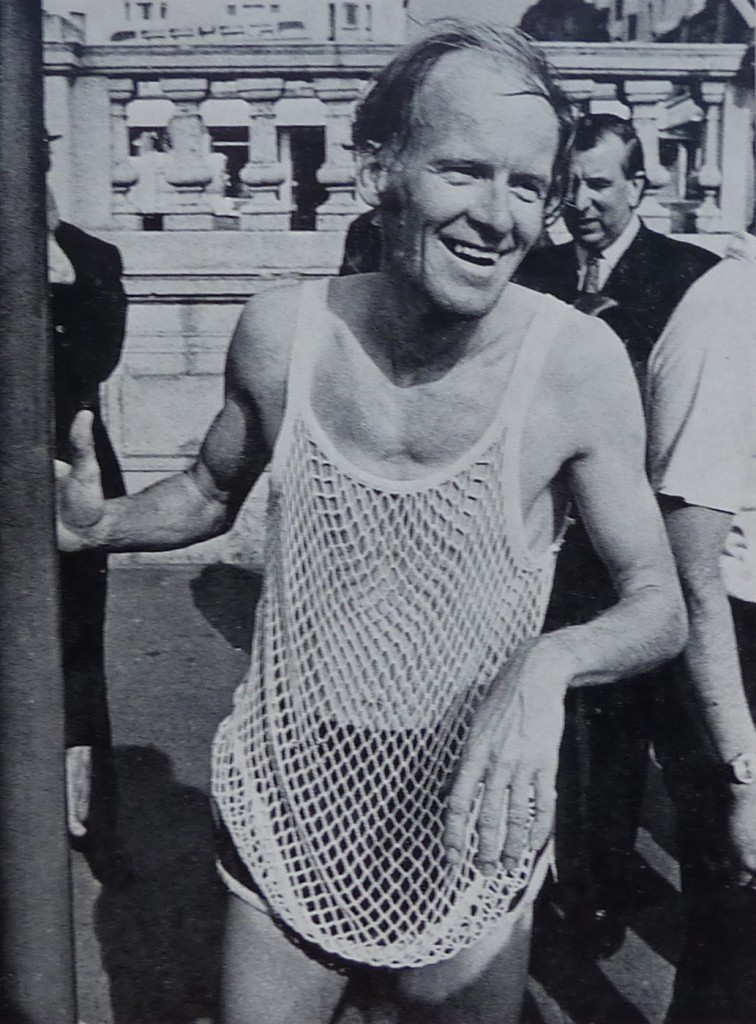 COMMENTS ON THESE CONTROVERSIAL EVENTS
Back in 1966, marathon course measurement was in its infancy, especially in Britain. The fact that in 1967, Jimmy Scott, a most experienced organiser of distance races, was happy to use his car to remeasure the Inverness to Forres Marathon course (the same route as 1966), and to find it accurate, tells us that measuring wheels and bicycle rev counters were not yet normal practice. The Polytechnic Marathon in Southern England, on which several world records had been set, always seemed suspiciously fast. Was it ever considered short? Or was the fact that Wood's 2.13.45 was set in Northern Scotland – not even in Edinburgh or Glasgow – the problem? When in 1967, Alastair Wood's 2.13.45 was accepted as a GB (and former European) record, the last laugh seems to have been on the SAAA; and indeed on one or two stubborn officials in the SMC, who may have been partly responsible for the unclear, badly organised marathon selection procedure.
Alastair Wood had won the Scottish 3 Miles track championship in 1957 and 1959; and gained the 6 Miles title in 1958, 1959, 1960 and 1961, before securing his first Scottish marathon title in 1962. Traditionally, the 3 Miles was held during the marathon and, after his own victories, Wood remembered seeing Harry Fenion (1957) and Hugo Fox (1959) running to marathon victory on the track. Alastair, a clever outspoken man with a satirical tendency, considered them "funny little men in sandshoes"! In addition, he had a combative relationship with officials, no doubt including the eminent Dunky Wright, who may have been the original 'funny little man', despite his impressive record as a marathon runner. Perhaps Dunky was not at all fond of Mr Wood! The SMC minutes certainly suggest that the unamused Commandant was unsympathetic.
In 1958, Alastair Wood had run on the track for Scotland in the Cardiff Empire Games. In 1962 he had taken part in the Empire Games marathon in Perth, Australia; as well as representing GB in the European Marathon. By 1966, although he had certainly aimed for marathon selection, Alastair said that he was far from keen on participating in "Big Games" since he objected to uniforms, certain officials and hanging around for days before the marathon on the last day.
In the 1990s, Alastair stated correctly that in July 1966, after his non-selection and his startling Forres Marathon record, a newspaper had wished to pay his expenses to Jamaica, but he suspected that Scottish officials wouldn't select him, and, in any case, he was not keen to compete in another 'Big Games' so he turned down the offer. Was he unpopular with certain influential Scottish officials? Ming Campbell, who was Britain's best sprinter in 1962, once referred to Alastair in an article as being "the sardonic Alastair Wood". This may have been not entirely inappropriate – but what a fine runner he was! Alastair went on to: break the World 40 miles track record in 1970; smash the London to Brighton best time in 1972; and become World Veteran Marathon Champion in 1974. I knew the old hero well and am, of course, prejudiced in his favour – and certain that he couldn't have cared less about the 1966 controversies.
Colin Youngson