See also Lanarkshire AAA 1956 – 60 Lanarkshire AAA 1961 – 1966 Lanarkshire AAA 1967 – 1970 .
Lanarkshire AAA: 1971 – 1975 Lanarkshire AAA: 1976 – 80 Lanarkshire AAA: '49-80 Recap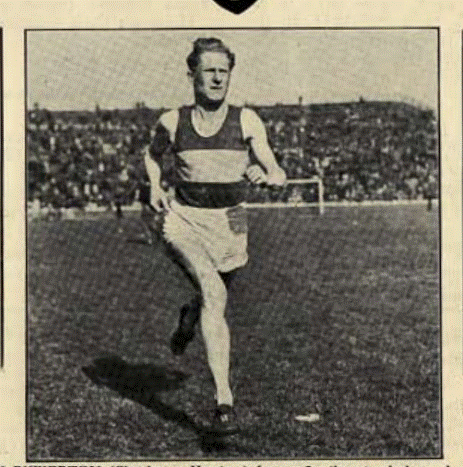 Ben Bickerton (Shettleston, first winner of the Lanarkshire Cross-Country Championship.
The importance of local associations to the development of the sport, probably particularly the County Associations, is sometimes overlooked. They organised county events – cross-country relays and championships, track championships, selected teams for inter-counties matches and helped local clubs organise and operate their own races. There were more in the West of Scotland eg there were Associations in Renfrewshire and Ayrshire before the 1939-45 War, those of Dunbartonshire and Lanarkshire started up after the War, the Glasgow Association was rather short lived with its members splitting between the four mentioned above but there were also groupings of clubs elsewhere, eg Stirlingshire.
_______________________________________________________________________________________________
A great deal of the early information below was recorded by Shettleston Harriers Clark Wallace – like many of his generation in clubs across Scotland he was runner, club official, administrator and more beside. He was one of those whose motto was "You do what your club needs you to do." Many of the race results below came from his club notices as club captain in the 1950s: we are fortunate in that they were kept and that the information is available to us now. It has been passed on to us by John Mackay of Shettleston and we are grateful for that. A few words about the man:
Clark Wallace was an easily recognisable, good natured, hard running competitor at every distance up to the marathon and a key member of many club teams for a long period. Off the track he was a tireless worker for the club too. He had one international vest – in 1953 when he was thirty third finisher and a counting runner for the Scottish team. He joined the club after the War at the same time as Willie Laing and both were to play big parts in the development of the post-war club. Clark was a big heavy built man, not at all your typical distance runner. His record in the National was Sixteen Races; Seven Gold, One Silver, Four Bronze
He was equally at home on the road and he competed in nineteen Edinburgh to Glasgow Relays. He ran in both 1949 races on the first stage and both times set fastest time for the stage, in 1950 he was fastest man on the fourth stage and in 1955 was again fastest on the fourth stage. In total he amassed six gold team medals, seven silver and one bronze to add to his cross-country collection. As a result of these he was an indispensable part of the London-Brighton team (the first two Scottish teams were invited to the National London to Brighton) and he took part in no fewer than eleven of these. Always at home on the roads he was third in the SAAA Marathon Championships from Westerlands in 1963. On the track, he was second in the SAAA Two Miles Steeplechase in 1954, third in the 3000m steeplechase in 1955 and second in 1956 and 1958.
_______________________________________________________________________________
The date when the Lanarkshire Amateur Athletic Association was first constituted is not clear. We have this correspondence which it will be noted is dated 2nd February, 1949. There is clearly an Association that had been up and running before that, and that the secretary was Bobby Craigen.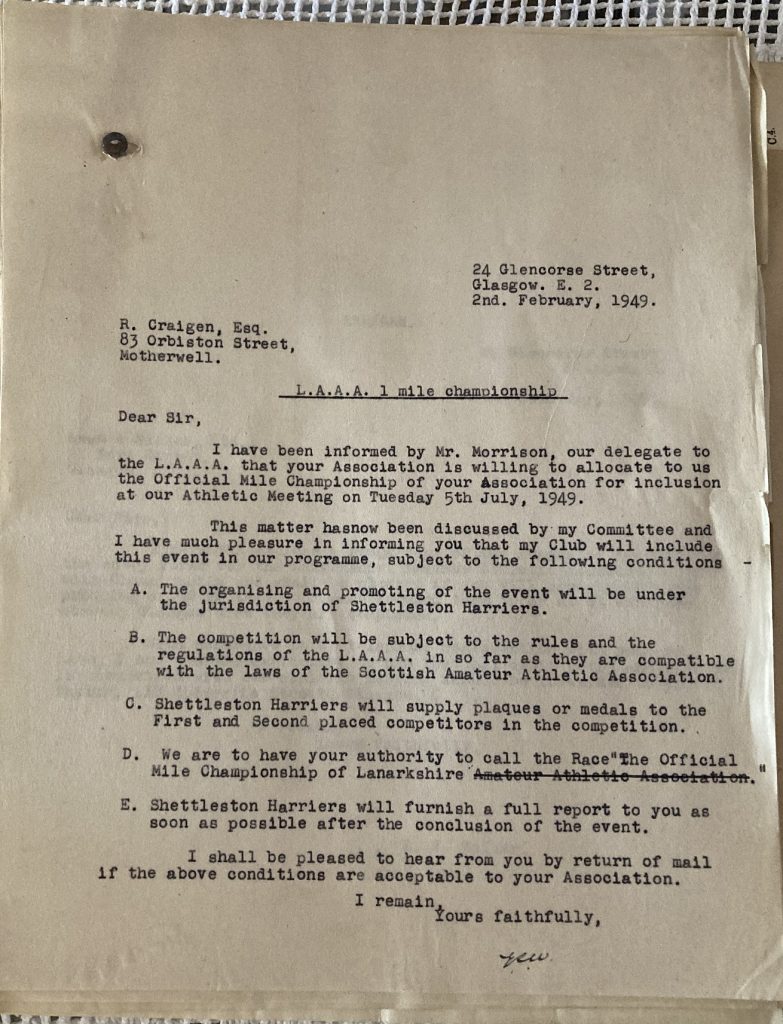 The Lanarkshire Association's first race was cross-country championship for Youths held at Wishaw and we are fortunate to have, courtesy of John Mackay, a completed programme for this event.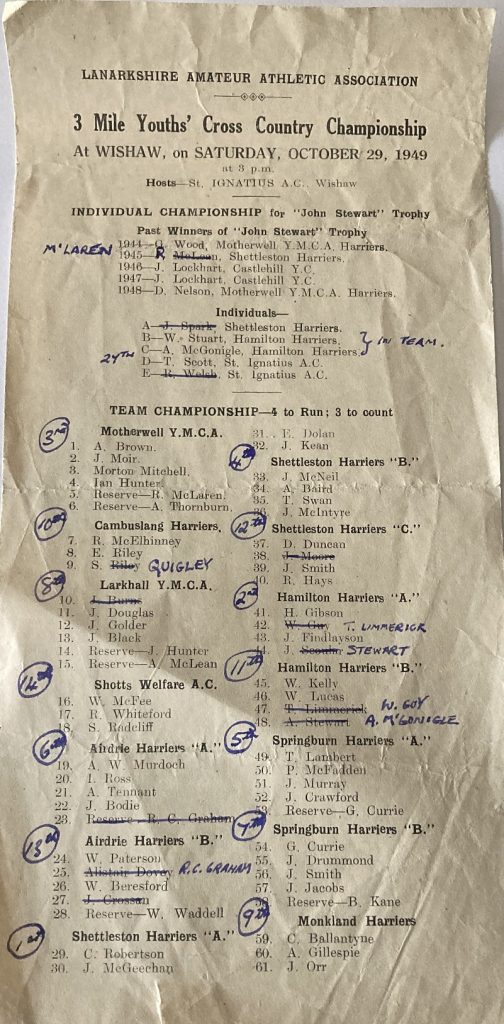 The Press had short reports like this from the 'Glasgow Herald' "J Finlayson (Hamilton Harriers) was the outstanding runner in the Lanarkshire youths three-mile championship race at Wishaw. He beat T Lambert (Springburn) by 150 yards. J McNeill (Shettleston) was third 15 yards behind Lambert. In the team race, Shettleston Harriers held a four-point margin over Hamilton Harriers with Motherwell third, three points worse than Hamilton." There followed results down to third place in all categories. There is more detail than in either of the above in the results, as noted by Clark Wallace below. Finlayson was clearly the best Youth athlete in the country, a fact that he proved when he won the Midlands District Championship and the national championship too.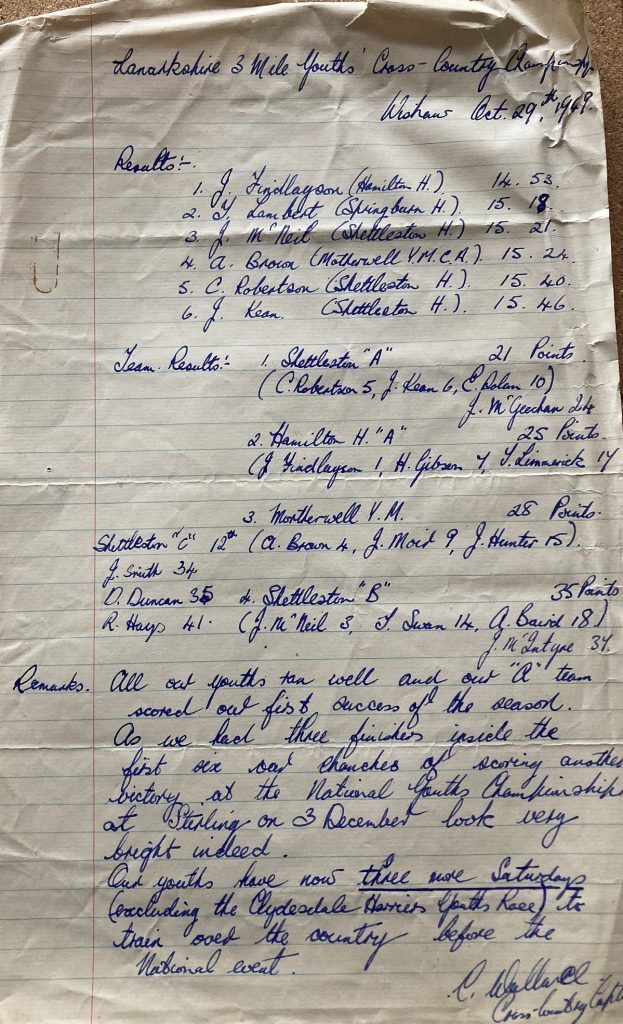 Note some of the names in these results – a young Andy Brown from Motherwell who would go on to win the senior national championships and captain the Scottish cross-country team, finishing fourth. It is sometimes forgotten that the county associations held track and field meetings as well as cross-country and road.
The County Championship was held on 16th January 1950 at Cambuslang and Ben Bickerton beat team mate Jim Flockhart by 150 yards with Alex Gibson of Hamilton not far behind him. There was no club team award that year with a ballot team race being incorporated instead. The idea behind the ballot team race, which was quite common practice at the time, was to give runners in smaller clubs a chance of winning a prize that would otherwise be denied them. All entrants from all clubs were grouped in three bundles according to ability, and teams were selected by athletes selected at random, one from each pile, to make a team. with the result being calculated as for any team race.
The first LAAA track championships were held on 4th July in 1950 at Helenvale Track in Glasgow and the results indicate that there were at least 6 clubs competing, ie Shettleston Harriers, Hamilton Harriers, Monkland Harriers, Larkhall YMCA, Springburn Harriers and Lanarkshire Constabulary. We know from the above results that other member clubs included Motherwell YMCA making a total of 7. The number was probably higher than that but even what we know, gives us a strong grouping providing support and competition for each other.
The report in the Glasgow Herald read:
T TRACEY WINS MILE CHAMPIONSHIP
Lanarkshire AAA Titles
T Tracey (Springburn Harriers), the Scottish three miles champion, and B Bickerton (Shettleston Harriers), the Scottish six miles champion, were notable competitors in the Lanarkshire Amateur Athletic Association Championships held last night at Helenvale Park. Travey ran a well-judged race to win the mile from E Bannon (Shettleston Harriers) in 4 min 30.1 sec. Bickerton dropped out when the pressure was applied over the last furlong of the race. DK Gracie, holder of the 100 yards championship, did not compete, apparently reserving himself for the Scottish Universities v English Universities contest at Newcastle tonight."
Results: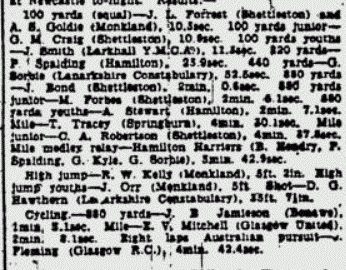 If we look at the names above we see several Scottish international athletes – Tracey was a top class runner in anybody's reckoning especially over the country and on the road, Ben Bickerton was also an internationalist as was Eddie Bannon of Shettleston. And was young G Craig the same George Craig who won the SAAA 6 miles title and ran for Scotland over the country as a senior?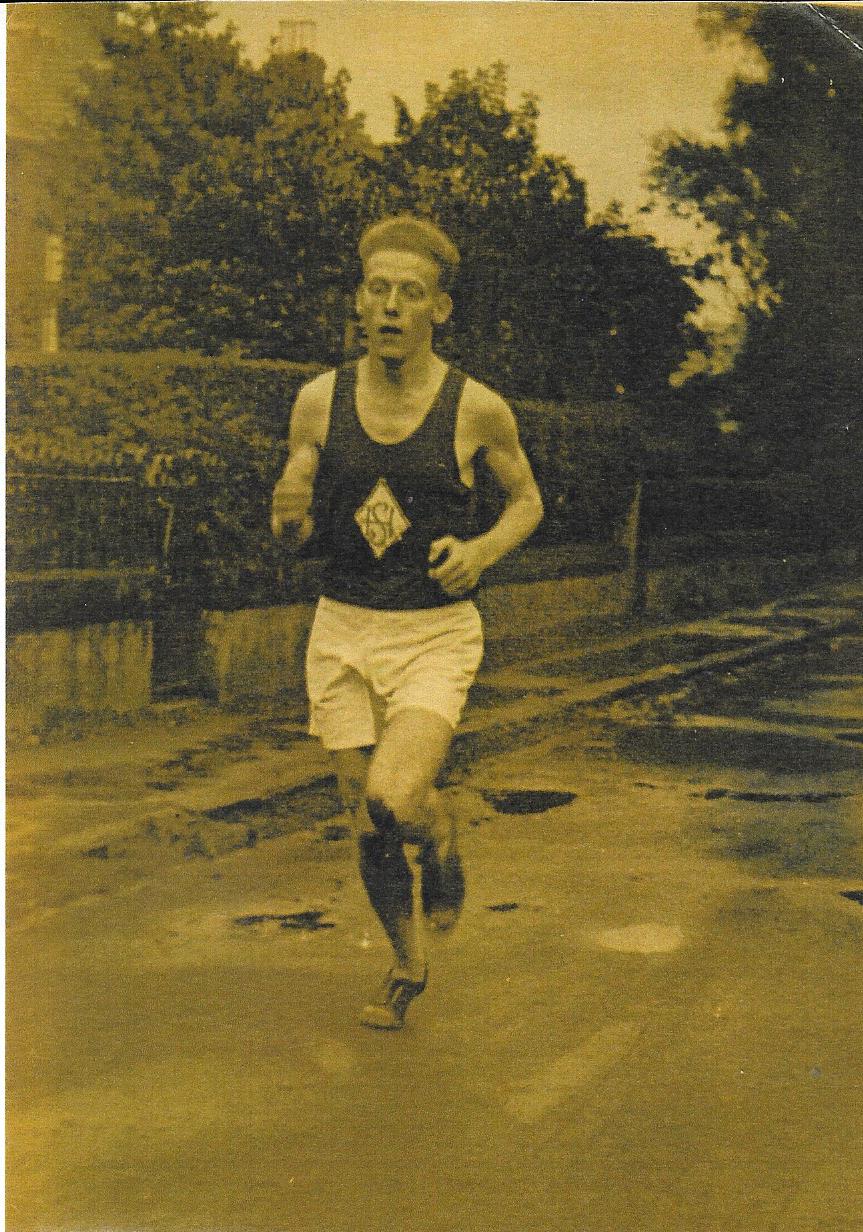 Tommy Tracey (Springburn Harriers)
The cross-country season did not end at that point – the Inter-Counties Championship made its debut on 18th March and was held at Bishopbriggs with the Springburn Harriers club house as race HQ. The original programme with entry lists was saved by Clark Wallace and can be seen below.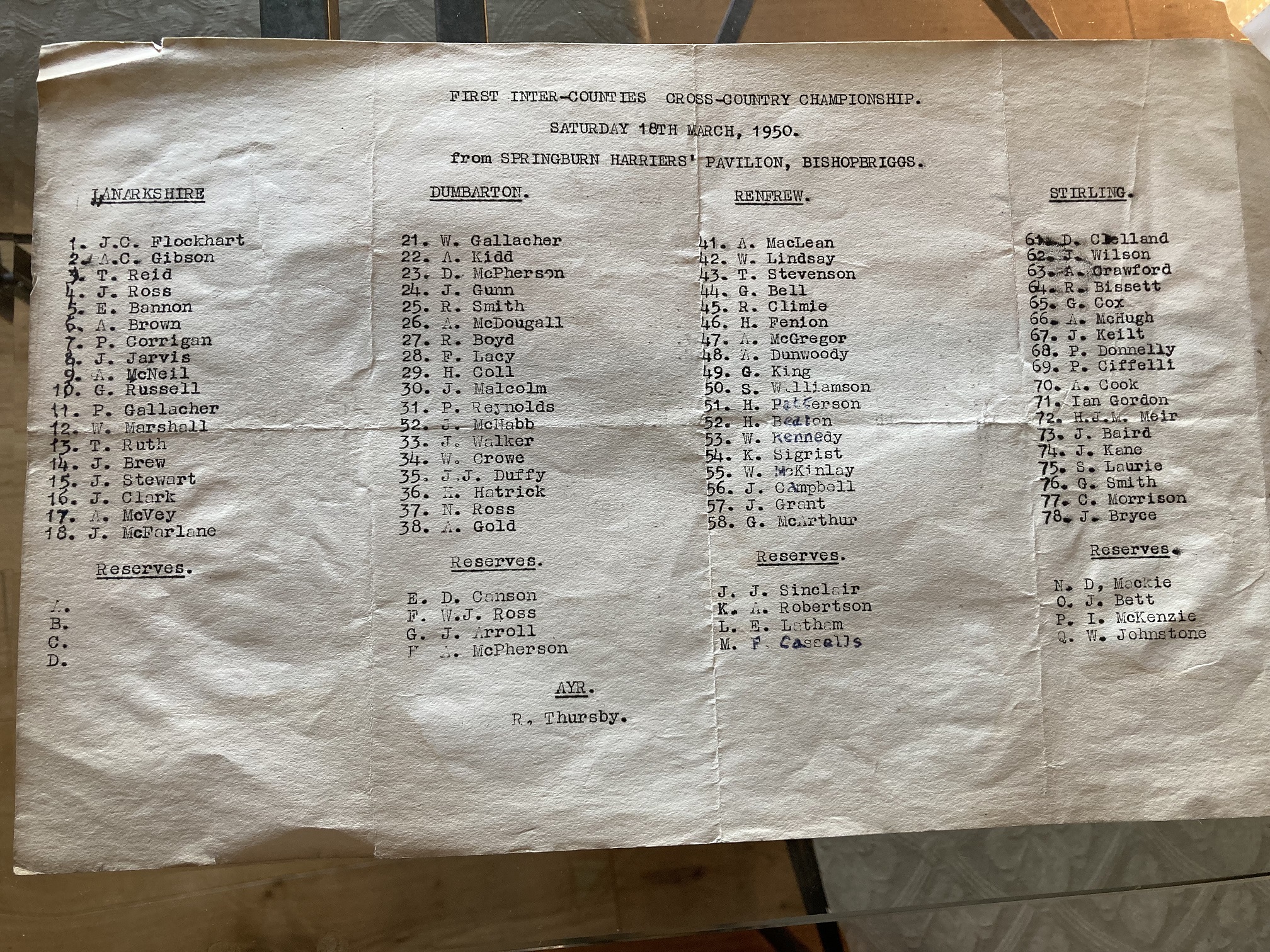 The result of the race was a win for Renfrewshire with 24 points with the other teams in order being Lanarkshire 125 points and Dunbartonshire 155 points. The top individuals were W Lennie (Vale of Leven and Dunbartonshire) in 33:52, Tom Stevenson (Greenock Wellpark and Renfrewshire) 34:00 and Eddie Bannon (Shettleston and Lanarkshire) 34:16.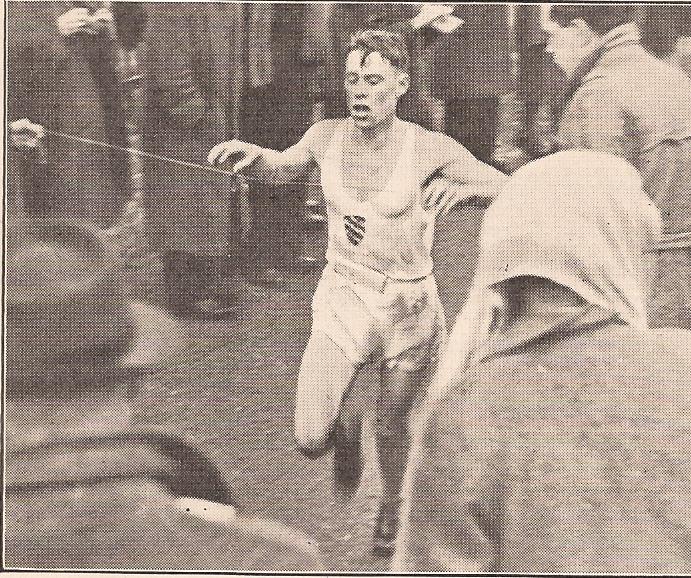 Walter Lennie (Vale of Leven and Dunbartonshire)
The second county cross-country championships were held on 2nd December in 1950. The Senior Championship featured the same three as contested the County event on the track in July. Tracey won by 150 yards from Bickerton with Bannon in third place. Finlayson won the Youths race from Andy Brown with Tommy Limerick of Hamilton in third. As explained above the Lanarkshire championships for senior men did not have a team championship but rather a Ballot Team race.
The Inter-Counties 6 miles Cross-Country Championship was held at Stirling on 16th December 1950 with four teams in contention. The 'Scots Athlete' reported the results as below. The sport was being rebuilt after the War with a ladder of progression being developed on cross-country as on track with club, county, inter-counties, district and national being the rungs up to the ultimate – the international. The first Inter-Counties was reported on above and, as on that occasion, there were only four counties competing in the second.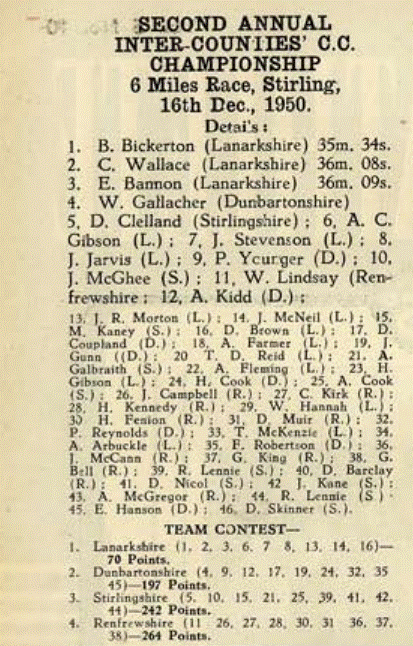 The Track and Field Championships were held on Wednesday 4th July at Carluke and we know from the Airdrie & Coatbridge Advertiser that Monkland Harriers were taking part and won three prizes but other results have so far been hard to get hold of and the next LAAA organised events were in the Cross Country season with the first being the Road Relay Championship at Motherwell on 27th October.
Traditionally October is the month of road relays which ease the runners into the cross-country season. At 4 x 2+ miles they serve the double purpose of sharpening the road runners and strengthening the track men for the coming longer events. At their best in the 80's and 90's they were in order, McAndrew Relays at Victoria Park on the first Saturday in October, then the country championships, the Midlands and the National relays. A gradual and deliberate progression in intensity devised and organised by the grass roots of the sport. So it was that on October 27th, 1951, the Lanarkshire Road Relay Race was held in Motherwell. The race results as written out longhand by Clark Wallace are below. Six clubs, seven teams. Fastest times from I Tierney of Cambuslang Harriers with two Springburn men – J Gordon 7:39, and J McDonald 7:48 – in second and third. Joe Gordon was a very good runner who went on to be a very well known folk singer.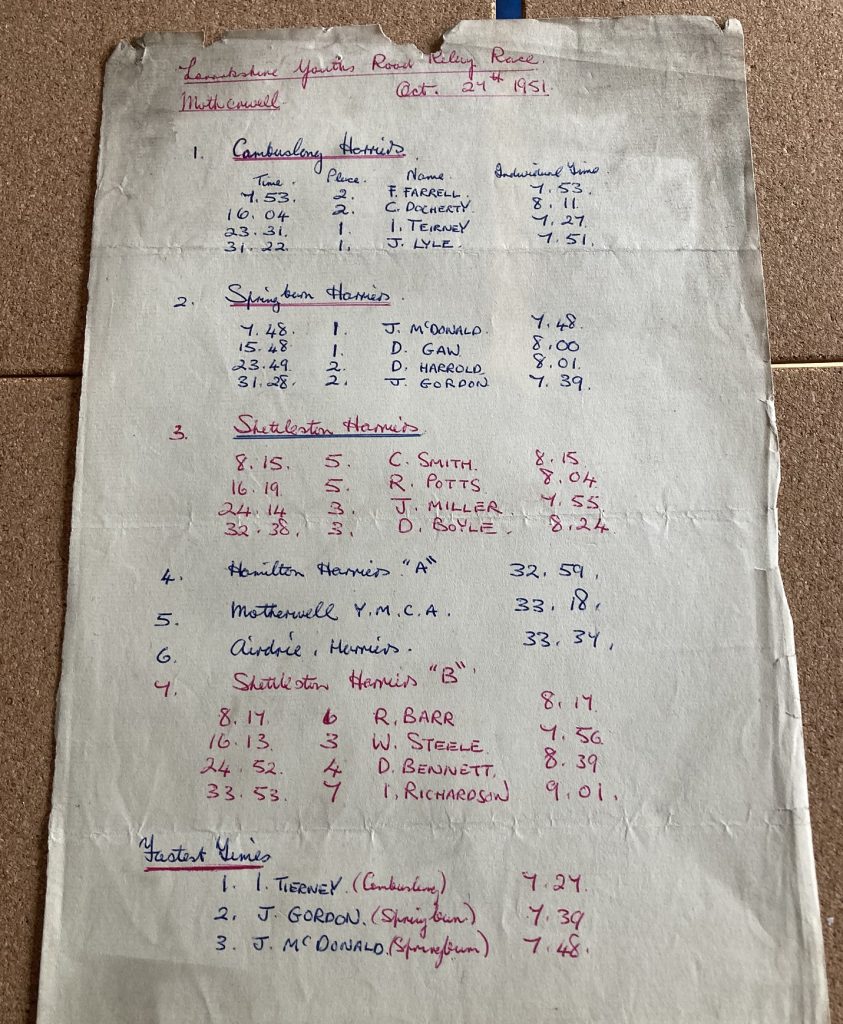 The championship was held on 1st December, 1951, with 50 runners representing seven clubs were forward in the Senior Race and the Glasgow Herald report read: "E Bannon (Shettleston Harriers) beat T Tracey (Springburn Harriers) the holder, by 200 yards in the Lanarkshire Six Mile County Cross-Country Championships at Shettleston on Saturday, winning in the fine time of 31 min 38 sec over a four lap course. D Neilson (Motherwell YMCA) was third, about 170 yards behind Tracey. For the Youths title, J Stevenson (Larkhall) beat the fancied candidate I Tierney of Cambuslang by 90 yards with J Lyle (Cambuslang) third, four yards behind Tierney. The team contest ended in a tie between Springburn (J McDonald 4, J Gordon 6, P McParlane 8) and Cambuslang (I Tierney 1J Lyle 2 and J Farrell 15) with 18 points. Shettleston Harriers (W Steel 5, J Miller 7, C Smith 9) were third."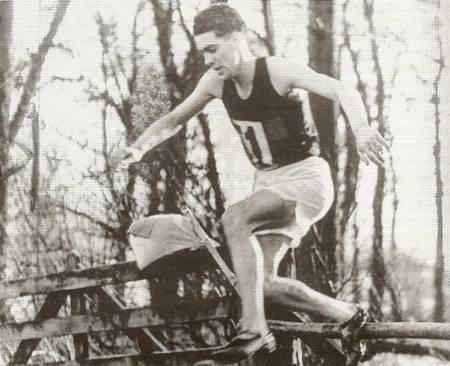 Eddie Bannon (Shettleston Harriers)
The Lanarkshire Association was one which supported the new Inter-Counties Championship and this was held on 12th January at Westerton and in 1952 was contested by only two teams – Lanarkshire and Dunbartonshire. Lanarkshire won more than comfortably with 51 points to Dunbartonshire's 164. The winning team was led home by of T Tracey 1, D Nelson 2, AC Gibson 3, AH Brown 5, J Finlayson 6 and J Eadie while the top six from Dunbartonshire were A Kidd 3, D Coupland 12, R Black 16, J Robertson 18, W Crowe 20, P Ballance 20. This would go to be a fairly important fixture with Ayrshire and Bellahouston to join followed by other counties, mainly from the west of Scotland.
The County Track Championships in 1952 were held on Wednesday, 11th June, at Shotts and the short report from the 'Glasgow Herald' reads: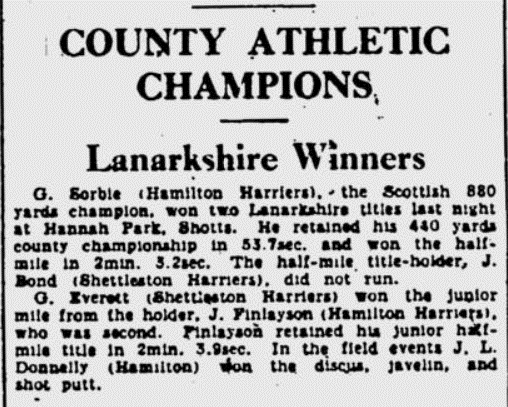 Short but interesting the victory in the junior mile was to be one of the first of many that Graham Everett was to win and second placed Finlayson confirmed his ability by also winning the junior half mile.
The Glasgow Herald, of course, covered the relays on October 25th as part of its sporting coverage with –
CAMBUSLANG RUN SPLENDIDLY
Cambuslang Harriers again proved their power on Saturday when at Inveresk, Coatbridge, they won the Lanarkshire eight mile relay championship for the second year in succession in the good time of 47 min 12 sec. Springburn Harriers were second 90 yards behind and Shettleston Harriers A third a further 200 yards away. Shettleston A led at the end of the second lap, but F Ross and I Tierney, who had the fastest time of the day. ran splendidly for the winners over the last four miles. Young P McParlane, running last for Springburn, made a great effort to overtake Tierney and his time was only a second slower. Details:-
Cambuslang Harriers (W Mulrooney 9:57, W Morton 9:21, F Ross 9:18, I Tierney 8:57) 57:12;
Springburn Harriers (R Gaw 9:55, J O'Hare 9:20, D Harold 9:27, P McParlane 9:8:58) 57:28.
Shettleston Harriers (J Miller 9:27, C Wallace 9:25, I Richardson 9:55, I Cloudsley 9:22) 57:58. Fastest lap times:- 1. Tierney 8:57; 2. McParlane 8:58; 3. W Drysdale 9:13.
Lots of interesting names there too – note Clark Wallace on the second leg for Shettleston handing over to Ian Cloudsley who would win the Scottish Under 17 championship the following season. Pat McParlane of Springburn would be a very good Junior runner and win the Scottish national cross-country in 1955/56.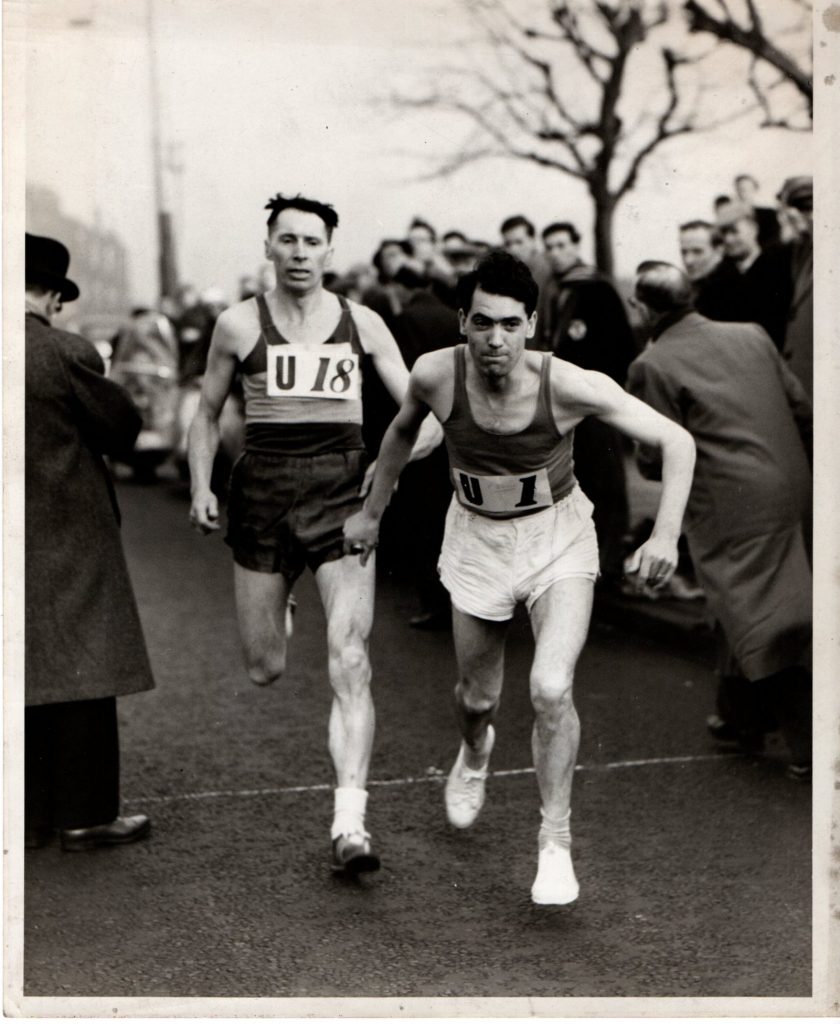 Clark Wallace passing the baton to Eddie Bannon in the Edinburgh to Glasgow Relay
The cross-country individual and team championships were held on 29th November that year at Dalziel Estate in Motherwell. Report:
Despite fog and consequent poor visibility the Lanarkshire Cross-Country Championships for seniors and youths were carried through successfully in the Dalziel Estate, Motherwell. E Bannon (Shettleston Harriers) was never seriously challenged for the senior title although J Finlayson (Hamilton Harriers) endeavoured for a time to keep pace with him. Over the second half of the journey Bannon drew clear of the field of over 60 competitors and won by 100 yards in the good time of 55 min 50 sec. Finlayson was second and J Fleming (Cambuslang Harriers) third, about 150 yards behind the Hamilton runner.
The team contest was won by Shettleston whose counting trio of Bannon 1, C Wallace 4 and J Eadie 8 aggregated 13 points, beating Hamilton (J Finlayson 2, AC Gibson 7 and H Gibson 10) by a margin of six points. The senior ballot team race run in conjunction with this event was won by C Wallace (Shettleston) 4, AH Brown (Motherwell) 6 and TD Reid (Larkhall) 21, who had a total of 21 points. The Youths 3 mile championship was closely contested, I Tierney (Cambuslang) just beating P McParland (Springburn Harriers) in the good time of 17 min 1 sec. F Ross (Cambuslang was third. The team race ended in favour of Cambuslang (I Tierney 1, F Ross 3, and R Morton 4) with eight points."
The 1950's would be the decade when Shettleston dominated the event: they won the individual championship 7 times and the team championship 6 times and Eddie Bannon had 5 consecutive victories, while in the road relays (only instituted in 1953) there were 7 victories. Clark Wallace's Lanarkshire medals from the 1950's, photographed by John Mackay, are below.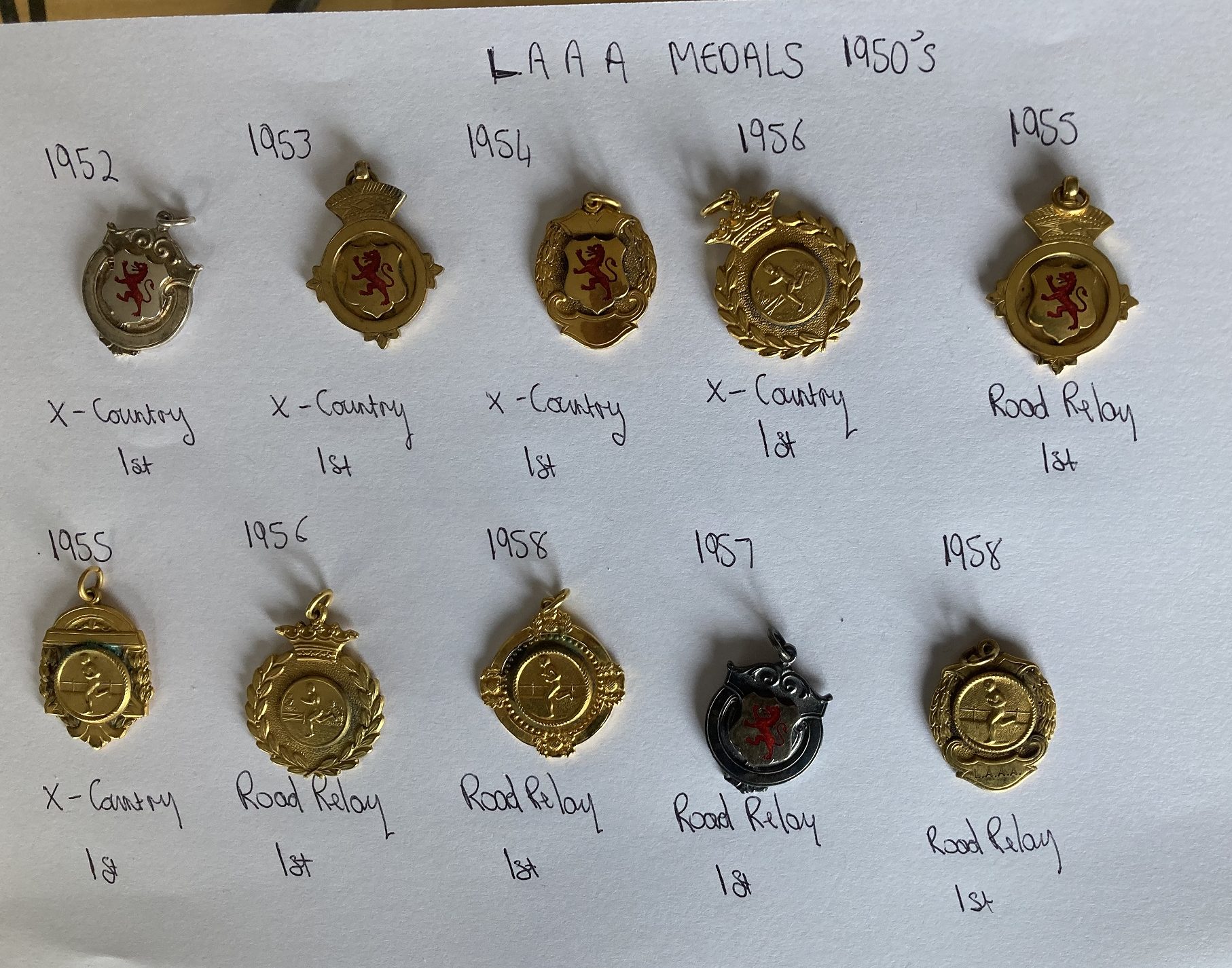 Into summer 1953 and the LAAA Track & Field Championships were held at Motherwell Stadium on Tuesday 9th June and the local 'Motherwell Times had a good report as shown below.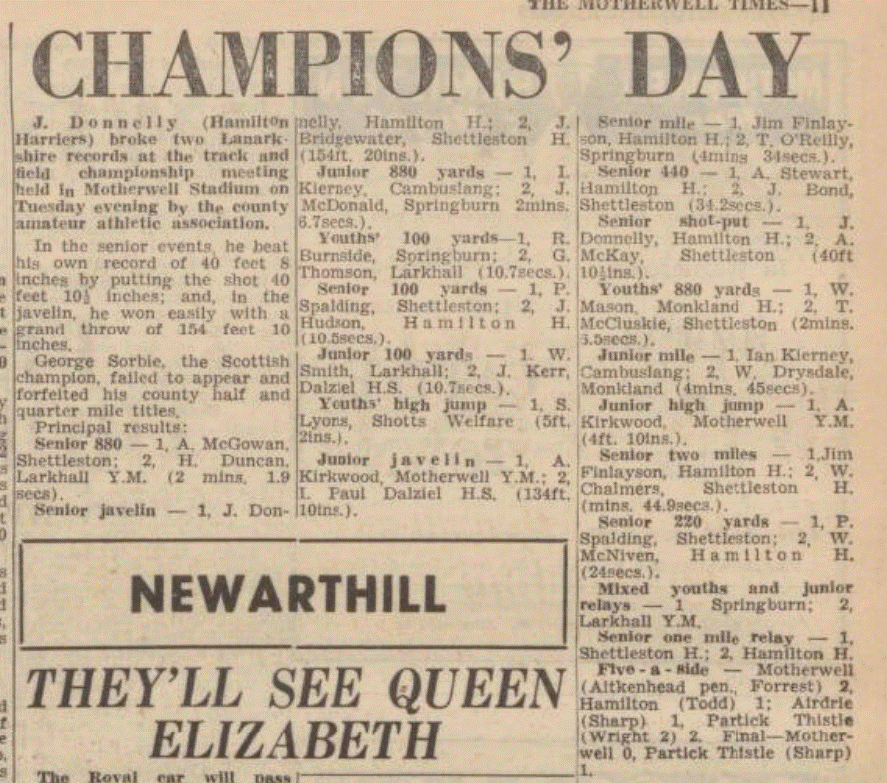 The Road Relays were held on 16th October, 1953, at Shettleston while the host club's rivals were competing at Dundee in the Kingsway Relays. The 'Herald' reported that "Last year's winners were again successful on Saturday. Shettleston Harriers took the first two places in the senior race and the first in the junior at the Lanarkshire championships at Shettleston over 10 miles. The holders A team took the lead in the senior race after the first lap. E Bannon, running fourth, returned the excellent time for the 2 1/2 miles of 12 min 11 sec – the fastest time of the day – and finished more t5han a quarter of a mile in front of the Shettleston B team. Springburn Harriers were third a farther 70 yards behind. In the Youths race over 2 miles Shettleston led all the way and beat Springburn Harriers by more than 100 yards. Monkland Harriers were third 130 yards behind Springburn. Shettleton's first runner T McCluskey had the fastest time of 10 min 5 sec for the 2 mile course."
December 6th was the date in 1953 for the Lanarkshire Cross-Country Championships to be held at Cambuslang. Clark Wallace had laid out the results immaculately on a double sheet of lined foolscap – an early spreadsheet but easier to manage.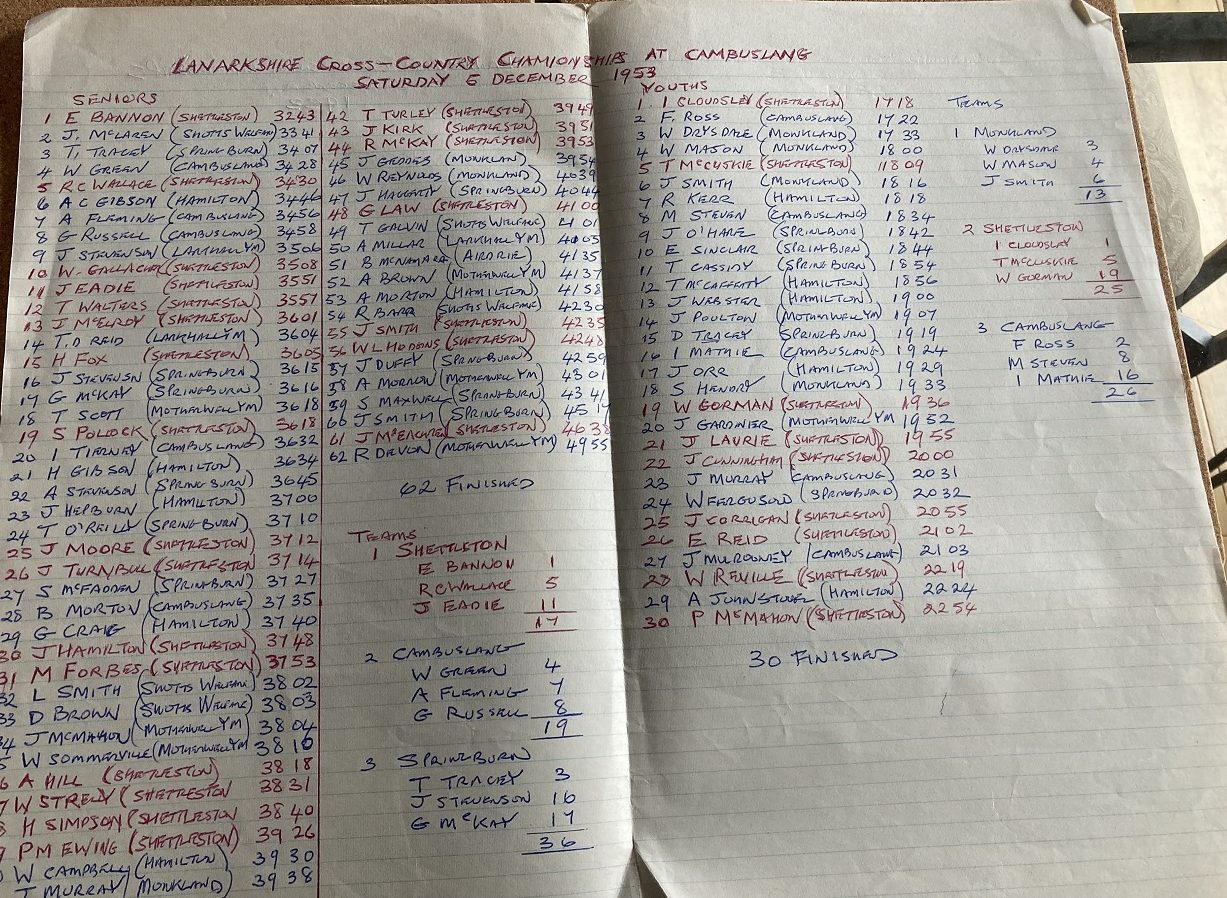 It was a very high standard field indeed, Shettleston's Bannon led a whole series of current or future internationalists – McLaren, Tracey, Fleming, Gibson, Reid, Fox, Stevenson among the seniors and in the Youths age group we have Cloudsley and Eddie Sinclair who would be a Scottish internationalist on track and over the road before becoming a well-known coach.
The Lanarkshire Track and Field Championships were to be held on Tuesday, June 8th, 1954, at Helenvale Park in Glasgow with events for Seniors, Juniors and youths and the 12 mile road race was an unusual inclusion for any county's Track and Field Championships. The 'Herald' picked out JL Donnelly of Hamilton (three first places shot discus and javelin), P Spalding of Shettleston (100 in 10.2 and 220 in 23.9) as meritorious performers but racked Tommy Tracey's Two Mile victory, by only one single yard, over John McLaren of Shotts in 9:24.6. It was another night when there were many very good athletes on display – eg DK Gracie, Scottish and British international sprinter and Olympic hurdler won the 440 yards, AH Brown won the Mile, Andy Fleming of Cambuslang won the 12 miles road race and Eddie Sinclair won the Junior Mile.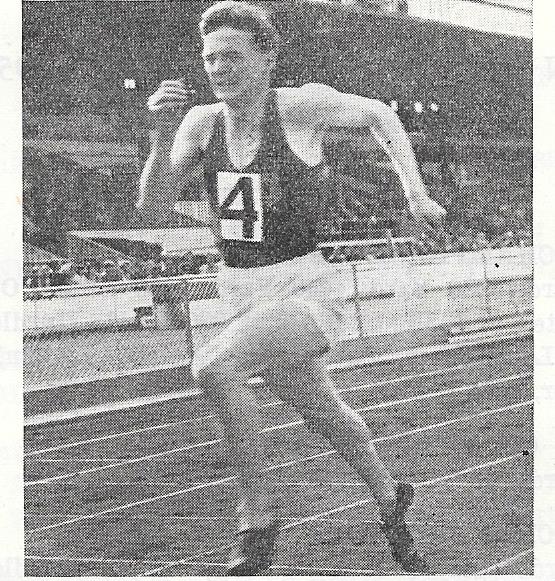 DK Gracie
Came October 1954 and the traditional road relays were held and the event had lost none of its class as regards the quality of runners taking part. If we just look at the results we see many who were famous at the time and others who would soon become so. For instance TP O'Reilly (Tommy) was making his first appearance in these races with Joe McGhee (Scottish marathon champions both and McGhee of course would be Empire Games champion before the year was out. George Govan was no mean performer either and Danny Wilmoth would become of the best known, best liked and most respected officials in the country.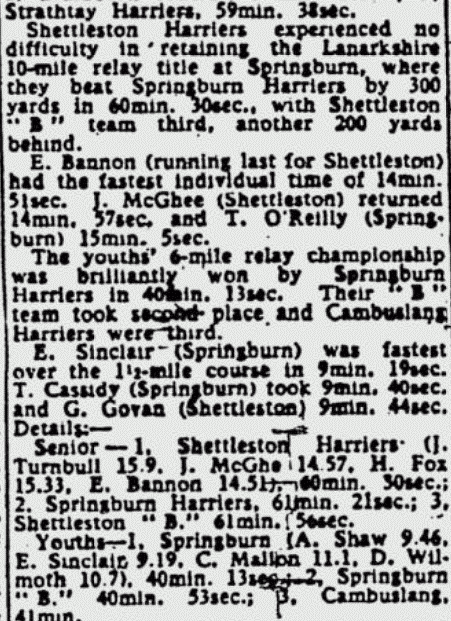 In the club and individual championships of the county on 4th December, 1954, at East Kilbride, over a water logged, two lap trail, the two big names both turned out and battled for the title with Finlayson, now running for Glasgow University making his bid to win his first Senior title. Bannon however prevailed to win his fourth county championship – although he was very fortunate to do so.

The track and field championships were held on Tuesday 8th June at Helenvale and the standard was as high as ever with some new names added. The results as published show this as far as the winners were concerned but there were more down the field coming through. Look at the results first.
Senior: 100 yards: S Hunter (Shettleston) 11.1; 220 yards: P Spalding (Shettleston) 24.2; 440 yards: N Duncan (Larkhall) 53.7 sec. 880 yards: A McGown (Shettleston) 2:00.05; Mile: G Everett (Shettleston) 4:18.4; Two Miles: J McLaren (Shotts) 9:34.5; 12 miles road race: H Fox (Shettleston) 1:03:54.
Juniors: 100 yards: W Montgomery (Cambuslang); Mile: M Steven (Cambuslang) 4:46.8; Relay ( 2 x 105 yards + 2 x 220 yards) Cambuslang 1:08.8
Youths: 100 yards: A Watson (Shettleston) 11.1 sec; 880 yards: J Kay (Shettleston) 2:08.2
Graham Everett is of course a bit of a legend in the sport in Scotland with many international appearances on the track and over the country, but John McLaren of Shotts would go on to great things as a member of Victoria Park AAC 0 he was already British Junior Cross-Country champion. He had been only one yard behind Tommy Tracey in this event the previous year, in 1955 he had an easier win when he beat J Finlayson by 150 yards.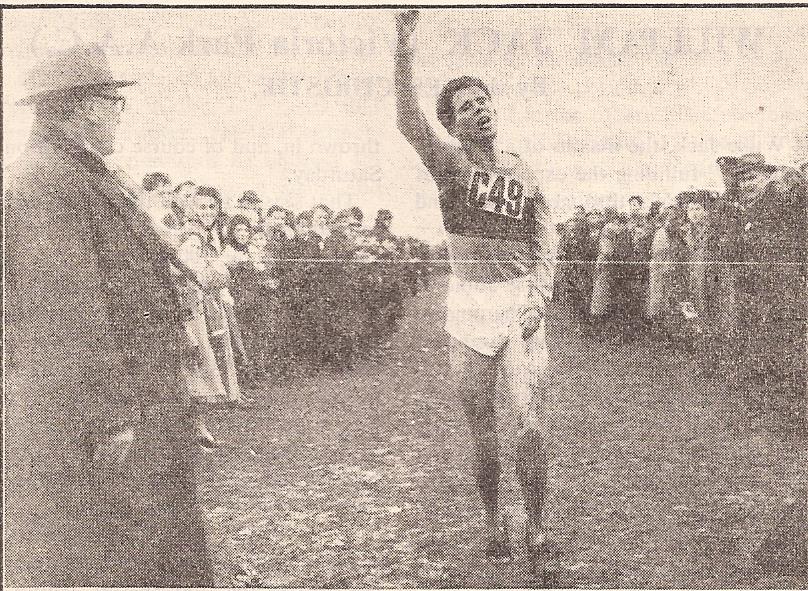 John McLaren (Shotts) winning the British junior cross-country championship
The Road Relays were held at Cambuslang on 15th October and Shettleston were first and second teams in the senior race with Springburn third, and also took first place in the Youths race. To provide the first two teams indicated a real strength in depth for the upcoming Edinburgh to Glasgow Relay in November. In the Youths race the club had two very good runners in T Malone and J Kay – Malone would be a real asset to the club before he emigrated to South Africa where he took to ultra long distances and won the Comrades Marathon.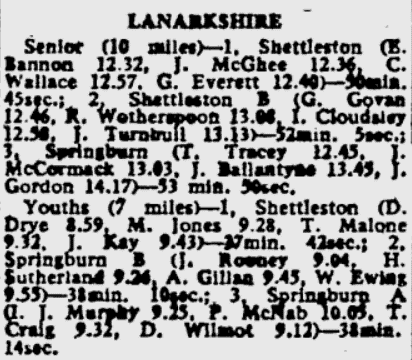 The Championship was another triumph for Eddie Bannon, who recorded his fifth victory in the event and for Shettleston in the team race – this time their B team was third with Springburn splitting them both. Andy Brown of Motherwell was second, sandwiched between Bannon and McGhee, and only 3 seconds behind the former. In the Youths race, Springburn provided the victor and the winning team as they had done the previous year.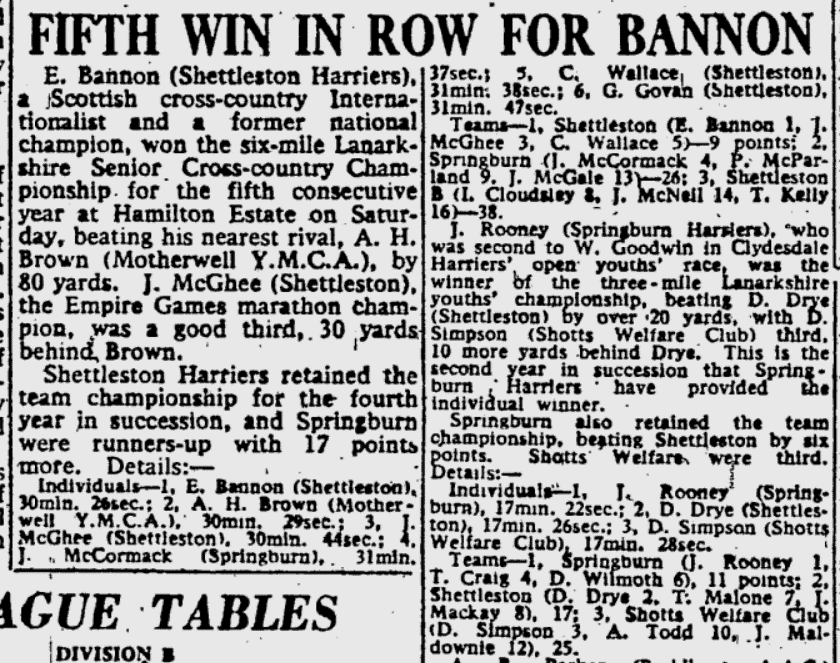 Undoubtedly the first five years were a triumph for the organisers and those whose decision it was to start the LAAA in the beginning. Shettleston was the dominant team at this point but would it continue to be so?
| | | | | |
| --- | --- | --- | --- | --- |
| Year | Championships: Team | Championships: Individual | Road Relay: Team | Road Relay: Fastest Runner |
| 1950 | Ballot Team | Ben Bickerton (Shettleston) | No race | |
| 1951 | Ballot Team | Eddie Bannon (Shettleston) | No Race | |
| 1952 | Shettleston Harriers | Eddie Bannon (Shettleston) | No Race | |
| 1953 | Shettleston Harriers | Eddie Bannon (Shettleston) | Shettleston Harriers | T McCluskey (Shettleston) |
| 1954 | Shettleston Harriers | Eddie Bannon (Shettleston) | Shettleston Harriers | Eddie Sinclair (Springburn) |
| 1955 | Shettleston Harriers | Eddie Bannon (Shettleston) | Shettleston Harriers | Eddie Bannon (Shettleston) |