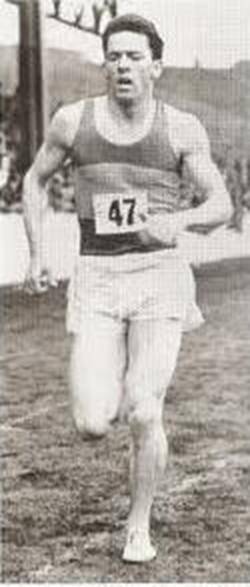 Graham Everett: Winner of the LAAA Cross-Country Championship 1956
Starting with the summer season in 1956 it is maybe appropriate to look at the range of tasks undertaken by the Association in the few years since its inauguration. The county track and field championships were held on the 5th of June at Hannah Park, Shotts, with the results showing that at least eight clubs took part with several very well known and respected athletes taking part – McKay, Everett, Brown McGhee, Watt, Cairns and W Morrison of Larkhall would become a medal winning half-miler.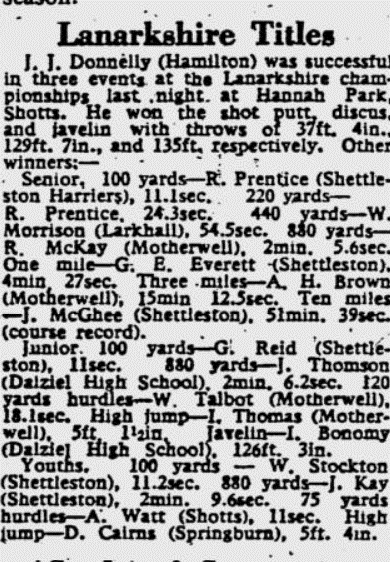 For those competing who did not win a medal, a good performance might earn them a standard certificate. Standard certificates were awarded at club level with standard medals at the national championship for those athletes reaching a pre-determined meritorious level of performance – standard times would be in the club handbook or in the meeting programme. The Lanarkshire Association awarded their own certificates. One of Shettleston's Bill Scally's certificates for the above meeting is below.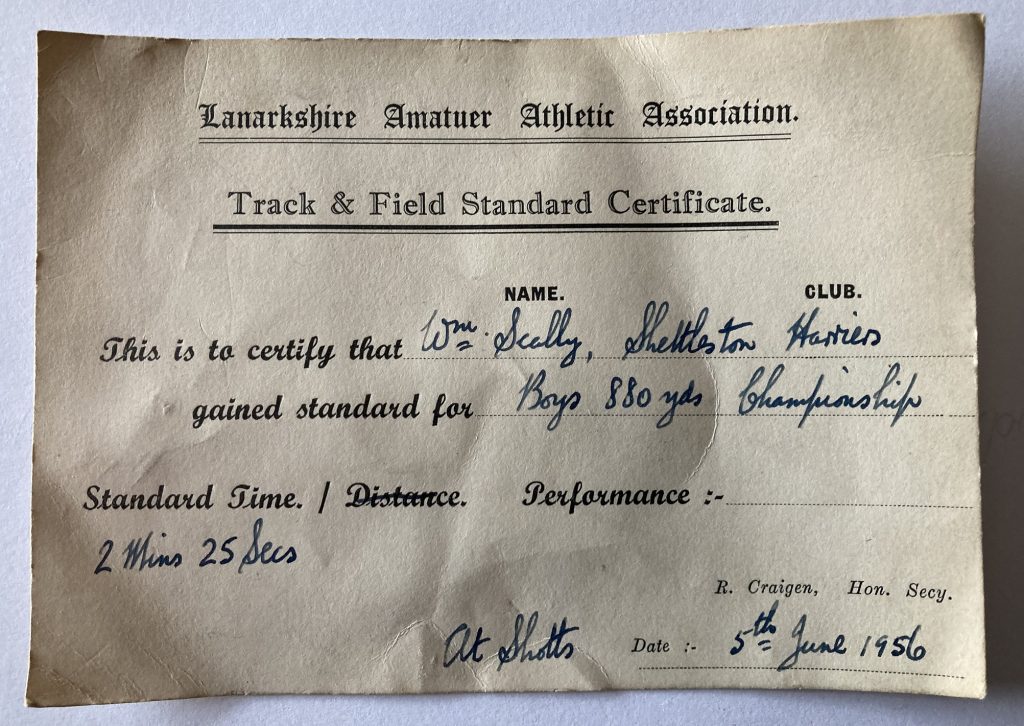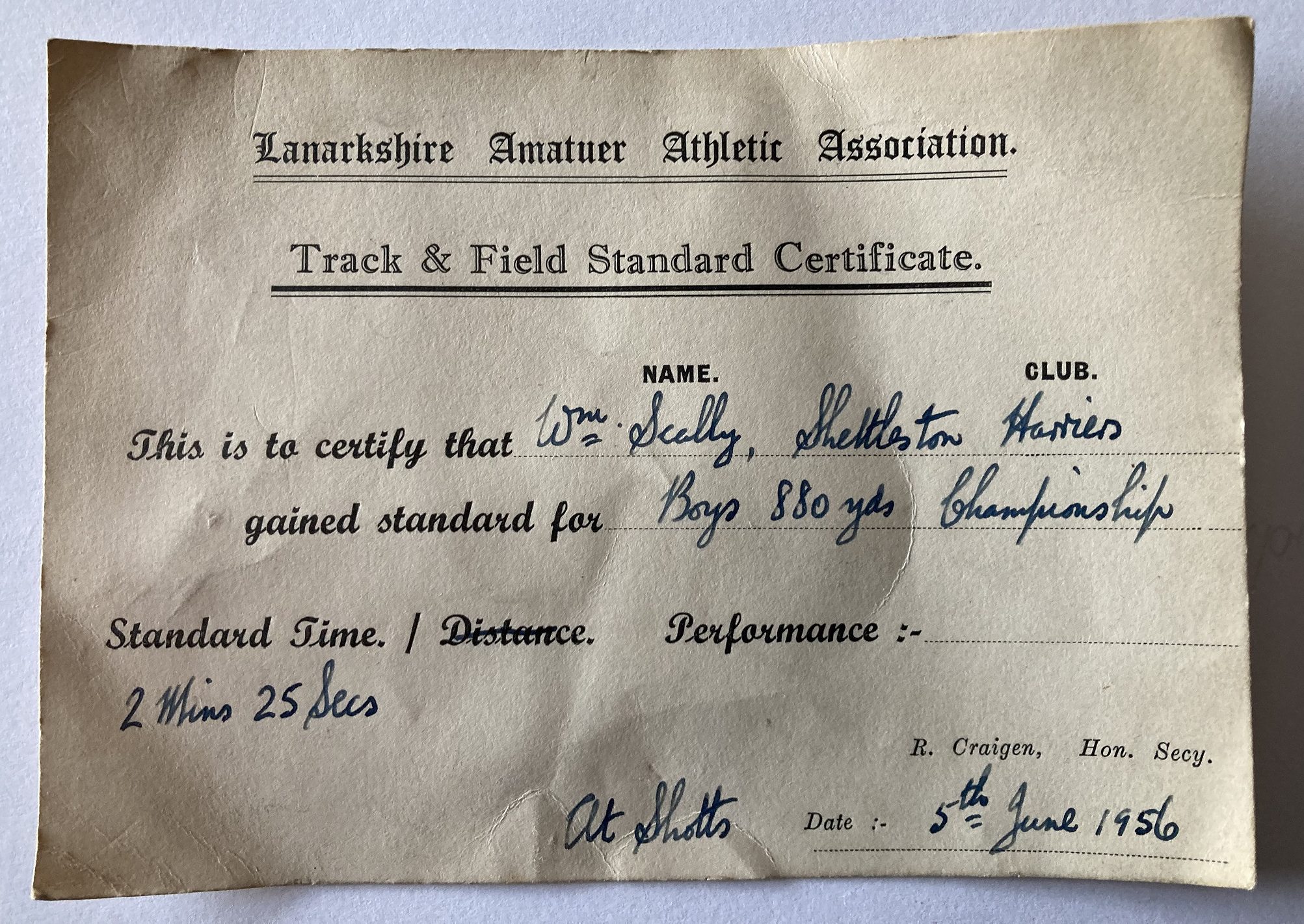 The road race held at the meeting had its own certificates and, although this example dates from the 1960's, it demonstrates the point that the LAAA did much more than just organise cross-country relays and races. Both runners were consistent performers for their club in countty district and national events and there will be more about them.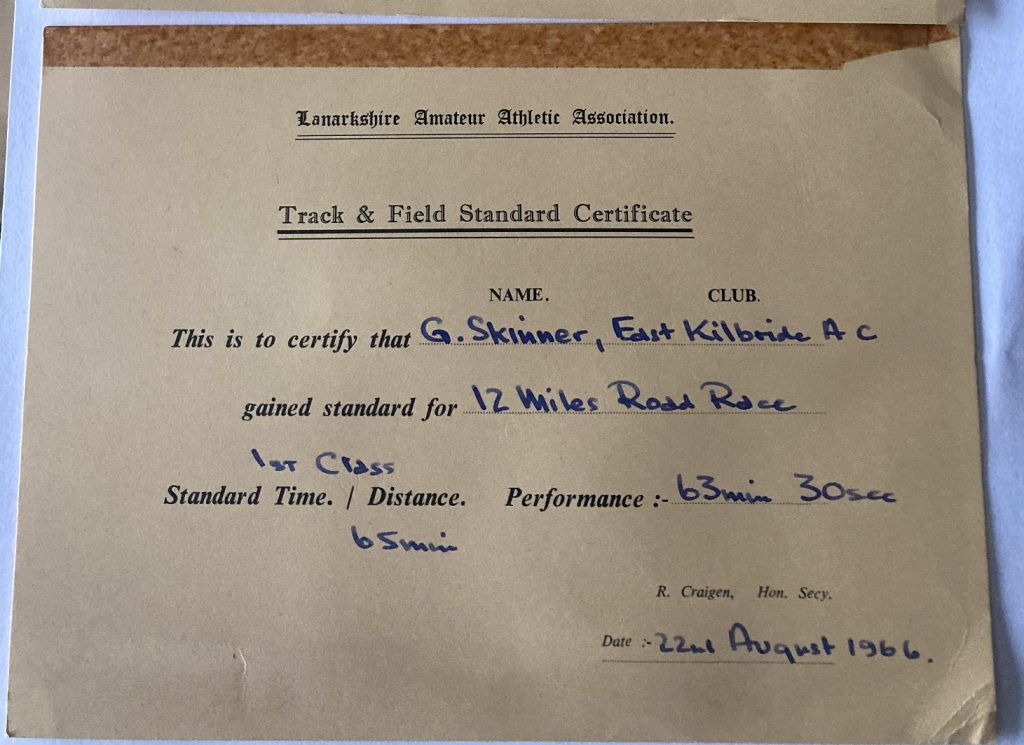 Shettleston Harriers won the Lanarkshire Amateur Athletics Association (LAAA) cross-country championship six times in the first seven runnings of the county championships, but between 1956 and 1960 the only winner was Graham Everett who won in 1956 and 1960. The other winners were Andy Brown, Motherwell YMCA, in '57, Bert McKay, also Motherwell, in '58 and Andy Brown again in '59. These three victories were maybe a sign that dominance in the county was about to change direction. But first there were the Road Relays.
The County Road Relay championships were held on 20th October 1956 at Shotts with events for Junior/Senior Men, Youths (Under 17) and Boys (Under 15). The Senior race was won by the Shettleston A team of George Govan, Clark Wallace, Joe McGhee and Graham Everett from the Motherwell team of Bert McKay, Bryce McRoberts, Andy Brown and Tom Scott with Springburn's quartet of John McCormick, Danny Wilmoth, Jon Rooney and Johnny Ballantyne. Fastest times were by Andy Brown (11:54), Graham Everett (12:10) and Joe McGhee (12:16). The Youths relay over a total distance of 6 miles was won by Shettleston A (T Malone, J Kay, L Botfield, D Drye) from Shettleston B (E Somerhill, W Hendry, J Hannah, W Keenan) and Larkhall YMCA in third (D Gebbie, W Dick, D Anderson, G Leggate) with the fastest times coming from T Malone and E Somerhill (Shettleston) both 8:00 and D Drye as third fastest (8:04) also from Shetlleston. In the Boys race, Shettleston A (R Taylor, B McMonnagle, W Cunningham) won from Shettleston B in second and Motherwell YMCA in third. The fastest times were by D Stein (Shotts Welfare) 7:21 and D Cunningham (Shettleston) 8:13.
It was quite a tour de force by Shettleston – 3 team golds, two team silvers and on the individual count, all three fast time medals in the Youths race went to the club as did the second fastest in Senior and Boys plus third in the Senior race.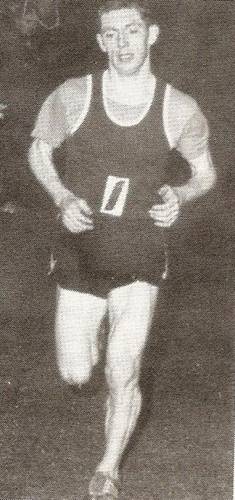 Andy Brown
The County Championships in 1956 were held on 1st December at Hamilton. Shettleston continued their run of success as this report shows. It was a pity that Andy Brown could not run – it might have made for an even more interesting race.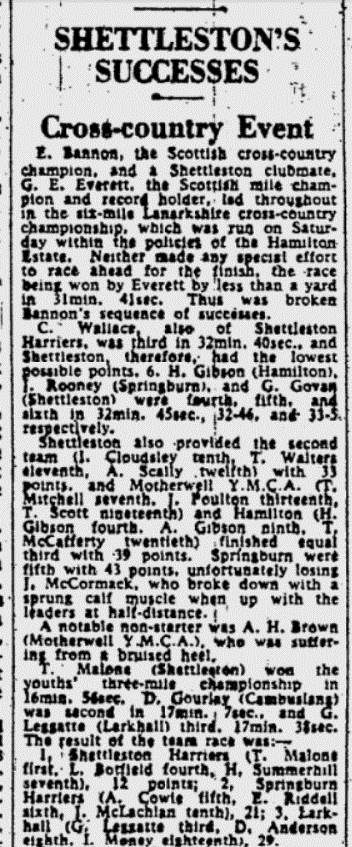 Into summer 1957 and the Lanarkshire Championships were held on Tuesday, 11th June at the Shettleston headquarters of Barrachnie. The report reads. "GE Everett, the Scottish Mile champion and record holder, who returned from the Continent on Monday after his successes there easily won the Lanarkshire AAA mile championship last night at Barrachnie beating a clubmate, JL Hendry, a former Scottish Junior Mile champion, by 25 yards in 4:13.1. Another notable winner at the meeting was AH Brown (Motherwell YMCA) the Scottish six-mile champion, who won the Three Miles in in 14:49. Other winners:-
100 yards: RM Steven (Shettleston) 10.4; 220 yards: G Reid (Shettleston) 24.5; 440 yards: E Reilly (Cambuslang) 52.5; 880 yards: A McNally (Shettleston) 1:57.4; 10 Miles: JM Kerr (Airdrie) 1:05:03; Medley Relay: Cambuslang, 3:47.8; 120 yards hurdles: WG Montgomery (Cambuslang) 17.5; Shot Putt: D Nicholson (Shettleston) 38′ 1″; Discus: Nicholson 87′ 8″
Junior Events: 100 yards: G Reid (Shettleston) 10.6; 880 yards: J Kay (Shettleston) 2:06.8; Mile: L Botfield (Shettleston) 4:35.8; 120 yards hurdles: G Reid (Shettleston) 18.3; Javelin: A Deas (Dalziel HS) 98′ 2″
Youth Events: 100 yards J McNulty (Shettleston) 10.9; 80 metres hurdles: A Gardiner (Motherwell YMCA) 11.5; 880- yards: W Hendry (Airdrie) 2:09.6; High Jump: J McKay (Dalziel HS) 4′ 8″.
Interesting list of events with hurdles races at all age groups and there were several absences such as Joe McGhee and Bert McKay who may have been competing elsewhere but again the host club had arrived mob-handed and their presence was shown. The Road Relays were held on 11th October, 1957, and, like the track championships, were held at Barrachnie. The results, however, were a bit more balanced.
The Senior Championships resulted in a victory for the home club again and the story is told by the times and places.
| | | | | | | |
| --- | --- | --- | --- | --- | --- | --- |
| Position | Club | First Runner | Second Runner | Third Runner | Fourth Runner | Final Time |
| 1 | Shettleston H A | McGhee 2nd 11.50 | Govan 1st 11:50 | Wallace 2nd 12:14 | Everett 1st 11:44 | 47:38 |
| 2 | Motherwell YMCA | Brown 1st 11:35 | Poulton 2nd 12:10 | McKay 1st 11:38 | Scott 2nd 12:20 | 47:53 |
| 3 | Springburn H A | McCormack 7 12:14 | Sinclair 3rd 11:57 | O'Reilly 3rd 12:16 | McParland 3 12:26 | 48:50 |
| 4 | Cambuslang H | Eadie 3 11:56 | Kelly 4 12:34 | Fleming 4 12:34 | Kerr 4 12:27 | 49:31 |
| 5 | Shettleston H B | Kelly 12:01 | Summerhill 12:34 | Wotherspoon 12:32 | Donald 12:41 | 49:54 |
| 6 | Monkland H | McBrinn 4 12:02 | Hare 5 12:53 | McMeekin 6 13:07 | Clark 6 12:42 | 50:24 |
| 7 | Springburn H B | McNab 12 12:49 | Lawless 11 12:39 | Lambert 8 12:22 | Cowie 7 13:11 | 51:01 |
| 8 | Shettleston H C | Hendry 12:21 | Orr 12:34 | Malone 12:40 | King 13:21 | 51:12 |
| 9 | Larkhall YMCA | Leggate 10 12:45 | Morrison 10 12:37 | Lambertson 11 13:10 | Gebbie 9 12:56 | 51:28 |
The Youths and Boys races were held at Motherwell on the 19th October and the Youths race had seven finishing teams – 1. Shettleston; 2. Springburn; 3. Motherwell; 4. Shettleston B; 5. Hamilton; 6. Motherwell YMCA B; 7. Shettleston C. Fastest times were by B McKnight (Motherwell) 16:11, W McGurk Shettleston 16:24, and H Summerhill (Shettleston) 16:29. There were six teams of Boys competing and they finished like this: 1. Shettleston A; 2. Shotts Welfare; 3. Shettleston B; 4. Springburn A; 5. Motherwell YMCA; and 6 Springburn B with fastest times being run by W Rennie (Shettleston) 5:26, W Forrest (Shotts) 5:28 and G Mackie (Shotts) 5:34.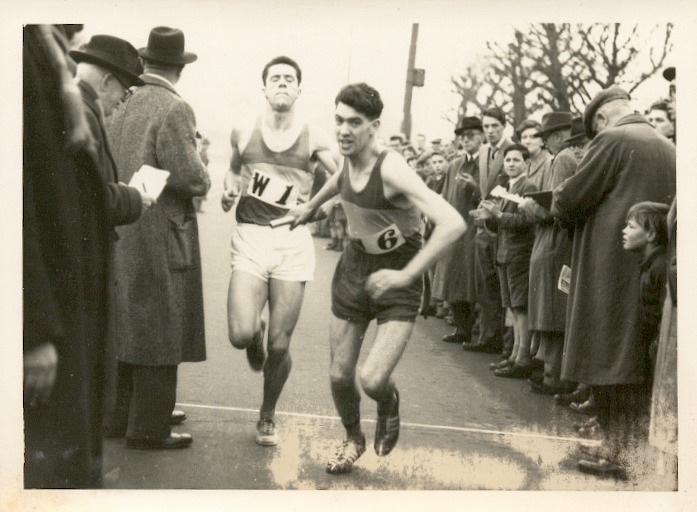 Graham Everett to Eddie Bannon in the Edinburgh to Glasgow Relay
The 1957 Cross-Country Championships were held on 7th December at Auchengeich Colliery. (Note that Pit Baths were often used in some parts of Scotland as changing facilities – often for a one-off race headquarters or in some cases as regular training HQs for local clubs – the washing facilities and the warmth inside the buildings were factors behind it.) There were reports in many of the papers but as so often, Clark Wallace's Shettleston Spreadsheet gave so much more factual information. Note that although there was the regular club team awards, the original Ballot Team was included in the day's agenda.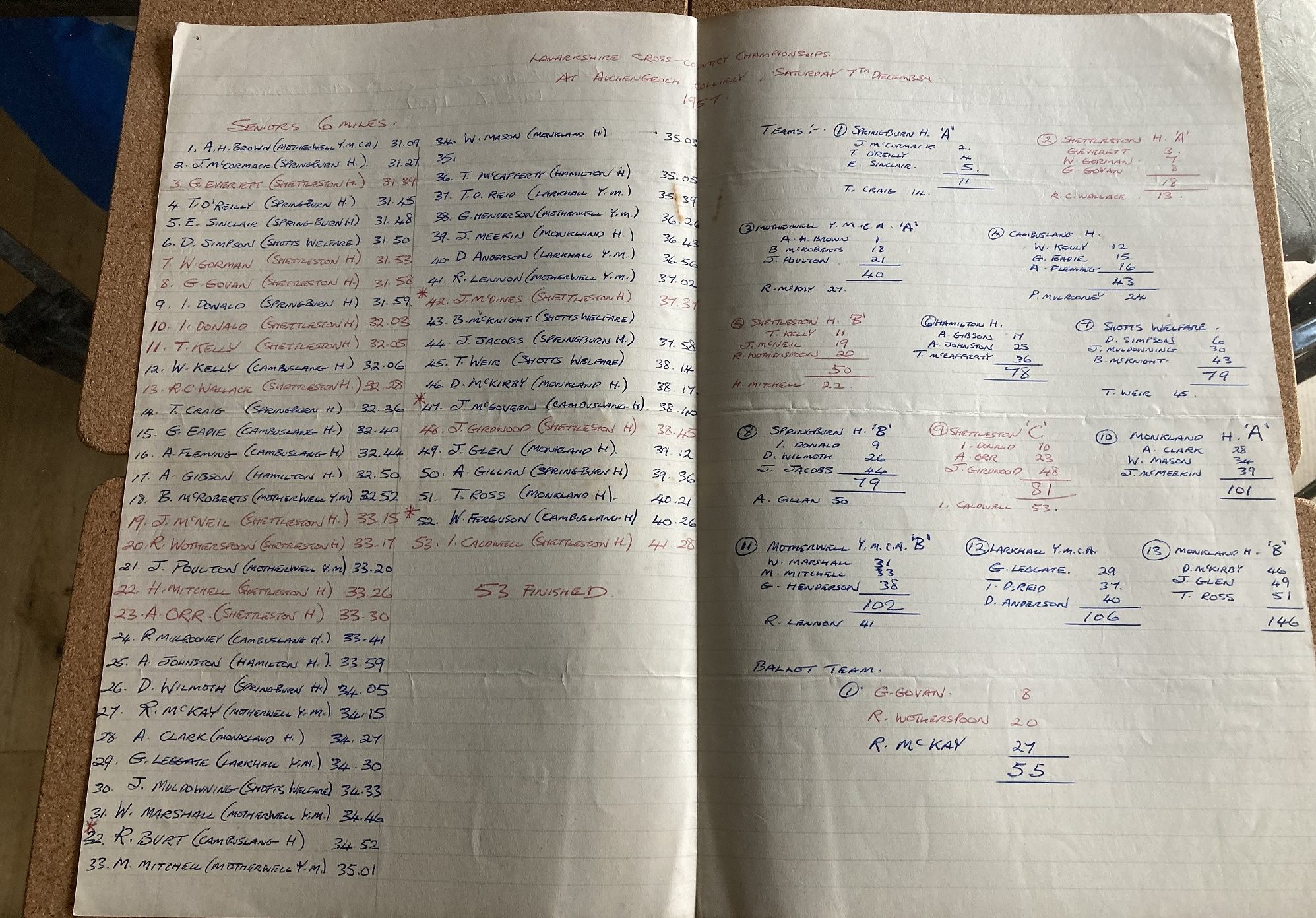 For a report on the race, we turn again to the 'Glasgow Herald'. "AH Brown (Motherwell YMCA), Scottish six-mile track champion showed his form on Saturday when he won the Lanarkshire senior cross-country title over a heavy double three mile course from Auchinairn. He beat J McCormack (Springburn Harriers) by 100 yards in 31 min 9 sec with GE Everett (Shettleston Harriers) third, another 70 yards behind. Springburn Harriers beat Shettleston Harriers who were without E Bannon by seven points for the team title, which was held by Shettleston. At the half distance, Everett was forcing the pace, with McCormack and Brown not far behind, and it was clear that Springburn, with T O'Reilly and E Sinclair well up, would be pressing Shettleston in the team event.
YOUTHS EVENT A Cowie (Springburn) was the outstanding competitor in the Youths 3 mile championship. He beat J Bogan (Hamilton Harriers), a very promising runner, by 150 yards, with B McKnight (Motherwell) third, another 60 yards behind. Springburn also beat Shettleston for this team title, winning by six points."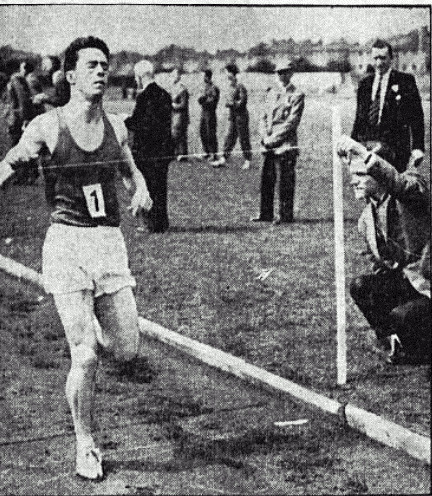 Graham Everett winning the West District Mile in 1958
In summer 1958 the Association changed their date for the championships to the last Tuesday in the month (26th) and it was held at Larkhall. The report in the Glasgow was very short. "GE Everett (Shettleston), the Scottish mile champion, last night won the Lanarkshire senior 880 yards title at Larkhall. He beat J Thomson (Motherwell) YMCA by 30 yards in the good time of 1:57.7. The other feature of this fixture was the sprint win of A Watt (Shotts Welfare AC) who won the junior 100 yards championship in the fast time of 9.9 seconds. He later won the senior 220 yards championships in 24.9 seconds. Other results:-
440 yards: W Morrison (Larkhall) 53.5 sec; Mile: R McKay (Motherwell) 4:22.5; Three Miles: AH Brown (Motherwell) 14:47.1; 10 miles road race: G Eadie (Cambuslang) 51:15; Hop, step and jump: R Gray (Shettleston) 46′ 3″.
That unfortunately is the report and results in their entirety. Note that Motherwell at this time shared the services of Jim Thomson with Glasgow-based Victoria Park AAC whom he represented in the West District Track Championships. The Shettleston paper had this report (Spiker is of course Clark Wallace):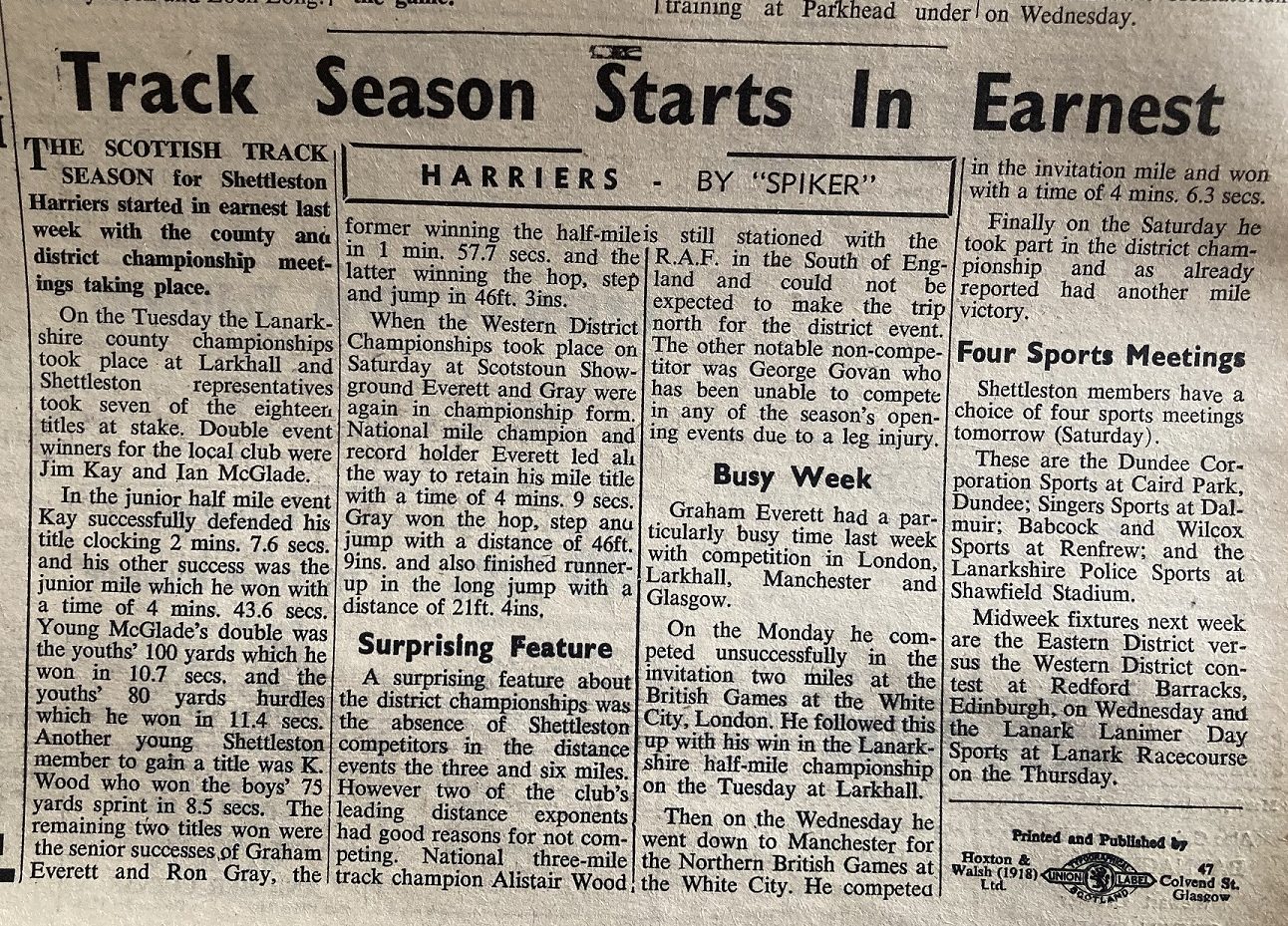 The road relays were held at Barrachnie in 1958 and again, although some of the National dailies did not report on the event, the Glasgow 'Eastern Standard' did and John McKay donated this report.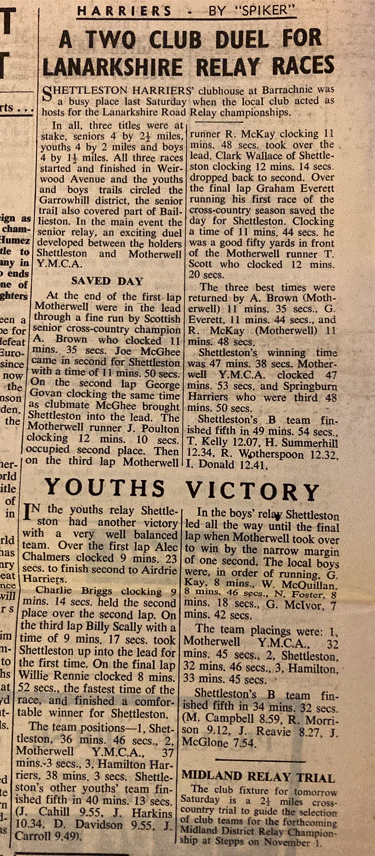 All the big names had turned out – Everett, McGhee, Brown, McKay and the rest – and Shettleston had been triumphant at the finish. Motherwell had two of the three fastest times though. So much for the relays and it was onwards to the championships and the question was who, of the Brown, Everett, McKay, McGhee would prevail over the longer distance? Nor should such as Tom O'Reilly and Eddie Sinclair of Springburn be forgotten An Interesting race to look forward to.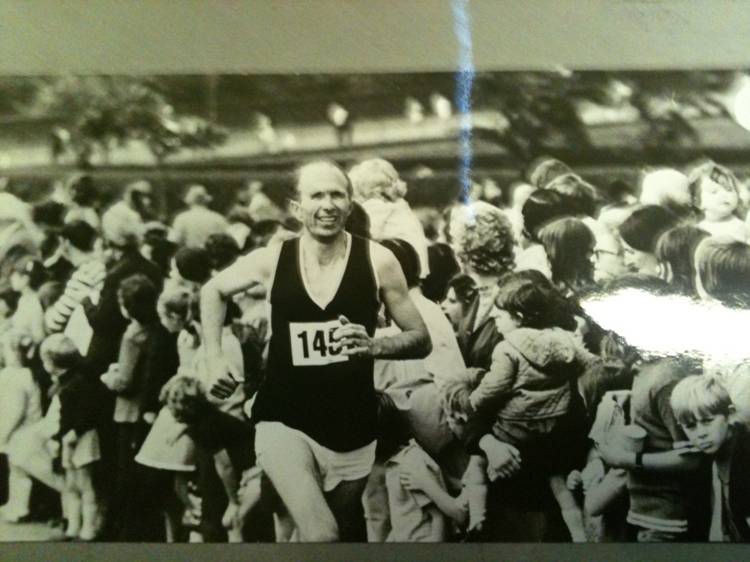 Bert McKay, Motherwell YMCA, 1958 LAAA Cross-Country Champion
When it came to the Lanarkshire Cross-Country Championships in 1958, the title went to Motherwell YMCA for the second year in succession: not Andy Brown this time but his friend and team mate Bert McKay, maybe better known as a miler than as a cross-country runner despite a very good record over several winter seasons. The 'Glasgow Herald' reported on that race as well as the Youths race.
"R McKay (Motherwell YMCA) who is better known as a track miler, won the Lanarkshire five and a half mile cross-country title decided over a double course on Saturday in the vicinity of the new Duncanrig School, East Kilbride. At half distance he looked a certain winner, for he was running strongly and within himself while the holder, AH Brown of the same club, not so happy, ran in fourth place, fully 50 yards behind. McKay added to his lead over the final circuit of undulating country and produced a powerful finish. He beat his nearest rival Eddie Sinclair (Springburn Harriers) by 60 yards and P McParland (Springburn) was third, a further 20 yards behind. Brown, obviously not fully recovered from his tendon strain, finished tenth. Springburn retained the team title more easily than expected with the low tally of nine points by placing their three counting runners in second, third and fourth positions.
J Bogan (Hamilton), who was running as an individual, won the youths three miles very narrowly from J Johnston (Monkland Harriers)who gave him a tremendous race down the finishing straight with only a yard separating them. T Grantham (Springburn was third, 60 yards behind. Shettleston Harriers regained the youths team title with an aggregate of 18 points – 10 points fewer than Springburn, the holders. Springburn's B team finished third with 36 points."
Results: Senior 5 1/2 miles. 1. R McKay (Motherwell) 24:12; 2. E Sinclair (Springburn) 24:22; 3. P McParland (Springburn) 24:26; 4. J McCormack (Springburn); 5. T O'Reilly (Springburn; 6. T Kelly (Shettleston). Team race: 1. Springburn (E Sinclair 2, P McParland 3, J McCormack 4) 9 pts; 2. Motherwell (R McKay 1, J Poulton 9, AH Brown 10) – 20; 3. Shettleston (T Kelly 6, W Gorman 13, C Wallace 15) – 34.
Youths Championship: 1. J Bogan (Hamilton) 11:59; 2. J Johnston (Monkland) 12:00. 3. T Grantham (Springburn) 12:12. Team race: 1. Shettleston (W Rennie 5, C Briggs 7, W Scally 6) – 18. 2. Springburn (T Grantham 3, R Sinclair 12, W Russell 13) – 28. 3. Shettleston B (J Carroll 10, J Scott 1, R Fletcher 15) – 36.
The track championships the following summer were on 26th May, 1959, at Shotts' Hannah Park. "GE Everett (Shettleston), the British and Scottish mile champion, broke the Lanarkshire half mile record when he retained that title last night at Shotts. Everett's time of 1:57.3 was 0.4 seconds faster than his previous best. He reached the tape six yards ahead of R McKay (Motherwell) who had stayed with him until about 100 yards from the finish.
Everett completed a double when he comfortably won the mile in 4:22.6. J Young (Springburn) had a double in the sprints. He had a walk-over in his 100 yards heat and won the final in 10.2 seconds. Later he won the 220 yards in 24.2 seconds. AH Brown (Motherwell), the British YMCA cross-country champion, retained his county Three Mile title with a time of 14:45.1 and won the 10 miles, the time not being recorded. S Lyons (Shotts) won the shot with a putt of 39 feet. M Wilkinson (Shotts) set up a new record in the Boys' 75 yards track race. His time of 8.1 seconds was the fastest time returned in the country over the distance. Other results:- Junior 100 yards JC Smith (Shettleston) 10.3; 880 yards: G Dewar (Shettleston) 2:04.3. Youths 100 yards: A Robertson (Motherwell) 10.5; Long jump: L Spence (Shettleston) 19′ 2″; Boys 880 yards: J Grant (Monkland) 2:12.5.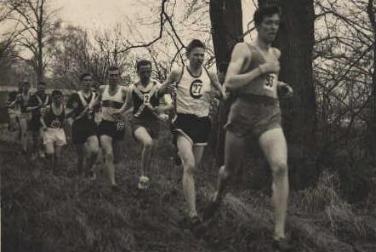 George Govan of Shettleston leading John Wright and Joe Connolly in the National Cross-Country Championship
The 1959 Rd Relays were held on the 10th October at Coatbridge and resulted in two team victories for Shettleston. The report read:
"Shettleston Harriers were again prominent in the Lanarkshire road relay championships at Coatbridge. They retained the senior and youths' titles and finished second in the boys' event. R McKay, running in Motherwell YMCA's second team, led the field over the first relay but G Govan running the third leg for Shettleston went ahead and eventually gave G Everett a commanding lead. Over the final relay AH Brown, in Motherwell's first team, put in a powerful effort and overhauled several runners for third place behind Everett and E Reilly (Cambuslang). Results:-
Senior 10 miles relay – 1. Shettleston (C Wallace 11:17, T Malone 11:25, G Govan 11:20, GE Everett 10:46) 44:48; 2. Cambuslang (G Eadie 11:24, W Kelly 11:46, D Kerr 11:21, E Reilly 11:02) 45:33; 3. Motherwell YMCA (B McRoberts 11:34, W McKnight 11:40, T Scott 11:45, AH Brown 10:38) 45:37. Fastest Individual Times:- 1. AH Brown 10:38; 2. GE Everett (Shettleston) 10:46; 3. R McKay (Motherwell) 11:00; 4. E Reilly (Cambuslang) 11:02; 5. E Sinclair (Springburn) 11:07; 6. J McGhee (Shettleston) 11:16.
Youths eight miles relay:- 1. Shettleston (C Briggs 9:18, W Rennie 8:58, W Stein 9:55, W Scally 8:57) 37:08; 2. Monkland (J Finn 8:52, T Gallacher 9:15, E Marshall 10:30, J Johnstone 8:54) 37:31; 3. Springburn (R Sinclair 9:00, J Keenan 9:01, A Forbes 9:21, R Crawford 10:25) 37:47. Fastest Individual Time: J Finn (Monkland) 8:52
Boys four and a half mile relay: 1. Monkland 23:36; 2. Shettleston 23:48; 3. Springburn 24:26.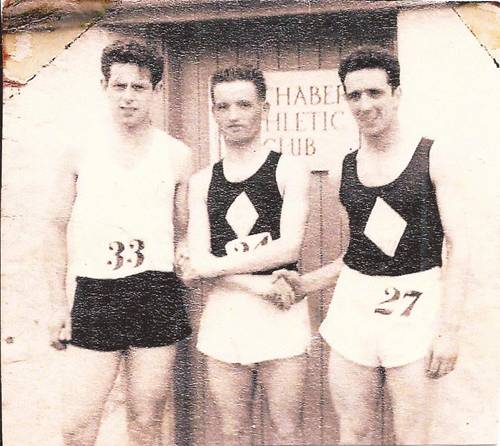 Eddie Sinclair (24) and Tom O'Reilly (27), both Springburn Harriers with Ian Harris of Beith after the Spean Bridge 10 Miles race
On 5th December 1959 the story in the Lanarkshire championshsips was Andy Brown regaining the cross-country title when the event was held at Dalziel Estate, Motherwell. It was a simple story – Brown went straight into the lead, by half way round the six mile trail, he was 160 yards in the lead with Shettlest, on's George Govan in second, followed by Eddie Sinclair (Springburn) and Gordon Eadie (Cambuslang). Brown doubled the lead over the second half of the race and finished comparatively fresh in 31:03 from Sinclair. Shettleston was without the services of Joe McGhee who arrived too late for the start. The team race saw Cambuslang, Shettleston and Springburn with equal points. Cambuslang got the verdict because their third counting runner was ahead of the two others. Springburn who were the holders were placed third – not a good way to lose a title. Monkland Harriers won the Youths race from Shettleston by the margin of one single point. Jim Finn (Monkland) won the title.
Individual race:- 1. AH Brown 31:03; 2. E Sinclair 32:04; 3. Govan 32:09; 4. G Eadie (Cambuslang) 32:13; 5. G Gorman (Shettleston) 32:59; 6. J Poulton (Motherwell) 33:03. Team Race:- 1. Cambuslang (G Eadie, K Kelly 8, JM Kerr 16) 28; 2. Motherwell (Brown 1, Poulton 6, W McKnight 21) Youths Race:- 1. J Finn 15:27; 2. W Scally (Shettleston) 15:43; 3. J Johnston (Monkland) 15:41. Team Race: 1. Monkland (Finn 1, Johnston 3, Grant 8); 2. Shettleston (Scally 2, C Briggs 5, W Rennie 6) 13; 3. Shettleston B (W Stein 10, J Baird 14, Davidson 18) 42.
The race highlights as picked out by a local paper: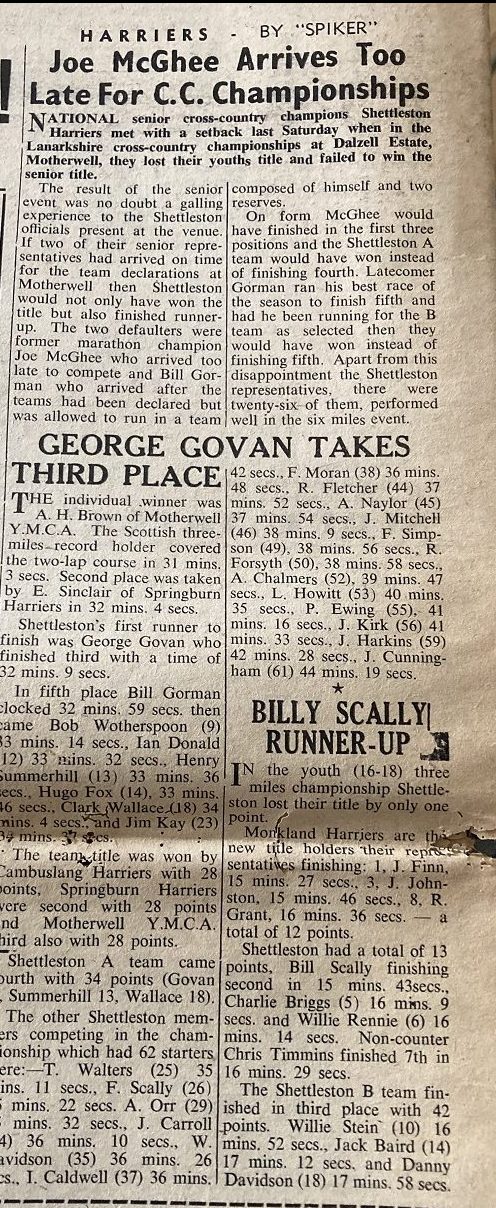 The track championships were on 26th May, 1959, at Shotts' Hannah Park.
Then on 9th August 1960 there was a meeting at Barrachnie which consisted of a series of road relays and the county 10 mile championships. The 10 miles was an interesting race which had many very well known names for years to come on the start list – and not all as runners. The result first:
1st: H Summerhill Shettleston Harriers 60:23
2nd: AC Gibson Hamilton Harriers 60:34
3rd; M Logie Springburn Harriers 60:48
4th: W McBrinn Monkland Harriers 61:54
5th: D Simpson Motherwell YMCA 62:44
6th: T Malone Shettleston Harriers 62:50
7th= I Donald Shettleston Harriers 65:47
7th:= T Scott Motherwell YMCA "
8th: J Kerr Airdrie Harriers 68:03
9th: A Naylor Shettleston Harriers 68:11
10th: F Simpson Shettleston Harriers 68:16
11th: A Reid Springburn Harriers 82:13
12th: J McEachren Shettleston Harriers 82:28
13th: R Wotherspoon retired
If we look down the list we note that Henry Summerhill was a long time Shettleston member who won medals of all colours on road and over the country, Alex Gibson was a Scottish cross-country international runner, Moir Logie was a good servant at Springburn who performed the same service for Tayside when he moved to that are, Willie McBrinn was a good marathon runner and veteran harrier who eventually joined Shettleston, Davie Simpson was a Scottish cross-country internationalist, Tom Malone was also a very good runner on road and country who, after emigrating to South Africa won the Comrades Marathon, Ian Donald was a very good runner indeed on all surfaces who won medals of all colours in the Shettleston colours, Tom Scott was a loyal member of his club who was killed in a car crash on his way to an English marathon and his team mate set up the well known 10 mile road race in his memory, John Kerr became a Scottish marathon champion, Alex Naylor is better known as a coach, (Scottish group coach for all endurance events), and administrator ( President of the SAAA) and Fraser Simpson was a member of the Fire Service who set up many races on its behalf. A remarkable field. The other races that day were
A Mile Medley Relay won by Shettleston in 3:44.9, from Springburn Harriers and Airdrie Harriers
A Junior Relay won by Shettleston from Airdrie (only two teams ran)
Senior Two Miles won by G Everett in 9:01.6 from E Sinclair and T O'Reilly (both Springburn), W Drysdale (Monkland) and W Morrison (Larkhall) retired.
A Junior 880 yards (6 ran) won by J Bremner (Springburn Harriers) in 2:11 from J Grant, T Gallagher (both Monkland), J Murray (Airdrie), A Callaghan (Monkland) and I Calder (Springburn)
Youths 100 Yards won by A Robertson (Motherwell ) 11.1 from D Burns (Hamilton), B McMillan (Hamilton), J Grant (Monkland), T Callaghan (Monkland)
Boys 880 Yards was won by R Findlay (Motherwell) in 2:18.9 from G Skinner (Shotts), A O'Boyle (Shettleston) and R Morrison (Shettleston).
Boys 75 Yards won by A O'Boyle (Shettleston) in 9.4 seconds from A McAllister (Motherwell) and (No initial given) Skinner (Shettleston).
Almost exactly two months later the County Road Relays were held on 10th October at Larkhall when Motherwell triumphed in the Senior race and Monkland in the Youths. The race was covered in the Glasgow Herald: "Motherwell YMCA deprived Shettleston Harriers of the Lanarkshire senior relay road title at Larkhall on Saturday when they led throughout the 10-mile event and won by 70 yards in 42:53 with Springburn Harriers third, about 200 yards behind Shettleston. This rather surprising defeat of Shettleston was largely caused by the absence from the team of AJ Wood. R McKay took the lead for Motherwell over the first relay from T O'Reilly (Springburn) and T Malone (Shettleston). Shettleston stayed in third place until the penultimate relay. AH Brown (Motherwell) was however given a 60 yard lead over GE Everett for the final leg and eventually extended his advantage by 10 yards. Monkland were topo strong for their rivals in the Youths race and won by one minute fifty one seconds from Springburn with Shettleston third, another 30 seconds behind Springburn. J Finn (Monkland) the holder of the Scottish youths' cross-country title, had the fastest time over the two and three-quarter mile course of 11:11. The best of the Boys' two-grade race from twelve to sixteen years resulted in a win for Shettleston and the fastest relay of one and a quarter miles was registered by R Findlay (Shotts) whose team failed to finish in the first three."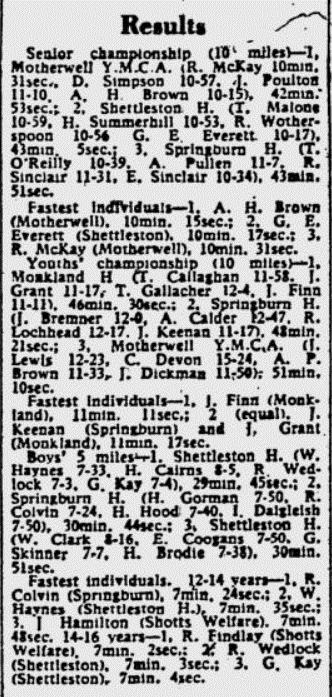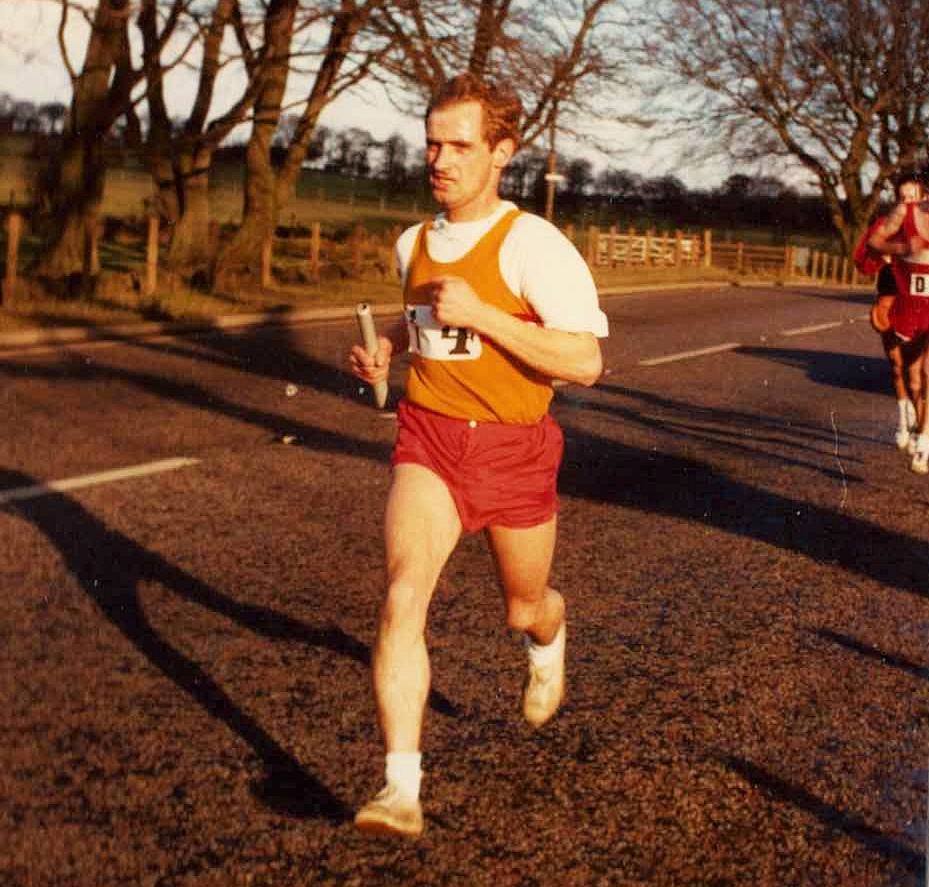 David Simpson, Motherwell YMCA
For some reason the 1960 LAAA Championship, held on the usual first Saturday in December, was not covered in the national papers – or none that we could find – but there is and account of the races in the Motherwell Times. Although it concentrates on the local team, it gives a fair account of the proceedings. Owing to the foot and mouth disease the Lanarkshire cross-country championships could not be run over the country and a road trail was substituted. The winner was Graham Everett of Shettleston, who beat Andy Brown by 13 seconds. We were second team home in both the senior and youths' team race with young Alex Brown just failing to equal his brother's second place – Alex was third home in the youths' race. Our senior team was AH Brown 2nd, D Simpson 6th, and J Poulton 10th with W Marshall backing up in 13th position. "B" team finished 10th with D Young 26th, T Grantham 29th, J Hoey 49th and T Muir 52nd. Youths Team had Alex Brown 3rd, J Dickman 7th, J Lewis 18th and C Devon fourth man in 28th place. Dalziel High School boys D Goodman and J Dunn finished 23rd and 24th. All who competed deserve praise for finishing the course in such wet and blustery conditions. A word of praise also for the officials who had not dry clothes to change into at the finish.
Results:- individual – 1. G Everett, Shettleston 30:42; 2. AH Brown, Motherwell 30:55; 3. T O'Reilly, Springburn 31:58. Senior teams: 1. Shettleston 13 points; 2. Motherwell 18 ; 3. Shettleston B 34.
Youths:- 1. J Finn, Monkland 15:56; 2. J Grant, Monkland 16:10; 3. Alex Brown, Motherwell 16:23. Youths teams: 1. Monkland 8; 2. Motherwell 28; 3. Shettleston 29.
Monkland Harriers visit us tomorrow (Saturday). A good turn out is requested. Eatables to be brought for the "after-run" tea.
CRUACHAN
And that's a typical local weekly paper which usually appeared on a Wednesday or Friday after the race, telling the natives how the teams fared but giving the others a fair coverage and a look forward to the next fixture. Remember that there were quite a few inter-club friendly runs on clear weekends with Fast, Medium and Slow packs covering a trail devised by the host club and followed by a shower (or at Springburn there was a huge plunge bath where all the runners piled in) and a 'purvey' which was often a pie or a sausage roll or even sandwiches followed by home baking supplied by the club's women members and/or the wives of the male runners. This latter was often consumed in a committee room or even in the changing space but at Greenock Glenpark there were tables for four set out with table cloths on them which were set out while the runners were doing their thing. Lanarkshire clubs were no different in that respect.