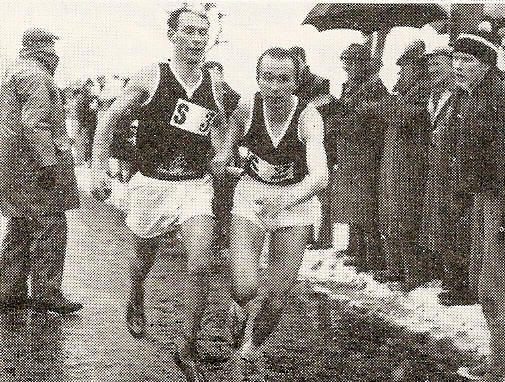 John Linaker passing the baton to Bert McKay in the Edinburgh to Glasgow. They ran fastest times on stages six and seven in 1962
As usual for any County Association, the first promotion in the year is the track and field championship. The LAAA was no different. The coverage was never great but in 1961 it was brief in the extreme.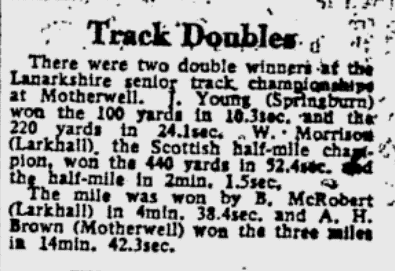 There was not much coverage of the Lanarkshire Track Championships held at Motherwell on 23rd May 1961, the above from the 'Glasgow Herald being typical. John Young of Springburn – a very good sprinter indeed in his day and the victim of a dreadful decision that had all the other sprinters in one competition (not this one!) arguing on his behalf – repeated his double of the previous year and, after many years of racing 440 yards events in the LAAA Championships and elsewhere, Willie Morrison of Larkhall won a Scottish title at 880 yards. Bryce McRobert was a good runner who never quite achieved his best times in the biggest races, and Andy Brown? What about the man who must have been the most consistent endurance runner of his generation with superb performances over road, country and track for well over a decade, and yet a man who was also prepared to run in local sports meetings and small highland games.
The 1961 road relay championships was held at Shettleston's HQ at Barrachnie on 1st December and Motherwell, led by 'new boy' John Linaker from Pitreavie who was now working in the area, won. The report was headed "Motherwell Retain Relay Title. Easy Victory at Barrachnie. Motherwell YMCA had no problems in their attempt to retain the Lanarkshire senior 12-mile relay championship on Saturday at Barrachnie. The team who won the McAndrew Cup open relay race held the lead after R McKay had given D Simpson a useful advantage at the end of the first relay. Thereafter J Linaker increased the lead and thus gave AH Brown such an easy task that they won by 600 yards from Shettleston Harriers who were without GE Everett. Shettleston however took the honours in both the youths' and boys' races. The outstanding youth was the younger brother of AH Brown, and R Wedlock (Shettleston) again showed how good he is in the boys' class with the best lap time. Results:-
Senior (4 x 3 Miles) – 1. Motherwell YMCA (R McKay 13:50, D Simpson 14:46, J Linaker 13:48 , AH Brown 14:05); 2. Shettleston (H Summerhill 14:15, J McGhee 14:11, C Wallace 14:44, T Malone 14:41); 3. Monkland Harriers (J Finn 14:42, J Keenan 14:54, W McBrinn 14:41, W Drysdale 15:00). Fastest times: 1. J Linaker (Motherwell) 11:48; 2. R McKay (Motherwell) 11:50; 3. AH Brown 14.05
Youths (4 x 2 1/2 miles) – 1. Shettleston Harriers (G Skinner 9:42, G McIvor 10:08, J Patterson 9:55, G Kay 9:55); 2. Springburn (A Stevenson 10:04, I Hamilton 10:44, R Lochhead 10:04, I Young 9:55); 3. Hamilton (T Quinn 10:01, F Murray 10:48, L Watt 10:33, G Greenshields 9:48) Fastest Times: 1. AP Brown (Motherwell) 9:31; 2. G Skinner (Shettleston) 9:42; 3. G Greenshields (Hamilton) 9:48.
Boys 12 – 16 (4 x 1 1/2 miles) – 1. Shettleston Harriers (D Walker 7:21, R Thomson 7:32, D Dolan 7:01, R Wedlock 6:37); 2. Motherwell (J Jiles 7:23, G Reid 7:42, S Grant 6:45, R Darroch 6:49); 3. Shettleston B (J McCormack 7:54, P Dalton 7:32, R Morrison 7:19, W Hinds 7:12) Fastest Individuals: 1. R Wedlock (Shettleston) 6:37; 2. D Middleton (Springburn) 6:40; 3. S Grant (Motherwell) 6:45.
Road Relay Champs, 14th October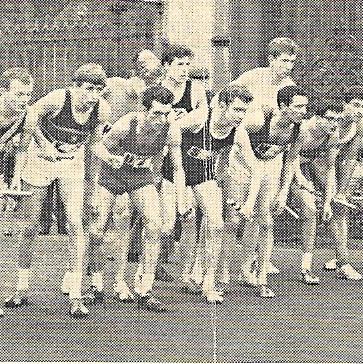 A Fine Collection of Lanarkshire Runners at the Start of the Edinburgh to Glasgow:
2nd left Roger Sandilands of Strathclyde University, Les Menelly of Shettleston, then Alex Brown of Motherwell, Tom O'Reilly of Springburn and Tom Callaghan of Monkland standing at the back in a dark vest.
In the championships held on 2nd December, John Lineker showed just how good he was when he defeated Andy Brown by approximately 100 yards with Graham Everett trailing in in third place another 400 yards back. Motherwell took the team title from Shettleston by six points: Bert McKay was their last counting runner in fifth place. Lineker was in the lead as early as the end of the four lap trail and was never headed. Alex Brown won the Youths race from George Kay of Shettleston with fully 100 yards separating them. Note though the early appearance of Ian McCafferty in third place in this race. Shettleston however took the team race. Results below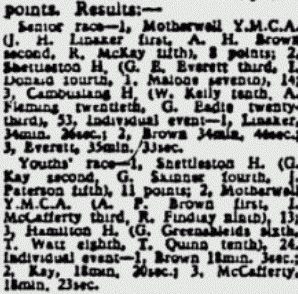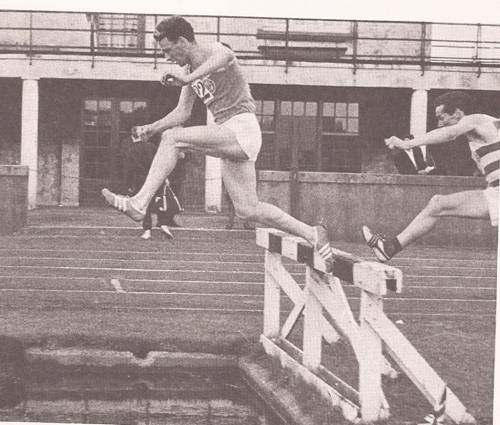 John Lineker leading Lachie Stewart in the SAAA Steeplechase
The Track and Field Championships were held on 21 May, 1962 at Hamilton. It was an interesting event with no fewer than 8 clubs sharing the medals and several new faces appearing whose owners would become very well known in the years to come – Eddie Knox of Springburn who would win first, second and third medals in the Cross-Country International, Ian McCafferty whose record goes all the way to Olympic Games via Commonwealth Games alongside Scottish and British international recognition on the track and over the country, and Norrie Foster, Scottish and British international decathlete and Pole Vaulter who competed in the 1966 Commonwealth Games, won gold medals at the SAAA (3 times) and AAA's as well as those of different colours. The range of events covered by the LAAA Championships was wide and the standard generally high, at times very high. Read the report below.
BROWN WINS IN RECORD TIME. AH Brown (Motherwell YMCA) retained the Lanarkshire Three Miles title last night at Hamilton with a time of 14:37, 8.1 seconds faster than the record, held by himself. This was achieved on a heavy grass track. W Morrison (Larkhall), who will be defending his Western District title on Saturday at Scotstoun, won the 440 yards and the Mile in the respective times of 55.8 seconds and 4:36.5. G Turner, running for the new East Kilbride club, won the 100 yards in 10.5 seconds, and the 220 yards in 24.5, and the Long Jump with a jump of 20′ 2″. Other winners:- Seniors. 880 yards: TP O'Reilly (Springburn) 2:06.9; High Jump: E Coyle (Springburn) 5′ 6″; Javelin: N Foster (Shettleston) 131′ 2″; Discus: J Scott (Shettleston) 100′ 0″; Shot: J Scott 39′ 11″. Junior Events: 100 yards: D Burns (Hamilton) 10.5 sec; 880 yards: G Greenshields (Hamilton) 2:07; One Mile: AP Brown (Motherwell) 4:44.6; Long Jump: N Foster (Shettleston) 19′ 6″. Youths Events: 100 yards: J Irvine (Dalziel HS) 11 sec; 880 yards: R Wedlock (Shettleston) 2:08.7; High Jump: K McBride (Springburn) 4′ 9″; Long Jump: A McLean (Airdrie) 16′ 10 1/2″. Boys Events: 100 Yards: K Moncrieff (East Kilbride) 11 seconds; 880 yards: (dead heat) E Knox (Springburn) and R Colvin (Springburn) 2:14.9; Long Jump: R Morrison (Shettleston) 16′ 7 1/2″; 4 x 110 yards relay : Shettleston 50.7 seconds.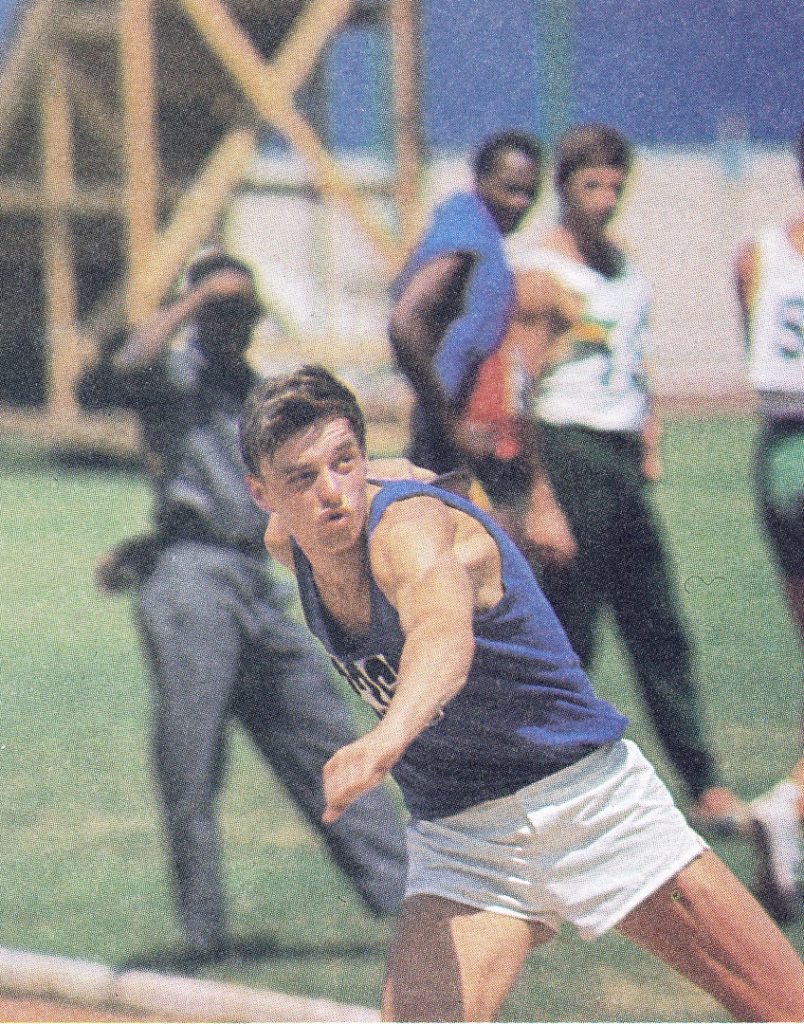 Norrie Foster
The autumn came and with it the short relays in October. The Lanarkshire event was on 13th October and held at Bishopbriggs for the first time. The title went to Motherwell for the third rime in a row but the surprise was Andy Brown in the second team. The 'Glasgow Herald' tells us that "they beat their customary rivals, Shettletson Harriers much more easily than usual" by a minute and forty four seconds. Brown had the fastest time of the day – 16:52 – and the B team finished third. Motherwell had the four fastest individuals over the course on the day, the others being David Simpson in secons and Bert McKay and Alex Brown equal in third.
Senior 11 miles: 1. Motherwell (W Marshall 17:41, D Simpson 17:02, R McKay 17:11, AP Brown 17:11); 2. Shettleston (H Summerhill 17:19, I Donald 17:15, P Longfield 17:57, C Wallace 18:14); 3. Motherwell B (J Poulton 17:19, G Henderson ??, W McKnight 18:55, AH Brown 16:52); 4. Cambuslang Harriers. Fastest Times: 1. AH Brown 16:52, D Simpson 17:02; 3= AP Brown and R McKay 17:11.
Youths 9 Miles: 1. Motherwell (S Grant 11:54, R Darroch 12:00, R Findlay 11:48, I McCafferty 11:06); 2. Springburn (J Rochford 12:31, D Tees 12:01, D Middleton 11:20, I Young 11:08); 3. Shettleston Harriers (G Skinner 11:17, G Kay 11:52, T Dolan 12:28, R Wedlock 11:44). Fastest times: 1. I McCafferty 11:06; 2. I Young 11:08; 3. D Middleton 11:20. Boys Six Miles: 1. Springburn Harriers (A ???6:07, B Morison 6:21, R Collins 7:53, E Knox 8:06); 2. Shettleston Harriers (R Pocock 6:11, W McVeigh 6:06, D Walker 8:17, R Thomson 8:??)
These Road Relays above, held on 13 October 1962 were strongly contested by Springburn's younger teams – Eddie Sinclair was now coaching them and over the next several years they would be virtually unbeatable and would produce many top class athletes such as Duncan Middleton, Eddie Knox, Iain Young and Graham Williamson.
The actual 1962 Championships were held as usual on the first Saturday in December at Cleland Estate, and for the first time ever two brothers filled first and second places – no prizes for guessing Andy and Alex Brown who were followed by Henry Summerhill of Shettleston, but while there were only seconds between the brothers, there was over a minute between second and third places. Motherwell, as expected took the team title.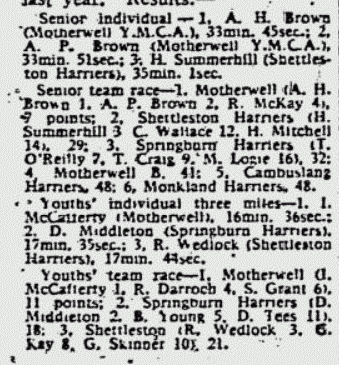 As a footnote to the above results, if there is anything in heredity as far as running is concerned, there is not a lot of doubt about where the Brown brothers got their enthusiasm from. The picture below is from the 1951 Edinburgh Marathon, and the figure second from the left in the dark Motherwell YMCA vest is called A. Brown.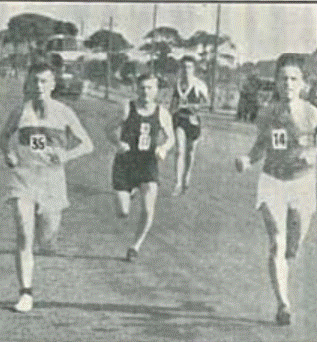 The 1963 Track and Field Championships were held on Tuesday 21st May at Helenvale Track in Glasgow. The journalists homed in on the fact that three records were broken but there was more to the meeting than that. The report reads. "Three records were made at the Lanarkshire Amateur Athletic Association championships last night at Helenvale Park. JH Linaker (Motherwell) returned 14:30.8 for the three miles, beating AH Brown's record of last year by 6.2 seconds, G Greenshields (Hamilton) reduced the time for the junior 880 yards by 1 1/2 seconds when he won in 2:0.6, and in the Youths 880 yards AD Middleton (Springburn) was 0.3 inside the previous best time with 2:00.1. Other winners:-
Senior: – 100 yards: J Burns (Shettleston) 10.9; 220 yards: D Burns (Hamilton); 440 yards: G Greenshields (Hamilton) 53.1; 880 yards: W Scally (Shettleston) 2:01.6; Mile: R McKay (Motherwell) 4:14; High jump: E Coyle (Shettleston) 5′ 4″; Discus: N Foster (Shettleston) 133′ 11″; Javelin: Foster 136′ 3″.
Junior: – 100 yards: N Foster 11.1; 220 yards: Foster 23.8; 880 yards: G Greenshields 2:00.6; Mile: I McCafferty (Motherwell) 4:22.6.
Youths: – 100 yards: J Gribben (Shettleston) 10.7; 880 yards: AD Middleton (Springburn) 2:00.1; High jump: P Dolan (Shettleston) 4′ 11″.
Boys: – 100 yards: E Warren (Shettleston) 11.1; 880 yards: J Grogan (Shettleston) 2:13.4; 4 x 440 yards relay: Dalziel High School 1:32.
Names to be picked from the results? Among the seniors the legendary Bill Scally of Shettleston who had an excellent record as a runner over all endurance events, who was a good club man and administrator and respected by all in the sport, Norman Foster who won four events, and probably took part in others, indicating his developing prowess as a decathlete, McCafferty of course in the Junior age group, and Duncan Middleton who went on to have a good career as an 880 yards runner and win the AAA's indoor 880. These were only the winners and there were probably other good competitors who finished second and third to them. The LAAA was thriving.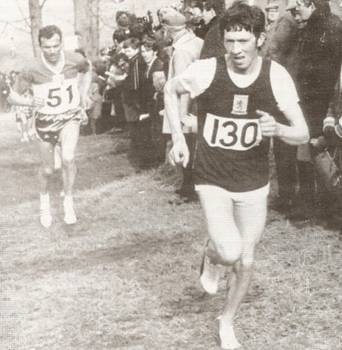 Ian McCafferty (Motherwell) running in the 1969 International at Clydebank
The road relays in October 1963 showed a further development in the strength of the Motherwell YMCA squad when they rook first and second places in the championships, with three individuals in the six fastest times. Jim Johnstone of Monkland Harriers led the field home at the end of the first lap with the kenspeckle Henry Summerhill of Shettleston in second. McCafferty ran second for Motherwell and took them into a lead that was never lost thereafter. Motherwell A beat Motherwell B by approximately 500 yards with the B team containing Bert McKay – a former county cross-country champion. Results:
Senior: 1. Motherwell (W Marshall 14:30, I McCafferty 13:50, AH Brown 13:57, AP Brown 14:31); 2. Motherwell B (G Henderson 14:39, J Poulton 15:11, D Simpson 14:24, R McKay 14:11); 3. Shettleston (H Summerhill 14:14, G Kay 14:55, W Scally 14:51, L Meneely 14:43); 4. Cambuslang (G Kelly 15:14, G Eadie 14:04, R Kerr 14:51, W Burth 15:48); 5. Shettleston B (G McIver 14:57, GE Everett 14:34, G Skinner 15:30, H Docherty 15:11); 6. Monkland (J Johnston 14:01, T Callaghan 15:14, C Ballantine 15:51, W McBrinn 15:34. Fastest Individuals: 1. I McCafferty 13:50; 2. AH Brown 13:57; 3. J Johnston 14:03; 4. G Eadie 14:04; 5. R McKay 14:11; 6. H Summerhill 14:14
Youths eight miles: Team Race – 1. Springburn Harriers ( M McLean 10:50; E Knox, 9:21, H Gorman 10:40, D Middleton 10:00); 2. Motherwell YMCA (S Grant 10:18, D Jones 10:31, J Galloway 12:16, M McInulty 12:29). Fastest Individuals: 1. E Knox 9:21; 2. D Middleton 10:00; 3. S Grant 10:18.
Boys (12-16): Team Race: 1. Shettleston(J McAllister 7:18, R Gourlay 7:17, D Walker 6:52, H Inglis 6:52); 2. Springburn (N Souter 7:34, I Donnelly 7:12, G Cooke 7:02, D Robertson 7:04); 3. Motherwell (A Johnstone 7:31, I Weir 7:35, I Haworth 6:58, J Giles 6:80. Fastest Individuals:- 1. J Giles 6:40; 2.= D Walker and H Inglis 6:52; 4. J Hill (Shettleston B) 6:57. I Donnelly was the best performer in the 12 – 14 grade.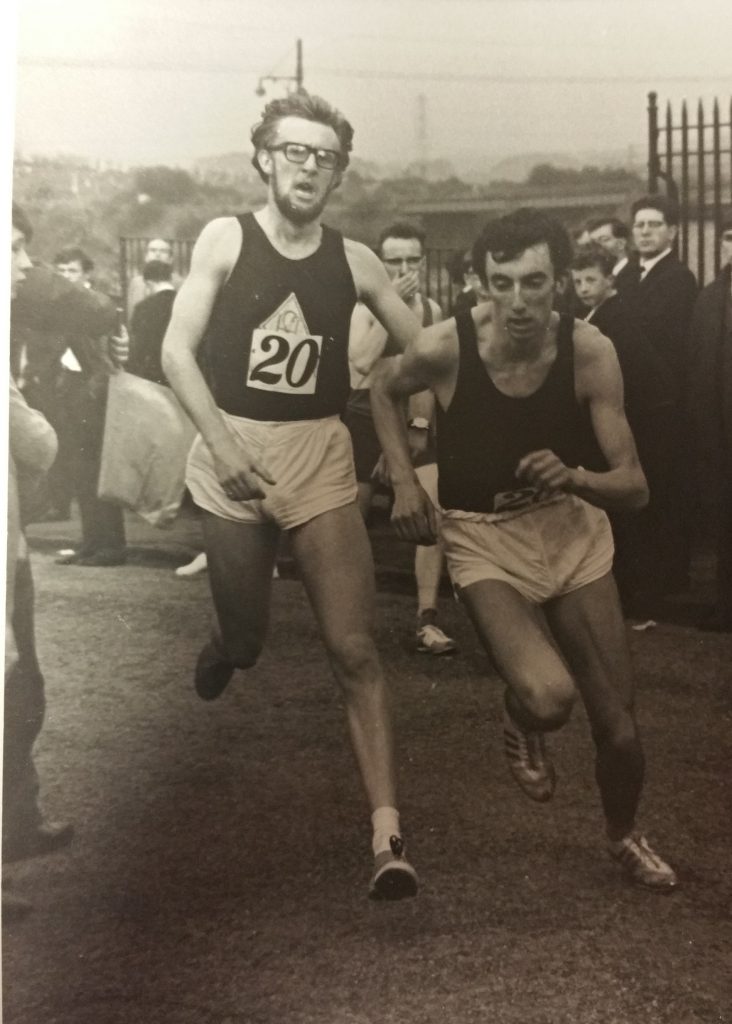 Eddie Knox taking over from Ian Young (Springburn)
The 7th December was the date for the County Championships which were held at Cleland Estate in 1963 and, with three runners in the first four places, Motherwell easily won the title yet again. Shettleston had three in the first eight which meant that they were second team. McCafferty, still a junior, had a 30 yard lead at the end of the first lap and built it to 140 by the finish. Brown was second with Jim Johnstone of Monkland 7 second further back. The Youths team race was won by Springburn (three in six). Eddie Knox won with Middleton second a full 100 yards adrift. The results tell the story:-
Senior/Juniors: 1 I McCafferty(Motherwell) 33:28; 2. AH Brown (Motherwell) 33:52; 3. JR Johnstone (Monkland Harriers) 33:59; 4. D Simpson (Motherwell 34:11; 5. AP Brown (Motherwell) 34:32; 6 H Summerhill (Shettleston) 34:58. Teams: 1. Motherwell (McCafferty 1, Brown 2, Simpson 4); 2. Shettleston (Summerhill 6, IC Donald 7, W Scally 8); 3. Springburn (10, 11, 13).
Youths three miles: 1. E Knox (Springburn 16:59, 2. AD Middleton 17:15: 3. R Wedlock (Shettleston) 17:30; 4. A Blamire (Shettleston) 17:40; 5. S Grant (Motherwell) 18:53; 6. H Gorman (Springburn)19:01. Teams: 1. Springburn (1, 2, 6); 2. Shettleston (4,8,9); 3. Motherwell (5, 10, 15).
AD Middleton running in the McAndrew Relay
The Inter-Counties races were held on 1st February 1964 and it was a win for Lanarkshire in the team race. McCafferty won the race, held at Cleland Estate and Lanarkshire had the first five places in the race. 1. I McCafferty (Motherwell) 34:30; 2. JR Johnstone (Monkland) 35:17; 3. D Simpson (Motherwell) 35:29; 4. H Summerhill (Shettleston) 35:47; 5. AH Brown (Motherwell) 36:22; 7. T Cochrane (Beith); 8. A Carse (Edinburgh AC); 9. JL Stewart. Team result: 1. Lanarkshire; 2. Midlothian; 3. Dunbartonshire. Ayrshire and Stirlingshire had incomplete teams.
Youths race: 1. E Knox (Lanarkshire); 2. AD Middleton (Lanarkshire); 3. R Wedlock (Lanarkshire); 4. W Eadie (Stirlingshire). Team Race: 1. Lanarkshire; 2. Midlothian; 3. Dunbartonshire.
The Track Championships were held on 26th May – a Saturday as opposed to the traditional Tuesday meeting and again there were some new names to come to terms with. McCafferty and McKay were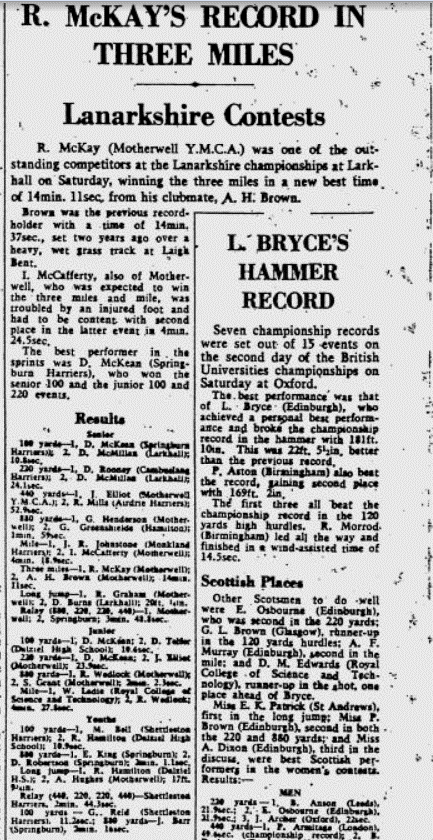 The 1964 Road Relays were held on 10th October at Airdrie and Motherwell YMCA won again from Shettleston, this time by almost half a mile according to the Glasgow Herald. Again Jim Johnstone of Monkland led at the end of the first lap, this time with the fastest time of the day despite all the top men, including McCafferty, running. McCafferty ran the second stage for Motherwell, took them into the lead and, given that the next two runners were Andy Brown and Bert McKay there was no danger of them being caught. Eddie Sinclair's youths retained the Youths team title.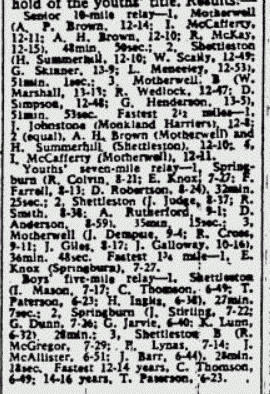 A fairly well known journalist is credibly said to have commented to Andy Brown in the 1960's that 'these road and cross country races are all the same, the same people and teams winning all the time'. If true, this preposterous remark might have been made after the Lanarkshire Championships in 1964. There were the same first three (McCafferty, Brown and Johnstone, the next two (Simpson and Alex Brown) swapped places, and the first three teams were the same in both races. Add in the Youths race with the same winning individual, same winning team and you can see how the remark might have had some surface justification. On a day of steady rain with very heavy underfoot conditions, both winners set fastest times for the course. McCafferty won by approximately 200 yards in a time 14 seconds quicker than previously, and Knox was two seconds faster and 500 yards up on team mate Freddie Farrell who was second. Results:
Seniors: 1. I McCafferty (Motherwell) 33:14; 2. AH Brown (Motherwell 33:48; 3. JR Johnstone (Monkland) 34:20; 4. AP Brown (Motherwell) 35:03; 5. D Simpson (Motherwell ) 35:14; 6. W Eadie (Strathclyde University) 35:29. Team: 1. Motherwell (McCafferty, AH Brown, AP Brown); 2. Shettleston (W Scally 7, L Meneely 8, G Skinner 10); 3. Springburn (M Logie 9, D Tees 11, T O'Reilly 12).
Youths:- 1. E Knox (Springburn) 16:34; 2. F Farrell (Springburn) 17:57; 3. R Anderson (Cambuslang) 18:15. Teams: 1. Springburn (Knox 1, Farrell 2, D Robertson 6); 2. Cambuslang (R Anderson 3, S McIntosh 8, W Devine 13); 3. Bellshill YMCA (D Richmond 5, T Boyle 9, J Smith 14)
They were held on 5th December 1964 and there were, as always, several interesting characters running round the muddy fields in the rain that day. Bellshill YMCA (the first time among the medals) had a youngster called T Boyle in ninth place – the same Tommy Boyle who would go on to be a world famous coach with athletes like Tom McKean, Yvonne Murray, Susan Scott and others training to his instructions. There was Bob Anderson of Cambuslang, a good runner it is true, but a man who would be fearsome in his loyalty and devotion to Cambuslang Harriers and its competitive success. Walter Eadie of Strathclyde University would go on to Scottish Junior international honours. The progress through the age groups of Jim Johnstone, Bill Scally and others has been noted too, but see the two old stagers in Springburn's senior team – Moir Logie (later to run for Tayside) and Tom O'Reilly with young Davie Tees sandwiched between is maybe worthy of note.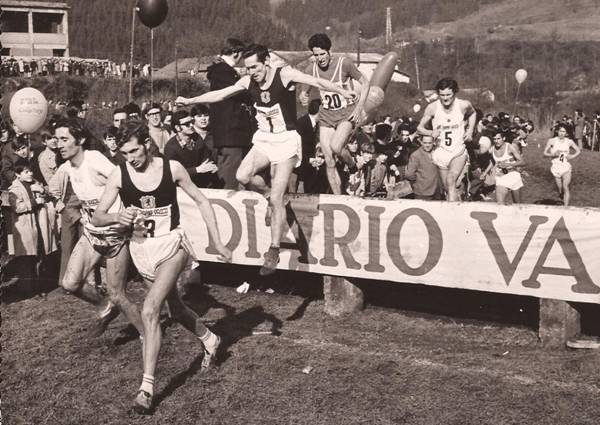 Dick Wedlock, 3, in the Scottish vest leading the field at Elgoibar race, Lachie Stewart wearing number 1.
The Inter-Counties championship was held at Cleland Estate on 6th February, 1965 and consequently it would be to an extent organised by the LAAA committee working with the Inter-Counties Committee. The senior men's team was weakened by the absence of Ian McCafferty and Andy Brown who were racing on the Continent but still managed to win. Lachie Stewart (Dunbartonshire) too the race from AA Carse (EAC and Midlothian) with Dick Wedlock (Motherwell and Lanarkshire third). Wedlock is an interesting athlete. He started his career as a Boy member of Shettleston and won individual races and contributed to team success for Shettleston. When he moved to Motherwell, he joined the local club, although he would later return to Shettleston when his work took him back there. Senior Team Result:-
1, Lanarkshire (Wedlock 3, J Johnstone 4, AP Brown 5, D Simpson 8, M Logie 14, G Skinner 15); 2. City of Glasgow (J Brennan 6, WH Barrow 9, I McPherson 10, P McLagan 11, J McLaren 12, J Reilly 17) 3. Dunbartonshire (JL Stewart 1, I Donald 7, J Maclachlan 20, G Grant 27, H McErlean 30, P Younger 33. 4. Renfrewshire 143 pts; 5. Midlothian 1710; Ayrshire and Stirlingshire did not finish complete teams.
There were also races for Youths and Boys – both won by teams from Lanarkshire. Again, the most complete results for them come from Shettleston's Clark Wallace (below).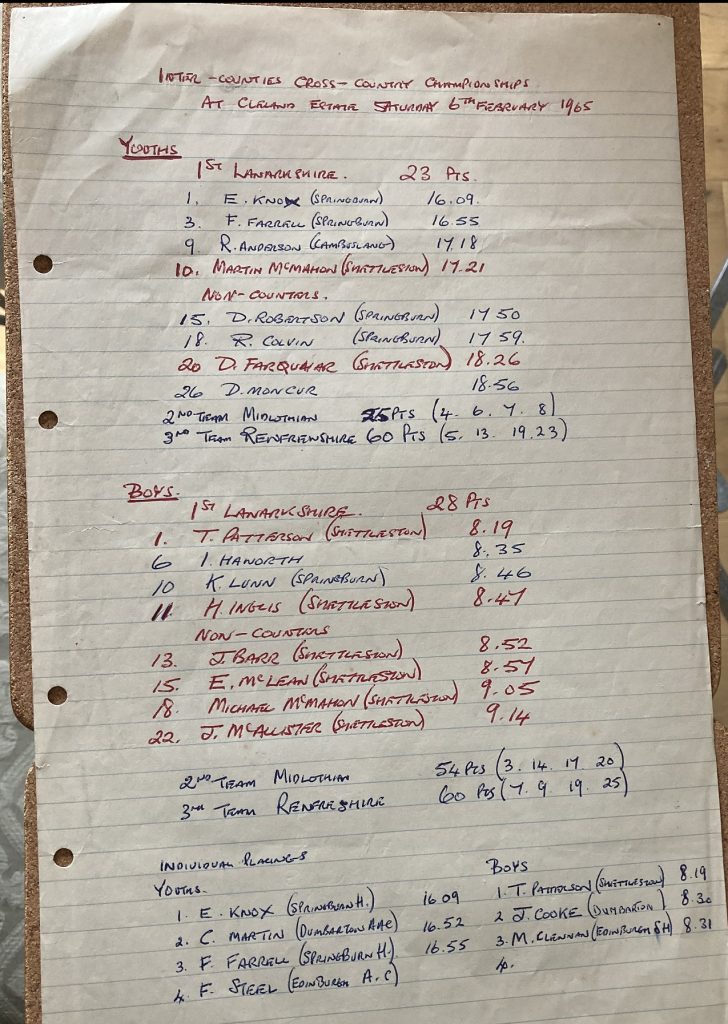 The Lanarkshire Track and Field Championships in 1965 were held on Tuesday, 18th May – maybe the Saturday date in '64 had not been a success – at Larkhall. They were not well reported on. All that could be found were some first places – you'll see what that means from the following:
Senior Men: 100 yards A Robertson (Motherwell) 10.4 seconds; 880 yards R Wedlock (Motherwell) 2:00.8; Mile I McCafferty 4:20.2; Three Miles: I McCafferty 14:25.8. Junior Men: 100 yards: R Hamilton (Dalziel HS) 10.4 seconds; 880 yards N McInulty (Motherwell) 2:08; Youths: 100 yards: M Bell (Shettleston) 10.5 seconds; 880 yards: D Walker (Shettleston) 2:11.
Very few events mentioned – one sprint (no 220), one middle distance event (no 440 and no mile apart from the Seniors) and no field events at all. If anyone has more complete results, we'd be glad to have them.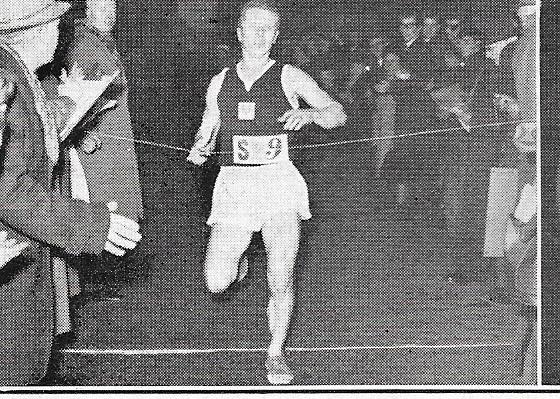 John Poulton crossing the finishing line for Motherwell YMCA in the 1964 Edinburgh – Glasgow
The 1965 road relay was reported in a novel fashion in the 'Wishaw Press' with its authenticity vouched for by the fact that it was in the Motherwell YMCA Harriers weekly column. It read: "Motherwell worked a permutation in their team last Saturday to allow the first two teams to be the Old v. The Young. In the first lap they were as far back as 9th and 6th but with the first team men in each team coming up, we finished 1st and 2nd in the event – Lanarkshire Relay Champs. Result – 1. Motherwell, A McNulty 13:;23, R Wedlock 12:39, Alec Brown 11:54, I McCafferty 11:24 – 49:20. 2. Motherwell B – W Marshall 12:59, D Simpson 12:35, Andy Brown 11:48, R McKay 12:13 – 49:35. 3. Springburn Harriers 50:15. Motherwell C were 11th with E Garry 13:56, E Moore 14:10, R Kennedy 15:48, J Poulton 13:37 – 51:31. Fastest Times: 1. Ian McCafferty 11:24; 2. Andy Brown 11:48; 3. Alec Brown 11:54. All Motherwell.
In the Youths event we were 6th – I Haworth 14:12, W Ford 14:59, J Dempsie 14:37, D Harkins 16:52 – 60:40; and 12th in the Boys section with T Warren 7:54, J Mullen 8:06, B Dow 8:27, G Dow 7:29 – 31:56.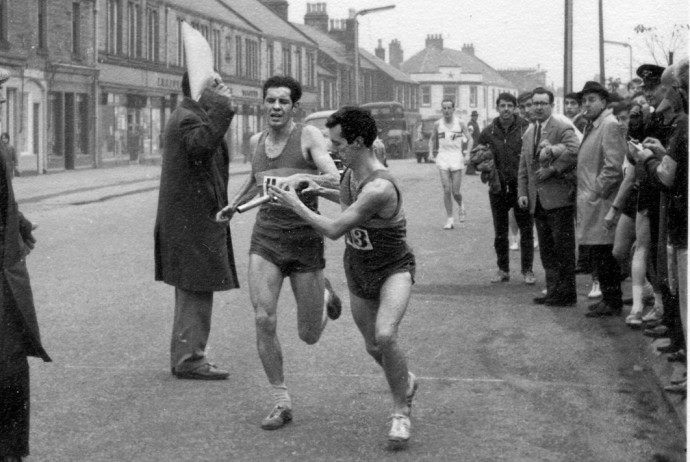 Bill Scally passing the baton to Les Meneely in the Edinburgh to Glasgow.
The 1965 Championship was held in quite dreadful conditions at Bellshill at the start of December. Add to that the absence of several of Motherwell's top team men and the result of a win for Shettleston, it was not a good day for the holders. The Youths had a particularly tough time when, after they thought that they had finished, they were told to run an extra lap. Many dropped out at the thought, and one runner stopped for an estimated three minutes before setting out on his last lap. It was a day for the tough men: First time in the senior/junior race Eddie Knox was second, Shettleston's Bill Scally in fourth, Henry Summerhill in fifth typified the men for the conditions and the occasion. The driving sleet and snow combined with ground that was rock hard, saw experienced cross-country runner Bert McKay of Motherwell, stop after one lap, put on his track suit and head for the dressing rooms. Results:-
Senior Six Miles: 1. I McCafferty (Motherwell) 31:23; 2. E Knox (Springburn) 31:58; 3. AP Brown (Motherwell) 32:11; 4. W Scally (Shettleston); 5. H Summerhill (Shettleston); 6. G Skinner (Shettleston). Team Race: 1. Shettleston (4, 5, 6); 2. Motherwell (1, 3, 14); 3. Springburn (2, 8, 9).
Youths Four Miles: 1. F Farrell (Springburn) 22:34; 2. M McMahon (Shettleston) 23:04; 3. D Walker (Shettleston) 23:19. Team: Shettleston 10 pts
Boys: (14-16): 1. I Picken (Springburn); 2. N Souter (Springburn).
Tuesday, 24th May 1966 was the day and date of the Track and Field Championships which were held on the fast Helenvale track in Glasgow. The headline act on the following day was Ian McCafferty running three miles in 13:28.4 with splits of 4:23.3, 9:00.8 for the mile and two miles. The time was three seconds outside Fergus Murray's Scottish record. Bert McKay ran good mile of 4:13.9 which was only one tenth of a second outside Graham Everett's record for the meeting. Results:
Senior: 100: J Gribben (Shettleston) 10.5; 220: RR Mills (Airdrie) 24.2 seconds; 880: AD Middleton (Springburn) 1:58.1; Mile: R McKay (Motherwell) 4:13.9; Three Miles I McCafferty (Motherwell) 13:28.4; Medley Relay (880, 220, 220, 440) Shettleston 3:42.4
Junior: 100 yards: M Bell (Shettleston) 11 sec; 220: Bell 24 sec; 880: E Knox (Springburn) 1:59.2; Mile: Knox 4:26.4
Youth: 100 yards: JB McDonald (Springburn) 11 sec; 880: G Buchanan (Motherwell) 2:05.8; Relay ( one lap, 2 x half a lap, one lap) Shettleston 2:35
Boy: 100: J Cunningham (Hamilton) 11.5 sec; 880: A Gibson (Shettleston) 2:11; Relay: one lap, (two x quarter a lap, half lap) Airdrie 1:41.6
*
The 1966 senior road relay was won by Springburn with a team led by Eddie Knox, from Shettleston, whose fastest was Bill Scally, and Motherwell was third – less than 200 yards up on Monkland Harriers. Well, there was no McCafferty, there was no McKay, no David Simpson for a start off and then there may be some who would quibble about the team running order but the reasoning was clear to see. But the strength of the other teams has to be recognised, especially the young Springburn quartet whom Eddie Sinclair had coached through the age groups – the winning squad were Davie Tees (12:38), AD Middleton 12:49, Iain Young 12:42, Eddie Knox 12:27. The Shettleston team consisted of Les Meneely (13:00), Bill Scally (12:20), Henry Summerhill (12:36) and Martin McMahon (12:51), none of whom were in the veteran category either. The Motherwell team was built around the Brown brothers with Alex (12:27) second and Andy (11:55) third. Willie Marshall (13:09) on the first leg had just received his life member's badge for 20 years service to the club and Howarth (13:58) on the last leg was an unknown quantity. For the complete story of the day, the Glasgow Herald report, including results is below.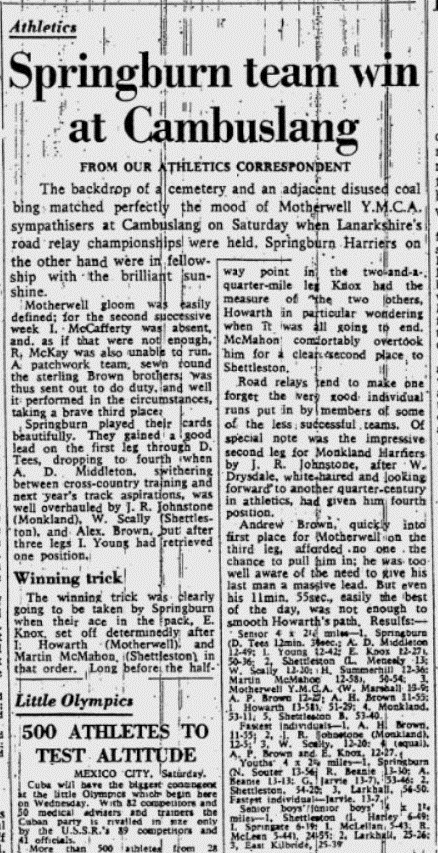 Having looked at the results of the Road Relays above (8th October 66) it is possible to see the generations of young Springburn runners lining up one behind the others – Senior/Juniors have Knox, Young, Middleton and Tees, Youths have Nickie Souter, the Beanie Brothers and George Jarvie. More than that, there were three sets of brothers in the Springburn squad (the two Beanie boys, the two Pickens and the two Lunn brothers) and all coached by Eddie Sinclair. The steady and continued progress of Jim Johnstone at Monkland is also a hint that a distance runner doesn't need a great team around him to progress – although the club at that time had older runners like Willie McBrinn, Tommy Callaghan, Willie Drysdale who could and would advise the younger member.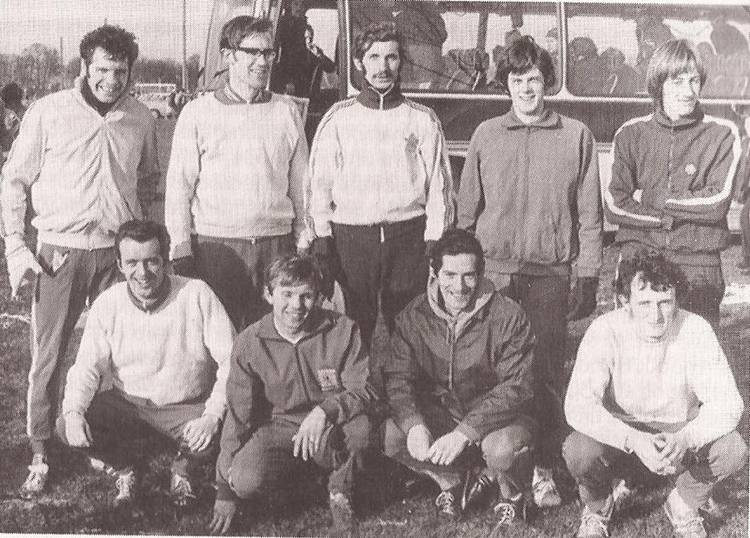 Looking ahead a bit: The Shettleston team that won the English National in 1971. Many of them learned their trade in the 60's.
Back Row: Bill Scally, Henry Summerhill, Dick Wedlock, Norman Morrison and Alistair Blamire
Front Row: Les Meneely, Tommy Paterson, Lachie Stewart and Tom Grubb
Below is the report on the 1966 LAAA Cross-Country championship of 1966 held at Motherwell. It marked the return of Wedlock to Shettleston but not eligible to compete as a team member at that point in the transition, he ran well enough to be third individual behind McCafferty and Alex Brown. Ron Marshall's report in the 'Glasgow Herald' was headed McCAFFERTY EASY WINNER OF LANARKSHIRE TITLE' and continued that 'on a bitterly cold afternoon at the playing fields of Dalziel High School in Cleland, Lanarkshire's Cross-Country Championships were held. It was no clever job foreseeing the winner of the Senior title, but his manner of doing so was unexpected." It continued:

A wee bit patronising about the Springburn support, at best going for a cheap laugh, but a full report and fairly detailed results. But it was a victory for Motherwell nonetheless although after losing the team championship to Shettleston in 1965 and the relays to Springburn in 1966, the question was maybe was the tide turning? Just as Shettleston completely dominated the 50's, Motherwell had been the top team in the 60's so far; the Sinclair Conveyor Belt of young athletes was making Springburn much more of a force to be reckoned with. Add in the return of Lineker to Pitreavie, his job in Motherwell done, and of Wedlock to Shettleston, and the future was intriguing. That the 60's so far, 61 – 66, had belonged to Motherwell YMCA is clear from the table below. Not a single championship winner from any other club and only one athlete had been faster in the relays.
| | | | | | |
| --- | --- | --- | --- | --- | --- |
| Year | Champion Team | Individual Winner | Relay Winning Team | Fastest Time | Comment |
| 1961 | Motherwell YMCA | J Linaker (MYMCA) | Motherwell YMCA | J Linaker (MYMCA) | |
| 1962 | Motherwell YMCA | AH Brown (MYMCA) | Motherwell YMCA | AH Brown (MYMCA) | |
| 1963 | Motherwell YMCA | I McCafferty | Motherwell YMCA | I McCafferty (MYMCA) | |
| 1964 | Motherwell YMCA | I McCafferty | Motherwell YMCA | J Johnston (Monkland) | |
| 1965 | Shettleston Harriers | I McCafferty | Motherwell YMCA | I McCafferty | |
| 1966 | Motherwell YMCA | I McCafferty | Springburn Harriers | AH Brown | |