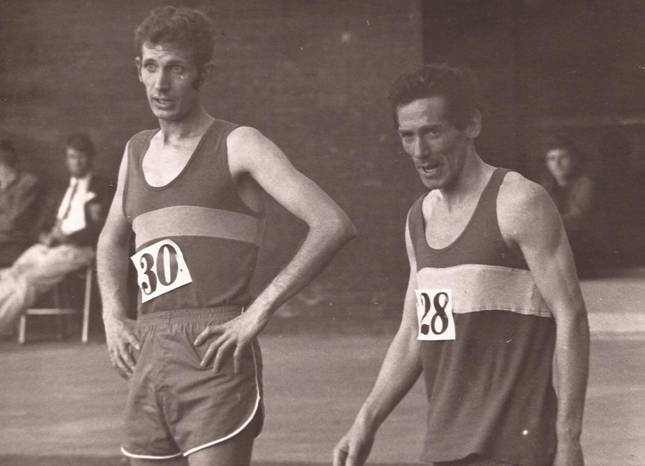 Dick Wedlock and Lachie Stewart after the SAAA 10,000m in 1970
| | | | | |
| --- | --- | --- | --- | --- |
| Year | Championship Team | Individual | Road Relay Team | Fastest Individual |
| 1967 | Law & District | I McCafferty (Law & District | Shettleston | A Blamire (Shettleston) |
| 1968 | Shettleston | JL Stewart (Shettleston) | Shettleston | JL Stewart (Shettleston) |
| 1969 | Shettleston | JL Stewart (Shettleston) | Shettleston | E Knox (Springburn) |
| 1970 | Shettleston | R Wedlock (Shettleston) | Shettleston | JL Stewart (Shettleston) |
The table at the end of the 1961-66 page compared with the one above tells us a lot. All bar one team title won, all bar two fastest individual to Shettleston Harriers. The only Law & District AAC team and individual victories were at the very start of the four years.
First, that Motherwell lost its dominance of the County athletics scene in favour of Shettleston. If the pattern of Shettleston winning the championships is to continue into the 70's, the Motherwell period will seem like a brief moment in time, a hiccup.
Second, where is Motherwell YMCA? Nowhere to be seen. It seems to be right off the map.
Ian McCafferty is listed as 'Law & District AAC'. It starts to become clear. Law & District is a new club set up from the successful Motherwell YMCA club of the 1960's.
Then why is Law & District not as successful as Motherwell YMCA was? There are a couple of reasons: first, not all members went to Law, Bert McKay, one of the top club members that they had started with, and who returned when their spell of business in Motherwell ended to stay with his club and there were others such as Willie Marshall who also stayed. Second they lost several members such as John Linaker and Dick Wedlock who returned to their original club when their business took them back from Motherwell.
Shettleston's team was strengthened by the return of Wedlock and Alistair Blamire, a very good runner indeed and a Scottish and British internationalist, who had started as a Boy with Shettleston rejoined the club after being at Edinburgh University. And of course they would be strengthened further when Lachie Stewart signed up.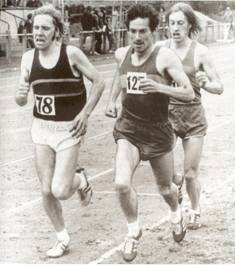 Lawrie Spence, 78, of Greenock Glenpark Harriers who would join Shettleston after leaving Strathclyde University, Lachie Stewart, 127, and Alistair Blamire.
This page will be relatively brief and will take us up to 1970, Empire & Commonwealth Games year. It the first ten years could be called the Shettleston Years, and the 1960 – 66 could be the Motherwell YMCA Years, maybe the 1967 – 70 period could be called the Transition Years. Or the Emigration Years when the Browns, McCafferty, Simpson and the rest emigrated to a new club and so creating a split in what had been a successful team. It may have been good for the sport in the long run, but in the beginning the effect on the club was not a good one.
1967 started normally with Ian McCafferty (Motherwell YMCA) winning the Nigel Barge Road Race. Andy Brown was fourth, Alex Brown eighth and Bert McKay tenth. Motherwell won the team race. McCafferty then won Grangemouth's Round the Houses the following weekend in the same vest. The 'Wishaw Press' of Friday 20th January reported that the same result – McCafferty wins, Motherwell YMCA wins the team race – was the story at the Springburn Cup race. He then won the Midlands Cross-Country Championship. Scottish athletics was expecting another year of the Lanarkshire club's dominant position.
The Inter Counties Championship was held at Cleland in February, 1967 and Ron Marshall reported on it as follows in the 'Glasgow Herald'.

The County Track and Field Championships on 30th May at Barrachnie turned out to be a low key affair if printed results are to be taken as a guide. The diminished report in the 'Herald' reads: The winners in the Lanarkshire Amateur Athletic Championships last night at Barrachnie were:- 440 yards: A Robertson (Motherwell) 52.5 sec; Two Miles: H Gorman (Springburn) 9:02; High Jump: E Coyle (Shettleston) 5′ 3″; Long Jump: S West (Shettleston) 18′ 10 1/2″; Triple Jump: S West 39′ 3″; Discus: D Edmunds (Strathclyde University) 136′ 7 1/2″; Hammer: L Bryce (Strathclyde University) 196′ 1 1/2″; 12 Mile road race: AT Brown (Motherwell) 61 min 04 sec; Javelin: Coyle 143′ 3″
Where were all the Motherwell men? No McCafferty, No McKay, No Simpson – other than AT Brown (a third one or just a misprint) there was no sign of the usual Motherwell presence. Note though the appearance of two mighty throwers from Strathclyde University on the scene – both international men, multi medal winners and two who added to the lustre of the championships. Even at the Cowal Games on the last Saturday in August, McCafferty, Andy Brown and Bert McKay were running as team mates and winning the Two Miles team race, while Alex was winning the 41 miles road race at Shotts.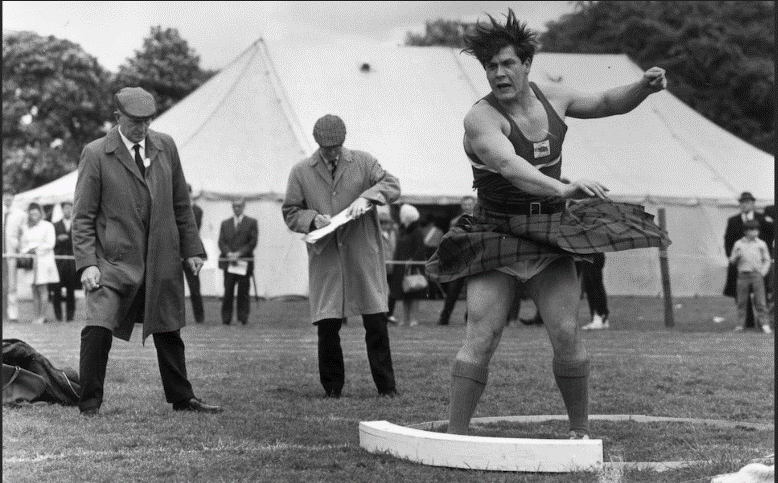 Doug Edmunds
All seemed as before in the open Games that summer. BUT …
at the end of the summer season, the traditional winter start in the McAndrew Relay at Scotstoun, there was a new club calle15:12d Law & District AAC. Shettleston won the relay with Victoria Park second. Ron Marshall commented on the new club thus: "Meanwhile, how were Law and District managing, the new club who had secured the voluntary transfer from Motherwell YMCA of McCafferty and the Brown brothers? Not at all well, it must be said. After one leg, Greenshields, a runner of little acclaim but normally good enough to have handed over in about fortieth place, trudged home in sixty-fifth position, 3 min 13 sec behind Scally [Bill Scally of Shettleston had led the field at the end of the first leg]. Andrew Brown grabbed the baton and took 40 scalps before sending Alex, his brother, for some more. He brought Law into ninth place and McCafferty, in running13 min 38 sec, the fastest of the day, rushed his club into third place, an astonishing finish after a soul destroying start."
But what about Motherwell? The 'Wishaw Press' enlightens us. There was no mention of the new club or any of its runners in the weekly column by CRUACHAN. It tells us that the 'depleted' first team was Willie Marshall 15:04, J Jones 15:37, Bert McKay 14:56 and Peter Duffy finished 15th of the 77 teams entered. The B Team was 68th being made up of M McInulty, Grant, S McGarry and T Gallagher, and the C Team was 68th with R Kennedy, T Matthews, R Cook and L Devon. Nor did the new Law and District AAC report mention the 'older' club, preferring to mention the performances of some younger athletes at a track meeting in Grangemouth, and Ian McCafferty's up-coming tour of Mexico.
The following week, second in October, was the Lanarkshire AAA Road Relay Championships and Shettleston won with Law in fifth place and Motherwell YMCA in ninth. McCafferty was absent for Motherwell and with Wedlock now running for Shettleston, there was never ever any doubt about the result. The Springburn production line kept on turning out good runners and their team, which finished second, now had George Jarvie and Alan Beaney in the four. Their Youth team had John Cherry who would become an outstanding half-miler before joining Shettleston and Ian Picken. Law introduced a new talent in Jim Thomson as an 11 – 13 Boy – he would go on to be a genuine talent as a Youth and Junior ,and a good senior too.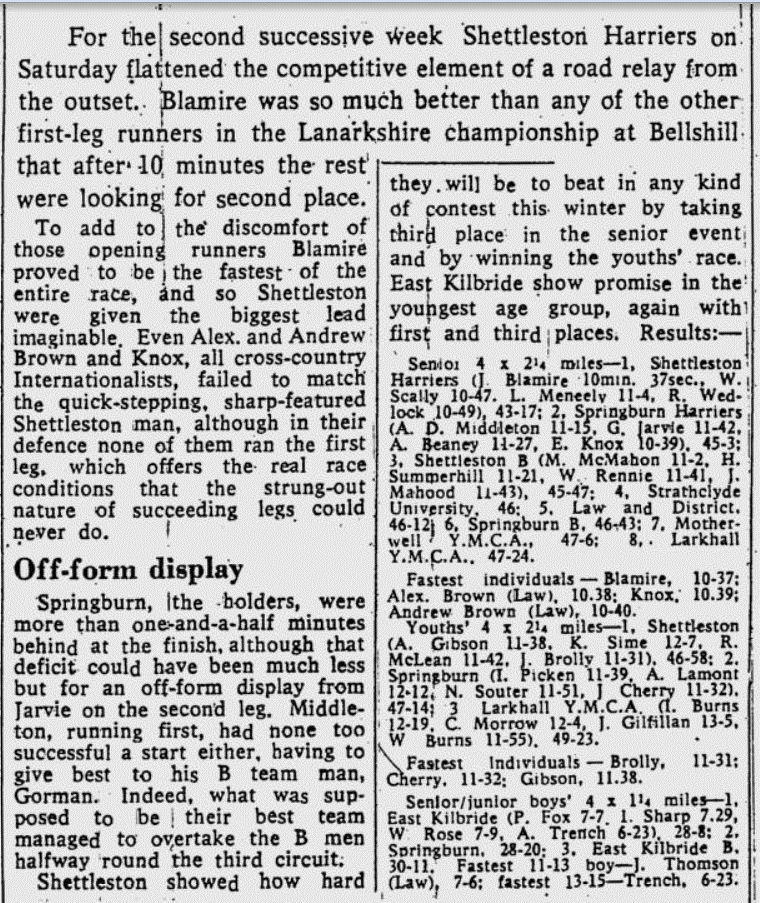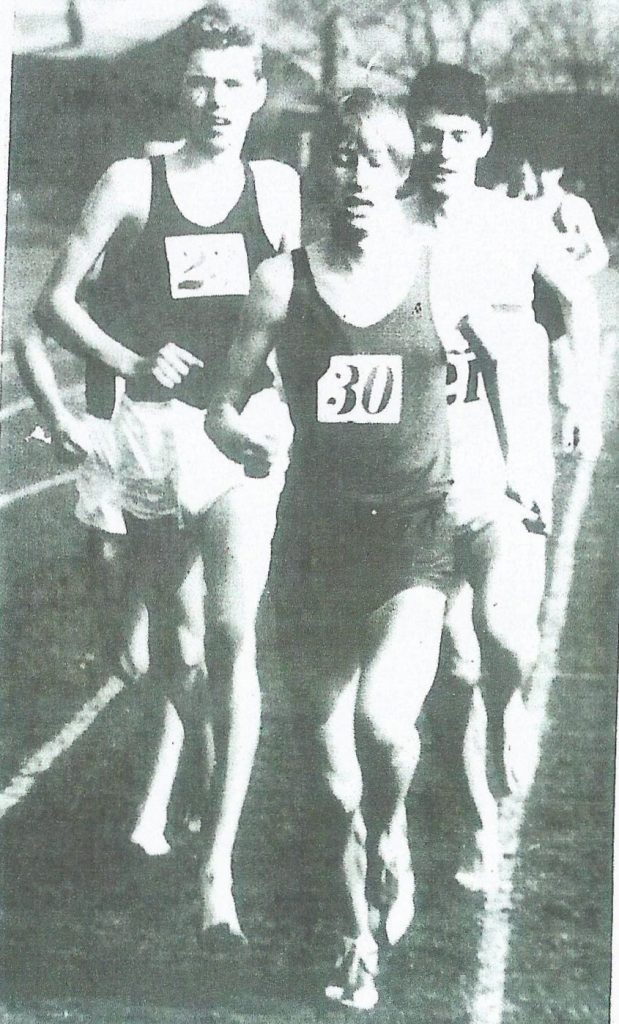 Alistair Blamire (30) running for Edinburgh University before returning to Shettleston Harriers
Came the County Championships on 2nd December and there was a new name on the trophy. Not the individual winner – the engraver had had plenty of practice with the name I McCafferty – but the team was new to him. McCafferty, winner with a time of 35:27 was only five seconds up on Eddie Knox of Springburn but led the Law team to victory beating Shettleston by 13 points. There were other new names to be reckoned with for instance John Myatt running for Strathclyde University, whose team qualified by having their cross-country headquarters at Cambuslang, finished sixth this time. Larkhall won the Youths team race and Springburn the Boys.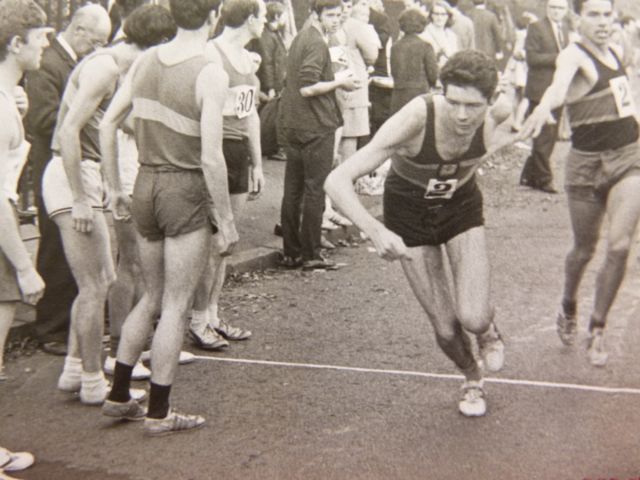 John Myatt taking over from Albert Smith for Strathclyde University in the LAAA Road Relays
The Lanarkshire team won the Inter-Counties Championship at Dundonald Army Camp in Ayrshire on 3rd February in 1968 when five counties contested the senior race. Result: 1. Lanarkshire 33 pts; 2. Dunbartonshire 121; 3. Renfrewshire 142; 4. Ayrshire 183; 5. City of Glasgow 220. The individual order of finishing: 1. J Linaker (26:19); 2. AP Brown (26:25); 3. AH Brown (26:43); 4. P Maclagan; 5. G Skinner; 6. B Scally; 7. W Allan; 8. H Summerhill; 9. T Patterson. Lanarkshire won the Youths race from Ayrshire and Dunbartonshire. The Boys race was also won by Lanarkshire from Renfrewshire and Dunbartonshire.
The Road Relays took place at Law on 12th October and resulted in a victory for Shettleston. After Bill Scally, after a head to head battle with Alex Brown, gave them a 4 second lead at the end of the first lap, they were never headed. New man Lachie Stewart was followed by Ian McCafferty on the second leg but the Law man's pursuit was in vain as Dick Wedlock for Shettleston took over 23 seconds ahead Andy Brown and their final runner, Martin McMahon was 15 seconds quicker than David Simpson for Law. The Springburn quartet of Alan Beaney, Harry Gorman, Ian Young and Eddie Knox ran well to be third. Team contest result: 1. Shettleston 53:31; 2. Law & District 55:04; 3. Springburn 56:13; 4. Shettleston B 56:39; 5. Strathclyde University 57:40; 6. East Kilbride; 7. Springburn B; 8. Cambuslang; 9. Shettleston C; 10: Motherwell YMCA. Fastest Times: 1. JL Stewart (Shettleston) 12:53; 2. I McCafferty 13:16; 3. W Scally 13:19. The gap between Stewart and McCafferty's times is larger than one might have expected but Bill Scally running only 3 seconds slower than McCafferty is really amazing and a quite superb run.
The Youths race was won by Shettleston from Larkhall YMCA and Monkland Harriers and the fastest time was by D Nee of Monkland. In the Senior Boys (13-15) race, Shettleston won from Springburn and Larkhall, fastest time was by Joe Mulvey of Shettleston and in the Junior Boys (11-13) race, Shettleston won again, this time from Springburn and Shettleston B.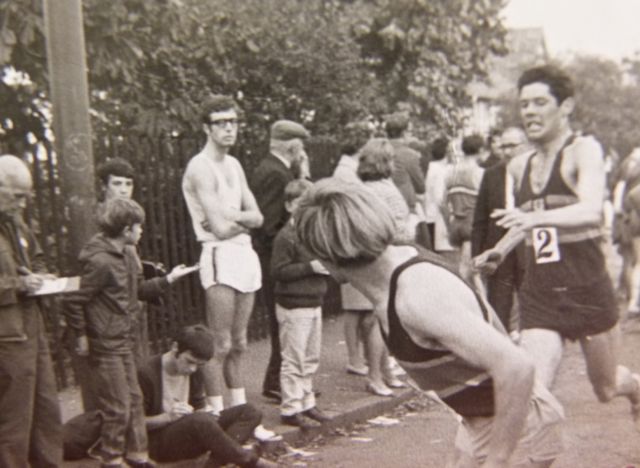 John Myatt to Innis Mitchell for Strathclyde University
The County Championship in 1968 was held on 7th December at Cleland Estate and again the title went to Shettleston. Lachie Stewart running in his first LAAA Championship won comfortably from Dick Wedlock with John Myatt third and Bill Scally fourth fastest time. The Shettleston team won from Law by 23 points (7 points to 30) with Shettleston B third on 32, Strathclyde University with 34 and Springburn with 36. Fastest times were by Stewart, Wedlock, Myatt, Scally and Summerhill saw four Shettleston runners in the first five. Complete results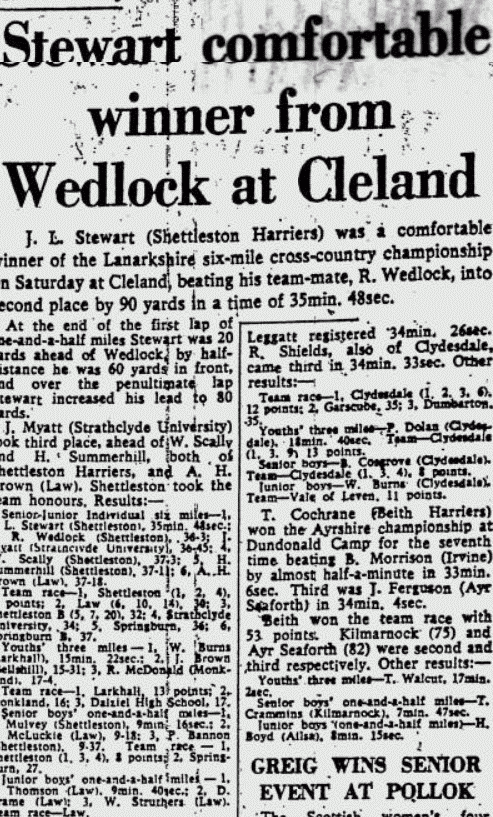 The inter-counties championship of 1969 took place on 1st February at Cleland Estate and resulted in a second consecutive win for John Linaker who won in 33:12 ahead of Ian Leggett (Clydesdale Harriers and Dunbartonshire) who recorded 34:00, and Henry Summerhill (34:06), J Johnstone (34:09), Harry Gorman (34:13) and B Morrison (Ayrshire 34:15). Lanarkshire were clear team winners with 45 points; 2. Dunbartonshire 1117: 3. Renfrewshire 123; 4. Midlothian 125; 5. Ayrshire 206; 6. Roxburghshire 235; 7. City of Glasgow 333.
In the younger age groups, Lanarkshire won the Youths team title with the winner being Willie Burns (L) in 19m 10s who was followed home by Ronnie McDonald (L & Monkland) in 19:12 and Jim Brown (L & Bellshill YMCA) in 19:19. Second in the team race was Stirlingshire (15 points behind Lanarkshire's 11) with Dunbartonshire third on 66. The county also won the Senior Boys race (14 points) ahead of Ayrshire (40) and Midlothian (66). The individual winner was J Mulvey (L & Shettleston 9:12) with R Rowan (Ayrshire ) and J McLuckie (L and Bellshill). J Thomson (L & Law) followed by D Stevenson (L) and J Fairlie (L).
The appearance of Ronnie McDonald and Jim Brown in the Youths race must be commented on. They would both become Scottish and British international runners as well as team mates at Monkland Harriers coached by Tom Callaghan. McDonald was a top drawer miler while Brown specialised in longer distances and their own intra-club rivalry was keen.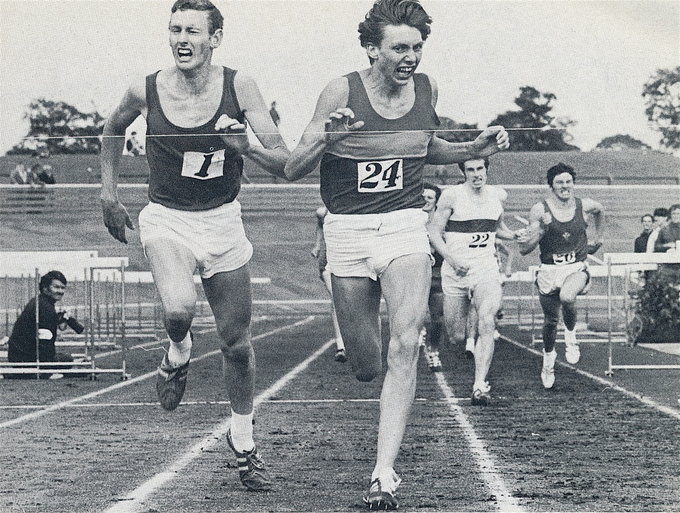 Ronnie McDonald (71) finishing neck-and-neck with Dave Moorcroft (21) in the AAA's Junior Championships (1971)
The Road Relays were held on October 11th, 1969, at Larkhall and resulted in Shettleston retaining their title from Law and Springburn, with 'new boys' in the championship, Strathclyde University finishing fourth. Report and results below. There were 400 yards between Shettleston and Springburn and a further 300 to Law. There were a couple of the 'top guns' , Lachie Stewart for Shettleston and Ian McCafferty for Law, missing but young Eddie Knox had a superb day for Springburn and ran the day's fastest time. Knox gave Springburn a lead on the first stage but at halfway, Wedlock took over for Shettleston and they went into a lead that was never lost thereafter. In the Youths race, Monkland won from Bellshill with Bellshill's Jim Brown having a time 16 seconds faster than Monkland's Ron McDonald. Details:-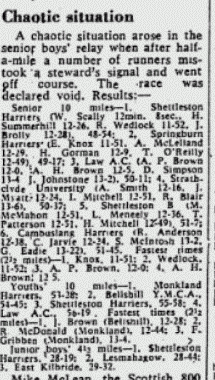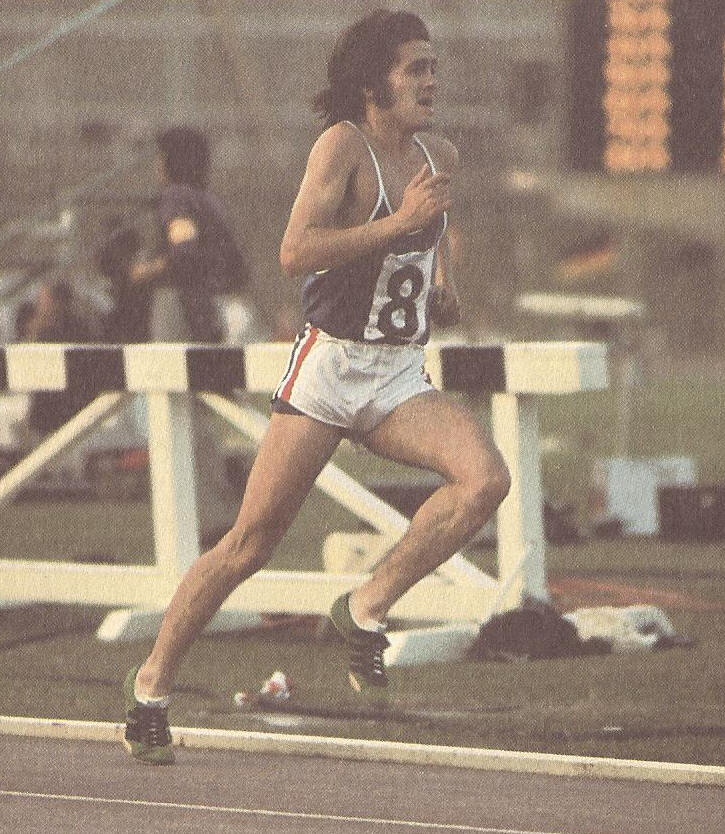 Jim Brown
The Championships were held as usual on the first Saturday in December, with Shettleston keeping a tight hold on both team and individual results. Report and results below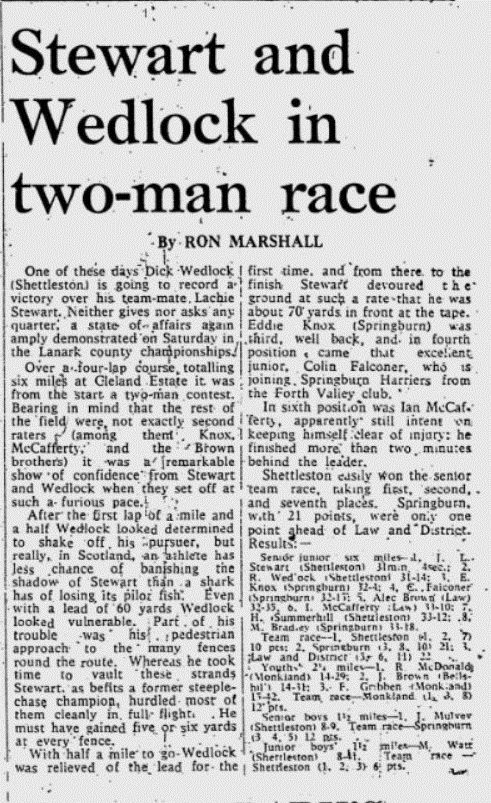 Bellshill hosted the Inter-Counties Championship on 31st January, 1970 to bring the County's own promotions for the winter season to a close. The result was another team victory for Shettleston and an individual win for Lanarkshire's Dick Wedlock who led from start to finish. It was an interesting race altogether – second placer (all of 350 yards back) was the West District's Junior champion, Jim Ferguson from Ayrshire, with Alistair Johnston of Victoria Park and City of Glasgow who was only about 30 yards adrift of Ferguson. With 6 in the first ten finishers Lanarkshire won the team race without too much difficulty – but they won every race on the card that afternoon in January. Youths, Senior Boys and Junior Boys titles all found their way back to the county. Results:
Senior Men:
Individual: 1. R Wedlock 30:32; 2. J Ferguson 31:41; 3. AA Johnston 31:56; 4. H Summerhill 31:56; 5. H Gorman (L) 32:02; 6. AP Brown 32:08.
Team: 1. Lanarkshire (1, 4, 5, 6, W Burns 7, AH Brown 8) 31 pts; 2. Midlothian (9, 12, 17, 19, 24, 25) 106 pts; 3. City of Glasgow (3, 20, 21, 29, 30, 39) 142 pts.
Youths: 1. J Brown (L); 2. F Clement (R 16:12); 3. Stewart Gillespie (L) 16:15). Team: 1. Lanarkshire (1, 3, 5, 6) 2. Renfrewshire (2, 4, 8, 15); 3. Midlothian (9, 14, 15, 20)
Senior Boys: 1. J Mulvey (L); 2. L Reilly (CoG); 3. J Buntain (L). Team Lanarkshire 8
Junior Boys: 1. M Watt (L); 2. I Kerr (A); 3. J Fleming (L). Team: Lanarkshire 8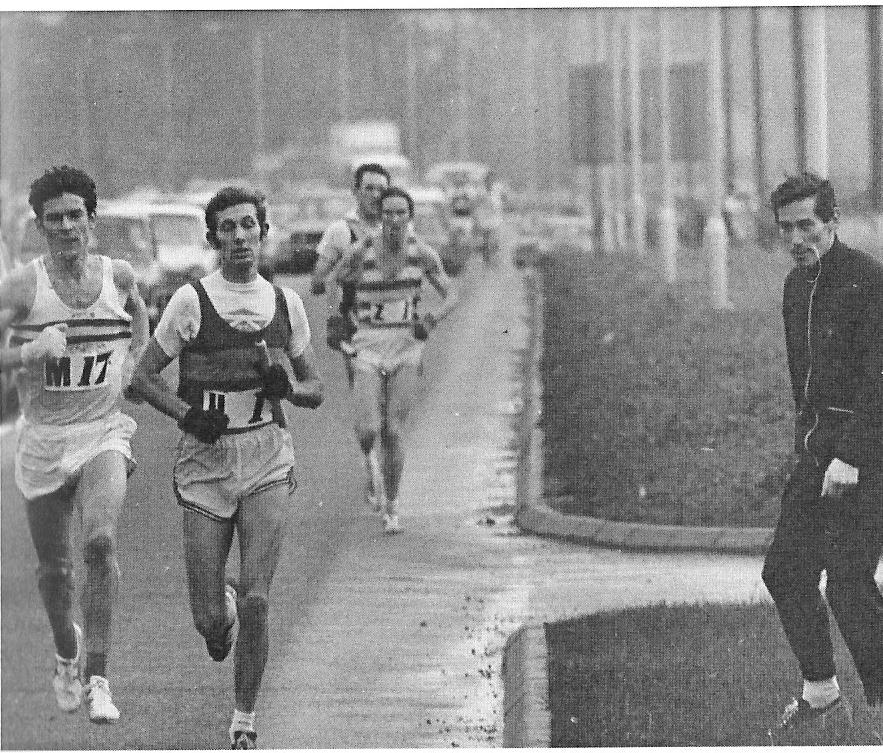 Dick Wedlock (U1) racing Fergus Murray (M17), pursued by Hugh Barrow (Z1) and cheered on by Lachie Stewart in the 1969 Edinburgh to Glasgow
The Lanarkshire Road Relay Championship held on 12th October, again held in Bellshill, was another two team triumph for Shettleston Harriers their first team won in an aggregate time of 43:06 with the B team second in 43:12, Springburn was third in 44:25, Larkhall fifth in 46:08 and Shettleston C sixth in 46:26. They also had the fastest two times when Lachie Stewart clocked 10:12 and Norman Morrison ran 10:16. Springburn's Harry Gorman was third quickest with 10:46. In the Youths Relay Springburn's four of K McBride 11:52, Jim Martin 11:53, Stewart Gillespie 11:48 and Johnny Buntain 11:23 defeated Shettleston's quartet of G Crossan 11:53, P Bannon 11:04, J Springett 12:53 and J Mulvey 11:33. The Senior Boys race went to Law & District who won from Shettleston and Springburn, while the Junior Boys went to Lesmahagow AC who were followed by Monkland Harriers and Shettleston in third.
Note the re-appearance of the name Bannon in the Shettleston ranks – we will see it again and again. Paul ran well for the club and for Glasgow University before emigrating to Canada and representing that country in the Olympic Games marathon.
Interesting is the number of clubs competing – Shettleston, Springburn, Monkland, Larkhall, Law, Bellshill and Lesmahagow and we know that others such as Airdrie, Strathclyde University, Motherwell YMCA and Cambuslang have been in the frame in the past – the Lanarkshire Association has done well in gaining strength and encouraging clubs to make it one of the very strongest counties in the land as far as endurance running is concerned. In this context their performance in the Inter-Counties is a good marker of that progress.
The cross-country championship in 1970 was held on 5th December at the Dalziel HS playing fields at Cleland Estate. It was the day that Dick Wedlock had probably dreamed about for several years – he defeated Lachie Stewart. Only by 6 seconds, but a victory is a victory and some taste a wee bit sweeter than others. He took it out from the very start and Lachie held on until about half way when he fell back. Tommy Patterson in third place made it three fastest times of the day for Shettleston. The result of the team race was Shettleston first with six points (only three runners to count) from Springburn (M Bradley, E Knox, T O'Reilly) and Law in third (AP Brown 11, D Simpson 15, AH Brown 17). In the Youths race, Springburn won form Shettleston and Larkhall with J Mulvey the winner, J Buntain (Springburn) second and J McLuckie (Larkhall) third. J Thomson won the Senior Boys race from Jim Lawson (Springburn) and Mark Watt (Shettleston) and the team race went to Law from Springburn and Shettleston. The Junior Boys event was won by Lesmahagow from Monkland and Springburn with J Weir of Lesmahagow leading the field home.
Note Mike Bradley running for Springburn Harriers – Mike was one of three brothers who ran for Paisley Harriers but when he moved to the area, he joined the local club – Springburn Harriers. An international class mile and three mile runner, he is pictured below (4) running with Lachie Stewart (3) for Scotland in the AAA's Inter-Counties in 1969 with Mike Tagg (5) in third.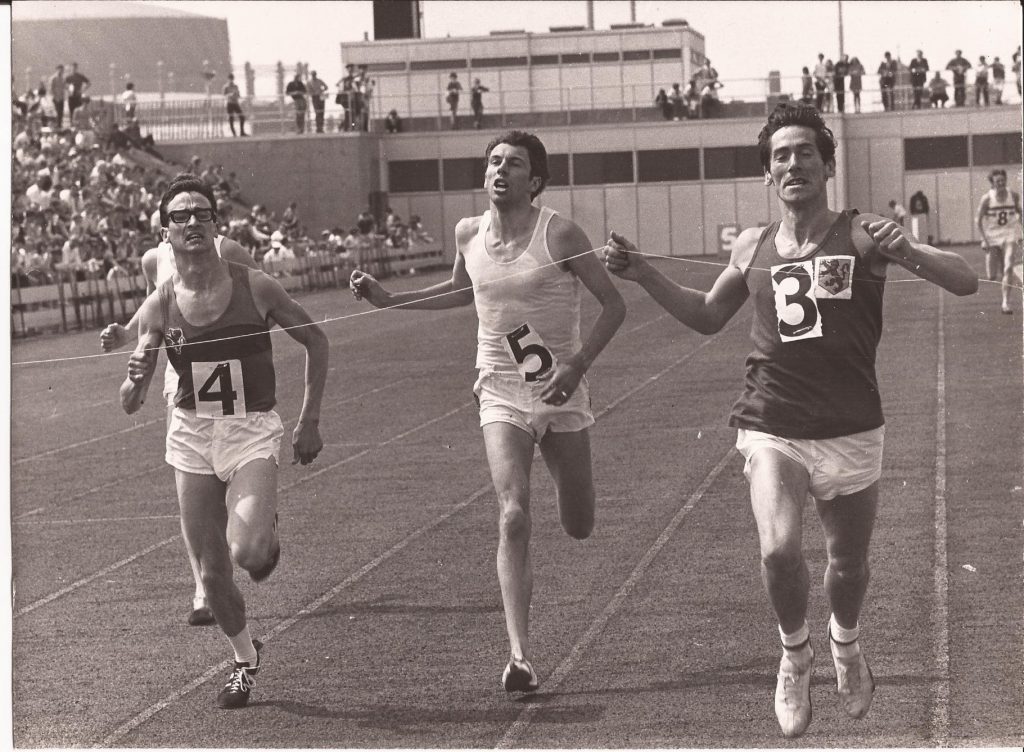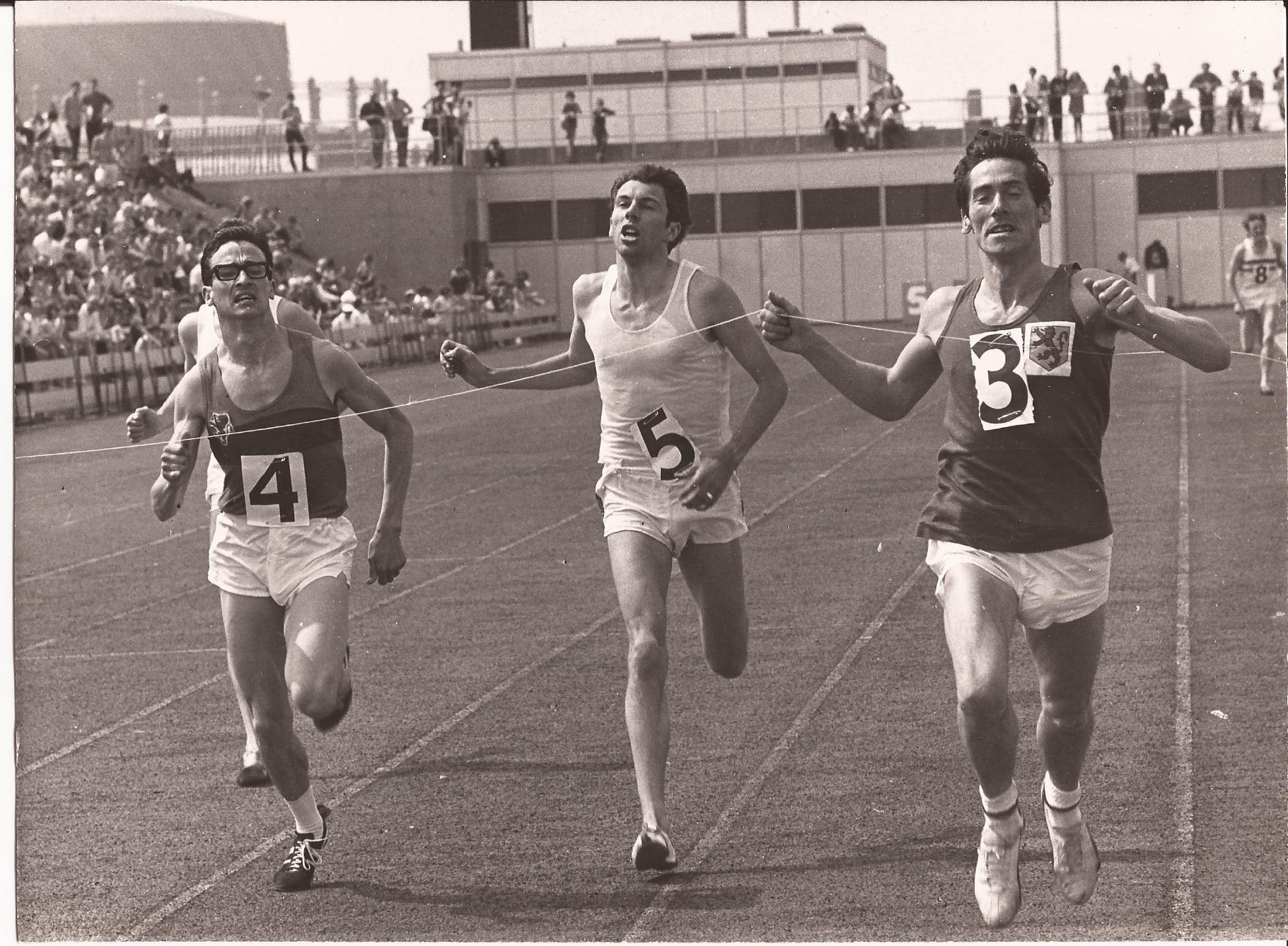 The standard of athlete was at an increasingly high level – the increasing involvement of Strathclyde University brought runners like John Myatt, Innis Mitchell, Albert Smith into the fold, newcomers like Lachie Stewart and Mike Bradley, returning club members like Alistair Blamire and field events athletes like Doug Edmunds, Lawrie Bryce and David Cairns all added quality as well as quantity to the entries. The quality of competition could only be good for the younger developing athletes like Alex Brown, Eddie Knox, Jim Brown and Ron McDonald. We will see them develop over the next 10 years.
But if 67 – 70 was a transition from the Motherwell Years, what was it a transition to? More Shettleston success or were there other clubs with designs on the Lanarkshire championships?