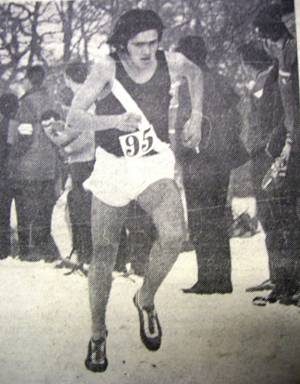 Jim Brown of Monkland Harriers running at Coatbridge in the snow.
The years of Motherwell dominance had passed, the transition was complete and apparently Lanarkshire hegemony had returned to Shettleston Harriers. But had it? There were new kids on the block, kids to be reckoned with, and these kids were ambitious. The next five years would tell the true story – or would they?
The Track Championships were held on Saturday, May 8th, 1971 at Loch Park, Carluke in what were described as ideal weather conditions. The results of the Senior Competition were interesting. Seniors, Juniors and Youths results, first two noted.
100 yards: 1. M Norval, Strathclyde U, 11.3; 2. S McCallum, Shettleston, 11.3; 200 metres: S McCallum, Shettleston, 23.3; J Jackson, Strathclyde U 24.3; 400 metres: 1. D McBain, Larkhall, 51.7; 2. A Reczek, Monkland, 52.0; 800m: 1. D McBain, Larkhall, 1:56.4; 2. A McLellan, Springburn, 1:57.6; 1500m: 1. J Graham, Airdrie, 4:04.4; 2. H Gorman, Springburn, 4:04.5; 5000m: 1. T Patterson, Shettleston, 15:18.8; 2. R McKay, Motherwell, 15:21; 1600m Medley Relay: 1. Shettleston 3:37.4; 2. Springburn 3:48.6; 3. Larkhall 3:49.8; High Jump: 1. M Norval, Strathclyde U, 5′ 8″; 2. W Haddow, Strathclyde U, 5′ 4″; Triple Jump: V Wilkie, Shettleston, 12.07m; 2. M Norval, Shettleston, 12.94m; Long Jump: 1. M Norval Strathclyde U, 6.15m; 2. W Haddow, Strathclyde U, 5.06m.
Juniors (17-19): 100m: 1. J Russell, Dalziel HS, 11.4; 2. G Young, Larkhall, 12.0; 200m: 1. J Russell, Dalziel HS, 23.6; 2. J Toner, East Kilbride, 24.9; 800m: 1. J McLuckie, Larkhall, 2:02.2; 2. A Trench, East Kilbride, 2:02.4; 1500m: 1. S Gillespie, Springburn, 4:08.4; 2. J McLuckie, Larkhall, 4:10.4
Youths: 100m: J Scott, Motherwell YMCA, 11.5; 2. V Topping, Law, 11.6; 200m: J Scott, Motherwell YMCA 24.0; 2. V Topping, Law 24.3; 400m: 1. A Scott, Springburn, 54.4; 2. D Kane, Monkland, 55.9; 800m: K McBride, Springburn, 2:05.7; 2. G Reid, East Kilbride, 2:06.0; 1500m: 1. J Lawson, Springburn, 4:15.7; 2. A Gilmour, Larkhall, 4:16.
Several interesting names there – eg Alex Gilmour who would become a regular and reliable member of the very good Cambuslang Harriers team of the 1980s and 90s.
*
The Road Relays were held at Bellshill on 9th October, 1971 and were full of drama – even more than usual.
The runners were all there (no complaints about the quality this year). Lachie Stewart, Mike Bradley, Eddie Knox, Jim Brown, Ron McDonald, Paul Bannon, Dick Wedlock … were all present.
The previous year Shettleston had been first and second teams, this year they tried to do it again and failed.
There was also a runner knocked down during the race. The entire 'Herald' report is reproduced to do the event justice. Now read on.
In December, 1971, the championships were back at Cleland Estate. The reigning team champions were Shettleston with Dick Wedlock the individual men's champion. 1971 had a different tale with different heroes to tell. Ian McCafferty was making his season's cross-country debut in what described as one of the toughest and most competitive in the country. There was a three lap two-mile course and reigning champion Wedlock lead through the first lap but by the end of the second, there were only two men in it – McCafferty and Jim Brown of Monkland. Brown came out on top beating McCafferty by 100 yards or so. Monkland had hopes of the team title with Brown first and McDonald fifth but with Willie Drysdale twelfth, they were second by only two points with Springburn third. But there is a twist in the tail of this tale!!! Law had declared McCafferty as a second team runner. Had he been in their first team, they would have been third.
Results: Senior/Junior Race: 1. J Brown (Monkland) 28:17; 2. I McCafferty (Law) 28:41; 3. R Wedlock (Shettleston) 29:06; 4. N Morrison (Shettleston) 29:11; 5. R McDonald (Monkland) 29:37; 6. E Knox (Springburn) 29:42. Team: 1. Shettleston (3, 4, H Summerhill 9) 16 pts; 2. Monkland 18 pts; 3. Springburn 29 pts Youths: 1. J Thomson (Law) 15:54; 2. A Gilmour (Larkhall) 16:11; Team: 1. Springburn (J Buntain 3, J Lawson 4, J Martin 9) 16 pts; 2. Shettleston 24 pts; 3. Law 33 pts. Senior Boys: 1. M Watt (Shettleston) 7:35. Team: 1. Shettleston (1, R Drummond 3, N Muir 11) 15 pts; 2. Springburn 26; Motherwell YMCA 29. Junior Boys: 1. A Renfrew (Springburn) 8:38. Team: 1. Springburn (1, A Sprang 4, J Gillespie 9) 14 pts; 2. East Kilbride 28 pts; 3. Cambuslang 31 pts.
1972
The Track and Field Championships were held at Carluke on 13th May in 1972 with the normal fairly full programme. Unusually there were five runners who won two events. Ian Russell (Law) won the senior 100/200m double, , Jim McLuckie (Larkhall) won the Junior 800/1500m in 1:58.7/4:2.4 [?], A Deans (Law) won the Youths 100/200m in 11.8/23.7, and I Callender won the Senior Boys 100/200m with times of 12.2/24.9, R McMcKim won the Junior Men's 800/1500 double, in 2:05.2/4:22. Despite all that however, the star of the show was Ronnie McDonald (Monkland) won the 800m with a powerful run over the last 300m to win in 1:56.1 from the 12 other competitors in the race. There was also a tremendous duel in the 1500m between John Graham of Airdrie and Jim Brown of Monkland. Graham made most of the running and was able to hold off Brown at the finish although reports say there was less than a foot (ie 12 inches) separating them. Other winners:
Senior: 400m: W Logie, Monkland, 53.5s; 5000m: E Knox, Springburn 14:52.2; Medley Relay: East Kilbride, 3:43.4. Juniors: 100m: S Lloyd, Monkland, 12.1; 200m: B Cook, East Kilbride 24.2. Youths: 800m: F McCann, Airdrie, 2:00.6; 400m: D Kane, Monkland, 54.5; 1500m: J Thomson, Law, 4:08.4. Senior Boys: 400m: J Bodie, Bellshill, 58.5; Junior Boys: 100m: E Ritchie, East Kilbride, 14.3; 200m: G Scott, Larkhall, 29.3; 800m: D Henderson, Cambuslang, 2:27.2; 1500m: S Cameron, Cambuslang, 4:59.5
*
We had to go to the Wishaw Press' of 20th October for the result of the road relay championships on 14th October 1972, to the Law & District report, which read: The club won the Senior Men's Race in the Lanarkshire Relay Championship at Coatbridge on Saturday. Members of the winning team and their times were T McCann 12:03, AP Brown 12:13, AH Brown 12:16, D Simpson 12:26. T McCann was third fastest in the event. The combined efforts of J King, J Rowley, R Benyon and A Struthers gave another Law team 16th place. Law's other entrants T Miller, E Laverty, R Brown and G Gallacher took 18th place. The Senior Boys were runners-up in their event. Runners and times were:-K McCartney 8:26, W Dickson 8:55, W Smith 9:15, J Milligan 10:27. K McCartney was the fastest in the event. The Youth team finished fourth. Runners and times were H Forgie 12:52, W Nelson 13:17, R Milligan 13:45, J Struthers 13:57, W Struthers 14, 56. The Junior Boys were tenth in their event. Runners and times were P O'Neill 9:37, J Young 10:09, J Fenwick 10:39, J O'Neill 10:44, W McCafferty 10:53."
The above report is a bit confusing in that it lists five runners for the Senior and Junior Boys teams. No surprises in the senior team but note the appearance of a young Hugh Forgie in the Youth team – Hugh would go on to be well-known good quality endurance runner who would run for Scotland on the track. There were some things missing from the report above which can be maybe supplied from the Motherwell YMCA report – also in the Wishaw Press – on the same race. A section from the start of that report reads: "Conditions were perfect for the 248 runners from all over Lanarkshire taking part. Sixteen-year-old Motherwell Harrier John Graham won the Youths race in a time of 12:06. …. In the Seniors race, Bert McKay clocked 11:46 to be runner-up, while W Marshall with 12:55 was sixth."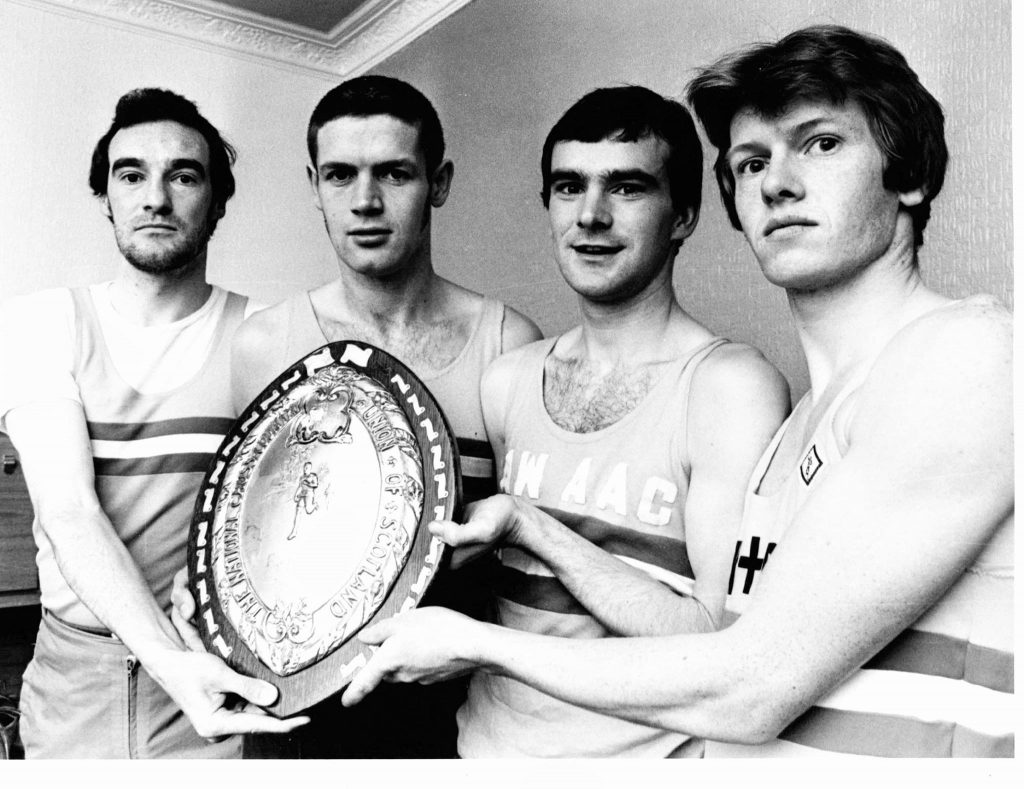 The Law & District team that won the District Relay in 1980: Hugh Forgie second left
The usually reliable 'Glasgow Herald' was more selective in reporting the LAAA Cross Country Championship, although the 'Wishaw Press' was fortunately more forthcoming for the Championship in December 1972. Their report below is in full.
"Lanarkshire Cross Country Championships were held at Cleland Estate on Saturday. The most exciting events were in the junior boys and youth events. Law amateur athletic club were in the honours with a win by K McCartney in the senior boys, and they also provided the winners in the senior event. RESULTS.
Junior Boys: D Connacher (Springburn) 9:47; J Ross (Springburn (9:48); S Cameron (Cambuslang) 9:49). Team result: 1. Springburn; 2. Cambuslang; 3. East Kilbride. Senior Boys: K McCartney (Law) 8:45; W Muir (Shettleston); M McKenzie (Shettleston) 9:05. Team Result: 1. Shettleston; 2. Law; 3. Springburn.
Youths: M Watt (Shettleston) 17:19; J Graham (Motherwell) 17:25; J Fleming (Springburn) 17:46. Team result 1. Springburn; 2. Shettleston; 3. Monkland.
Seniors: J Brown (Monkland) 33:48; T Paterson (Shettleston) 34:37; A Partridge (East Kilbride) 35:08. Team result: 1. Law; 2. Monkland; 3. Springburn. The winning Law team included T McCann 5th, Alec Brown 6th, D Simpson 7th.
1973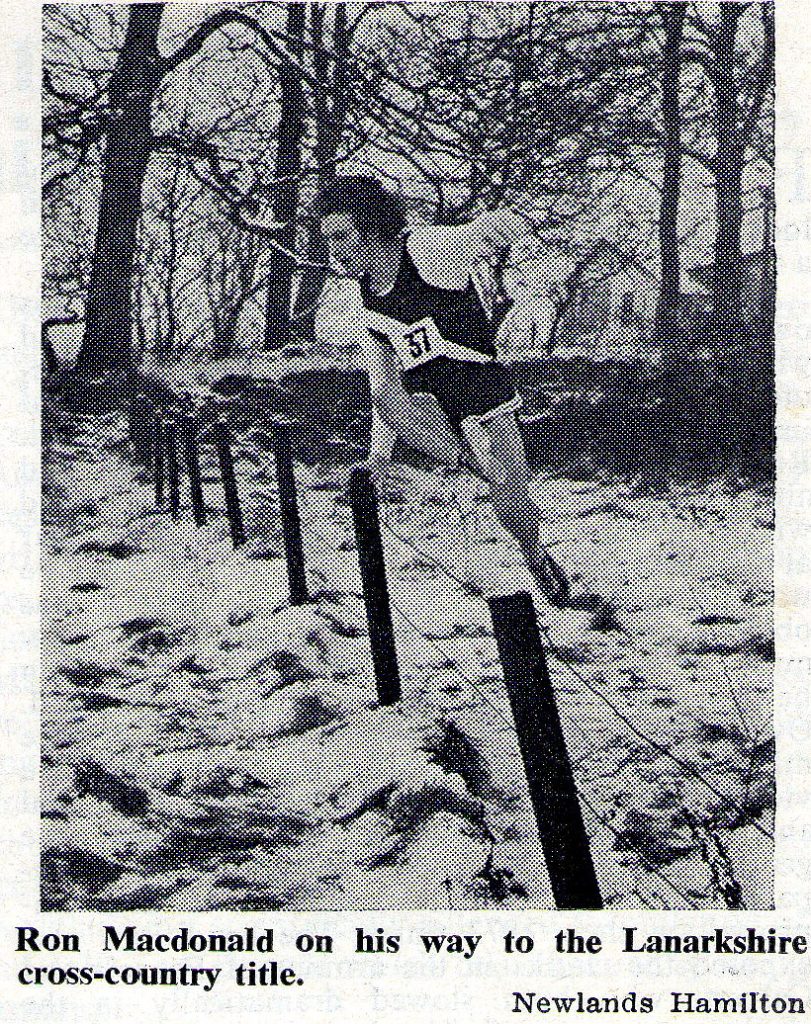 May 12th was the due date for the Lanarkshire Championships which were again held at Carluke. Before any comment, look at the results as published in the 'Glasgow Herald'. Note, too, that there was not a single Shettleston runner in the 5000m.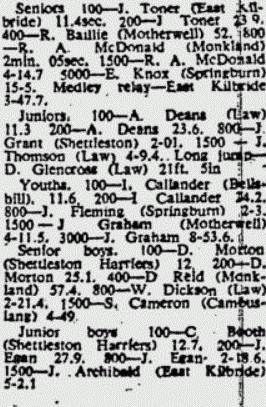 Again we have to say, look at the quality coming through: Junior Boys including Jim Egan from the unheralded Larkhall YMCA who would win a Junior Boys National Championship and then a few years later win a Junior Man's international vest and a trip to New York; and is J Archibald really Ian Archibald who won the Senior Men's 1500m title? John Fleming of Springburn was another talent unearthed by Eddie Sinclair at Springburn. The absence of anyone from Shettleston in the 5000m was not really that big a deal.
The Road Relays again produced what was, but maybe shouldn't have been, a bit of a surprise when neither Shettleston, nor Law won, nor did either Springburn or Monkland. None of the masters won but the students did – Strathclyde University turned the tables on the more established teams. The report read: "Strathclyde University had a comfortable victory in the Lanarkshire road-relay championships on Saturday at Coatbridge. They finished about 150 yards ahead of Monkland Harriers with Springburn Harriers third. Frank Clement made his first appearance of the cross-country season and could hardly have had a softer initiation. He began the fourth and last leg with a lead of about 100 yards, one that had been built up largely by Laurie Spence and Pat Maclagan and he was never pressed. Shettleston fielding a grossly under strength team were never in contention." And that was the report from the 'Glasgow Herald'. No times, no team places, not other races on the day. Oh, and who was the fourth runner for Strathclyde University? We know from the Shettleston Harriers centenary history that their 'grossly understrength team' consisted of Stuart Easton, Henry Summerhill, Clark Wallace and Bill Scally.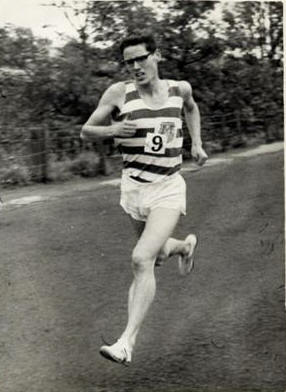 Pat Maclagan, a member of the Strathclyde University winning relay team in 1973; photograph from 1970
"Ronnie McDonald felt disinclined to take too much credit for his victory on Saturday in Lanarkshire's cross-country championships run over the white fields of Cleland Estate. That he ran at all says much for his loyalty to an event that is in danger of becoming just another obscure winter run-around. It is hard to know which attitude to adopt over this and similar country championships. From the athletes point of view it could be – as McDonald suggests – that many of them are reluctant to run at the "tuppence-ha'penny meetings for a thru-penny medal" now that so many otherwise indifferent road races are offering generous prizes. If county associations could find the money to combat this, then maybe the stars of cross-country could see their way to showing their faces more often. Perhaps too the battery of officials required to run these meetings would consider the time so freely given more profitably spent.
McDonald at least made it worth their while. He stayed with the field for the first half-mile but from that point stretched himself enough to open an ever-widening gap. By the finish he was more than half a minute in front of Shettleston's Stuart Easton, himself almost as much ahead of the third man. For the first time in his athletics career Ronnie McDonald finds himself thinking as much about success in cross-country as on the track. One of his biggest ambitions is to win the national title – "that may seem strange coming from a miler, but it's true" – and with continued improvement over the next few months he has every hope of being in Scotland's team for the International Championships in Monza in March. Another of his desires – to see his club win the Edinburgh to Glasgow relay. Now that really would be something.
The club of the afternoon was undoubtedly Springburn Harriers. They swept away the opposition in all four age groups and Iain Murray gave them an individual victory in the senior boys race. Leading results:
Senior/Junior: 1. R McDonald (Monkland) 33:44; 2. S Easton (Shettleston) 34:18; 3. A Miller (Law) 34:42. Team: 1. Springburn 29 pts; 2. Law 37; 3. Monkland 38.
Youths: 1. N Muir (Shettleston) 16:57; 2. J Burns (Monkland) 17:13; 3. J Graham (Motherwell) 17:19. Team: Springburn 17 pts.
Senior Boys: 1. I Murray (Springburn) 9:05. Team: Springburn 9 pts; Junior Boys: J Aitken (Larkhall) 9:34; Team Springburn 18 pts.
Maybe the comments by the writer about the nature of the meeting and the way to attract top class runners shows a misunderstanding of what the County Championships – any County Championships, not just the LAAA version – are about. These are not meant to be one of the very top class events to rival the Dairy Crest or British Airways spectaculars. In the era we are talking about there was a logical 'stairway' through which an athlete could progress his fitness – club, county, district, national and British, and then for international class athletes there were the Commonwealth, European and Olympic Games. Domestically, the District Championships were part of a gradual intensifying of the competition for club athletes, used by top class athletes coming back from injury, and as a club supported event where young athletes could be introduced to competition higher than that available at schools or club level.
1974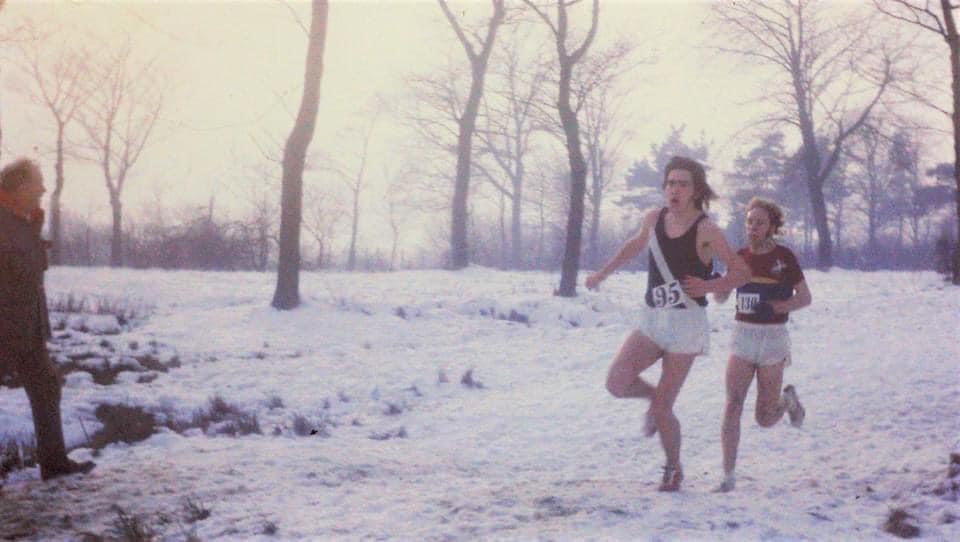 Jim Brown and Lawrie Spence (Strathclyde University)
The LAAA Track and Field Championships were again held on the second Saturday in May, 1974, and were best covered by the 'Wishaw Press' of 24th May. By 'best covered' we mean that all the results were there. Correspondence from two different journalists of their poor results service resulted in comments saying that they had to apply 'journalistic standards' to their athletics reporting as they would in any other branch of their occupation. My response is that they can be as 'journalistic' as they like six days in the week but what we want/need on a Monday is a reporter. Would they skip some football results on a Monday for a 'journalistic' article on say the ethics of the sport or a bigger match being played in Brazil? Results are the life blood of the sport. The results below give food for thought.
Among the results is Jim Egan winning the Senior Boys 1500m, Kenny McCartney winning the Youths 1500m, Hugh Forgie winning the Junior 1500 (in a pb of 4:01.5), Nat Muir winning the Youths 3000m and John Graham winning the Senior 5000 from Alan Partridge – every one to be a Scottish internationalist. Note too the first County medal for Alastair Macfarlane of Springburn Harriers who had be reinstated from the professional fold. Alastair would go on to be a sub 2:19 marathon runner, who would run in four SAAA marathon championships and win a medal in every one of them including victory in 1979. There were no field events listed – either because there were not any or because of an editorial decision.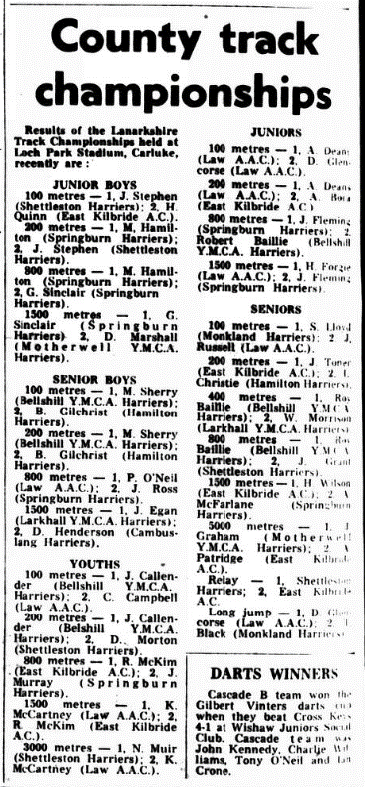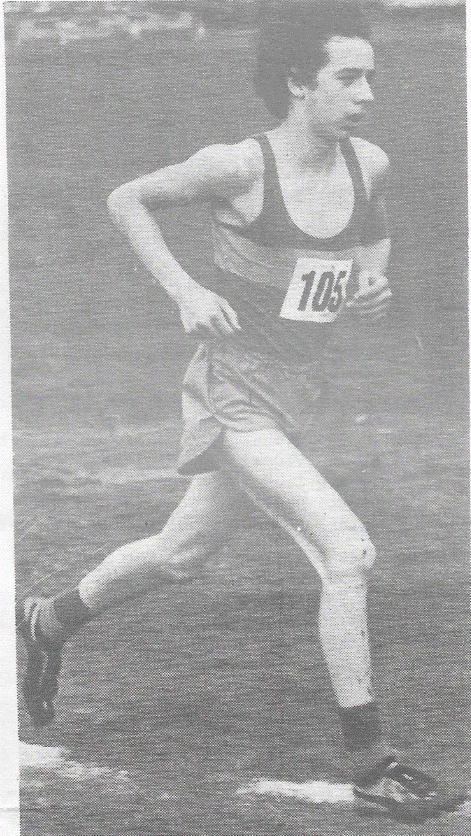 Nat Muir winning the Youths National in 1975
In 1967 the Lanarkshire athletics scene was transformed by the arrival of a new club – Law & District AAC – which was a breakaway from the successful Motherwell YMCA club; in 1974 there was another surprise new club formed in Lanarkshire – Clyde Valley AAC. This time it was an amalgamation of five existing clubs and the story of how it came about can be followed by reading Tom Callaghan's account at this link. The main advantage competitively in the short term was the formation of a team that included Ronnie MacDonald, Jim Brown, Alex Gilmour, John Graham, Bert McKay, Roy Baillie and Ian Moncur. The test would be whether they could develop younger generations to run in the club colours. There was no doubt that the stronger team would be a challenge for the rest of Scotland's clubs.
The 'Wishaw Press' covered the story: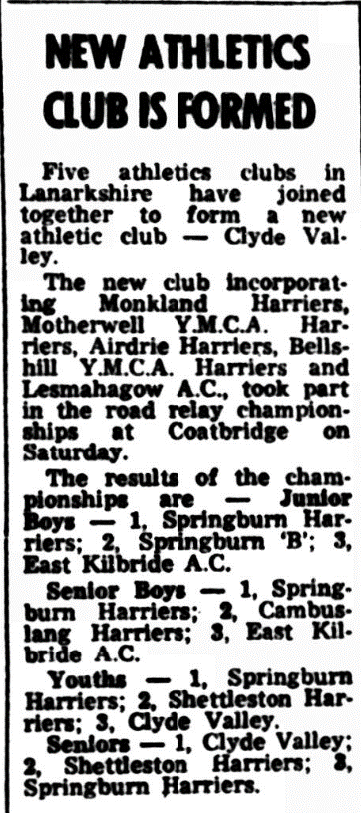 The Road Relays were held on 12th October at Coatbridge and the new club was quick to establish its credentials with a win in the Senior event. 'Athletics Weekly' reports the results: "Senior Men: 1. Clyde Valley (E Devlin 12:10, J Graham 11:35, J Small 12:01, R McDonald 11:36) 47:22; 2. Shettleston (S Easton 11:59, N Morrison 11:39, L Stewart 12:03, J Burns 11:57) 47:38; 3. Springburn (E Knox 11:44, J Lawson 12:08, H Gorman 12:39, T Patterson 11:59) 48:30; 4. Strathclyde University ; 5. Law & District AAC. Fastest Times: 1. Graham 11:35; 2. R McDonald 11:36; 3. Morrison 11:39.
The new boys had come good with a team that was composed of two of Scotland's finest with two good quality solid club runners rather than four 'star athletes'. Joe Small, one of the members of the first Clyde Valley team to win medals in the LAAA Championships is pictured below running in the Nigel Barge Road Race in third place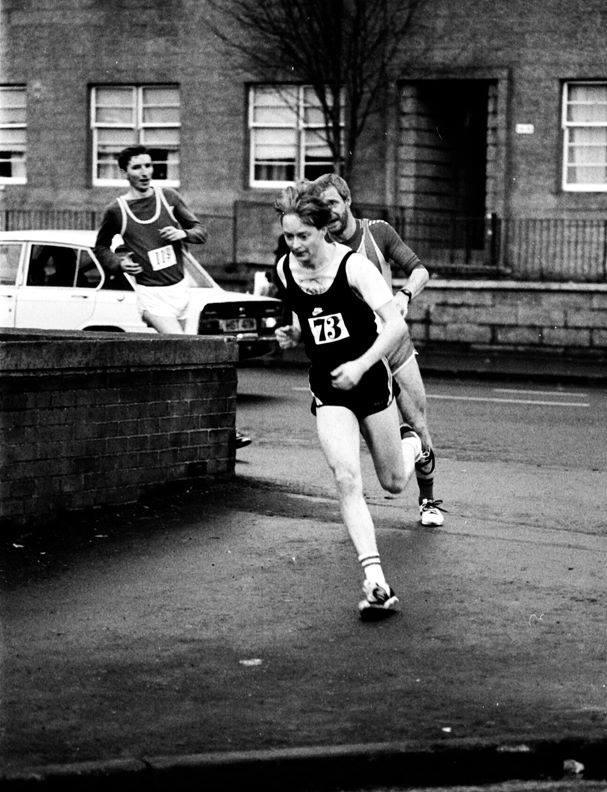 There was another name on the trophy at the Lanarkshire championships in 1974 – Lawrie Spence, formerly of Greenock Glenpark Harriers, was running in the colours of Strathclyde University. Challenged initially by John Graham (Clyde Valley) and Alan Partridge (East Kilbride), he dropped Graham on the second lap, then used Partridge as a wind shield until he felt it appropriate to go on and win the race by 18 seconds from the East Kilbride man with Graham in third. Spence was one of the most talented endurance runners the country has produced with top class times ranging from sub-4 for the mile to 2:16 for the marathon. Partridge was a Scottish international and John Graham would have a stellar career as a marathon runner with sub 2:10 to his name. There was also a name that would be familiar in the years to come when Nat Muir won the Youths race.
Result: Senior: 1. L Spence (Strathclyde University) 35:01; 2. A Partridge (East Kilbride) 35:19; 3. J Graham (Clyde Valley) 35:27. Team: 1. Shettleston 19 pts; 2. Strathclyde University 19 pts Shettleston had third better counter.
Youths: 1. N Muir (Shettleston) 17:00; Team: Springburn 13 pts.
Senior Boys: 1. S Cameron (Cambuslang) 9:15; Team: Law & District 20 pts. Junior Boys: 1. I Doole (Clyde Valley) 9:37. Team: Springburn 9.
1975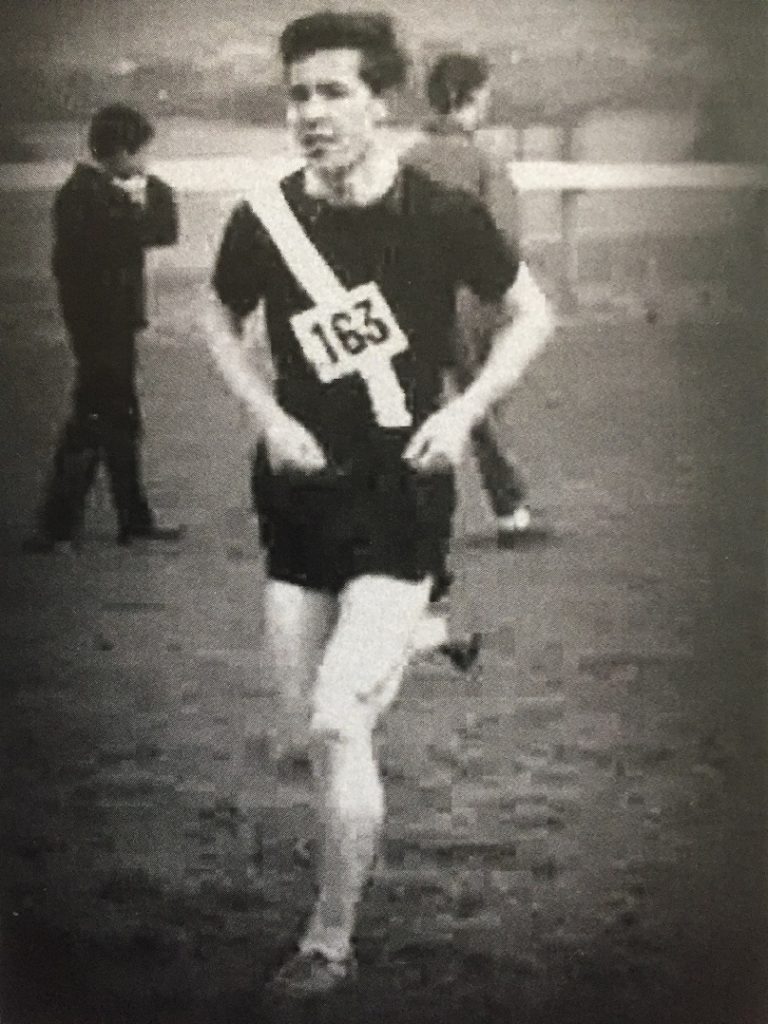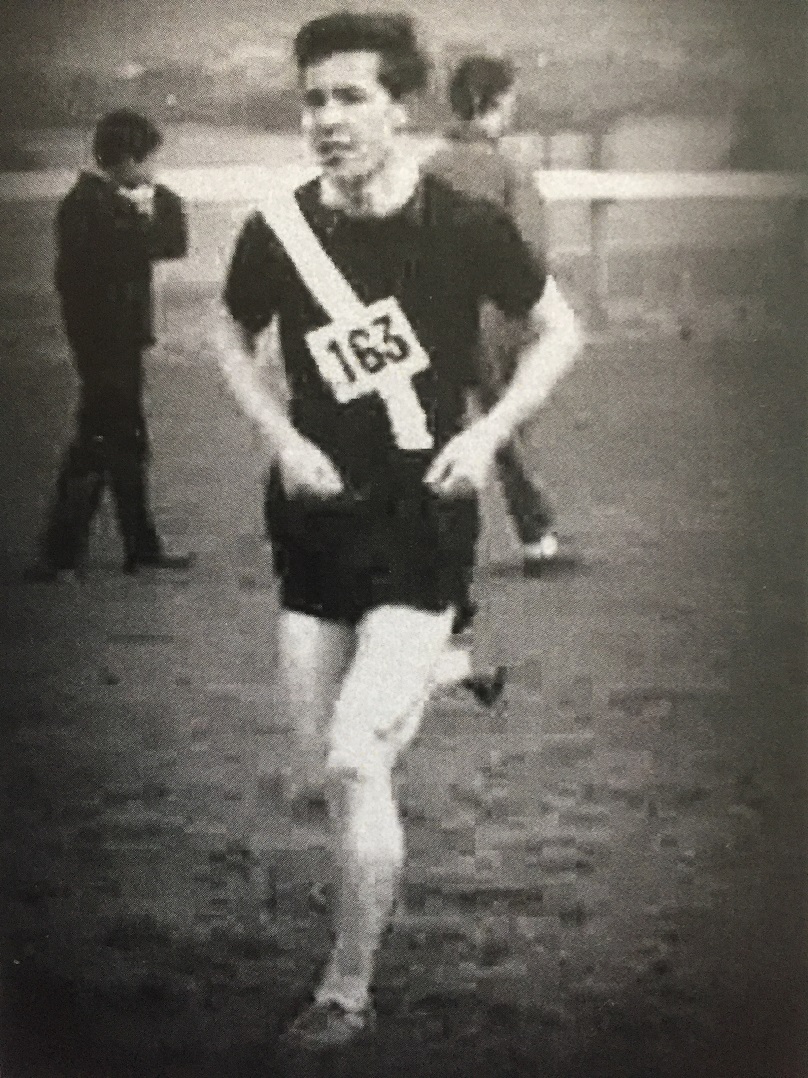 Tommy Callaghan, Monkland, a very good coach who worked with many top class athletes at the club including Jim Brown and Ron McDonald
The 'Glasgow Herald' had a reporter at the LAAA track and field championships but they only mentioned the result of the SAAA 10 miles championship which was incorporated into the meeting and nothing was said about the championships. The meeting was covered in the 'Athletics Weekly' though and we have their selection of the principal results .
Senior Men: 100: A Deans (Law) 11.0; 400m: H Stewart (Shettleston (50.9); 800m: 1. K Taylor (East Kilbride) 1:54.8; 2. A Marshall (Shettleston) 1:54.9; 1500m: R Baillie (Clyde Valley) 4:01.0; 5000m: (one lap short?) 1. J Graham (Clyde Valley) 13:27.8; 2. A Partridge (East Kilbride) 13:30.0: 3. J Burns (Shettleston) 13:30.8.
Juniors: 100: J Curry (Law) 11.2; 800/1500m: H Forgie (Law) 1:57.0/4:03.0. Youths: 100/200m: M Cherry (Clyde Valley) 11.4/23.0; 400: F White (East Kilbride) 52.5; 800m: I Murray (Springburn) 2:00.2; Senior Boys: 400m: J Sharkey (Clyde Valley) 55.6; 800/1500: G Williamson (Springburn) 2:03.3/4:33.3
Names of promising youngsters? Look no further than the 800/1500m winner in the Senior Boys age group – Graham Williamson. He would not be burnt out – he went on to be one of Britain's top milers and one of Scotland's all time greats.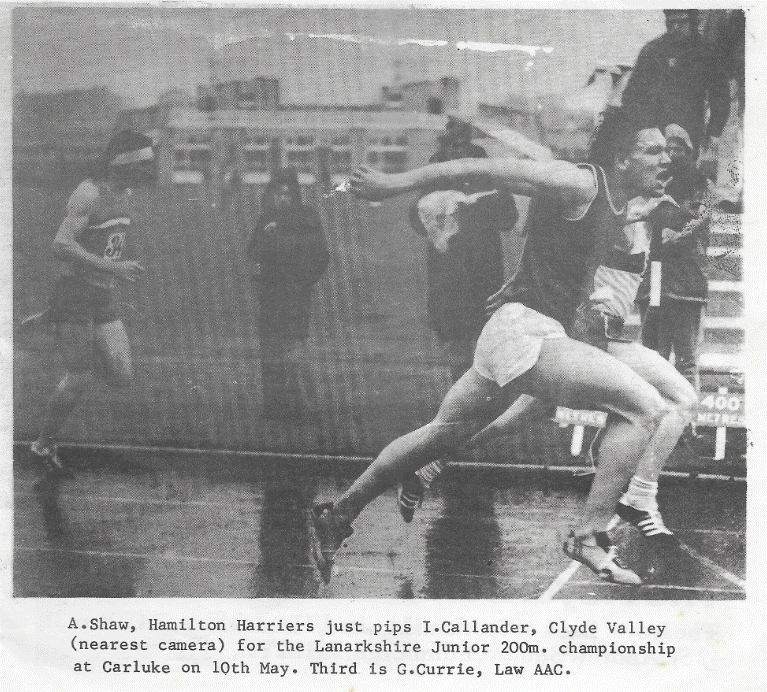 The road race formerly held in conjunction with the sports was still being held but had moved away from the county championships to a midweek slot. By 15th May, 1975, it was held over ten and a half miles. Report below is from 'Athletics in Scotland'.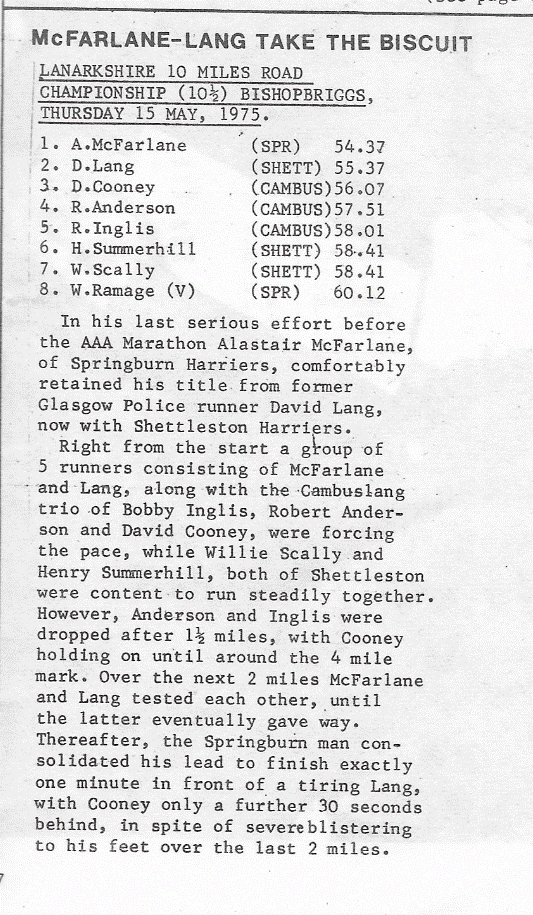 October was the month for all the relays – McAndrew at the start of the month with County, District and National in the following weeks. Lanarkshire Road Relays were held on 11th October, 1975, at Coatbridge. Colin Shields wrote the report in the 'Athletics Weekly'.
'On their home ground at Drumpellier Park, Coatbridge, Clyde Valley won the Lanarkshire Road Relay thanks to a last lap from Ron McDonald who took the lead in the last mile from Shettleston Harriers. Springburn H were the leaders for the first two laps with Shettleston leading Clyde Valley by just 4 seconds in third place. A resurgent Lachie Stewart took Shettleston into a 14 second lead on the third lap and Ron McDonald set off after first year junior, Nat Muir, the youngest ever athlete to represent Scotland in the International Junior Cross-Country Championships. Well though Muir ran, McDonald was in top class form and ran home a clear winner with 11:08, the fastest lap of the day, 4 seconds ahead of Lawrie Spence of Strathclyde University (11:12) who jumped from sixth to second on the second lap.
A victory from Clyde Valley in the Youths relay race stopped a clean sweep of the younger age group races by Springburn H who nevertheless provided the fastest individual in the three races. Springburn, always famed for the strength of their teams in Youths and Boys age groups thanks to sterling work by coach Eddie Sinclair, must now start favourites for the inaugural National Young Athletes Relay title in Edinburgh next month. Results: Senior: 1. Clyde Valley AAC (E Devlin 11:57, J Graham 11:34, J Small 12:00, R McDonald 11:08) 46:39; 2. Shettleston Harriers (J Burns 11:34, D Lang 11:57, L Stewart 11:50, N Muir 11:39) 46:49; 3. Strathclyde University (D Leitch 12:11, L Spence 11:12, S Snekkvik 12:30, J McLean 12:18) 48:11; 4. Springburn H 48:27; 5. Law & District 49:06; 6. East Kilbride 49:21; 7. Cambuslang 50:10; 8. Shettleston B 50:18; 9. Cambuslang B 50:18; 10. Law B 50:23. Fastest: 1. R McDonald 11:08; 2. L Spence 11:12; 3. T Patterson 11:30; 4. N Muir 11:32 ; 5. D Burns 11:34; 6. J Graham 11:34.
Youths: 1. Clyde Valley (G Patterson 12:10, A Smith 13:48, B McSloy 12:31) 38:29; 2. Springburn (D McLeod 12:45, I Murray 12:08, J Ross 14:14) 39:07; 3. Shettleston: (T Shields 13:28, A Smith 12:14, S Summers 14:22) 40:04; 4. East Kilbride 40:44; 5. Larkhall YMCA 41:03; 6. Clyde Valley B 42:40. Fastest: 1. Murray 12:08; 2. Patterson 12:10; Smith 12:14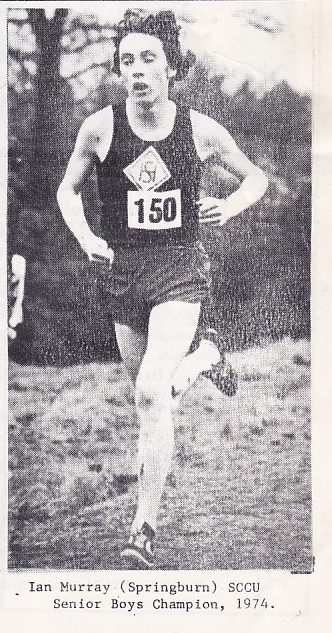 The LAAA Cross Country Championships were held at Coatbridge in pretty poor weather conditions on the first Saturday in December, 1975. The results were in the 'Wishaw Press' . Junior Boys: 1. P Martin (Clyde Valley); 2. P McIntyre (Springburn); 3. A Callan (Springburn). Team: 1. Springburn; 2. Clyde Valley; 3. Shettleston. Senior Boys: 1. G Williamson (Springburn); 2. A Martin (Springburn); 3. I Doole (Clyde Valley). Team: 1. Clyde Valley; 2. Springburn; 3. Shettleston.
Youths: 1. I Murray (Springburn); 2. B McSloy (Clyde Valley); 3. A Smith (Shettleston). Team: 1. Clyde Valley; 2. Shettleston; 3. Springburn.
Senior: 1. J Graham (Clyde Valley); 2. I Stewart (Shettleston); 3. A Partridge (East Kilbride. Team: 1. Shettleston; 2. East Kilbride; 3. Springburn.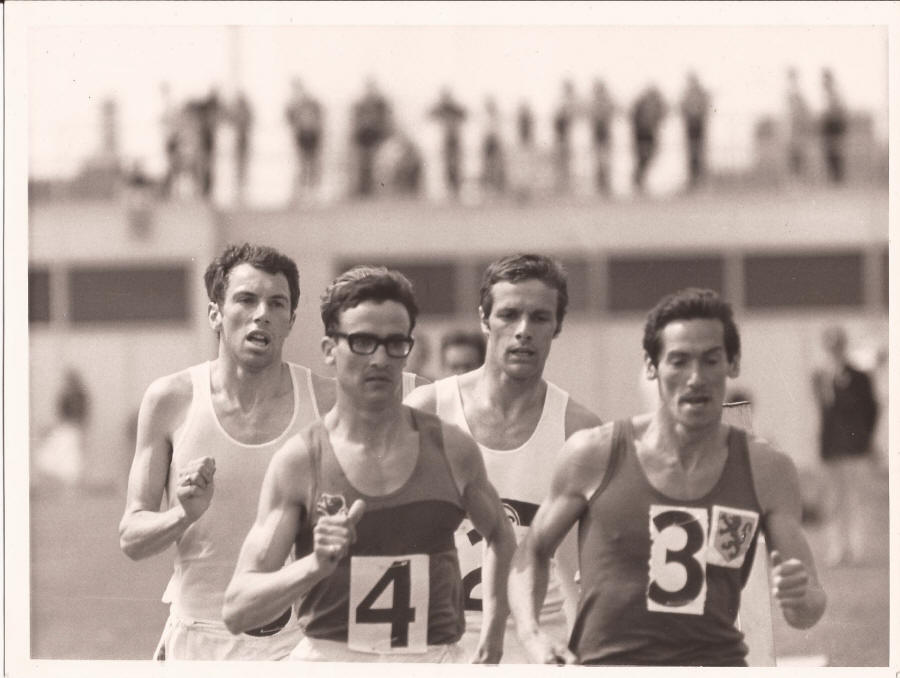 Lachie and Mike Bradley in the AAA Inter-Counties, 1969
There was no real dominant club in the 71-75 period other than Shettleston in the Team Championship where they had three in five years. The Road Relays were even less predictable with three clubs winning in the four year period but because of the poor coverage – or rather lack of coverage – there are 4 gaps. We continue looking for the gaps to be filled – any help would be welcome. Most successful individual was clearly Jim Brown with two wins and one fastest time while Lawrie Spence had one of each, won in two different vests. The big talent to emerge over this short spell was clearly either Jim Brown, international junior cross-country champion or John Graham of Motherwell YMCA and Clyde Valley.
| | | | | |
| --- | --- | --- | --- | --- |
| Year | Road Relay | Fastest Time | Championship | Winner |
| 1971 | Springburn Harriers | Jim Brown (Monkland) | Shettleston Harriers | Jim Brown (Monkland) |
| 1972 | Law & District AAC | | Law & District AAC | Jim Brown (Monkland) |
| 1973 | Strathclyde University | Lawrie Spence (Strathclyde) | Springburn Harriers | R McDonald (Monkland) |
| 1974 | Clyde Valley | J Graham (Clyde Valley) | Shettleston Harriers | L Spence (Shettleston) |
| 1975 | Clyde Valley | R McDonald (Clyde Valley) | Shettleston Harriers | J Graham (Clyde Valley) |