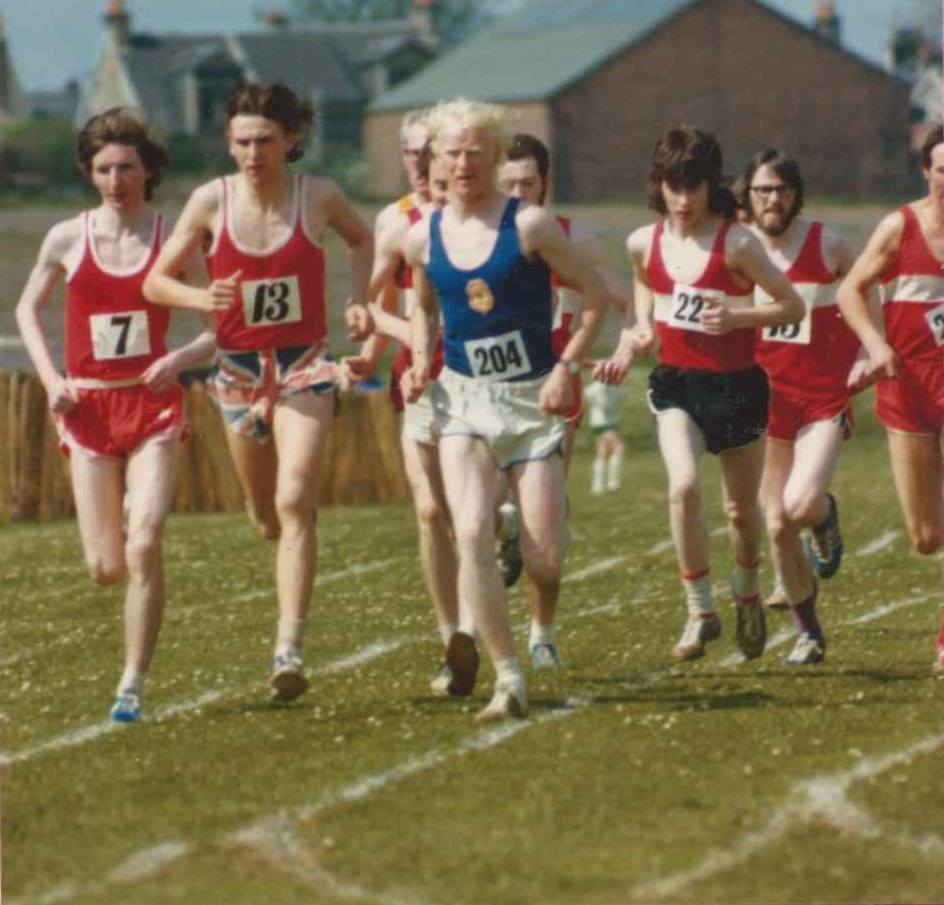 Lanarkshire Track Championships: Joe Small (7), John Graham (13) both Clyde Valley, Willie Drysdale (Law), Bill Yate (Maryhill (244), Pat Morris (22? Cambuslang), Dave Cooney (Cambuslang) and Bob Anderson (Cambuslang)
The Lanarkshire AAA had changed since its formation in 1949. There were more races held under its auspices, there were more clubs, there were at least two new clubs (Law & District from 1967, and Clyde Valley from 1974) and the quality of competition can be seen from the athletes who had taken part and in the fact that after the Shettleston hegemony in the 1950's no club had an era of total dominance for as long – Motherwell YMCA was the nearest with almost six years at the top. The county strength was seen in the almost unbroken series of victories in the Inter-Counties Championships over the country too. The newest club, Clyde Valley AAC, an amalgamation of five good clubs was now so strong that anyone in Lanarkshire looking ahead for the next five years would have felt that their day as top dog was imminent.
The task was a big one –
The number of clubs: Airdrie, Bellshill YMCA, Cambuslang, Clyde Valley, East Kilbride AAC, Larkhall YMCA, Law, Shettleston, Springburn, Strathclyde University;
The quality of senior athletes in the competition;
The talented youngsters coming up through the ranks – Nat Muir, Graham Williamson, and many more;
The track and field athletes were also of good class.
So how did 1976 go and did Clyde Valley justify the merger of the five clubs?
1976
In the 1976 Road Relay, Shettleston had more reasons to be cheerful than Clyde Valley did as far as the Senior Men's race was concerned although Clyde Valley with a second in the 'big' race and victories in both Senior Boys event. The report in 'Athletics Weekly' was written by Colin Shields. "Lachie Stewart gave Shettleston an 80 yard lead after the first lap of the Lanarkshire Senior 4 x two and a quarter mile road relay championship at Motherwell on October 9th. The lead however was short-lived as Jim Brown – now qualified after his Borough Road course and working at Coatbridge Outdoor Sports Centre – recorded the fastest lap at 9:29 to give Clyde Valley a 24 second lead which Nat Muir cut down to a bare five yards after the third lap. Lawrie Spence gave Shettleston their second road relay victory in successive weeks when he outclassed first year Junior Greg Patterson.
First year Youth, Graham Williamson of Springburn, outstanding last year in the Senior Boy category, was easily the fastest over the Senior course but his club had to give way to Clyde Valley who also won the Senior Boys title with Springburn gaining a consolation victory in the Junior Boys event." 1. Shettleston (L Stewart 9:56, D Lang 10:05, N Muir 9:38, L Spence 9:59) 39:38 2. Clyde Valley (I Moncur 10:08, J Brown 9:29, J Graham 10:01, G Patterson 10:16) 39:54. 3. East Kilbride (H Wilson 10:20, A Neal 10:18, A Partridge 10:03, K Tayler 9:47) 40:28. 4. Springburn 40:37; 5. Shettleston B 41:35; 6. Cambuslang 42:01; 7. Law & District 42:44; 8. Cambuslang B 43:04; 9. Clyde Valley B 43:11.
Any doubts about the quality of runner coming through the ranks in the county champions is quickly dispelled when we note that such as Eddie Knox, Jim Brown, Ron McDonald and now Graham Williamson are on the scene having started their career in much younger age groups.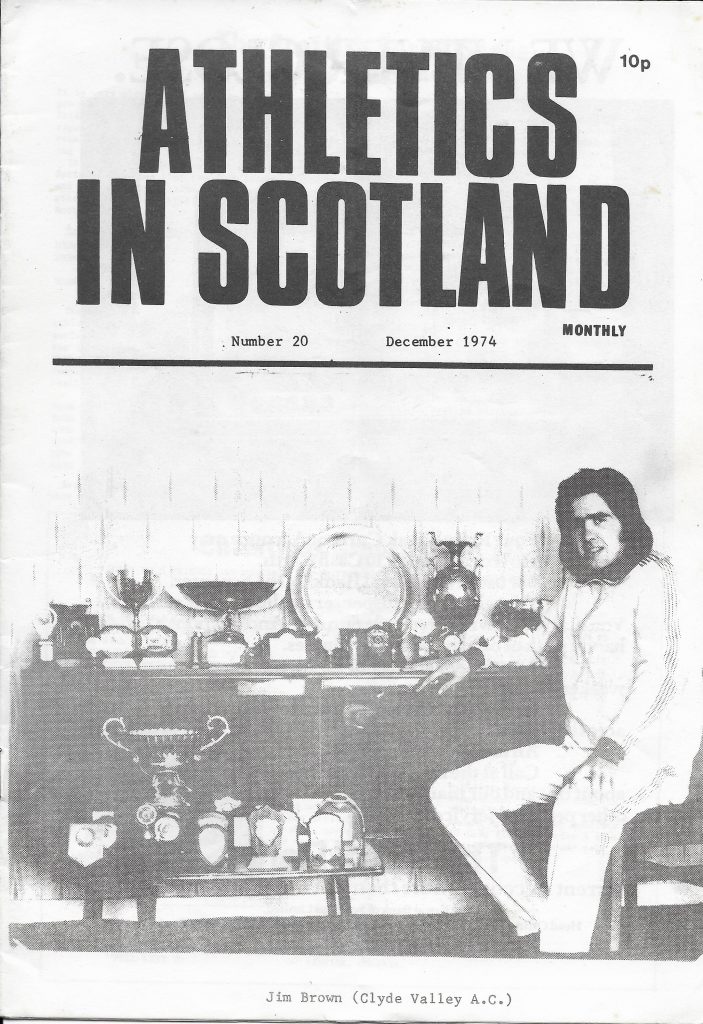 The Championships that year were held over a course that was becoming very familiar to Scottish athletes at Coatbridge on 4th December and the result was pretty well identical to the relays – individual glory for Jim Brown and a team triumph for Shettleston. In the absence of Graham Williamson, Clyde Valley won the Youths and Senior Boys races. Results:
Senior: 1. J Brown (Clyde Valley) 33:24; 2. L Spence (Shettleston) 33:32; 3. N Muir (Shettleston) 33:39; 4. S Easton (Shettleston) 34:26; 5. D Lang (Shettleston) 35:26; 6. G Patterson (Clyde Valley) 35:28; 7. J Martin (Springburn) 35:29; 8. K Tayler (East Kilbride) 35:49; 9. J Small (Clyde Valley) 36:13; 10. H Forgie (Larkhall YMCA) 36:43; 11. I Moncur (Clyde Valley) 36:53; 12. R Anderson (Cambuslang) 37:11; 13. D Cooney (Cambuslang) 37:55; 14: T Patterson (Springburn) 38:10; 15: P Preston (Cambuslang) 38:17. Teams: 1. Shettleston 9; 2. Clyde Valley 16; 3. Springburn 37; 4. Cambuslang 40; 5. Shettleston B 42; 6. East Kilbride 49
Youths: 1. W McDonald (East Kilbride) 18:23; 2. F Stewart (Clyde Valley) 18:27; 3. J Johnstone (Law) 19:04; 4. J Young Clyde Valley) 19:28; 5. S Wood (Law) 19:38; 6. G Wilson (Clyde Valley) 20:07; 7. J Campbell (East Kilbride) 20:20; 8. R Bias (East Kilbride) 20:26; 9. C Farquharson (Clyde Valley) 20:27; 10. R Templeton (Law) 20:30. Teams: 1. Clyde Valley 12; 2. East Kilbride 16; 3. Law 20
Senior Boys: 1. I Doole (Clyde Valley) 8:18; 2. G Band (Springburn) 8:37; 3. P Martin (Clyde Valley) 8:43; 4. D Marshall (Clyde Valley) 8:45; 5. P Fox (Clyde Valley) 8:48; 6. W Thomas (Clyde Valley) 8:49. Teams: 1. Clyde Valley 8; 2. Springburn 17; 3. Clyde Valley B
If we now look back up at these results, we see a number of athletes who are new to the clubs that they were representing: Hugh Forgie of Law is here running for Larkhall, Peter Preston came from Monkland to turn out for Cambuslang, Jim Johnstone like wise came from Monkland but he is representing Law, and of course 'old timers' like Lawrie Spence and Stuart Easton changed clubs when their location away from the track changed.
Another name to look at is the fourth finisher in the Senior Boys race. Clyde Valley had two members called Willie Marshall, each had a son who became a Scottish representative as a runner – one was David (above) and the other was Steven.
1977
The county road relay championships in 1977 took place as usual on the second Saturday in the month – a week after the McAndrews at Scotstoun – and there were the usual club selection difficulties, arguments about who would run in what team, and on which legs of the race. There are times when such selection discussions can come up with the wrong answer. This time it was the Shettleston team which came a cropper. Ron Marshall was on the job with an accurate account of the afternoon. "Shettleston Harriers, winners of the McAndrew relay earlier this month, surprisingly lost the Lanarkshire championship to Clyde Valley Athletic Club on Saturday at Motherwell.
Shettleston had three Scottish internationalists in the line-up, Nat Muir, Lachie Stewart and Stuart Easton, but their other internationalist, Lawrie Spence, was absent. Clyde Valley positioned their men well with their top pair, John Graham and Ron McDonald, on the second and third legs. This strategy paid off particularly when Shettleston kept their top man, Nat Muir, to the end when it was far too late. The real damage done to Shettleston was done by Graham who was too strong for Lachie Stewart and handed over a good lead. Brown went further away from Easton and Muir was left with far too much to do on the last leg. He clocked the fastest time of the day – 10:28 – to bring Shettleston up to second place ahead of Law.
Result: Seniors: 1. Clyde Valley AAC 48:43; 2. Shettleston 44:38; 3. Law 44:54. Youths: 1. Springburn 33:23; 2. Clyde Valley 36:00; 3. East Kilbride 37:39. Senior Boys: 1. Springburn 23:47; 2. East Kilbride 25:25; 3. Cambuslang 25:35. Junior Boys: 1. Springburn 26:23; 2. Clyde Valley 26:58; 3. Cambuslang 27:28.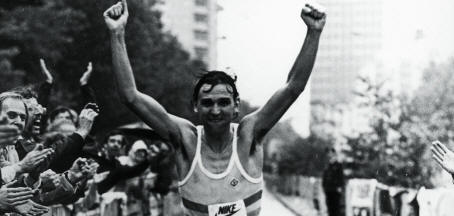 John Graham
It was December before the Championships were held – the Association had taken them back to Bellshill in 1977 and the report was short, extremely short, too short in fact. It was barely a report at all so we should be simply because there was one result available from four races. , but it was more than any other paper had. It read. "By all accounts conditions for the Lanarkshire championships at Bellshill were no better than elsewhere – in fact many runners decided against competing when they saw the state of the course. Jim Brown (Clyde Valley) won the senior five miles in 24 min 01 sec, half a minute ahead of his club-mate John Graham. Clyde Valley won the team race with 13 points, four ahead of Shettleston.
1978
At the 1977 LAAA Relay championship the Glasgow Herald's Ron Marshall was mildly critical of their team selection and positioning. In 1978 he was scathing. He reported as follows:
TEAM BOSSES BLUSHING
The Shettleston Harriers team selectors would, on their record so far this season, be welcomed with glinting eyes by any casino manager. They ought to shy clear of Russian roulette as well. Last week in the McAndrew relay they watched with pained expressions as their lead-off man in the first team, Stewart Easton, came in all of 20 seconds behind their third team choice, Ian Shaw. That mis-selection cost them the race. Again on Saturday, in teh Lanarkshire four by two and a half miles relay championship at Bellshill, although appearing to do the sensible thing the selectors dropped Stewart to the reserves and – yes, that's right – Easton delivered the goods, taking first place on the opening leg while young Ian – a recruit from the now disbanded West of Scotland Harriers, scarcely earned his spurs by placing fourth nearly 30 seconds behind.
Fortunately for Shettleston, none of the 21 other teams was able to mount a threat throughout the four legs, although Clyde Valley pitched in manfully when Brian McSloy, a junior, took them to the front at the halfway stage. Allan Marshall established Shettleston's supremacy on the third stage, handing over a lead of 29 seconds to Nat Muir, and no one in the field can give him that kind of start. Nevertheless on that same leg Jim Brown moved Clyde Valley up from fourth place to second, and in the process nudged Muir out of the award for the fastest individual by clocking 11 min 49 sec, a second faster than Muir. Springburn Harriers were third, a further half minute behind Clyde Valley.
Results: 1. Shettleston (S Easton 12:07J Burns 12:39, A Marshall 12:28, N Muir 11:50) 49:39; 2. Clyde Valley 50:07; 3. Springburn 50:48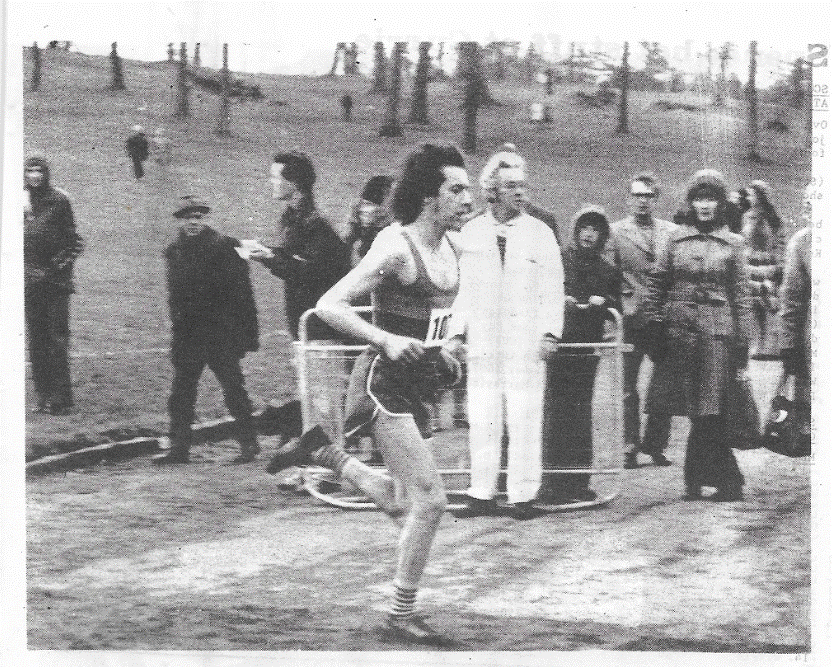 Nat Muir winning the Junior National in 1976
The 1978 Championships were scarcely covered at all in the Press – national or local. The 'Glasgow Herald' again gave more than anyone else but what it gave was scanty this time. The entire coverage is below, note that more space was given to an East District League match than to all the county championships put together. There are three League matches each year but only one County Championship per county.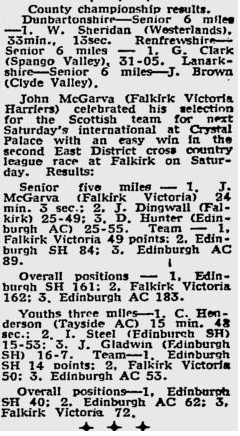 1979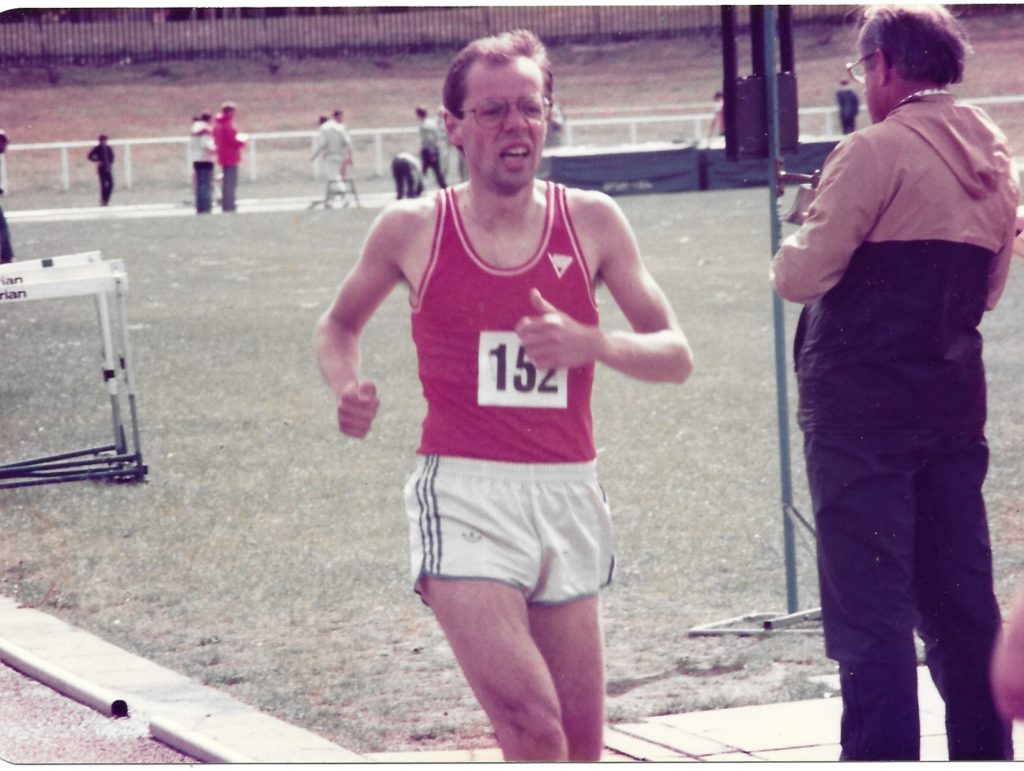 David Marshall
Clyde Valley won the Road Relay in October 1979 when it was held at Coatbridge. The results below say that they won from Cambuslang and East Kilbride – the highest ever finish in these championships for the club – with Shettleston fifth. Results:
Senior: 1. Clyde Valley (N Agnew 12:10, B McSloy 11:33, D Marshall 12:28, C Farquharson 11:51) 48:02; 2. Cambuslang 49:02; 3. East Kilbride 49:25. Fastest Time: B McSloy (Clyde Valley) 11:33. Youths: 1. Springburn 37:36; 2. Shettleston 39:23; 3. Springburn 39:25. Fastest Time: A Callan (Springburn) 12:02. Senior Boys: 1. Springburn 25:51; 2. Cambuslang 26:22; 3. Law & District 26:36. Fastest Time: D McShane (Cambuslang) 8:23. Junior Boys: 1. Shettleston 27:51; 2. Springburn 28:08; 3. Shettleston B 28:42. Fastest Time: M Kerr (Springburn)9:03.
And just with a swift look over the results, you can see that the Lanarkshire League had produced two more outstanding talents in Dave McShane of Cambuslang who would win championships and representative vests for years to come, Adrian Callan of Springburn would be a sub-four minute miler, an SAAA champion and win many international vests. As a stepping stone from club to district and then on to national honours the LAAA more than served its purpose.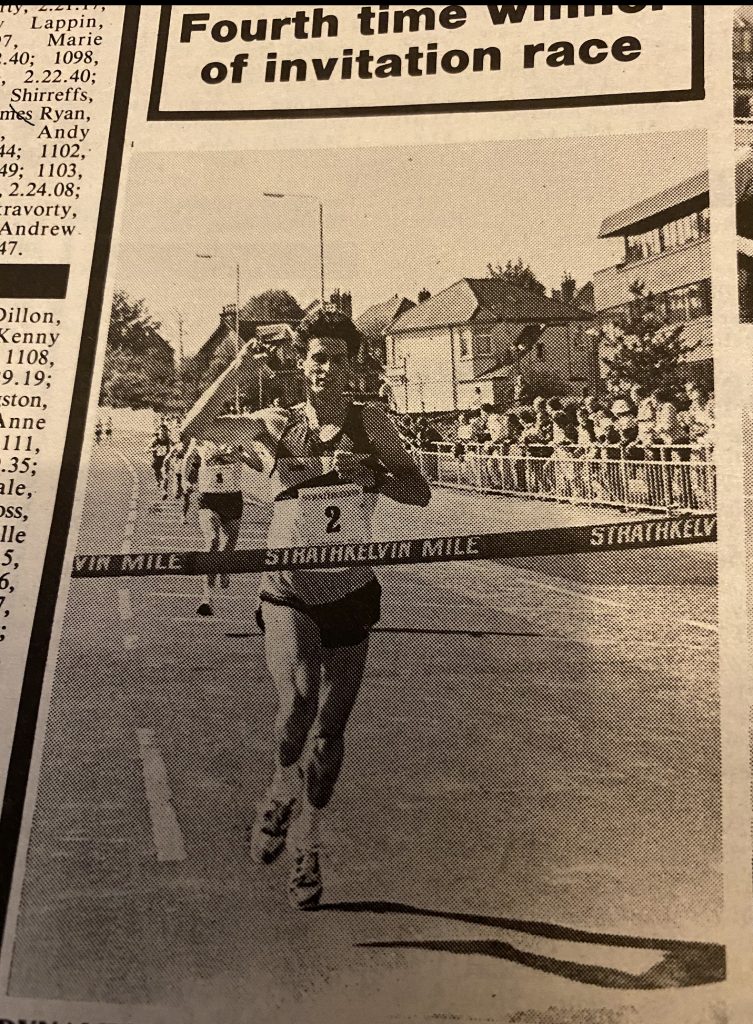 Adrian Callan as a Senior wins the BMC Strathkelvin Street Mile
The Championships in December were held at Coatbridge and the club won the team title. The report from the 'Glasgow Herald's Ron Marshall reads as follows.
Jim heads quality field in tune-up for Crystal Palace
"Jim Brown (Clyde Valley) won the Lanarkshire senior cross-country title on Saturday at Coatbridge without the slightest trouble andimmediately declared himself in good shape for the big Crystal Palace race this coming Saturday. He was also encouraged by the turn out of runners after several years of dwindling fields. The quality was certainly there with internationalists Brian McSloy and Graham Williamson finishing second and third. Brown's time for the four laps (six miles) was 31:18, 24 seconds ahead of McSloy, who in turn was 12 seconds clear of Williamson. Jim Thomson (Law & District) was fourth and it was good to see Ronnie McDonald back for Clyde Valley after three and a half years of persistent Achilles tendon trouble. He was fifth. Other Coatbridge results:
Senior team race: Clyde Valley 25 points; Cambuslang 26; Springburn 35. Youths Team Race: 1. A Callan (Springburn) 16:03; 2. S Gall (Clyde Valley) 16:13. Team: Springburn 10 pts. Senior Boys: P McManus (Clyde Valley) 10:43. Team Springburn 17 pts. Junior Boys: B Scally (Shettleston) 13:24 Team: Shettleston 7 pts.
It is a pity that we don't have full results if only because the number of young runners who have come through is so high and should be noticed. But unfortunately it was a time when results of Scottish races were hard to come by – even 'Athletics Weekly' had stopped having a special Scottish Results section listed at the start of the magazine, it often had only brief reports and Colin Shields's reports on County Championships were up to six weeks late in appearing in the magazine. Track results were even harder to come by. None – or very, very rare – reports of County Championships were being published at this time in AW and the Scottish Press, both National and local, paid little more than lip-service to them. However, back to the relays – note Brian Scally's win in the Junior Boys race. Brian would be third in the Scottish Marathon Championship in 1993 and win it in 1996 and win medals in the senior indoor 3000m championships as well as medals in different age groups.
1980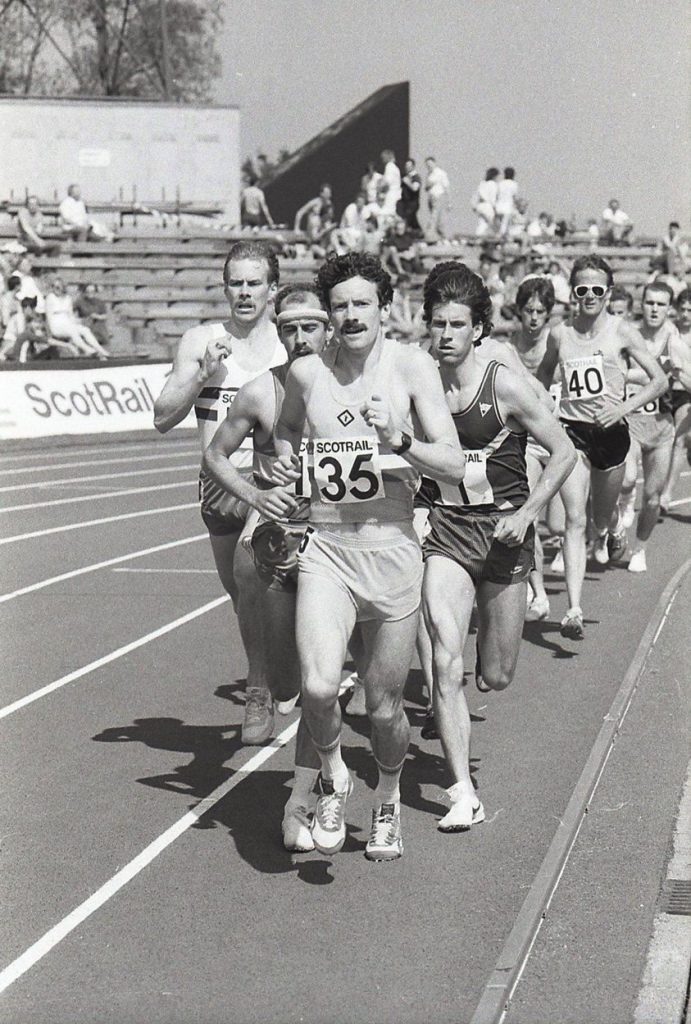 Doug Frame (35 Law & District) leading Nat Muir (Shettleston, with headband)
This time round, the Road Relay was another victory for Clyde Valley. Eddie Devlin led off on the first stage but was fifth behind leader Nat Muir whose 11:12 was the fastest of the day, before the trio of Colin Farquharson, Jim Brown and Ron McDonald took them wo a winning finish, more than a minute in front of Cambuslang Harriers. The winning time was 45:30. In the younger age groups, Springburn won the Youths and Senior Boys races but lost the Junior Boys race by one second to Shettleston Harriers.
Into December and the title went to Cambuslang Harriers with Graham Williamson winning the race in 28:40 from Law's Jim Thomson (28:45) and Doug Frame (29:10). The team race was won by Cambuslang Harriers from Springburn Harriers by only two points, 15 to 17. The Youths Three Miles was won by C O'Brien (Shettleston) in 16:31 from M Taggart (Shettleston) 16:38 and T McKean (Clyde Valley) 16:40. Team: Shettleston 11 points. Other results:
Senior Boys: 1. D Russell (Law & District) 9:34; 2. S Marshall (Clyde Valley) 9:57; 3. B Scally (Shettleston) 10:10. Team: Springburn 21 pts.
Junior Boys: 1. M Kerr (Springburn) 10:25; 2. A Swan (Shettleston) 10:35; 3. Russell (Law & District) 10:35. Team: Springburn 12 pts.
If we look at this set of results, limited as it is, we see several names to add to the conveyor belt of talent rolling through the Lanarkshire AAA championships. We've already seen middle distance stars like Graham Everett, Ron McDonald and Adrian Callan and from the class of 1980 we can add Tom McKean (Commonwealth, Empire and Olympic Games plus World Championships indoor and out; we have seen distance runners like Eddie Bannon and Ian McCafferty and to them we can add Alistair Russell – medals (plural) of all three colours in the SAAA Championships plus Scottish international representation on the track as well as over the country. We mentioned the two Willie Marshalls in Clyde Valley and we have already noted David as a successful athlete, the 'other Willie Russell"s son Steven is noted here as a Senior Boy. The Lanarkshire Association has done a sterling job in assisting the emergence of young talent, it has also of course helped seniors prepare for bigger meetings (see Jim Brown's success above) and to start or continue a come-back after injury.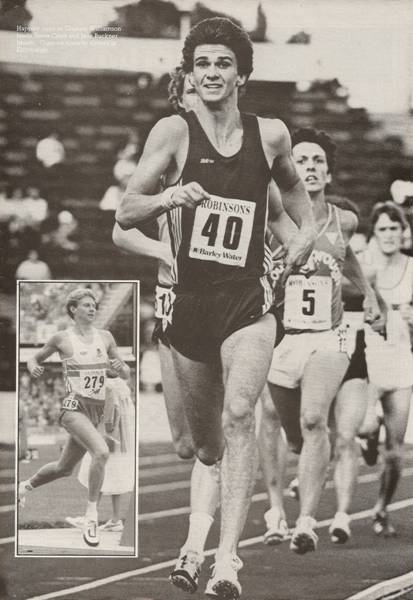 Graham Williamson