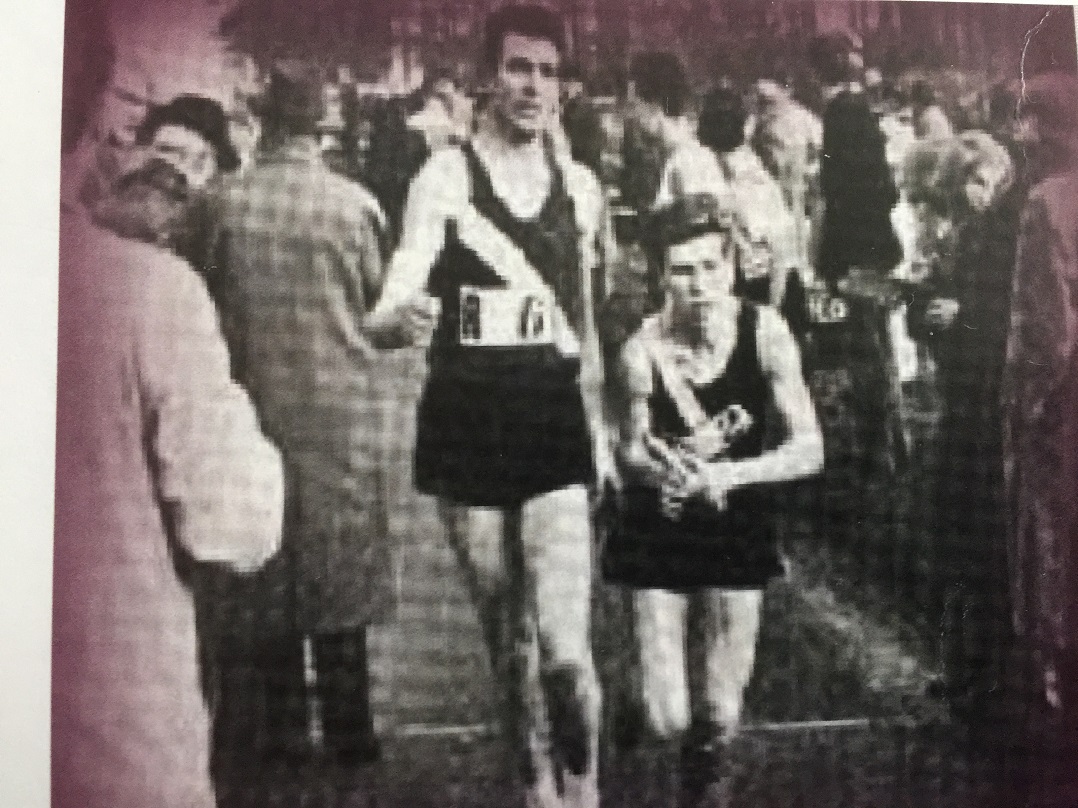 Jim Grant (Stage 3) to Tom Callaghan (Stage 4) of the Edinburgh to Glasgow, 1963
There were several amalgamations of clubs in the 1960's – several Edinburgh clubs came together to form Edinburgh AC, Ayrshire clubs came together to form Ayrshire AAC, there were a couple of failed attempts to merge some of the Renfrewshire clubs but arguably the most successful club from the word go was Clyde Valley AAC. Several old established clubs such as Motherwell, Airdrie, Monkland Harriers linked up and produced some quite astonishing results. Two questions arise immediately: why did established, traditional clubs discard their identity in the first place, and how did the merger come about? Tom Callaghan of Monkland describes the motivation behind the amalgamations, the setting up of the new club and also lays out the reasons for the ultimate failure of the club to last. It is a fascinating story of hard work, disillusion, hope, success and disappointment. This is his account in his words. Thanks Tommy for setting it out so clearly. Read what he has to say.
During the '50s at both primary & secondary schools I participated in any sports, mainly sports day & the school football team. Shortly after the start of the new term in 1958 the school received a letter from Monkland Harriers inviting them to take part in a road race in September. The P.E. teacher at the time, Alex Robertson, was keen for the school to take part. The team was made up of four runners in the 13/15 year age group. A trial was to be held in the West End Park in Coatbridge, with the first four to be selected to represent the school. I was a clear winner.
The subsequent Monkland Harriers schools race was run over a course of about one & a half miles, close to the club pavilion at Morven Street in Coatbridge. The race was won by Jim Grant of Kildonan High School, he was also a member of Monkland Harriers. Second was a lad called McNaughton, third was George Kay of both St. Patrick's H.S and Shettleston Harriers. I finished fourth, about six seconds behind. I thought `not bad for my first road race.' The club asked me if I would like to join and I agreed.
I ran several races during the '58/59 season in the senior boys category, the most successful of which was our second place in the '59 National, 3 points behind George Heriot's School. I left school in December '58 and shortly after started a job with William Bain & Co., Structural Engineers ,as an apprentice.
As a youth there were not too many races for me during the summer. However, there was next season's cross country to train for & what a season that proved to be for Monkland Harriers. At some point in 1959, J.T. Finn joined the club. He came from Mount Ellen (Gartcosh) and was a few months older than me. For the '59/60 season we would be competing as youths. Most of the races in that age group, relay or race, required a team of three, except for the National, which was 4 to count.
Our three for most races was Jim Grant, Jim Finn and myself, with Tommy Gallagher as fourth choice. During the two seasons we ran as youths we were almost unbeatable in relays. I would run first, Grant second and Finn on the final leg. Our one regret was that we never won the National as a team despite J.T. Finn winning the individual title twice in 1960 and '61. I think it was in '61 that Finn was beaten in the Midland District cross country at Renton, after which one of the senior members of the club said to him "What happened today?" Finn replied, "Wait till the National." In those days the National was held at Hamilton Race Course. Finn allowed whoever wanted to make the pace do so, until the final hill where he just ran away from the field to score a convincing victory.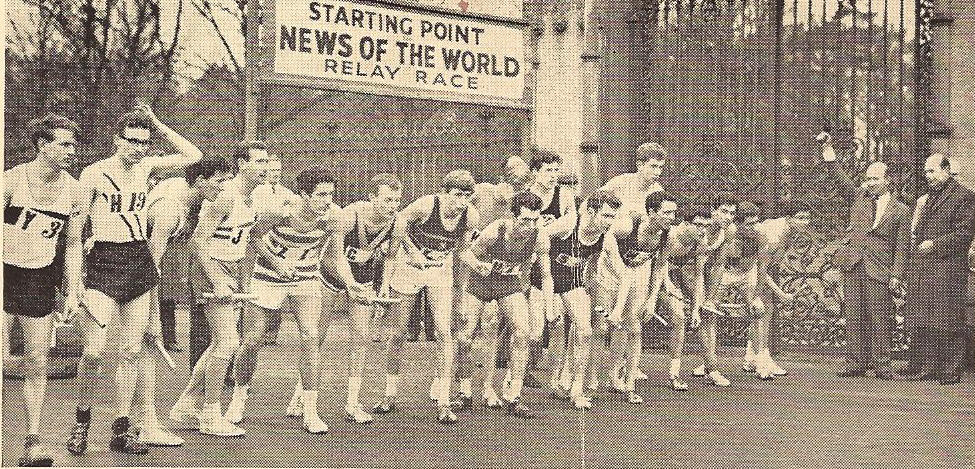 Tom Callaghan at the start of the 1964 Edinburgh to Glasgow: second from right, back row, behind Alex Brown
In season '62/63 the three of us would be running at junior level, which allowed us to run in certain senior events. I will use the Edinburgh to Glasgow relay to illustrate what happened to the team who were so dominant in the previous two years as youths:
Edinburgh-Glasgow Relay 1962, club finished 14th
J.T. Finn: Ran stage 1, finished 12th.
Grant: Not in team.
Callaghan: Ran stage 8
Edinburgh-Glasgow Relay 1963, club finished 16th
J.T. Finn: Not in team.
Grant: Ran stage 2.
Callaghan: Ran stage 4.
Edinburgh-Glasgow Relay 1964, club finished 13th
J.T. Finn: Not in team.
Grant: Not in team.
Callaghan: Ran stage 1, finished 11th.
J.T. Finn was an outstanding talent as a youth who was able to perform to the level he did with a limited amount of training, he seemed to have so much natural ability he should have been a top performer at 5000m on the track. Perhaps the natural ability wasn't enough and the work ethic was missing.
Jim Grant was a strong forceful runner (John Graham reminds me of him.) I don't know what happened to him, he just seemed to disappear off the radar.
Tom Callaghan remained with the club, served as secretary, running days were over by 1983.
While the youth team had a successful spell during the '60 and '61 season, another young runner was making a name for himself, J.R. (Jimmy) Johnstone. He was two years older therefore classed as a junior, able to run in senior events. In the '63 E-G Jimmy ran stage 1, finishing first in the time of 27:20, which I believe was a course record at the time. The following year he ran stage 6, recording a time of 33:29, a time only bettered by Ian McCafferty's fastest leg of 33:15.
Despite Jimmy's best efforts, the rest of the team was made up of club runners of various standards. We always managed to field eight runners, however the results of 1965 – 15th and '66 – 19th., said it all.
For me, the problem emanated as a result of no schools races, members doing their own thing and the club secretary being non-existent.
On the 16th. July 1966 I at the age of 22, married Sarah, a girl I had met two years earlier. The only club member invited was Jimmy Johnstone, who I had trained with for most of the time I had been a club member and also gone on holiday with on two occasions. At the wedding Jimmy met a friend of Sarah's, Jane, who he married in February '68. At a night out in early '67, while the girls were chatting, Jimmy and I discussed the dire state the club was in and agreed on our strategy to improve matters. The secretary must be removed, not only from his position, but also removed from the club. We were confident we would have enough support, and we did. Willie Drysdale, Willie McBrinn, Davie McKirdy and several others backed the plan.
A few months later the A.G.M. was held in the club pavilion. The secretary arrived, his usual confident self, not knowing what lay before him. During the early part of the meeting he was asked some pointed questions concerning club membership and the financial position of the club, both of which he had great difficulty dealing with. You could see he was no longer the confident person who opened the meeting. However worse was to come.
When we arrived at the point where members were asked to vote for the election of club officials, the first vote was normally for the position of club secretary & treasurer. However, it was proposed that there should be two votes, one for secretary and another for treasurer. This was approved. As a result, Willie Drysdale was appointed secretary and Davie McKirdy as treasurer. The first step on what we knew would be a long road had been taken. A small committee was formed which I was a member of. Plans were drawn up with a view to being prepared for the '67/68 winter season, these included primary as well as secondary schools races, contacting lapsed club members and encouraging parent involvement.
The schools races went well and we managed to recruit quite a few promising runners. The only lapsed member as far as I remember we managed return was Andy Arbuckle, past competing but with a lot of experience of distance running.
At the first parents meeting, one suggested that we should endeavour to obtain support from Coatbridge Town Council and suggested the name of a young councillor, Tom Clarke. (Later to become Provost of Coatbridge and Member of Parliament for the local area for over 20 years.) A meeting was arranged in the club pavilion to which club members and parents were invited. Tom was pleasantly surprised at the numbers in attendance. He listened to our plans for the future of the club, answered questions from members and parents, after which he gave assurances that he would endeavour to assist the club to achieve its objectives.
We changed the format of the schools races to a league system, two races prior to Christmas, two after the New Year. We also had to move away from using the club pavilion to St. Ambrose school across from Drumpellier Park, which was later to become a major attraction for many road and cross country events. Within a few years we had built strong teams at youth and junior level, winning National championships, both individual and teams.
The names I can remember, most of whom came through the schools races were: MacDonald, Brown, Devlin, Small, Preston, Agnew, Paterson, Nee, Gribben, Burns and Ashwood. In 1971 the club were back in the E-G finishing in 9th place, five of the eight man team had come through the school races.
At some point in the late '60s, Willie Drysdale married and moved away from Coatbridge to live in Carluke, he still remained a member of Monkland Harriers but resigned as secretary, at which point I was appointed to replace him.
Jimmy Johnstone married Jane on the day of the National Championships in 1968 and moved to Carluke. I should point out that three years earlier his family had left Coatbridge and moved to New Stevenston due to his fathers employment, Jimmy remained a member of Monkland and represented Scotland in the '64 & 66 International Cross Country Union Championships. Before the start of the '68/69 season Jimmy resigned from Monkland Harriers and joined Law & District A.A.C. I was furious at what he had done, it felt like a betrayal. I reminded him of our discussion in early '67 when we planned the downfall of the secretary and the way forward for the club. After all the years we had trained together, went on holiday, met his wife at my wedding, to walk away when you are needed is unacceptable. I could have understood if he had decided around '62/63 when Jim Finn and Jim Grant had not fulfilled their earlier potential and he was left as the only class runner. Jimmy could have been a first choice for almost any team in the country at that time.
In the summer of 2015 I met up with him for the first time since he left the club. He explained his reason for leaving was that it was more convenient for him, as it was only just down the road for him, to train with Law & District. Judge for yourself if that was a good enough reason, bearing in mind the circumstances I have explained.
Despite our success at mainly youth and junior level, we couldn't recruit enough former members to return and give a little of their time to help with the training of the younger boys. Those seniors who were regulars at the club were working, had families and were there to train, youths and juniors just had to join in.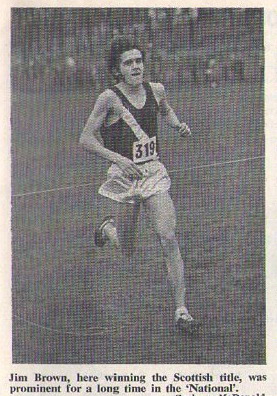 I think it was in the early summer of 1969 I stayed about a mile away from the track at Rawyards Park in Airdrie. One evening I jogged over intent on doing a bit of repetition work, only to find Ronnie MacDonald on his own. He had jogged to the track from his home in Coatbridge to use what at that time was the only 400m track in the Monklands.
I enquired as to what he was doing and if anyone at the club was advising him. The answer was no one. Here we had the best young runner by a long way at the club being left to "do his own thing." I offered to help him if he wanted and he agreed.
I am not a qualified coach, I worked out my own way of training for middle distance and road running from the mistakes I had made in previous years. When Jimmy Johnstone left Coatbridge to live in New Stevenston I mostly trained on my own. No more running at racing pace on road runs several nights a week, nothing left for Saturdays, no more running to the watch on the track. My view was your body tells you what you can do. In '67 Ian McCafferty gave me a piece of advice "Treat your training like eating, do it regular and also be able to do more than you have done." This advise was given to him from Ron Clarke.
I watched Ronnie in a few races and I knew at his age, 1500m was his distance. I started by explaining my philosophy, training and racing are two separate things. Training is preparation for racing. Racing is about winning.
We would discuss training several times each year, summer and winter were different of course, however the principle remained the same. In April we would decide what were the objectives for the season. The main aim was the championship events. The races that were selected were intended as preparation and would be 800m or 1500m and only one race at any event. These races were not only designed for fitness, but also learning how to win. The best runner in the field does not always win the race and races are not always run the same way, therefore the person on the track has decisions to make. That is why the preparation races are important, they are part of the process of learning how to win.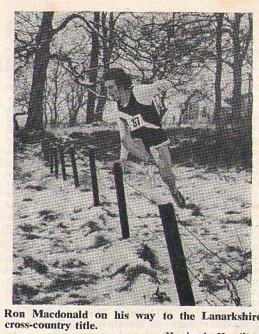 One example of getting your tactics right or in this case, wrong. As a junior we decided to run the senior 1500m at the National Championships, followed by the same distance at the junior event a week later. The senior 1500m was run at such a slow pace that with 150m left you could have thrown a blanket over the whole field. At that point Ronnie burst to the front, tied up 10m from the line and was beaten by Craig Douglas. His closest rival for the junior race was Frank Clement, who had won the senior 800m. Up to this point Frank had not beaten Ronnie over 1500m. He would have seen what happened today and I was sure he would change tactics next week. We add to plan for that. One other point I had to consider was that Jim Brown had entered the 1500m. I was of the view that Jim could take third place, therefore the tactics had to be worked out, not just how Ronnie was going to win, but also how Jim will secure third place. The three of us met and I explained my plan.
Frank normally leads from the start, Ronnie follows and out-kicks on the race to the line.
That's not going to happen this time, here's what we do:
Jim takes the first lap at a good pace with Ronnie on his shoulder in second, Ronnie takes the second lap, at some point Frank will move onto Ronnie's shoulder, with Jim in third place. Somewhere between the end of the second lap and the bell, Ronnie was to use whatever ploy he could think of to to ensure that Frank is in the lead, which is what transpired. Ronnie was on Frank's shoulder, exactly the place I wanted him to be, normal service was resumed. Ronnie pressed him all the way until the finishing straight, out-kicked him near the line to win, Jim finished third, plan perfectly executed.
I asked Ronnie what he had done to get Frank in front of him down the back straight. He replied "I started breathing heavily and slowed slightly to make him think I was struggling, and he just went past me."
At the finish Frank came over to Ronnie, they shook hands and Frank's comment was: "You big b*****d, you conned me that time."
By 1970 in some respects we were moving in the right direction, we had a group of young runners who had won individual and team events and Jim Brown had joined us from Bellshill Y.M.C.A. The following year, Ronnie and Jim finished first and second in the junior National. In third place was a face I didn't recognise – Ian Gilmour. I thought he must have Scottish connections so I spoke to him and asked if he would like to join our club, pointing out that the first and second finishers were members. The deal was done, Ian agreed he would run for us in the main events and in return we would pay his expenses.
Despite the success the club had achieved, we could not attract sufficient support from members or former members to assist with the training of young runners or events such as the schools races. One example, John Mulvey had won one of our schools races and the rest of his team had finished in high places. We had no one at the finish to find out if they were members of a club. I later discovered that they had all joined Shettleston. When I asked John how that had happened, he told me that Alex Naylor had come to his house on the Sunday after the race, asked if he had joined us – no he hadn't – and signed him, followed by the rest of his team. John subsequently won three individual National titles at junior and senior boy age groups.
We also had some of the young boys give up running, two in particular I remember, Ian Doole and Kenny Ashwood in the early '70s. The schools races never again provided us with the same quality.
The loss of Johnstone, Finn and Grant in the '60s in my view denied us the opportunity to challenge the best teams in the E-G and National, if you add MacDonald, Brown and Gilmour.
In the early '70s Ronnie and Jim were the only two outstanding performers. There was sufficient quality among the club runners to finish 8th or 9th in the E-G, yes this was better than the early'60s, however we did not want to return to those days.
Coatbridge Town Council had become a major sponsor of cross country and road racing. Thanks to them we had four schools races each year, the county road relay and cross country championships, the district and National cross country championships, a women's international event, highland games and of course the Festival 5 mile road race and by 1975, a new 8 lane all weather track.
Most of these events came to Coatbridge due to my connections with Coatbridge councillors.
The exception was the National cross country championships from 1973 to 1976, the credit for which must go to Bob McSwein who was at that time an employee of the council.
All of this was lost after 1976 due, but not entirely to, the S.C.C.U. not honouring their acceptance of an offer by the council to host the International cross country championship event in 1978.
I have given a full account of the facts leading up to the S.C.C.U. decision previously. However, it did have an affect on Clyde Valley, which I will explain later.
In 1975 local government boundaries were changed, Coatbridge together with Airdrie and several surrounding villages became part of Monklands District Council. A number of new departments were set up, one of which was Leisure and Recreation with Mike Barron as director. You can read my views on this period in an earlier article "Coatbridge cross country and Festival road race." All I would add is that substantially more money was invested in major track events to the detriment of local events and the community. One example, Airdrie Highland Games, this event had been taking place for around ten years. I found out through the local newspaper that they were not to be held, they were previously organised by Neil Taylor of Airdrie Harriers.
I spoke to Mike Barron and asked why the games were not going ahead, "No one to organise them." he replied. I offered, having previously organised Coatbridge Highland Games in 1973 and '74 and also the opening meeting at the Coatbridge track – "Too late, the decision has already been made." was the answer.
I only found out a few years ago that Bob McSwein had applied, along with Barron, for the post of Director of Leisure and Recreation. This information was told to me by a senior Coatbridge councillor who had supported Bob. However, Monkland District had been formed, therefore the vote was not restricted to Coatbridge councillors and Bob was not successful in his application.
Had Bob been elected to the position I'm sure things would have worked out differently.
In the early '70s the time I was spending organising events for club and council while still working in full time employment left little time for training and family life. The schools races which was our source of recruitment was not providing the same standard as the late '60s.
We were a small provincial harriers club, with most of our members resident in the Coatbridge area and had achieved reasonable success, not too far off the big Glasgow and Edinburgh clubs, how long would this continue, could we improve to challenge them or would we slide back into the bad times of the '60s? I hadn't come this far to allow that to happen.
I decided to look at the history of several local clubs from the '60s to see how they had performed in distance events.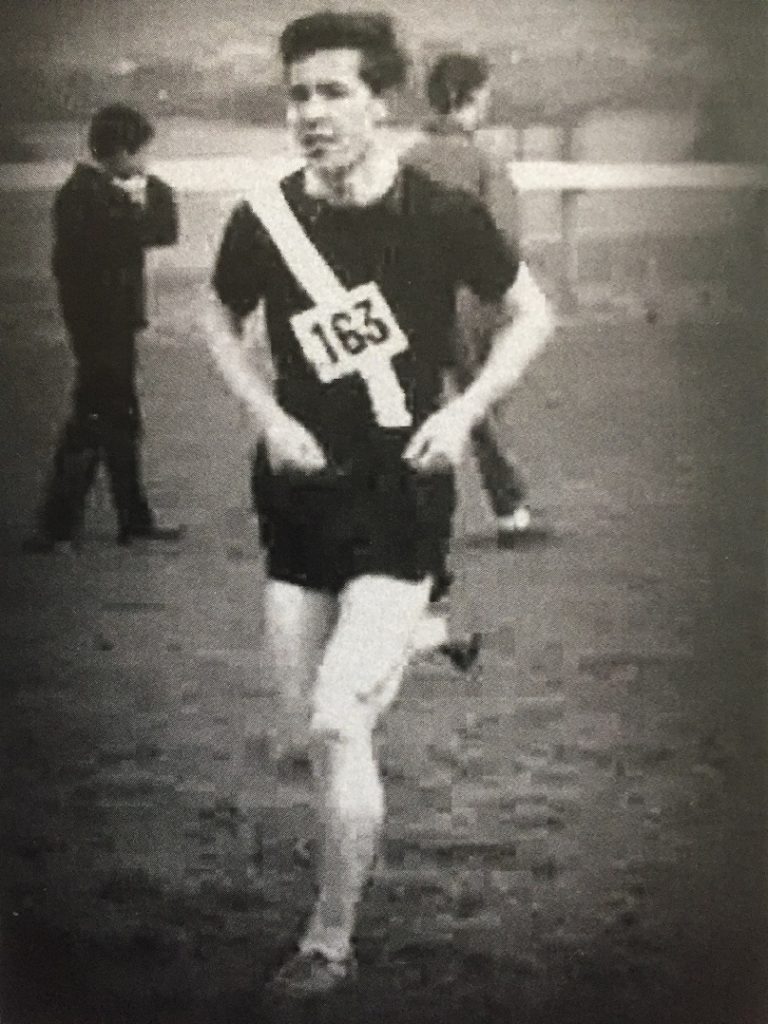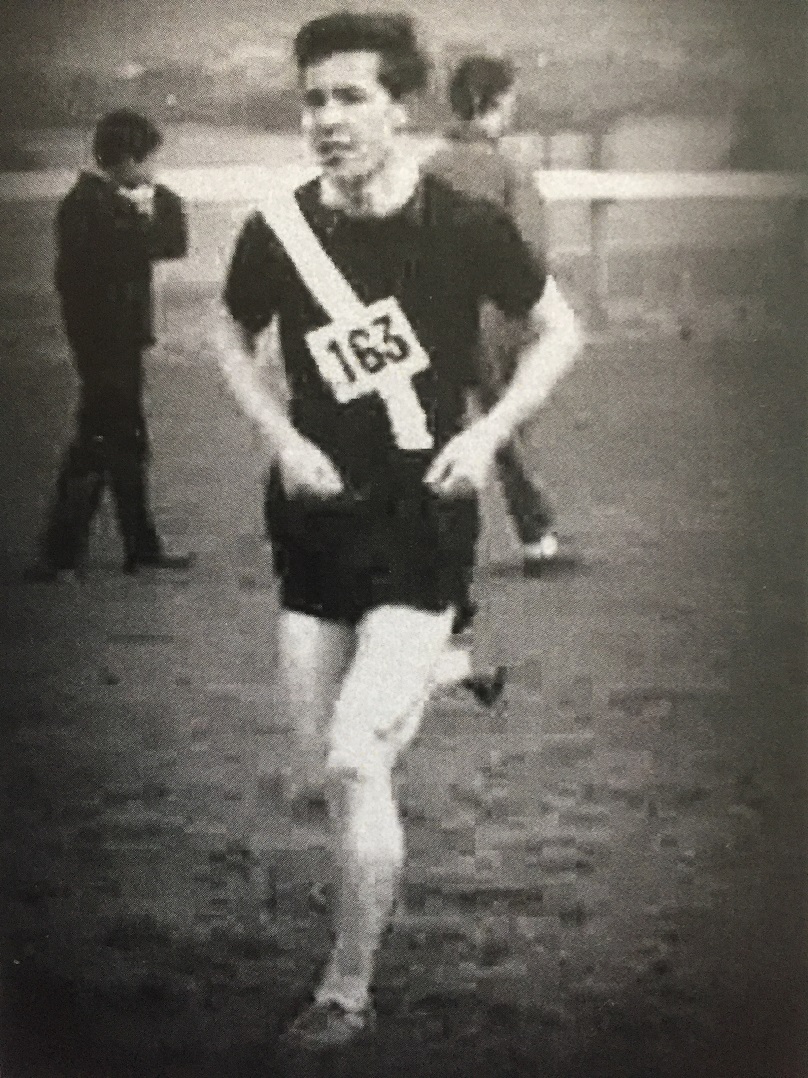 Tom Callaghan running at Hamilton Park in the national cross-country Championships
Motherwell Y.M.C.A.: Probably the most successful provincial club in the country for most of the '60s, until the defection of most of their top performers to Law & District. Their one promising young runner was John Graham.
Airdrie Harriers: No recent history in distance running. They were not members of the S.C.C.U. and in the late '60s only had a decent 1500m runner, Jim Graham, who ran in a few road relay events for Monkland Harriers.
Bellshill Y.M.C.A.: Did not have a history in distance running, couldn't make up a four man senior team, that was the reason Jim Brown joined Monkland Harriers. Ian Moncur was a decent club runner and Roy Baillie a prospect at 800m and 1500m.
Lesmahagow: Track club with little history.
When I evaluated my research the only club similar to ourselves was Motherwell Y.M.C.A. They had an outstanding team in the '60s until the split when most joined Law & District. They had shown that they could unearth several young distance runners. If they could replicate that it would be an asset. The other three clubs were much more in the way of athletic clubs. However if they could find the occasional quality distance runner perhaps that would sustain the standard at all levels, boys, youths, junior and senior.
By casting the net wide we could perhaps form a club that would be competitive in all areas of athletics.
At Monkland Harriers we did not have anyone with knowledge of sprint or field events, we would have offered such athletes membership, allowed them to use our facilities and advise them to contact Tommy Boyle if Bellshill joined.
After several meetings in 1974 five clubs agreed to amalgamate and a club to be known as Clyde Valley A.A.C. was born. Each club would have two committee members, ours would be Eddie Devlin and myself, who was elected as club secretary.
Within a few months the club had won their first national trophy, the inaugural Scottish cross country relay championship held at Bellahouston Park. The team in order of running was Baillie, Brown, Graham and MacDonald, recording a comfortable victory over Edinburgh A.C.
An impressive performance for a new club you may have thought. However it did not appear to please all club officials according to Alan Dunbar's report on the race.
"The Clyde Valley officials are disturbed that people still refer to them as Monkland Harriers which was one of the five clubs in the merger. Although three of their top runners in Jim Brown, Ronnie MacDonald and Ian Gilmour were members of the old Monkland club, the Clyde Valley supporters are quick to point out that the new club is by no means a monopoly of ex Monkland athletes. In the winning team last Saturday were Roy Baillie ex Bellshill and John Graham ex Motherwell."
For club officials of Clyde Valley to make such a statement was quite concerning to me. Had they forgotten why the club was formed? Could they not see that all four wore a red vest, were they not pleased that the club had won a major event so soon after being formed and that the club was in a position to challenge the best clubs in the country? I would not need three guesses to as to who the anti Monkland culprit was, I will reveal that later.
As far as a monopoly was concerned I should point out that in the '74 E-G the Clyde Valley team was made up of Baillie, Graham and six ex Monkland Harriers to finish in third place, the same position was secured the following year with Baillie, Graham, McKay and five ex Monkland Harriers.
The cross country season was always going to be the time when our section could make the best contribution to the club, however in Brown and MacDonald we also had the two best track performers at that time.
It had been decided that at the end of each track season an award would be made to the person considered to have produced the best individual performance. My view was that there were only two to consider, Ronnie MacDonald's sub 4 minute mile or Jim Brown's 10000m time of 28:00.6, the words were hardly out of my mouth when Roddy Devon (Motherwell) said "That has to be Jim Brown." No one made any other suggestion and that was agreed.
It may well be that that was the right decision but the manner in which he said it indicated to me that his preference was for a Bellshill boy rather than one from Coatbridge.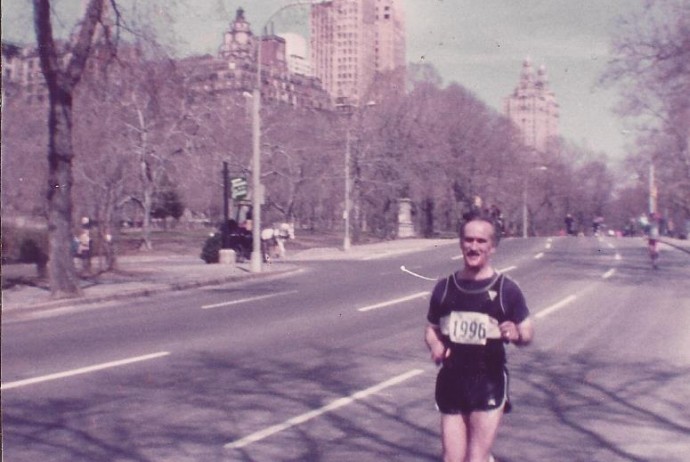 Bob McSwein running in the Central Park 10K, New York
At the 1975 National in Coatbridge, Bob McSwein informed me that at a General Committee meeting a few days earlier it had been decided that the 1978 International cross country was to be held in Glasgow which Bob Dalgleish confirmed.
I have previously given a full account of what happened resulting in an S.G.M. being held in the 14th February 1976 in Springburn, the same day the National was being held in Coatbridge.
The Clyde Valley representative at S.C.C.U. meetings was Roddy Devon (Motherwell) who in my opinion was the source behind Alan Dunbar's report on the Nation relay in 1974. That, together with his anti-Monkland attitude at Clyde Valley meetings meant that I could not confident of his support at the forthcoming S.G.M. concerning the 1978 International event.
At a Clyde Valley meeting in January '76 I raised the subject of the forthcoming S.G.M, explained the commitment of Coatbridge Town Council to Monkland Harriers and our sport and pointed out that as Monkland Harriers no longer existed, they were a part of Clyde Valley and asked that the committee mandate our representative to support the Coatbridge position.
This was rejected, the view was that it was a Monkland Harriers problem, nothing to do with Clyde Valley and the club delegate should vote as he decided. Those who expressed that view were Tommy Boyle, Bert McKay and also the anti-Monkland member, Roddy Devon.
Perhaps I should have reminded them why Clyde Valley was formed and what were the conditions. To establish a club that could be competitive with those from Edinburgh and Glasgow, each club would continue to operate as at present and would be responsible for their own expenditure. In short, everything remains the same except that when you compete, it's for Clyde Valley.
Perhaps they were not aware that when Jim Brown ran in the '74 National relay he had to fly from London where he was at college. His flight was paid for by Monkland Harriers. When Ian Gilmour travelled from Birmingham on a Friday, required accommodation Friday and Saturday before returning to Birmingham on Sunday, again paid for by Monkland Harriers.
Clyde Valley were never asked to contribute to these costs.
I decided after the January meeting that my position as secretary of Clyde Valley was untenable and that I would resign at the next meeting. How could I continue to work for a club who would not support a member club and a generous sponsor to our sport?
The S.G.M. duly took place on 14/2/76 and the vote was lost 29 to 28, and as I predicted, Devon voted against us. Had he been mandated the numbers would have been reversed.
At the February Clyde Valley meeting I resigned as secretary and gave them a month to consider who would replace me. I decided at that point not to resign from the club.
I had then to consider what what the future was for me and also the club. The first decision was easy, I would never be a member of the Clyde Valley committee again. To think that the club was only 18 months old and in that short time had achieved considerable success, despite a committee who could hardly agree on anything and were hostile toward the Monkland Harriers section beggars belief.
The next consideration was whether we remained as Clyde Valley or withdrew the Monkland Harriers members and reformed the original club. I decided we should remain as Clyde Valley because I was still of the view that a strong Lanarkshire club was in everyone's interest. From the list of names I have who made up the four man relay teams and the E-G teams when I was secretary only Monkland Harriers could have fielded a team, the addition of a few top runners from the other clubs made a huge difference and produced a successful team.
I decided we should remain at Clyde Valley as that would be in the best interest of the active members. What I believed when we formed Clyde Valley had not changed. The one problem I could foresee was the problem with the committee. I cannot remember who became secretary, but hoped they could change attitudes. Surely this committee would not last and some fresh blood would be found.
The results that Clyde Valley achieved during their short existence proved to me that the idea of several small clubs merging was the right one.
Best results in team events:
National Cross Country Championships: 2nd in 1980 & 1982, 3rd in 1981.
National Cross Country Relay Championships: 1st in 1974, 1977 and 1979, 2nd in 1980.
National 6 Stage Road Relay Championships: 2nd in 1979 & 1980
Edinburgh to Glasgow Road Relay: 1st in 1979 & 1980, 2nd in 1981, 3rd in 1974, 1975 & 1983.
The results in the later years were achieved with a mixture of experience and youth. Brian McSloy, Peter Fox, Colin Farquharson, Steve Marshall, David Marshall and several others from the Motherwell section together with Neil Agnew, Greg Paterson and Joe Small being the best from the Monkland section.
Five 1st places, six 2nd and four 3rd, a total of fifteen in major events.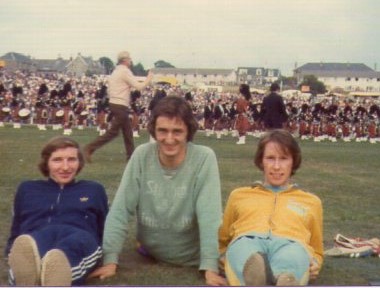 Joe Small, Ian Moncur, Neil Agnew
Why did Clyde Valley cease to exist in 1984? I do not know the answer to that as after the events of 1976, detailed earlier, I took no part in the administration of the club, my priorities would change. In August Ronnie MacDonald and I opened a small sports shop appropriately called Monkland Sports. In 1977 I became works manager in the company I had started my working life in as an apprentice in 1959. I was also trying to keep some level of training, added to all that I had a young family. My priorities had to change.
I had spent the last 25 years running cross country, road and track, helping to regenerate Monkland Harriers, organising events for Coatbridge Town Council, setting up Clyde Valley, fighting the injustice perpetrated by the S.C.C.U. in not awarding the 1978 International event to Coatbridge, organising the many events previously mentioned and turning Coatbridge into a popular destination with good facilities and well organised events.
My one regret is that shortly after Clyde Valley's departure it was followed by Monkland Harriers. I had to let it go, I couldn't spend the next ten years trying to repeat what I did in the '60s and '70s. However, I do accept that had I not gone down the Clyde Valley route Monkland Harriers may well have survived.
As far as athletics is concerned since, I had two nights at the Commonwealth Games in 2014, and Joe Small and I went to Falkirk for the National cross country on two occasions recently. Ronnie and I retired from the sports shop in 2013 and I now keep myself fit by walking most days.