…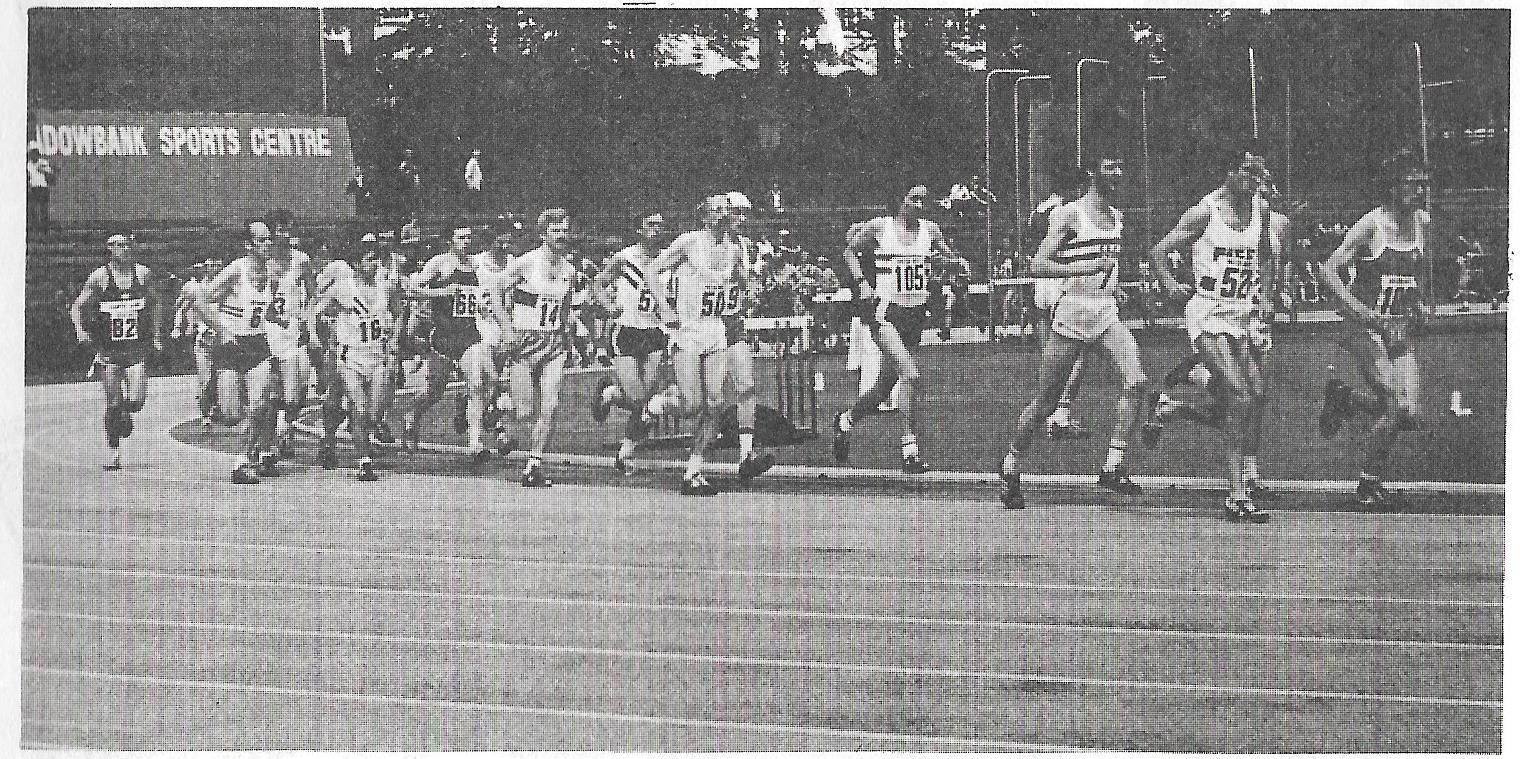 The Scottish Marathon starts from the SAAA Championships in 1981: Colin Youngson leads the runners out of the stadium
The value of any medal, or indeed any prize or award is not in the metal of which it is made (although at times that is considerable) but in what it signifies to the individual – a hard fought race, a victory long sought and finally realised, the esteem which a particular trophy brings with it. But these sporting medals often have a significance to the sport itself. The medals are evidence of what the sport itself values. Colin Youngson's medals were amassed over a period of over 50 years. Some are of more significance than others in his eyes, but the totality is evidence of the nature of endurance running in the second half of the 20th century and the beginning of the 21st.
To explain. We who ran during that period in question thought that it would always be like that – races available all over the country from the Nigel Barge Road Race on the first Saturday of the New Year to the Edinburgh Queen's Drive races in mid December. We believed that there would always be road races at distances from 5 miles, via 10, 12, 16, 18 and 20 to the marathon; we believed that there would be a progression in the track season from County to District, to National to British championships and that the winter season would begin with the McAndrew Relay, and then go via County and District relays to the County, District and National Championships on the country. The marathon would start from the national championships and finish there and the club challenge of the Edinburgh to Glasgow would continue. The progression was provided by the governing bodies and sports organising bodies with the help of the Scottish Marathon Club and was a genuine stepping stones approach to developing the sport for every athlete in every club.
Alas, the structure is no more. The national marathon championship is no longer run as a championship event in its own right and the Edinburgh to Glasgow is no more. Almost all County track championships have gone, the governing body in its wisdom moved the District Relays back a week to give the runners a breather before the National (at two and a half miles on a Saturday?) and the progression is gone with the County or League match being between the two major relays.
The history of this period can be seen in many ways but one is to look at the career of an athlete in terms of the medals won and what they signify for the sport at large. Colin Youngson was one of the most prolific medal winners the sport has produced – this is particularly true of his road running collection.
For all the runners who have run on the country's roads or over the country, there are very few, indeed none that I know of, complete collections that are available for inspection, information or education. They are inevitably broken up and some medals turned into pendants or brooches, scattered among relatives who may display them or keep them in the back of a drawer and, as I was informed by an auctions aficionado, some are melted down for scrap value. What we have here is a careful selection from Colin's collection. It tells us what racing opportunities were there for runners to experience – several will never come again. Look at the collection, take your time over it, wonder at the length of the career and appreciate his love of the sport.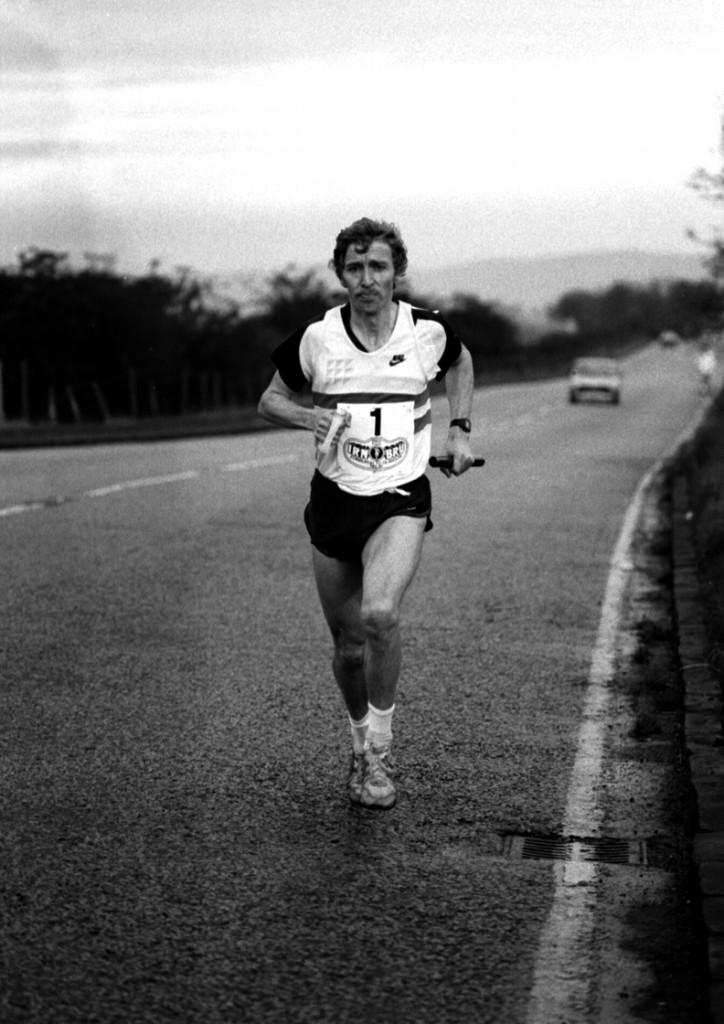 Seven years ago, when I was sixty-five (new age-group!), I enjoyed doing the 1500m/5000m double at the Scottish 'Masters' Track and Field Championships in Grangemouth. My old friend Ron Morrison (well-known professor, coach, official, statistician, social drinker) presented my awards, asking, "What do you do with all your medals, Colin? Put them in a bucket?" Then he laughed, as only Ron can. Fair question, though, especially now that I am decluttering/downsizing/recycling/getting rid of a lot of more than 50 years' worth of running-related memorabilia.
Much faster runners have had the same problem. Jim Dingwall used to keep a vast collections of medals, still attached to ribbons, hanging from a hook on the back of his kitchen door. Lachie Stewart's, at one time, were in a red shoe box on the floor of a spare bedroom. He explained, "Naewhere else to put them!" Don Macgregor and I once took part in a Dutch marathon. He finished first Veteran and the trophy was a badly-designed, ornate, rather ridiculous item. As we chatted on the ferry back to Britain, with an entirely serious face, he unscrewed various parts of the tiered monstrosity, then put it back together in the wrong order, upside-down etc. Not to be a Joy Forever, then.
The very first medal I received (and still have) was in 6th Year at Aberdeen Grammar School – for winning the Mile at the annual Sports. Strangely, it is in fairly good condition, although it dates from 1966! Yet the SAAA championship medals I collected in the 1970s and 1980s seem to have lost any glitter and, down the decades, have been quietly rusting and decomposing (like their owner). The SCCU plaques from that era have, to some extent, fallen to bits. I had to chuck out my only Scottish Cross-Country Relay winning team trophy years ago.
Brian McAusland, Webmaster of Scottish Distance Running History; and also of Anent Scottish Running, suggested that I should photograph every medal before passing several to younger relatives or, as a very last resort, disposing of them permanently.
Well, I have taken more than a few photographs; but the majority of that base metal will have to be recycled.
Then again, what are medals and trophies meant to represent? What 'value' might they have? (Certainly not financial.)
I was in two top Scottish Clubs: Edinburgh Southern Harriers in the 1970s and Aberdeen AAC in the 1980s and early 90s. As a useful team member, I was a fortunate contributor to many team triumphs in the aforementioned XC Relay, Senior National, Six-Stage Road Relay and Edinburgh to Glasgow; plus four Scottish Veteran XC Championship team victories. Most of these successes were mainly due to real stars like Allister Hutton, John Robson or Fraser Clyne.
There is no doubt that team wins, rare in the essentially individual sport of middle-distance running, can be great fun at the time and for weeks afterwards. There is real pressure not to let the others down; and satisfaction to be gained, especially if you have given all you can and run well by your own standards. There is also the prospect of a few convivial pints afterwards.
What about individual championship medals? Most of mine are for marathons (or, as a veteran, middle-distance track, half-marathons and cross-country). For the long-distance events, you have to train intelligently for several months, taper, eat appropriately, peak on the day, pace it correctly and then hang on grimly to the finish line. If that complicated process all goes really well, then there is not only the relief of stopping but also, once partially recovered, a real sense of achievement.
My mum left me an old display cabinet, and for years a couple of shelves were covered with selected medals, action photos and trophies. When I did look at those, it was to test my memory. What was that race? Did I run well? How on earth, so long ago, could I be that fast, compared to nowadays?
Therefore, medals, no matter how well-designed are merely mementoes, linking to experiences. I once tried to write a list of my Top Ten race performances, with the very best Number One. Then I had to add a few more which I liked to recall. They may not have been personal bests, but good age-related runs, with marks for tactics or sheer effort. This list I stopped compiling once I reached fifty races! By then I had realised that most training runs or events can provide some degree of pleasure; and the bad ones are to be accepted without (lengthy) sulking. Some are learning experiences.
Nostalgia is fine, now and again. Occasionally, looking back on achievements and activities can be justified. You have not wasted potential; and had 'tough fun'. However, Living for Today is most important. Appreciating good aspects of existence, even if there are others to be endured. Would I change anything if I could? No, as the cliché states, it is all part of the 'rich tapestry of experience'!
Now for those photographs.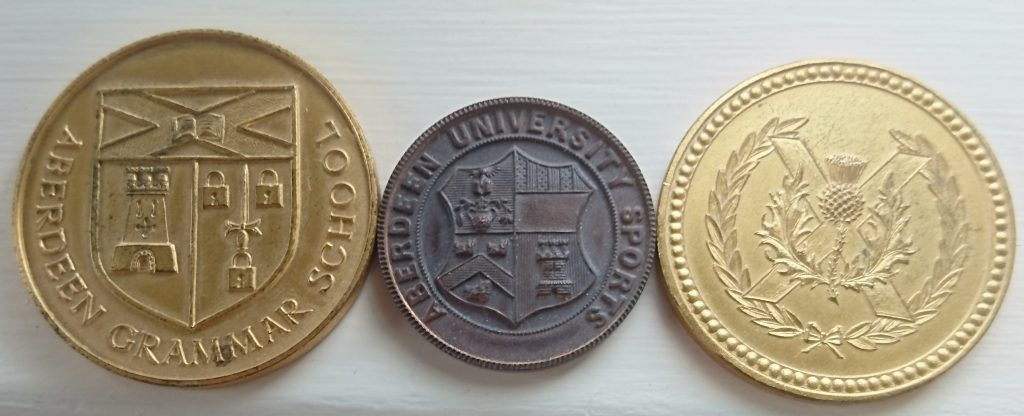 Aberdeen Grammar School, Aberdeen University, Scottish Universities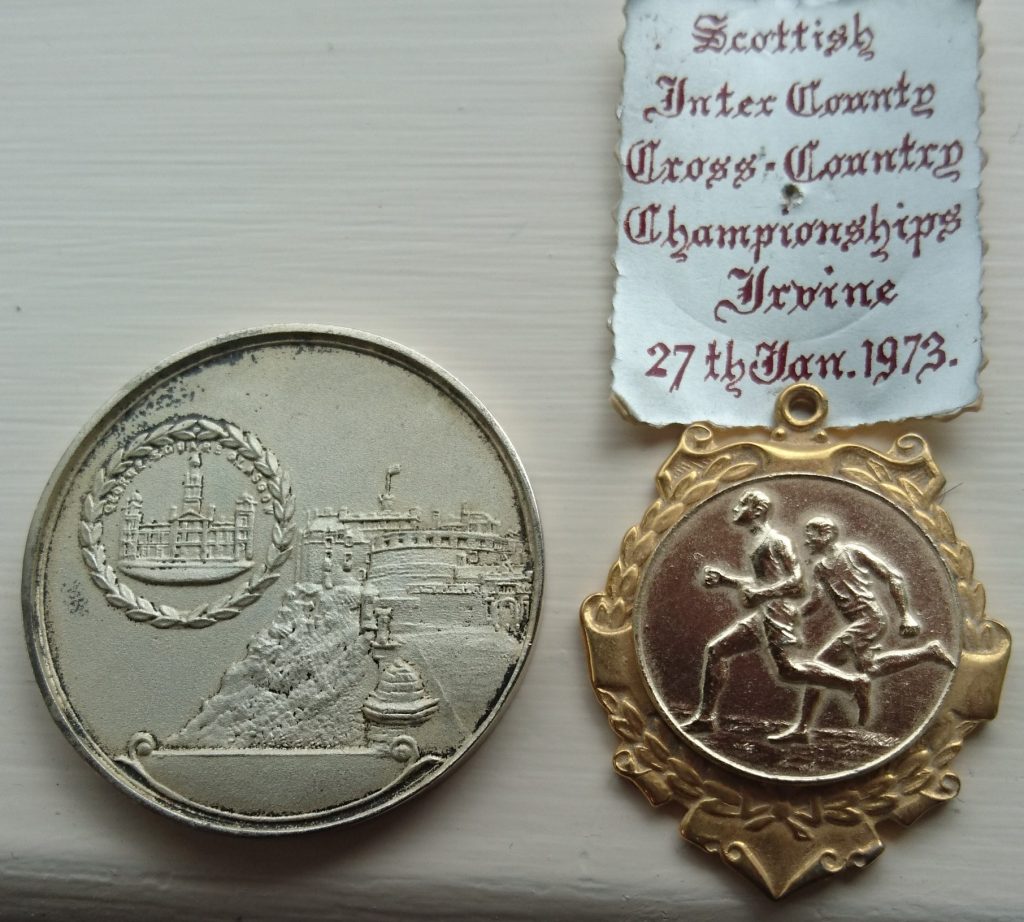 1971 Edinburgh to Glasgow Relay (with Victoria Park AAC), 1973 Inter-Counties first individual (for Dunbartonshire)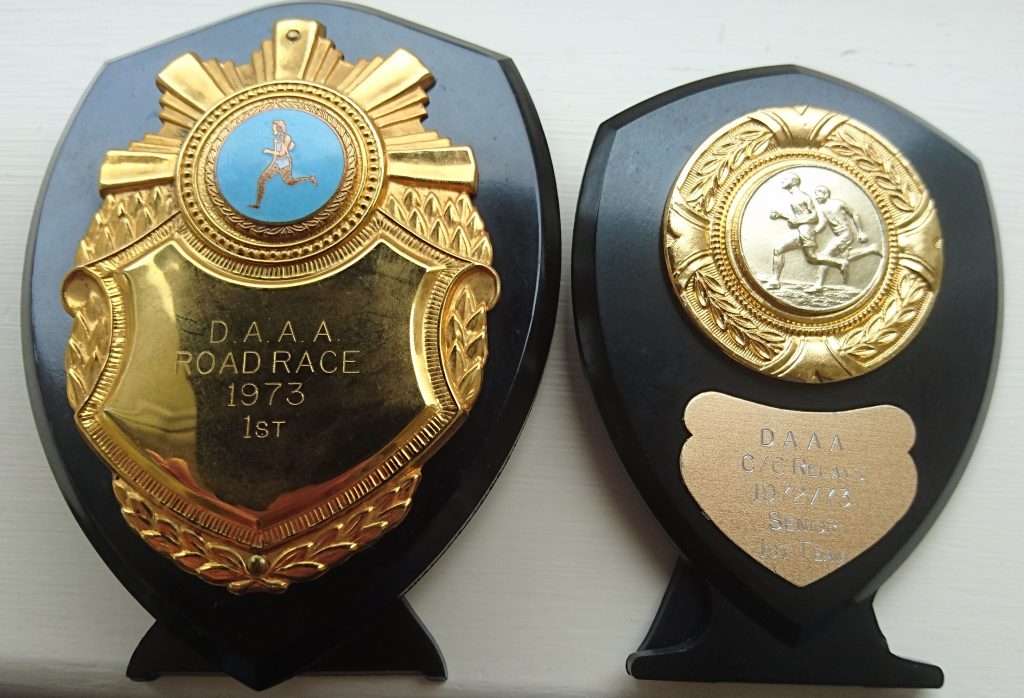 Dunbartonshire plaques (with VPAAC)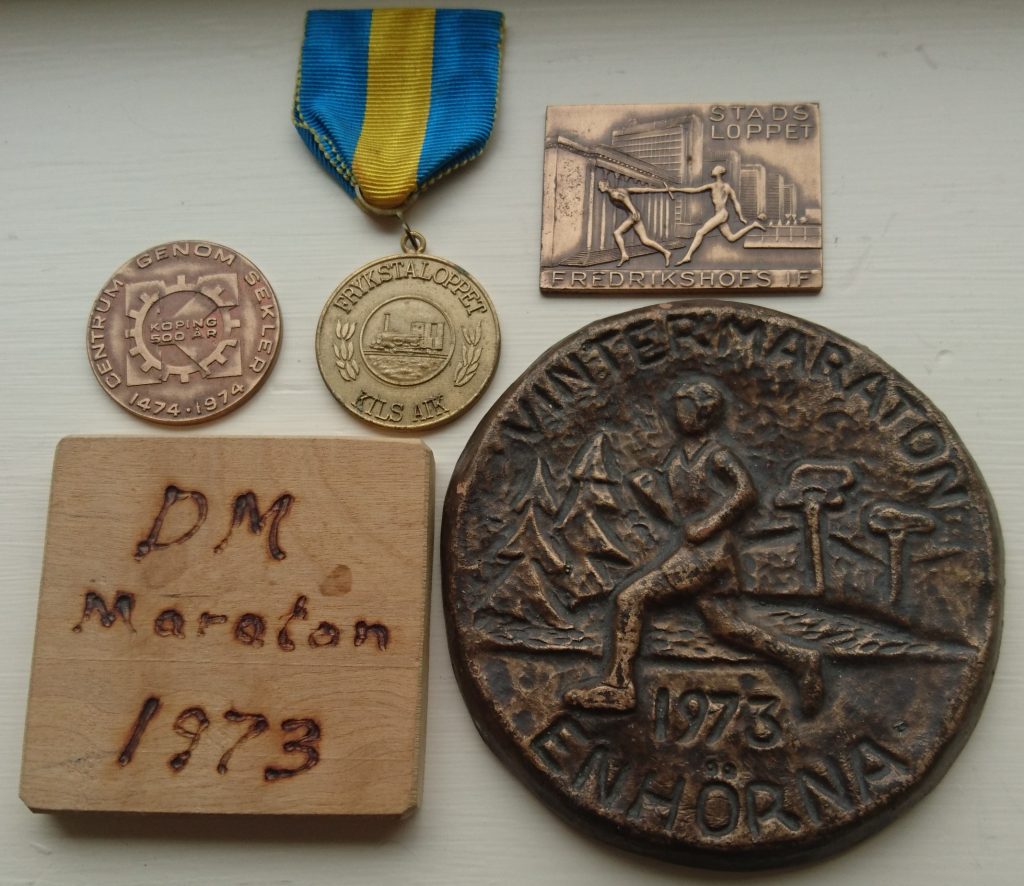 From Sweden (1973-4).
Back: two road race wins and a road relay, organised by my team (Fredrikshofs IF).
Front: my first two marathon wins: Stockholm and District; and Vintermaraton (in minus 5 degrees Centigrade).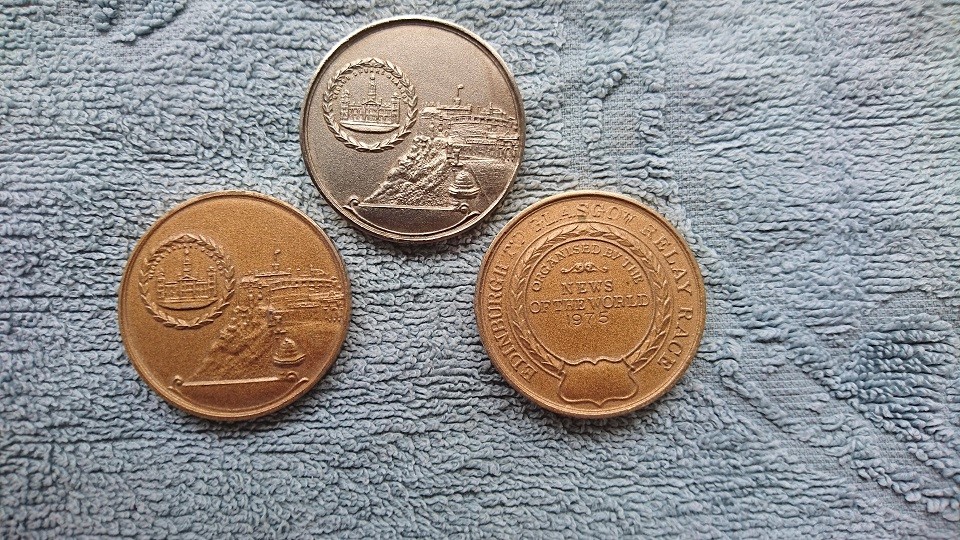 The E to G silver is from 1971 (with Victoria Park Amateur Athletic Club); and the gold medals (with Edinburgh Southern Harriers) in 1974; and in 1975 (when the course record was broken).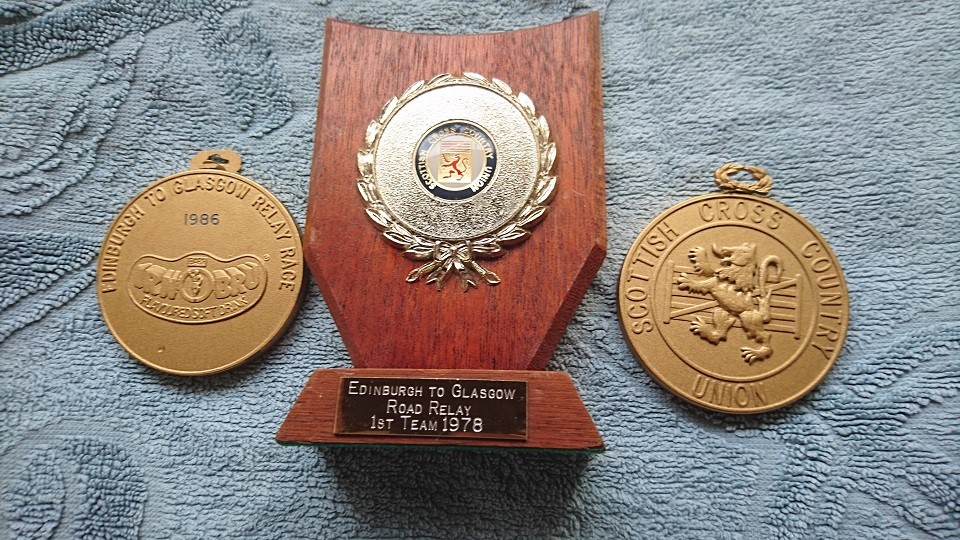 The 1978 winning trophy (with ESH); plus the two big E to G gold medals (with Aberdeen AAC) from 1986 and 1988.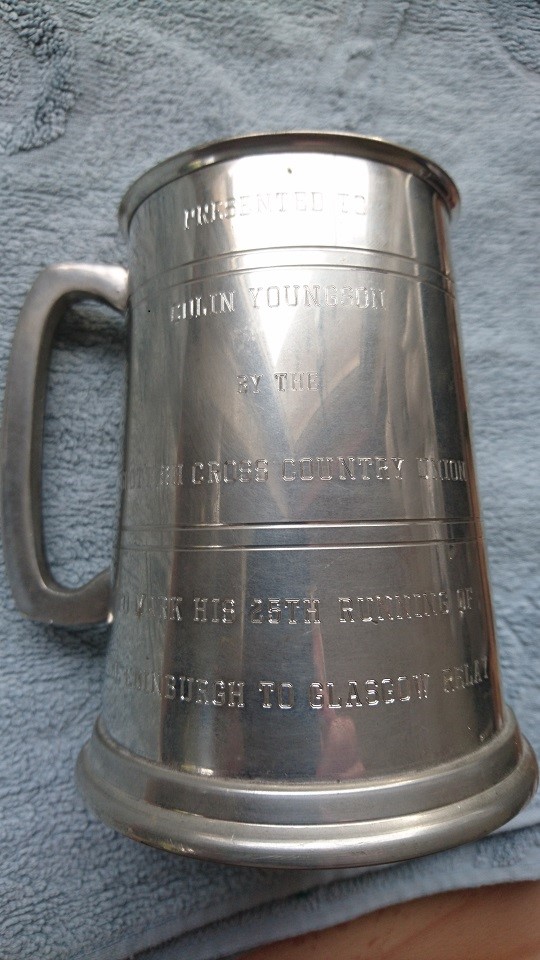 The tankard was presented unexpectedly by the SCCU in 1991, after I had just completed my 25th E to G since 1966. The years I took part, the clubs represented and the team finishing positions, were very kindly engraved on the back. After my last one in 1999 I had the five with Metro Aberdeen Running Club added underneath, to make 30 in all.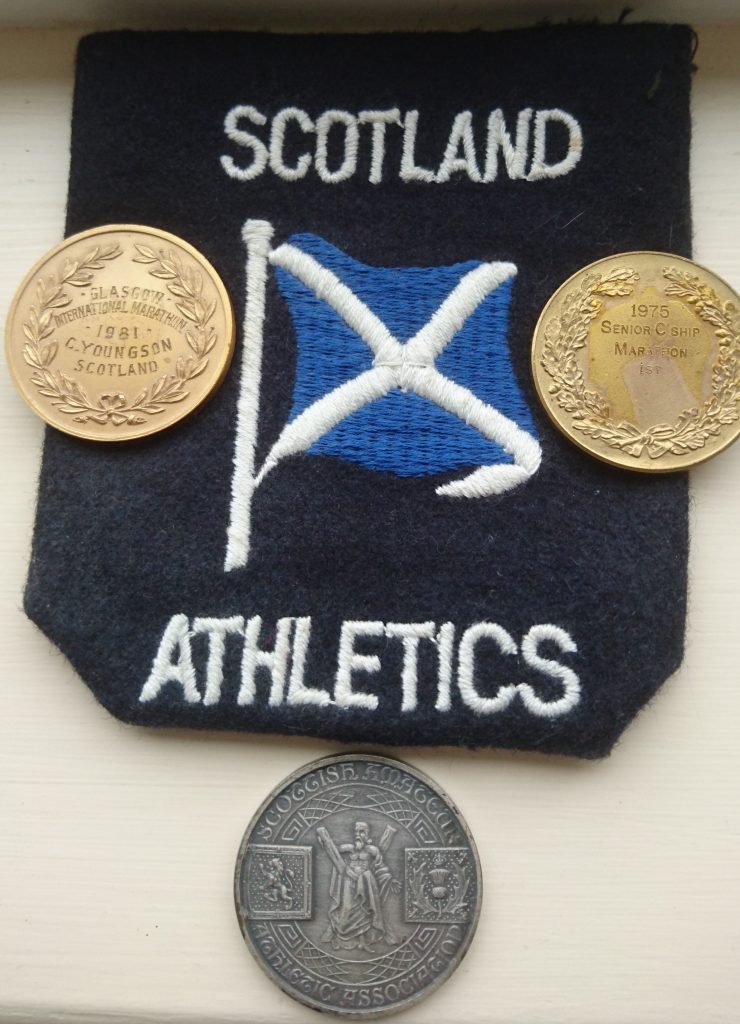 Scotland international team win; Blazer badge for 1975 Track 10,000m v Iceland; 1975 marathon win (2.16.50 Championship record); 1985 marathon silver – my tenth and last Scottish Marathon medal.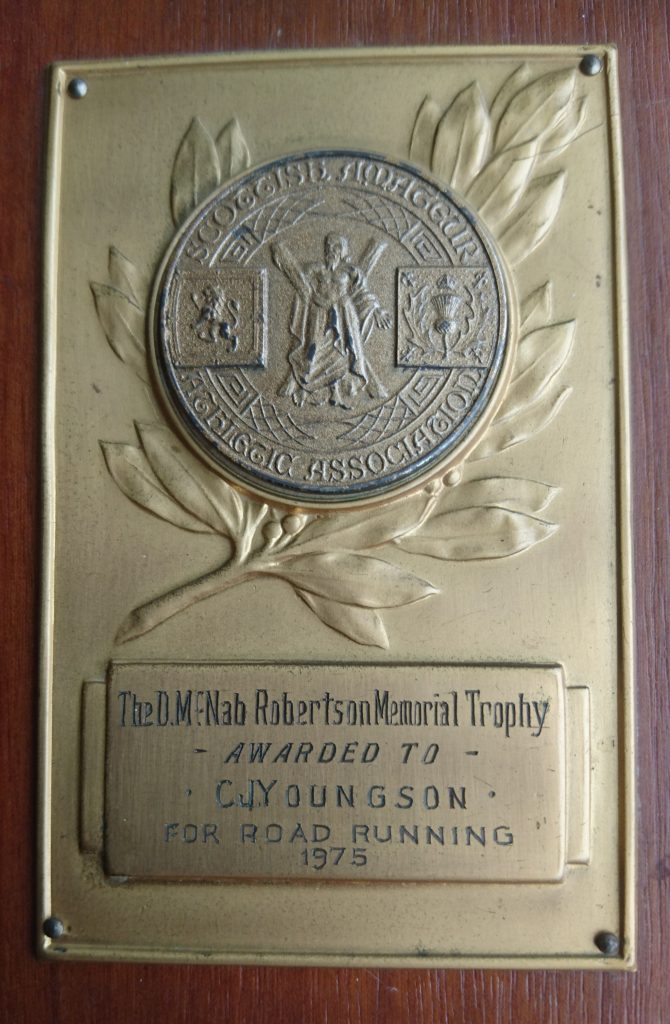 Donald McNab Robertson Plaque: Best Scottish Road Runner of 1975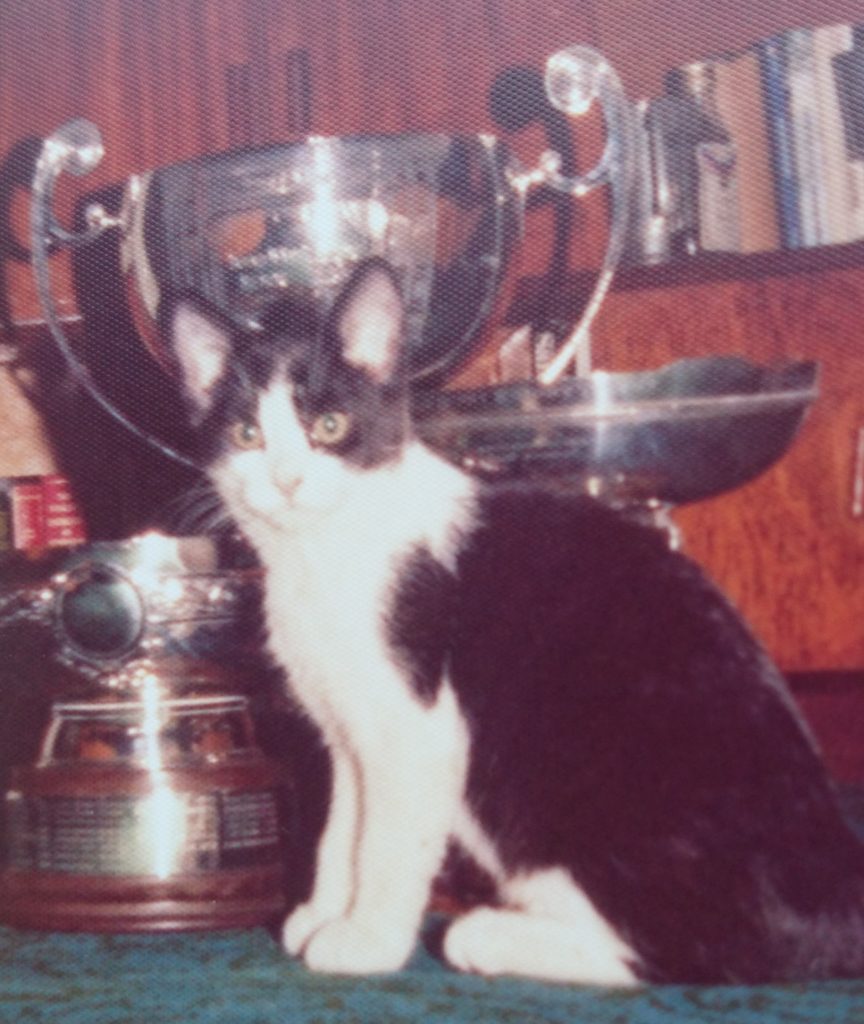 My favourite cat (Fiver). To the left, the Scottish Marathon Quaich. Behind his head, the Robertson Trophy (I think). Could the one on the right be the E to G?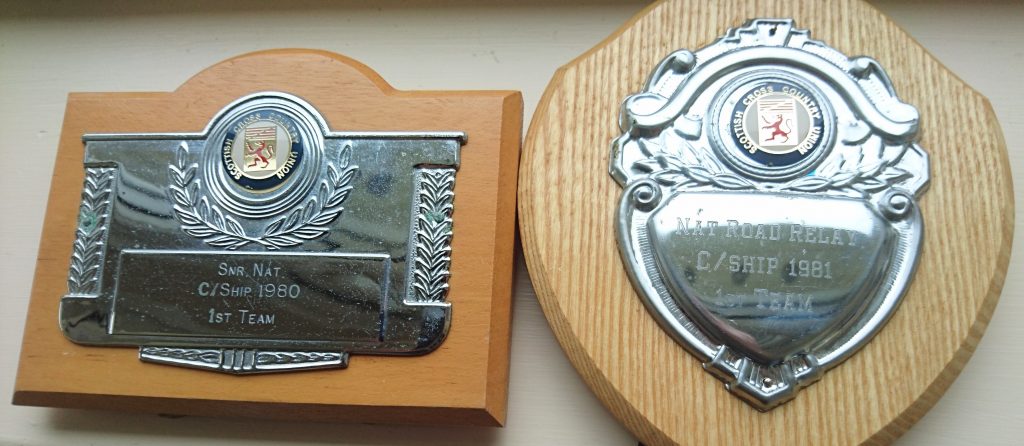 1980 Senior National XC victory (as ESH captain, I walked up to receive the team trophy); 1981 Six-Stage Road Relay win.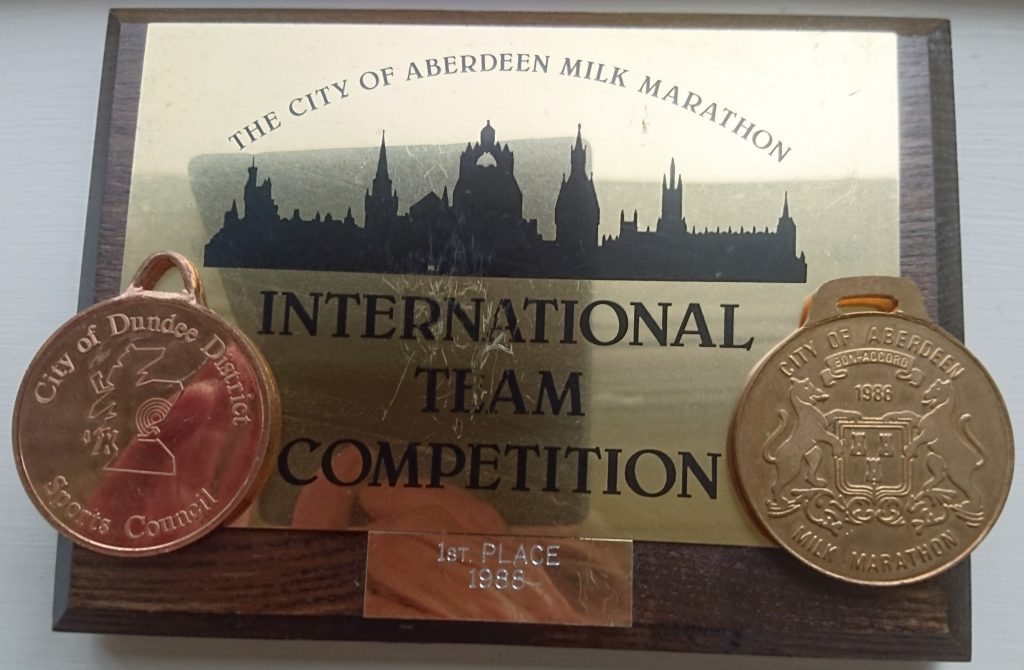 Scottish City Marathons: Aberdeen and Dundee. The Scottish Marathon was usually in Edinburgh. I also ran Glasgow, London, Boston, Marathon to Athens plus Dutch, Belgian, Finnish, Swedish and French events. The most fun was Lochaber!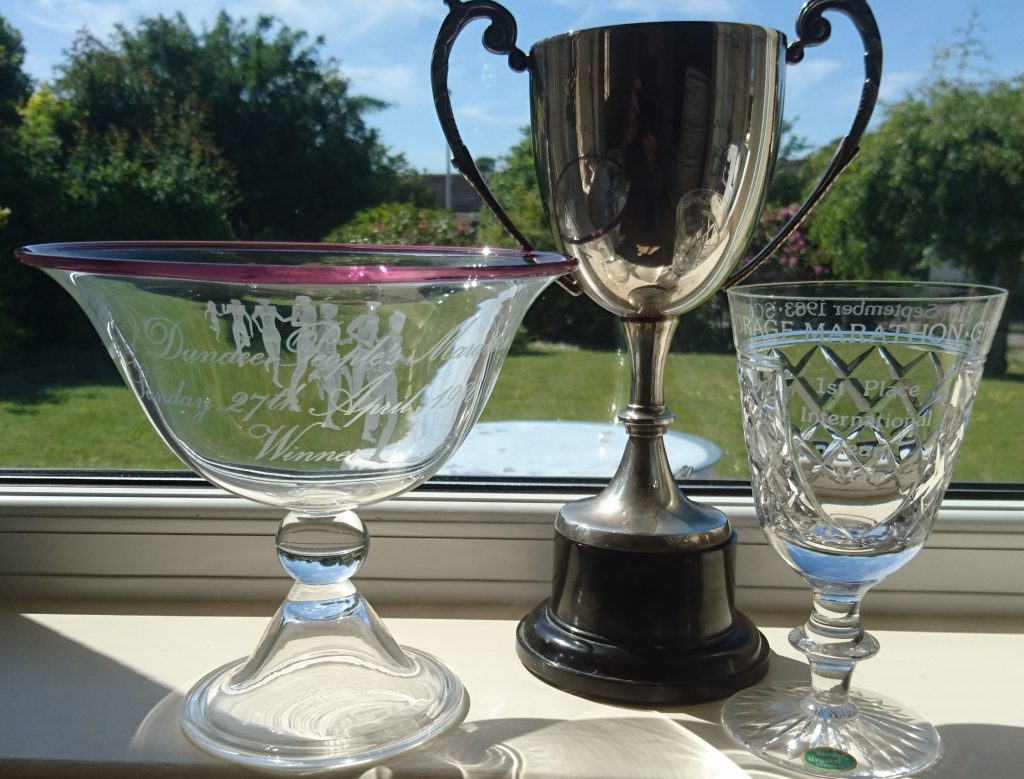 Three Marathon victories: Dundee 1986; Lochaber 1992; and International Team, Glasgow 1983 (Scotland beat Wales, England, Northern Ireland and Eire).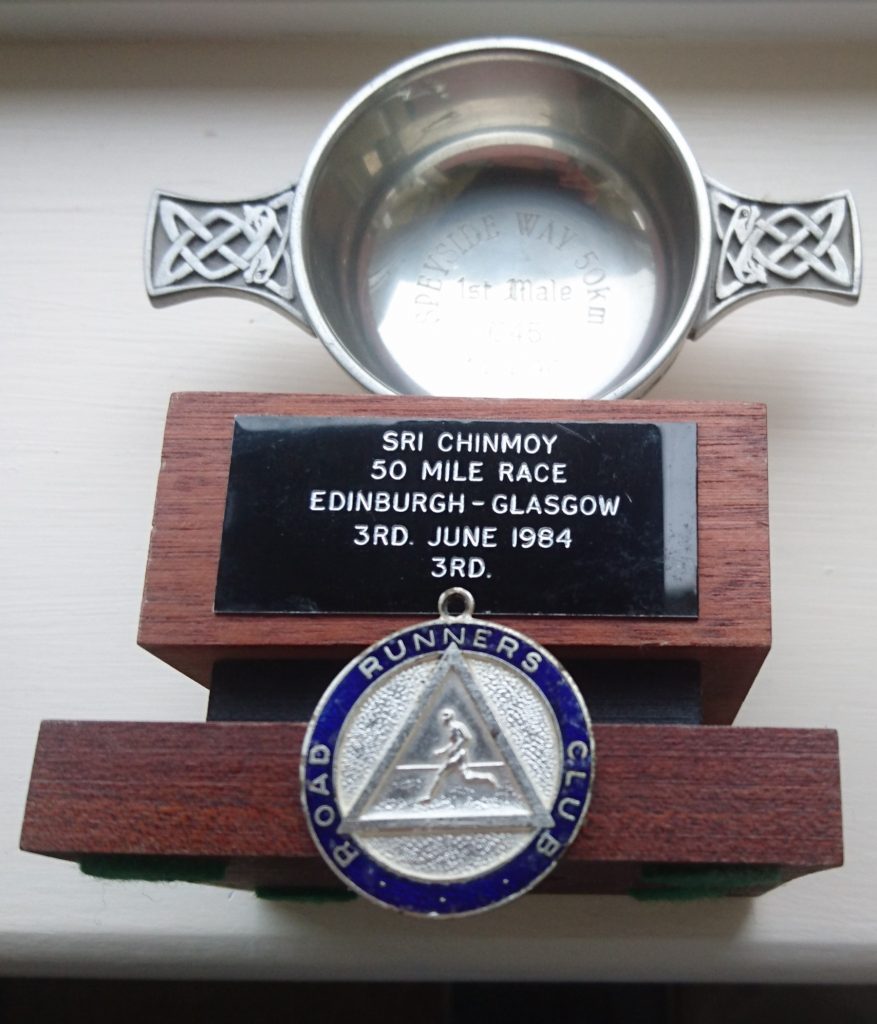 Some Ultra-Marathon ventures: a small but treasured first class standard for the 1980 London to Brighton 54 and a quarter miles; the E to G (from Meadowbank to George Square); and the Speyside Way 50k. The Two Bridges 36 was another great race.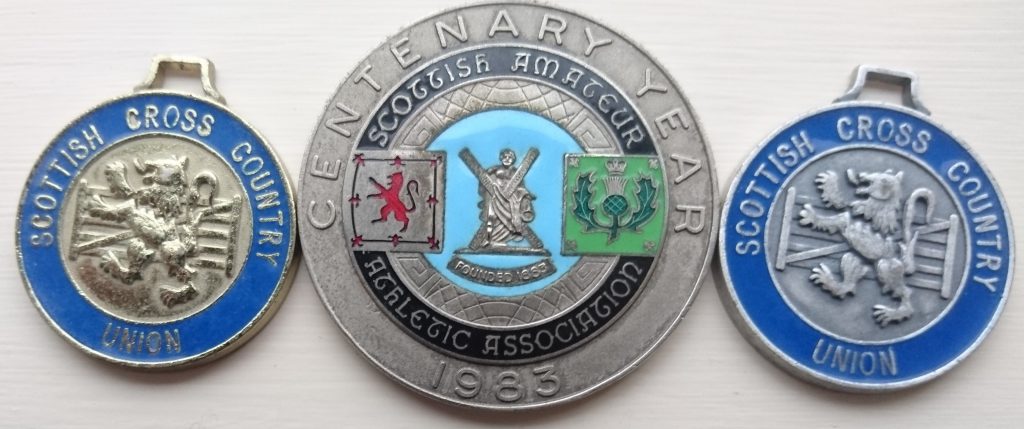 Centenary medals from the SAAA (1983) and the SCCU (1990)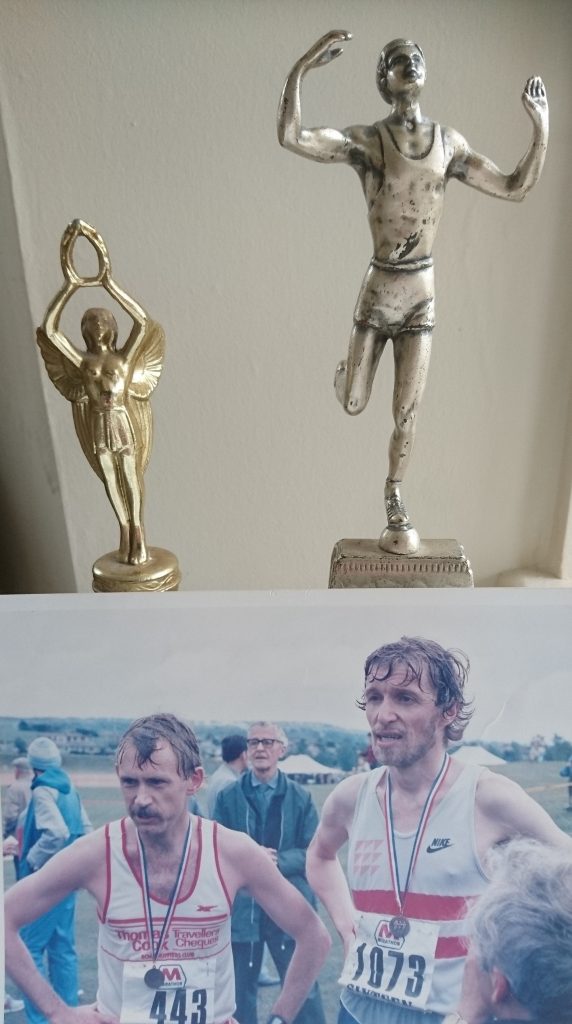 Back left: Berchem (Antwerp) Marathon GB two-man team winning award from 1975. Danny McDaid (Irish Olympian) won by 17 seconds from me, with Max Coleby nine seconds behind. We beat the Irish plus many Continental pairings.
On the right, sponsored by Marathon Oil, a trophy from the 1986 'Marathon 16 miles' road race near Aberdeen, which I won in a sprint, from another Olympian, the great Ian Thompson, former Commonwealth and European Marathon Champion. Both were past our peaks, but Ian was ten yards worse than I was that day! My Dad, James Alexander Youngson, (between us) is 'photo-bombing' before the word was invented.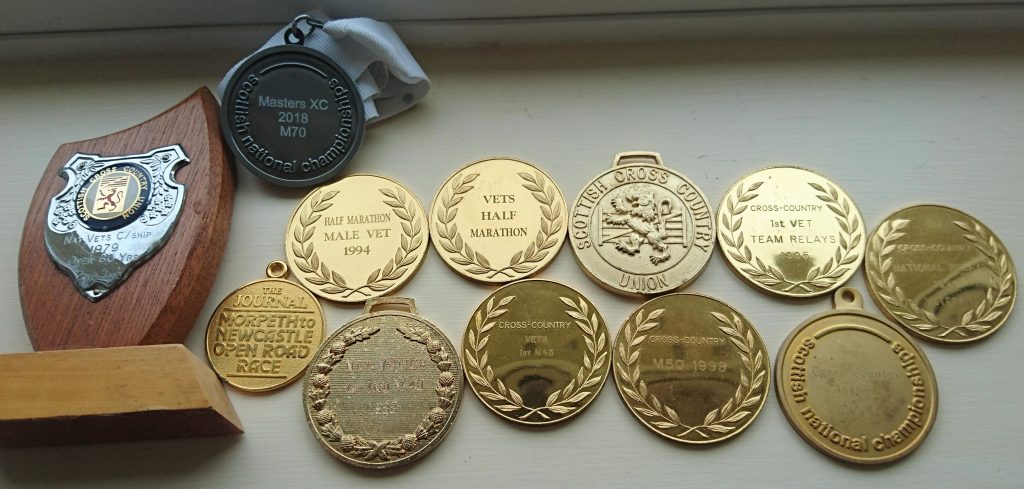 Front: Scottish Vets XC golds: M40, M45, M50, M55
Middle: Morpeth to Newcastle 14 miles first class standard (I won M40, M45 and M50), Scottish Vets Half Marathons, XC team; and (with Metro Aberdeen) two XC Relay golds
The Scottish Vets plaque is my Dad's (second M60 in 1979 XC); and the other medal is my M70 XC silver from 2018.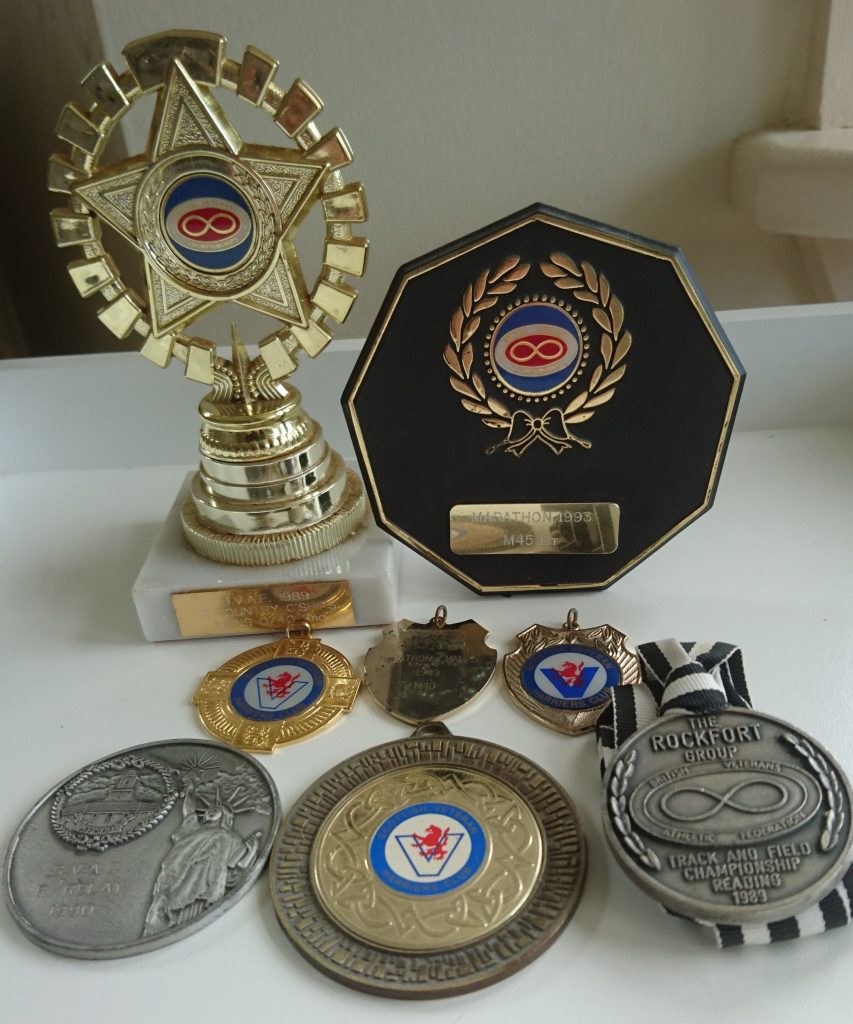 Back: British Veterans 1989 M40 XC silver; British Veterans 1993 M45 Marathon gold.
Middle: Scottish Vets golds for Half Marathon; 1989 M40 Marathon; and another Half.
Front: Scottish Vets 8 Stage Relay; British Vets 1995 M45 XC gold; Brit Vets 10,000 silver.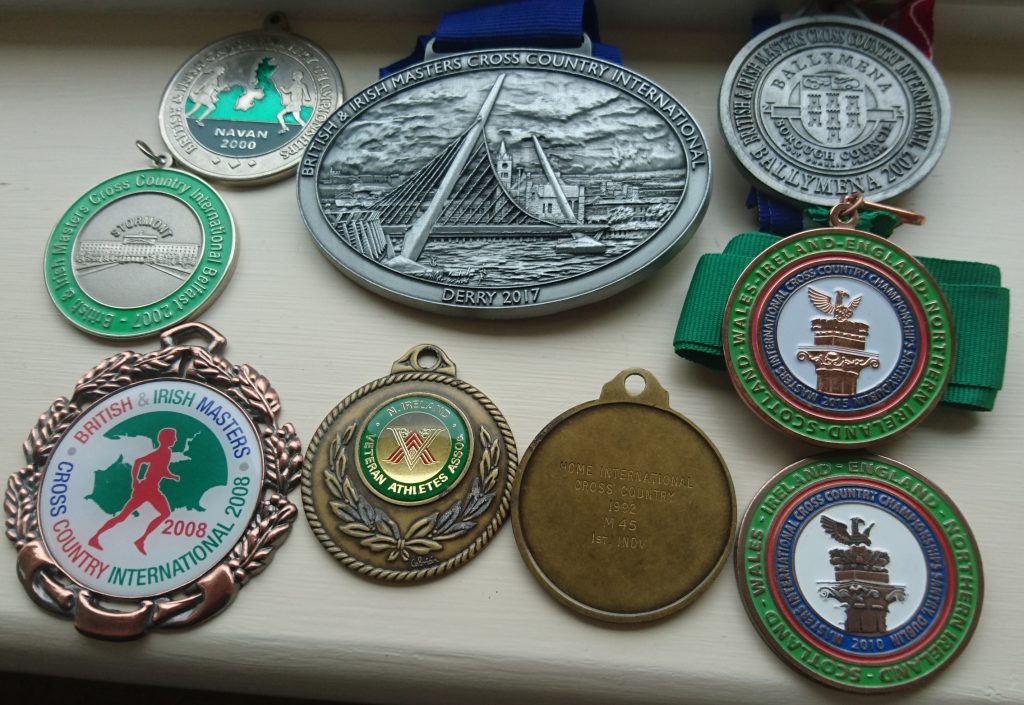 My favourite races as a Senior were the E to G and the Scottish Marathon. As a Veteran, it was the annual British and Irish Masters Cross-Country International. Since my birthday is the end of October, and this great event usually takes place in early November, most of my better races were in Northern Ireland (since the Five nations host in turn). In the middle of the front row are two from 1992, when I became the first Scot to win an individual title (M45) in this event; and we won M45 team gold as well. I ran for Scottish Vets/Masters fifteen times; in every five-year age group from M40 to M70.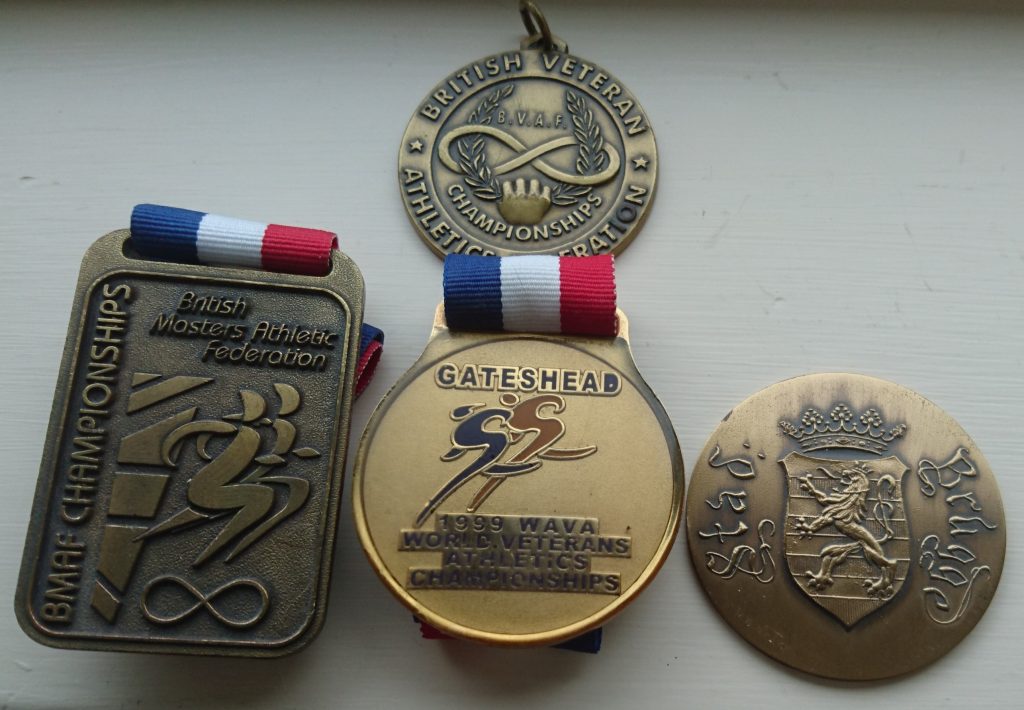 Back: British Veterans 10,000m Outdoor Track M50 gold;
Front: British Masters 3000m Indoor Track M55 gold; World Vets Cross-Country, GB team M50 gold; European Vets 25k Road, GB team M45 second.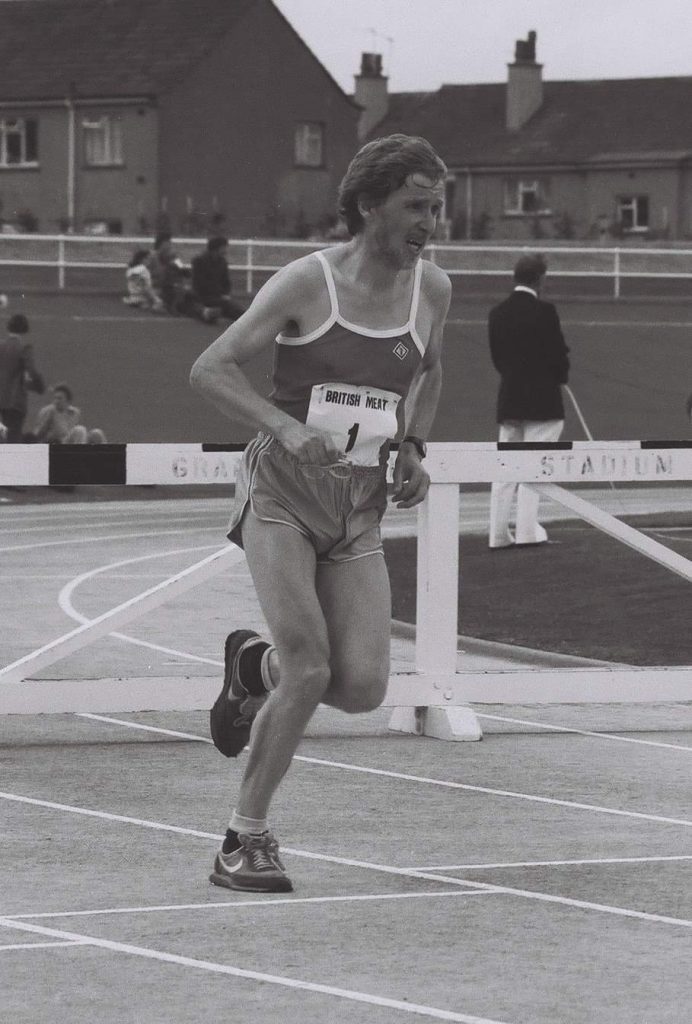 Colin about to win the 1982 Scottish Marathon at Grangemouth