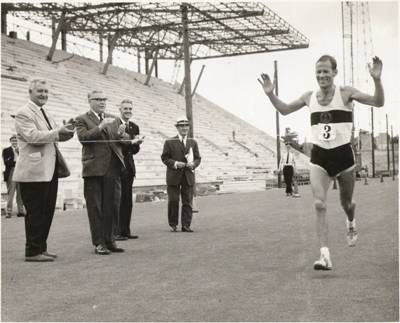 1969: Bill Stoddart (Greenock Wellpark Harriers) winning the trial marathon for the 1970 Games in Edinburgh – Dunky Wright (extreme right), David Bowman (second right) who were both founder members of the SMC. The race finished in the as yet incomplete Meadowbank Stadium.
One of the important features in the education of marathon runners in Scotland was the Scottish Marathon Club. It had members and Committee members from all over the country who met, talked, ran and socialised – in the course of all this they talked of training, running and racing and everybody benefited. I was introduced to the marathon club by David Bowman a staunch Clydesdale Harrier and SMC member and who was at various times President of both. In fact at one time David was President of the Clydesdale Harriers, The Dunbartonshire AAA, the Scottish Marathon Club and the Inter Counties Association simultaneously. The secretary of the club and the powerhouse who kept the whole show on the road was Jimmy Scott from Dalry. He had run for Glasgow YMCA before the War and with a bunch of like minded individuals set up the Marathon Club in 1944. Jimmy was always brisk and business like and always, always had time for runners. I don't know what age he was when he died but he never seemed to age at all and it was a great shock to members when his death was announced at the Committee Meeting in March 1977. Quoted in Colin Youngson and Fraser Clyne's book on the Scottish marathon championship 'A Hardy Race', Jackie Foster has this to say about Jimmy.
"I never learned if Jimmy had ever been a runner or not. We always held him in such respect that any questions would have been rude, A wee bird-like man, dressed in the kilt or Harry Lauder like tweeds, he was 'kenspeckle' – a true Scot. He never panicked but stood no nonsense and never apologised (had no need to) and had the most amazing ability to organise running events. A typical example of Jimmy's contribution to distance running was the Brechin 12 miles. Jimmy would pick people up in his mini-bus from Glasgow and Edinburgh and anywhere else along the route. He would start, time and marshal the race. He then instructed the Town Clerk who to give the prizes to, before returning us to our homes, usually issuing us with entry forms for the next race. For all this the charge would be about one pound. Hardly enough to cover his petrol, I would imagine. Jimmy suffered at the time by being overshadowed by Dunky Wright who was a nice man but an extrovert which Jimmy was not. Jimmy did all the work but Dunky got all the credit."
My memories are very similar to Jackie's but I only ran Brechin once (and got lost in the process). It should be pointed out that Jimmy had a Committee of enthusiasts who met, organised races, encouraged road running in all its forms and set up their own championship that incorporated races at different distances leading up to the marathon itself. David Brookes was the regular timekeeper who also officiated at Scottish and District Championships; David Bowman was largely responsible for the course for the 1970 Commonwealth Games marathon and had for several years beforehand drawn up marvellous maps for the Scottish Marathon Championships showing the route diagrammatically with water points and feeding stations marked on it, there was a side elevation with every rise and fall, every climb and downhill stretch in the route marked out; Colonel George S Barber was a top class official and Joe Walker, always in my mind dressed in a blazer with an immaculate hair parting, doing a great deal of the organising. Brian Goodwin was on the Committee for a spell and learned a lot about organising from these men that he later put to good use. Dunky was also on the Committee and having looked at the Minute books for the period he was a regular attender, worked hard getting help and sponsorship from race organisers and others, represented the Club at SAAA and SCCU level and generally worked hard on behalf of road runners all over Scotland. He was well known and he used this to good effect.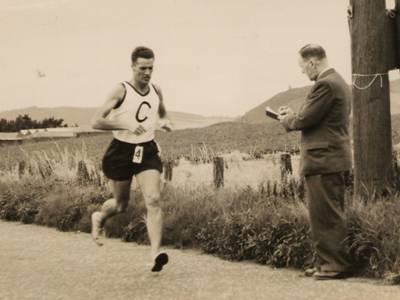 David Bowman at 15 miles in the SAAA Marathon in 1952
The photograph was by George Barber who took many here and Alex Wilson who is writing a book on the Scottish Marathon from 1945 has one of Emmett Farrell at exactly this point.
The Club organised their own internal championships spread over four races but other runners, non club members, were welcome to run although the were not eligible for the SMC championship at the end of the year. There was the Springburn Harriers 12 Mile Road Race at Bishopbriggs, the Clydebank to Helensburgh 16 Miles Race, the Strathallan Road Race which was originally 20 miles but became 21 miles and of course the SAAA Marathon Championship HAD to be included. They had standards for all these races:
1st Class 2nd Class
12 Miles 1:12:30 1:18:00
16 Miles 1:32:00 1:40:00
20 Miles 2:05:00 2:20:00
Marathon 2:50:00 3:05:00
Remember that these standards were set in the post war years when many of the austerity measures were in still in place with training shoes and athletic clothing was hard to come by. Subsequently they were kept because of the club's objective of fostering Marathon Running. Note, too, it was marathon running they were fostering and not simply road running! Certificates were issued to all who gained the appropriate time, often on the actual day of the race.
As Jackie said above, Jim's minibus was always taking runners to races all over Scotland. races were held at distances from 9 miles to well over marathon distance – eg the Two Bridges 36 miles from Rosyth was often there and at times the London – Brighton or the Edinburgh – Glasgow 45 milers were there in other years. For their own races, they had programmes printed by Walter Ross on a single sheet of Foolscap, often folded in half with officials, runners and their handicaps and other information that should be there.
After the race, the club certificates were usually given to members who had won them. There were several kinds of certificates given by the club and most of them were large. They were done on cardboard of varying surfaces and thicknesses but they were not just wee bits of paper. There was the Certificate for the performance done complete with the time and date, duly signed by Jimmy and usually by the club president.
Some athletes treasured them and kept them safe and in good condition, at the other end there were runners who just shoved them into their bags and then stuffed them in drawers when they got home. The strange thing is that, after their running days were over most runners were glad that they had them and those who had lost them regretted it. It is not usually the value of the award that matters but what it reminds you of.
There is a lot of talk at present about the number of races at 10K, 10 miles and half marathon and the virtual total neglect of races above 13+ miles in distance. If we look at the fixture list that was available to road runners in the 60's and 70's we see a range of distances (from 9 miles to ultra marathon), a range of surfaces (track, road and hills) and a range of venues all done with minimal clashing of venues on the same date. I looked at this year's fixture list for road runners and saw that on one weekend there were five races at 10K! Look at this list from 1961 and 1974. Click on the image for a full size version.
The range of distances in races leading up to the full marathon is quite extensive and the fact that the SMC itself had four races at gradually increasing distances up to the SAAA Marathon Championship is also significant. Incidentally, none of the courses was ever short. The Helensburgh was known to be sixteen and a quarter miles and the Springburn 12 was the longest 12 miles I have ever run. And of course the Strathallan 20 became a more honest 21 miles. The racers were gradually, almost without noticing it, led up a step at a time until it was the obvious next step. Note that several of the above races have shrunk with the passage of time – Bute is now 10K, Strathallan is now 14, I think, and others such as the Two Bridges have just disappeared from the calendar. It was a range of races that produced good all round distance runners. Fortunately we will never hear, despite the current disposition towards the abominable distance, of the Ben Nevis 10K! The asterisks on the first list indicate the events where Jimmy Scott would be taking his bus – Brechin, Aberfeldy, Fort William, Kinlochleven, Brampton, etc. There was never an excuse for not getting to a far away race. I remember going to Brechin in the minibus along with Hughie McErlean of the Vale of Leven, Pat McAtier of Paisley and others. We stopped at the Four Ways Restaurant in Dunblane for lunch – it is now an Indian Restaurant – we went to the Edinburgh to North Berwick (I ran well enough but felt that I needed to be sick on the way back through Edinburgh, threw open the sliding door in the side of the van and just missed the bonnet of the car in the next lane – the look on the girl driver's face!!!) and various other places. For Kinlochleven a big bus was laid on and we were expected to run in the Mamore Hill Race. We did. (The regular stops on this run were the 'Green Kettle' at Bridge of Orchy and the Croit Anna Motel between Kinlochleven and Fort William.) So – lots of races, a proper fixture list, races graded in distance, certificates for good performances and transport to them all. Who caters for the distance men like that nowadays? The SMC Magazine had many good articles and some of those by Don McGregor are collected in the appropriate section. Others will be assembled at some point. If you are interested in the story of the Fiery Cross Relay, it is below – largely written by Bob Donald of Garscube Harriers – and there is a cinema Pathe news clip that you can have a look at at this link
http://www.britishpathe.com/record.php?id=58170
[ Jimmy Scott ] [The Birth of the SMC ] [ The First SAAA Marathon Championship ] [ Fiery Cross Relay ] [ Scottish Marathon Club Fixtures ] [ SMC Championships ] [ The 70's and 80's ] [ Why Did It Go? ] [ Is There A Need For A New SMC? ] [ The Victorian Marathon Club ]