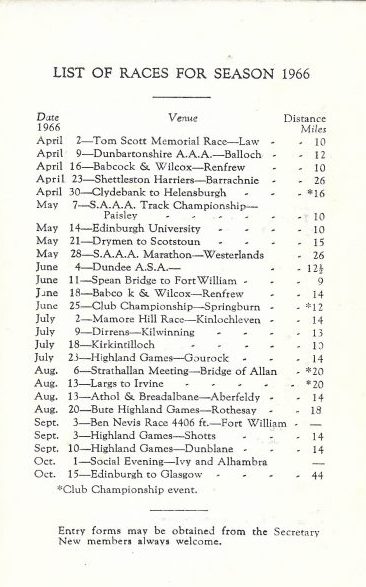 Marathon Club Fixture List for Summer 1966: Championship Races are marked with a Star
The SMC began in 1944 but only two 'minute books' survive. These cover 1950 to early 1981. In the early years, the focus was mainly on the Scottish Marathon Championship (which the SMC organised, along with SAAA). Even by 1952, there were at least 26 Scottish Distance Road Races (between 10 miles and the marathon – 26 miles 385 yards). Scottish Ultras were yet to be invented, although the Edinburgh to Glasgow 44 miles and the Two Bridges 36 miles were to take place before too long.
All credit then, to Scotland and the SMC, since the more famous Road Runners Club (based in Southern England) did not start up until June 1952. In fact, before that date, RRC planners wrote to the SMC for advice on so many aspects of the work involved. For example: appointing office bearers with different responsibilities; committee meetings; minute-taking; collating a fixture list; organising important events and club championships over distances from 10 miles to marathon and ultras; course measurement; setting up a standard system to encourage more membership and improvement in racing times; certificates and medals; raising funds and managing them; creating a club magazine; maps of courses; officiating at some races; organising water stations, changing facilities, refreshment, prizegiving ceremonies, club socials. No mean achievement, the Scottish Marathon Club being the first specifically road racing club in Britain!
The first SMC Club Championship (normally between April and August) took place in 1955. Joe McGhee (Shettleston Harriers) won with 24 points, followed by George King (Greenock Wellpark H – 18) and Hugo Fox (Shettleston H – 14). There were four qualifying events, over 16 miles, 20 miles, marathon and 12 miles. The order varied, but usually the 16 miler (Clydebank to Helensburgh) came first and the Scottish Marathon (June) third. 6 points were given for a win; 5 for second; four for third; three for 4th; two for 5th; and 1 point for finishing. Presentations took place during the annual Social Evening, held in Glasgow venues like the Ivy Restaurant or McColl's Restaurant. Committee Meeting venues varied but eventually most were held in the Glasgow Sports Centre, which became the SMC headquarters.
J.R. (Jimmy) Scott was a genuine SMC stalwart who served as Secretary/Treasurer from at least 1950 (when the first extant Minutes Book began) until his death on the first of March 1977. He not only kept detailed handwritten minutes of Committee Meetings (including Annual General Meetings) but also typed up precise and painstaking long 'foolscap' sheets with race results and charts of all contestants in the SMC club championship. Eight of these charts survive: 1956, 1957, 1958, 1959 (when the Macnamara Cup was first presented), 1962, 1963, 1967 and 1968. Samples are photocopied below. Other Club Champions can be found by trawling through the minutes, but the points scores are not always available.
The Macnamara Cup was named in honour of James (Jimmy) Macnamara, a training partner with President Dunky Wright during the war. Jimmy ran for several clubs including Maryhill H, Vale of Leven and Shettleston H. He became a pioneer 'veteran', even, aged 63, completing a 14 miles road race. He died in 1958 and had been a long-serving committee man, SMC Captain and Life Member.
1956: Harry Fenion (Bellahouston H) 18 points, George King 15, Tom Scott (Motherwell YMCA H) 10. (Tom Scott is honoured by the famous Tom Scott Memorial 10 Miles race, which used to be from Law to Motherwell but nowadays takes place in Strathclyde Park.)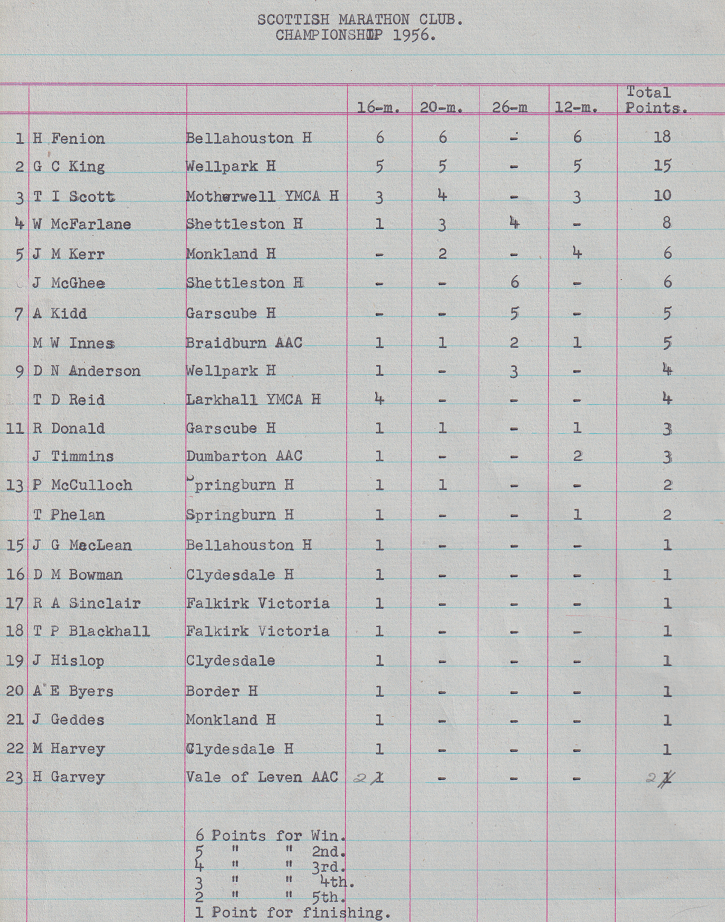 Year
Winner
Second
Third
1957
John M Kerr (Airdrie H) 14
Hugo Fox 13
Harry Fenion 12.
1958
Alex McDougall (Vale of Leven AAC) 22
Hugo Fox 13
Gordon Eadie (Cambuslang H) 10.
1959
Gordon Eadie 20
Jackie Foster (Edinburgh Southern H) 13
A.H. (Andy) Brown (Motherwell YMCA H) 12.
1960
Gordon Eadie 19
John Kerr 18
Donald Kennedy (Greenock Glenpark H) 9.
1961
John M Kerr 23
Bill McBrinn (Monkland H)
Ian Harris (Beith H).
1962
John M Kerr 20
Andy Brown 12
Gordon Eadie 10.
1963
Gordon Eadie 18
Ian Harris 14
Pat McAtier (Paisley H) 8.
1964
Davie Simpson (Motherwell YMCA H)
after 'a close tussle' with unnamed others.
1965
Davie Simpson 16
H.K. (Hughie) Mitchell (Shettleston H) 13
A. J. (Alastair) Wood (Aberdeen AAC) 12.
1966
Gordon Eadie
Charlie McAlinden (Babcock and Wilcox Club)
Jack McLean (Bellahouston H).
1967
Brian Goodwin (Bellahouston H) 20
Gordon Eadie 15
Alex Wight (Edinburgh University AC) 11.
1968
Jim Spence (Greenock Glenpark H) 14
Andy Brown 12
Don Turner (Pitreavie AC) 10.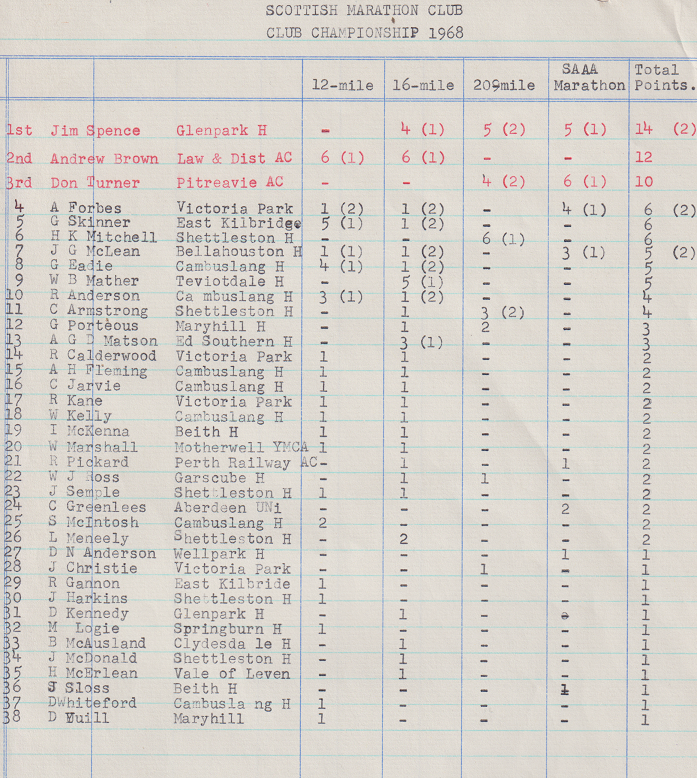 Year
Winner
Second
Third
Comments
1969
Bill Stoddart (Greenock Wellpark H)
-
-
No further details available.
1970
Bill Stoddart 17
Willie Day (Falkirk Victoria H) and Willie Russell (Shettleston H)
-
-
1971
Willie Day 17
Bill Stoddart
Willie Russell
–
1972
Davie Wyper (West of Scotland H) 14
Willie Day 12
Henry Morrison (Dundee Hawkhill H) 6
-.
1973
Willie Day 14
Ian Leggett (Clydesdale H) 8
Stuart Irvine (Garscube H) 7
–
1974
Gordon Eadie 19
Davie Wyper 14
Brian McAusland
Brian McAusland (Clydesdale H) was voted third after tying with his clubmate Ian Leggett on 7 points.
1975
Davie Wyper 15
Willie Day 12
Gordon Eadie 11
–
1976: Davie Wyper
David Black (Bellahouston H)
R. Johnston (Greenock Wellpark H)
-.
1977: Davie Wyper 15
Gordon Porteous (Maryhill H) 6
–
1978: Davie Wyper and Eric Fisher (Edinburgh AC) tied, and each had the trophy for six months.
Year
Winner
Second
third
1979
Gerry Gaffney (Greenock Wellpark H) 29
Ian Graves (Fife AC) 24
Jim Russell (Bellahouston) 15
(Please note that the 1979 Club Championship had new rules. To be considered, a runner had to a) race the Scottish Marathon Championship and b) complete four of the following fixtures: Balloch to Clydebank 12, Jimmy Scott (Clydebank to Helensburgh) 16, Edinburgh to North Berwick 22, Carluke 10, Strathallan 14, Dunblane 14 and a half, Springburn 12.) Fifteen SMC trojans completed five races!
The second minutes book ended in early 1981. By then, the SMC Club Championship was less keenly contested, as traditional road races waned and city mass marathons started, plus half marathons and 10k races. Yet, in 'serious amateur' distance road racing days (1945- 1979), SMC club champion contenders included several Scottish Marathon victors: McGhee (three wins), Fenion, Kerr, Fox (two), Eadie and Stoddart. Other SMC members who won the national marathon title included Donald McNab Robertson (two), Charlie Robertson (two), Harry Howard, Alastair Wood (six), Ian Harris, Jim Alder, Donald Macgregor (three), Colin Youngson (three), Jim Dingwall and Alastair Macfarlane.
The Scottish Marathon Club had so much influence on the early days of distance road racing in Scotland. Their Club Champions were tough to beat!
1960's SMC Standards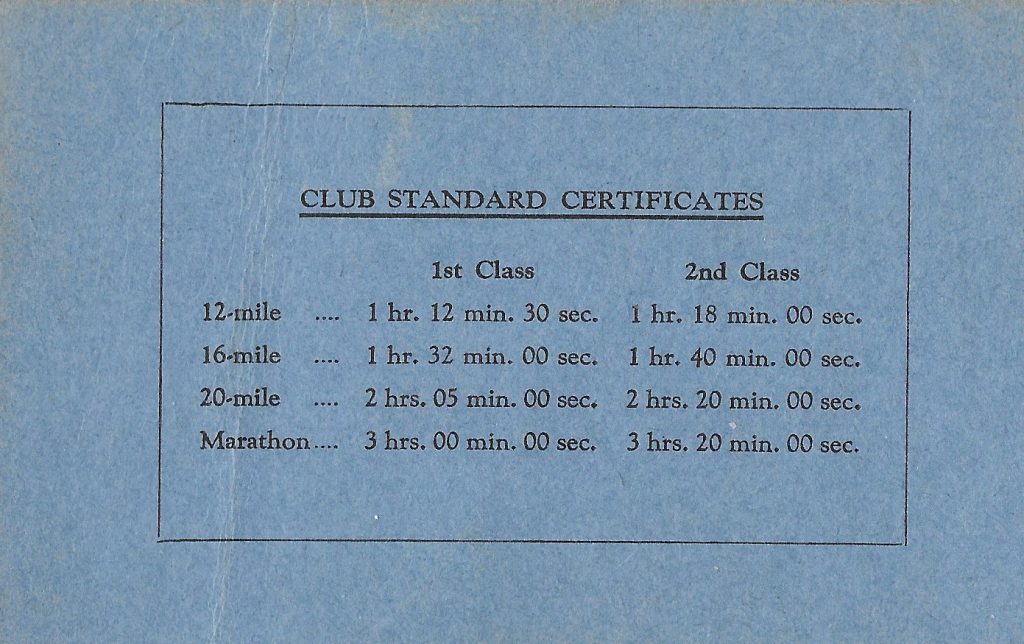 Club Standards Were Only Issued For Times Recorded in the Four Championship Races.