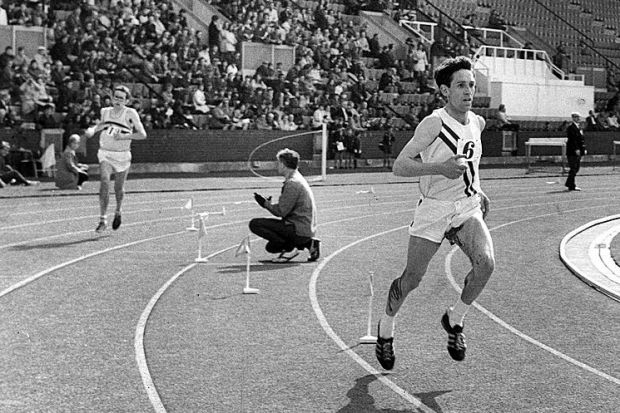 Jim Alder leading Don McGregor on the final lap in the 1970 Marathon Championship and Games Trial Race
I remember the Scottish Marathon Club in two distinct phases with a blank in between – the gap was probably due to the 70's being mainly taken up with (a) running 3000 miles plus every year; (b) family duties with two children arriving on the scene, and (c) working for money becoming fairly important in my life.   The Jimmy Scott phase was a key factor in my development as a runner and there was a social aspect to it as well.    The same guys came to most races, you knew pretty well everybody you saw running down the street and met friends from all over Scotland at the races.   The Marathon Club Presentation every year was attended by a Clydesdale group of David and Evelyn Bowman, John and Janice Wright, Ian and Cathie Leggett and Ian and Helen Donald as well as by many good friends from other clubs.
Suddenly the scene had changed and there were hundreds – at times thousands running in road races – by the end of the 70's instead of the dozens that I had grown up with.   The cost of race entries had gone up as well from a shilling (5 new pence) to upwards of £5 but you got a free medal or T shirt at the end of the race.   Not much of an inducement for an increase of £4:19:00 in entry fee.   The medal meant less than  nothing – if a couple of thousand people got one it signified little, if the same medal went to all finishers regardless of whether they ran 2:40, 3:40 or 4:40 it signified little (different medals for those inside particular times might have been an inducement to fork out and increased entry fee that was 100 times what we were used to paying.   The T shirts were almost always cheap and not long lasting with usually an execrable design on the front and if you were unlucky on the back as well.   The running boom had a lot of good points – look how the sandards of marathon running shot up with the increased number of runners and the increased number of marathon races in Scotland – but the introduction of hugely inflated prices in return for cheap merchandise were not among them!   Another grouse of mine was that where beforehand runners passing in the street would greet each other, that was not now the case.   You would pass a young man or woman jogging along, say hello and be completely blanked in return.    Having got that off my chest……………
The SMC was just as good and came under new management in the 1970's.    John Softley of the West of Scotland Harriers who had become a top class ultra distance runner,  became Secretary and Alistair McFarlane was elected Club Captain.    There was a fine mix of the old and the new which ensured that the flame of the SMC was kept alight, its traditions were respected and at the same time there was a freshening of new ideas to meet the needs of the new era in athletics.    One of these was the introduction of the SMC Magazine in the 80's with a wide range of contributors from all over the country edited by Alistair with his wife Hazel doing a lot of the typing.    I asked Alistair about his involvement in the club and his reply was as follows: "I joined the SMC in the mid 70's at the instigation of Bill Ramage and before I knew it I was on the Committee.   When I think about it I've always been involved in administration, I was on the committee at St Modan's as a youngster, then held all sorts of positions at Springburn.   I was athletics convener/organiser for BT in Scotland and was chairman of the Scottish Civil Service Athletics Association and now I'm involved with the vets.  
Anyway, when I joined the SMC, Jimmy Geddes was the President and members of the Committee included Gordon Porteous, George Pickering, Willie Drysdale, Bob Donald, Roddy Devon, Joe Bruce, David Bowman and Jack Mclean.   I became club captain a year or two later   and Doug Gunstone joined the Committee and became Treasurer.   Other Committee members through the 80's included Hugh Barrow, Alex Johnstone, Evan Cameron, Rod Stone, Campbell Joss and Adrian Stott.   At some point Gavin McKirdy became Secretary.    I started the magazine in 1982 and it was great fun.   I remember you doing many articles and you were in good company!   Donald McGregor, Jim Dingwall, Don Ritchie, Rod Stone  – and Rod Stone's wife Janice also wrote one on the trials of being a runner's wife.   Not too many people contributed articles voluntarily but I don't recall anyone refusing to do something for me.    I remember Donald McGregor always responded well to my requests for material but always requested a subject on which to write.    One of my favourites was the Profile section where I would ask people to complete a questionnaire on their training, achievements, disappointments, etc – not just the stars but the ordinary club runners also.   In 1978 we held a Buffet/Social Gathering at Huntershill after the Springburn 12 where Donald and Jim Dingwall gave interesting and amusing talks about their careers and Jim had just returned from the Commonwealth Games marathon.
When the running boom got under way Hugh Barrow, who was Leisure and Recreation Officer for Strathkelvin District Council, managed to get the Council involved  in supporting a mass participation event locally.   I remember us meeting locally with Jimmy Hotchkiss who was the Leisure and Recreation Convener on the Strathkelvin Council in the Gallery pub in Lenzie to lay plans for the event.   What was originally the Springburn 12 became the Luddon Half Marathon, one of the most popular races around at the time, attracting several thousand runners including some of the top distance running talent in Scotland."  
It was clearly doing well as a club and seemed to be filling a genuine need.   However there were a lot of marathons held in Scotland – maybe too many – but they were all well supported.   In 1983 there were fourteen marathons held in Scotland:   Aberdeen, Dundee, Edinburgh, Glasgow, SAAA Championships, Inverclyde, Lochaber, Black Isle, Caithness, Moray, Loch Rannoch, Scottish Veterans (in Glasgow), Galloway and Motherwell.   Four were north of the Great Glen, three were just to the south of the Caledonian Canal, six in the Central Belt and only one in the Borders (but then they had easy access to the North of England.   So what happened to the SMC?   If we go back to Alistair he says in reply to this question: "The SMC was formed 'to foster marathon running' and I suppose that it died because there was no longer such a  need for it given that in the 80's everyone was running marathons.   However now it's a different story and I suppose that you could argue that there is again a need for such an organisation."   Typical understatement from Alistair when he says 'I suppose you could argue that there is again a need for such an organisation.'   No Scotsman ran inside 2:30 for the distance inside Scotland last year, only one did so the year before!