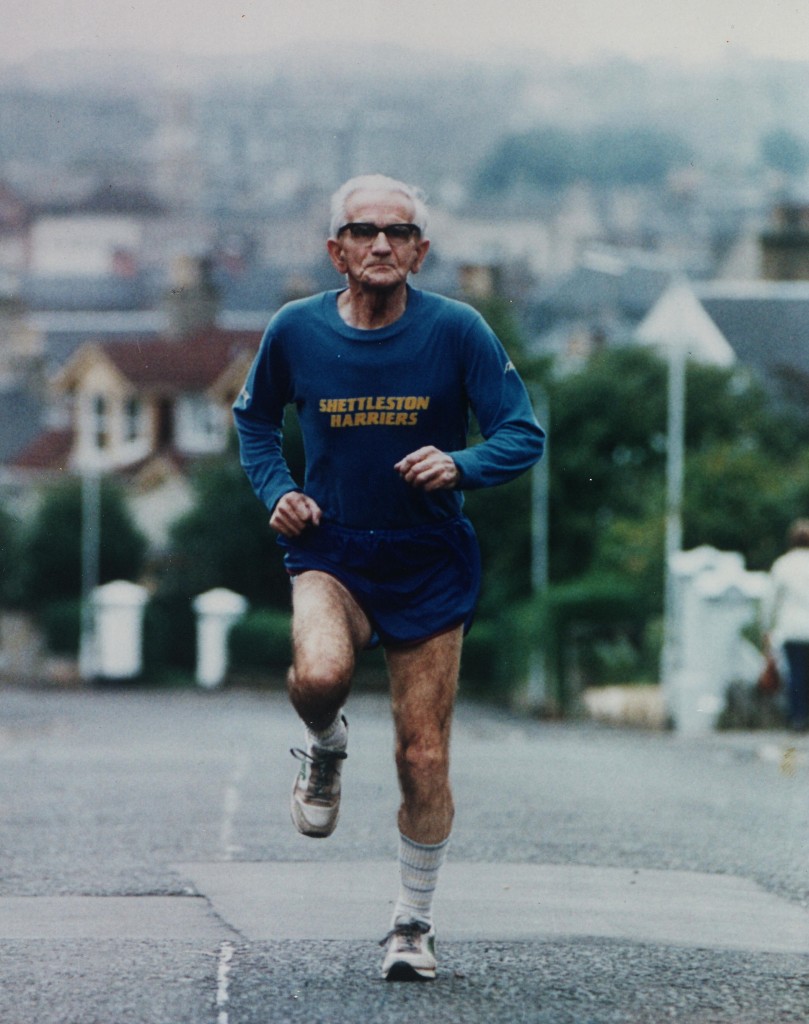 I first really met David Morrison when I was convener of the SAAA Decathlon Championship at Coatbridge in the mid-70's. When setting up the organising committee I was strongly advised to ask him to be the Field Events Referee. He had the advantage of living just along the road at Airdrie but that was not why he was recommended: he was a very good, experienced official with a personality that enabled him to get on well with the athletes as well as with the other officials. He filled the same post when I convened the next two decathlons at Grangemouth and then again in Coatbridge. We will comeback to his officiating but it is as a veteran runner that we will start the profile of this remarkable man.
David was born in Hamilton, his father a miner, on 19th December 1913 and left school at 14. He owned a newsagent's and later a hardware store in the Alexandra Parade in Glasgow. He held other jobs – a production engineer and locksmith who helped the police out when they had difficulty getting into safes. When David joined Shettleston Harriers in 1933 he thought he was a long jumper but soon discovered that he most enjoyed running. The Shettleston Harriers official centenary history – 'One Hundred Years of Shettleston Harriers: An East End Odyssey – says: 'In 1933 19 year old Davie Morrison lived in Shettleston Road and was a member of the Physical Culture Club in Fenella Street. Two of his pals at the club. Jimmy Allan and John Broadfoot, were in the Harriers and it was they who persuaded him to sign on at Gartocher Road.'
One of the Shettleston seniors at the time was Jimmy Flockhart who was the 1937 international cross-country champion and he proved a real inspiration to young David. His first National medal was won in the 1936 National Novice Championships over the Hamilton Racecourse trail. Unfortunately he lost the medal in the tram on the way home: he may have lost the medal, but he didn't lose the pride in the achievement of leading the team home in 14th place. A year later he made the club team for the National Championship which won silver. After this race, Jimmy Flockhart gave him one of his own gold medals saying that he had run poorly and that the David's team medal should have been for first place not second. That was his last national medal until he started running as a veteran athlete.
In 1955 he went to work in Kuwait as a radio engineer and became fluent in Arabic. While there he won the Al Madi Magwa road race when the temperature was over 100 degrees. He gave up competing for 19 years only coming back as a runner in 1974 at the age of 61. That was the start of a long international career that took him all over the world and won him many medals at championships from national to world level. Just how good was he as a veteran? I was given a booklet of World Masters Track & Field Records from 1990, produced in America, which gave the world record for every age in every event. Only two Scots appeared and David was there no fewer than six times. They are in the table below. (Note: The listed times for 3 and 6 miles are the actual times for 5000m and 10000m and should be noted as about 30 and 60 seconds faster respectively.)
| | | | |
| --- | --- | --- | --- |
| Event | Age | Time | Date |
| 3000m | 68 | 11:25 | 27/6/82 |
| 3 Miles | 75 | 20:36.0M | 9/9/89 |
| 5000m | 75 | 20:36.0 | 9/9/89 |
| 6 Miles | 75 | 42:03.4M | 9/9/89 |
| 10000m | 75 | 42:03.4 | 9/9/89 |
| | 73 | 42:52.4 | 29/11/87 |
His better known friends John Emmet Farrell, Andy Forbes and Gordon Porteous do not feature in this booklet. They were part of a very well known group of veterans who trained often together and raced together and travelled the world together. They called themselves 'the geriatric rat pack' and the tale is told of one of them falling in a track race – the others stopped and then they all started again in the positions they had when the stumble occurred! His best race was the one that appears four times in the table above. At Coatbridge on 9th September 1989 in a 10000m race he set the world over 75 best as well as setting a world best at 5000m en route. A wonderful run but Doug Gillon, writing in the 'Herald' said that although this was his finest moment, "he was perhaps proudest when called on two years ago last month to present his club with the Scottish six-stage relay trophy in their centenary year. He applauded with a justifiably moist eye as they won, then handed over the silverware wearing his Shettleston track suit and a ski hat from circa 1950, knitted in their distinctive blue and gold.."
The reference to Shettleston Harriers is significant. Having joined the club in 1933, he was still a club member when he died in 2006. He was one of a generation of men across the sport who believed in 'one man, one club'. Loyalty mattered a great deal to all of them and Shettleston was blessed with a fine group of such men – David, Eddie Taylor, Willie Laing and others all started out as runners but believing that you do what your club needs you to do, they all turned their hand to coaching field events, to administration and to officiating. At the events mentioned above, David educated me in the ways of the decathlon. Two examples. First, I had been warned not to let the first day run on too long – the previous year it had gone on until after 7:00 pm and everyone was exhausted before the second day. So I pushed the athletes along from one event to the next until David came along and said quietly, away from everybody else, that 'we' were maybe rushing things and that the athletes needed some time between the individual competitions. I had forgotten about the needs of the athletes! Second, There were two pools for the high jump and for the pole vault. David took one look and said firmly that one landing area for the pole vault was unsatisfactory: there was no cover mat on the beds and any limb going between them could be really badly injured. The stewards setting the equipment out should have known that but I should have known to look. He had been the chief field event judge at the excellent 1970 Commonwealth Games and would go on to hold the same position at the 1986 Commonwealth Games. He judged and refereed at national and district championships, and even on the Highland Games circuit. Having started as a long jumper and having coached all the throws – hammer, discus and shot in particular- he was in an excellent position to officiate. As an administrator and club official he was Honorary President of the Scottish Veteran Harriers Club from 1993 – 2006 having held various other posts including secretary, at Shettleston he was Treasurer from 1970 – 73, and from 1978 – 81. He was also President from 1949 – 51 and Honorary President in 2006. His sterling service to the sport was recognised by Scottish Athletics who made him an Honorary Life Member.
Among his other excellent races two in particular should be noted. In the Dundee Marathon at the age of 71 in 1985 he recorded a marvelous time of 3:21 but expressed himself mildly disappointed because the world record was held by his pal Gordon Porteous with 3:06! Then in 1991 in the Kelvin Hall, he broke the World Indoor 3000m record (you can add that to the six in the table above, compiled in 1990!) The report in the 'Scotsman' read, "No one present that March day in Glasgow will forget the slight figure in glasses comfortably reeling off 15 laps of the 200 metre track, nor the frantic support yelled by everyone as the possibility of a new world record grew into a probability then an actuality." Some more of David's highlights:
Scottish Championships
1938 Second Team, National Cross Country
1981 1st M60 Cross-Country
1987 1st M70 Cross-Country
1989 1st M75 Cross-Country
British Championships
1985 1st M70 10K 41:04 (Record)
1989 1st M85 800m track
World Championships
1980 Glasgow 1st M65 10K road
1985 Lytham St Anne's 1st M70 10K road, 2nd 25K road
1986 Vancouver 2nd M70 10K road
1987 Melbourne 2nd M70, 1500 (5:36.10), 10000 track (42:52.38), 3rd 800 track (2:47.31)
His Personal Best performances were
| | | |
| --- | --- | --- |
| Event | Time | Year |
| 400m | 115.13 | 1999 |
| 400m | 85.0 | 1989 |
| 800m | 2:47.31 | 1987 |
| 1500m | 5:36.10 | 1987 |
| 5000m | 20:36.0 | 1989 |
| 10000m | 41:07 | 1985 |
| TJ | 5.98m | 1989 |
As an indicator of how his performances compare competitively, the Power of 10 Rankings for David on the All-Time List are as follows:
400m: V85 2nd, V75 25th;
800m: V85 2nd, V75 2nd, V80i 9th; V80 18th;
1500m V85 2nd, V75 4th, V70 13th;
5000m: V75 4th
10000m: V70 5th, V75 3rd
TJ:

15th
Note that these are all time rankings as listed at 25/7/13.
In 2003 he completed the Great Scottish Run 10K despite having had a kidney and part of his liver removed. In Shettleston's Centenary Year of 2004 he completed his final race, the club Christmas Handicap. As he made his way round the course, he was accompanied by Norrie Foster and Eddie Coyle, two athletes that he had coached in the 1980's. He died on 16th May 2006 aged 92
Doug Gillon again, "his children, including St Andrews' computing professor Ron Morrison, gave him a personal computer for his 70th birthday. He defied family predictions, took night classes and mastered the new technology. He was secretary of the Scottish Veteran Harriers and put all their files and records on his database. … Professor Morrison and his sister Jean discussed how their father would like to go. "So we've dressed him in his Shettleston vest and Scotland tracksuit. There might be a race where he's going…" He is survived by daughter Jean and sons Ron and David."
David with Aileen Lusk receiving the award for first veterans in the Luddon Strathkelvin Half Marathon in 1985