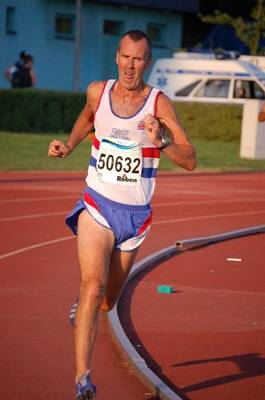 These are some races/years that stand out as important to me in the 2,400 plus races I have competed in over the years, not always major competitions, but events that tickle my own motivations.
1968:   Scottish Schools 440 yards, second to David Jenkins.    Scottish Youths 440 yards, second, caught on the line in the same time as Norman Gregor
1979:   First of my four wins in the Northumberland Coastal Run gaining me local .notoriety'.   The race was declared the most scenic in the UK two years ago and I was event organiser for over 20 years.
1983:   First Edinburgh to Glasgow team medal (bronze).
1984:   Bronze medal in the North of England 3000m steeplechase.   Ran my personal best of 9:02.95 for the 3000m steeplechase guesting in the England v Sain v Sweden International at Gateshead.
            Scottish Six Stage Road Relay, Edinburgh AC first team, first club major team medal.
1987:   Won the North East Counties track 10,000m championship in 30:42.5, running the second 5000m in 15:03.
1993:    First British Masters medal, runner-up in the M40 3000m at Cosford (8:45.2).   Third in the Scottish Masters cross-country championships, runner-up 6 times, 3rd place 4 times.
1997:   Scottish Masters Indoor 3000m record 8:49.9.   British Masters Indoor 3000m, first, 8:49.2.   European Masters Indoor 3000m, third, 8:49.01
           British Masters Track 5000m/10,000m first/first
           British Masters Cross-Country International, Scotland v England v Wales v N Ireland v Eire, third M45 in Ballymena.
           Team gold with Morpeth arriers in the North Eastern Championships, first win in 15 years, I was also in the 1982 team.
1998:   am Scottish Vets Indoor 3000m  first     pm   Scottish Vets CrossCountry second.
            British Masters Cross-Country, Croydon, third
            June, first selected to represent British Masters in the annual Interland Athletics match, GB v France v Belgium v Holland.   Selected three times
1999:   British Masters Road Relay Championships, Sutton Coldfield, first Ron Hill Cambuslang.
2002:   British Masters Road Relay Championships, Sutton Coldfield, overall fastest M50 leg (probably best road performance), Ron Hill Cambuslang third
            European Masters Track 10000m, Potsdam, silver medal.
2003:   Northern Senior 12 Man Road Relay Championships, first team Morpeth Harriers, (Leg eight), team gold at age 51 after so many attempts in the race.
2005:   Ran 16:40.51 in the World Masters in San Sebastian, reckon this was the last decent time I have achieved, although age graded might indicate otherwise.   Silver team medal with Morpeth in the North East Counties (Northumberland, Durham, Cleveland) individual/team medals in four decades – 1970s, 80s, 90s, 00s.
2007:   Second team gold for Scotland in the Masters Cross-Country International in Belfast.
***
A.   All Time Personal Bests
400m:          52.5 seconds
800m:          1:55.5
1500m:         3:51.35
3000m:         8:17.6
5000m:         14:29.3
10,000:        30:42.5
Marathon:   2:29:28 (London, 1982) Decided I am not a marathon runner).
3000m Steeplechase:   9:02.95
B.   Masters Personal Bests
1500m:          4:13.72
3000m:          8:45.2
5000m:          15:21
10000m         32:26.41
C.   Scottish Medals     94
Gold:          43
Silver:         38
Bronze:       13
D.   British Medals     48
Gold:          11
Silver:         22
Bronze:       13
E.   World Masters Medals     3
Gold           1
Bronze        2
F.   European Masters Medals     9
Silver          4
Bronze        5
Masters International Appearances
Competed for Scotland 18 times
Two Individual bronze medals
Two team golds, ten placed team medals
Plus numerous Scottish West and East District and North East England medals
Scottish Masters Records
M40 Indoor 3000m   8:49.9
M45 Indoor 3000m   8:58.34
M50 Outdoor 5000m 16:19.02
Archie still has 2 years to go as an M55, ran in 30 countries, hopingto add another 4 by the end of the summer, not chasing Ron Hill!   Do not intend packing in but for the dreaded injuries.
January 2010.