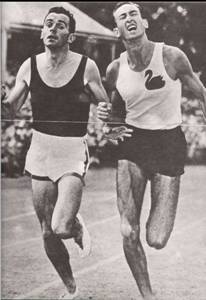 This is a fairly comprehensive list of books sent on to me by Hugh Barrow for comment.  While the list seems a long one, there are certain obvious omissions that I won't add or tackle.   Regard it as complementary to Colin Youngson's page on the same topic.   Hugh has divided the list into three groups – biographies, coaching books and a wee section on fiction.   Coming into the sport in 1956 as I did, there were two books available – Franz Stampfil on "Running" which I bought for 2/6d (17.5p) and Roger Bannister's book "The Four Minute Mile" for the same price.   Both were paperback and both were published by Four Square books.   Bannister's was educational but mainly inspirational while Stampfl (Bannister's coach) had written a text book on distance running based almost entirely on Interval Training.   At one point in the 1980's when one athlete complained that training was boring, I sat him down with Stampfl's book and we went through the training for a Miler.   Twice a week in October it was 10 x 400 in a set pace; in November it was 10 x 400 twice a week at the two seconds faster pace; in December the same year it was 10 x 400 two seconds faster each; ditto in January, February and March.   Boring maybe but it worked for Bannister, Brasher, Chataway and many others and then when Stampfl emigrated to Australia, it produced Merv Lincoln (Elliott's great Australian rival) and Ralph Doubell, Olympic 800m champion.   Not long after that Herb Elliott was the Man and Percy Cerutty the Coach, who also worked with Allan Lawrence, Albert Thomas and many other champions.   The Unbeaten Elliott set world records and won the Olympic 1500 metres but when it came his biography (The Golden Mile) was a disappointment to me – the same could not be said of Cerutty's extensive writings on the subject of clean living, exercise and the making of champions.   Two wee Cerutty stories: first, he spoke of using the track to learn the pace and then going away to parks and golf courses to practice running at that pace until you felt you could carry it in a race and the story is told of him training Elliott in a park with the runner going easily until the coach yelled 'Ding-a-ling-a-ling' or some such at which point Elliott had to sprint for 60 seconds flat out;   second, he also reputedly often used to call out 'Another 100, another 100' when the athletes were nearing the end of one of their 400m reps so that always knew that no matter how tired they THOUGHT they were, they could always go further.   Elliott is still the hero of many milers of the time and beyond.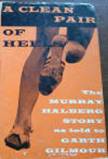 He was followed by New Zealand's Peter Snell who was coached by Arthur Lydiard (athletes like Jeff Julian, Bill Baillie, Murray Halberg, Barry Magee).   Snell set a world half mile record on a grass track in the mid sixties and set more records and was also an Olympic champion.  His biography was "No Bugles, No Drums" and was better than Elliotts in my opinion.   Lydiard started the whole jogging movement – started in Australia it was taken up by Bill Bowerman in the USA and then it spread around the world.    Lydiard went on to produce world record breakers in Mexico and Finland as well as NZ.     Lydiard's first book was "Run To The Top" and became the Bible for runners all round the world – 100 miles per week, long hill reps, planning the year down to the last hour of the last week of the year, he was regarded as infallible.   One of his runners met him one afternoon just as he was finishing his run and Lydiard was in his car: "The 100 mpw is working well, should I increase it?" asked the runner; Lydiard joked that he should increase it to 200 mpw – and the runner dutifully did.   But no good came of it.   The moral is do not joke with runners if you are a coach!    In addition to Snell, Halberg wrote an excellent book called "A Clean Pair of Heels" and there were others such as 'Arthur's Boys', which my wife bought for me when she was in NZ on holiday before it was available here.     Lydiard's own books are sprinkled all the way through the list.   And the writer Garth Gilmour did most of the writing for the books – his name appears beside Lydiard, Snell and Halberg.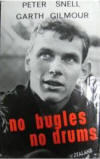 I may make some more comments but have a look at the list – every book on it is still available.   You might even buy one – libraries often sell old books and they are a good source of material like this; internet book sites are also very good for all sorts of things.   I have a friend who has a series of pictures in frames with glass all the way up his stairs – he bought the photographs, several signed, on the net and then he got autographs also from the net and had them framed at the foot of the pic.   A very interesting display of his heroes signed photographs or magazine covers.    Another wee idea for you – or for a Christmas present for your loved one.   What could be nicer that a signed cover of AW in an attractive frame?
However, what came after Stampfl, Cerutty and Lydiard?   World middle distance focus moved to the United States and Bill Bowerman's Oregon squad – Dyrol Burleson, Jim Grelle, et al.   Bowerman is maybe best known these days for the Nike Shoe and Clothing Company that he founded but he really was one of the world's best coaches at the time and his men were among the best in the world but there was another squad from across the Atlantic and at the far east of the European continent coached by the Czechoslovakian Mihaly Igloi who was known for the huge volumes of mixed track work outs that his charges (Sandor Iharos, Stanislav Jungwirth,  Laszlo Tabori, and many others) were put through.   Igloi moved to the States latterly and among the top men he coached were Jim Beatty, a first class miler, and Bob Schul, OIlympic 5000m champion..   But while Bowerman and his athletes produced several books on what they did and how they did it, there was no such information coming in print form from the Igloi camp.   There were of course magazine articles and interviews galore but to the best of my knowledge there were no text books or biographies written.
BIOGRAPHIES
Herb Elliot – The Golden Mile 
Kiwis Can Fly 
The Legend of Lovelock
Lovelock: New Zealand's Olympic Gold Miler
A Clean Pair Of Heels (Murray Halberg)
No Bugles No Drums (Peter Snell)
Arthur's Boys
Golds Aren't Easy (Dick Taylor)
Zatopek! Zatopek! Zatopek!
Deek
Steve Moneghetti: In the Long Run 
Why Die? (Percy Cerutty)
Sebastian Coe: A Life In Athletics 
Sebastian Coe: Coming Back 
Sebastian Coe: Running Free 
Duel In The Sun (Beardsley & Salazar)
Ron Clarke
The Unforgiving Minute (Ron Clarke)
The Lonely Breed
Arthur Lydiard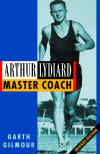 The Jim Ryun Story Gil Dods:
The Flying Parson Lon (Lon Myers)
The Self Made Olympian (Ron Daws)
In The Long Run (Bob Schul)
Jim Ryun: Master Of The Mile
Olympic Gold (Frank Shorter)
On The Run (Marty Liquori)
Jumbo Elliot: Maker Of Milers Maker Of Men
Marathoning (Bill Rodgers) Corbitt (Ted Corbitt) Pre
The Perfect Distance: Coe & Ovett
In The Long Run (Jim Peters)
Running To The Top (Derek Clayton)
Best Efforts (Kenny Moore)
A Cold Clear Day (Buddy Edelen)
Steve Cram: The Making Of An Athlete
Flying Feet (Brian Hewson)
The Four Minute Mile (Bannister)
The Perfect Mile
Running With The Legends Fast Tracks
: The History of Distance Running
John Walker: Champion
Run With The Champions
Ovett Steve Ovett: The Portrait Of An Athlete
The African Running Revolution
The Flying Scotsman (Eric Liddell)
Guiness Book Of The Marathon
Running To Stand Still (Sonia O'Sullivan)
Brendan Foster  Brendan Foster's Olympic Heroes
The Long Hard Road: To The Peak And Beyond (Ron Hill)
Guiness Book of Olympic Records
The Quotable Runner
Track's Greatest Champions World Record Breakers In Track & Field Atheltics
The Fastest Men On Earth
Running: The Power & Glory
1976 Olympic Images
Talking Track: The Best Of Track & Field News Interviews
Who's Who In Brittish Athletics
Zola (Zola Budd)
3:59.4: The Quest For The Four Minute Mile
Olympic Track & Field (statistics)
Athletes At The Games
How They Train: Long Distances
Bowerman And The Men Of Oregon
  How Long's The Course (Roger Black)
 Haile Gebreselassie : The Greatest
Jesse Owens: An American Life
Paula: My Story So Far
In Quest Of Gold (Jim Ryun, 2 copies, one signed by Ryun)
Michael Johnson: Slaying The Dragon
Bannister & Beyond: The Mystique Of The Four Minute Mile
Staying The Course: A Runner's Toughest Race (Dick Beardsley)
Sub 4:00: Alan Webb And The Quest For The Fastest Mile
Running With The Buffaloes (by Chris Lear & Adam Goucher)
Great Moments In Athletics Lap Of Honour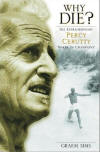 Percy Cerutty
On the coaching front, the best books available for most of my running and coaching career were the AAA's Instruction Manuals.   In the mid 50's the book had a picture of Herb Elliott on the front with a nice pink strip at the top and dealt with Middle Distance Running and was by the Welshman Jim Alford.   It was interesting, spoke about shaping the year and gave some specimen schedules as well.    The replacement manual was by Bruce Tulloh and Martin Hyman in the 60's who came up with the question, "How little do you need to do to be world class?"   What a hook to get readers into your book!   It was a good book but the one that made a real impression was by the Scotsman Norman Brook: an excellent lecturer and part of the national coaching set up he seemed to subscribe to the complex training methods of the Eastern Europeans.   Intensely practical and a real 'user's guide'.  But possibly the one that that every new coach should have had on his bedside table is Frank Dick's  "But Firest …" which is a primer for those starting out on the coaching road.   In A4 format, well illustrated with line drawings it is an excellent book for its purpose.   It is unfortunately, like lots of good books, out of print now but it's worth every club having one.   Frank Horwill, was concerned with the state of British Middle Distance running in the late 50's and early 60's and was a founder member of the British Milers Club which had the express aim of raising the standard of British miling.   He himself came up with the five pace system of training and advocated it tirelessly in print and in person.   He made sense of what some of us were struggling with at the time: how do the different paces relate to one another?   Alford was all very well with the advice to run faster than race pace and further than race distance, etc, but how much faster and ho much farther?   Frank with his definite definitions of what constituted 800m pace, what constituted 1500m pace etc, and what recoveries were appropriate really helped the debate along.    Peter Coe adapted a lot of Frank's ideas and altered the terminology of the five pace training to the five-tier system.   It worked well with Seb and he too produced several books with David Martin and Seb himself.   A third top British coach was Harry Wilson who worked with Steve Ovett, Lesley Kiernan, Tony Simmons and others started from the point of view – what are the demands of the event and what does this particular athlete bring to it?   His book is one that found favour with many, many athletes and coaches in this country.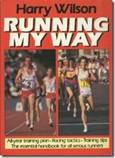 The Americans were never backward in coming forward into print with their ideas and the list below notes Bill Dellinger (Tokyo Olympics 5000m bronze medallist), Bill Bowerman, Bjorkman and Fred Wilt.    His was a very good and under-rated book.   Probably because the reader had to do some work himself: Wilt surveyed various methods of training and put them side by side.   He also divided the year up in different ways for the reader to use as was appropriate.   He was not peddling his own wares, he was selling the sport.   That was 'Run, run, run' but he also had a collection of training programmes of different, mostly American, runners in 'How They Train'.
COACHING BOOKS
Run To the Top 
Jogging: Bill Bowerman 
Running to the Top
Running To The Limit: Paul Tergat
Winning Running: Peter Coe
Endurance Running: Norman Brook
Run To Win: The Training Secrets Of The Kenyan Runners
Middle Distance Running: Cliff Temple
Running The Lydiard Way
Train Hard Win Easy: The Kenyan Way
The Competitive Runner's Training Book: Bill Dellinger
Road Racers And Their Training
Run Run Run: Fred Wilt (very old)
Cross Country Running (very old)
Tackle Athletics: Denis Watts
The Best In Track & Field From Scholastic Coach
Endurance Running Events: Norman Brook
Distance Training For Young Athletes: Lydiard
Marathoning: Manfred Steffny
The Complete Middle Distance Runner: Denis Watts, Harry Wilson, Frank Horwill 
Better Training For Distance Runners: Peter Coe, David Martin
Training Distance Runners: Peter Coe, David Martin
Long Distances: Jess Jarver
High Powered Plyometrics: Jim Radcliffe
Run With The Best: Irv Ray
Advanced Marathoning: Pete Pfitzinger
Road Racing For Serious Runners: Pete Pfitzinger
Galloway's Book On Running
The Complete Book Of Running: James Fixx
Long Distance Runner's Guide To Training & Racing: Gary Bjorklund
Champions In The Making: Payton Jordan
The Competitive Edge
Winning Running: Bill Dellinger
Marathon Running: Richard Nerurkar
Success In Sport & Life: Percy Cerutty
Be Fit Or Be Damned! Percy Cerutty
DeCastella On Running
Running For Fitness: Sebastian & Peter Coe
Training Lactate Pulse Rate: Peter Jansen
Running With Lydiard: Lydiard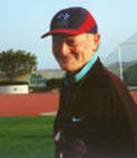 Frank Horwill
FICTION
For reasons that I can't fathom, the two Tom McNab books – 'Flanagan's Run' about the foot race across America and 'The Fast Men' about the sprinters in the Old West (gives a new meaning to the fastest man in town!)  have been left off the list.
Pain
The Olympian
Once A Runner
Runners And Other Dreamers
SupernovaSprint From The Bell
Hugh followed up the above list with one which is only of Scottish publications although of a much wider interest.   We can start with the stories of some of our best known and longer lived clubs, including Clydesdale Harriers, Scotland's premier athletic club.   A surprising omission is that of Victoria Park AAC: one would have thought that someone would have written an account of the origins and development of such a club.    How about it VP?
Club histories
Bellahouston Harriers (1992)
Clydesdale Harriers, a centenary history 1885-1985 (1988). Brian McAusland, c80 pages.
Edinburgh Southern Harriers (1947, 1972, 1987, 1997)
The Story of Edinburgh University Athletic Club (1966). CM Usher, 439 pages.
Garscube Harriers (1998)
Glasgow University Athletic Club: the story of the first hundred years (1981). RO MacKenna, 128 pages.
Glenpark Harriers (1998)
An East End Odyssey: One Hundred Years of Shettleston Harriers (2004). John Cairney, 460 pages.
First Hundred: Teviotdale Harriers Centenary, 1889-1989 (1988). John L Coltman, 200 pages.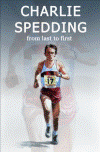 In keeping with the theme of the website, we go on to the books by individuals who have graced the National scene: it goes wider than just endurance running and even includes the noted strong man Donald Dinnie.
Biographies and autobiographies
Scottish Athletic Celebrities Album (1886). Scottish Athletic Journal.
Marathon and Chips [Jim Alder] (1981). Arthur T McKenzie, 136 pages.
The Celebrated Captain Barclay (2001). Peter Radford, 342 pages.
Running Recollections and How to Train (1900). AR Downer, 150 pages.
Donald Dinnie, the First Sporting Superstar (1999). David Webster and Gordon Dinnie, 158 pages.
The Universe is Mine (1993). John Emmet Farrell, 92 pages.
Eric Liddell: the making of an athlete and the training of a missionary (c1945). DP Thomson, 40 pages.
Scotland's Greatest Athlete: the Eric Liddell Story (1970 pb; 1971 hb). DP Thomson, 240 pages.
The Flying Scotsman [Eric Liddell] (1981). Sally Magnusson, 191 pages.
Eric Liddell: Pure Gold (2001). David McCasland, 333 pages.
Running My Life (2010). Donald Macgregor, 378 pages
Queen of the Track, the Liz McColgan Story (1992). Adrianne Blue, 192 pages.
The Unique Double (1983). George McNeill, 96 pages.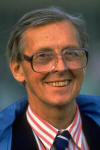 Peter Coe