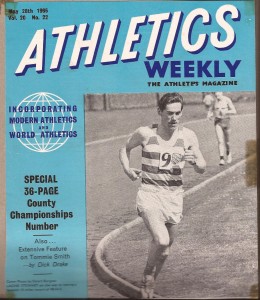 There was no SAAA Track Ten Miles Championship during 1949 to 1964, before it was revived between 1965 and 1975.  Several other notable performances did take place before and during this brief revival. J. Suttie Smith (Dundee Thistle Harriers) had run a Championship Best Time (51 minutes 37.8 seconds) back in 1929. This Scottish Native Record was broken in 1953 by Ian Binnie (Victoria Park AC). During his famous run in Dunoon, he recorded 50.11.0 en route to setting a new record distance for one hour (11 miles 1575 yards). Then at Paisley in 1962 Andy Brown (Motherwell YMCA) dipped under 50 minutes to set a new Native record of 49.58.8.
John Keddie notes in his "Scottish Athletics" Centenary publication that Alastair Wood (of Shettleston Harriers and later on Aberdeen AAC) produced a fine performance in the AAA Ten Miles Championship of 1960. He finished second (49 minutes 24.6 seconds – a Scottish National Record) behind Basil Heatley (Coventry Godiva Harriers), who won in 48.18.4). Heatley, of course, went on set a 1964 World Record Marathon time of 2.13.55; and subsequently to secure a silver medal, behind the legendary Abebe Bikila, in the 1964 Tokyo Olympic Marathon. Alastair Wood was ranked first in the world in 1966 with his European Best Marathon time of 2.13.45.
Fergus Murray (Edinburgh University) also finished second in the AAA Ten Miles – on two occasions. In 1964 he ran 48.41.0 (a Scottish National Record) behind Mel Batty's World Record of 47.26.8. Then in 1967 Fergus was second again in the superb time of 47.45.2 (another Scottish National Record) only 6.6 seconds behind the illustrious Ron Hill.
The Scottish National Record was improved again in 1968 by Jim Alder, who ran an excellent 47.29.0 on his way to a new one hour mark of 12 miles 972 yards. Ron Hill recorded a new World Best of 46.44.0, with Ron Grove being timed at 47.02. As of 2014, Jim Alder's Ten Miles Track and One Hour Scottish National Records have never been beaten.
However the main focus of this section is an account of performances in the Scottish Ten Miles Track Championships.
1965: (1st May, Seedhill, Paisley) 1 Donald Macgregor (Edinburgh Southern Harriers) 50.23 (Championship Best); 2 Alastair Wood (Aberdeen AAC) 50.29.0; 3 Bill Murray (Greenock Glenpark Harriers) 53.53.0; 4 N. Weir (ESH) 55.14; 5 Peter Duffy (AAAC) 55.24; 6 Brian Goodwin (Bellahouston H) 56.46.   Athletics Weekly noted: "There were only twelve starters for this revived Championship, which was disappointing, although several athletes did not compete because of a clash of fixtures. The weather was rather cold with a crosswind blowing onto the track."
In "Running My Life", Donald Macgregor wrote: "After two miles the race turned into a duel with Alastair Wood, whom I eventually dropped with a 61 second last lap to win by six seconds. My time of 50.23 was not brilliant but at least I was an SAAA champion…..My victory gave me new heart and I carried on putting in the miles with Ken Ballantyne and Bill Allison as before. As we got nearer to June 12th, the date of the SAAA marathon over an undulating course from Westerlands (Glasgow University's ground) to Dumbarton and back again, I got rather nervous." [In that race, although Donald made a fine marathon debut (second in 2.22.24), the experienced Wood gained his revenge, finishing in a Championship Best 2.20.46. However Donald Macgregor was destined to complete the 1972 Munich Olympic Marathon in an outstanding seventh place.]
1966: (7th May, Seedhill, Paisley) 1 Lachie Stewart (Vale of Leven AAC) 48.44.4 (Scottish Native Record and Championship Best); 2   Peter Duffy (AAAC) 53.45.6; 3   Willie Drysdale (Monkland Harriers) 54.06.6; 4 J. Sloss (Beith) 54.44.2;
Willie Diverty reported in Athletics Weekly: "With last year's winner Don Macgregor and Andy Brown non-starters, there was no opposition for Lachie Stewart in this event. He took the lead after half a mile and simply raced away from the field, breaking Andy Brown's Scottish National Record by 14 seconds. His intermediate times were: 4.46.0, 9.35.0, 14.24.2, 19.16.2, 24.12.0, 29.07.2, 34.01.6, 38.55.6, 43.56.8, 48.44.4."
1967: (6th May, Seedhill, Paisley) 1  Lachie Stewart (Vale of Leven AAC) 48.52.0; 2  Donald Macgregor (ESH) 49.41.0; 3   Bill Murray (Greenock Glenpark H) 50.39.0; 4 Brian Goodwin (Bellahouston H) 51.42; 5 Willie Drysdale (Monkland H) 51.50; 6 Ian Donald (Clydesdale H) 52.04; 7 Les Meneely (Shettleston H) 52.21; 8 Donald Ritchie (Aberdeen AAC) 53.26; 9 G. Skinner (East Kilbride) 53.43; 10 Peter Duffy (Motherwell YMCA) 53.45.   Willie Diverty reported in AW: "In appalling conditions, with rain falling throughout the race, leaving the track waterlogged at the end, Lachlan Stewart retained his Scottish 10 Mile title. He very quickly had the result tied up, with Don Macgregor finishing second in a personal best."
 1968: (4th May, Seedhill, Paisley) 1   Lachie Stewart (Shettleston H) 50.50.0; 2   Joe Clare (AAAC) 51.15.6; 3   Donald Ritchie (AAAC) 52.19.4; 4 Willie Drysdale (Monkland H) 53.27.0; 5   Innis Mitchell (Strathclyde University) 53.38.0; 6 Pete Duffy (Motherwell) 54.13.0.
AW noted: "The Scottish 10 Miles Track Championship was run in a steady downpour, Lachie Stewart soon going into the lead and remorselessly lapping all but one of his opponents." Joe Clare was in the Royal Navy, trained when he could with Alastair Wood in Aberdeen, and in July 1968 won the Inverness to Forres marathon in the excellent time of 2.18.43. In 1973, he was paired with Innis Mitchell (an Aberdonian who had been the 1966 Scottish Schoolboys' Cross-Country Champion) as part of AAAC's record-breaking team in the John o' Groats to Land's End ten-man relay. Eventually, Joe returned south and ran for Blackheath Harriers, for many years, even after becoming a veteran athlete.
1969: (3rd May, Scotstoun) 1   Jim Brennan (Maryhill H) 50.41.2; 2   Bill Stoddart (Greenock Wellpark H) 50.55.0; 3   Bert Mackay (Motherwell YMCA) 51.23.0; 4   Colin Youngson (Aberdeen University) 52.22.0; 5   Willie Day (Falkirk Victoria H) 52.27.0; 6   Donald Ritchie (AAAC) 52.28.0; 7   Willie Drysdale (Monkland H) 53.09.0; 8 Peter Duffy (Motherwell YMCA) 53.31.0.
"Scottish Athletics 1970", the annual SATS handbook, was rather sniffy about this event, describing it as 'anachronistic' and calling for it to be replaced by 20,000 metres, 25,000 metres or a one hour race. Similar comments by the writer (Colin Shields), who apparently had a bee in his bonnet, appeared for several years thereafter. He seemed oblivious of the fact that many competitors achieved thoroughly respectable times and became international athletes.
In The Glasgow Herald, Ron Marshall commented on the "biting nor'easter" that "cruelly affected…the 10-milers, who had to tour 40 chilling laps for the title of Scottish champion." Another report read: "Jim Brennan, 22-year-old painter and part-time youth leader, gained his first major athletic success when he won the Scottish A.A. ten-mile championship at Scotstoun, Glasgow yesterday. He was 80 yards in front of Bill Stoddart, with Bert Mackay, that evergreen Motherwell athlete, third. Brennan, red-haired, wiry and looking like another Billy Bremner, showed the same rugged determination as Scotland's soccer captain. He took the lead after four and a half miles, quickly went 100 yards up and stayed there until the finish. His time, in the bitterly cold conditions, was some way off Lachie Stewart's record of 48.44.4. Brennan snatched this opportunity superbly and the victory will probably give him the boost he needs in his attempt to win a 1970 Commonwealth Games place in 10,000m or the marathon. Ankle trouble handicapped him after the promise he showed as a junior cross-country runner-up – he was tenth in a massive international in Morocco three years ago – but he is now fully fit."
21 year-old Colin Youngson, a novice in this event, set off at the back of the field but on schedule to beat the Scottish National Standard time of 55 minutes. When Bill Stoddart lapped him, he latched on and moved up to a respectable fourth place. After the presentations, silver medallist Stoddart saw Youngson displaying his new red standard tracksuit badge and complained, jokingly, "Why didn't I get one of those too?"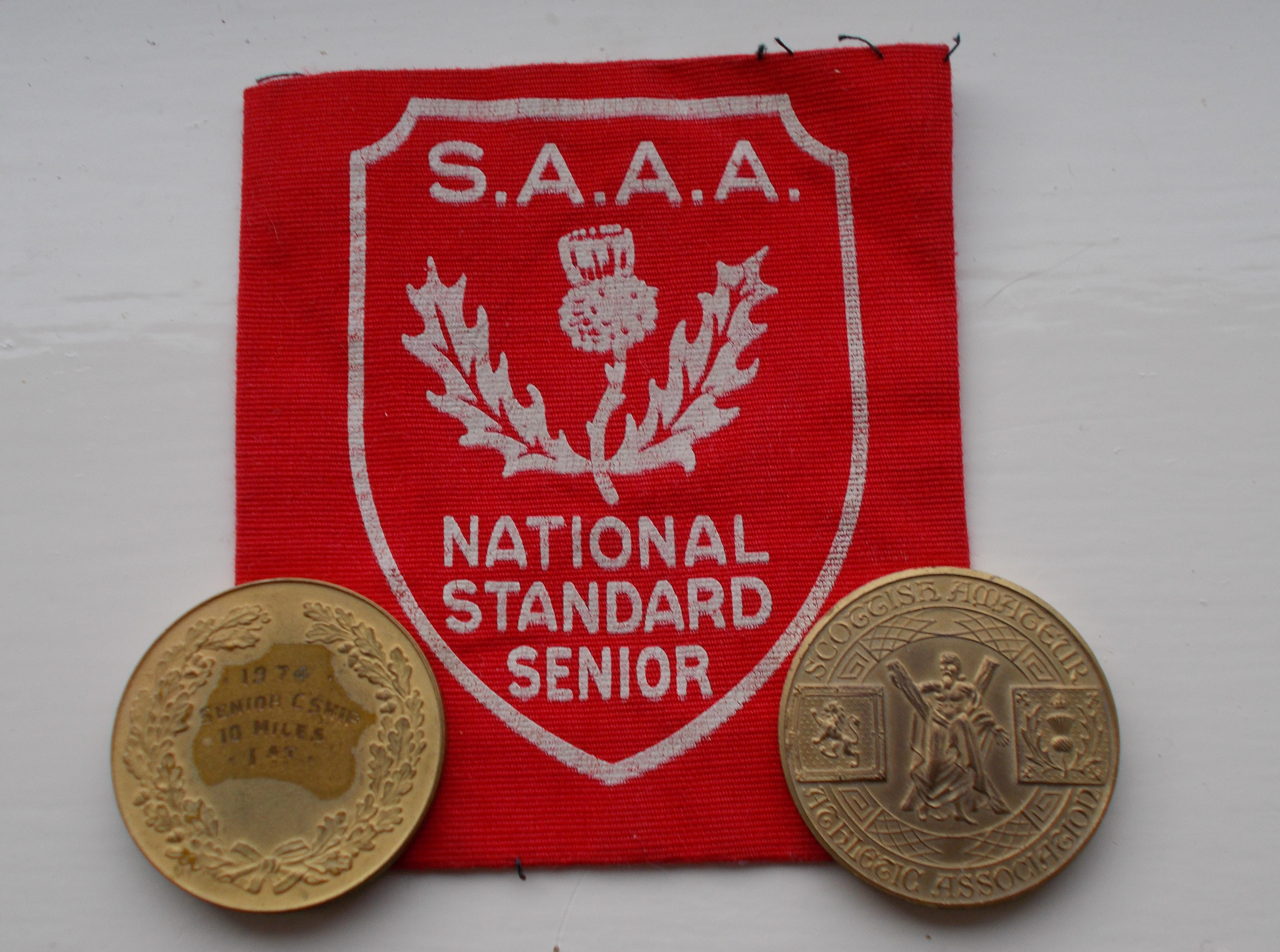 The track standard badge and medals
1970: (2nd May, Scotstoun) 1   Steve Taylor (AAAC) 49.52.6; 2   Donald Ritchie (AAAC) 50.52.2; 3   Willie Day (FVH) 51.07.0; 4   John Myatt (Strathclyde University) 51.57.0; 5 Doug Gemmell (Clydesdale Harriers) 53.11.0; 6 Hugh Elder (Dumbarton AC) 53.41.0.
Donald Ritchie's detailed and invaluable training diary records the following: "Saturday. I ran in the Scottish Athletics Track 10 Miles Championship at Scotstoun and finished second in 50.52.2. We set out at a steady five minutes per mile pace, but at about two miles Steve Taylor opened up a ten yard gap before I noticed, as I was running behind John Myatt and Bill Stoddart. I did not make a determined effort to regain contact with Steve, who had now been joined by Willie Day. I passed Myatt and Stoddart and set a faster pace, hoping that Steve would come back. He pulled away from Day, who I caught and had a terrific duel with, before getting away with two miles remaining, but I could make no impression on Steve. There was a wind blowing and I feel that I could have run faster if I had had someone to run with near the end, which implies that I should have gone with Steve. Total for the day: 11.5 miles. P.S. I passed 6 miles in 30.17.
Steve Taylor, an Aberdeen AAC legend, and Alastair Wood's most important training partner, represented Scotland three times in the International Cross-Country Championships (1960-62) and also won the Scottish Three Miles title in 1961 and retained it in 1962. He was an outstanding performer in the Edinburgh to Glasgow Road Relay and a sub two hours twenty marathon runner. In 1973 he was an inspirational team captain when Aberdeen broke the End to End Ten Man Relay record.
1971: (1st May, Scotstoun) 1 Lachie Stewart (Shettleston H) 47.58.6 (Scottish Native Record and Championship Best); 2    Donald Ritchie (AAAC) 49.54.0; 3   Colin Youngson (Aberdeen University) 50.42.0.
Ron Marshall reported: "A recent decision by Lachie Stewart – to run from his home in Rutherglen to his office near Sauchiehall Street – has had amazing results. He gets there twice as fast as the bus; he saves money; and, the whole object of the exercise, he is again back in the business of breaking athletics records. On Saturday at Scotstoun Showgrounds he brought a relieved smile to the faces of some who were beginning to suspect that his Commonwealth Games victory might have left him with the notion that he had no more worlds to conquer. Stewart was ready to squash that theory.
Just after his win in the Scottish 10-mile track championship in 47.58.6, an all-comers' record and his fastest for the distance, he said that he was quite happy to build up gradually for the Scottish championships in late June, giving himself a chance to be entirely prepared for the European Games in August. 'Even if I don't make the European team, I won't be too disappointed. Next year's the time everybody wants to be ready for (the Olympics in Munich), and I intend going all out for that,' he added.
As he devoured lap after lap of the ten miles, there was certainly no hint of a man sated with running, of one resting on his laurels. It took him only seven of the forty circuits to lap the first of his 18 opponents, and before the finish he had inflicted that on all of them. He was more than a lap and a half  ahead of Donald Ritchie (Aberdeen AAC) who was timed at 49.54. Third was Colin Youngson, also from Aberdeen, in 50.42.
For those who like to keep the record book straight, Lachie also set up all-comers' records for seven miles (33.31), eight miles (38.24) and nine miles (43.14). It should be said that Jim Alder and Fergus Murray have run the ten miles faster than Stewart but these times were set up in highly competitive races in England."
(Cameron Spence remembers that "Lachie's feet were in a mess after the race, which affected his training for a while". Although Lachie Stewart did outsprint Jim Alder to retain his Scottish 10,000m championship, he did not qualify for the European Games; more importantly he did succeed in representing Great Britain in the Munich Olympics 10,000m.)
 [Colin Youngson recalls that in this Track Ten that he was, as usual, 'sitting' on his more experienced Aberdeen University clubmate, Donald, but when Lachie shot past, the cunning Ritchie 'sprinted' and succeeded in tagging on to the champion for a few laps, leaving Youngson well behind but able to move away from Willie Day of Falkirk, Colin Martin of Dumbarton and two Greenock Glenpark stars, Cameron Spence and Andy Law, to secure his first Scottish Championship medal. Donald Ritchie, of course, went on to become probably the greatest ultra-distance runner in history! Read about his amazing exploits in 'Marathon Stars']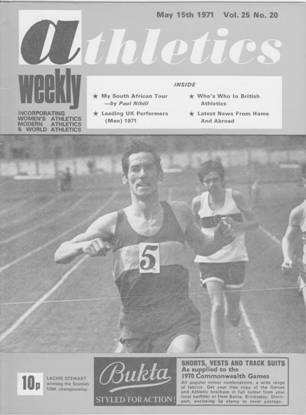 1972: (27th May, Meadowbank) 1   Andy McKean (Edinburgh University) 49.25.8; 2   Colin Youngson (Victoria Park AAC) 50.15.0; 3   Colin Martin (Dumbarton AC) 50.45.0; 4 Bill Stoddart (Greenock Wellpark H) 51.06.4; 5 Bill Murray (ESH) 52.28.0; 6 Bill Cairns (Dumbarton AC) 53.02.4; Donald Ritchie (AAAC) 53.07.0.
Colin Youngson remembers that the event took place during the East District Championships. After Bill Stoddart took an early lead, Andy McKean went ahead after a mile and moved away steadily to win with some ease. Youngson overtook Stoddart and, with a considerable effort, caught up with Colin Martin after three miles. They shared the pace, two laps each into the headwind, until 13 laps from the finish, when Colin Y made the break and struggled on gain a silver medal.
(Andy McKean, a real cross-country specialist, seldom raced in the summer. However he won the Scottish Cross-Country title four times (1973 and 1975-7) and did well in many major international contests. He ran extremely well to finish third in the 1974 English National CC; and a meritorious 19th in the 1978 World CC at Bellahouston Park.)
1973: (21st April, Meadowbank) 1   Doug Gunstone (Edinburgh AC) 49.01.6; 2   Colin Martin (Dumbarton AC) 49.11.4; 3   Martin Craven (ESH) 49.19.6.   What did the chief protagonists have to say about the race?   Doug Gunstone comments "I was very tired in the last mile, but very pleased because it was my first championship win.   I have memories of leading alternate laps with Martin but was always aware that you wanted to try to get rid of Colin before the last few hundred metres, so I pushed on in the third quarter of the race.   That would explain being weary towards the end of the race and I was discovering how much harder a 10 on the track was than a 10 on the road."
Colin Martin's diary records that the pace was very fast from the start, with Doug and himself taking turns in the lead.    Colin tried to get away over the last three laps but "Doug passed me in the last hundred yards to win by four seconds in 49.07." Maybe the AW time for the winner was wrong?
(During a long career, Colin Martin was consistently successful on track, country and road. He won West District titles at 5000m and 10,000m but still showed good speed at 1500m. Later on he specialised in the marathon, and won three times at Lochaber, including in 1988, when he became Scottish Marathon Champion. He also ran for Scotland on the road over half marathon and marathon distances.)
1974: (25th August, Meadowbank) 1 Colin Youngson (AAAC) 50.59.2; 2   Martin Craven (ESH) 51.45.8; 3 Peter Parker (Gateshead H) 53.00.2.
A brief newspaper report with the headline: "Colin's Title" stated "Colin Youngson (Aberdeen AAC) won his first Scottish title when he took the Ten Miles Track Championship at Meadowbank yesterday. Youngson finished almost a minute ahead of Martin Craven (ESH) but his winning time was slowed by the strong blustery wind."
The race took place during the Scottish Decathlon Championships. Just back from a summer holiday, having moved house to live in Edinburgh on 11th August, Colin Youngson had made the mistake of overdoing a Sunday run on the 18th by completing 23 miles, which left him with a sore Achilles tendon and knee. However, building up for an October marathon and the Edinburgh to Glasgow Road Relay, he plodded on, completed the required 80 miles total by the following Saturday and then, one day later, lined up for the Track Ten. His training diary commented that it was not his fault if certain opponents hadn't turned up. The weather was wet and extremely windy. Consequently he had to be careful to adopt appropriate tactics. For three miles he shared the lead, two laps each, with Martin Craven. Noticing that his companion was slowing, Colin 'kicked' and gained 40 yards. However Craven caught up again at five miles. Colin let him lead for a mile, but the pace was quite slow, so Youngson made another effort and quickly went 100 yards ahead. Then it was a case of hanging on to the finish, despite one knee becoming painful. The diary concluded "A'gold' is worthwhile. Rather me than him! Okay run considering injury and weather – but no 'glory'." (Colin Youngson was running for Edinburgh Southern Harriers by the time the Winter season started; on 26th October managed a PB of 2.21.06 in the Harlow Marathon; and then on 16th November, along with Martin Craven, was part of the ESH 8-Man team that won the E to G. In 1975 Martin, who had previously run for Scotland in the International CC and for Great Britain in the marathon, broke his personal best with 2.18.38; and Colin won the Scottish Marathon title in a championship best time of 2.16.50.)
 1975: (10th May, Carluke) 1   Doug Gunstone (EAC) 48.55.4; 2   Colin Youngson (ESH) 49.00.8; 3   Martin Craven (ESH) 49.40.0; 4 Willie Day (FVH) 50.01; 5 Phil Dolan (Clydesdale H) 51.00.5; 6 Willie Sharp (Falkirk VH) 51.22.0; 7 Willie Drysdale (Law) 53.00.4.
Colin Shields reported in AW: "Douglas Gunstone regained the Scottish 10 Miles Track Championship, held in conjunction with the Lanarkshire County Track Championships at Carluke. Gunstone, who last held the title two years ago, vied in the early stages with the holder Colin Youngson and Willie Day, and set a fast pace in wet and windy conditions. Day dropped back and with six laps to go Gunstone edged clear of Youngson and finished over five seconds clear in 48.55.4 with Youngson and Martin Craven completing a clean sweep for the Edinburgh clubs. There was a disappointing entry of only ten finishers, of whom three finished inside 50 minutes but only six broke the standard time of 53.00. Pity poor Willie Drysdale of Law who finished a frustrating 0.4 outside a standard certificate after 40 laps!"
Colin recalls that it was a very good, fast race. Although Doug's finishing speed was superior, at least he was made to work hard! Youngson was pleased with his new PB, which perhaps justified in retrospect his slow win the previous year. Doug Gunstone not only won the Scottish Ten Mile Track title in 1973 and 1975, but he was also victorious in the 1975 Scottish 10,000m, as well as representing Scotland in the International CC as a Junior and the World CC as a Senior. Then he became a good marathon runner, finishing second in the 1976 Scottish Championship and fifth in the 1977 AAA Championship in 2.19.07.
Sadly, despite decent performances by several competitors, after this race the event was discontinued for ever. It had undoubtedly stretched 10,000m specialists and served as a stepping stone to the marathon. Macgregor, Wood, Clare, Taylor, Ritchie, Day, Youngson, Gunstone and Craven were all sub-2.20 men, with bests ranging from 2.13 to 2.19. To encourage others nowadays, is it not time to revive the Ten Miles Track Championship once more?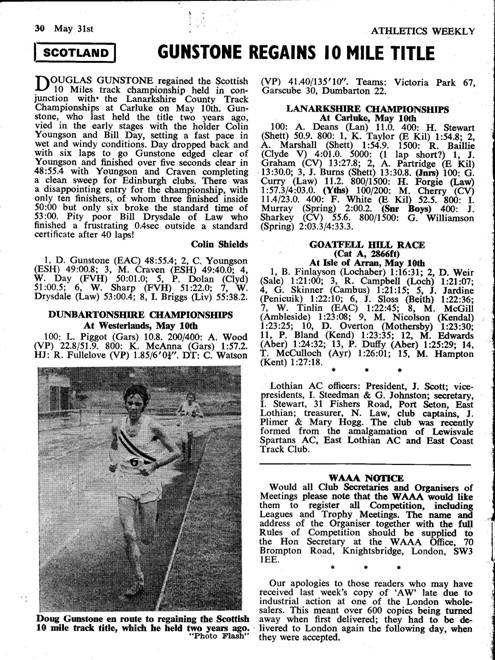 And that's where Colin finishes his account of the SAAA Track Ten Miles Championship.   One of the main bodies supporting the event was the Scottish Marathon Club and for many years, certainly for all the events at Seedhill in Pisley, Jimmy Scott and his band were there helping with the time keeping and lap scoring.   The distance runners themselves liked the event – several have said to me that it was an  important event for them.   It required a mix of speed and stamina different from most events, and unlike the road ten mile events, it required discipline and courage and, just as a track 10000m differs from a road 10K, it was a different kind of running.   Bring it Back?   No surprise that I'm with Colin on this one!