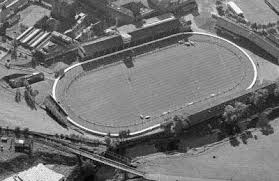 POWDERHALL STADIUM
The first SAAA Championships were held in 1883 at Powderhall Grounds in Edinburgh and the longest distance on the programme was the Mile, won by DS Duncan in 4:35. It was not until 1886 that anything further was added and that was the ten miles. A four miles championship was also added – but a year later. It became a favourite with distance runners and was held until 1975 when, to the disappointment of many, it was discontinued.
The national championships in 1886 were held in June at Powderhall on 26th June with the 10 miles held on the following Monday. Possibly because the governing body could not fit a 40 lap race into an afternoon's programme, possibly because they assumed that the event would be too boring for the crowds or for some other reason altogether, it would never form part of the actual day of the sports. In years to come it would not always be held even at the same arena as the championships proper, it would be held in April, along with the four miles walk, and together they would be known as the 'Spring Championships. In 1886 however it was held after the meeting and at the same venue. Naturally many of the medallists were of a high calibre and those for whom we already have a profile are linked to that profile: the clue is that their name is in blus and you only have to click on the blue name.
The first race was won by AP Findlay of Clydesdale Harriers in 55:16.4 and he was the only competitor to finish. He was an interesting character from Ayr who won the first national cross-country championship at the start of 1886 and again in 1888. The report as it appeared in The Scotsman on Tuesday 29th June read,
"In connection with the fourth annual championship meeting of the Association, the ten miles flat race was held last night at Powderhall. The evening was favourable for the race, but the attendance was very small. Five names appeared on the programme for the event:- WM Gabriel, DS Duncan, and WM Jack of the Edinburgh Harriers, AP Findlay, Ayr FC, and WM Thomson, Clydesdale Harriers, and of these Jack was the only one not to turn out. The men were sent away to a good start and went in the following order for the first mile – which was completed in 5 min 9 sec – Findlay, Duncan, Gabriel and Thomson. In the second mile Duncan had to stop running for a little, and Thomson's pace fell off. Findlay completed the second mile in 10 min 31 secs with Gabriel close by his heels. The third mile (15 min 54 sec) saw the Ayr representative still in command with Gabriel second. Half a mile further, Duncan had had enough of it, and retired. At four miles Duncan also left the track. Gabriel, however, stuck closely to Findlay who was making the pace pretty warm, but Gabriel also had to cry content when four miles and three-quarters were gone. The Ayr representative then had the field to himself and went on to beat time. Running in splendid style he accomplished the distance in 55 min 16 4-5th sec, thus beating the record he himself set at Ayr this season by 1 min 33 3-5th sec. Findlay's times were:- 1st mile 5 min 9 sec; 2nd mile 10 min 31 sec; 3rd mile 15 min 54 sec; 4th mile 21 min 19 sec; 5th mile 32 min 12 sec; 6th mile 32 min 19 sec; 7th mile 35 min 3 sec; 8th mile 44 min 1 sec; 9th mile 49 min 53 sec; 10th mile 55 min 16 4-5th sec."
Findlay was a stone mason from Ayr who was a member of Ayr Fc but was also a Clydesdale Harrier and had won the national cross-country title at Lanark earlier in the year as a member of that club. But that was the style of the time – no sport demanded exclusivity. Many were members of a football club, a running club, a rowing club and so on. More about Findlay to come.
The 1887 SAAA Championships were held at Hampden Park on 15th June with the ten miles being decided at Powderhall on 27th June. Findlay not only won the ten miles for a second time but also won the new four miles championship at Hampden in 21 min 30 sec from WM Thomson.
The Scotsman reported on the event. "The concluding event of this year's championships, the ten mile, was decided last night at Hampden Park. The attendance was very limited, and the weather, although fair, was very breezy, cold and against fast times. Two handicaps, 120 yards and half mile, for which fair entries had been received, made up the evening's programme. … Ten Mile Championship, standard 57 minutes: 1. JAP Findlay, Ayr FC, 2. W Henderson, Clydesdale Harriers. Also ran: WM Jack, EH, and J McWilliam, HHH. For the greater part of the way, the men went in procession in the following order, Findlay, Jack, Henderson McWilliam. At two miles Findlay increased the pace, McWilliam, however, bearing him company, the others tailing off. In the third mile Henderson was second, Jack last. In the fifth mile, Jack improved in style, but he left a lap after the sixth mile, when Findlay got up to time, and a lap afterwards McWilliam also gave up. Henderson never lost on Findlay after the 7th mile and finished half a lap behind. The time for the various miles were:- 1. 5 min 19 sec; 2. 10 min 40 sec; 3. 16 min 12 sec; 4. 21 min 45 sec; 5. 27 min 20 sec; 6. 33 min 4 sec; 7. 38 min 41 sec; 8. 44 min 10 sec; 9. 49 min 52 sec; 10. 55 min 21 3-5th sec."
In addition to the two handicap events mentioned there was also a high jump competition – presumably to 'bulk up' the spectator numbers after the previous year.
The following year was when the event was moved away from the SAAA championships to a date in April and that was when the title of the Spring Championships was first used. The two events that took longest to complete on the track – the ten miles and the four miles walk – were removed from the programme. The main championships were at Powderhall on 23rd June, but the ten miles had been held already – 7th April – but also at Powderhall Grounds. Findlay had won in solitary splendour in 1886, he had one other finisher in 1887 and in 1888 he was first of three. "The Ten Miles Championship in connection with the Scottish Amateur Athletic Association was decided at Powderhall in the presence of few spectators. The race last year was run further on in the season but the committee of the Association thought it better to have the race at the close of the cross-country championship than in mid-summer. The entrants were:- AP Findlay, Ayr Football Club, holder; A Graham and W Henderson, Clydesdale Harriers; DC McMichael, A Robertson, P Addison, WW Jack and DS Duncan, Edinburgh Harriers. The officials were:- Judges – MP Fraser and W Bow; referee – AS Blair; official timekeeper – WM Lapsley; and Standard Timekeeper – T Fraser. Of the eight who sent in their names, seven put in an appearance, WW Jack being the absentee. The race proved a very easy thing for Findlay, last year's champion, who very early had the race in hand, and won as he liked in 55 min 33 sec. Duncan, Addison and McMichael, however, ran pluckily, the first two getting within standard, while McMichael was only half a second over.
On the competitors getting the word to go, Graham led for the first lap, Duncan second and Findlay being content with fifth position. The half mile saw the champion leading with Duncan second, and Graham third. At the completion of the mile Findlay still held premier position – time 5 min 9 2-5th sec. The leaders kept pegging away the second mile with Findlay and McMichael abreast, being covered in 10 min 34 sec. At two miles and a half Henderson cried content. The third mile was accomplished in 16 min, and three quarters of a mile further on, first Findlay and then Duncan lapped Addison. Four miles was covered by the leaders in 21 min 19 sec, and a quarter of a mile further on, Duncan had to pull up for a little, which lost him some ground. The four miles and a half saw Graham retire, and at the half distance, which was covered by Findlay in 25 min 55 sec, it was evident that the race was in the hands of the Ayrshire crack who, going on, was never approached and polished off the miles as follows:- the sixth in 32 min 41 sec; the seventh in 38 min 21 sec; the eighth in 44 min 9 sec; the ninth in 49 min 59 sec and the full distance in 55 min 39 sec or 1 2-5th sec slower than last year. Duncan's time was 56 min 39 sec, Addison's 57 min and McMichael's 57 min 1/2 sec"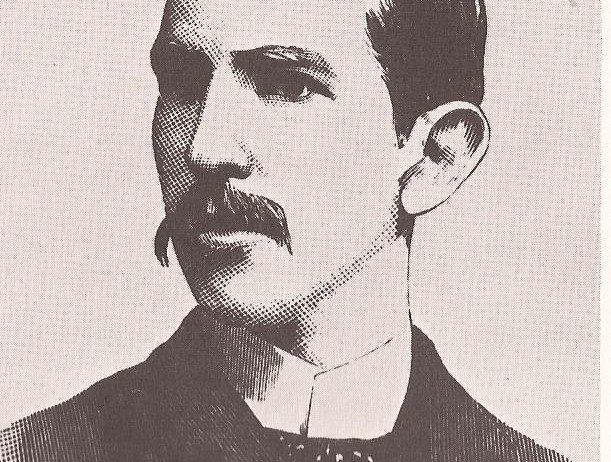 DS Duncan
Two things attract my attention as far as the 1888 race was concerned – The judges were very tough on McMichael when the refused to give him a standard award because he was a mere 0.5 sec outside the time: the only harsher decision I can recollect was when the SAAA timekeeper refused to give one to Tommy Rewcastle of Plebeian Harriers for the marathon – as Tommy came up the finishing straight after running over 26 miles, the standard gun was fired almost in his face as he crossed the line. The second is that SAAA administrators found an excuse to get the boring events away from the championships just as the marathon was taken off the championships programme 100 years later.
The ten miles championship was held in 1889 at Hampden Park on Friday, 12th April and was the start of the championship career of the great Andrew Hannah of Clydesdale Harriers. Five times cross-country champion he won the ten miles title seven times as well as bagging the mile, once, and four miles championships, five times, and setting Scottish records at the four and ten and representing the country internationally on track and over the country and time keeping at the 1908 Olympics in London. In the 1889 race he was timed at 55:30.4 finishing ahead of Charles Pennycook (Arthurlie FC and Clydesdale Harriers) who would win the SAAA Mile title in June. The Scotsman report of Saturday, 13th April, reads:
"Under the auspices of the Scottish Amateur Athletic Association, a meeting took place last night on the track of the Queen's Park Football Club at Hampden Park, Glasgow, for the purpose of contesting the ten mile amateur championship, at present held by Findlay with a record of 55 min 16 sec. The attendance of spectators was disappointingly small. Five competitors started, these being:- A Hannah, C Pennycook and AG Colquhoun, all of Clydesdale Harriers, and P Addison and DS Duncan of the Edinburgh Harriers. Hannah put on the pace at the beginning, and kept the lead throughout; but as he took 14 2-5th sec longer than the record, Findlay remains in possession of the championship. Colquhoun, having run the opening mile, unexpectedly halted. After a few seconds rest, however, he started again but gave up finally after running another mile. Duncan also gave up before completing the second mile. The others ran till the finish. The following are the times:-
Hannah: first mile, 5 min 4 4-5th sec; second, 10 min 34 2-5th sec; third, 16 min 10 sec; fourth, 21 min 43 3-5th sec; fifth, 27 min 27 1-5th sec; sixth, 33 min 4 3-5th; seventh, 37 min 43 3-5th sec; eighth, 44 min 21 3/4 sec; ninth, 50 min 2 3-5th sec; tenth, 55 min 30 2-5th sec. Pennycook: 56 min 14 2-5th sec; Addison: 56 min 55 4-5th sec. Hannah, it may be mentioned, holds the four mile amateur record.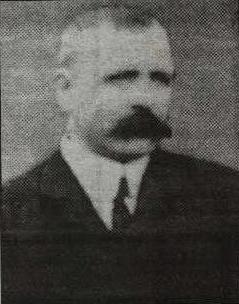 Andrew Hannah
The note in the report above that said that Hannah was 14 min + slower than the record which meant the Findlay was still the champion is a strange on. However on 4th April 1890 the ten mile championship was back at Powderhall, and Hannah was forward for the race. "Under favourable weather conditions, and on a firm track, the ten miles championship of Scotland, under the auspices of the Scottish Amateur Athletic Association was decided lats night at the new Powderhall Grounds, Edinburgh. The entrants, eight in number, were with the exception of Mr A Hannah, Clydesdale,, the present holder of the medal, all members of the Edinburgh Harriers. The latter were:- DI Mackinlay, P Addison, DS Duncan, JC Somers, JB Morrison, WM Carment and TLS Hunter. With the exception of P Addison and JC Somers, all the entrants faced the starter. There was but a poor attendance of spectators. Hannah assumed the lead within the first ten yards and set out with a steady pace, D Mackinlay taking second place close at his heels with Duncan third. The trio left the others about twenty five yards behind. In the third lap Duncan passed Mackinlay and there was no further alteration in the order until the conclusion of the first mile which was finished in 5 min 6 1-5th sec. During the sixth lap Duncan fell away to the rear and gave up in the succeeding round. The time for the second mile was 10 min 32 3-5th sec. In the second lap of the third mile, Hannah imroved on his lead and left Mackinlay about forty yards behind, while nearly an equal distance separated the other three from Mackinlay. Before completing the third mile Morrison dropped out, Hannah completing that distance in 16 min 3 secs. On entering the fourth mile Hunter passed Mackinlay, and the next lap witnessed a further weeding out as the last named retired. Hunter improved slightly at this stage, but fell away again and the four miles were covered by Hannah in 21 min 40 1-5th sec, he by this time having a lead of about 140 yards. At 4 3/4 miles Carmont dropped out and Hannah's time for the half distance was 27 min 12 sec. Practically the race was now entirely in Hannah's hands his lead having been increased to about 220 yards. The sixth mile was completed by Hannah in 33 min 6 1-5th sec. The seventh mile, which was accomplished in 38 min 52 3-5th sec, witnessed a slight, though temporary, improvement in favour of Hunter. The eighth, ninth and tenth miles were respectively covered in 44 min 34 sec, 52 min 12 2-5th sec and 55 min 59 3-5th sec. During the last two miles Hannah gradually drew up on Hunter and at the end of the ninth mile was leading by almost a lap. In the second lap of the last mile he put on a spurt and passed Hunter, and made a great effort to break the record of 55 min 16 4-5th sec, the pace during the last lap being for that purpose made for him by Duncan. As the result showed, he did not even beat his last year's time at Glasgow of 55 min 30 sec. Hunter took 57 min 39 4-5th sec to complete the distance finishing strongly. Hannah thus retains the medal for another year.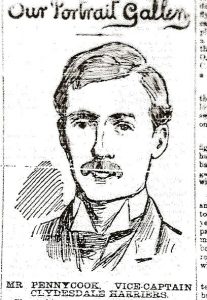 The 1891 championship was held on Thursday, 2nd April at Hampden Park and again Hannah was the victor.
"This annual championship was run off yesterday evening on Hampden Park. The weather was cold and a stiff breeze was blowing which was against fast time being done. The three starters were however in good form, Hannah especially going well. Starters:- A Hannah, Clydesdale, WM Carment and DS Duncan, both of Edinburgh Harriers. Present champion: A Hannah. Standard Time: 57 minutes. Scottish record: 55 minutes 16 4-5th seconds. – AP Findlay, Ayr FC, Powderhall championship, 1886. The men were sent on their journey about half past six, and Hannah at once jumped off with the lead, followed a yard behind by Duncan, Carment gradually losing ground and at the end of the first mile was 100 yards behind. So they ran on, lap after lap, Hannah and Duncan Indian file, Carment further back until the first lap of the third mile. Duncan then stopped, but resumed on Carment coming up, and the pair went in pursuit of Hannah, 200 yards in the rear, At the end of the fourth mile Hannah had lapped Duncan, when the latter gave up. In the first lap of the fifth mile, Carment was also lapped and the race was now over. It was now only a weary wait on a bitterly cold night with a strong north east wind blowing right over the field. When Hannah had covered the fifth stage of his journey he had beaten the record by about 16 seconds and was loudly cheered. Carment ran better in his seventh mile and looked as if he would do standard time, but towards the finish he fell off somewhat and was beaten for standard time by 1 min 12 4-5th secs. Hannah finished in rare style beating the record 58 3-5th seconds. Hannah won by fully half a mile from Carment."
The next year (1892) saw a break in Hannah's onward march: he did not run in the event and two men whose names have featured in the story of the ten miles championship would come into their own. Held on Thursday, 24th March at Powderhall, it gave the reason for Hannah's absence right at the start of the report. "The race was robbed of much of its interest be reason of the non-appearance, owing to family bereavement, of A Hannah, Clydesdale Harriers, the holder, who has won the championship for the past three years. and has also the honour of having established the Scottish record …… C Pennycook, also of Clydesdale Harriers was also an absentee and the only western representative being P McMorrow, West of Scotland Harriers. The Edinburgh Harriers were represented by WM Carment, DI Mackinlay, CF Smith, TLS Hunter, G Hume and P Addison, Edinburgh Harriers and Edinburgh Northern Harriers."
It was a good race with several runners being involved. Smith went into the lead at the start but by then end of the first lap, Hunter was in front. Mackinlay led for a lap, then Hunter again. Hunter made the pace for the second mile, then Addison led at the start of third mile/ before Hunter went to the front again. Hunter and Addison forced the pace along and Carment dropped out before the fourth mile was completed. They were half a lap up on McMorrow and almost lapping Smith. Hunter continued to force the pace with 'the plucky little Harrier' at his heels, occasionally taking the lead. McMorrow was lapped at eight miles and it was down to Hunter and Addison. And so it stayed until, with 330 yards to go, Addison sprinted to the front, secured a lead of 12 yards and won in fine style. He won in 56 min 6 2-5th seconds with Hunter 56 minutes 16 1-5th seconds and McMorrow was third in 57 minutes 52 4-5th sec with Smith fourth in 58 min 29 sec.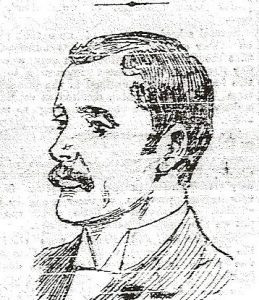 Andrew Hannah
On Monday, 27th March, 1893 the championship was held at Ibrox Park and Hannah was back facing the starter. The report in the Glasgow Herald was decidedly scanty: "The ten mile amateur flat race championship of Scotland was run off last night on Hampden Park. Five competitors started but only three managed to finish, in the following order:- 1st A Hannah, Clydesdale Harriers, 2nd SJ Cornish, Edinburgh Harriers, 3d E Walker, Clydesdale Harriers. Hannah won easily by about 2 laps. Time 55 min 12 2-5th sec." That may have been all that some wanted to know, but it was not the opinion of the Scotsman sports editor who gave it three times as much space and four times as much information. The runners were Hannah, J Campbell, E Walker and M Reid of Clydesdale and TJS Hunter and SJ Cornish of Edinburgh. The pace was fast from the start but the high wind was blamed for the field fanning out early on. At three miles Hannah and Hunter, who occasionally went in front, were 300 yards up on Cornish. Reid was the first to retire before 5 miles, and soon after six miles, Campbell gave up: this was surprising because he was an outstanding cross-country runner who had won the national title in 1887. At seven miles only Hannah, Cornich and Walker remained on the track and by the end Hannah had won by 600 yards. Hannah's run was considered to be very meritorious bearing in mind the weather conditions on the night.
In 1894 the race was run on Monday, 2nd April and was back at Powderhall. There were only three entries this time – Hannah, TLS Hunter and SJ Cornish, of whom Hannah and Cornish finished. The weather and track were 'in favourable order' . The start was twenty minutes late and Hannah went straight into the lead with Cornish second – the first mile was in 4 minutes 58 seconds, and he broke all existing records from 5 miles to 10. The mile times were 1st Mile: 4:58; 2nd mile: 10 min 12 2-5th sec, 3rd Mile: 15 min 30 sec, 4th Mile: 20 min 56 sec, 5th Mile: 26 min 25 1-5th sec, 6th Mile: 32 min 0 4-5th sec; 7th Mile: 37 min 34 1-5th sec, 8th Mile: 43 min 8 4-5th sec, 9th Mile: 48 min 37 2-5th sec, 10th Mile: 54 min 2 3-5th sec.
Cornish ran well finishing in 55 min 41 3-5th sec, thus beating standard time.
In 1895 there was a split in the governing body: Clydesdale Harriers, feeling victimised by the SAAA set up a parallel organisation under the name of the Scottish Amateur Athletic Union and in 1895 and 1896 there were two Scottish championships. There was no ten miles race on the SAAU programme so the long distance runners from Clydesdale ran in the SAAA event on Friday, 12th April at Hampden. The report on the race in the Scotsman read:
"The SAAA brought off their ten miles event at Hampden Park last night before a fair turn out of spectators, and under very fair weather. There was an extremely poor entry, only four men toeing the mark at the start, namely A Hannah, W Robertson A McCallum and P McMorrow. Hannah set the pace a cracker right from the beginning, and ere the event was many minutes old had gained for himself a very substantial lead, which as the race progressed he gradually increased, until at the end he had lapped McCallum and left Robertson a good half lap behind him. The leaders and times at the end of the different miles were as under:- 1. Hannah 5 min 2 3-5th sec; 2. Hannah 10 min 14 1-5th sec; 3. Robertson 15 min 31 sec; 4. Hannah 20 min 47 3-th; 5. Hannah 26 min 2 sec; 6. Hannah 31 min 26 3-5th sec; 7. Hannah 36 min 55 1-5th sec; 8. Hannah 42 min 22 4-5th sec; 9. Hannah 47 min 55 4-5th sec; 10. Hannah 53 min 26 sec. Robertson's time at the finish was 54 min 7 sec and McCallum's 55 min 45 2-5th sec, both inside standard. McMorrow dropped off early in the race. Hannah's time is 36 2-5th sec inside the Scottish record – an excellent performance."
There were two ten miles championships in 1896 – the SAAA Championship was won by RA Hay in 55:56.75 from WJ Lowson and P Addison while the SAAU version was won by Hannah in 54:56.4 from Robertson. The latter was held on 10nd April at Hampden and the former was 11th April at Powderhall. The Glasgow Herald combined an appraisal of both races in the same article which is bit longer for that reason. It reads:
"The SAAU has every reason to feel satisfied with the success of its inaugural Ten Miles Flat Championship, decided at Ibrox Park on Friday. The wind was a trifle too high to be agreeable nevertheless Andrew Hannah … put in a very meritorious performance. while W Robertson, though fifteen seconds slower, was good enough to secure a standard medal. Duffus started but gave up after a couple of miles on account of an i jury to his right foot sustained while racing at Salford Harriers Sports. There is not much to describe in Frioday's race beyond the fact that after running together for nine miles, Hannah went to the front and won by about 100 yards. His performance was remarkably consistent. His first mile being done in 5 min 3 3-5th sec, the second in 10 min 50 3-5th sec, the third in 15 min 41 3-5th sec, fourth in 21 min 4 1-5th sec, fifth in 26 min 33 sec, sixth in 31 min 10 3-5th sec, seventh in 37 min 47 3-5th sec, eighth in 43 min 26 2-5th sec, ninth in 49 min 16 1-5th sec, and tenth in 54 min 40 4-5th sec.
These times can be relied upon, a remark which cannot be applied to the SAAA Ten Miles Championship, which revealed the extraordinary fact of the second half of the race being run in a faster time than the first."
In 1897 the championship was held on Friday, 9th April at Hampden Park. The Scotsman tended to give more coverage to the event than most other papers and their report on this race is a good example. It read: "This event was decided last night at Hampden Park, before a limited attendance, and on the whole in favourable weather. There were only three competitors, name S Duffus, Arbroath and Clydesdale Harriers; W Robertson, Clydesdale Harriers; and D McAlpine, St Mirren FC. Last year, owing to the athletic rupture, two races over the distance were run, RA Hay winning the SAAA event at Powderhall from WJ Lowson in 55 min 56 2-5th sec, while A Hannah won the one under SAAU rules at Ibrox Park in 54 min 56 4-5th sec, W Robertson being second. Neither Hay nor Hannah defended their titles, the former having decided to devote his attention to shorter events, while the latter has retired from the track. It was practically a match between Robertson and Duffus who, with Hannah out of the way, are undoubtedly the two best distance runners in Scotland. McAlpine cut a very ridiculous appearance. He lost ground almost from the start and walked and ran alternately until the other two runners had covered five miles, being then a mile to the bad. Robertson cut out a rather slow pace, but he and Duffus alternately took the lead, doing about a mile at a time. Both were running easily within themselves evidently reserving themselves for a final effort. The men were in very good condition, and Duffus moved much more easily than his opponent. He takes a lot out of himself, moving as he does with long, over-reaching strides. The half distance was covered in 27 min 51 3-5th sec. The men still kept well together until the bell, when Robertson was leading with Duffus at his shoulder, but going up the back stretch Duffus threw up the sponge, being unable to follow the pace set him. Robertson thus finished alone in the comparatively moderate time of 56 min 19 sec. The following are the times for each mile:- One Mile 5 min 20 1-5th sec; Two Miles 10 min 5 3-5th sec; Three Miles 16 min 27 1-5th sec; Four Miles 22 min 15 sec; Five Miles 27 min 51 3-5th sec; Six Miles 33 min 39 3-5th sec; Seven Miles: 39 min 18 2-5th sec; Eight Miles 44 min 56 sec; Nine Miles 50 min 44 3-5th sec; Ten Miles 56 min 19 sec."
On Friday, 15th April, 1898, the Ten Miles Championship was back at Powderhall Grounds. The date, along with several others, is wrongly quoted in the official history "50 Years of Athletics". In this case it is listed as 9th April. This is wrong. The report on the race is from the Scotsman of Saturday 16th April.
A poor entry had been received for this race, only four men giving their names. viz W Robertson, the holder of the championship, DM Cameron, JS Duffus, all Clydesdale Harriers, and AR Blewes, Edinburgh Northern. … Though the night was fine, the attendance was very meagre. The track was in grand condition and did not appear to be in the least affected by the rain which had fallen during the day. All the entrants took part in the race and and, as expected, Robertson was an easy winner, lapping all the other competitors and finishing in 55 min 10 4-5th sec. The champion took the lead before the completion of the first mile and Blewes soon fell behind, the other two sticking more closely to the leader for another few miles. Duffus when he was in second position about 300 yards from his club mate gave up after the sixth mile had been entered upon, one of his spikes having entered his right foot, and interest in the race fell considerably, although even at that time, Robertson was going so strongly that the issue was practically out of doubt. The winner indeed was never seriously troubled and running grandly all the way, finished the easiest of winners, considerably over a lap in front of DM Cameron whose time was 56 min 47 secs. Cameron there fore being entitled to a standard medal. Blewes ran pluckily to the end and also finished but he did not gain a medal, his time being 58 mins 31 secs. The champion's times for the individual miles were as follows: 1st Mile: 5 min 2 sec; 2nd mile: 10 min 34 1-5th sec; 3rd mile: 15 min 53 sec; 4th Mile: 21 min 15 1-5th sec; 5th Mile: 26 min 59 2-5th sec; 6th Mile: 33 min 24 sec; 7th Mile: 38 min 2 secs; 8th Mile: 43 min 45 4-5th sec; 9th Mile: 49 min 29 1-5th sec; 10th Mile: 55 min 10 4-5th sec.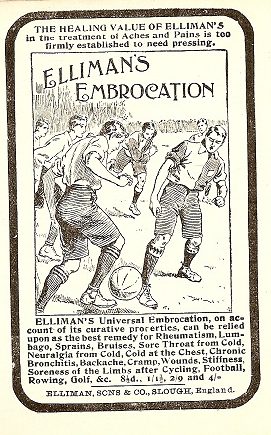 The last running of the race in the 19th century was held at Powderhall on 7th April 1899 and it was won by the comparatively unknown WM Badenoch in 58:04,2. The report in Scotsman on Saturday, 8th April, read:
"Very few spectators witnessed this race which was decided last night at Hampden Park. The night was chilly and it was a very arduous task that had to be accomplished. Only three entered and of these DW Mill of Glenpark Harriers did not turn up. That distance racing is not in a flourishing state is evident from the smallness of the entry and the class of those who competed. J Patterson of the Watsonians who won the national cross-country championship a few days ago, had last night's honour within his grasp, but being unable to train for the event, did not enter. As was to be supposed, the track was to the heavy side. The starters only numbered two, these being Messrs Badenoch and Laing of the Edinburgh Harriers, and a most monotonous contest they provided for the handful of spectators present. Moving off at a fair pace, they covered the first mile in 5 min 23 2-5th sec, and reached half distance in 28 min 10 3-5th sec. At this period Laing appeared to have had enough, and only persevered for an additional two laps leaving Badenoch to finish alone. The winner's time for the full distance was 58 min 4 1-5th sec."
I can't help feeling that the reporter was a bit harsh on the two men concerned – speaking of 'the class of those concerned' which was not due to any lack on their part, and speaking of the 'monotonous contest they provided'. It must have been indeed monotonous watching one man running round the track on his own for four and a half miles, but the adding of the words 'they provided' implied that there was something they could have done about it. Nevertheless this particular running of the race must have been the nadir of the 10 miles championship.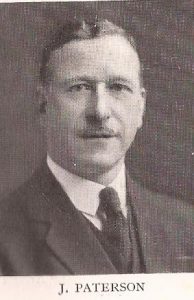 Into the twentieth century and the fields were bigger and the time for the distance was steadily lowered. Maybe this was due to harder training, maybe to better equipment, maybe to better track maintenance, but whatever the reason come down they did.
23rd June 1900 at Powderhall Grounds, Edinburgh
1 Jack Paterson (Watson's College AC) 57.32.2
2 David Mill (Clydesdale H)
3 John McCaffrey (Celtic H)
Glasgow Herald reported:
"The Ten Miles Championship was run on Friday night at Powderhall, and was won by J Paterson of Watsonians. DW Mill of Clydesdale Harriers ran splendidly, and only lost by about four yards, while McCafferty, who was third, also made a very good show. Paterson is also holder of the Scottish cross-country championship, and this, combined with his victory on Friday night, shows what a fine distance runner he is."
6th April 1901 at Hampden Park, Glasgow
1 David Mill (Clydesdale H) 55.16.4
Only one finisher
Glasgow Herald reported:
"As if to show that there was no room for dubiety, regarding the genuineness of his victory in the Scottish cross-country championship, DW Mill of Greenock (and Clydesdale Harriers?) won the ten-mile championship of the Scottish Amateur Athletic Association on Friday night. Paterson, last year's winner, did not compete, but JJ McCafferty of West of Scotland Harriers, who has recently come to the front as a long-distance runner, stripped, but six miles appeared to satisfy him. Up to this point, the race was interesting enough, and there was the promise of keen competition, but when McCafferty retired, Mill was alone in all his glory. He maintained a most consistent pace throughout, and at no point did he disclose any indications of tear and wear. His finishing time was a most creditable performance, making Mill one of the best distance men we have turned out. His style is pleasing and he has excellent judgement. This was very well received by the people present, and this was only to be expected, as Mill is one of the right sort of amateurs. We hope he will be able to take part in the different athletic meetings this summer."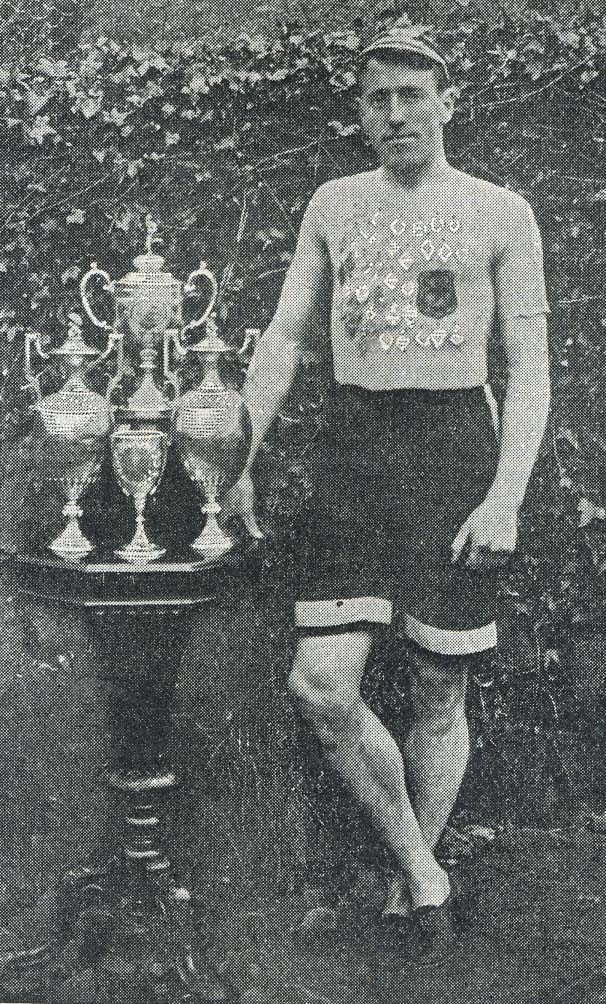 DW Mill
4th April 1902 at Powderhall Grounds, Edinburgh
1 David Mill (Clydesdale H) 57.56.8
2 W Marshall (Springburn H)
"For the contest there were four entrants viz:- DW Mill (Clydesdale Harriers and Glenpark Harriers), last year's winner, W Marshall (West of Scotland Harriers), S Elliott (Glenpark Harriers) and CJ Palmer (Paisley Junior Harriers). … Last night three started, Elliot owing to indisposition, failed to turn out. Both Mill and Marshall ran together from the start, but Palmer who followed fell gradually behind, and when he dropped off after two an a quarter miles, he was fully a lap behind. Throughout the whole race, Mill and Marshall kept together. With one lap to go both runners increased their pace. Mill, who had the inside position, kept slightly ahead, but could not stretch his lead. On entering the straight, both men raised a spirited spurt. Mill was closely followed but reached the tape a yard ahead of his opponent. Marshall seemed to ease up as he neared the tape. From the second to the ninth, each miles was covered in six minutes, but the last was completed in five. By his victory, Mill retained the challenge cup for a second year, and continues to hold his position in the forefront of Scottish amateur long distance runners: he completed the ten miles last night in 57 min 56 4-5th secs and 2 min 40 2-5th below his time of last year."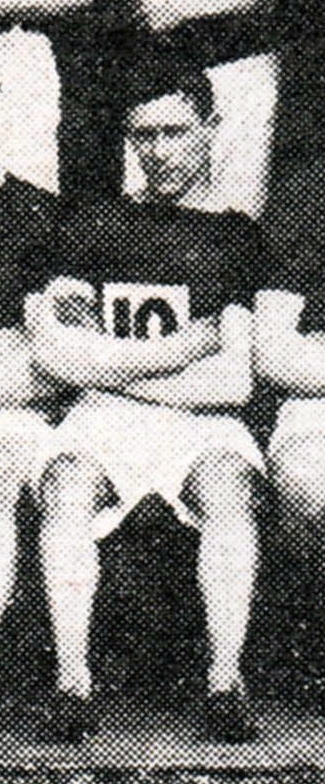 PJ McCafferty
3rd April 1903 at Ibrox Park, Glasgow
1 Patrick McCafferty (West of Scotland H) 57.07.2
Only one finisher
McCafferty's profile can be found here and it contains a preview of the race as well as coverage.
1st April 1904 at Powderhall Grounds, Edinburgh
1 Thomas Jack (Edinburgh Southern Harriers) 57.09.8
2 W Marshall (Springburn H)
3 Thomas Mulrine (West of Scotland H)
Glasgow Herald reported:
"Powderhall was in excellent order. The only drawback was the wind, which was rather gusty, and therefore of a trying nature. It was thought that S Kennedy, of Garscube Harriers, might win, since he was West District cross-country champion. For a while he moved very freely but, when the punch came, he was not able to hold on, the wind having contributed to his defeat, as much as the want of stamina. A comparatively unknown man, T Jack of Edinburgh Southern Harriers, was the winner in a very creditable time, when the conditions were taken into account. He finished well, fully thirty yards in front of Marshall, of West of Scotland Harriers, who just manage to beat his clubmate, Mulrine, by inches. Jack is a valuable addition to the ranks of amateur distance runners."
1st April 1905 at Ibrox Park, Glasgow
1 Sam Stevenson (Clydesdale H) 53.31.4
2 Peter Russell (Bellahouston H)
3 Thomas Jack (ESH)
Glasgow Herald reported briefly:
"TEN MILES AMATEUR CHAMPIONSHIP AT IBROX PARK
This important fixture was run off in heavy rain. The track was all against the runners, of whom seven faced the starter. Russell forced the pace, and led the field until the seventh mile, when Stevenson got the lead and won a great race in the splendid time of 53.31.4 – only 5 seconds outside of A Hannah's Scottish record, set in 1895."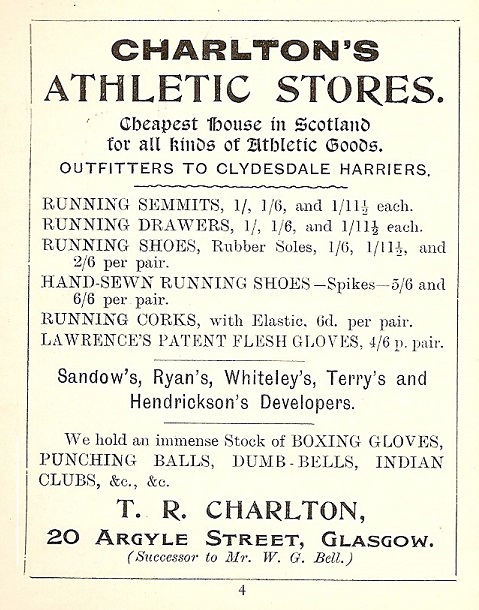 31st March 1906 at Tynecastle Park, Edinburgh
1 Thomas Jack (ESH) 54.42.8
2 Samuel Stevenson (Clydesdale H)
3 W Lang (Edinburgh H)
Glasgow Herald reported:
"PEDESTRIANISM
TEN MILES SCOTTISH CHAMPIONSHIP
In ideal weather, seven started, including the title holder, S Stevenson, Clydesdale. The half-distance was completed in 26.38.4. From this point, the issue lay between T Jack, Edinburgh Southern Harriers, and the holder S Stevenson, who led alternately until the last lap, where Stevenson sprinted 300 yards from home, but failed to sustain the effort, and Jack, coming away with a great burst in the last 100 yards, won from Stevenson by several yards. WE Lang, Edinburgh Harriers, was third; RE Hughes, Edinburgh Harriers, fourth; and T Robertson, Edinburgh Harriers, fifth."
6th April 1907 at Ibrox Park, Glasgow
1 Thomas Jack (ESH) 53.04.0
2 Hendry Young (Monkland H)
3 W Bowman (West of Scotland H)
Glasgow Herald reported;
"SCOTTISH AMATEUR ATHLETIC ASSOCIATION
NEW RECORDS
The 10 Mile record, set in 1895, of 53 minutes 26 seconds was held by A Hannah (Clydesdale Harriers). Tom Jack took the lead in the third lap and held it to the finish. He lapped all his opponents and created the following records (all previously held by Hannah): 5 miles 25.27.4; 6 miles 31.21.8; 7 miles 36.45; 8 miles 42.14; 9 miles 47.42.2; 10 miles 53.04. Jack was accorded a big ovation for his great achievement. H Young and W Bowman finished second and third. (A Hannah was timekeeping.)"
3rd April 1908 at Powderhall Grounds, Edinburgh
1 Thomas Jack (ESH) 55.00.0
2 William Robertson (Clydesdale H) 56.27.0
3 J Torrie ? (Gala H) 58.03.6
Glasgow Herald reported:
"The going was heavy, and there was no prospect of Jack coming near his record time of last year. The champion showed the way and gradually forged ahead. Eventually he lapped both of his main rivals, although, after this, Robertson hung on for several circuits. Towards the finish, Jack put on a splendid sprint, to the cheers of the spectators."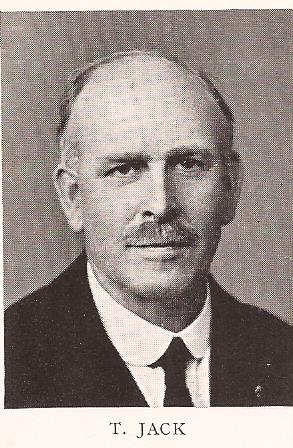 3rd April 1909 at Ibrox Park, Glasgow
1 Thomas Jack (ESH) 54.03.8
2 Alex McPhee (Clydesdale H)
3 Alex Mann (Clydesdale H)
Glasgow Herald reported:
"Rain and wind made conditions unfavourable. It was early seen that victory lay between Tom Jack and Alexander McPhee Jun. of Clydesdale Harriers – he had defeated Jack recently to win the 10 miles Scottish cross-country title. Jack led the way with McPhee at his heels. As it turned out, McPhee erred in judgement by making his effort too soon. With two laps to go, he shot to the front, but Jack smartly overtook him and, running strongly, won a fine race by a yard and a half, in a good time, considering the weather. Alexander Mann was third, in 54.49. Standard medals were also awarded to Alexander Thomson (ESH) fourth and Fred Farrar fifth. Three others completed the course."
2nd April 1910 at Hawkhill Grounds, Edinburgh
1 Thomas Jack (ESH) 53.46.4
2 Alex McPhee (Clydesdale H)
3 George Wallach (Greenock Glenpark H)
Glasgow Herald reported:
"16 started, in glorious weather. The race lay between the holder, T Jack, McPhee, Wallach and J Duffy (Edinburgh Harriers). These runners kept in close company until the third mile, when Duffy dropped back. With three laps to go, McPhee tried to pull out from the others but, before a lap was completed, Wallach and Jack had closed up on him. Thereafter, they ran neck-and-neck until 90 yards from the tape, when Jack rushed to the front and won a magnificent race by five yards from McPhee, with Wallach third, four yards behind the Clydesdale Harrier.
T Jack has now won six times and five times in succession. The following qualified for Standard medals: Wallach, Duffy 4th, A Mann (Clydesdale) 5th, RM Bruce (Edinburgh H) 6th, JC Venn (Edinburgh Northern H) 7th and W Laing (Edinburgh H) 8th."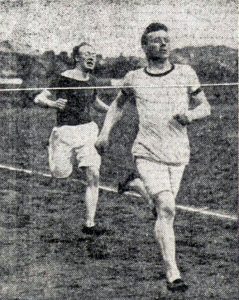 Sam S Watt, Clydesdale Harriers
7th April 1911 at Hampden Park, Glasgow
1 Sam Watt (Clydesdale Harriers) 54.56.4
2 Angus Kerr (Motherwell YMCA Harriers)
3 GH Ramsay (Edinburgh Northern Harriers)
4 A Mann (Clydesdale Harriers)
Glasgow Herald reported:
"The Ten Miles Championship of Scotland (under SAAA rules) was decided last night at Hampden Park, in ideal weather and before a fair attendance of spectators. Only ten started (with holder T Jack an absentee) but set off at a good pace. Watt took the lead early and maintained his position until the close. In the last lap, Watt was challenged by Kerr, but managed to hold off the opposition, winning by five yards. Ramsay and Mann qualified for Standard medals for finishing inside 57 minutes."
6th April 1912 at Hawkhill Groundswho is, Edinburgh
1 Thomas Jack (Edinburgh Southern Harriers) 55.21.4
2 Angus Kerr (Bellahouston H or Motherwell YMCA)
3 JD Hughes (Edinburgh H) – NB: This link is to TC Hughes, brother of JD who is mentioned therein.
Glasgow Herald reported:
"T Jack, President of the SAAA, recorded his seventh victory in the Scottish 10 Miles Championship, a feat no other Scottish athlete has equalled and, needless to say, his win was as popular as it was deserved. But the plucky little runner-up, A Kerr of Motherwell, should yet attain to championship honours."
5th April 1913 at Celtic Park, Glasgow
1 George Wallach (Greenock Glenpark H) 53.01.0
2 Archie Craig (Bellahouston H)
3 A Smith (Clydesdale H or Falkirk Victoria H)
4 D Honeyman (Bellahouston H)
Glasgow Herald reported:
"TEN MILES FLAT CHAMPIONSHIP
A NEW SCOTTISH RECORD
12 started. The title holder, T Jack, has now retired from racing. At the start, A Semple (Shettleston H) took the lead, but in the second lap George Wallach (Bolton United and Greenock Glenpark Harriers) took the lead. By half distance, he had lapped the field. Craig, the Scottish cross-country champion, ran very consistently, eventually finishing second. However, Wallach continued to draw away and at 8 miles broke the record, being timed at 42 minutes 13.2 seconds, just inside Tom Jack's 42.14.0, set in 1907. At the nine-mile mark, Wallach was three seconds inside that record and he maintained this advantage to the finish."
4th April 1914 at Hawkhill Grounds, Edinburgh
1 George Wallach (Greenock Glenpark H) 52.48.6
2 George Cummings (Greenock Glenpark H) 56.11.4
3 AG Ledingham (Waverley H) 56.20.2
4 CP Abbott (Gala H) – also under the Standard time of 57 minutes
Glasgow Herald reported:
"Conditions were ideal at Hawkhill Grounds, Leith, on Saturday afternoon. George Wallach, the title holder, outdistanced his rivals and established fresh Scottish Native records at seven to ten miles, lowering his own ten-mile mark (set last year at Celtic Park) by 12.4 seconds. Wallach led from the half-mile mark, lapping many others. Eventually he won by 700 yards from Cummings, who was 40 yards in front of Ledingham."
5th April 1919 at Celtic Park, Glasgow
1 WB Ross (Edinburgh Northern H) 56.09.4
2 James Wilson (Greenock Glenpark H)
3 Duncan Wright (Clydesdale Harriers)
Glasgow Herald reported:
"The first championship of the Scottish Amateur Athletic Association since 1914, the ten miles event, was held at Celtic Park on Saturday afternoon. From an entry of 15, there were 12 starters, the holder of the title, George Wallach, being among the absentees. J Motion (Eglinton Harriers) led for the first mile and a quarter, when WB Ross (Edinburgh Northern Harriers) went ahead, and was followed by A Small (?) (Bellahouston Harriers) and James Wilson (Greenock Glenpark Harriers). These three kept together until 8 miles had been covered, when Small dropped out, and the leaders were joined by D McL Wright (Clydesdale Harriers), who led for three laps. At half-a-lap to go, Ross made his effort, and won a well-run race by 15 yards from Wilson, with Wright third another five yards behind."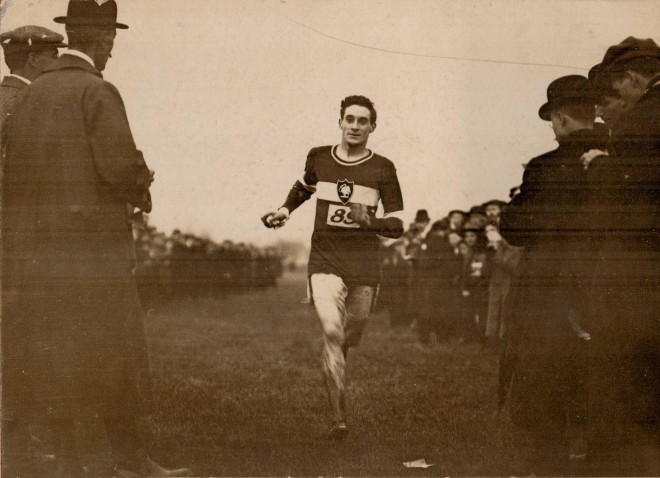 James Wilson
17th April 1920 at Celtic Park, Glasgow
1 James Wilson (Greenock Glenpark H) 52.04.4
2 Duncan Wright (Clydesdale H)
3 W Dempsey
The only report found among the major papers was a very brief account in the Scotsman which stated quite simply that The ten miles Scottish amateur championship decided at Celtic Park, Glasgow on Saturday resulted in an easy win for J Wilson of Greenock who, by covering the distance in 52 min 4 2-5th secestablished a new Scottish record. D Wright, Clydesdale, was second in 55 min 30 sec, and Geo. Dempsey, Edinburgh Northern Harriers, third in 56 min 55 sec." And that was it – a two sentence account of the race.
John Keddie wrote in 'Scottish Athletics':
"A visitor to the 1920 Spring Championships was James Wilson (Slough Harriers and Greenock Glenpark Harriers) – who had that year won first the Scottish National and then the International Cross-Country Championships in Belfast – and proceeded to shatter George Wallach's Scottish Native 10 miles record. Lapping at an unprecedented rate, Wilson set intermediate Scottish records for 5, 6 (30.45), 7, 8 and 9 miles. A final mile in 5 minutes 15.8 seconds saw him finish well clear in 52m 4.4s. In 1920, too, Wilson ran for Britain in the Olympic Games at Antwerp, in the track 10,000m and a cross-country event supposed to be 10km but obviously nearer 9 km. In the final of the track event, the Scot was well up with the leaders throughout and did remarkably well to finish 3rd behind Paavo Nurmi (Finland – 31.45.8) and Joseph Guillemot (France – 31.47.2). Wilson recorded 31.50.8. Surprisingly, this was the only British medal in an Olympic 10,000m race before Brendan Foster's bronze medal at Montreal 56 years later."
30th April 1921 at Celtic Park, Glasgow
1 John Cuthbert (Garscube H) 58.02.4
2 William Farnan (Shettleston H)
3 H Ferran (Plebian H)
Glasgow Herald reported:
"The postponement of the Ten Miles championship from April 16th to last Saturday proved almost a disaster. The weather was much too hot for an ordeal of so strenuous a nature, and it is quite possible too, that in the interval, the competitors had neglected to maintain their running. Of eleven starters, only three finished the distance, and the unsuitability of the conditions was further demonstrated by the fact that the finishing time was the slowest that the race has ever been run since its inception 33 years ago. James Wilson (Greenock Glenpark H) the winner a year ago, ran disappointingly, and it is evident that he has not yet fully recovered from the attack of sciatica which has handicapped him throughout the winter. He retired after covering about three miles and, from then on, chief claimants to the honour were J Cuthbert (Garscube Harriers) and JH Motion (Eglinton Harriers). To the surprise of the spectators, however, Motion dropped out at seven miles, leaving the race a virtual certainty for Cuthbert, who held such a long lead that he could afford to husband his resources. Third-placed Ferran was making his debut in track running. The fact that he stuck it out to the end showed him to be possessed of plenty of pluck."
22nd April 1922 at Celtic Park, Glasgow
1 James McIntyre (Shettleston H) 54.59.0
2 Duncan Wright (Shettleston H)
3 P Martin (Maryhill H)
Glasgow Herald reported:
"Distinction was lent to the first of the season's SAAA championships by a record entry of 30, drawn from all parts of the country and including the cream of the devotees of cross-country running. When the pistol was fired, AB Lawrie (Garscube H) at once dashed to the front, but was soon displaced by JG McIntyre, the Scottish Four Miles champion, who set such a fast pace that he was quickly in possession of a clear advantage, with JG Scott (West of Scotland H) his nearest attendant. The veteran A Craig (Bellahouston H), of whom much was expected, was soon tailed off and, after his retirement at one mile, it transpired that he was far from well. J Cuthbert (Garscube H) who won last year, cracked before two miles and left the track after eleven laps. Meantime, McIntyre had been advancing from strength to strength, and he had the race in safe keeping thus early. D McL Wright forged into second place on the third circuit, closely attended by P Martin, and their positions were never disturbed. In the end, McIntyre, who put in a strong finish, beat Wright by 250 yards, with Martin, 150 yards behind the last-named, being the only other competitor to gain a standard medal for beating 57 minutes."
(JG Scott (West of Scotland H) – the future long-serving secretary of the Scottish Marathon Club – finished 8th in a time of 59 minutes 52.8 seconds.)
21st April 1923 at Hampden Park, Glasgow
1 James McIntyre (Shettleston H) 56.48.0
2 P Martin (Maryhill H)
3 Daniel Quinn (Garscube H)
Glasgow Herald reported:
"Unfortunately, the weather conditions were unfavourable, with a gusty wind blowing from the eastern end of the ground. Among the 18 competitors for the ten miles flat event, appeared JG McIntyre, the title holder. At half distance the field was reduced to 12 runners, but all interest was centred on McIntyre and P Martin (Maryhill H), who held a commanding lead and, in a spirited finish, McIntyre retained the honour, beating Martin in the final sprint to the tape. Apart from the winner, Martin was the only other competitor to finish inside the standard time of 57 minutes."
19th April 1924 at Celtic Park, Glasgow
1 James McIntyre (Shettleston H) 54.57.8
2 Duncan Wright (Shettleston H)
3 Walter Calderwood (Maryhill H)
Glasgow Herald reported:
"16 started. Conditions were against fast times. Right away, the title holder took the lead, which he retained, with WH Calderwood at his elbow, for six and three-quarter miles. At this point, D McL Wright, the cross-country champion, who had been having a bad time, made a fine recovery and took the lead. Thereafter ensued a fine duel between McIntyre and Wright, for Calderwood tailed off. Just as the leaders were completing the ninth mile, McIntyre stumbled and fell heavily. Wright, who was running alongside at the time, stopped and assisted the champion to his feet. This fine sporting action, which was loudly cheered, possibly cost Wright the championship for, in the final straight, McIntyre's superior finishing powers carried him home by about 20 yards. There were fully 100 yards between second and third. The standard time was 57 minutes, and J Gardner (Edinburgh H) and D Quinn (Garscube H) also qualified for standard medals."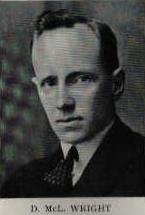 18th April 1925 at Celtic Park, Glasgow
1 Duncan Wright (Shettleston H) 54.08.6
2 James Mitchell (Kilmarnock H) 54.10.0
3 Frank Stevenson (Monkland H)
Glasgow Herald reported:
"22 faced the starter. Soon it was observed that the race would resolve itself into a tussle between Wright, Mitchell and Stevenson, a comparatively new recruit to distance running. Wright and Mitchell eventually got free of the field and, despite repeated efforts by Wright to shake off Mitchell, the latter refused to be dropped on the way. At the bell, Wright piled on pace but still Mitchell clung on. Coming into the straight, however, he was unable to withstand the final burst, and Wright ran home the winner by nearly ten yards. F Stevenson (Monkland), WC Plant (Monkland), A Pettigrew (Greenock Glenpark), ME Anderson (Shettleston), W Stewart (Paisley Harriers) and D Mursell (Aberdeen University) succeeded in getting within standard time."
17th April 1926 at Celtic Park, Glasgow
1 Duncan Wright (Shettleston H) 54.25.0
2 Daniel Quinn (Garscube H)
3 Frank Stevenson (Monkland H)
4 J.S. Smith (Dundee Thistle Harriers) 56.43.2
Glasgow Herald reported:
"There was a field of 20 in the Ten Miles championship. At the start, champion D McL Wright was content to maintain a forward position, without actually assuming the lead. For the first three miles, F Stevenson made the pace but, when another half-mile had been covered, Wright forged ahead and thereafter the issue was never in doubt. At the tape, the margin in favour of the title-holder was but a few yards short of a quarter of a mile. Wright's time last year was 16 seconds faster but, on that occasion, he was chased all the way by James Mitchell, Kilmarnock Harriers, whereas on Saturday he did not have to exert himself unduly. Mitchell, who last month deprived Wright of his Scottish cross-country championship, was an absentee, owing to a foot injury sustained after the International at Brussels three weeks ago. The first four finished below the Standard medal time of 57 minutes."
16th April 1927 at Celtic Park, Glasgow
1 Frank Stevenson (Monkland H) 53.31.2
2 John Suttie Smith (Dundee Thistle H) 53.35.0
3 Duncan Wright (Maryhill H) 53.43.0
Glasgow Herald reported:
"Duncan Wright, Maryhill Harriers, last year's ten-mile champion, had to counter strong opposition. At the end of the first mile, A Mitchell, Maryhill Harriers, led the field with Wright second. From this point, until dispossessed of the lead in the final mile, Wright fulfilled the duties of pacemaker. The order, practically throughout, was Wright, FL Stevenson and J Suttie Smith, all being in close succession, with A Pettigrew (Glenpark Harriers) being temporarily in the lead during the third mile. After six miles, the race resolved itself into a contest between the other three. Smith headed Wright at 9 and a half miles, but had in turn to give way to Stevenson, whose sustained effort over the last 600 yards carried him to the tape some twenty yards in front of the Dundee runner, with Wright 35 yards behind Smith. Pettigrew was fourth in 55. 33.4; and finishing fifth was W Smith (Paisley Harriers) in 56.41.6. These five qualified for Standard medals."
21st April 1928 at Celtic Park, Glasgow
1 John Suttie Smith (Dundee Thistle H) 52.07.6
2 Frank Stevenson (Monkland H) 52.16.0
3 Duncan Wright (Maryhill H) 55.18.0
The event brought out 26 of the 29 entrants. Right away the event resolved itself into a duel between the holder, FL Stevenson (Monkland Harriers)J Suttie Smith (Dundee Thistle Harriers) the Scottish cross-country and four miles champion. The latter set the pace and the holder kept at his elbow for four and a half miles. Stevenson then went to the front, but there was never any daylight between them. It was a hot pace as may be judged by the fact that the two leaders had "lapped" the entire field at six miles. Smith continued in second place until the last half mile was entered upon; then he made his effort. The holder made a plucky but unavailing attempt to hold the Dundonian who eventually broke the tape 50 yards ahead of his great rival. D McL Wright, champion in 1925 and 1926, was third, over three minutes behind. Smith's time was only 3 1-5th seconds worse than the record of 52 minutes 4 2-5th seconds made by Jas Wilson, Greenock Glenpark Harriers, on the same track in 1920, while Stevenson's time, with this same exception, has never been equalled in this championship series. Result:- 1. J Suttie Smith 52 min 7 3-5th secs; 2. F Stevenson 52 minutes 16 seconds.
The following runners gained standard medals by finishing inside standard (57 minutes) : 3. D McL Wright 55 min 18 sec; 4. A Pettigrew, Glenpark Harriers 55 min 23 2-5th sec; 5. J Whitters, Shettleston Harriers 56 min 8 1-5th sec; 6. H McDonald, Shettleston Harriers, 56 min 24 sec; 7. J Gardiner, Motherwell YMCA 56 min 38 sec; 8. PJ Connelly, Plebeian Harriers, 56 min 48 3-5th sec; 9. H Hassan, Monkland Harriers, 56 min 50 sec.
John Suttie Smith
20th April 1929 at Hampden Park, Glasgow
1 John Suttie Smith (Dundee Thistle H) 51.37.8
2 Frank Stevenson (Monkland H) 51.41.0
3 Hector McDonald (Shettleston H) 54.59.0
Glasgow Herald reported:
"FOUR RECORDS BROKEN AT HAMPDEN PARK
SUTTIE SMITH'S NARROW WIN FROM STEVENSON
An exciting race between J Suttie Smith, Dundee and FL Stevenson, Monkland Harriers, for the ten miles championship of Scotland, resulted in four Scottish records being broken.
In winning the race, Smith broke the record for the distance. Over seven miles he created a new record; and Stevenson set up new records at eight miles and nine miles. For the ten miles, Smith was 26.6 seconds inside the record established at Celtic Park in 1920 by James Wilson, Greenock Glenpark Harriers.
A THRILLING RACE
The meeting took place at Hampden Park on Saturday, at the close of the League match between Queen's Park and Third Lanark. Once the runners had settled down, it was clear that a repetition of last year's duel was at hand. These two great rivals were of a class apart, and soon there was a wide gap between them and the rest of the field. Smith was invariably in the lead but Stevenson was always in close touch. The miles were reeled off and by half distance it was clear that records might be broken. Smith's time at 6 miles was only a couple of seconds slower than the record but, when another mile had been covered, it was found that the old figures had received a bit of a shake-up. The further they went, the better the time returned, new figures being returned at 8, 9 and 10 miles. A better race has not been seen in Glasgow for a long time, for not only was the issue in doubt right until the end, but the form shown by the two leaders proved, if any proof was needed, that they are just about the best pair of ten milers that Scotland has yet turned out.
While Stevenson failed to regain the title – there was little more than ten yards in it at the tape – his was nevertheless a glorious failure, for besides placing the Scottish records for 8 and 9 miles to his credit, he also had the satisfaction of knowing that his time for the full distance, even if 3.2 seconds slower than Smith's, is considerably faster than anything recorded in the past."
19th April 1930 at Hampden Park, Glasgow
1 John Suttie Smith (Dundee Thistle H) 53.17.0
2 Frank Stevenson (Monkland H) 53.28.0
3 Donald McNab Robertson (Maryhill H) 56.27.0
Glasgow Herald reported:
"SMITH'S FINE RUNNING AT HAMPDEN PARK
The track was in excellent condition but a strong wind was blowing from end to end of the field, and during the course of the 10 miles race a heavy shower of hailstones further handicapped the runners. 26 faced the starter and 16 completed the course. Suttie Smith, the holder, jumped into the lead right away, and with FL Stevenson at his heels, rapidly drew away from the field. The pair ran together until five and a quarter miles had been covered, when Smith had some trouble with one of his shoes. Ere he had this adjusted, Stevenson had gained a lead of 60 yards but, before the 7 mile mark had been passed, Smith was in front again. The pair ran together until the ninth mile, when Smith began to draw away from his rival, and eventually broke the tape a good 60 yards ahead. Stevenson put up a plucky fight, but was beaten for pace in the closing half-mile.
A STERLING PERFORMANCE
In view of the conditions, Smith's time was a sterling performance, and its value can best be estimated by the fact that JW Winfield's winning performance in the English 10 miles at Birmingham was only 11.4 seconds faster.
This was John Suttie Smith's third successive victory. Robertson and two others gained standard medals."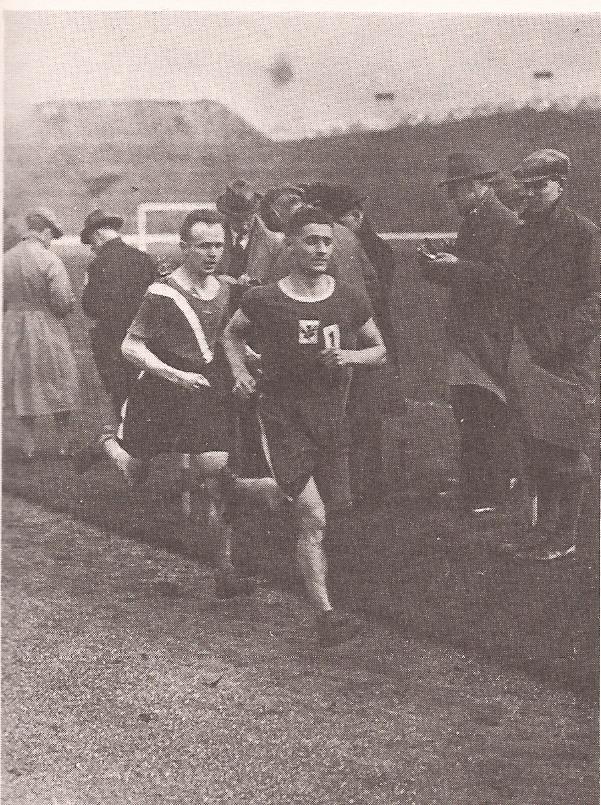 John Suttie Smith leading Frank Stevenson in the ten miles championship in 1930
18th April 1931 at Hampden Park, Glasgow
1 JF Wood (Heriot's AC) 54.14.0
2 David Muir (Maryhill H) 54.46.0
3 Frank Stevenson (Monkland H) 55.04.0
Glasgow Herald reported:
"J.F. WOOD'S FIRST TITLE
The 42nd annual SAAA 10 Mile Championship took place, although conditions were not exactly favourable for fast times. While the track was in fine order, there was a cold blustery wind which, despite the shelter afforded by the terracing, must have troubled competitors at times.
Once the field of 23 settled down, J Suttie Smith, the defending champion, took the lead. Later, A Pettigrew (Greenock Glenpark H) took over, but Smith was back in front by five miles. He was not running in his usual confident style but led to 7 and a half miles.
At this point Wood, who had never been far away, dashed out into the lead and soon was well clear. Smith dropped out. Wood kept going all the way to win his first SAAA Championship by 150 yards, with Stevenson 80 yards behind Muir.
Standard medals were awarded to Stevenson, Pettigrew and four others."
2nd April 1932 at Hampden Park, Glasgow
1 James Wood (Heriot's AC) 52.31.0
2 Sam Tombe (Plebian H) 53.40.0
3 Donald McNab Robertson (Maryhill H) 54.58 (Standard Medal awarded to him and 8 others apart from first and second placers for breaking 57 minutes.)
Glasgow Herald reported:
"TWO NEW SCOTTISH RECORDS
WOOD'S BRILLIANT RUNNING
The Spring Championship meeting of the SAAA was held in brilliant sunshine and under ideal conditions for running. JF Wood created two new Scottish Native records five miles and six miles. Wood's times for these distances were returned as 25 mins 12 secs and 30 mins 34 secs and they were 14.8 and 11 secs faster than the former records made by James Wilson (Greenock Glenpark H) in 1920.
Wood's victory in the ten miles was emphatic. He was his own pacemaker from start to finish and finally breasted the tape 600 yards in front of SK Tombe, who ran a very plucky race. Setting a fast pace from the outset, Wood spurted after one and a quarter miles had been covered, and gained a 30 yard lead from J Suttie Smith, the National cross-country champion. When 300 yards behind Wood, Smith retired at 5 miles, having been passed by Tombe. Wood tapered off considerably during the eighth and ninth miles but finished strongly to record a time 1 min 44 seconds faster than his winning time last year. Wood's time has only been bettered three times in the history of the event: by Wilson in 1920 and Suttie Smith in 1928 and 1929."
22nd April 1932 James Fraser Wood ('Ginger') won the AAA 10 miles championship at Birmingham. His time was 52 minutes 00.2 seconds; and he had led almost the whole way. Second, thirty yards behind, was JA Burns (Elswick H) in 52.5.8. He had wrested the lead from Wood twice between the eighth and ninth yards but could never hold it for many yards. They were over 300 yards ahead of the third man, JT Holden (Tipton Harriers). Jimmy Wood was the last Scot to win the AAA 10 miles.
(from 'Scottish Athletics' centenary book by John W Keddie; and a Glasgow Herald report).
JF Wood winning the AAA's 10 miles
22nd April 1933 at Hampden Park, Glasgow
1 John Suttie Smith (Canon AAC) 51.41.4
2 Andrew Pettigrew (Greenock Glenpark H) 53.23.2
3 Alex McDonald (Auchmountain H) 54.54.4
Glasgow Herald reported:
"BRILLIANT RUNNING BY SUTTIE SMITH
A NEW SCOTTISH RECORD
At Hampden Park, J Suttie Smith won the Ten Miles Scottish title in the fine time of 51 minutes 41.4 seconds, and also created a new Scottish record for 9 miles of 46 minutes 29.8 seconds.
The field included: JF Wood, the holder for the last two years; J Suttie Smith, the holder from 1928-1930; JC Flockhart, the National Cross-Country Champion; and H McIntosh of Edinburgh Northern Harriers; and the quartet ran one of the most exciting and punishing races ever witnessed on a Scottish track.
Wood went out at the beginning with his usual wearing-down tactics, and he carried his field along at a brisk pace for the first three miles. The others hung on well, and he found himself supplanted as leader after the 13th lap by J Suttie Smith. From that point, Wood gradually lost ground, and dropped out after five and a quarter miles had been covered.
Smith held the lead at 4 miles, where McIntosh went to the front, and remained there until another mile had been passed. Smith then resumed the leadership, and at 6 and three quarters miles McIntosh dropped out. Flockhart then came into the picture, only to give way once more to Smith, who from that point was never headed. Flockhart stuck gamely to him for two laps, but after 8 and a quarter miles had been passed, the Shettleston man collapsed on the grass and Smith was left alone.
Running magnificently, the Dundee man set new figures for the nine miles, this being 1.5 seconds faster than FL Stevenson's record for the distance, set up in the 1929 race. In the final mile, Smith moved somewhat unsteadily, but he pulled himself together and finished with an electric burst, to finish 3.3 seconds outside his own ten miles record, set in 1930. This was the second-fastest time in the history of the event.
The race was won by 600 yards; with 400 yards between second and third."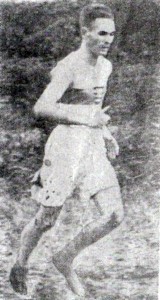 ALEX DOW
14th April 1934 at Hampden.
1 Alex Dow (Kirkcaldy YMCA Harriers) 53.12.0
2 Sam Tombe (Plebian H) 53.40.4 (3 Int XC vests)
3 James Flockhart (Shettleston H) 53.49.0 (11 Int XC vests)
4 Jimmy Wood (Heriots) 54. 34.5
Glasgow Herald reported:
"Once the runners settled down, it was seen that JC Flockhart, the Scottish Cross-Country Champion, A Dow, SK Tombe and JF Wood were leading. They stayed in that order for seven and a half miles, until Dow went to the front for the first time. Flockhart and Tombe were still there at this stage but Wood dropped back.
EFFORTLESS STYLE
Once in the lead, Dow drew steadily away. Running strongly and in effortless style, the Kirkcaldy man went on to gain his first SAAA title by some 200 yards. Tombe also finished strongly to beat Flockhart by 50 yards.
Standard Medals were gained by Flockhart and Wood."
13th April 1935 at Meadowbank, Edinburgh.
1 William Sutherland (Shettleston H) 53.00.4 (4 Int XC vests)
2 James Flockhart (Shettleston H) 53.02.0
3 Alex Dow (Kirkcaldy YMCA H) 53.30.0
Glasgow Herald reported:
"The Spring Championship meeting of the SAAA was held at Meadowbank. This was the first important event decided on the new track laid down by the Edinburgh Corporation.
Overhead conditions were excellent, there being little or no wind, but the track was loose and heavy, and as a result, W Sutherland's winning time in the 10 miles flat race represented a much better performance than it reads on paper.
In the early stages of the race, A Dow, the holder, WC Wylie, the national cross-country champion, J Suttie Smith, Sutherland and SK Tombe were together. Sutherland and Flockhart jumped into the lead after four and a half miles had been covered. And the former gradually began to draw clear.
Wylie dropped out after passing the three-mile mark, but Dow and Suttie Smith continued to hang on grimly to the leaders. Approaching seven miles, Flockhart held what appeared to be a winning lead.
Sutherland managed to close the gap and, three laps from the end, passed his rival. He clung onto this narrow lead all the way to the finish. This must have been Sutherland's best ever performance."
25th April 1936
1 James Flockhart (Shettleston H) 54.04.2
2 David Brooke (Garscube H) 54.44.2
3 Alex McLean (Shettleston H) 54.59.0
Glasgow Herald reported:
"Alex Dow (Kirkcaldy) took an early lead which stretched to 50 yards, with Flockhart chasing before he overtook Dow during the eleventh lap. Dow held on grimly to the Shettleston man for fully a mile, but then Flockhart made an effort and drew clear. Dow could not respond and slipped further and further behind.
Eventually, Flockhart was a clear winner and Brooke's pace in the last mile earned him the position of runner-up, while McLean's time gained a standard medal."
The 1937 race result:
1st: JC Flockhart (Shettleston Harriers) 53:16.8; 2. W Kennedy (Kilbarchan AAC) 55:12; 3. G Lindsay (ESH) 55:27.
"There was never any doubt about the issue in the championship event which was carried out on the Hawkhill Grounds in Edinburgh on Saturday afternoon. Flockhart lapped his nearest attendants before he crossed the finishing line to record the easiest victory recorded in the spring championships for several years.
The absence of two of the better known entrants – A Dow, Kirkcaldy YMCA, and D McN Robertson, Maryhill Harriers, the Marathon Champion – detracted considerably from the interest in the race, Flockhart having matters all his own way. Not a great deal of interest could be taken in the Ten Miles. Flockhart, who has already won the national and international cross-country championships was clearly the man who mattered. He took the lead as the runners reached the first bend and never once was he ousted from that berth. For five or six laps the leading half a dozen runners kept more or less together, and at two miles Flockhart had established a clear 25 yards lead over W Kennedy, Kilbarchan AC who was lying second, while about a further 30 yards behind came the only Edinburgh competitor, G Lindsay, Edinburgh Southern Harriers. Those positions were never altered. Flockhart after his fine start made no attempt to go for records. "
Flockhart's splits were:
1 Mile: 5:05.8; 2 miles 10:20; 3 miles 15:35; 4 miles 20:54.6; 5 miles 26:12.8; 6 miles 31:35; 7 miles 36:57.8; 8 miles 42:20.2; 9 miles 47:49.6; 10 miles 53:16.8.
23rd April 1938 at Celtic Park, Glasgow.
1 Emmet Farrell (Maryhill H) 52.32.0
2 Alex Dow (Kirkcaldy YMCA H) 53.23.2
3 William Sutherland (Shettleston H) 53.55.0
John Emmet Farrell wrote about this event in his book "The Universe is Mine"
"The next championship on the calendar was the 10-mile track race at Celtic Park. I entered but was not too keen to start for two reasons. Though not jaded and still in good shape I felt mentally that I deserved a break after two hard races and this only three weeks ahead; and the thought of running forty laps round the track did not appeal to me. But my Maryhill officials and club-mates practically conscripted me to run for the honour of the club saying this was one event they had never won; and so without enthusiasm I agreed.
At that time, I was employed by Glasgow Corporation as a bath and wash-house attendant. On the day of the race I was on the 6:30 am to 2:00 pm shift. The wash-house was busy and the place full of steam, so one could hardly see more than a few yards. In addition, the superintendent was non-cooperative and refused to let me away early. So I grabbed a cup of tea and a sandwich when I finished, met my fiancee Jean and boarded the tram for Celtic Park. How eccentric she must have thought me to want to run and race after enduring conditions which were not conducive to athletic performance. To make things worse the tram was slow and delayed by traffic lights. The race was scheduled for three o'clock and it was almost 2:55 at Springfield Road. I said to Jean, "I'll have to make a run for it. I jumped off with my little Gladstone bag and ran perspiring into the park with the other runners stripped and coming on to the park. "C'mon Farrell, you're late" the officials shouted, as if I didn't know. I peeled off quickly, wreathed in sweat, ran out and suddenly we were off on our 40-lap orbit. I honestly cannot remember starting the race. I was in a daze. Yet strangely I was running so easily it was unbelievable. After about two miles the majority of the field were tailed including holder Jim Flockhart leaving two ex-champions, Willie Sutherland, Alex Dow and myself in contention. At about the six-mile stage Willie wilted and Alex and I were on our own. Several times I surged as was my wont in those days, then eased off uncertain whether I could sustain the pace and conscious of the fact that Dow was an experienced campaigner.
BUT NOT AT THE FINISH
It was a cat and mouse affair with me bursting into the lead several times then easing up and allowing my opponent to catch me up. But at about eight miles I decided to throw caution to the winds and within the space of one lap was about seventy yards ahead, the penultimate mile being covered in a brisk 5 mins 07 secs. A leisurely 5:22 last mile saw me break the tape about 300 yards ahead in 52 mins 32 secs, less than a minute outside Suttie Smith's Scottish record of 51 min 37.8 sec, and 8.6 secs faster than the AAA title won by R Draper on the same day."
29th April 1939 at Ibrox Park, Glasgow.
1 = Emmet Farrell (Maryhill H) Profile.
1= William Sutherland (Shettleston H) 53.09.0
3 James Flockhart (Shettleston H) 54.51.5
The winner's account was as follows:
"A week after the Edinburgh to Glasgow Relay, I was to defend my ten miles track title. It turned out not to be the greatest but certainly the most thrilling of the series. The above rather flattering caption appeared in the press.
"Some said that he won and some said I won"
For most of the forty laps Willie Sutherland of Shettleston and I ran together. Willie stalked me all the way and try as I could, I couldn't shake him off. Recognising that as an excellent miler he had more basic speed, and tired as I was a lap to go, I tried a long run for home. It nearly succeeded and I must have been five or six yards ahead in the finishing straight, but as I began to weaken Willie whittled down my lead and as he was about to pass me at the tape, I desperately threw my chest forward.
"But the judges said that "nane won at all."
To all intents we broke the tape simultaneously. There was no electronic timing in those days and it was left to the judges to decide the verdict. For over twenty minutes they deliberated before they intimated the official result a dead heat, the first in the long history of the event. I think it was a fair decision. It would have been a pity if either one of us, having given our all, had to lose on what must have been a tough technical decision."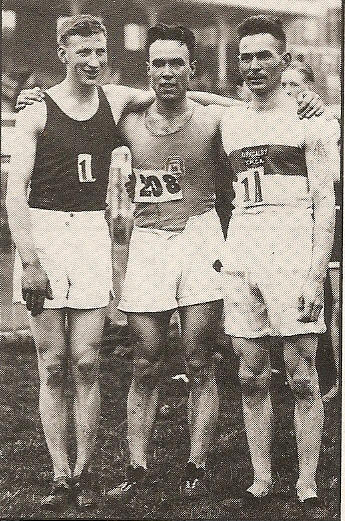 Peter Allwell, Emmet Farrell and Alex Dow
The 1939 Championship was held at Ibrox Park on 29th April and resulted in a dead heat. It was the only dead heat in the history of the event and both men concerned had already won the event. The report in The Scotsman read:
"Two comparative veterans of Scottish athletics, 32 year old JE Farrell, and 29 year old W Sutherland, made Scottish track history on Saturday by providing the first tie in the 10 miles championship at Ibrox. The race had none of the sparkle of the Suttie Smith-Frank Stevenson duels of 10 or 12 years ago, or of the later Suttie Smith-JF Wood tussles in the same championship, but as an example of the resolution to win, it was quite unparalleled. JC Flockhart, himself a former champion, made the early running for his Shettleston clubmate, Sutherland, and probably, in forcing the pace over the first five miles, had something to do with Sutherland's success. Over the whole race, it was a battle of tactics between the first pair, with the climax in the last lap. With 300 yards to go, Farrell decided to make his effort, He spurted and drew away from Sutherland to gain an advantage of perhaps eight yards, but going round the bottom bend, he faltered and slowed up. Sutherland saw his chance and went after the Maryhill man. The pair battled their way against the wind in the home straight to breast the tape together.
Here are the mile times and leaders:
JC Flockhart 5:16 2. JC Flockhart 10:37 3. Farrell 16:52 4. Flockhart 21:12 5. Farrell 26:21 6. Sutherland 31:39 7. Farrell 37:02 8. Sutherland 42:21; 9, Farrell 47:55 10. Farrell and Sutherland 53:02
Helenvale was a track, little known outside the west of Scotland where it had been in use since 1925. Run and owned by the city, it was the venue for the annual Glasgow Transport Sports. It was an arena much loved by athletes, it was pressed into use immediately after the 1939-45 War for the SAAA 10 miles championship. The very first issue of the excellent 'Scots Athlete' magazine, edited and produced by Walter Ross, came out in April 1946 and the following preview of the race by Emmet Farrell are worth reading:
"Who will be the first Scottish champion of the post war era? Resumption of the 10 miles track championship takes place on Saturday, April 27th at Helenvale Park and should provide a yardstick of comparison with pre-war form. As most of the contenders will be found from the ranks of the ill-fated international cross-country team it would be difficult indeed to predict a probable winner. Favourite prior to the international would have been JE Farrell but if Jim Flockhart elects to start he has shown that in the mood he is still a menace to the best of Scotland's distance experts.
The choice of Helenvale Park as the venue may be open to criticism. For while the cinder track is excellent, the short track may provide time-keepers with a lot of headaches, but with Fred Evans in charge of his own track arrangements should go smoothly."
Despite Emmet's reservations, the championships went ahead and in the next issue of the magazine the following report appeared.
THE S.A.A.A. SPRING CHAMPIONSHIPS REVIEWED
by T. A. GOURLAY
The above meeting was held at. Helenvale Park. Glasgow, on Saturday. 27th March. 1946, after a lapse of six years. The track was in fine condition and the weather was dry, hut a trouble¬ some wind was blowing down the stand straight. The first event to be decided was the 10 miles track championship. Thirty runners, a record number for this event, faced the starter, .Mr. Fred Evans, lining up in three rows across the track. Of the six non-starters announced the most notable was J. C. Flockhart. After his running at Ayr in the " International," it was thought that he would be a strong chaIlenger to J. E. Farrell, Maryhilll Harriers, who was defending his title. A young newcomer, J. Harbour. Dundee, Hawkhill. led the field for the first three laps and lost this to A. McLean of Bellahouston. who took the lead at the end of the first mile, which was reached In 5.18. The other runners close on his heels at this point were A. McDonald, Auchmountaln: Farrell, Maryhlll: and MoLennan. Shettleston. Coming near the end of the fourth mile. McLean was still leading. closely followed by J. Farrell and McLennan, Shettleston, and the ultimate winner seemed to be among these three. Harry Howard, Shettleston, running in the middle of the field, retired at four miles. Almost at half distance. J. E. Farrell took the lead for the first time, with McLean and McLennan interchanging places for a few laps. The time at 5 miles was 27.13. in the next mile the champion, running strongly, considerably Increased his lead. It Is interesting to note that the sixth mile was done In 5.19. This was, I think, the deciding point of the race. McLean was now a clear second, Mclennan having fallen back with A. McDonald, Auchmountain, running third. Tho first three positions did not change, and J. E. Farrell ran out a winner in 54.38 3/5, about 250 yards ahead of A. McLean, with A. McDonald 3rd, and J. Lindsay, Bellahouston. 4th; C. McLennan,.5th: A. I Hay. 6th: A. McDonald and J. Lindsay gaining standard by finishing inside 50 minutes. I make tho following points which may be of Interest. I think A. McLean may have been nearer the winner if he had not held the lead for so long in the early stages, A. McDonald finished In the same position in this race 11 years ago. I think John Lindsay, Bellahouston, will look upon this as one of his best performances to date. There were a few young runners who, I think, would be well advised to refrain from competing in this race for a year or two. The following table shows leader's time at the end of each mile. It may prove of interest to the "student of form" and also of service to future entrants In preparing a Time Schedule for standard time qualification:—
1st mile .. 5 min 18 sec 2nd Mile .. 5 min 30 sec 3rd mile .. 5 min 29.4
4th mile .. 5 min 24.6 5th mile .. 5 min 31 6th mile .. 5 min 19
7th mile .. 5 min 33 8th mile .. 5 min 34 9th mile .. 5 min 36.6
10th mile .. 5 min 23
The 3 miles walking championship only attracted four starters, including the holder, A. M. Jamleson. Dundee Hawkhill. The champion Jumped Into the lead at the start, and with Ills snappy action soon set up a big lead and eventually won by over -100 yards from Crossley, Edinburgh II. The winner's time was 24 mins. 7.0 ? Without any intention to detract from the worthy performance of the Dundonian in winning the title for the fifth successive time, this event did not come up lo championship standard It is a fact that this event just escaped excision from the S.A.A.A."s list of championship events and.judging from the meagre support which has been given to it in pre-war years It would appear to he in danger of complete extinction in the near future. True, this race has been endowed with a handsome Challenge Trophy, gifted by the late George Hume, a walking enthusiast, but even this circumstance may not save the event from its distinction as a Championship item in the S.A.A.A. sports calendar unless better support is forthcoming.
Incidentally,in the dressing room I heard complimentary remarks regarding the track and the washing facilities. These particularly were greatly appreciated. The attendance was not large but the enthusiasm was there. "
The following year the championships were held at Helenvale on 26th April 1947 and it was another good race. The report this time read
S.A.A.A. SPRING CHAMPIONSHIPS
By THOMAS CRUDEN
(Hon. Secy., Renfrewshire AAA.)
"A fairish crowd of Club members and old-timers came along to Helenvale Park to give vocal encouragement to the contestants in the S.A.A.A. Spring Championships, on Saturday, 26th April, 19-17. Starter Fred Evans sent a full turn out of 10 away on their long. long trail in the 10 miles, and as soon as the field turned into the strong wind that was blustering down the finishing straight, there began a game of " wait and see," among a group of 10, nil more or less reluctant to assume the punishing role of pacemaker. This went on for fully three miles, with the holder, J. E. Farrell (Maryhill), never allowing himself to get "boxed," yet never taking the lead: a tactical manoeuvre which looks so easy—until you try it. A third mile of 5.35 — obviously this could not go on. and at 8 miles Farrell suddenly dashed down the stand straight with the wind at his back. The race fizzed up: two more helter-skelter rushes in the next laps spread-eagled the field, leaving only Farrell, A. MacLean (Bellahouston H.) and A. McLennan (Shettleston H.) running together. Half-distance in 27.7 (good for the conditions), and then MacLean challenged the holder at his own game by piling on the pace down the back straight. The sixth mile, second fastest of the entire ten. was the deciding point of the race: MacLean's electrifying dashes downwind Increased his load over Farrell by 15 yards each lap. and finished McLennan.
One wondered: was the leader burning up his energy too soon by these spurts? — would Farrell's strength enable him to pull in the Bellahouston man in the closing laps? But at the start of the seventh mile It was apparent that the holder was beaten. His rhythmic style had given way to a laboured, rolling gait ; barring collapse. MacLean was a certain winner. And there was no sign of the leader collapsing. He continued to spurt like a miler and. at the bell, was on the point of lapping his clubmate Anderson. With the race in his pocket, he sportingly refrained from passing Gaby, which meant that S.A.A.A. Secretary, Mr. Gilbert, had to give a nimble performance by darting through the three-yard gap between the Bellahouston men. to unreel the tape for a very worthy and popular champion. Farrell plodded on to finish 300 yards behind, and the steady Anderson was a good third.
Result:—
1 A McLean, Bellahouston H: 54:32; 2 JE Farrell, Maryhill Harriers 55:28.8; 3. G Anderson, Bellahouston H 55:45."
That Helenvale track – as opposed to the entire facility – was a good one led Emmet Farrell to comment in July 1947 after the SAAA Championships had been held at Hampden Park:
"To my mind, Hampden Park is not the ideal setting for our championships. Competitors are too detached from the spectators – many fine points are lost because of the distance. Could the SAAA not endeavour to get an arrangement for a reconstructed Helenvale? Once it is possible to carry out enlargements to the existing stand, and the improvements on the terracing, with the present track, which is second to none, it would be the ideal place for such a meeting; allowing a necessary link up with athletics, officials and spectators."
His thoughts might have been refined by the fact that the SAAA championships were on the 21st and 22nd June, while the Transport Sports were on Tuesday 24th and he could compare them with some accuracy.
Note the dates. The Transport Sports were usually the Tuesday after the national track and field championships and so coverage was scanty – the events were not always reported in the Press.
The championships were held at Helenvale for the third time on 24th April 1948 and we have the report from the 'Scots Athlete' report available again.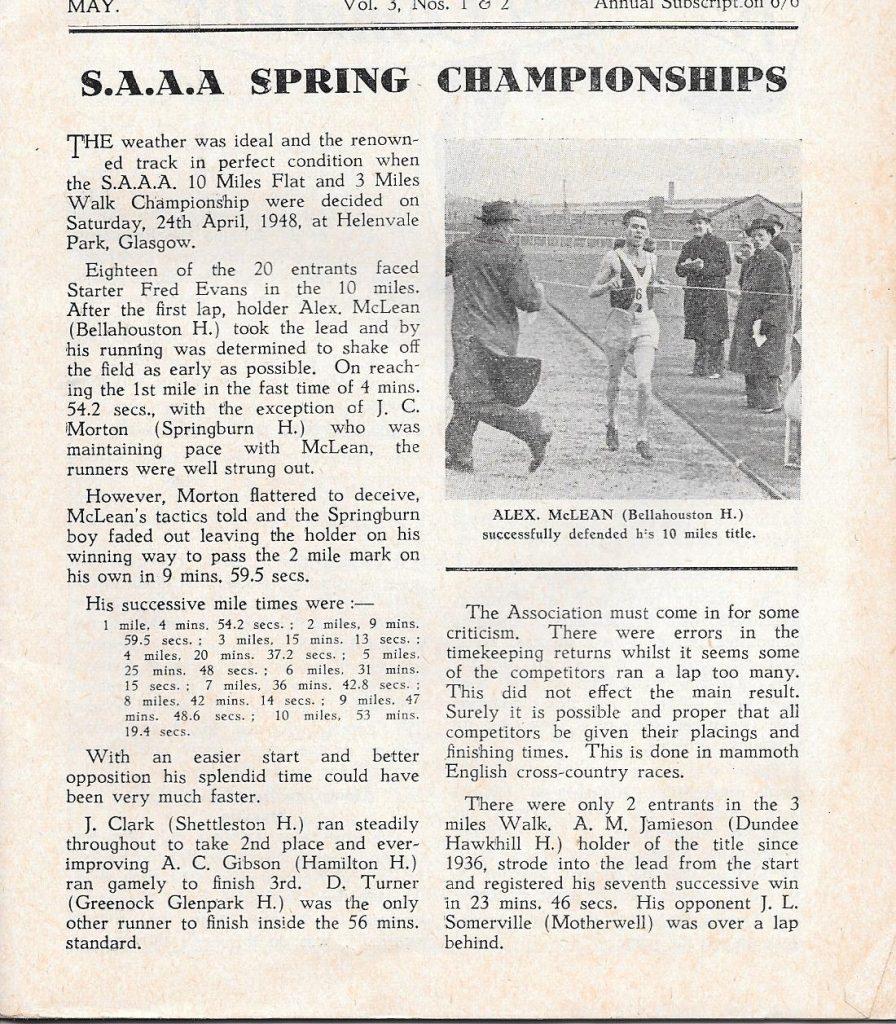 There was no SAAA Track Ten Miles Championship during 1949 to 1964, before it was revived between 1965 and 1975. Several other notable performances did take place before and during this brief revival. J. Suttie Smith (Dundee Thistle Harriers) had run a Championship Best Time (51 minutes 37.8 seconds) back in 1929. This Scottish Native Record was broken in 1953 by Ian Binnie (Victoria Park AC). During his famous run in Dunoon, he recorded 50.11.0 en route to setting a new record distance for one hour (11 miles 1575 yards). Then at Paisley in 1962 Andy Brown (Motherwell YMCA) dipped under 50 minutes to set a new Native record of 49.58.8.
John Keddie notes in his "Scottish Athletics" Centenary publication that Alastair Wood (of Shettleston Harriers and later on Aberdeen AAC) produced a fine performance in the AAA Ten Miles Championship of 1960. He finished second (49 minutes 24.6 seconds – a Scottish National Record) behind Basil Heatley (Coventry Godiva Harriers), who won in 48.18.4). Heatley, of course, went on set a 1964 World Record Marathon time of 2.13.55; and subsequently to secure a silver medal, behind the legendary Abebe Bikila, in the 1964 Tokyo Olympic Marathon. Alastair Wood was ranked first in the world in 1966 with his European Best Marathon time of 2.13.45.
Fergus Murray (Edinburgh University) also finished second in the AAA Ten Miles – on two occasions. In 1964 he ran 48.41.0 (a Scottish National Record) behind Mel Batty's World Record of 47.26.8. Then in 1967 Fergus was second again in the superb time of 47.45.2 (another Scottish National Record) only 6.6 seconds behind the illustrious Ron Hill.
The Scottish National Record was improved again in 1968 by Jim Alder, who ran an excellent 47.29.0 on his way to a new one hour mark of 12 miles 972 yards. Ron Hill recorded a new World Best of 46.44.0, with Ron Grove being timed at 47.02. As of 2014, Jim Alder's Ten Miles Track and One Hour Scottish National Records have never been beaten.
However the main focus of this section is an account of performances in the Scottish Ten Miles Track Championships.
1965: (1st May, Seedhill, Paisley) 1 Donald Macgregor (Edinburgh Southern Harriers) 50.23 (Championship Best); 2 Alastair Wood (Aberdeen AAC) 50.29.0; 3 Bill Murray (Greenock Glenpark Harriers) 53.53.0; 4 N. Weir (ESH) 55.14; 5 Peter Duffy (AAAC) 55.24; 6 Brian Goodwin (Bellahouston H) 56.46. Athletics Weekly noted: "There were only twelve starters for this revived Championship, which was disappointing, although several athletes did not compete because of a clash of fixtures. The weather was rather cold with a crosswind blowing onto the track."
In "Running My Life", Donald Macgregor wrote: "After two miles the race turned into a duel with Alastair Wood, whom I eventually dropped with a 61 second last lap to win by six seconds. My time of 50.23 was not brilliant but at least I was an SAAA champion…..My victory gave me new heart and I carried on putting in the miles with Ken Ballantyne and Bill Allison as before. As we got nearer to June 12th, the date of the SAAA marathon over an undulating course from Westerlands (Glasgow University's ground) to Dumbarton and back again, I got rather nervous." [In that race, although Donald made a fine marathon debut (second in 2.22.24), the experienced Wood gained his revenge, finishing in a Championship Best 2.20.46. However Donald Macgregor was destined to complete the 1972 Munich Olympic Marathon in an outstanding seventh place.]
1966: (7th May, Seedhill, Paisley) 1 Lachie Stewart (Vale of Leven AAC) 48.44.4 (Scottish Native Record and Championship Best); 2 Peter Duffy (AAAC) 53.45.6; 3 Willie Drysdale (Monkland Harriers) 54.06.6; 4 J. Sloss (Beith) 54.44.2;
Willie Diverty reported in Athletics Weekly: "With last year's winner Don Macgregor and Andy Brown non-starters, there was no opposition for Lachie Stewart in this event. He took the lead after half a mile and simply raced away from the field, breaking Andy Brown's Scottish National Record by 14 seconds. His intermediate times were: 4.46.0, 9.35.0, 14.24.2, 19.16.2, 24.12.0, 29.07.2, 34.01.6, 38.55.6, 43.56.8, 48.44.4."
1967: (6th May, Seedhill, Paisley) 1 Lachie Stewart (Vale of Leven AAC) 48.52.0; 2 Donald Macgregor (ESH) 49.41.0; 3 Bill Murray (Greenock Glenpark H) 50.39.0; 4 Brian Goodwin (Bellahouston H) 51.42; 5 Willie Drysdale (Monkland H) 51.50; 6 Ian Donald (Clydesdale H) 52.04; 7 Les Meneely (Shettleston H) 52.21; 8 Donald Ritchie (Aberdeen AAC) 53.26; 9 G. Skinner (East Kilbride) 53.43; 10 Peter Duffy (Motherwell YMCA) 53.45. Willie Diverty reported in AW: "In appalling conditions, with rain falling throughout the race, leaving the track waterlogged at the end, Lachlan Stewart retained his Scottish 10 Mile title. He very quickly had the result tied up, with Don Macgregor finishing second in a personal best."
1968: (4th May, Seedhill, Paisley) 1 Lachie Stewart (Shettleston H) 50.50.0; 2 Joe Clare (AAAC) 51.15.6; 3 Donald Ritchie (AAAC) 52.19.4; 4 Willie Drysdale (Monkland H) 53.27.0; 5 Innis Mitchell (Strathclyde University) 53.38.0; 6 Pete Duffy (Motherwell) 54.13.0.
AW noted: "The Scottish 10 Miles Track Championship was run in a steady downpour, Lachie Stewart soon going into the lead and remorselessly lapping all but one of his opponents." Joe Clare was in the Royal Navy, trained when he could with Alastair Wood in Aberdeen, and in July 1968 won the Inverness to Forres marathon in the excellent time of 2.18.43. In 1973, he was paired with Innis Mitchell (an Aberdonian who had been the 1966 Scottish Schoolboys' Cross-Country Champion) as part of AAAC's record-breaking team in the John o' Groats to Land's End ten-man relay. Eventually, Joe returned south and ran for Blackheath Harriers, for many years, even after becoming a veteran athlete.
1969: (3rd May, Scotstoun) 1 Jim Brennan (Maryhill H) 50.41.2; 2 Bill Stoddart (Greenock Wellpark H) 50.55.0; 3 Bert Mackay (Motherwell YMCA) 51.23.0; 4 Colin Youngson (Aberdeen University) 52.22.0; 5 Willie Day (Falkirk Victoria H) 52.27.0; 6 Donald Ritchie (AAAC) 52.28.0; 7 Willie Drysdale (Monkland H) 53.09.0; 8 Peter Duffy (Motherwell YMCA) 53.31.0.
"Scottish Athletics 1970", the annual SATS handbook, was rather sniffy about this event, describing it as 'anachronistic' and calling for it to be replaced by 20,000 metres, 25,000 metres or a one hour race. Similar comments by the writer (Colin Shields), who apparently had a bee in his bonnet, appeared for several years thereafter. He seemed oblivious of the fact that many competitors achieved thoroughly respectable times and became international athletes.
In The Glasgow Herald, Ron Marshall commented on the "biting nor'easter" that "cruelly affected…the 10-milers, who had to tour 40 chilling laps for the title of Scottish champion." Another report read: "Jim Brennan, 22-year-old painter and part-time youth leader, gained his first major athletic success when he won the Scottish A.A. ten-mile championship at Scotstoun, Glasgow yesterday. He was 80 yards in front of Bill Stoddart, with Bert Mackay, that evergreen Motherwell athlete, third. Brennan, red-haired, wiry and looking like another Billy Bremner, showed the same rugged determination as Scotland's soccer captain. He took the lead after four and a half miles, quickly went 100 yards up and stayed there until the finish. His time, in the bitterly cold conditions, was some way off Lachie Stewart's record of 48.44.4. Brennan snatched this opportunity superbly and the victory will probably give him the boost he needs in his attempt to win a 1970 Commonwealth Games place in 10,000m or the marathon. Ankle trouble handicapped him after the promise he showed as a junior cross-country runner-up – he was tenth in a massive international in Morocco three years ago – but he is now fully fit."
21 year-old Colin Youngson, a novice in this event, set off at the back of the field but on schedule to beat the Scottish National Standard time of 55 minutes. When Bill Stoddart lapped him, he latched on and moved up to a respectable fourth place. After the presentations, silver medallist Stoddart saw Youngson displaying his new red standard tracksuit badge and complained, jokingly, "Why didn't I get one of those too?"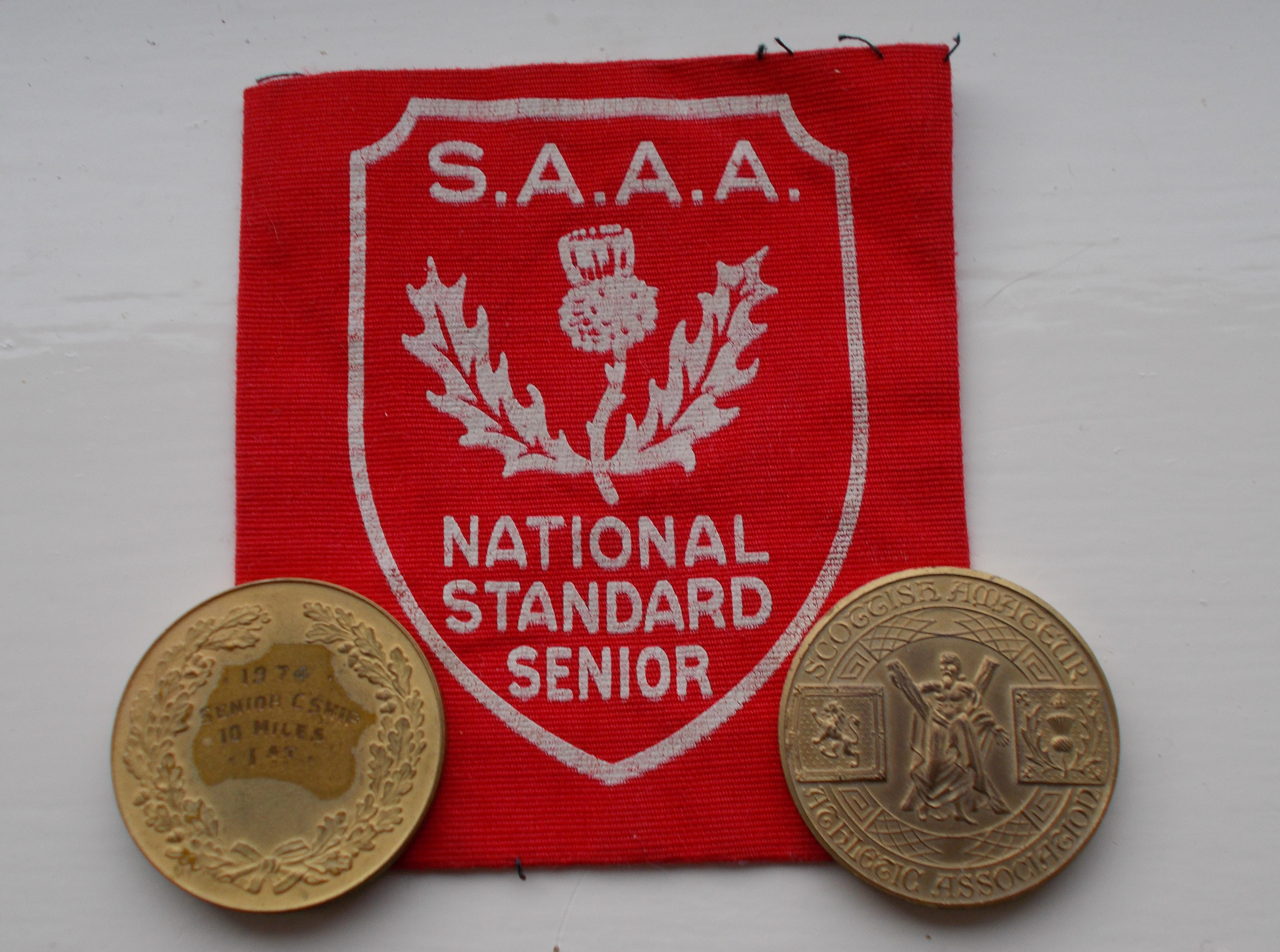 The track standard badge and medals
1970: (2nd May, Scotstoun) 1 Steve Taylor (AAAC) 49.52.6; 2 Donald Ritchie (AAAC) 50.52.2; 3 Willie Day (FVH) 51.07.0; 4 John Myatt (Strathclyde University) 51.57.0; 5 Doug Gemmell (Clydesdale Harriers) 53.11.0; 6 Hugh Elder (Dumbarton AC) 53.41.0.
Donald Ritchie's detailed and invaluable training diary records the following: "Saturday. I ran in the Scottish Athletics Track 10 Miles Championship at Scotstoun and finished second in 50.52.2. We set out at a steady five minutes per mile pace, but at about two miles Steve Taylor opened up a ten yard gap before I noticed, as I was running behind John Myatt and Bill Stoddart. I did not make a determined effort to regain contact with Steve, who had now been joined by Willie Day. I passed Myatt and Stoddart and set a faster pace, hoping that Steve would come back. He pulled away from Day, who I caught and had a terrific duel with, before getting away with two miles remaining, but I could make no impression on Steve. There was a wind blowing and I feel that I could have run faster if I had had someone to run with near the end, which implies that I should have gone with Steve. Total for the day: 11.5 miles. P.S. I passed 6 miles in 30.17.
Steve Taylor, an Aberdeen AAC legend, and Alastair Wood's most important training partner, represented Scotland three times in the International Cross-Country Championships (1960-62) and also won the Scottish Three Miles title in 1961 and retained it in 1962. He was an outstanding performer in the Edinburgh to Glasgow Road Relay and a sub two hours twenty marathon runner. In 1973 he was an inspirational team captain when Aberdeen broke the End to End Ten Man Relay record.
1971: (1st May, Scotstoun) 1 Lachie Stewart (Shettleston H) 47.58.6 (Scottish Native Record and Championship Best); 2 Donald Ritchie (AAAC) 49.54.0; 3 Colin Youngson (Aberdeen University) 50.42.0.
Ron Marshall reported: "A recent decision by Lachie Stewart – to run from his home in Rutherglen to his office near Sauchiehall Street – has had amazing results. He gets there twice as fast as the bus; he saves money; and, the whole object of the exercise, he is again back in the business of breaking athletics records. On Saturday at Scotstoun Showgrounds he brought a relieved smile to the faces of some who were beginning to suspect that his Commonwealth Games victory might have left him with the notion that he had no more worlds to conquer. Stewart was ready to squash that theory.
Just after his win in the Scottish 10-mile track championship in 47.58.6, an all-comers' record and his fastest for the distance, he said that he was quite happy to build up gradually for the Scottish championships in late June, giving himself a chance to be entirely prepared for the European Games in August. 'Even if I don't make the European team, I won't be too disappointed. Next year's the time everybody wants to be ready for (the Olympics in Munich), and I intend going all out for that,' he added.
As he devoured lap after lap of the ten miles, there was certainly no hint of a man sated with running, of one resting on his laurels. It took him only seven of the forty circuits to lap the first of his 18 opponents, and before the finish he had inflicted that on all of them. He was more than a lap and a half ahead of Donald Ritchie (Aberdeen AAC) who was timed at 49.54. Third was Colin Youngson, also from Aberdeen, in 50.42.
For those who like to keep the record book straight, Lachie also set up all-comers' records for seven miles (33.31), eight miles (38.24) and nine miles (43.14). It should be said that Jim Alder and Fergus Murray have run the ten miles faster than Stewart but these times were set up in highly competitive races in England."
(Cameron Spence remembers that "Lachie's feet were in a mess after the race, which affected his training for a while". Although Lachie Stewart did outsprint Jim Alder to retain his Scottish 10,000m championship, he did not qualify for the European Games; more importantly he did succeed in representing Great Britain in the Munich Olympics 10,000m.)
[Colin Youngson recalls that in this Track Ten that he was, as usual, 'sitting' on his more experienced Aberdeen University clubmate, Donald, but when Lachie shot past, the cunning Ritchie 'sprinted' and succeeded in tagging on to the champion for a few laps, leaving Youngson well behind but able to move away from Willie Day of Falkirk, Colin Martin of Dumbarton and two Greenock Glenpark stars, Cameron Spence and Andy Law, to secure his first Scottish Championship medal. Donald Ritchie, of course, went on to become probably the greatest ultra-distance runner in history! Read about his amazing exploits in 'Marathon Stars']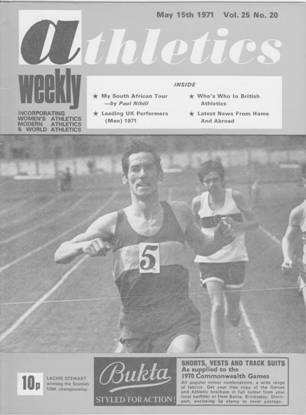 1972: (27th May, Meadowbank) 1 Andy McKean (Edinburgh University) 49.25.8; 2 Colin Youngson (Victoria Park AAC) 50.15.0; 3 Colin Martin (Dumbarton AC) 50.45.0; 4 Bill Stoddart (Greenock Wellpark H) 51.06.4; 5 Bill Murray (ESH) 52.28.0; 6 Bill Cairns (Dumbarton AC) 53.02.4; Donald Ritchie (AAAC) 53.07.0.
Colin Youngson remembers that the event took place during the East District Championships. After Bill Stoddart took an early lead, Andy McKean went ahead after a mile and moved away steadily to win with some ease. Youngson overtook Stoddart and, with a considerable effort, caught up with Colin Martin after three miles. They shared the pace, two laps each into the headwind, until 13 laps from the finish, when Colin Youngson made the break and struggled on gain a silver medal.
(Andy McKean, a real cross-country specialist, seldom raced in the summer. However he won the Scottish Cross-Country title four times (1973 and 1975-7) and did well in many major international contests. He ran extremely well to finish third in the 1974 English National CC; and a meritorious 19th in the 1978 World CC at Bellahouston Park.)
1973: (21st April, Meadowbank) 1 Doug Gunstone (Edinburgh AC) 49.01.6; 2 Colin Martin (Dumbarton AC) 49.11.4; 3 Martin Craven (ESH) 49.19.6. What did the chief protagonists have to say about the race? Doug Gunstone comments "I was very tired in the last mile, but very pleased because it was my first championship win. I have memories of leading alternate laps with Martin but was always aware that you wanted to try to get rid of Colin before the last few hundred metres, so I pushed on in the third quarter of the race. That would explain being weary towards the end of the race and I was discovering how much harder a 10 on the track was than a 10 on the road."
Colin Martin's diary records that the pace was very fast from the start, with Doug and himself taking turns in the lead. Colin tried to get away over the last three laps but "Doug passed me in the last hundred yards to win by four seconds in 49.07." Maybe the AW time for the winner was wrong?
(During a long career, Colin Martin was consistently successful on track, country and road. He won West District titles at 5000m and 10,000m but still showed good speed at 1500m. Later on he specialised in the marathon, and won three times at Lochaber, including in 1988, when he became Scottish Marathon Champion. He also ran for Scotland on the road over half marathon and marathon distances.)
1974: (25th August, Meadowbank) 1 Colin Youngson (AAAC) 50.59.2; 2 Martin Craven (ESH) 51.45.8; 3 Peter Parker (Gateshead H) 53.00.2.
A brief newspaper report with the headline: "Colin's Title" stated "Colin Youngson (Aberdeen AAC) won his first Scottish title when he took the Ten Miles Track Championship at Meadowbank yesterday. Youngson finished almost a minute ahead of Martin Craven (ESH) but his winning time was slowed by the strong blustery wind."
The race took place during the Scottish Decathlon Championships. Just back from a summer holiday, having moved house to live in Edinburgh on 11th August, Colin Youngson had made the mistake of overdoing a Sunday run on the 18th by completing 23 miles, which left him with a sore Achilles tendon and knee. However, building up for an October marathon and the Edinburgh to Glasgow Road Relay, he plodded on, completed the required 80 miles total by the following Saturday and then, one day later, lined up for the Track Ten. His training diary commented that it was not his fault if certain opponents hadn't turned up. The weather was wet and extremely windy. Consequently he had to be careful to adopt appropriate tactics. For three miles he shared the lead, two laps each, with Martin Craven. Noticing that his companion was slowing, Colin 'kicked' and gained 40 yards. However Craven caught up again at five miles. Colin let him lead for a mile, but the pace was quite slow, so Youngson made another effort and quickly went 100 yards ahead. Then it was a case of hanging on to the finish, despite one knee becoming painful. The diary concluded "A'gold' is worthwhile. Rather me than him! Okay run considering injury and weather – but no 'glory'." (Colin Youngson was running for Edinburgh Southern Harriers by the time the Winter season started; on 26th October managed a PB of 2.21.06 in the Harlow Marathon; and then on 16th November, along with Martin Craven, was part of the ESH 8-Man team that won the E to G. In 1975 Martin, who had previously run for Scotland in the International CC and for Great Britain in the marathon, broke his personal best with 2.18.38; and Colin won the Scottish Marathon title in a championship best time of 2.16.50.)
1975: (10th May, Carluke) 1 Doug Gunstone (EAC) 48.55.4; 2 Colin Youngson (ESH) 49.00.8; 3 Martin Craven (ESH) 49.40.0; 4 Willie Day (FVH) 50.01; 5 Phil Dolan (Clydesdale H) 51.00.5; 6 Willie Sharp (Falkirk VH) 51.22.0; 7 Willie Drysdale (Law) 53.00.4.
Colin Shields reported in AW: "Douglas Gunstone regained the Scottish 10 Miles Track Championship, held in conjunction with the Lanarkshire County Track Championships at Carluke. Gunstone, who last held the title two years ago, vied in the early stages with the holder Colin Youngson and Willie Day, and set a fast pace in wet and windy conditions. Day dropped back and with six laps to go Gunstone edged clear of Youngson and finished over five seconds clear in 48.55.4 with Youngson and Martin Craven completing a clean sweep for the Edinburgh clubs. There was a disappointing entry of only ten finishers, of whom three finished inside 50 minutes but only six broke the standard time of 53.00. Pity poor Willie Drysdale of Law who finished a frustrating 0.4 outside a standard certificate after 40 laps!"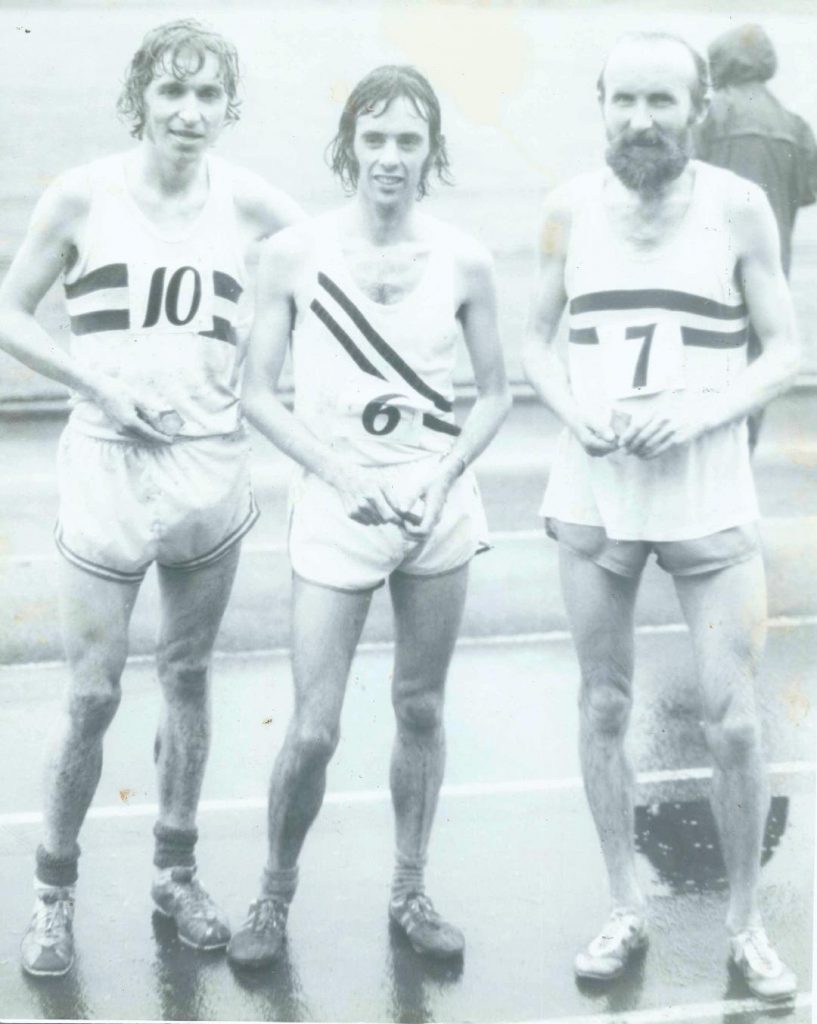 Left to right: Colin, Doug and Martin, wet through but happy enough.
Colin recalls that it was a very good, fast race. Although Doug's finishing speed was superior, at least he was made to work hard! Youngson was pleased with his new PB, which perhaps justified in retrospect his slow win the previous year. Doug Gunstone not only won the Scottish Ten Mile Track title in 1973 and 1975, but he was also victorious in the 1975 Scottish 10,000m, as well as representing Scotland in the International CC as a Junior and the World CC as a Senior. Then he became a good marathon runner, finishing second in the 1976 Scottish Championship and fifth in the 1977 AAA Championship in 2.19.07.
Sadly, despite decent performances by several competitors, after this race the event was discontinued for ever. It had undoubtedly stretched 10,000m specialists and served as a stepping stone to the marathon. Macgregor, Wood, Clare, Taylor, Ritchie, Day, Youngson, Gunstone and Craven were all sub-2.20 men, with bests ranging from 2.13 to 2.19. To encourage others nowadays, is it not time to revive the Ten Miles Track Championship once more?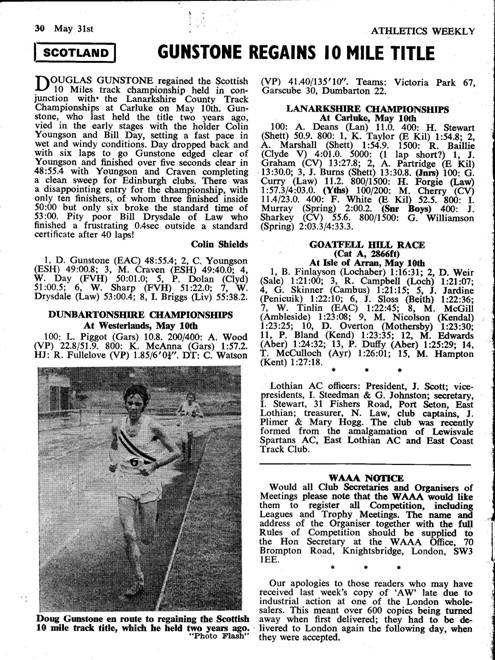 And that's where Colin finishes his account of the SAAA Track Ten Miles Championship. One of the main bodies supporting the event was the Scottish Marathon Club and for many years, certainly for all the events at Seedhill in Paisley, Jimmy Scott and his band were there helping with the time keeping and lap scoring. The distance runners themselves liked the event – several have said to me that it was an important event for them. It required a mix of speed and stamina different from most events, and unlike the road ten mile events, it required discipline and courage and, just as a track 10000m differs from a road 10K, it was a different kind of running. Bring it Back? No surprise that I'm with Colin on this one!
Medallists not profiled in the document