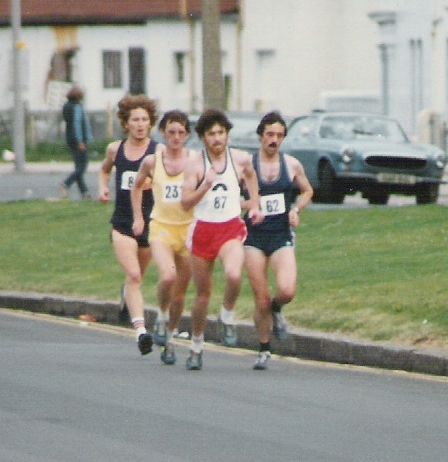 Phil Dolan (87) at Saltcoats
Philip joined Clydesdale Harriers in 1966.  It is always interesting to find how young people come into the sport in football-dominated Scotland.   He had dabbled in athletics during his first three years at St Pat's High School but in fourth year he was told by the Head of PE to choose between athletics and football after he had just beaten the pupils in the school who had been training for cross country.   Clydesdale Harriers at that time organised a Youths Ballot Team and Individual Race and as his football match that afternoon was cancelled, he ran in the Senior Boys race finishing thirteenth out of almost 100 cross country and road runners and in the process defeating Alan Simpson of Clydesdale Harriers and with only one Clydesdale Harrier (John Tonner) ahead of him.   In his own words ~
"After the race I was standing at the finish awaiting the older lads from the school who were competing in the Youths Race.   Billy Hislop and George White of Clydesdale Harriers approached and, recognising me as having defeated Alan Simpson, enquired as to which club I belonged to.   I informed them that I ran for my school but I would have to choose a club to run the Dunbartonshire Championships.   They asked me my name and said they knew my Dad and that I would be running for Clydesdale the following week.   Needless to say I ran for Clydesdale the following week."
 He was one of a group of good young runners but was the only one who made anything of himself as an athlete.   Of the other three in his age group, Alan Simpson was maybe the most stylish, John Tonner was probably the most overtly ambitious but he was to find fleeting fame as a coach of schoolboys rather than as an athlete in his own right and Tom MacKay had other priorities.   Philip had some qualities that set him apart quite early on.   First he knew what he wanted from the sport; second he was prepared to listen to others and consider the advice before taking it and finally he was prepared to do the work.   He was also prepared to travel to get the races he felt he needed.   The old saying "You can't say that you want to be a ski-er and never leave Maryhill: you have to go where the snow is", might have been written for Phil.   He raced all over Britain and Ireland, ran in Europe and even travelled to America to run in the Boston and New York Marathons.   Probably the most travelled of any Harrier I met or heard of, he was also among the most versatile endurance runners and ran with distinction on the track (where he ran for Scotland), on the country (where he raced in two World Championships and competed for several small Scottish teams on the Continent) as well as on the roads and over the hills where he set numerous course records.   He was also a long time Committee Member particularly during the 1980's when the club was under threat locally.   His experience was invaluable at that point. He is currently working as a coach in the club.   In addition to all that, there was the work he has done for charity. 
In Club Championship Races
Born in 1951, he joined the club at the age of 15 and  proceeded to win the JD Semple Junior Cross Country Cup awarded annually to the Youths age group (Under 17) for the two years when he was eligible, 1968 and 1969, before winning the Junior Cross Country Championship Cameron Shield (for Under 20's) in 1970, 1971 and 1972.   He then moved up to Senior Ranks where he won the Challenge Cup (the Senior Cross Country Championship Trophy) in 1973 and for nine of the next eleven years.   His domination did not stop there – the Hannah Cup for the cross country handicap was also won nine times in eleven years, the  Sinclair Trophy for the Five Miles Road Race was taken home eight times in nine years, the Harold Wright Trophy for the first club man home in the National Cross Country Championships was won eleven times in thirteen years and the Dan MacDonald Trophy for a points contest over the winter season was won nine times in eleven years – and the first win in every one of these was in 1973 which was the first year in which he was eligible to win them!   Counting youth and junior championships he won club cross country championships in thirteen consecutive years!    He could have won more because neither his ability nor his application went away nor was he injured but he missed some championships because he was running for a National or District Select somewhere on the day when the club race was being held.   For instance his run of successes in club championships came to a temporary halt in 1977 when he missed the Hannah Cup race on 15th January because he was racing for Scotland at Mallusk in Ireland.   The race was won by Ireland's Gerry Deegan from Brendan Foster with Phil twentieth and second Scot to finish.   He then missed the club championship race on 4th February because he was again racing for Scotland this time in San Sebastian in Spain.   It is also the case that at this point in the club's history the opposition within the club was stronger than at any time since pre-1914.   When he won the senior championship he followed Ian Donald (winner in 1965, 66, 67, 68, 69) and Allan Faulds (winner 1970, 1971 and 1972), who were both considerably good athletes with many club trophy victories in the Hannah Cup, Sinclair Trophy, etc, and who had run for Scottish selects several times with Allan having captained four man Scottish teams over the country.   These were the runners he had to beat for club championships.   Allan in particular had a big influence on young Philip who says,   "Allan spoke of WINNING races.   He brought a controlled determination and aggression which gave me a new perspective when competing.   The first Dunky Wright Road Race took place in March 1972.   Allan was determined to win the inaugural race.   I was a third year Junior and I had benefited from my training at Westerlands; been a non travelling reserve for the World Junior Cross Country and with an increased level of confidence.   Taking my cue from Allan I hung on the coat tails of Allan and Pat and finished fourth to Allan's victory."   The actual result was Allan first in 28:46, Pat second in 28:48, Colin Martin of Dumbarton third in 29:00, Phil fourth in 29:22 and Doug Gemmell fifth in 29:31 with Clydesdale winning the team race.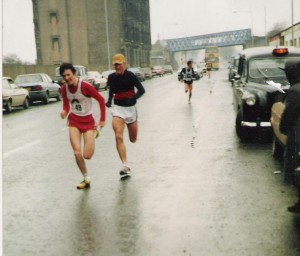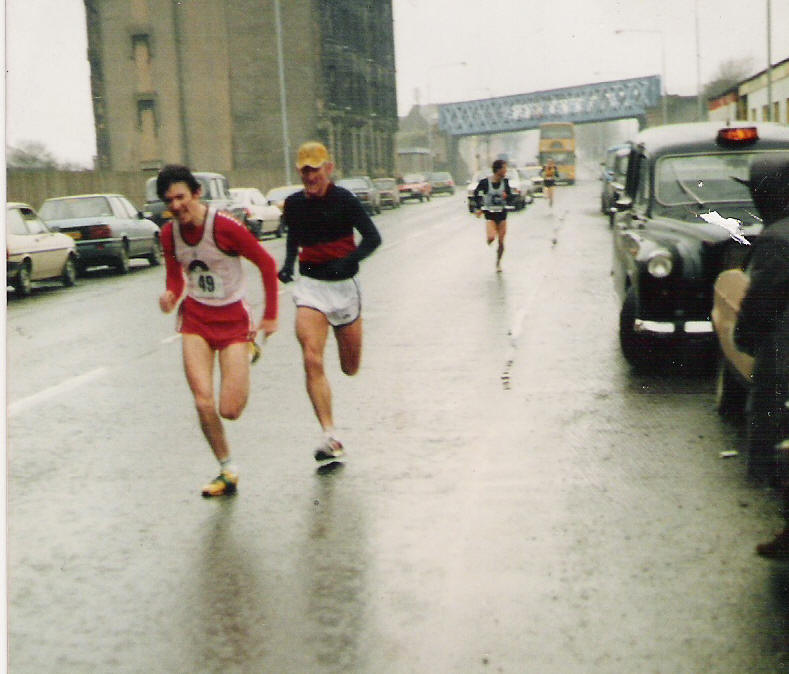 As A Cross Country Runner
His top achievements over the country had to be representing Scotland in the World  Championships twice.   The bad news was that the two venues were Wrexham in Wales in 1976 and Bellahouston in Glasgow in 1978, so no foreign trips for Philip!    He also ran for three man Scottish teams in invitation races on the Continent as well as for Scottish selects – eg in the annual Scotland v N Ireland v Scottish Universities at Stirling and Cumbernauld – all over the British Isles.     He is pictured, left in the Scottish colours.   It was the form in these days for invitations to run in European races to come to the AAA's in England who then decided who should get them.   It will surprise no one to hear that the majority went to English squads and that Scotland Wales and Northern Ireland did not appear to get their fair share.   However back to the narrative.
A lot of Phil's success over the period was down to his hardness as an athlete.   All endurance athletes have to be hard and all successful endurance runners have to be really hard.   With the possible exception of Ian Donald, Phil was the hardest man I have ever run with or against.   This might have been because he never had an easy path in the sport.   Early on he linked up with Cyril O'Boyle.   Cyril had won numerous titles in Ireland, both North and South, and was a notoriously hard trainer.  He talked about the sport, thought about it and argued about it at every opportunity.   He even read about other similar sports and attended seminars in the local library involving long distance cycling and swimming coaches. Two things about Cyril: Every run with Cyril was a hard one – but not too hard.   He was not silly and one of his lines was to the effect that if you could not do the same run the next day, then you were training too hard.   The second thing was that every run with Cyril was an education – challenging statements were thrown out at you, information was passed on and when he said halfway through a hard 10 miler "Now, you're an educated man, how is it that…." You knew some debate was about to start!   And once you started on an answer, the boot went in.
When Philip became a Junior (Under 20) athlete, he was racing against Ian Donald, Douglas Gemmell, Ian Leggett and Allan Faulds inside the club, at County level there were runners of the standard of Colin Martin and Billy Cairns of Dumbarton and in other races he was a contemporary of Olympians Frank Clement and Donald McGregor, 800 metres record holder David McMeekin, Grand Prix runner Nat Muir, the outstanding Allister Hutton, Jim 'The Guv'nor' Dingwall and many others who would always give him a hard race.   The background given to him by Cyril was further developed by racing week in and week out against this high quality opposition.   His own standard was really high – one of his regular opponents said that if medals were given for quality performances from the Nigel Barge Road Race in January to the Midlands Championship in December, Phil would be an outstanding candidate.   Others were as strong, some were faster but few were as hard.    On one occasion when Scottish and British Internationalist Ian Stewart lost an exceptionally hard track race against the German Harald Norpoth, he was lying at the side of the track afterwards when the TV interviewer asked if he had any words of congratulation for the winner.   Ian, still lying on the ground raised himself on his elbow, grabbed the microphone and more or less snarled into the camera "That was a bloody hard race Harald, you won tonight but next time we meet you can expect more of the same!"   No quarter given.   Phil was every bit as tough in racing terms.   If we look at his first seasons as a Junior athlete which included races with the Senior team it will give an indication of what I mean.   Prepared to listen to advice, he was advised by Ian Donald to apply for permission to train at Westerlands, the Glasgow University Grounds at Anniesland in Glasgow.   There was a good blaes track set within large, good quality, grassy grounds which incorporated a three hundred metre straight at one side.   Lots of top endurance runners trained there.   He says:  "Observing and training with the likes of Lachie Stewart, Dave Logue, Mike Bradley, Dick Hodelet and Graeme Grant opened my eyes to 'proper' training.   Only Cyril had ever spoken about training of that tempo and intensity summer and winter.   No other Harriers came close."
At the start of the 1970-71 season he was still a Junior and turned out in the McAndrew 4 x 2.5 mile road relay – the traditional opener for the winter season.   He didn't even make the first team.   The top team was Douglas Gemmell (14:24), Ian Donald (14:27), Allan Faulds (14:01 and Ian Leggett (14:16) and the team was fourth.   Phil was in the B team and ran the first stage in 14:37 followed by Brian McAusland (14:36), Sandy McNeil (15:34) and Bobby Shields (14:50) to see the team finish twelfth.    In the County Relays the following week he was in the B Team again and his time was 18 seconds slower than Douglas Gemmell who was the slowest in the A Team.   Detailed results are in the section on the County Championships.     Came November and the Allan Scally four stage road relay at Shettleston and he was in the first team for the first time.   The team was Ian Donald (24:09), Doug Gemmell (23:47), Phil (24:26) and Ian Leggett (23:16).   Then came the Edinburgh – Glasgow 8 stage road relay where the team did well to finish fifth with Ian Donald seventh on the first stage, Douglas Gemmell eighth on the second stage, Ian Leggett seventh, Bobby Shields seventh, Brian McAusland sixth, Allan Faulds fifth, Sandy McNeil tenth and Phil Dolan fifth at the finish.   Picking up five places on the last stage of this highly esteemed race when the field was quite strung out was a notable debut.   In the Midlands Relays at Bellshill he was again in the first team.   The team was Ian Donald (12:00), Douglas Gemmell (12:00), Allan Faulds (11:48) and Phil Dolan (12:28).   He was maybe in the first team but he was not the fastest in the club yet.
The year ended and so did the relays and in the club's Hannah Cup handicap cross country race he was third finisher and fourth quickest over the heavy Braidfield Farm trail.   He was the club's third finisher in the Midlands Championship at Stirling a week later with Allan Faulds thirteenth, Ian Leggett eighteenth and four places ahead of Philip who was followed by Ian Donald in twenty fifth and Bobby Shields in thirtieth.   Not eligible for the club senior championships, he won the Junior race from John Tonner and watched Allan Faulds win the senior race from Douglas Gemmell.   His next race with the Seniors was in the club's Sinclair Trophy for the Five Mile Road Race.   Allan Faulds won in 29:19 from Doug Gemmell (29:26) and Phil Dolan (30:18).   That was his first season against the big boys and he was a member of one of the top club squads in the country.   There have been many years when running of the standard he displayed at that time would have won every trophy in the club!   He went on from there and as an indicator of the high standard over a number of years, he finished in the first ten of the Midlands District Cross Country Championships over a ten year period and most of these were seconds or thirds at a time when the District boasted of many top class athletes such as Frank Clement, Alan Partridge, Lawrie Spence, Lachie Stewart, Norman Morrison and many more.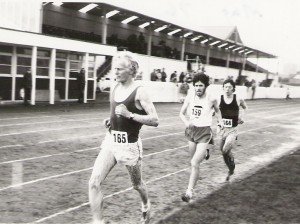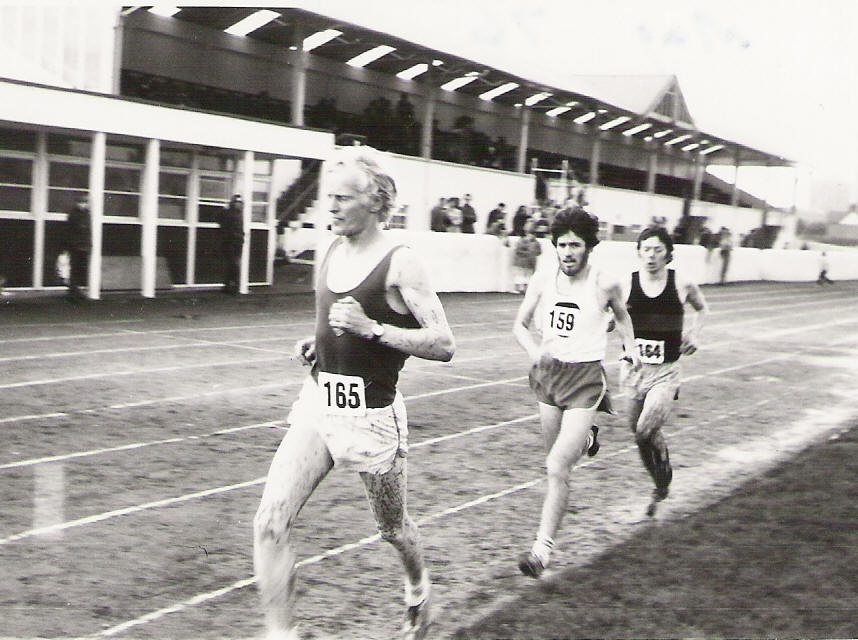 In the County Championships between Bill Yate (Maryhill) and Colin Martin (Dumbarton)
On the Track
If the cross country running showed Phil as a competitor, his running on the track was an indication that he did have a lot of ability – the strange thing is that many even now think that Phil did everything on hard work and not on ability.   The truth is that all top athletes need both.   Many athletes are gifted (eg Willie Sheridan of Victoria Park and Westerlands) but lack the application or motivation to develop these gifts; many others are prepared to work long and hard but don't make it because the ability isn't there.   Ability is not a purely physical thing: Derek Parker of Kilbarchan was the first man I heard say that running was 100% physical and 100% psychological.   Phil had both: to see this one only needs look at the times recorded.   His best track times are as follows:
880 yards: 1:57 (on a cinder track)
1500 metres: 4:00
3000 metres: 8:25
5000 metres: 14:17
10000 metres: 30:07
(The 10000 metres was a track time – there were few if any 10K road races at that time and he would assuredly have been faster in a road 10K)
By any standards these are considerably good times.   Even now in 2006 they would have ranked him 40th (800), 29th (1500), 8th (3000), 3rd (5000) and 2nd (10000).   His best marathon time of 2:21 would also have seen him in second place!   That is not only down hard work.    In fact, given that a senior athlete can run any number of races in a league match, he would make a welcome addition to any club currently in the league running every distance from 800 to 5000 in each match.   Having trained and argued and discussed athletics with Cyril he thought about running and what he was doing.   BUT unlike many of the present day athletes (but like many of Scotland's all time greats such as Andy Brown, Lachie Stewart and Ian McCafferty) he raced often and on all surfaces – tartan, grass and cinder all came alike.   He ran in Highland Games meetings all over Scotland.   Unlike today, the top runners raced each other often.   Club teams at Gourock, Cowal or Strathallan, individual races at other Games plus Open Graded Meetings plus championships (County, District National) all went into the mix.   'The mix' is maybe the most appropriate phrase to use.   While he was doing this he was running the Mamore Hill Race, the Gourock 14 miles, the Balloch to Clydebank 12 and the Helensburgh 16 miles.   There are several differences there from the present day.   First the frequency of races; second the range of distances run; thirdly the mix of track with road and hill running.   His reward for consistently good performances was to be selected to run for Scotland on the track.   There were two such occasions, both over 10,000 metres and they were both within the British Isles at Cwmbran in Wales and at Meadowbank.
On the Roads
With a marathon best of 2:21 and a time of less than six hours for 56 miles, he basically has nothing left to prove.   His first race over 10 Miles in the Tom Scott Road Race saw him turn in a time of 50 minutes exactly and would have ranked him first in Scotland in 2006 where the fastest time was 51:17!    As on the track, he raced everywhere he could.   In Boston in 1977 with the temperature at 80 degrees when the race started at 12 noon, he was the first runner from outside the American continent to finish when he crossed the finish line in 2:23.   Common agreement was that the weather had added at least three minutes to the times and certainly I had never been outside 2:50 for the distance but recorded 3:02 on the day.   It was a superb run in which he defeated the best Japanese runners (including Olympian Akio Usami), the best German runners, the best Irish runners (including previous winner Neil Cusack) and all the English representatives including Stan Curran who was running very well indeed at that point.   The following year he went to the New York marathon but unfortunately he had injured a ligament in the World Cross Country Championships that year and rushed back into training a bit too early.   The injury recurred and hampered preparations for the marathon and he only recorded 2:25 (this would have placed him fourth in the current Scottish rankings!).    In competitive terms, he twice won the Dublin Marathon against top class opposition and slightly nearer home took first place in the Preston to Morecambe 'Milk Marathon' sponsored by the Milk Marathon Board.   The downside was that he had to drink a pin of milk on finishing the race but there was some compensation – he had his photograph taken with a couple of 'glamour' models.   The pictures never made it to the 'Clydebank Press'.  He was, however, easily the best marathon runner the club ever produced.
Several points should be made here.   Like all of the wonderful and even not so wonderful runners of the era, he had a choice of distances: Tom Scott was 10 miles, the Balloch was 12 miles, Gourock was 14 miles, Helensburgh was 16 miles, Rothesay was 18 miles, Strathallan was 21 miles, Edinburgh to North Berwick was 22.6 miles.   The choice at present is largely 10K, 10 miles or half marathon.   This has an effect on the development of distance runners.   Phil ran all road racing distances with success and set records at distances from six miles to fourteen on the roads. 
On the Hills.
 All Clydesdale Harriers run on the hills at some point and Phil was no exception.   The club has produced hill runners who have smashed records all over Scotland: Bobby Shields, Ian Donald, Brian Potts, Ian Murphy and more recently John Kennedy in very long hill races like the Lairig Ghru and Prasad Prasad in the shorter ones such as the Callander Crags and Ben Sheann.   Phil ran all distances.   He ran the short Neilston Pad race three times and won it.   He also ran in the medium distance Carnethy Hill race where he ran it once finishing second to Martin Weeks of Bingley Harriers.   His favourite however must have been the really gruelling Mamore Hill race at Kinlochleven.    The trail went from the Island Park in the village round to the start of the Lairig Mhor, now part of the West Highland Way, over part of the Lairig and then up to the 2500 feet shoulder of A'Cailleach before plunging down to the road and then racing seven miles on the road back to the park.   Many of the very best in Britain had run this one including Alistair Wood from Aberdeen who set a course record. Phil not only set a record for the course but then broke his own record the following year with a time of 1:37:23.   And that was for fourteen miles including almost 3000 feet of ascent.   (As a side note to this, he helped me win a trophy for a race I never ran.   Having raced the event several times I was down to compete as part of a four man club team.   I failed to turn up because of illness but with only three to count the club won and was presented with four plaques.   I got my plaque the following Tuesday at Whitecrook!)   These races at Kinlochleven must rank among Phil's best ever runs and had hill running had the profile it has at present he would surely have added to the national vests won for track and cross country.   The Mamore was not the only one he ran but was the one in which he placed himself firmly in the ranks of superb hill runners.
Phil also ran the much shorter Cathkin Braes Hill Race in 1975 in 24:06 from Alan Partridge of East Kilbride AAC who was timed at 24:11 avenging his second place to the same athlete of a year earlier.   He also ran the race in 1977 as part of his preparation for the Boston Marathon.    The furthest he travelled for a hill race was to the Isle of Man in 1970 when he ran the Peel Hill race defeating the Olympic silver medallist and world class steeplechaser Maurice Herriott from Birmingham who was the pre-race favourite.   In fact the officials were so confident that Herriott would win it that they stood there not realising Phil had been to the top and back until he handed then the card given to all athletes at the top!   Herriott knew better and told Phil that he had figured him as his main rival when he saw him warming up.   At the same meeting which lasts for several days, he won the 1500 metres Island Championship and was victorious over the reigning champion in the 800 metres.    Quite a week's work.
Charity Work 
Phil worked with the Royal Bank of Scotland and was asked by the bank to take part in a 'Corporate Walk' to raise money by the Stars Organisation for Spastics.   It was an organisation run by many of the top stars of stage and sport to raise money for charity.    If it still exists it is on a much lower level and has had a change of name.   (It is a pity that no matter how accurate a term is, it has been demonstrated time and again that it becomes demeaned and no one at present uses the word 'spastic' in conversation.   This in no way demeans the work done over the years by medical people and charitable organisations using the term.)   At the time it was a major fund raiser for many charities with members such as Kenneth McKellar, Bill McCue, Jack Milroy, the Krankies and Johnnie Beattie from the stage and Jock Wallace and John Greig from the world of sport as members.   Phil took part in the Corporate Walk but with a difference – he asked if he could run it.   The event took place round Pollock Estate and he covered 42 miles the first year – then he did 46 the second year.   Not content he went from there to 52+ miles then finally up to 56 miles in less than six hours!   He had raised thousands of pounds from these events (as well as from the sponsorship he carried in several marathon races) and was consequently made a full member of the association.   His name appears on the headed note paper alongside Gordon Brown, Dougie Donnelly,  Billy McNeill and the rest.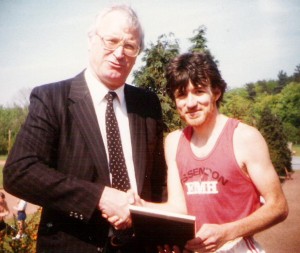 Phil with Jock Wallace (Manager of Rangers FC)
Although we have looked at the various strands of his athletics career separately for the sake of clarity, they were all intertwined all year every year.   In a typical year, the winter was all cross country and short road races and then in summer it was track, hills and road running up to marathon distance.   In my opinion his best year was 1977 where he had a good cross country season which included two selections for small Scottish teams (Mallusk and San Sebastian) before going into the summer where he raced two marathons – Boston where he recorded 2:23:00 and the Scottish Championships in 2:21:59.   In between he ran the 10,000 metres for Scotland in 31:24.8 in the International against Greece at Meadowbank.   On the hills, he won the short hill race at Cathkin Braes and set another record in the 14 miles Mamore Hill Race.   In September he ran 5000 metres in 14:17.9.   Then in October it was back to the Cross Country season with the McAndrew Relay starting the roundabout again for 1978 where he finished fourth, and was unlucky not to be third, in the Scottish Cross Country Championship and be selected for the International Cross Country fixture!   And this intensity was kept up for at least ten years as a Senior.
Any review of Phil's career must come to the conclusion that he was one of the best all round endurance athletes that the club has ever produced.   His top performances stand comparison with any of the Scottish athletes of his generation and he had victories over several of the domestic 'greats' at that time.   What were his best performances?   On the country he had his international vests; on the roads his marathon in Boston where he defeated many of the world's top competitors in temperatures seldom experienced in Scotland; on the hills, the two Mamore victories must be a source of great pride to him; and finally, using his talents and gifts for running to raise money for those less fortunate was well recognised by those outside the sport.   Phil was a great credit to his family, to the club, to the sport and mainly to himself.