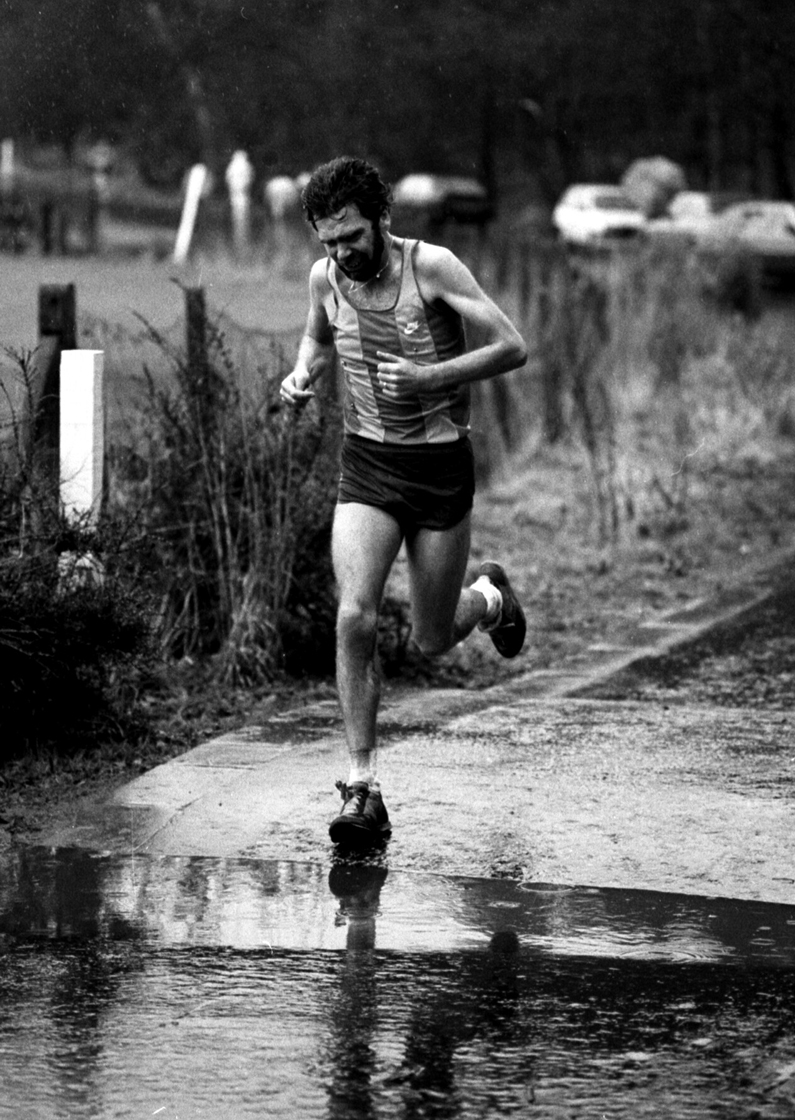 Cammie running in the Six Stage Relays
Cameron Spence, known to everybody as Cammie, was born on 19th July in 1950 and ran for five Scottish clubs (with an affiliation to one Irish outfit). The Scottish clubs were Greenock Glenpark Harriers, Greenock Wellpark, Spango Valley, Inverclyde and in the summer of 1973, for Shettleston Harriers. On the track he was ranked nationally from 1972 to 1988 in 3000 m, 5000m and 10000m with personal best times of 8:40.8, 14:27.6 and 30:00.84. On the road there are times of 64:18 for the half-marathon and 2:28 for the marathon. All good times and he was really competitive whatever the surface. He hated the track because "it was so bloody hard" but he did run it in championships and in Highland Games. Nevertheless, he is better known as an international cross-country and road runner.
He started as a boy with Glenpark between eleven and fifteen years of age, and ran in his first major championships in 1960/61. He was fifth in the District Championships as a Junior Boy and then 63rd in the National at Hamilton. Of these early days he says "Running was in the family. My 3 older brothers, Jim, George and Gordon all ran. So at the age of 11 I joined Glenpark Harriers. My first coach was the legendary Bill Elder. He coached all the youngsters in the club at that time. I only trained twice a week, Tuesdays and Thursdays. Short run followed by circuit training. To this day I can still be dab hand at skipping!"
His father was a football player of talent and had been approached to play for a senior professional team and Cammie followed in his footsteps for four years or so. He played at the top amateur level before coming back into athletics in 1970. He trained for a while with younger brother Lawrie and they were coached by big brother Jim. With some encouragement from big brother George and his wife Pat, Cammie then moved to Greenock Wellpark Harriers where he coached himself. His first run in Wellpark colours was in 1970 at Bute Highland Games. It was in the Mile Handicap where he was the back marker. The family in the form of Jim and George complained to the handicapper because Cammie was a novice, saying that it was his first race in five years and he shouldn't be the back marker. The handicapper would not change his mind. Cammie, however, finished 4th and at the following week's Cowal Highland Games he finished third on the Friday and, it being the age of the amateur, won a plaque. He still has it. The family bond was always important and when Cammie was asked if any person or group had a marked influence on his attitude or his performances, he says without hesitation, "I would say my oldest brother Jim. He was very enthusiastic about athletics and installed discipline into my training."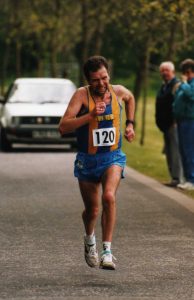 Cammie is known as a hard runner and a real competitor. He never just 'ran round' a trail in his life. Maybe that's why the photograph above is labelled 'How to Hurt'! He became a senior athlete in 1971/72 and he competed all the way through to the twenty first century. One of the really big events during his time in the sport was the eight man Edinburgh to Glasgow relay and Cammie ran in no fewer than twenty one of them between 1968 and 1998 for four clubs. The toughest stages of a race with no easy stages were the second and sixth. His record was 1st Stage x 2, 2nd Stage x 3, 4th Stage x 1, 5th Stage x 4, 6th Stage x 9, 8th Stage x 2. He represented Glenpark in 1968 and '69, Wellpark in 1970, '71 and '72, Spango Valley in 1977, '78, '79, '81, '82, '83, '84, '85, '87 '91, '92, '93, '94 and '95, and Inverclyde in 1998. Remarkable.
Cross-country was his forte however. Spango Valley AAC was founded in September 1973 and Cammie was one of key men there right from the start. A very good all round team they seemed to be specially good in relays and the part Cammie played (he was team captain for 20 of the club's 25 years) was tremendous. In the District Relays, they won gold, silver and bronze and Cammie ran times in the top ten most years and although they never won the six-stage road relays, they won lots of metal there as well. He was a really good team player. How was he as an individual? We can look at his championship record.
In 1972/73 the Glasgow Herald report on the South West District championships read: "The Spence brothers, running for Glenpark and Wellpark respectively, dominated the South Western District Championships. Laurie Spence was an easy winner of the senior/junior title by no less than 270 yards from his brother with Dick Hodelet a similar distance away third." Glenpark won the team race with Wellpark third. In the National championships at the end of the season, Cammie was 27th in the Senior race while Laurie was second in the Junior event running for Strathclyde University. Running for the new club of Spango Valley AAC in the 1974 National at Coatbridge, Cameron was 17th while Lawrie was fourth in the Junior race. The improvement was year-on-year by now and in 1975, Cammie won the last South-West District championship ever held by over half a minute with former team mate Bill Stoddart third. This was followed by 41st in the National at Coatbridge.
In season 1975/76 the South West District merged with the Midland District to form the West District – a much tougher outfit with good results harder to come by. In the Championships, neither Cammie nor the club were placed and Cammie missed the National held again at Coatbridge.
The rivalry between Cammie and Lawrie had not yet started to heat up and in the District Championship Lawrie was eighth and Cammie 21st. In the National in 1977 Lawrie was fourth and Cammie was 26th. The following year on a very hard and rutted course at East Kilbride Lawrie won from Phil Dolan of Clydesdale Harriers and Cammie was not able to run. In the National however, Cammie had the beating of Lawrie when he finished twelfth to Lawrie's fifteenth. Time difference? 22 seconds. The rivalry was probably at its best over the next few years Both quality cross-country men, they had some real battles over the years with Lawrie generally coming out on top. Neither ran in the District in 1978 and Cammie also missed the National where Lawrie was second.
In the District championships in 1979/80 Cammie was third but they met up again in the national where Lawrie was fifth with Cammie tenth. Difference? 47 seconds or 200 yards+. The following year Lawrie was fourth with Cammie 12th, and so on with the gap being about 200 yards at the finish. When Lawrie finished at Strathclyde Unversity he returned to Greenock and joined Cammie at Spango Valley AC. Inevitably there was some sibling rivalry in evidence. When asked, Cammie says, "Of course there was, at times, between Lawrie and myself. I always enjoyed beating Lawrie in races – which wasn't very often. He wasn't as keen for me to do it! Some of our sessions we did in the Battery Park in Greenock were legendary, and boy did they pay-off for us!"
As founder nations of the Cross-Country International Scotland, England, Ireland and Wales ran as separate nations in the World Cross-Country Championships up until 1985. It was a wonderful time and the effect on Scottish distance running was entirely beneficial. As well as the International there were several international fixtures on the continent for four man teams – Elgoibar in Spain, Hannut in Belgium, San Sebastian in Spain and so on. The opportunities were there if you could take them. Cammie was fortunate enough enough to have the talent that could take him to the necessary standard. After running for a short time for Scottish representative teams at a time when the standard was high, he had the opportunity to race in the biggest race on the calendar for Ireland.
Asked about the Irish connection, he said "It started in 1979 when I fell out with the Scottish selectors. I won the International race at Stirling University grounds running for Scotland in 1978. Won it quite easily and was picked to run in Belfast (which was cancelled due to the Troubles), and San Sebastian on the back of that win. Then went to Spain and picked a bug up (likely on the plane) and ran poorly. When I got home I had a chest infection. Missed training for a number of weeks and as a result missed the National but asked the selectors to consider me for the Worlds. They didn't.
Meanwhile Rod Stone (Cambuslang Harriers) from NI asked Lawrie and I if we would like to run for Annadale Striders at the NI Senior Cross-Country Championships. We had Irish qualification through our father who was born in Belfast (and how did they find that out?). We both agreed and joined the Striders. Lawrie finished second and I was sixth. They offered us places in the NI team for the Worlds. I said yes and Lawrie said no. I got International clearance quickly. I went to Limerick for the Worlds and beat half the Scottish team. I had proved a point. It was the best move I ever made."
He had to qualify for selection by running in the Irish Senior National Cross-Country Championships and the result was that Cammie ran for Northern Ireland in Limerick in 1979, in Paris in 1980, in Madrid in '81, in Gateshead in 1983 and in New York in 1984. In Limerick they were almost side by side at the finish – Lawrie was 193rd and Cammie 194th and in New York they were team captains. Not limited to the Worlds he turned out in international races at Milan and Buussels on the continent, Gateshead, Stirling, Cumbernauld and in road races in the south of Ireland too. It was a great time for the event and cross-country has a high status in Ireland – Cammie ran in teams with Greg and Gerry Hannon, Paul Lawther, John McLaughlin and many other well-kent athletes.
Family rivalry was now raised to international level. Asked about the duels with Lawrie he said: " Yes – at the Worlds and various other events. I have stories about us and our battles over the country. Now here is a question for you. Who are the only brothers to captain different nations at the World Cross-Country Championship. And what year and place? Yip, Lawrie and myself were the captains of Scotland and Northern Ireland respectively at New York in 1984. What a honour for us. Pity our dad had died two years previously."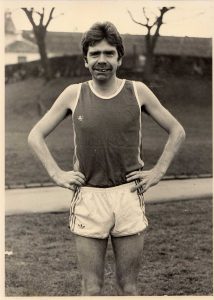 Cammie in his Irish vest
Of course there was life after the World Cross-Country Championships – 8 of his Edinburgh to Glasgow Relays for a start. Cammie is a runners' runner, he turns out for his club as readily as for his country, he turns out for the sake of the race regardless of whether there is a club team or whether he is running as an individual. He continued to do so as well and as hard as he always did. There was something he had not tried yet though. In the 80's the marathon was the thing. Everybody ran the event – young people, old people, very old people – and there are no prizes for knowing that Cammie ran the event. He says:
"I hated marathons. 20 miles and body switched off. Every time except…………………in 1984. I ran at the Cowal Games on the Saturday in the 5K. 2nd to Lawrie in 14.53. Then it was 8 pints of lager and Chinese meal after. My wife got me up at 9.30am on Sunday morning saying I had promised to run the Inverclyde Marathon with Terry Wilkie. I had just remembered after the 5K he asked me. So I had a cold shower to wake and sober up and get a entry on the day (morning) and got to the start line just in that ime. Off we went. Time passed by in a sort of blur. We stopped for water, we stopped for sponge fights, we stopped to get our picture taken. Our last stop was just before the mile to go mark.
"Terry was struggling. I wisnae bad. Didn't have a clue about time, but there were two Kilbarchan runners coming and I said to Terry we can't let them beat us. He told me to go away. He just wanted to lie down. I wouldn't let him, Got him going. We finished with a time of 2.35. I couldn't believe it. Could have been 2.34 but we stopped again to pose for pictures before the finish. There is no justice. Didn't train for it; raced the day before; drank too much the night before. I still don't know how I managed it."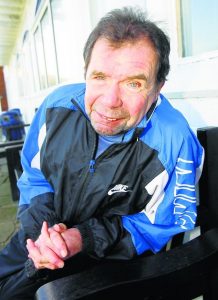 Clearly fit and well but the twenty first century had a nasty surprise for Cameron Spence.
ATHLETE TO KEEP RUNNING DESPITE HEART PROBLEM
The above headline appeared in the Greenock Telegraph in 2010 and started: "An international athlete from Greenock discovered that his heart stopped beating during the night – but is now amazingly back running. Cameron Cammy Spence was diagnosed with exercise induced asthma two years ago and had to give up running – but it was actually his heart that was causing breathlessness during exercise. He has been fitted with a heart pacemaker and is back pounding the streets as well as being involved in worldwide research that could save lives.
Superfit Cammy was given the shocking news about his heart after a specialist at Inverclyde Royal Hospital said he wasn't convinced he had asthma and arranged for him to get a mobile heart monitor. Cammy said "I had the monitor on for 24 hours and it showed my heart stopping twice during he night for 4.5 seconds at a time. I couldn't believe it. There is no history of heart problems on my mother's or father's sides of the family. I felt numb.
Now the Inverclyde Athletic Club coach wants to warn other runners that they too might under certain circumstances be in danger of damaging their hearts."
Cammy then discovered after reading a magazine article that he wasn't the only runner diagnosed wrongly with asthma instead of an irregular heart beat. Now the Inverclyde Athletic Club coach wants to warn other runners that they too, under certain circumstances , could be in danger of damaging their hearts. He said, "Just as I was getting diagnosed for an irregular heartbeat there was an article in "Athletics Weekly" by oneof the regulat writers who has the same problem. "
Cammie got in touch with Martin and many Scottish runners then got in touch with him about it. His belief is that hard training when running through colds and 'flu may be the cause. Remember he was running when all the regular road runners, not just the internationals, were running 70 – 100 mpw. The whole article can be found at: http://www.greenocktelegraph.co.uk/news/14001294.Athlete_to_keep_running_despite_heart_problem/
The cardiologist who diagnosed the problem was very keen to find out more about it and was very interested in Cammie's work with Martin through AW. Right now, he says that he was happy with the pacemaker but at present and for the last two years it's not as good. He still runs but feels more tired, even when jogging. It is an ongoing problem and he is discussing it with his new cardiologist.
*
Cammie is still very involved in the sport. Let's count the ways!
He has been coaching for many years. It was easy for him to do the coaching, he says, as he had been coaching himself from 1976. He was always experimenting.. When Spango were at their peak in the 80's most of the guys at IBM were doing Cammie's sessions. Heencouraged them and says it was great to see them improving.
Administration. He has been doing that for a very long time as well. We have already noted that he was club captain at Spango for 20 years of its 25 years in existence. He was also the first captain of Inverclyde AC when it was formed in 1998. Vice President in 1998 and then President of the Scottish Veteran Harriers Club, plus was the handicapper, race convenor, timekeeper, recorder.
Then there was the Cowal Highland Gathering. The Games committee asked if he was willing to bring athletics back to the Games. This was 1996. Of course being Cammie, he said he would. He says: "Cowal was wonderful. Running if front of 20000 people was amazing. So it was May '96 that I had a meeting with the Captain Eric Brown, committee member, on the Western Ferries So over 2 sailings between Gourock and Dunoon I had my plan accepted and the athletics would start again at that years Games. Had my ups and downs at Cowal. Down bits caused by the Scottish Pipe Band Association. The up bits were the athletes who supported me. I'm sure they all enjoyed the experience. I stepped down last year after 20 years as athletics convenor. I always intended that the Dunoon folk should look after their Games. Now happening."
He has also been involved with the Bute Highland Games since he himself first started competing there in 1970. Over the years he slowly drifted into becoming an official and is now athletics convenor. "I canny help myself, he says.
Now there is the Renfrewshire AAA's. President. Stand in Secretary, Treasurer, timekeeper, recorder. Been Colin Shield's back-up for many, many years. Colin retired last year. His health not that great. 40 years he has been involved with the county. Looks like I'm going that way too.
We asked Cammie to reflect on his running career and he came up with the following responses.
Looking back, Cammie, what exactly did you get out of the sport?
Friendships. The people I met during my running career were all wonderful. From Joe Jogger to World and Olympic Champions. And the many officials as well. It was the friendships that were created and they still last today.
Can you describe your general attitude to the sport?
It was hard work at times but I enjoyed the training and taking part in races. Especially the racing.
What do you consider your best ever performance?
It was actually one year, 1979.
*I had always wanted to win a District Track title (10K at Coatbridge).
*I won the Gourock Highland Games Road Race(remember watching the road race as a wee boy and thinking I want to win that).
*And racing at the World XC Championships for the first time.
It was some year for me. The only down side it was a couple of years until I got my motivation back. So the moral of the story is, and something I tell my athletes "You can always do better".
And your worst?
All my marathons. (Except the Inverclyde one in 1984. Which made me question why was I doing them?).
What goals do you have that are still unachieved?
My goals are for the athletes that I coach. I want them to get the best out of themselves. I think I achieved mines.
What would you have changed about your athletics career were you able to go back?
When I started running again there was only Ravenscraig Stadium for us to do our quality sessions. It was a cinder track. It was either brick hard or like a bog. You know what Greenock is like for rain!!! It was blisters or getting covered in wet dirty cinders. So it was the Battery Park and on the grass which I developed for doing our speed work starting in 1976. If we had a decent track maybe my track times would have been better. But the Battery did help me pick up a lot of prizes at the Highland Games hmmm. So to answer the question, if I had a decent track to train on maybe, just maybe, my track times would have been so much better. That would have gave me a lot of satisfaction.
Ran for Scotland quite a few times on the country. I would call them B vests. And was involved in the international training sessions, usually at Livingston on a wet Sunday.
I ran for the Scottish Vets. I did offer my services to the Northern Ireland people when I turned 40 in 1990. They didn't respond for some reason. So I was more than happy to put on the dark blue vest once again. But I decided in 1996 I had had enough of International competition. I just didn't want the pressure any more.
What do you think of the sport now that it is 'more professional' in its set up?
It was better run(ex the pun)in days gone by. But things are starting to improve. Scottishathletics are slowly starting to realise that the clubs are the mainstay of the sport. But there is too much emphasis on the younger athletes and not enough encouragement for the older ones. As I say the young ones come and go. The seniors are the mainstay of the clubs. The "professional" athletes we have are having money flung at them. When they are good enough they will get invites and appearance money to the larger events. They don't need the sports body to support them.
What advice would you give a young person coming into the sport for the first time today?
Athletics are there to be enjoyed. You can only do your best. You are going to have good days and bad ones. Don't expect too much too soon. You only get out of the sport what you put into it.
And my favourite saying "You are as only as good as your NEXT race. You learn from the last one".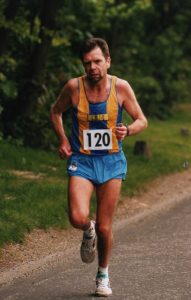 One of his former rivals, Colin Youngson (three SAAA Marathon titles, 10 marathon medals in total, and SAAA 10 miles track champion) has some good memories of racing Cameron. He says
"To other runners, Cammie was well liked and respected as a fighter, a terrier – someone who could be relied on to battle as hard as possible and seldom even considered easing off – a very difficult man to beat, or stave off, if he was chasing you. He and I were occasionally close rivals, although his forte was cross-country and mine road running, especially marathons, which he did not enjoy.
Since I am nearly three years older, when we first raced against each other, on Stage Two of the E to G in 1970, I was a fair bit faster and the same was true on Stage Four in 1972. However by 1982 on Stage 2 he outpaced me quite easily, although I got my revenge on Stage Five in 1984 and 1985.
In the National Senior Cross Country, Cammie definitely had the edge. Although I finished in front of him in 1972, he outkicked me a year later. The last time I beat him in this prestigious event was in 1975. After that it was Cammie all the way, although 1978 was close – I was thirteenth and he was one irritating place in front! In 1980, although he beat me easily, I had the consolation of being ESH captain and a counter in their winning team.
An interesting encounter took place in October 1981 at the Allan Scally Road Relay. I had moved back up north and rejoined Aberdeen AAC. Since I was not particularly fit, I assumed that this event would merely provide good training. However Peter Wilson and Fraser Clyne ran well and then Graham Laing came back to form with a bang – handing me a totally unexpected 39 second lead! Cammie closed inexorably and by the finish, although AAAC did hold on to win, it was only by eleven seconds!
After he became a veteran by turning 40 in July 1990, we renewed our rivalry and had quite a few close contests. In the 1991 Scottish Vets Track Champs, I did manage to beat Cammie over 5000m, but he had raced the 1500m previously. Aberdeen was the venue for that year's Home Countries Veteran Cross Country tussle. I was in the Scottish first team and Cammie in the second team. However I suffered badly from catarrh and, after starting too fast, began retching and struggling. Cammie's unsympathetic voice rang out just behind me, "For God's sake, Colin, if you're going to die, just die!" He moved ahead, out of earshot, and ended up a respectable 11th, with me a disconsolate 16th.
At the Kelvin Hall Scottish Vets Indoors in March 1992, Cammie and I had a real fight in the 1500m, before he sped away to win in 4.16.3, while I was happy enough with 4.17.4. Then he beat me into third in the 3000m. Dougie Mackenzie won, with Cammie recording 8.56 and me three seconds behind. At the end of the same month the 8-Man Alloa to Twechar relay took place. Cammie won Stage Stage Two; I was fastest on Stage Seven and AAAC were first team home.
Saturday October 31st 1992 was a red letter day for me, and Cammie made me fight very hard. I had just turned 45 and was very keen to do well in that category at the Five Nations Vets XC event in Belfast. The rest of the Scots team arrived on Friday; but Cammie flew in from Glasgow that morning. I started fast but Cammie caught up and we ran closely together until there was less than a lap to go, when I edged away to finish 6th (and first M45, also leading my age group team to Gold), while Cammie was a fine 9th and led the Scots M40 team to Silver medals. Then he flew straight back home!
In 1993 I did manage to beat Cammie over 5000m in the Scots Vets Track; and in 1994 finished 4th in the Scots Vets XC, one place in front of him. However in 1996 Cammie Spence beat me very easily in the British Veterans Half Marathon Champs in Monkland.
Looking back, we were very well matched and enjoyed a long friendly rivalry.
Always a contributor to the sport, Cammie became President of the Scottish Veteran Harriers Club. When I started as editor of the club newsletter, Cammie submitted a lengthy account of the SVHC Easter trip to the sun in Lanzarote, a thoroughly enjoyable trip which he had helped to organise for many years. Social events in 2014 included daily runs exploring the local area, darts, sunbathing, Bingo, hotel entertainment, several refreshments, water flumes, climbing a volcano, a barbecue, cycling and a 5 km road race!"
And one of Colin's key phrases was "always a contributor. Many, many people take part in the wonderful sports of road and cross-ountry running and almost all retire more or less gracefully after their competition dys are done. But the spport relies on such as Cammie who after a long career as a runner give back at least as much as they have got out of the sport. In Cammie's case the return has been considerable.