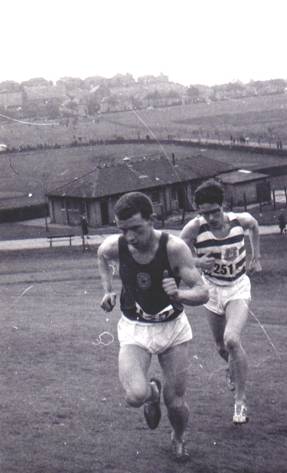 Jim Brennan leads Pat Maclagan in the Midlands Championship in 1968
There are many runners who work their way through the age groups showing great promise and even run well as Junior and Senior before dropping out of the sport and totally disappear from view. One of my favourite runners of the 1960's was Jim Brennan of Maryhill Harriers. Jim was a friendly, approachable runner in a club which at that point was not having much competitive success, a runner who won International recognition at Junior and Senior level and who beat most off the best in the country at one time or another. Jim's best track times of 9:05.6 for 2 Miles and 30:03 for 6 Miles would have seen him in the top 20 in the country in 2013 -and his steeplechase time of 9:25.2 would have had him ranked sixth in 2013! None of them on tartan tracks either. Jim was muscular individual, looking more like a boxer than a distance runner perhaps, who supported his club in everything and when they came to an inter-club fixture with my own club on one occasion he agreed to take some time to talk to some of the local young athletes about his training.
Before we look at his career in detail it might be appropriate to ask the man himself about his career as an athlete. We put the questionnaire before him and his replies are given verbatim.
Name: Jim Brennann
Date of Birth: 2nd July, 1946
Clubs: Maryhill Harriers and Irvine AC
Occupation: Painter and Decorator
Personal Bests: Probably 10 Miles Championship in 1969 and Tom Scott 10 Mile Road Race finishing behind A Brown and winner Jim Alder
How did you get involved in the sport in the first place: Glasgow Schools Champion half mile in 1960 aged 14.
Has any individual or group had a marked effect on either your attitude to the sport or to individual performances? Mr Bob Bell and Mr Matt Lang, true gentlemen; the whole club members and my friends Nirmal Singh and Edmund MacKenzie
What exactly did you get out of the sport? Friendship and a good upbringing.
Can you describe your general attitude to the sport? Friendship and a good upbringing.
What do you consider your best ever performance? My first race ever at 1960 Garscube Harriers boys races relays. I was in a mixed team, I ran first, fastest time for my age group.
And your worst? Barry International Cross-Country. Should have withdrawn from the race with a bad cold but that was the way I was brought up.What did you do to relax? Cycling, golf and love watching athletics.
Were there any goals that you failed to achieve? Probably at my young age I am sure I could have been much better if I had a coach but I was self coached since I was 14.
Can you give any details of your training? Track: lots of repetition work, all distances; road, 60 to 80 miles a week.
Your career as far as most of us are concerned ended in 1969 but you did run for Irvine AC too ? Yes, I ran for Irvine for about 12 years with good memories.
Do you still run for any reason – fun, habit, etc? Occasional;ly I put the gear on and do one and a half to about two miles.
Your family ran too. Can you tell us a bit about that? My son and two daughters ran with Irvine with a lot of good results. My son is a qualified coach with North Ayrshire AC.
Did you yourself ever get involved as a coach or official or in any other capacity in the sport? Yes, I did a bit for about four and a half years. Four of my Youths finished second in the Scottish Schools AC.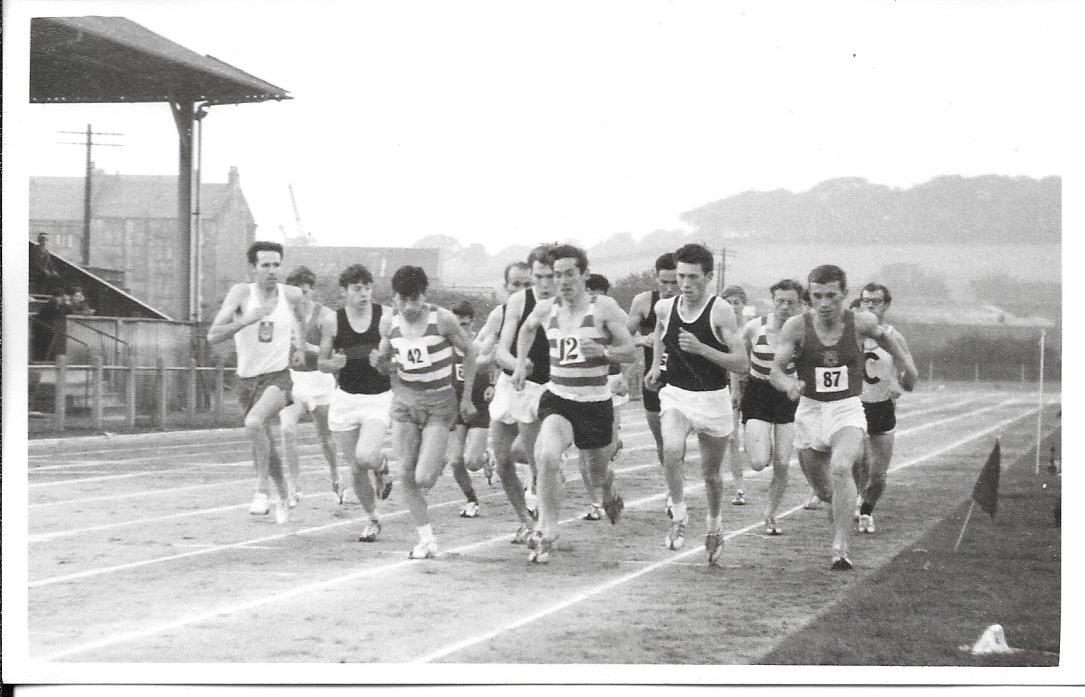 The start of a West District Three Miles at Westerlands: Jim Spence, Colin Martin, Albie Smith, Bert McKay, Alex Brown, Lachie Stewart, Alistair Milroy, Ian McCafferty, Hugh McErllean, Jim Brennan, Brian McAusland
That is what Jim himself has to say and it looks like a good career in the sport despite the fact that it was cut short in a running and racing capacity in 1969. He clearly enjoyed running, inculcated that love in his children and also gave something back as a coach.
As a runner, he first appears in the results in season 1961/62 when he was fifth in the Boys National at Hamilton 13 seconds behind the winner, Duncan Middleton of Springburn. A look at the top six reveals the quality at the time –
1. D Middleton (Springburn) 7:58; 2. R Wedlock (Shettleston)
8:03; 3. W Eadie (St Modan's AC) 8:07; 4. W Donaldson (Edinburgh AC) 8:11; 5. J Brennan (Maryhill) 8:11; 6. T Brown (St Modan's AC) 8:15. All went on to become good senior athletes.
During the following summer, he suffered from the fact that there were really no distance races for his age group – many races only had an 880 yards, others only went up to the Mile. He would have followed the normal pattern of running in handicap races at highland gatherings and preparing for the winter. By season 1962/63 Jim was in the Youths (Under 17) age group and started 1963 with the Midlands District Cross Country Championship on an icy course at Strathleven, just outside Dumbarton. It was up an age group from last year but he also finished up a few places when he finished second, and only 4 seconds behind, to Ian McCafferty . Behind him were Ian Young (Springburn), Duncan Middleton (Springburn), S Grant (Motherwell) and Davie Tees (Springburn). A good run. Came the National and he was fourth behind McCafferty, Young and, the favourite on the day, Carroll of Edinburgh AC. Time differences were slight with Jim only 27 seconds down on the winner and followed home by Tom Brown (St Modan's), Duncan Middleton and Dick Wedlock.
In winter 1963 he was a bit more experienced and already known as a good runner and hard worker – one you had to battle to defeat. In the Midland championship, again at Strathleven, he was second again – this time to Duncan Middleton and one place in front of Eddie Knox, also Springburn. Seven seconds down on Middleton he was only two ahead of Knox who was followed home by Dick Wedlock, Tom Brown, Walter Eadie and Alistair Blamire. In the National, at Hamilton he was 6th behind Knox, Middleton, Wedlock, Eadie and Brown. Summer 1964 was a replay of 1963 – in the West Districts at Westerlands the longest race was the 880 yards which Tom Dobbin (Greenock Glenpark) won from Eddie Knox. In the National there was a mile where Eddie Knox won comfortably, but there were no steeplechase races or anything further than a mile on any programme.
In the early 1964 winter season short relays, Jim was not prominent partly because his club at that time was not winning many medals but mainly because the quality of the opposition was too much for any first year Junior. The sheltered haven of Youths races (where there was often a fast start and a fast finish with a rest in the middle) was not preparation for hard-all-the-way races against seniors on a weekly basis. However the progress was there for all to see. He missed his own club's Nigel Barge Road Race at the start of January and then ran in the Senior race at the District Championships and was ninth across the finishing line. In the process he picked up many notable 'scalps' including Hugh Barrow (fastest man in the Kingsway Relays, later at Fernieside and enjoying a spell of very good form)) and his Victoria Park team mates Pat Maclagan and John McLaren. He next appeared on 6th February in the Inter-Counties Championship at at Cleland Estate, Motherwell, where he was sixth in a very good field. One week later and he won his club's Junior title in a time 12 minutes faster than the winning senior but less than a minute ahead of the second Junior, Robert Stevenson, who was a very good runner indeed, only unfortunate that the standard in the country was so high at this time. Robert ran many good races and beat many of the best runners but never received the credit he deserved. In the National Jim Brennan did well to be 7th in the Junior race where he was competing against runners some of whom were nearly two years older than he was. The result is worth noting.
1. I McCafferty; 2. R Young; 3. AP Brown; 4. R Wedlock; 5. W Eadie; 6. I Young; 7. J Brennan; 8. J Raeburn; 9. A Blamire; 10. S McIntosh; 11. J Wight.
Although not selected for the International in Ostend, Brennan was first non-travelling reserve for the Junior team
Following this, summer 1965 was a good one for Brennan with a series of very good races. As a junior he was racing against seniors most weeks and when it is remembered that the seniors included Ian McCafferty, Lachie Stewart, Andy and Alex Brown, Dick Wedlock and the like, it was not easy. However he did perform well – on 22nd May he was second to Graeme Grant of Dumbarton in the Junior Mile at the Glasgow Championship at Scotstoun, on 28th June he was second in the SAAA Junior Mile to Alistair Blamire, on 24th July he won the handicap mile at Gourock from Jim Johnston of Monkland Harriers, admittedly off 60 yards to Johnston's 20 and in the SAAA v Army match at the end of July he was second in the Junior Mile, again behind Blamire. (In the latter meeting the Junior 2000m steeplechase was won by Doug Gillon in 6:26.6). By the end of 1965 he was ranked in three events – 25th in the Two Miles with 9:18.0, 14th in the Six Miles with 30:12.0 and eighteenth in the 3000m steeplechase with a best of 9:58.0. This set him up nicely for another good winter which was to culminate in his first Scottish international cross-country vest.
1965/66 His first race of the season was in the City of Glasgow Relay Championship in early October where he was fastest over the course. Then on a very muddy trail for the Midlands Relay in Stirling at the end of the month he was first on the opening stage, eight seconds ahead of Alex Brown, and third fastest on the day. It was a very good run that surprised the pundits. The good form continued into November when he was fourth in the University Road Race behind Lachie Stewart, Bert McKay and Eddie Knox. Maryhill was not involved in the Edinburgh to Glasgow so Brennan's next race was at the end of November when he ran as a non-counter in the SCCU v British Army match at Glasgow Green: so well did he run that he was sixth finisher in the race. The first Saturday in December was dedicated to County Championships and in the City of Glasgow event, Brennan triumphed. The report in the 'Glasgow Herald' read:
"The surprise of the day was in the Glasgow championships where WH Barrow (Victoria Park) finished second equal with P Maclagan, a clubmate, behind J Brennan (Maryhill Harriers). Brennan's ability to charge without fear through the rough undergrowth in Garscube Estate contributed largely to his margin of victory; those following were inclined to pick and choose their routes. Occupying all positions from second to sixth Victoria Park had a walkaway win in the team race. Details: 1. J Brennan (Maryhill) 33:01; 2= WH Barrow and P Maclagan (both Victoria Park) 33:24; 4. C Laing (Victoria Park) 33:29; 5. A Smith (Victoria Park) 33:45; 6. A Johnston (Victoria Park) 33:47."
A week later in the SCCU v Scottish Universities he was sixth in a race won by Lachie Stewart. The races kept on coming and seven days later he was fastest over the course in the Maryhill Harriers handicap championship. Such running deserves its rewards and his came in the form of an invitation to take part in a Three Miles race to be held at Celtic Park at half-time in the Celtic v Rangers match. The boy done good and finished third behind Lachie Stewart and Andy Brown but in front of Alex Brown, Bert McKay, and Pat Maclagan. His next outing was in the Maryhill Harriers open road race for the Nigel Barge trophy where the winner was again Lachie Stewart but Brennan was fifth only 35 seconds behind. The 'race-a-week' routine went on and the following Saturday he was ninth in a very good Midland Championship at Strathleven Estate, Dumbarton. It had been a race a week since mid-October for Jim Brennan but there was now a two week gap until he was fifth in the Inter-Counties race in Musselburgh at the start of February. The week before the National is club championship time and Brennan won the Maryhill Harriers junior title for the second successive year. Then on 26th February it was the National at Hamilton where he was fifth to finish and selected to run in the Junior team at Rabat in Morocco with Knox, Blamire and Steel. The star of the day was Eddie Knox who finished third with Brennan tenth – "JJ Brennan in his first big meeting did well to take tenth place and helped put Scotland third in the team race with 28 points. Our other counter, JR Blamire, was fifteenth." – and Alistair Blamire five places back.
The next mention of him in the prize list was on 4th June when he was second in the Mile at the Burgess Week Sports at Bishopbriggs in Glasgow behind Jim Johnstone of Monkland Harriers in 4:21.7 to Johnstone's 4:16.2. Brennan probably kept racing but results were limited to the top three in some events and in other weeks, only the winner was given: unfortunate in the run-up to the SAAA Championships were Brennan did not take any medals, hardly surprising with Stewart and McCafferty in great form leading into the Games. He was fourth in the Three Miles however. Nevertheless he did race during the season and was ranked in three events – Mile, Three Miles and Steeplechase. The mile was run 18th October in Glasgow where he was fourth in 4:18.6 – 0.6 behind Duncan Middleton. Twelfth in the Three Miles with 14:03.6 run at Meadowbank on 12th June in the Inter-Counties meeting. His best race of the season however was the SAAA Steeplechase on 25th June where he was fourth in 9:25.2. He was also second in the District championship behind Lachie Stewart and ten seconds in front of Jim Bogan in 9:38.0. There were several noted steeplechasers behind him including Alistair Blamire, Ian Harris, Tommy Cochrane, Jim McLatchie and Doug Gillon. In cidentally, 9:25.2 would have placed him fifth in the rankings in 2013 =- and his time was run on cinders.
Winter 1966/67 started for him in October with fastest time for the second year in succession in the Glasgow Relay championship ahead of Maclagan and Johnston of Victoria Park. Clearly in good form, he was third fastest in the Midland District relay at Stirling and ran the third fastest time just 19 seconds slower than Ian McCafferty and 14 behind Lachie Stewart. The following week in the Glasgow University Road Race he was third – Lachie Stewart won in a course record time of 25:16, Andy Brown was second in 25:32, Brennan third in 25:42 followed by Eddie Knox in 26:02, Alex Brown in 26:15 and Dick Wedlock in 26:22. Lachie led the race from the start followed by a bunch of four – Brennan, Andy and Alex Brown and Eddie Knox. Jim and Andy broke away from the other two and the 'Glasgow Herald' reporter had this to say: "Brennan must have felt that second place was his a mile from the finish as he challenged and overtook the veteran Brown. But, as he said in the dressing-room after the race, "Brown knew how to play with the head!" Coming in the gate of Westerlands, Brennan was out-manoeuvred by a quick break and in the finishing lap gradually fell50 yards behind." Although his club did not feature in the Edinburgh to Glasgow Relay on 19th November he was selected after the race for the SCCU team to compete against the Army at Carlisle the following week. It was a good team – Ian McCafferty, Andy and Alex Brown, Lachie Stewart, John Linaker, Ian Hathorn and Gareth Bryan-Jones with Eddie Knox as reserve. In the actual race he ran well enough to finish fifth (fourth Scot) and that was good enough to see him selected immediately after the race for the team to race against Scottish Universities two weeks later. And the team this time included Fergus Murray, Mel Edwards, Kenny Ballantyne, Eddie Knox and Alastair Johnston as well as Stewart, McCafferty and the two Brown brothers. I list the teams to show the quality of men that he was running with – he was not selected in poor years for the sport. The following week, Brennan led from start to finish to win his third Glasgow championship in three years with Victoria Park taking the team title for the third successive year as well. The headline for the SCCU v SU match read "Scottish Union win with Customary Efficiency" and Jim Brennan was fifth behind Linaker, Alex Brown, Bryan-Jones and Knox.
Into 1967 and he started with seventh place in the Nigel Barge race at Maryhill but followed that with a good third at Springburn the following Saturday, beaten by McCafferty and Knox. His third race in three weeks was the Midland championship at Bellahouston Park where he was fifth – just 36 seconds behind Lachie Stewart in second place. At the start of February, Brennan was third in the Inter-Counties Championship, held again at Cleland, behind the two Brown brothers and ahead of Knox, Cochrane and McKay. It seems incredible when reading these results to realise that so many of the chief protagonists were still Juniors as far as the cross-country season was concerned, but that's how it was and the National Junior Championship at the end of February was a keenly fought contest. Eddie Knox won by one second (28:03 to 28:04) from Alistair Blamire with John Myatt third (28:33) and Jim Brennan fourth (28:59). The rules defining eligibility for the Junior age group were anomalous in that both Blamire and Brennan were eligible for the age group domestically but were seniors for the purposes of international competition. Their running for the season had been so good however, that the selectors put them both into the team for the international at Barry, Glamorgan, in Wales on 18th March. The result in the international was a comfortable win for Gaston Roelants of Belgium, Blamire and Brennan were 63rd and 88th respectively.
He doesn't seem to have competed at all that summer, certainly not in any of the main events such as SAAA Championhips, District Championships, Glasgow Championships, in any of the invitation events at Grangemouth or elsewhere or even at any of the big Highland Games meetings like Gourock or Babcock and Wilcox. It has to be believed that he was ill or injured because he was never one to shy away from competition.
Winter 1967/68 started for Jim Brennan on Saturday 7th October in the McAndrew Relay when he was mentioned in the 'Herald' report as running on the first stage thus: "For a time J Brennan (Maryhill), a Scottish cross-country internationalist, challenged the Shettleston man [Bill Scally] for the honour of leading in the field of 77 over the first two and three-quarter miles, but this was an athlete of some stature he was running beside, not the moderate performer we have known. Over the last mile past Scotstoun Showground, Scally crushed Brennan with a fiery burst and the race was over." At least he was back in action, probably more than a bit 'ring rusty', and the report the following week gave some indication of why he had been absent. The event was the City of Glasgow Relay championships where he had the fastest time for the fourth consecutive year with Victoria Park winning the team race – also for the fourth consecutive year. The key section in the report read: "The best individual time was returned by J Brennan (Maryhill Harriers) who appears to have recovered from the foot injury which has kept him out of competition for several months." The event was held this time on the flat Knightswood Park so his time could not be put down to charging through rough undergrowth. A week later he was first on the first stage of the Midland District Relay, one place ahead of Brian Goodwin of Bellahouston Harriers with the fourth quickest time of the day. Despite racing relatively well, Brennan was not picked for any of the teams that year – he was absent from the SCCU teams v the Army and against the Universities, and when a big team with six reserve (all allowed to run) was picked to race at Granollers in France, there was no Jim Brennan. It may be that his foot injury had flared up again but it seems strange that he was not there. He was back in the results columns again on 2nd December when he won the City of Glasgow championship by 28 seconds from Alistair Johnston of Victoria Park, a competition where Glasgow University won the team race. When the race between SCCU and the Universities came along in the second week in December he was allowed to run as a non-counter for the Scottish team and showed them the error of their ways when he finished third behind Knox and Blamire but in front of Bryan-Jones, Wedlock, Wight, Brown, Maclagan and Myatt. The 'Herald' said "The form of Brennan, who suffered the anonymity of being a non-counter, was especially pleasing. His third place confirmed his return to top class competition in the future and, who knows, maybe a place in the team for Tunisia in March."
"BRENNAN RECOVERS BEST FORM" was the headline in the 'Glasgow Herald' on 18th December and the brief report read "J Brennan (Maryhill Harriers), an Internationalist last year, recovered his best form when he won the East Kilbride open senior five and a half mile road race with a time of 25 min 57 sec. Other placings were:- 2. AP Brown (Law) 26:04; 3. J Myatt (Strathclyde) 26:08" In the traditional first race of the New Year – the Nigel Barge at Maryhill – Brennan had a fine run to be fourth, this time lifting the scalps of Wedlock and Morrison of Shettleston and Knox of Springburn although he had to give best to Bryan-Jones and Blamire. After the race teams were selected for races on the continent for small three and four man teams and Brennan was not selected for any of them, one of the penalties for running in the same era as Stewart, Alder and McCafferty. He was not alone in this and the following week, the 'Glasgow Herald' pointed out that the first three in the race at Springburn were all reserves for these races – Wedlock won, Brennan was second and Maclagan was third. Two of the three were in action in the District Championship at Bellahouston Park the following weekend and the headline read
"MACLAGAN BREAKAWAY BROUGHT NO RESPONSE FROM BRENNAN." "The effect of a sudden breakaway on an athlete was clearly illustrated at the Midland District championship at Bellahouston Park on Saturday. The man making the break renews weary limbs with winged heels. The victim clanks on his way, no longer stemming the onset of weariness. For more than four of the six miles in the senior contest a grim struggle was played out between P Maclagan (Victoria Park) and J Brennan (Maryhill) over the toughest course they have encountered this season. Out on their own they flitted in between trees, choosing the path they felt best for themselves, Maclagan the turf, Brennan the tarmacadamed path. Held together by an invisible thread they gave the crowd every reason to expect a searing battle for the tape. But a mile and a half from the finish on a deserted stretch of the course Maclagan made the telling move which only he and Brennan could describe later. Brennan apparently dropped slightly behind the other without the Victoria Park runner speeding up and on sensing this, Maclagan increased his stride rate and built up a 60 yard gap without response from Brennan. From then to the finish Maclagan made the distance between them 100 yards and he crossed the line for his first major success." The times were 31:26 and 31:53.
The National championship at the end of February, 1968, was Jim Brennan's first as a senior. He finished ten seconds behind Pat Maclagan – unfortunately the positions were eleventh and twelfth while the race was won by Lachie Stewart who defeated Alistair Blamire by only one second. Twelfth meant no international vest for Brennan this time despite being a very good run by a first-year senior.
He did no appear often in the first three in 1968 but there were some significant runs. On 9th June he competed in the Inter-Counties steeplechase at Grangemouth and finished third in 9:58.8 behind George Skinner (Shettleston) and William Allan (Edinburgh Southern). Sixteen days later, on 25th June, in the Glasgow Transport Sports Meeting at Helenvale, he ran in the Two Miles track in Glasgow and won in 9:05.2 which was to be his season's best and ranked him sixteenth in Scotland at the summer's end.
The new competition year began in October and although the winner of the Glasgow Relay was not named, Victoria Park won the team race, if things went to form, then Brennan may have won that one, but he did not run in the Midland Relay the following week although there were three full Maryhill Harriers teams on parade. He was also missing from the Glasgow University Road Race and the Springburn race round Bishopbriggs the week after that. After missing more races and not being considered for selection for any of the SCCU squads, he suddenly reappeared in mid December when he retained the City of Glasgow Cross-Country Championship by 52 seconds from J Crawford of Victoria Park with Glasgow University winning the team race over the gentle, grassy Knightswood trail. The return to competition however seemed short lived as he was nowhere to be seen in any races in January1969 – at least not in the top eight or ten and in the case of the District championships he was not in the top twenty, so it is probably safe to say that he was not racing at this period – crucial if he had any designs on the Commonwealth Games team for 1970. He could only finish 20th in the National at Duddingston that year but he did run in it..
1969 was to be the year that Jim Brennan won his first track championship as a senior. The championship was the Ten Miles track championship on 3rd May at Scotstoun which he won in 50:41.2 from Bill Stoddart (50:53.0) and Bert McKay (51:23.0) . That had him ranked at number one in Scotland in a year when Bert McKay was the only track man to contest the distance – the others were all marathon men seeking a shorter faster race before the SAAA Championship. On the way he was timed at 30:03.0 for Six Miles which ranked him second in the country. It was however a distance that had been replaced by the metric version, 10000m, and all the very top men were running that distance in '69. Lachie Stewart and Jim Alder had the top six times in the land with Fergus Murray third and Hugh Barrow fourth individuals. There were nine Scots faster at 10,000 metres that year than Jim was at six miles but they did not have to do another four miles at the end! It has to be said however that the 10 miles was right at the start of the season – seven weeks or so before the SAAA championships and bearing in mind the few races he had at the end of the cross-country season, he maybe needed a long, fast run at that point. The 'Glasgow Herald' reported –
"BRENNAN CHAMPION AFTER 40 CHILLING LAPS. Victoria Park's stretch of bad luck with the weather continued at Scotstoun on Saturday when their open scratch meeting was bedevilled by a biting nor'easter. Contrary to the proverbial ill wind, no one was benefited by it. Among the most cruelly affected by it were the sprinters and the 10 milers, the latter group having to tour 40 chilling laps for the title of Scottish champion. Jim Brennan finally took the tape 100 yards in front of W Stoddart who was in turn comfortably ahead of Bert McKay." It was Commonwealth Games preparation year and most athletes were trying to catch the selectors eye and establish dominance over the opposition and Jim, possibly with the hangover of the foot injury, found it impossible that summer. Nor did he run over the winter until the National when he finished 40th and second Maryhill Harrier. This was not his usual running by any means.
Whatever the injury Jim disappeared totally from the sport after only eight years – eight years when he ran at the top of Scottish distance running against the very best in the country. He competed on the odd occasion in the early 1970's but his career was basically over in 1969.