Unlike football, cricket and rugby the Harriers did not own their own grounds but used public facilities where possible. The first two open athletic clubs in Scotland had their opening runs from hotels: Edinburgh AC from the Harp in Corstorphine in September 1885 and Clydesdale Harriers from the Black Bull in Milngavie in October 1885.
Indeed, they were known to turn down the opportunity to lay their own track or build their own stripping accommodation on occasion. Note the following from the Clydesdale Harriers annual handbook for 1888/89: Grounds with Cinder track have repeatedly been spoken of but so longs as the present friendly relations are maintained with Rangers FC, the Committee consider that there is no necessity for moving in this matter." The questions then became where shall we go to do our training, organise races and hold social evenings such as prize givings and money raising entertainments? Training, particularly in the West of the country, as often done twice or three times a week from local Public Baths where there was ample stripping space and hot showers, baths and swimming baths. Also used were Colliery Pit Baths for the same reasons – they usually had ready access to open country too for the winter season, at times Army Barracks were used but, almost as often as Public Baths, HQ for Harriers clubs was the local pub, inn or hostelry. They were used as club headquarters with committee meetings being held therefrom, they acted as race facilities with stripping accommodation, entries being taken and often as the presentation venue after the race.
The pub, hotel or hostelry as a training venue was distinct from the premises being used for social purposes although no doubt some informal fraternising did take place due to the nature of the establishment and the gregarious nature of the harriers. The Clydesdale Harriers annual handbook for 1890/91 had the following: "Club rooms were engaged last season and were the means of bringing together a great number of members. The Committee have again secured these rooms at 33 Dundas Street; it is hoped that members will take due advantage of them, The rooms are open daily from 10 am to 10.30 pm with the exception of Mondays when they will be closed at 7:30 pm" The rooms had many of the daily newspapers and sports journals, served food and refreshments and were used for prize-givings, presentations to members and so on. One member of the West Of Scotland Harriers wrote a letter on club premises which you can read here. This is distinct from the use of the pubs for training or racing.
What follows is a a note of premises used by the various clubs indicating how widespread the practice was and how many were used by some clubs.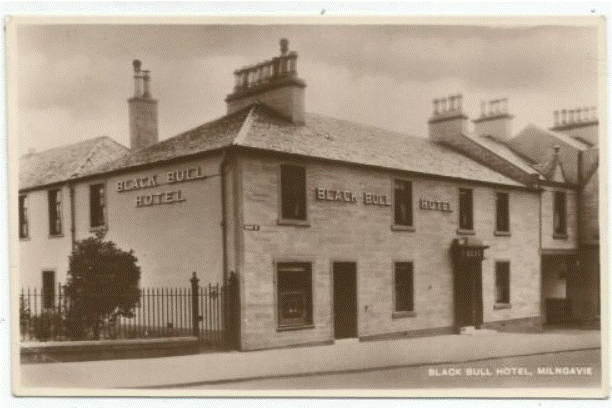 The picture above is of the Black Bull in Milngavie, East Dunbartonshire from which Clydesdale Harriers had their first ever cross-country run in October 1885. One month earlier Edinburgh Harriers had their first run from The Harp in Corstorphine. Scotland's two first cross-country runs by organised, dedicated athletic clubs were held from Hotels. Subsequently hotels, inns and humble pubs were to play a part in the development of the sport in Scotland.
Athletics historian Hamish Telfer has come up with most of the following list of such venues and the clubs that used them.
Clydesdale Harriers
Black Bull, Milngavie; Cathcart Arms Inn, Cathcart; County Hotel, Hamilton; Stewart's, Whiteinch, Glasgow; The Drum, Shettleston and Wilson's.
Clydesdale Harriers (Falkirk Section)
Railway Inn, Parkfoot, Falkirk; Queen's Hotel, Grangemouth; Plough Hotel, Stenhousemuir; Carmichael Inn, Barnsford; Rpyal Hotel, Falkirk.
Clydesdale Harriers (Renfrewshire Section)
Miss Taylor's Inn, Greenock Road
Clydesdale Harriers (South Lanark and Coatbridge)
Rawyards Hotel; Waggon Inn, Airdrie; Coatbridge Royal Hotel
West of Scotland Harriers
Clyde Hotel, Bothwell, below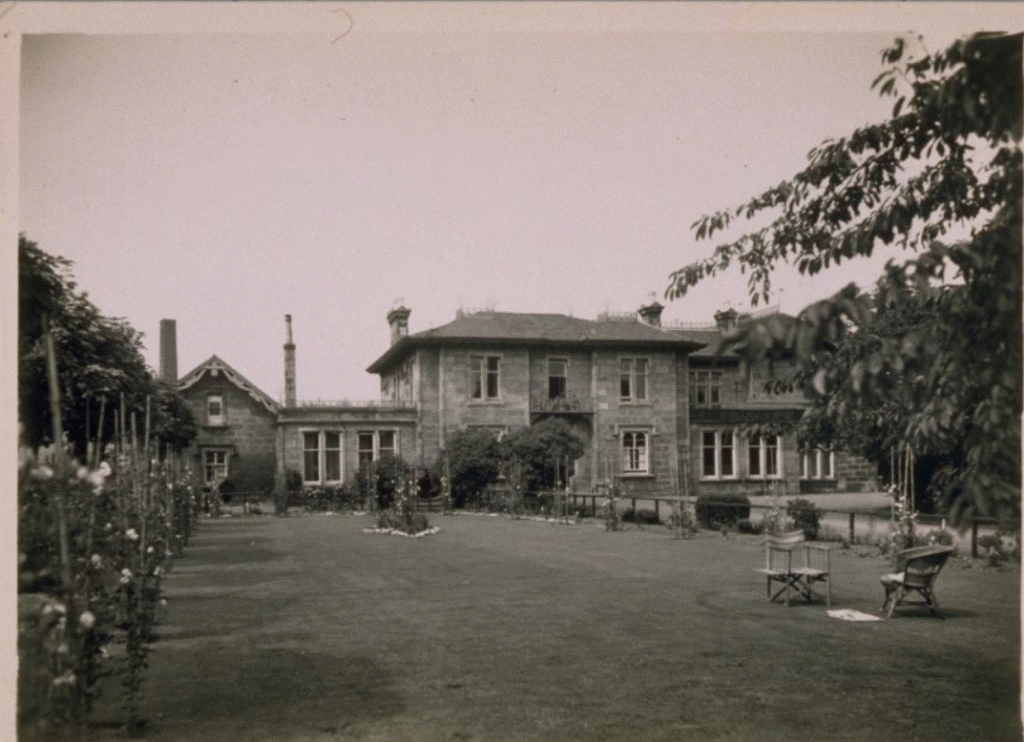 Mrs McDougall's Inn, Chryston ; Queens Hotel, Helensburgh; Torrance Hotel, East Kilbride; Mrs McCubbins, Bearsden;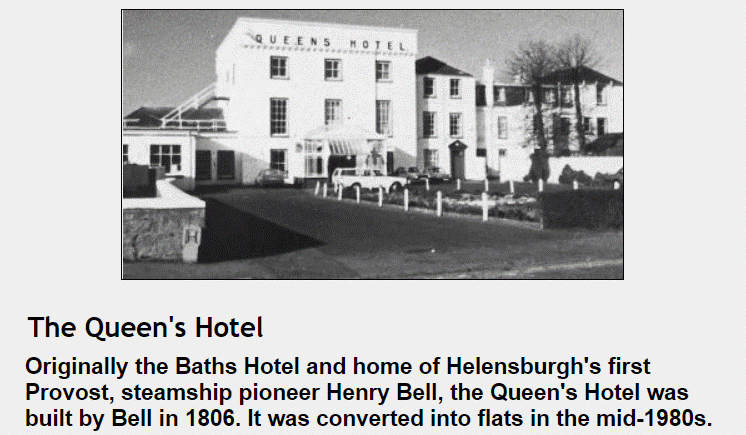 Half-Way House, Glasgow/Paisley Road; Buchanan Arms, Kilmacolm; Black Bull, Milngavie: also used by Clydesdale Harriers, notably for their first run in October, 1885.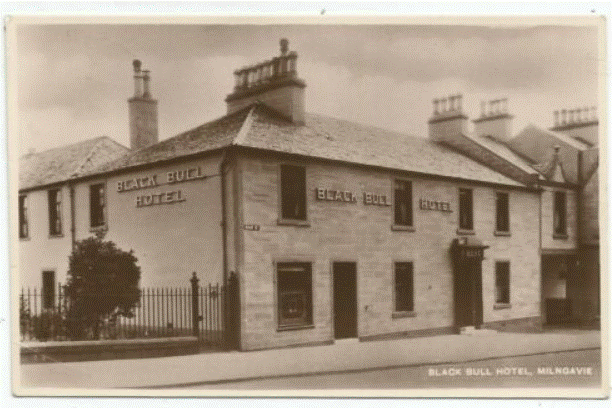 Sheep's Head – Duddingston (Inter club with EH); Washington Hotel, Kirkintilloch; Ranfurly Hotel, Bridge of Weir; Cathcart Arms, Cathcart
Edinburgh Harriers
The Harp, Corstorphin, Sheep's Head, Duddingston; Annfield Inn, Eskbank; Granton Hotel, Granton; Riccarton Arms, Currie;
Hamilton Harriers
Commercial Hotel, Hamilton.
Kilmarnock Harriers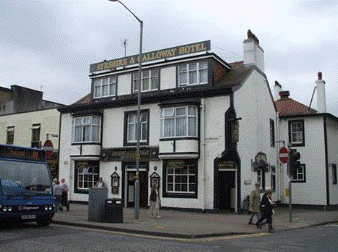 Galloway Hotel, Ayr
Turf Inn, Kilmaurs
Hamilton Harriers
Clyde Hotel, Bothwell
West of Fife Harriers
Stuart Arms, Saline
Falkirk Heavy-weather Club
Plough Inn, Falkirk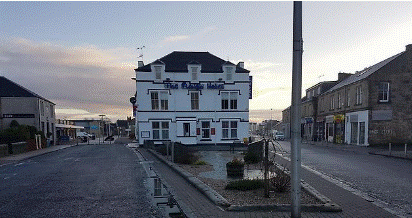 Arbroath Harriers
Tuttie's Neuk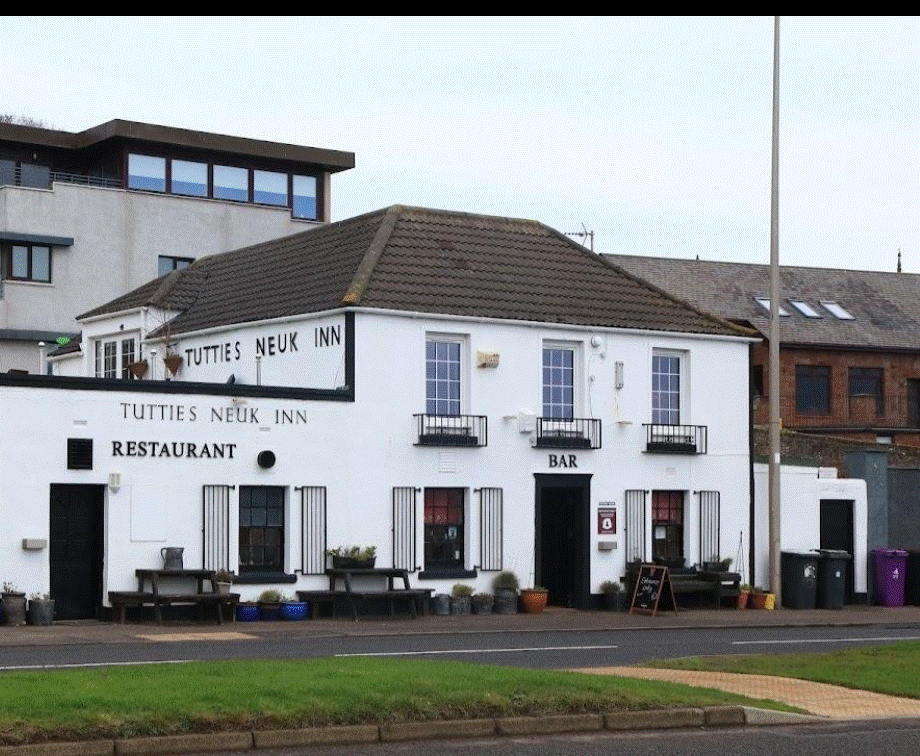 The photograph below of Edinburgh Southern Harriers at the Sheep Heid Inn at Duddingston and was published in the 'Scots Athlete' article on the club's history; the club also used the Barnton Hotel in the west of the city.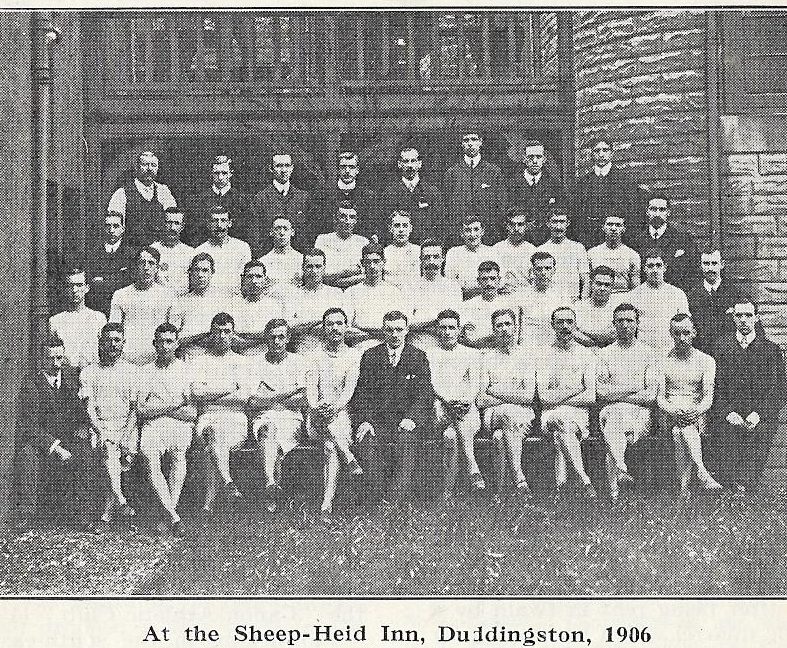 The photograph above of Edinburgh Southern Harriers at the Sheep Heid Inn at Duddingston was published in the 'Scots Athlete' article on the club's history; the club also used the Barnton Hotel, below, in the west of the city which was a landmark on the first stage of the Edinburgh – Glasgow relay.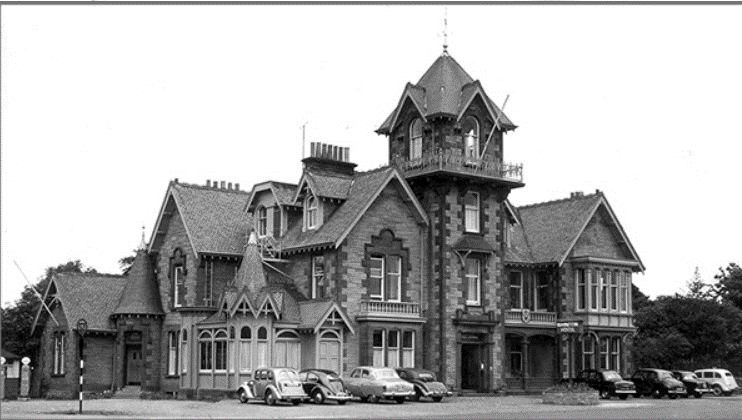 The work done by Hamish Telfer in gathering many, if not most, of the watering holes above has to be acknowledged and due thanks given.