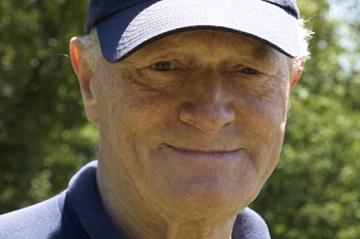 Frank Horwill
The British Milers Club was established in 1963 when the fortunes of British miling were decidedly poor. The origins of the club, as set out by Frank Horwill were as follows:
Back in 1963 there was a lot of criticism of British milers after they had been relegated to 5th place in the European rankings. Frank Horwill had a letter published in AW outlining plans for the formation of a specialist club to stop the miling decline and received 35 letters of support. Soon after, Alf Wilkins, a senior AAA coach and member of NUTS, asked Frank at an athletics meeting, "How many members do you have?" The reply was "You're the first!"
Wilkins suggested having the first meeting in his accountancy office in London. Out of this the first members included John thresher (Later to become the Executive Director of Athletics Canada), Brian Boulton (Then Kent Mile champion), Wilf Paish (Later to become AAA's national coach), Maureen Smith (Former WAAA Mile Champion and later SEAA President), Martin Wales (Later to become the police mile champion), Tony Elder, Alf Wilkins and Frank Horwill.
A steering committee was formed and the BMC's constitution drawn up on one based on one that NUTS were already using. The early decisions made were :
1) The club would be known as the British Milers Club.
2) Entry to the club would be by qualification. The standards of entry were set at
Senior Men
4:20 / mile
Senior Women
5:20 / Mile
Junior Men
4:30 / mile
Youths
4:40 / mile
Boys
4:50 / mile
Qualified AAA's coaches and associates would also be admitted.
3) The object of the club would was to raise British Miling to world supremacy and to assist all those interested in this aim.
4) The clubs aims would be executed by appointing regional secretaries who would have to be senior AAA's coaches. The regions followed the old AAA areas of South West Counties, Southern Counties, Eastern Counties, etc. Each regional secretary would be responsible for
Giving coaching advice to members if requested.
Organising fast, paced mile races.
Organizing quarterly all-club training days
5) A club magazine would be published twice a year.
6) A residential training weekend would be staged twice a year."
Frank's entire article can be found at http://www.britishmilersclub.com/aboutbmc/history.asp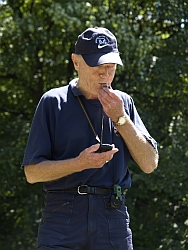 Frank Horwill
It was not so much a club as a grouping of athletes from all sorts of clubs who had a common interest in bettering their performance without leaving their first claim club. There would be no BMC team in any league at any time: the sole purpose of membership was to raise the standard of individual runners and so raise the standard of national and international miling.
Runners and coaches are always keen on anything that improves their running – competitively as well as time-wise. The applications came in and the honour of being British Milers Club member number one went to Scots Miler Hugh Barrow. Hugh and Frank got on very well together, partly because of Hugh's attitude that you often had to take the race by the scruff of the neck and force the pace along. Runners and coaches generally got on well with Frank – it was the administrators, selectors and sometimes race officials who were often in dispute with him and with the club. The club had several Scottish members who helped build the club right from the beginning: in addition to Hugh, Ian Young and Alistair Blamire who were founder members, most of the top Scots such as Ken Ballantyne and Graham Stark were members and the tradition continued with Mike McLean, Dick Hodelet, Alistair Currie, Adrian Callan and many more.
The club flourished and more activities were added to the races with the same focus – raising the standard of miling in the country. The BMC News magazine first appeared in January 1964 as a double sheet of A4, folded to give eight pages of information useful to the runners and coaches. Publication at first was erratic with May 1965 being the second, May 1966 the third before in 1967 it settled into the current format of two issues per year, one in Spring and one in Autumn. The nature of the magazine has changed over the news with the current issues being approximately 50 pages in length, printed in full colour, lots of photographs and plenty of information on training, reports on major Games and awards made by the club. There is the annual two-day AGM and conference which incorporates a training function giving runners more ideas that they can maybe incorporate into their training. Then there is the Academy for young athletes who have qualified for BMC membership with its own training days/weekends. It now has a salaried secretary in the form of Pat Fitzgerald, long time member, secretary and coach seriously involved in the club and its welfare. Another step forward. It was a blow for the club when Frank died – at one point at an AGM there was a definite proposal to wind it up but Frank stood, almost alone to keep the club in existence and his was the driving personality for many years. However the structures that had been put in place were such that the club has not only continued, but continued to develop new initiatives and the Scots are still playing their part in it.
BMC News 1 – 11 BMC News 12 – 29 BMC News 30 – 42 BMC News 1990 – 1999 BMC News 2000 – 2009 BMC News 2010 – 2020 .
BMC: A Bit of Context British Milers Club in Scotland . Hugh Barrow answers the BMC Questionnaire Hugh Gets the Frank Horwill Award