The club was only a year old when the magazine appeared for the first time. Two, or even three, sheets of foolscap paper with the text typed on to a gestetner skin, and then printed using and hand operated machine. The two sheets were then folded in half and stapled together. All art work was hand drawn and, interestingly enough the BMC logo from the very first issue was being used at the end of the century too.
These are only the covers and list of main contents: the whole magazine however is available at http://britishmilersclub.com/bmcnews/news60.asp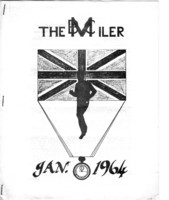 Above is the cover of the very first BMC News. Hand drawn picture, 8 pages (ie two sheets, folded and stapled) with three principle articles – Spotlight on Members, News and Views, and List of Members. The List of Members included nine Senior Coaches, five Honorary Coaches, and 23 seniors, five juniors, 19 Youths, 3 women and several coaches who were available to coach runners in their area, which list included John Anderson in Glasgow. The Scots on the list included Hugh Barrow (Senior), Ian Young (Junior, Springburn), and Alistair Blamire (Youth). It was however the beginning of a magazine that would be one of the best in the country, no in the world, on the topic of Middle Distance Running with athlete profiles, statistics and their analysis, reports on research, book reviews, training techniques and much more. These magazines can all be seen and read at the BMC website. The remainder of the first ten covers are reproduced here.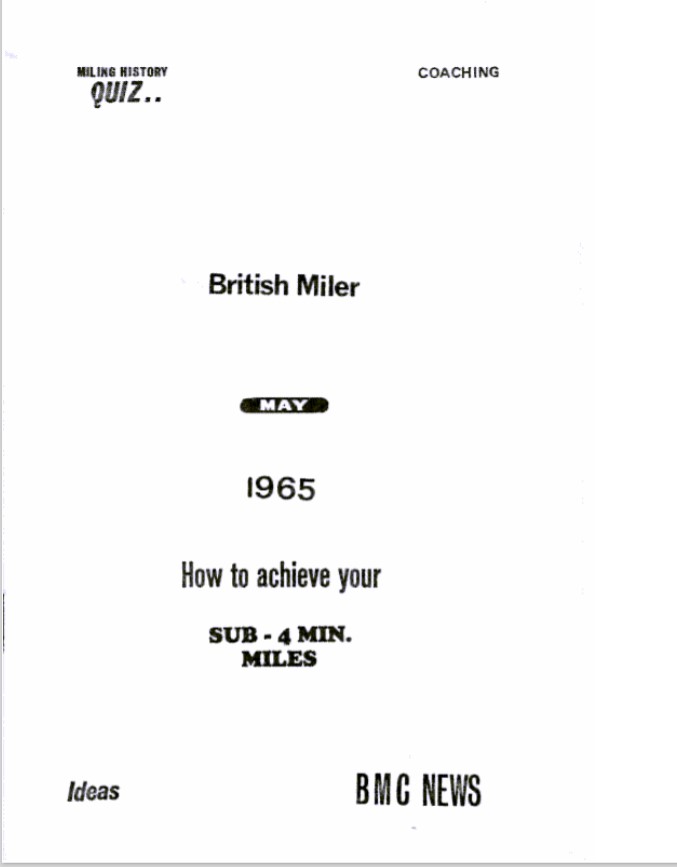 This, the second issue had 22 Pages and dealt with
Middle distance Injuries.
Notes on Training Techniques.
Physiological Basis for Interval Training.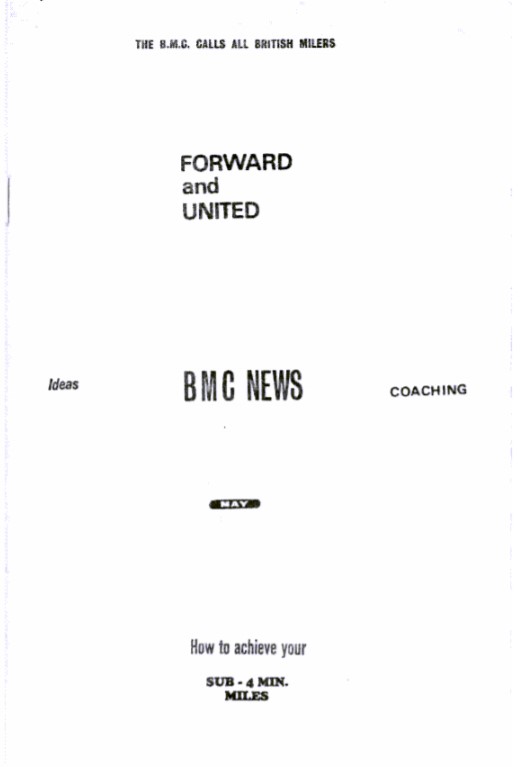 This one had 20 Pages and covered
Your Personal Best.
The Frank Horwill Column.
Running Problems Answered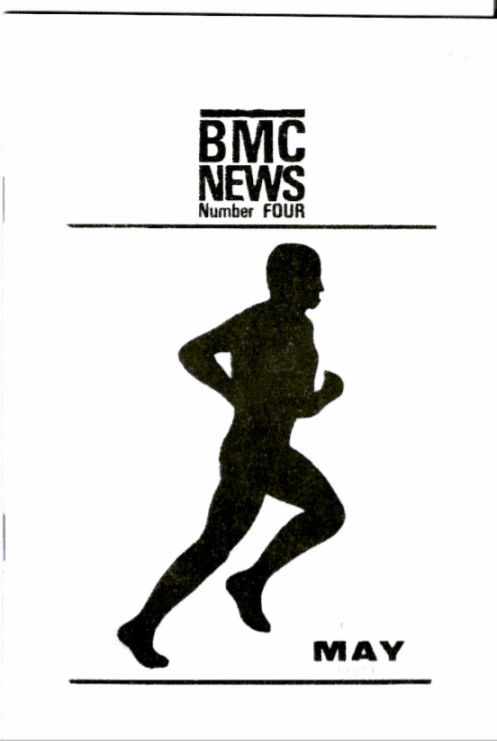 Number 4 had 28 Pages covering
Books Reviewed.
Weight Training for Milers.
The Frank Horwill Column.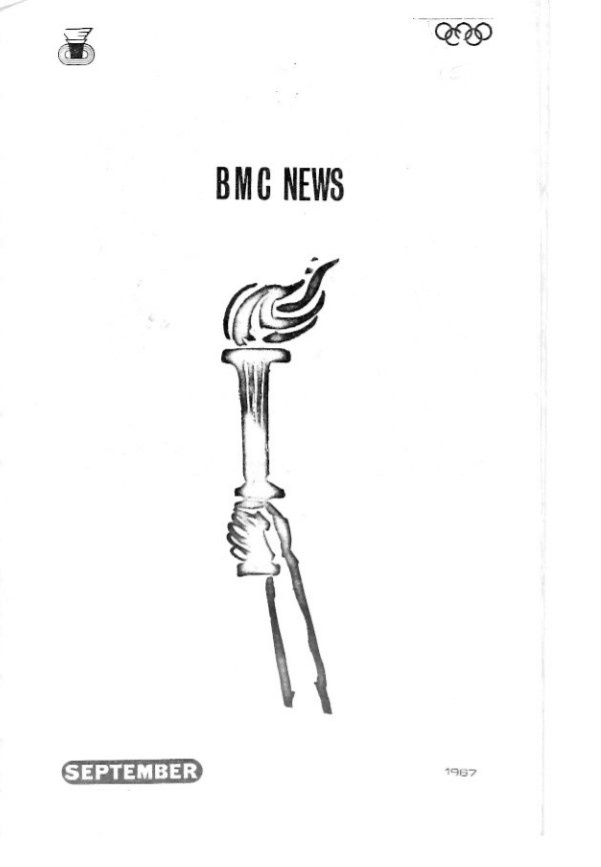 24 Pages:-
Quotes from the Greats.
Doris Brown (USA) Training.
Striking a Balance.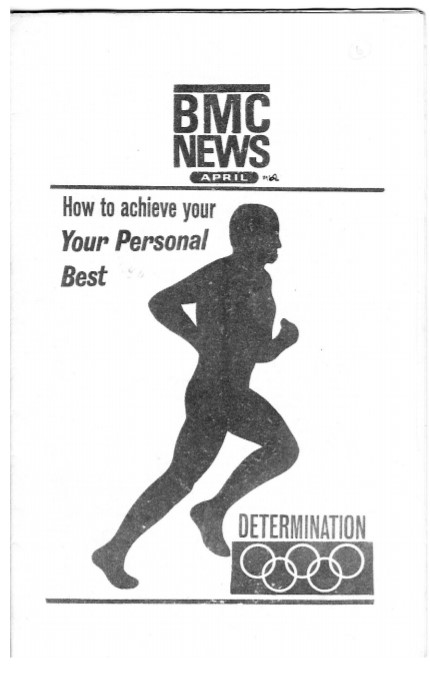 This time tehre were 28 Pages:-
Staff Coach Report.
Quotes.
Frank Horwill Column.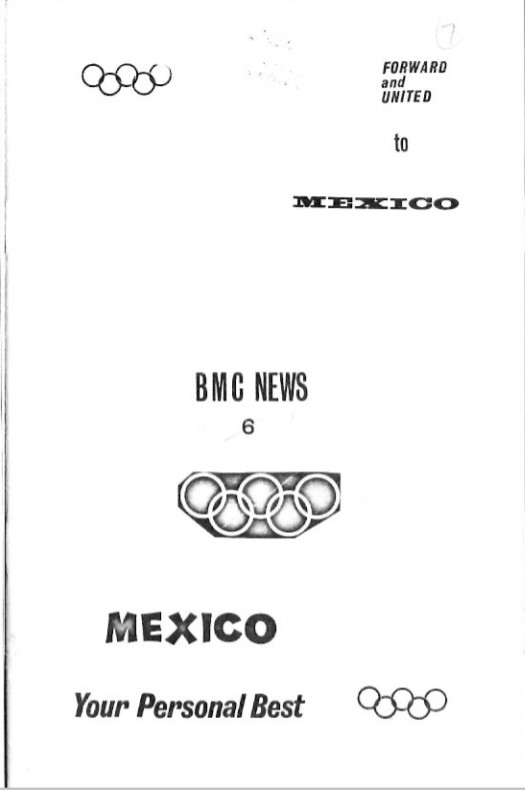 Issue No. 7. (Incorrectly numbered 6) had 26 Pages:-
Mile and 1500m Conversion.
Adaptation to Stress.
Carol Firth Profile.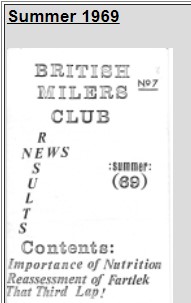 Issue No. 8. (Incorrectly numbered 7) had 22 Pages covering
Importance of Nutrition.
Reassessment of Farlek.
That Third Lap.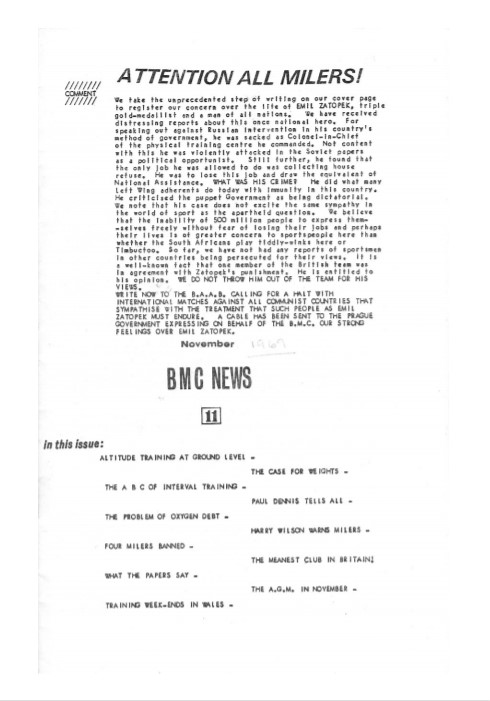 And that was the first ten issues done and dusted. Numbers 9 and 10 were never ever produced hence the number 11 coming where it does. Unmistakable signs of Frank Horwill all over it – look at the range of topics covered which were domestic and international, training and diet (he was always interested in diet), personalities and books. They were all there. This was the start of something big although maybe not realised by all at the time.