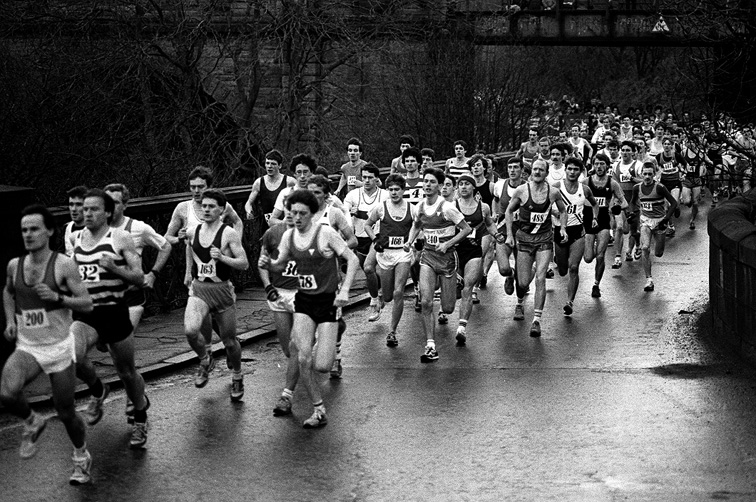 The Nigel Barge Road Race at Maryhill .
Ron McDonald, Alastair Douglas, Peter Fox, Richie Barrie, Tony Coyne, Billy Coyle, Nigel Jones, Tommy Murray, Alastair Johnstone, Bob Anderson, Doug Frame, plus!
The success of any country's endurance scene on the roads or over the country depends to a large extent on quality races, at a variety of distances that appear in the calendar year after year and which can be written into any athlete's programme as suitable for their distance and standard. Scotland was blessed with a fair number of quality races at varying distances throughout the year. The Nigel Barge at the start of the year was a fast 5 miler in Glasgow, the Tom Scott in April was a fast 10 miler, the Balloch to Clydebank 12 was also in April with the Clydebank to Helensburgh 16, the Strathallan 20, the McAndrew Relays and many more to suit any distance. Some of these races will be covered on this page with articles written by a variety of runners. Rest assured, the people describing the events, have run them.
[ Nigel Barge ] [ Glasgow University Road Race ] [ Allan Scally Relay ] [ Balloch to Clydebank ] [ McAndrew Relay ] [ Edinburgh to North Berwick ] [ Beith Harriers New Year's Day Race ] [ Brampton to Carlisle ] [Tom Scott 10 ] [Edinburgh University 10 ] [ Luddon Strathkelvin Half Marathon ] [ North Classics ] [ Morpeth to Newcastle ] [ 10K – OK ] [ The Seven Hills of Edinburgh ] [ Dundee Kingsway Relay ] [Ten Miles Track ] [ The Coatbridge 5 ]