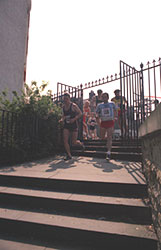 Running through the gate at Edinburgh Castle Esplanade
(This imaginative, unusual and challenging race, which takes place every June, has a long and interesting history – and a really excellent website, from which much of this information is 'borrowed'. Do look up the full site! Then consider entering very early next year, since the 2016 race is full up already!)
The Concept: Back in the 1970s, there were two fit young guys who went running together in Edinburgh, David Salmond and Alan Lawson. One day DS came across a guide-book to Edinburgh which used the phrase 'seven hills', so they investigated the possibility of creating a route which included them all. After some adjustments, the current route was fixed upon.
The Beginning: The event was first staged in 1980, as part of a political/cultural festival on Calton Hill, in support of the Scottish self-government movement; the Seven Hills race was included as a sporting adjunct to the other activities. About 75 people took part in that first year.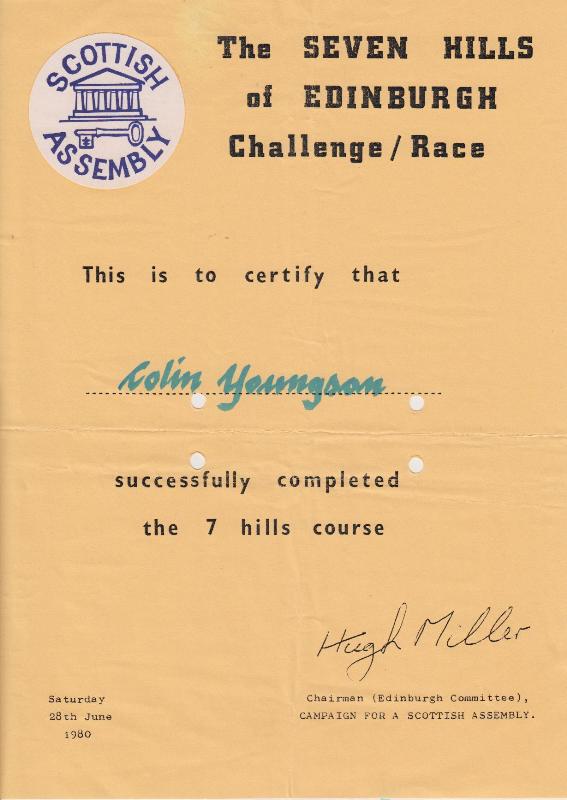 Colin was second to Sandy Keith in the first race
Expanding: It was soon recognised that the route was something a bit special compared to other athletic events, as well as being a considerable challenge to complete for anyone who was not a regular runner. So, as the great 1980s upsurge of distance running got under way, The Seven Hills became an annual (stand-alone) event, with an increasing number of participants each year.
The Challenge: Although the leading runners always took the race seriously and ran to win, the ethos of the event included a challenge to more modest performers to just get round the course (and tell the story for the next ten years!). Understanding the wide ability-range of the various entrants, the organisers soon divided the event into two — The Race (for the serious runners), and The Challenge (for those of more limited ambitions)… the Challenge event starting half-an-hour before The Race, ensuring that the 'challengers' didn't get tailed off. This formula seemed to work pretty well, and has been retained ever since. (One of its benefits is that ageing runners can 'drop down' from the Race to the Challenge in their later years.)
Website Sponsorship: We are grateful to Learntech, a Scottish e-commerce and e-learning specialist company, who created the basics of this website in 2003.
 Regulars: Quite a number of runners have participated on many occasions; a handful have an almost complete record.
Mementoes: Initially, each finisher got a simple certificate to mark their completion of the event, but since 1991 the memento has been a drinks-coaster; some 'regulars' in the event now have quite a collection. Good-quality T-shirts are also produced each year, available for sale on the day
Race Personnel: Of the race's originators, David Salmond died of leukemia in 1994; Alan Lawson continues as the main organiser, helped by many friends and relations who have both run and assisted over the years.
The Course
The course is a combination of road-running, cross-country, hill-running, and urban orienteering. The total distance is a little over 14 miles, and there's about 2200 feet of ascent/descent. There are, unfortunately, many road-crossings, quite a few of them major roads.
There are five water-stations on the course; these are at or near the checkpoints. They have water, orange squash, and sultanas; they also have first-aid kits.
Calton Hill is the Start and Finish point. Competitors have to find their own route, as the course is not marked, but they must pass through the 6 checkpoints in the following order (and punch their race-number there with clippers):-
The Castle (esplanade)
Corstorphine Hill
Craiglockhart Hill (East)
Braid Hill
Blackford Hill
Arthur's Seat
Route-finding: choosing the optimal route is all part of the event, and the course does change slightly over the years, due to growing shrubbery, altered field-use, increasing road-traffic, and hill-erosion. In the fortnight before each year's event, it is common to find entrants out on the course evaluating the options. Harvey's useful Edinburgh Seven Hills Map is displayed on the day at Calton Hill (it can be bought in map-shops).
Route guide: For those unfamiliar with the fine detail of Edinburgh's geography, the website has a detailed rough guide for getting safely round the course. Faster runners may find a quicker route!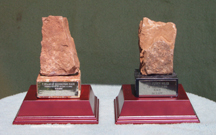 RACE TROPHIES
There are 4 main, very unusual trophies —
a Race trophy and a Women's trophy. These consist of pieces of volcanic lava from Arthur's Seat.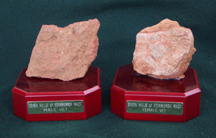 VETS TROPHIES
There is also a Male Vet (over 50) trophy, and a Female Vet (over 45) trophy.
Old rocks for old crocks!
Edinburgh Doubles
For those especially-heroic runners who complete 'the double' for the year — The Edinburgh Marathon AND The Seven Hills of Edinburgh — there's a whisky miniature.
There are also many other prizes, including age-category ones.
Dutch Connection
Seven Dutch runners are entered once again in 2016. On the night before the event, a barbecue is staged for all overseas entrants. In recent years this has been held at the Midmar Allotments, beside Blackford Hill. Williams Brothers excellent beers are normally served.
Portobello Runners is the top club for supporting the event. Their website is also impressive.
The Southside Six is the equivalent event in Glasgow.
Points of Interest
Viewing-point: In the 1990s, an information-board was erected at the top of Braid Hill, specifically describing the seven hills which make up the course. The prime mover of this initiative was John Bartholomew, of the famous map-making company.
Special Map: A special Seven Hills map has been commercially produced, and is available in many Edinburgh bookshops. It is produced by Harvey's of Doune (tel. 01786-841202), and gives a detailed depiction of each hill.
www.harveymaps.co.uk
Fireworks: The organisers of Edinburgh's Hogmanay celebrations have taken up the seven hills theme; fireworks are set off from each of the hills at midnight, to welcome in the new year.
Music: In 1988, a musical composition by Neil Butterworth entitled "The Seven Hills March" was played at the tops of the 7 hills by members of the Edinburgh Youth Orchestra.
Television: The event has featured once on television. Channel 4's sport department appeared in 1997 — the only year the event has ever suffered from heavy rain!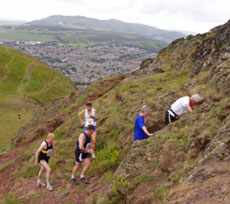 Runners on Arthur's Seat
Past Winners
| | | | | |
| --- | --- | --- | --- | --- |
| | Race winner | Women's winner | M50 vet | F45 vet |
| 2015 | Dessie Flanagan | Megan Crawford | Stewart Whitlie | Rhona Anderson |
| 2014 | Iain Whiteside | Nicola Duncan | Peter Buchanan | Rhona Anderson |
| 2013 | Ross Houston | Jennifer MacLean | Peter Buchanan | Susan Johnston |
| 2012 | Michael Reid | Eilis McKechanie | Stewart Whitlie | Susan Johnston |
| 2011 | Ross Houston | Jennifer MacLean | Willie Jarvie | Phyllis O'Brien |
| 2010 | Matt Bell | Lucy Colquhoun | P. Mack | Phyllis O'Brien |
| 2009 | David Simpson | Amelia Lloyd | Phillip Huxley | Phyllis Mitchell |
| 2008 | Simon Peachey | Jill Mykura | Martin Hulme | Judith Dobson |
| 2007 | Simon Peachey | Jill Mykura | Martin Caldwell | Phyllis Mitchell |
| 2006 | Stewart Whitlie | Kim Threadgall | Martin Hulme | Gillian McKelvie |
| 2005 | Stewart Whitlie | Gillian Godfree | Werner Kittel | ? |
| 2004 | Stewart Whitlie | Gillian Godfree | Martin Caldwell | Gillian McKelvie |
| 2003 | Graeme Ackland | Claire Williams | Scott Balfour | |
| 2002 | Martin Flynn | Angela Mudge | I. D. Cumming | |
| 2001 | Graeme Ackland | Kate Jenkins | Chris Northam | |
| 2000 | Martin Flynn | Anna Bausili | Scott Balfour | |
| 1999 | Graeme Ackland | Karen Newman | | |
| 1998 | Stewart Whitlie | Kate Jenkins | | |
| 1997 | Neil Wilkinson | Joyce Salvona | | |
| 1996 | Graeme Ackland | Joyce Salvona | | |
| 1995 | Andy Kitchin | Karen Dobbie | | |
| 1994 | John Wilkinson | Janice Christie | | |
| 1993 | Graeme Ackland | Joyce Salvona | | |
| 1992 | Graeme Ackland | Joyce Salvona | | |
| 1991 | Graeme Ackland | Joyce Salvona | | |
| 1990 | Bill Gauld | Miranda Balfour | | |
| 1989 | John Wilkinson | Tricia Calder | | |
| 1988 | Alan Farningham | Patricia Calder | | |
| 1987 | Mike Lindsay | Penny Rother | | |
| 1986 | Michael Burton | Stephanie Quirk | | |
| 1985 | Andy Spenceley | Ann Curtis | | |
| 1984 | Zen Bankowski | Ann Curtis | | |
| 1983 | Andy Spenceley | A. Bauermeister | | |
| 1982 | Brian Kirkwood | ? | | |
| 1981 | Sandy Keith | ? | | |
| 1980 | Sandy Keith | | | |
Entry Form
Go to www.seven-hills.org.uk/entry.asp
The Entry Form is provided as a Microsoft Word file.
Postal entries are accepted up until 5 days before the event, if places are still available.
(No on-the-day entries)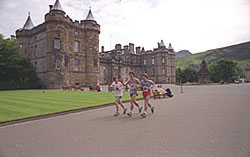 Runners cross the grounds of Holyrood Palace
Portobellorunners.co.uk/archived-reports-to-august-2010 has reports by successful participants. For example, look up 2008 and scroll down to find 'Recce of 7 Hills Route' and 'Seven Hills report'.
Memories of the first ever race on Saturday 28th June 1980
"A week after I (Colin Youngson) had finished second in the Scottish marathon championship, my skinny legs were still tired and a bit sore, but this event seemed a great innovation and could not be missed. The original route actually started inside the walls of Edinburgh Castle, so competitors did not actually have to run up the first hill! Instead, we poured through a gap and down steep, narrow, winding paths, out through Princes Street Gardens and turned left. Down to Haymarket, straight on for a while, and eventually a slanting right turn onto a long gradual road hill which took us up to the top of Corstorphine Hill. By now, my redoubtable road running rival, Sandy Keith, was drawing away, moving strongly. I suspect he had a clear idea about the precise route, unlike myself, who possessed only a hazy notion. I just wanted to get round, hopefully avoiding defeat by many new rivals! As Sandy disappeared, never to be seen again, until the finish, I overshot the hill and belted down a road to the left. As I reached the main Corstorphine Road, I was mildly dismayed to note four of my training mates sneaking out through the Zoo gates. Ah, well. Since my orienteering skills were obviously lacking, I decided to tag along for a while.
My Edinburgh-savvy companions, including Dave Logue and Davie Watson, did not, as rumour had suggested, cut into people's front gardens, muscle straight through their houses and escape via back gates, but cunning shortcuts were used. I waited patiently until we reached ground which seemed more familiar, from racing or training. Approaching Craiglockhart, I mused about the great poets Wilfred Owen and Siegfried Sassoon meeting in the hospital there during World War One. Up and over: no problem if you are merely following! Braid Hill was better-known, since it was Edinburgh University's home cross-country course, which I had raced often, back in the late 1960s, while I was an Aberdeen University harrier.  From the top, one could see Blackford Hill Observatory.
On the climb up Blackford, I tried a little harder and, fairly confident of navigating round the rest of the race, edged away from my friends. Somehow I found an adequately direct route to Arthur's Seat, and then had to pick one of several paths to the summit. Luckily I selected a good one. It was hard work scrambling up to the trig point, but then came the dodgy bit. My downhill running was very amateurish – partly because of fear and lack of suitable quad strength, but mainly because I had not undergone the lobotomy operation, which was essential if one were to become a good hill runner!
Somehow I avoided tripping, injury and generally making a fool of myself. A horde of phantom tough guys pursued hotly, jumping over cliffs and probably baying like bloodhounds – but they existed only in my tired mind. Fortunately I ran through the right streets for Calton Hill and then it was a puffing plod to the finish, at least a couple of minutes in front of the cavalry charge of true hill-men. Sandy had managed about one hour 38 minutes, and I was probably about ten minutes slower, but hey! Another very interesting running adventure had been completed. My running diary noted: "Legs knackered but basic fitness helped, so jogged home as well. £8 Runsport voucher and certificate. Prizes presented by (1964 Olympian) Fergus Murray."
Ross Houston, who is at present one of the finest distance runners in Scotland, won the race in 2011 and 2013 and remembers the following.
"I ran the 7 Hills Race twice, in 2011 and in 2013. In both years, I was looking for something a bit different after building up to and running spring marathons (Edinburgh in '11 and London in '13).
Since the event was in my back yard, and combined road running with some less familiar off-road scrambling and hill climbing, this was an obvious choice. In 2011, I prepared quite meticulously, studying maps and going for several recce runs, sometimes with other runners with more route knowledge than myself (e.g. Tom Ferrington). I had it all planned, but remained a bit nervous about particular sections, such as trying to squeeze through the bars of the gate at Pollock Halls, and not really knowing the route up Arthur's Seat (how difficult can it be? – very, as it turns out). I was also aware of other key route decisions, such as whether to charge straight over Braid Burn or to take a longer but safer route over a bridge (charged over the burn in the end).
The race started with an excellent atmosphere. There is something unusual and a bit special about dashing over North Bridge in a large group of runners, as motorists and tourists stare in awe / astonishment. I was actually quite far back down the field at the Castle, but steadily moved through and had taken the lead by the time we approached Corstorphine Hill. The run from Corstorphine to Craiglockhart is straightforward, albeit runners need their wits about them for road crossings. The climb up Craiglockhart Hill is bloody hard, but nearly manageable if underfoot conditions are kind. In the wet, wearing racing flats, it's a nightmare! Sneaking through the aptly named 'fly walk' towards Braidburn Park, a more gradual climb to the Braids was rewarded with outstanding views and a fast descent to follow.
I decided to take the safe (but stupid) option of running round, rather than through, Pollock Halls, which probably added a good 30 seconds. Then the climb up Arthur's Seat was a case of applying the logic that if I kept going up then I'd get there eventually. After kindly requesting tourists to allow me some space to reach the checkpoint on the summit, there was another fast descent to the palace, before the sting in the tail up to Calton Hill. A load of pink ladies were circulating Arthur's Seat as part of a fun run, and the second placed runner in the 7 Hills (Al Anthony) had an 'incident' , while trying to dodge spectators and their not-fully-under-control canine friends.
In the end, in both years, I won the race in around 1 hr 38 min, which was decent (indeed a record) for the modern era, but not a patch on the fast dudes from the 80s/90s. At least in 2011, the race was followed by some serious rehydration at one of the (many) nearby pubs, and an unsteady walk / bus ride home carrying the impressive trophy (a piece of 'volcanic' rock from Arthur's Seat). One of the great things about the 7 Hills is that (if you're local) you tend to pass across the route frequently, and you can bore whoever you are with (for me, usually my wife) by pointing out the route and its nuances. Another plus point to the 7 Hills as a race, is that it really combines road running and hill running skills quite nicely. A pure road runner will grind to a stop on some of the steeper sections, while an out-and-out hill runner won't enjoy the long flat sections of the route. Unfortunately, like many good events, it suffers from hysterical online entering syndrome, that results in it filling up very quickly. In summary, a great event with an impressive history and long may it continue."
Rhona Anderson, who recently won the W45 race twice, wrote the following.
"2014 was my first time running the event. This was great fun and a bit of an adventure as I wasn't entirely sure of the route. I definitely went a long way round after the Braid Hills golf course, as runners behind me were then ahead on Blackford Hill! I followed some Dutch runners up a very steep climb on rocks up Arthur's Seat, which was not for the faint hearted! My descent back and across Holyrood Park was definitely not the most direct but I made it back to Calton Hill.
In 2015 I ran some of the course with a club-mate in advance, so found a couple of shortcuts I didn't know about, and also decided that the steepest option up Arthur's Seat wasn't necessarily the fastest. I ran almost 3 minutes faster than in 2014, which was all down to taking a better route in places. Still didn't get the best way to Blackford Hill right, as again runners behind me ended up ahead somehow – so there is still room to improve in 2016!"
There are also two articles about a pint-drinking version of this race!
7 hills 7 beers
On the blog of Peter Buchanan of Portobello
7 hills and 7 beers record
On the Carnethy Hill Running Club website