SCOTTISH VETERANS CROSS COUNTRY CHAMPIONSHIPS
THE FIRST TWO RACES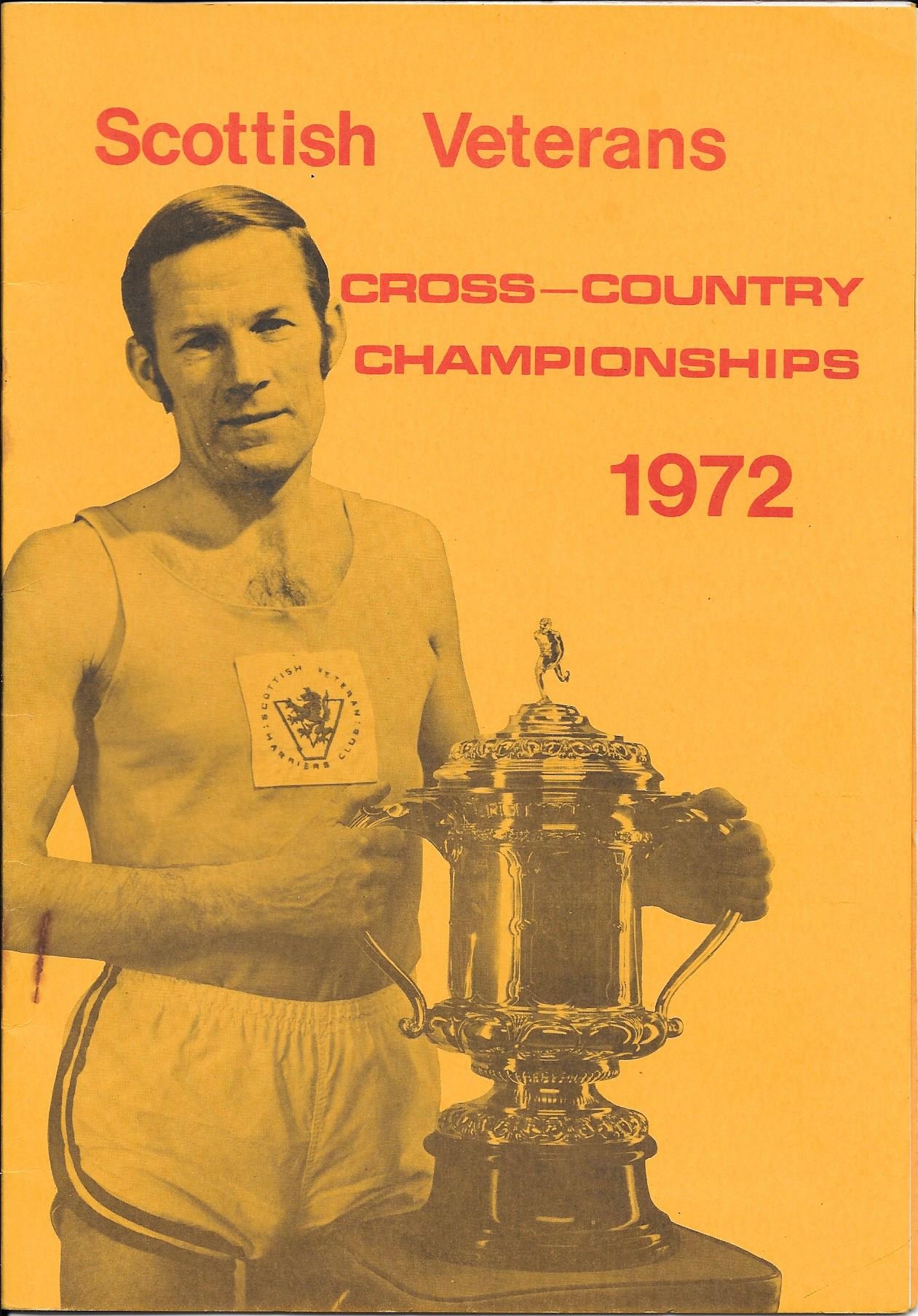 Bill Stoddart with the British Veterans Cross Country Trophy. He defeated England's Arthur Walsham by thirty seconds
The very first SVHC Cross Country Championships took place on Saturday 20th March 1971. The venue was Pollok Estate, Glasgow. 33 ran and 32 finished the course.
Willie Russell won, followed by Hugh Mitchell, Willie Marshall, Tom Stevenson, Willie Armour, Chick Forbes, Jack McLean and Andy Forbes, who won the Over 50 title from Tommy Harrison and Walter Ross. John Emmet Farrell was first Over 60, in front of Harry Haughie and Roddy Devon. Shettleston Harriers won the Team Award.
The second Championship, this time officially recognised by the Scottish Cross Country Union, was on 4th March 1972, at Clydebank, Dunbartonshire. The course was five miles (or eight kilometres) long. The SVHC organised the event, assisted by Clydesdale Harriers.
Bill Stoddart (Greenock Wellpark H) won easily, from Hugh Mitchell (Shettleston H) and Moir Logie (East Kilbride AAC). M50 champion was Andy Forbes (Victoria Park AAC), in front of Tommy Harrison (Maryhill H) and Walter Ross (Garscube H). Emmet Farrell (Maryhill H) retained his M60 title from Ron Smith (SVHC) and George Taylor (Shettleston H). Greenock Wellpark Harriers won the Team Award.
In the programme, Walter Ross, the SVHC Secretary, and a very important figure in the development of Scottish Veteran Athletics, published a poem (written many years earlier by an anonymous Clydesdale Harrier). Walter suggested it could be retitled 'To a Veteran'.
To a Harrier
Some fellow men seem lucky, yet
I yearn to change with few,
But from my heart this afternoon,
I needs must envy you,
Mud-splattered runners, light of foot,
Who on this dismal day
With rhythmic stride and heads upheld
Go swinging on your way.
A dismal day? A foolish word;
I would not, years ago,
Despite the drizzle and the chill,
Have ever thought it so;
For then I might have been with you
Your rich reward to gain:
That glow beneath the freshened skin,
O runners through the rain.
All weather is a friend to you:
Rain, sunshine, snow or sleet.
The changing course – road, grass or plough –
You pass on flying feet.
No crowds you need to urge you on;
No cheers your efforts wake.
Yours is the sportsman's purest joy –
you run for running's sake.
O games are good – manoeuvres shared
To make the team's success,
The practised skill, the guiding brain,
The trained unselfishness.
But there's no game men ever played
That gives the zest you find
In using limbs and heart and lungs
To leave long miles behind.
I'll dream that I am with you now
To win my second wind,
To feel my fitness like a flame,
The pack already thinned.
The turf is soft beneath my feet,
The drizzle's in my face,
And in my spirit there is pride,
for I can stand the pace.
(Editor adds: a romantic view of cross-country, no doubt, but perhaps how we all feel, briefly, on a very good day! The first SVHC championship took place in 1971: no less than 45 years ago. We owe those pioneers a great deal.)
The 'anonymous Clydesdale Harrier was Thomas Millar who had been club secretary for many years and contributed to the local Press under the pen name 'Excelsior'.   After being a member for decades he moved to the English Midlands which was where he sought work as an accountant.   His son Gavin is a film director, BBC programme producer, director, actor and has been responsible for many excellent programmes.