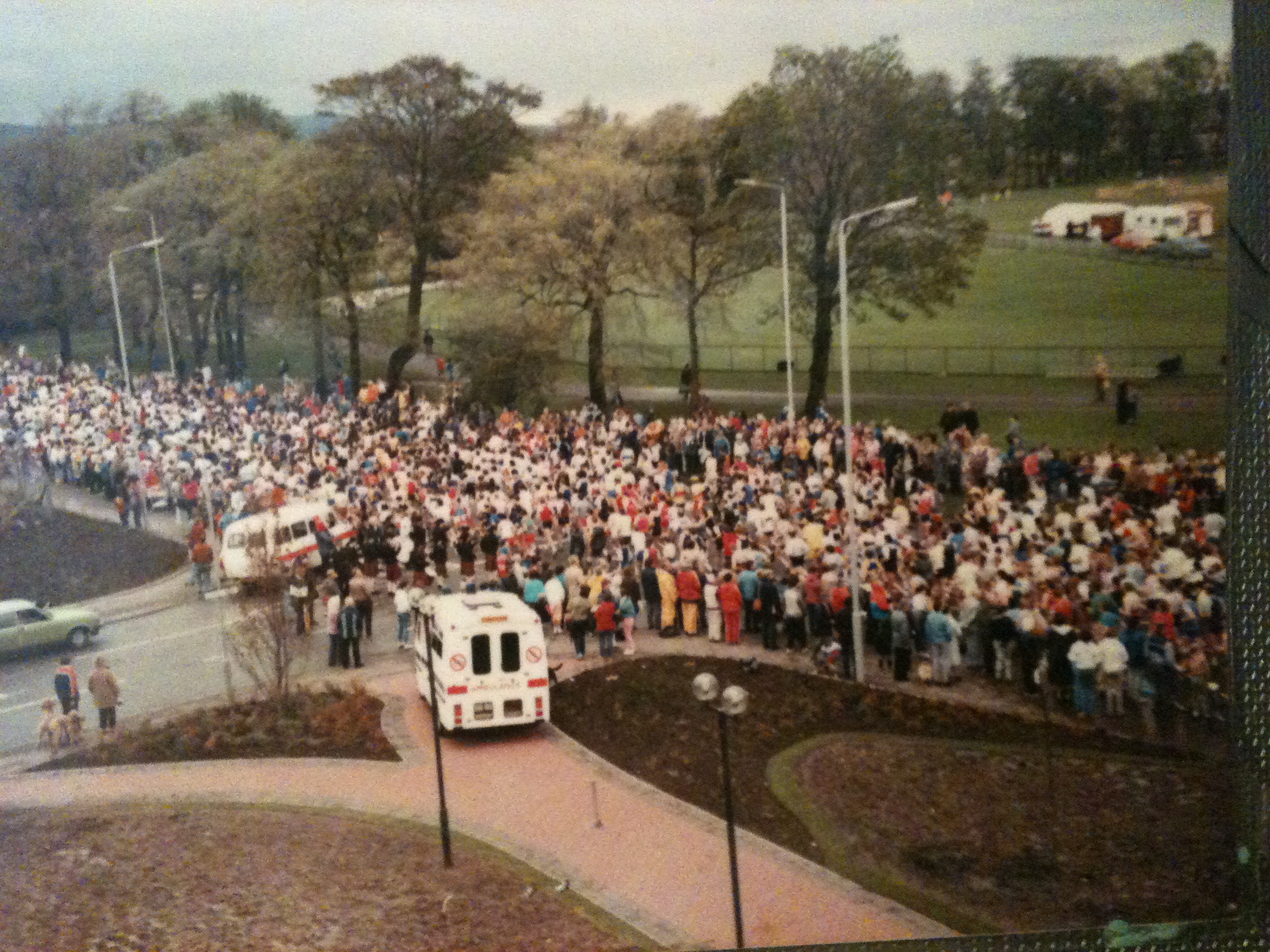 For several years in the 1980's, the Strathkelvin Half Marathon was one of the races to be at. Held in Kirkintilloch in East Dunbartonshire, it started and finished at Woodhead Park, Kirkintillloch, right in front of the swimming baths. Well organised, well sponsored, well publicised and with a good hard trail well stewarded and everything that the athletes could possibly need, it deserved all the plaudits. Springburn Harriers had been organising a 12 Mile Road Race from their pavilion at Huntershill since the War which was one of the races counting towards the Scottish Marathon Club Championship but the fields had fallen away and it was felt that the event needed revitalising. Several things fell into place, almost by chance, and following informal conversations involving members of the local authority, athletics clubs and national organisations, the Strathkelvin Half Marathon was born.
The Committee for the first race was as follows: Convenor: Councillor James Hotchkiss; Race Director: Alastair MacFarlane; Assistant Race Director: Alex Johnstone; Race Secretary: Hugh Barrow; Race Advisor: Robert Dalgleish, MBE; Treasurer: James Jarvie Chief Inspector C MacLean Tom Robertson Ron Wood Inspector D MacKenzie Sergeant D Hastie Roy Veitch Forbes Morton John Turpin Maureen Crawford Dorothy Campbell. That was quite a team! The convenor being a fairly senior local councillor supported by Alastair McFarlane of the local Springburn Harriers and the national Scottish Marathon Club; Hugh Barrow Director of Leisure for Strathkelvin District, member of Victoria Park AAC and a founding member of the British Milers Club; Alex Johnston of Strathclyde University who had been runner, team manager and race organiser for many very prestigious mass participation races, Bob Dalgleish of Springburn Harriers but much better known as the man behind the Glasgow Marathon organisation and formerly manager of Scottish cross-country teams any one of whom could have organised a successful race but who together (assisted by a very strong organising committee with Forbes Morton, Roy Veitch, Ron Wood and company) was a race organisation 'dream team.' .
Race Director Alastair MacFarlane reported on the 1983 race in the Scottish Marathon Club Magazine. "Despite the late call-offs from Graham Laing (saving himself for the European Cup marathon in Spain two weeks later) and Colin Youngson (not wishing to risk a niggling injury three weeks before the Scottish) the field was of a quality seldom seen in Scotland. The first mile was covered by the leaders in 4:55 and at five miles, just before Milton of Campsie, there was still a big group of Donald Macgregor, Rod Stone, Peter Fleming, Evan Cameron, George Braidwood, Stewart Easton, Jim Martin, Dave Logue and Andy Daly in 25:50. This was obviously a bit slow for Andy Daly however as he stretched them out soon afterwards and took his two clubmates Fleming and Braidwood away from the pack. Andy however couldn't sustain it and allowed a gap to open at eight miles. Peter Fleming and George Braidwood looked relaxed as they went through 10 miles in 50 minutes dead with Andy running a brave race all on his own and keeping the gap steady. Logue, Easton, Stone and Macgregor showed 50:30 at ten miles as they staged their own private race while Terry Mitchell, Alan Wilson and Evan Cameron were close behind in 50:40. Over the last three miles, past Low Moss Prison to Lenzie and on to the finish at Woodhead Park, Kirkintilloch, the two leaders obviously did some talking and decided to finish together in the very fast time for the accurately measured course of 65:23 although the judges split them on the line. Andy Daly took advantage of some slackening of the pace up front to close a little and got the gap down to 8 seconds at the finish. Dave Logue shrugged off his challengers and looked as strong as ever in fourth place while Stuart Easton had his best run for many a day to get the better of Rod Stone and Donald Macgregor who of course lifted the first veteran's prize of £40. Janet McColl for once had some opposition in a road race although she made light of it and beat Liz Steele by three minutes.
Of the 1163 finishers, 195 were veterans and 112 were women.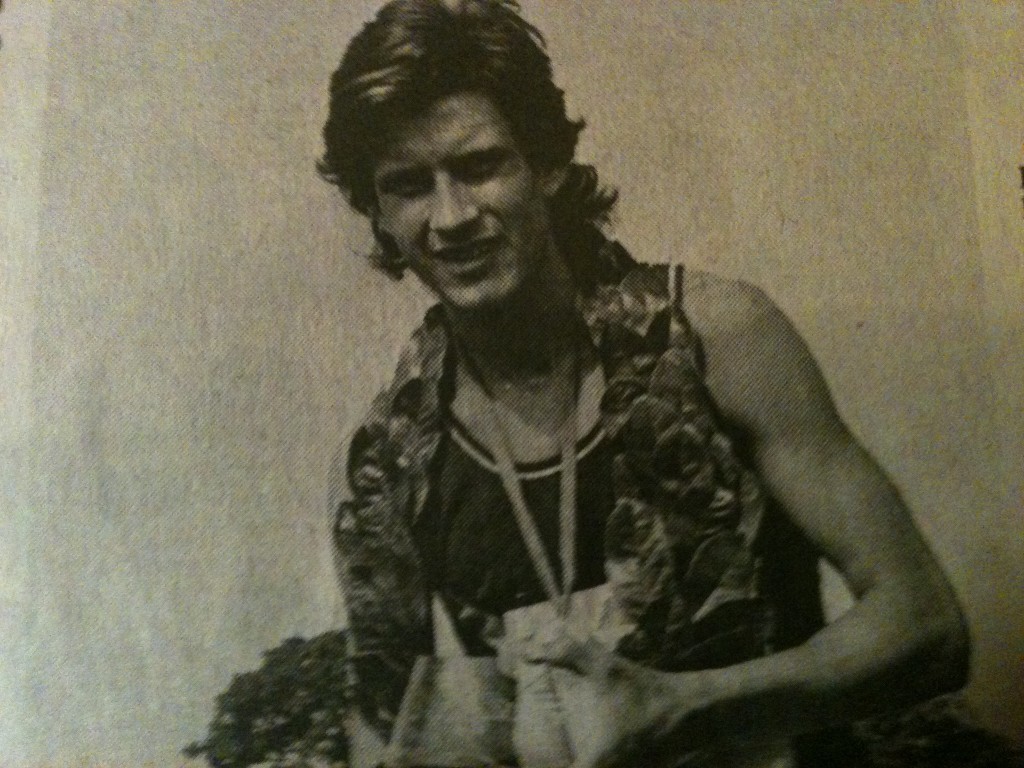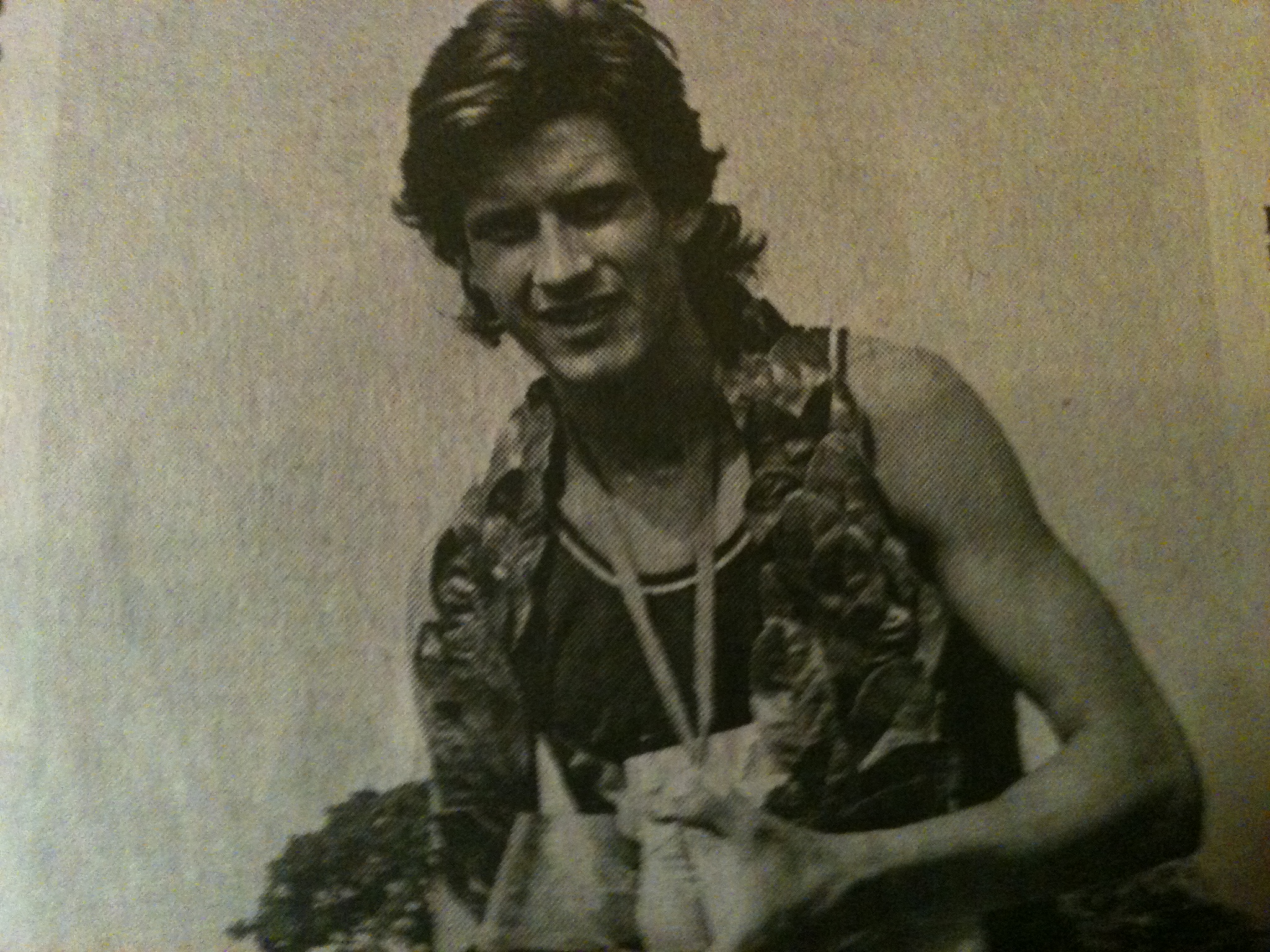 George Braidwood
Hugh Barrow, Race Secretary, reported on the October 1984 race in the Scottish Marathon Club Magazine. He wrote: "The race this year was blessed with fine weather and the field of just under 2000 set off from Woodhead Park in ideal conditions. The police had again requested a 9:00 am start and although this does not help in bringing out spectators, it must be conceded that it does assist in avoiding the traffic problems that were encountered during the Milngavie and Bearsden Half Marathon which was run at mid-day on a Saturday some two weeks later.
The quality up front was maintained with George Braidwood this time being undisputed winner leading home Terry Mitchell and Andy Daly in a course record time of 64:44. Martin Craven won the veterans race in 70:05 finishing twelfth overall and Liz Steele took the women's event with 83:45 in 221st place overall.
From the organisation side the race itself appeared to pass without major problems and the recording was much improved on our previous effort. Despite all the pleadings and warnings, it seems that there will always be a small group of runners who, either through ignorance, selfishness or indifference, endeavour to beat the system. We are aware of male runners competing under female numbers, young athletes running under veteran numbers, and even some running with last Year's number. This type of action not only gives the organisers headaches, it can also make a mockery of the results.
The organising committee acknowledge the help from Luddon Construction for their most generous sponsorship and also the minor sponsors Nike, Racket Sports and Runsport, the assistance willingly given by a whole range of voluntary organisations and the support of the Police and Roads Authority. Strathkelvin District Council has already agreed in principal to repeat the race next year and the partnership with the Scottish Marathon Club will continue thus retaining a tradition that was started by the Marathon Club in the 1950's. Results:
1. G Braidwood (Bellahouston Harriers) 64:44; 2. T Mitchell (Fife) 64:57; 3. A Daly (Bella) 65:26; 4. G Laing (Aberdeen AAC) 65:32; 5. P Fleming (Bella) 65:52; 6. A Douglas (VPAAC) 65:58; 7. J Adair (Lin) 68:06; 8. R Stone (Cambuslang) 68:27; 9. J Cooper (Springburn H) 68:37; 10. J Stevenson (VPAAC) 69:07; 1. S Keith (EAC) 69:24; 12. M Craven (ESH) 70:05. Women: 1. E Steele (Glasgow) 83:24; 2. J McColl (Glasgow) 84:32; 3. J Walker (Strathkelvin LAC) 85:26.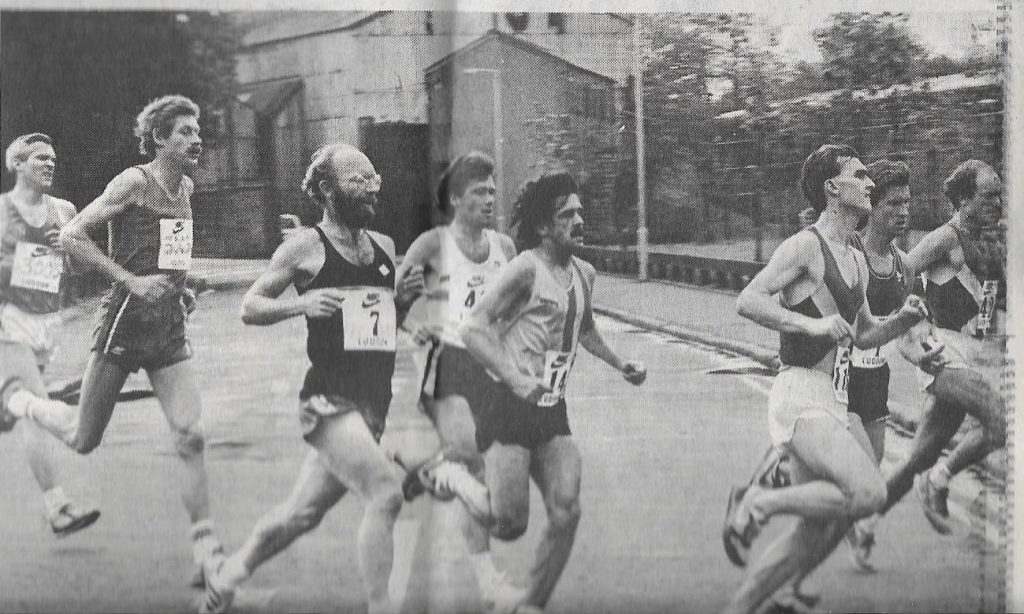 Leading Group after a mile or so, 1985
The race held in October 1985 was reported on in the Scottish Marathon Club Magazine by Hugh Barrow as follows: "This year's Luddon Half-Marathon was again blessed with good weather and a record entry of just over 3000. The Organising Committee are again indebted to Luddon Construction for their continued financial support and to the many voluntary organisations who have also contributed over the past years to build up the reputation of this race.
Despite somewhat humid conditions which led to problems for some novice runners, well over 2000 eventually completed the course. The event was won by a most welcome visitor from Hull, Jim Dingwall – Falkirk Victoria Harriers, who defeated last year's winner George Braidwood by seven seconds with Graham Laing of Aberdeen taking third place. The first lady home was another welcome visitor from down south, Leslie Watson who completed the course in 1:21:46, ahead of Janet McColl and Elizabeth Steele. The first veteran home was John Moore – Victoria Park in 1:12:03, ahead of Tony McCall – Dumbarton AAC, and Fred Bryson – Bellahouston Harriers.
This year for the first time, subventions were paid to the first four men home together with the first lady to finish, and although there is divided opinion on the merit of this type of award it would appear that it is becoming part of the picture in modern road running. Another innovation this year was a trophy presented by Willie Black, a former Scottish Half Mile Internationalist of Grandstand Sports, Milngavie to the athlete considered by a special sub-committee to have achieved the most meritorious performance. This year it was awarded to Aileen Lusk of Strathkelvin Ladies Athletic Club, a long time servant of the sport and former Scottish Ladies 880 yards champion. The WJ Logue Trophy for the first Scottish Marathon Club member to finish went to Jim Dingwall.
Another most welcome visitor at the event was Jock Semple who emigrated from Clydebank to America in the 1930's and was later responsible for organising the world famous Boston Marathon. Jock surprised us all with presenting yet again another trophy which this time was awarded to the first veteran, John Moore.
This year, the main race was complemented by an Invitation One Mile Race organised by the British Milers Club and sponsored by The Gallery, Lenzie and this event was won by Adrian Callan – Springburn Harriers in three minutes 57.1 seconds, with three other runners getting under four minutes. The course was accurately measured by Alastair MacFarlane and Brian McAusland, and it did favour the runners in as much as it consisted of morw downhill than up. Adrian Callan's subsequent performance this year points to the course having been of accurate distance.
The Luddon/Strathkelvin Half Marathon has come some way over the past four years from the event that used to take place at Huntershill, and it is hoped through the efforts of the Organising Committee to continue improving the race year by year. It is hoped that next year we may alter the date to take it off the holiday weekend, but full details will be announced in due course. My thanks yet again to be recorded to all the officials who gave up their time so willingly and without whose help these events cannot take place. Result:
1. J Dingwall (FVH) 66:00; 2. G Braidwood (Bellahouston Harriers) 66:07; 3. G Laing (Aberdeen) 66:29: 4. A Daly (Bella) 67:42; 5. E Cameron (ESH) 68:17; 6. J Cooper (Springburn) 68:29; 7. D Logue (ESH) 68:40; 8. I Ross (68:19; 9. J Adair (Bella) 69:25; 10. D Easton (FVH) 69:29; 11. R Ronald (East Kilbride) 69:37; 12. C Martin (Dumbarton AAC) 70:16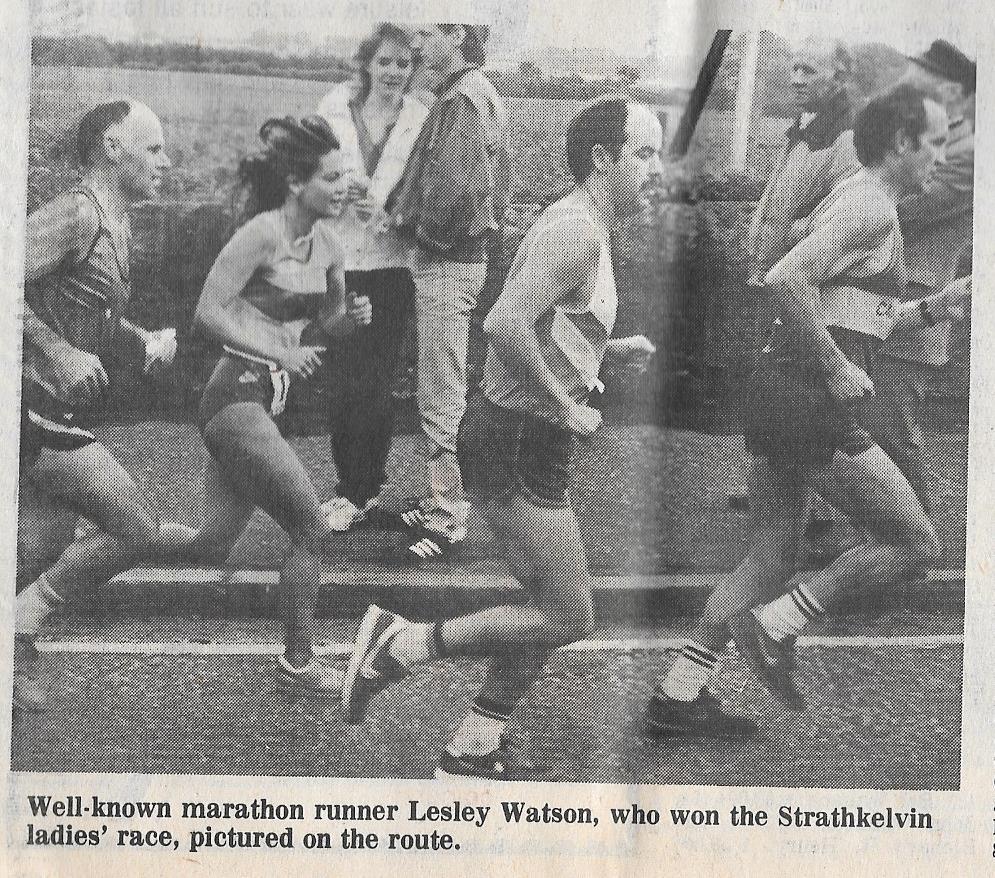 The number of new attractions built in to the Luddon noted above – veterans trophy from Jock Semple, meritorious award trophy from Bill Black, and the Street Miles – were all in tune with the times. The street miles came about because Hugh had been a first class competitor over the distance (BMC member number one) and the Scottish Secretary of the BMC, Brian McAusland, lived in Lenzie and Alastair MacFarlane was a course measurement official: meetings were easily arranged. They were successful from the very start -the first women's race was won By Liz Lynch and the second by Yvonne Murray and Adrian Callan won both first and second. There was also an international aspect to the event with English internationalist Dave Baptiste coming up from London and Irish internationalist Tony McGrath also coming up from London for the races.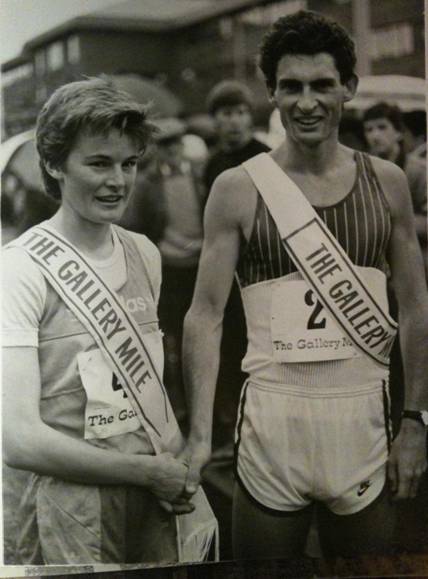 Gallery Mile Winners: Yvonne Murray and Adrian Callan
Not only did the event in 1986 avoid the holiday week-end, it avoided the whole month of October and took place on May 18th. With 2189 finishers it was again a huge success with Peter Fleming defeating Graham Crawford (Springburn by less than 40 seconds. An interesting name in sixth place is that of 'B Scobie, Maryhill-V' Brian had been a member of Maryhill Harriers and was a stalwart at Glasgow University as an under graduate before going to Leeds where he was coach to one of the very best women's marathon squads in the country including Veronique Marot, Angie Pain and Sheila Catford among many others. Result:
Men: 1. P Fleming (Bellahouston) 65:66; 2. G Crawford (Springburn) 66:35; 3. A Douglas (VPAAC) 67:01; 4. P Carton (Shettleston) 67:03; 5. R Stone (Cambuslang ) 67:59; 6. B Scobie (Maryhill-V) 68:19; 7. D Macgregor (Fife-V) 68:58; 8. B Carty (Shettleston-V) NTG; 9. R Ronald (EKAAC) 69:22; 10. T Ulliott (Cambuslang) 70:03. Women: 1. L Irving (ESH) 75:57; 2. A Sym (Glasgow) 79:11; 3. A Ridley (Glasgow) 81:39; 4. B Muir 82:36.
In 1987 the race was again in May and it would stay there for the rest of its run. The times were as good as ever with Hammy Cox setting a record that would last and a good number of international runners in both men's and women's fields. An interesting feature of the day's action was the appearance of two previous winners in the half marathon taking second and third places in the Street Mile. Were the position reversed and multi Mile winner Callan to turn out in the half marathon, it is likely that a real surprise would be on the cards. The organising committee had decided to build on the success of the street miles by adding in a race for Under 17 Men and putting them in with the women's race. This delighted the women because they would be drawn to a faster time then would otherwise be likely – in this case Yvonne Murray was twenty seconds up on the second women but racing against the best Youths gave her a good workout and third overall. The organisers were really good at attracting sponsorship in kind as well as in cash and Glen Stewart won his own weight in mince and potatoes for the race! To be collected as he required them!!! The women's race was won by that prolific racer, Sandra Branney by only twelve seconds from team mate Audrey Sym. Results:
1. H Cox (Greenock Glenpark) 64:31; 2. G Crawford (Springburn) 65:06; 3. A Gilmour (Cambuslang) 65:24; 4. S Axon Aberdeen) 67:31; 5. L Spence (Spango Valley) 67:36; 6. R Stone (Cambuslang) 68:00; Veteran: 1. C Martin (Dumbarton) 69:06; 2. D Fairweather (Law and District) 69:31; 3. J Moore (VPAAC) 71:50. Ladies: 1. S Branney (McLaren Glasgow) 75:44; 2. A Sym (McLaren Glasgow) 75:56; 3. L Watson (London Olympiades) 77:24. LV 1 L Watson; 2. M Robertson; 3. K O'Sullivan.
BMC Gallery Street Mile. Men: 1. A Callan (Springburn) 3:55.3; 2. P Fleming (Bellahouston) 3:58; 3. G Braidwood (Bellahouston) 3:59.0 Women: 1. Y Murray (EAC) 4:23.9; 2. A Jenkins (ESH) 4:43.3; 3. C Price (DHH) 4:47. Young Athletes: 1. Glen Stewart 4:14.8; 2. A Kinghorn 4:20; 3. F McGowan 4:27
1988 resulted in another victory for Bellahouston Harriers' Peter Fleming in the excellent time of 64:40, 49 seconds clear of Victoria Park's Alastair Douglas. The quite outstanding lady marathon runner who is still ninth in the Scottish all-time rankings with a time of 2:34:26, set in October 1988, Heather MacDuff of Edinburgh Athletic Club won the women's race in 76:43, almost four minutes ahead of second placed Audrey Sym. The race also encompassed the SWCCU and RWA half marathon Individual and Team Championships. Results:
Men: 1. Peter Fleming 64:40; 2. A Douglas 65:29; 3. C Haskett (Dundee Hawkhill) 66:05; 4. A Daly (Bellahouston) 68:50; 5. R Ronald (EKAAC) 70:50; 6. (and first vet) W Scally (Shettleston) 71:04.
Ladies: 1. H MacDuff 76:43; 2. A Sym 80:29; 3. G Robertson 82:23; 4. J Harvey LV1 (and fifth overall) S Rodgers; LV2 L Brown. Teams: 1. Glasgow 15; 2. Dundee RR 30; 3. Giffnock North 89.
By now, of course, the race was big news and the Glasgow Herald was doing previews of the race and follow up reports. In the paper on Saturday 13th May Doug Gillon reported: In the world of athletics these days it has become fashionable for the stars to avoid each other. So it is refreshing to hear the enthusiasm which Lynn Harding and Sandra Branney, Scotland's leading marathon women, have for meeting each other. Usually a marathon sends participants into recuperative hiding for months. Yet both are entered for the Luddon Strathkelvin Scottish women's half marathon championships tomorrow, four weeks after the London Marathon in which both competed with distinction.
Harding, the Milngavie born woman from Sunderland, booked her Commonwealth Games berth by finishing eighth, breaking the Scottish record. Branney, although beating her personal best, fell a frustrating three seconds outside the Auckland qualifying time. Harding intends to race at Kirkintilloch tomorrow, "because I would hate Sandra to think I was avoiding her." Branney made a particularly quick return to competition, winning the Adidas 5000m in Glasgow just four days after London. And she has won a race every Wednesday since, including this week's Torsion 10000m. Her appearance tomorrow is conditional on how she recovers from today's efforts. Displaying a remarkable range of ability, Branney will race over 1500m in teh Access UK League division one women's match at Meadowbank, "if my legs still feel as if they belong to me, I'll run the Luddon," says Mrs Branney.
There is a quality men's field for Kirkintilloch, and the LB Plastics street miles will keep spectators occupied while the main event is on. Adrian Callan goes for a fifth successive victory in the men's Mile, while Olympian Lynn MacIntyre is favourite for the women's. She too is racing on Saturday in the League."
The report on the race two days later began, unusually with the result:
Men: 1. N Muir (Shettleston) 65:40; 2. H Cox (Greenock Glenpark) 66:43; 3. P Fleming (bellahouston) 67:00; 4. M Gormley (Cambuslang ) 68:40; 5. P Carton (Shettleston) 69:28. Scottish Veteran Harriers Club Championships: 40+ C Youngson (Aberdeen, sixth overall) 69:39; 50+ W McBrinn (Shettleston) 77:36; 60+ S Lawson (Maryhill) 83:46; 70+ D Morrison (Shettleston) 93:16; Local Team Race: Stobhill Hospital.
Women: L Harding (Houghton Harriers, 20th overall) 73:09; 2. S Branney (Glasgow, 22nd overall) 73:27; 3. J Armstrong (Giffnock North) 82:24. Team: 1. Giffnock North 19; 2. Glasgow AC 20.
LB Plastics Street Mile: Men – A Callan (Springburn) 3:57; Women: L MacIntyre 4:32
Harding, 27, and based in Sunderland, rocketed to fifth in the Commonwealth when she broke the national marathon best in London beating Sandra Branney, now tenth in the rankings. Yesterday was their first big domestic head-to-head. Branney, a former Scottish marathon winner had raced just 24 hours earlier over 1500m in the UK Access League, but clearly had plenty left in the bank. Although she lost her two-year-old course record of 75:44 after an epic duel, second place in 73:27 gave Branney the veteran women's prize.
The pair raced together for nine miles, but Harding's surge on the long drag up from Torrance drew the last of Branney's reserves. Harding finished twentieth in a field of almost 1100 – a remarkable performance from a woman whose idea of keeping fit seven years ago was to take a rope into the garage at her parents home in Milngavie where she would skip to taped music. "I was told that if I wanted recognition in Scotland, I would have to race here more often," she said. Recent performances have finally buried her anonymity. Now, in order to prepare for the Auckland Games, for which her London time qualified her, Harding plans to race the 5000m in the UK Championships next month and to make her 10000m track debut in the SWAAA event at Crownpoint in July. But she also intends to keep in touch with the grass roots of her sport in her adopted home. "I'll run the Five Pits 10K at Silkworth a week on Wednesday," she added, "they serve up pie and mushy peas to all finishers just after you cross the line."
Yesterday's race was also a triumph for two runners at opposite ends of the field. The men's winner, in 66:40, was Nat muir, Scotland's leading 5000m track and cross-country exponent for more than a decade, but forced to abandon these disciplines through injury. Tackling the half marathon for only the second time, he beat the course record holder, Hammy Cox, by more than a minute, with four-time winner Peter Fleming third. And Ajit Singh, a 59 year old Larkhall maths teacher who was paralysed with a spinal fracture eight months ago, completed his first race since in One hour 50 minutes. Struck while cycling by a hit-and-run driver he was in traction for seven weeks and now runs wearing a special brace. "Last year this race took me 85 minutes, but I'm lucky to be running at all, he said."
A bit longer than the traditional reports by Alastair MacFarlane and Hugh Barrow, but packed with detail and the amount of space given by a newspaper like the 'Glasgow Herald' to an athletics event on days on which there was much competition for space on the sports pages speaks volumes for the high regard in which the race was held (and the ability of Doug Gillon to get it in!) Interesting too that the men's race took up less than a third of the report..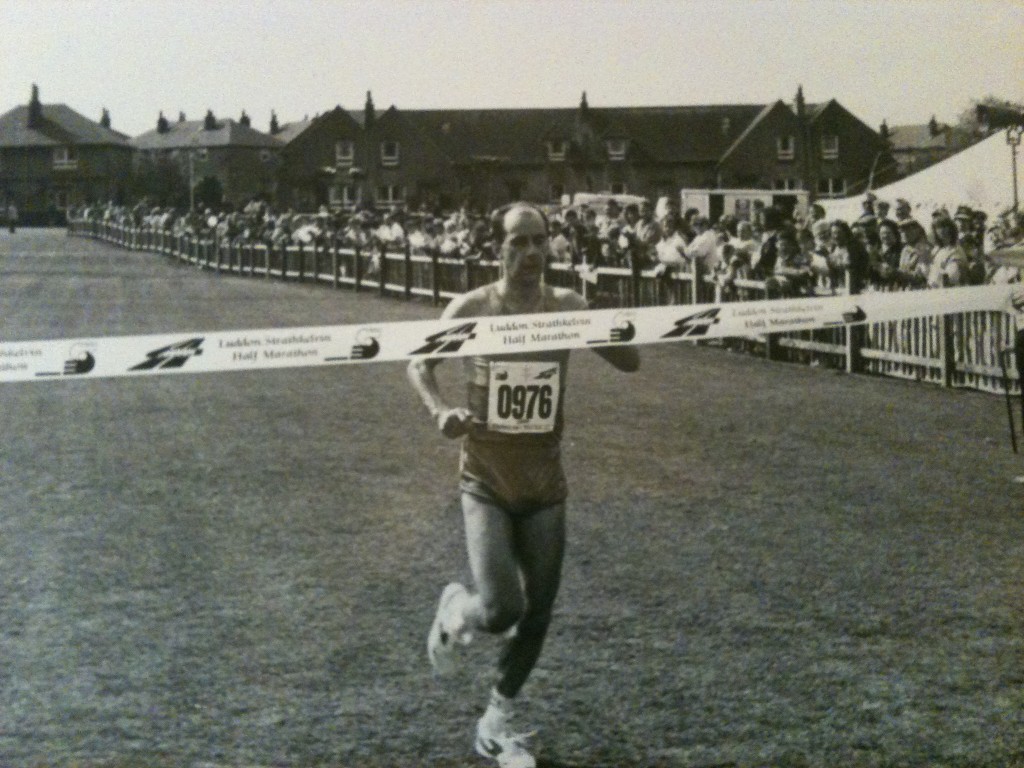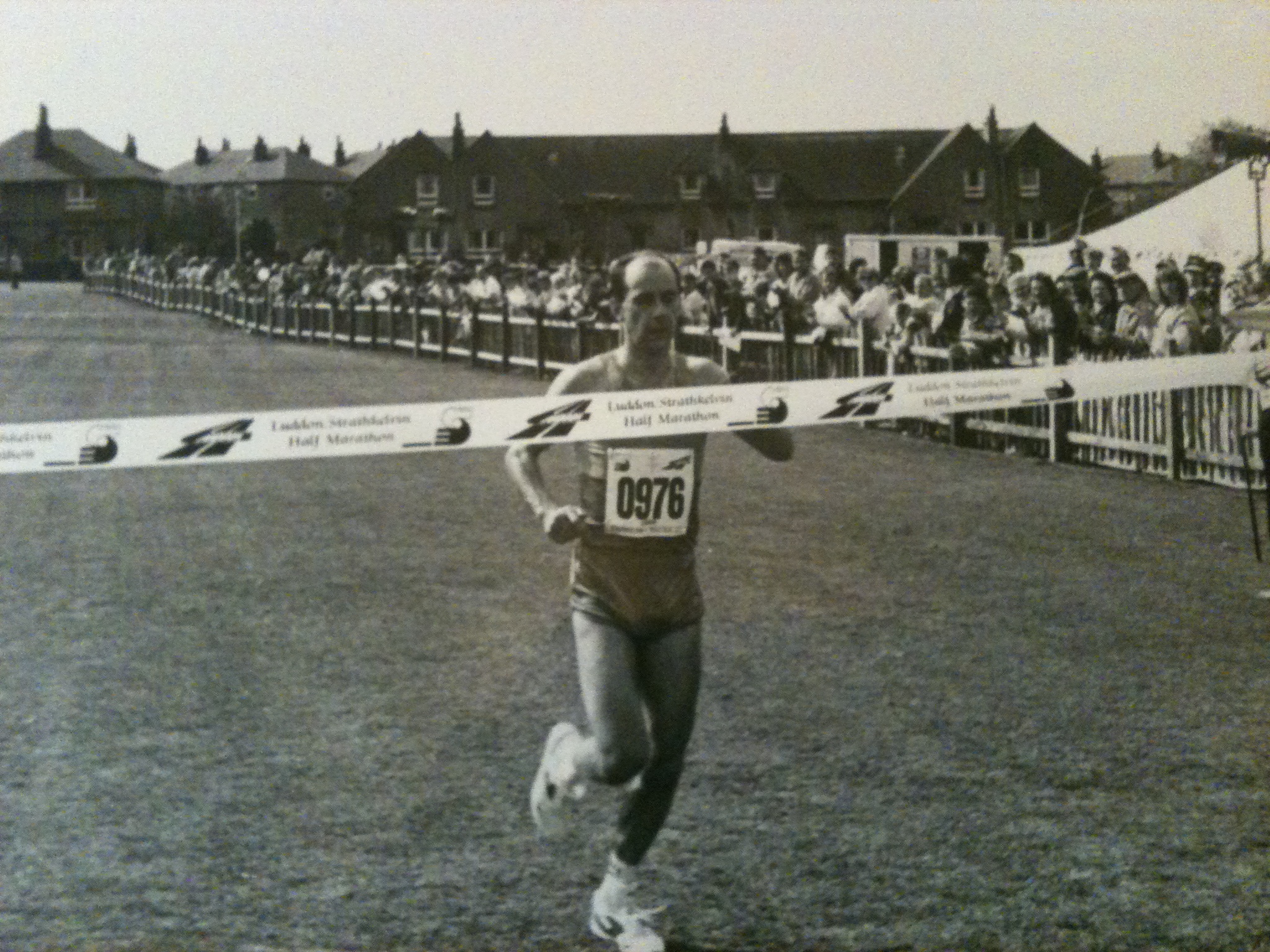 Nat Muir winning in 1989
We go back to Doug for the 1990 race. The preview first. " A strong field will assemble tomorrow for the eighth running of the Strathkelvin District Council's Luddon Half Marathon. Defending men's and women's champions Nat Muir and Lynn Harding are both side-lined. Muir who set the course record of 65:40 will be out of action until mid-June with a calf problem but there is still a quality men's race in one of the most popular road events on the calendar. International marathon runners Peter Fleming (Bellahouston) and Fraser Clyne (Aberdeen) and cross-country international trio of Alastair Douglas (Victoria Park), and Hammy Cox and Tom Murray (both Greenock Glenpark) are all entered. Frank Harper, the first Scot to finish behind Allister Hutton in the London Marathon, is also likely to run in the event which has already attracted close to 1000 runners.
Fleming, on course for 2:13 when forced to drop out at 19 miles in the ADT London marathon with a calf injury, still has some lingering problems from that, and will wait until he sees tomorrow's weather. Entries will be accepted on the day at the rear of the council buildings in Lenzie. The race begins at 10:00 am."
For all the talk of smaller fields, the figure of 1000 participants is healthy enough in its own right but, even with race organisers totally in tune with the sport and the good of the runners, the acceptance of entries on the day was unusual and perhaps speaks of some anxiety about the turn out. The report on the Monday morning read as follows.
"Fraser Clyne maintained his assault on the Scottish road-race title yesterday when he won the Strathkelvin Half Marathon in 65:29. His victory was the first significant success for the Metro Aberdeen club which he was recently instrumental in founding. He had 41 seconds to spare over Tom Murray with Willie Nelson third in 66:31.
A member of Scotland's 1986 Commonwealth Games team, but passed over for the marathon in Auckland, Clyne broke clear after three miles (15:00) and over the next two miles opened a gap of some 30 yards. At ten miles (59:15) he was 200 yards clear with only Murray, also runningsolo, offering a challenge. Another marathon internationalist, Pitreavie's Frank Harper, having run in London just three weeks ago, was picked off by Nelson in the final stages. Clyne began his defence of the national road race title with a second place behind George Braidwood in the Tom Scott 10 mile event, but now goes top. His time was eleven seconds faster than Nat Muir's winning time last year, but outside the record of 64:31 which stands to Hammy Cox. Ian Elliot (Teviotdale) clinched his third veteran success since turning 40 in January. The Borderer, whose best time is 65:00, recorded his best veteran time to date of 68:12, finishing seventh to clain the Scottish veteran crown, two places ahead of defending Colin Youngson.
Renee Murray of Giffnock North, a housewife and mother of two, who took up the sport less than three years ago to keep fit for racket sports, won her first national title at the age of 37. Just three weeks ago in London she recorded her fastest marathon time of 2:55:12 and this time, with the Scottish women's half marathon crown at stake, she clocked 80:26, another personal best, which gave her the veteran's award. But she was even more satisfied at leading her club to a narrow team victory over Glasgow AC. That should have booked Giffnock's berth in the European women's club road championships. However Scotland's right to a place in that event is now under debate – once again the issue of a UK is being pursued by the organisers. Results:
Men: 1. F Clyne 65:29; 2. T Murray 66:10; 3. W Nelson (Ian Skelly Law and District) 66:31; 4. F Harper (Pitreavie) 66:47. 5. M Gormley (Cambuslang) 67:25; 6. J Evans (Shettleston) 68:00. 7 (and first veteran) I Elliot 68:13; 8. D Cameron (Shettleston) 68:41; 9 (and second veteran). C Youngson (Aberdeen) 69:27; 10. B Pitt (Dumbarton) 69:50; 11 (and third veteran) A Adams (Dumbarton (69:59)
Women: 1 (and first veteran) R Murray 80:26; 2. J Harvey (82:30); 3. R Kay (both City of Glasgow) 84:37. Team: Giffnock North (1. Murray, 4 K Hancock, 7 M Blacker)"
1991 saw the race distance drop to the now popular 10K distance. There was a letter under the heading of "Luddon 10K a Great Success" in 'Scotland's Runner" of August 1991 from Jim McCreery of Clarkston. But why wouldn't it be a success given the quality and experience of the organising committee? Why wouldn't it be with the Luddon reputation to trade on? But the truth is that the event had run its course. To many Scots, the term 'Strathkelvin Luddon' still equals 'half marathon'. After two years at 10K, it dropped even further in distance to 5K. I will simply quote from Doug Gillon's article in the 'Glasgow Herald' of 8th May, 1993. "Strathkelvin District Council, once hosts of Scotland's biggest half-marathon, will see their race take on a new format this year as a 5000m road race, the final event of the UK-wide Reebok Grand Prix series on Thursday, June 3rd. The two other city centre events are May 23rd in Bath and May 28th in Sheffield. The Kirkintilloch race is also the Scottish national championship and will determine the winners of £16000 in overall prizes. The grand prix winners of the men's and women's races will each bank £1500 and the individual winners of the Strathkelvin elite race lifting £750. Strathkelvin's event was founded in the early 50's as the Scottish Marathon Club's 12 mile road race. For eight years, from 1983 it was the Luddon Half Marathon, peaking at 3500 entries in 1983, and for the past two years it has been a 10000m. Besides the elite race, which includes Springburn Harriers Scotland defector Paul Evans, there will be an open race and others for primary and secondary schools."