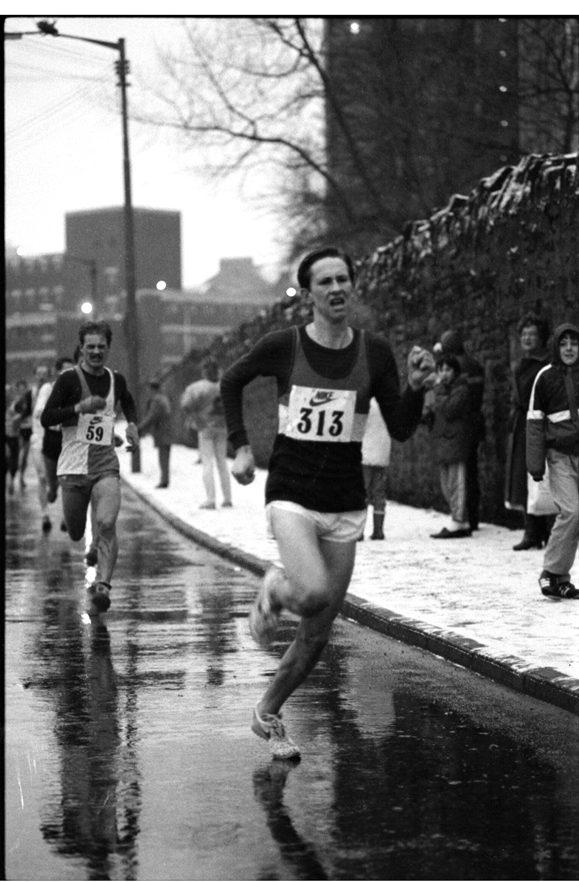 Steven Doig (313) finishing third in the Nigel Barge Road Race in 1986
Steven Doig was a very talented middle distance runner from Kinghorn in Fife who represented Scotland on the track and over the country at a time when the standard at all distance events was very high. He is now a very good coach who can be seen at championships, open meetings and BMC races. Quiet and unassuming he doesn't push himself forward but lets his athletes do the talking on the track. He certainly should be better recognised in the world of athletics. We asked him to reply to the questionnaire and we can start there.
Name: Steve Doig
Date of Birth: 17/11/65
Occupation: Teacher (Additional Support Needs)
Club/s: Fife Southern/Clydesdale/Old Gaytonians/Fife AC
Personal Bests: 800 – 1.51.1; 1500 – 3.44.7; Mile – 4.01.02; 3000 – 8.11.6; 5000 – 14.10.9 5 Miles – 23.34; 10K – 30.20
How did you get into the sport in the first place and were you coached: I first got involved after the 1976 Olympics in Montreal. I remember watching the 10,000m final and being fascinated by the running of Brendan Foster. Following that race I spent weeks asking my dad to take me to an athletics club. At the end of the summer I joined Fife Southern Harriers who were based in Kirkcaldy.
Ironically my dad also got involved as he was asked to help with coaching and he became one of the coaches of the junior group.
I ran for Fife Southern throughout my secondary school period but never considered myself to have a coach. My dad helped with my training and I also ran with Balwearie High School where one of the teachers, Brian Hughes, was a big influence.
When I left school I wrote to the BMC for a list of coaches in Glasgow, as I was going to study at Jordanhill. Two of the top names were Alex Naylor and Brian McAusland. I had met Alex at a Scottish Event squad training day and didn't really take to him so I contacted Brian and he agreed to let me join his group.
Did any person or group of people significantly affect your performances or your attitude? Brian McAusland had a massive impact on my performance and attitude. He went out of his way to help me and would collect me and drop me back at Jordanhill after training. His advice helped me to quickly become a Scottish Junior internationalist and working with his group which contained guys like Hugh Forgie, Alec Gilmour, Eddie Stewart, Charlie Thomson, Sam Wallace and Jim Orr improved my running enormously.
I had an excellent season in 1986 and ran some fast times and this was made easier by spending two weeks training and racing in London. Brian arranged this for Sam Wallace and I and we were also helped by a stalwart of the BMC, Pat Fitzgerald, who arranged accommodation for us in Acton with his mother. Pat also helped by arranging transport for us to races and training sessions. During this two week spell I ran 3.44.7 and 8.12.2,
I also had the opportunity to participate in a training session led by the legendary Frank Horwill.
What was your best race: A 1500m I ran in July 1990 at Mansfield. I went with the intention of running a very fast time as I'd been training really well. Unfortunately there had been a really high quality entry and I got stuck in the B race. I won this very comfortably in 3.49 but felt I could have run 3.42/3.43 in the much faster and far more competitive, A race.
Your worst? So many poor performances its difficult to pick just one! However the most disappointing, with the value of hindsight, was my mile run at Bromley. I ran 4.01.02, which was the fastest by a Scot in 1990, but the disappointment was that it was a great opportunity to run sub 4. At the time I wasn't too disappointed as it had been a great race marred only by a dreadful last 100m! I thought that having got my first full season in since 1986 that I would go on to massively improve all of my personal bests in the following season. However, after that season I never managed to race seriously again due to injury problems with my lower leg. So, the missed opportunity at Bromley becomes all the more galling!
What did athletics bring you that you would not want to have missed? When you spend a lot of time training and racing you meet a lot of people who share your passion and you form some great friendships. Most of my closest friends are people I've trained with over the years. I also met my wife while training with Bob Parker's group in London so I'm sure I should include that!
Can you give some idea of your training?
Glasgow 1985/86
Mon: 5 mile run followed by hills
Tuesday: Club run with Clydesdale
Wednesday: Track Session
Thursday: Club run with Clydesdale
Friday: Rest
Saturday: Race or grass session
Sunday: 10 – 12 mile run
Total mileage of 40 – 50 miles
London 1989/90
Mon: Steady Run
Tuesday: Track Session
Wednesday: Steady Run
Thursday: Track Session
Friday: Easy Run
Saturday: Race/Track session/Grass session
Sunday: 10 – 12 mile run
Total mileage of 50 – 60 miles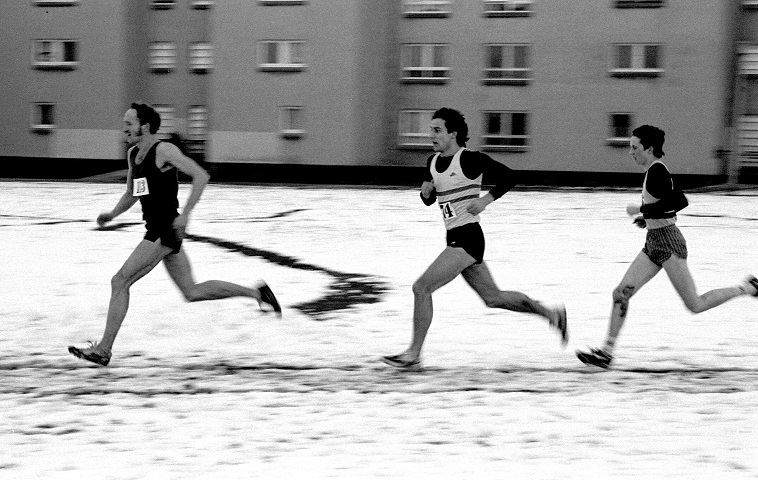 Livingston, 1984. Stuart Gibson (HBT), Colin Hume (ESH) and Steven (FSH)
As he says, Steven was only ten years old at the time of the '76 Olympics and as chance would have it, the East District Cross-Country League was formed that year. A year later, Steven was there as a Junior Boy. The first race he ran in that league was on 10th December 1977 at Tullibody when he was 18th and third counter for the Fife Southern team that was 7th. In the National cross-country championships that year, held on 4th March in Bellahouston Park in Glasgow, Steven was 62nd in the junior boys race, one place behind Steven Marshall of Clyde Valley, another who would go on to Junior and Senior international status.
In the first race of the 1978/79 East District League, Steven was fourth and the team won with Tom Ritchie first. The Fife Southern Harriers junior boys team did well for the rest of the season and in the East District Championships Relay Championships in Tullibody in October the Young Athletes team (made up of a Junior Boy, Senior Boy and Youth) Steven ran the first stage for the club and handed over in fifth place which was where they finished. In the District Championships proper, at Aberdeen in January, they were second with Tom Ritchie third and Steven 15th.
Steven did not race much in season 1979/80 with no appearances in League Matches, or in the District or National cross-country championships, but in the next winter season, Steven ran in two of the District League matches: in Cupar on 11th October he was eighth Senior Boy; and in Dundee on 30th October 15th Senior Boy. He missed the last match on as well as the District or National Championships. The team had several very good young runners such as Tom Ritchie (regularly top club finisher), Lindsay Wilson (sixth and first club runner in the District championships) and Steven but they did not get them all out in the championships that year.
Steven's racing at this time was irregular as far as League, District and National Championships were concerned – something that is often true of very good senior runners as young men. The sport is littered with tales of talented young runners who leave the sport early because they have been driven too hard by over zealous coaches or parents. However his ability was clear to see. One of his Fife Southern team mates, Lindsay Wilson, who has contributed valuable information to this website, tells us that he first met Steven when they were eleven or twelve year olds. The club had a good senior boys team including Steven, Lindsay, Tom Ritchie and others such as John Ferguson and David Costello. He particularly remembers that in his last year at High School, Steven and himself finished first and second in the Fife Schools Cross-Country Championship. That Fife Southern Harriers young ahletes team was a very good one which twice won the national athletics league and produced some top class athletes – eg when Steven ran in his first senior man's international at 1500m, one of the two Scots in the 800m was Tom Ritchie.
By winter 1981/82, Steven had moved up to the Youths' (Under 17) Age Group and in the East District League at the end of November in Livingston, he finished sixth. No Fife Southern athletes in the National in Steven's age group that year but summer 1982 was when Steven's career as an athlete took off. The high spot was maybe when he won the East District Youths 3000m in 9:02.5 although his second place in the Scottish Schools was much faster – 8:53.6 – and was three seconds ahead of Bobby Quinn who ran 8:56.3. By the end of summer 1982 he was ranked nationally in no fewer than three events. In the 1500m he was eleventh, one place in front of Tom Hanlon with a best of 4:11.6 on 16th May, at 3000m he was fourth with 8:53.6 and he was fourth in the 2000m steeplechase with a time of 6:32.8 run at Meadowbank late in the season on 5th September.
The winter of 1982/83 saw no appearances in the cross-country league but a first place in the East District Championships on 22nd January at Livingston, and an eighth in the National. They were very good runs by any standard. The National, for instance, had Bobby Quinn, Steven Begen, Steven Marshall and Dave McShane as the first four and behind Steven were such good athletes as Alistair Currie, Scott Reid and Frank Boyne. The following summer Steven had another second in the Scottish Schools championships but this time in the 5000m. On a hot afternoon at Scotstoun he led most of the way before being outkicked by Scott Reid of Dumbarton. Scott was a member of a formidable club U17 team comprised of himself, Alan and Alistair Currie. The winning time was 15:29.1 with Steven close behind.
It had taken since 1977, but by now it could be said that the first stage in Steven's apprenticeship in the sport had been completed. He was running with the big boys on pretty well equal terms. In Autumn 1983 Steven started in Jordanhill College, Glasgow.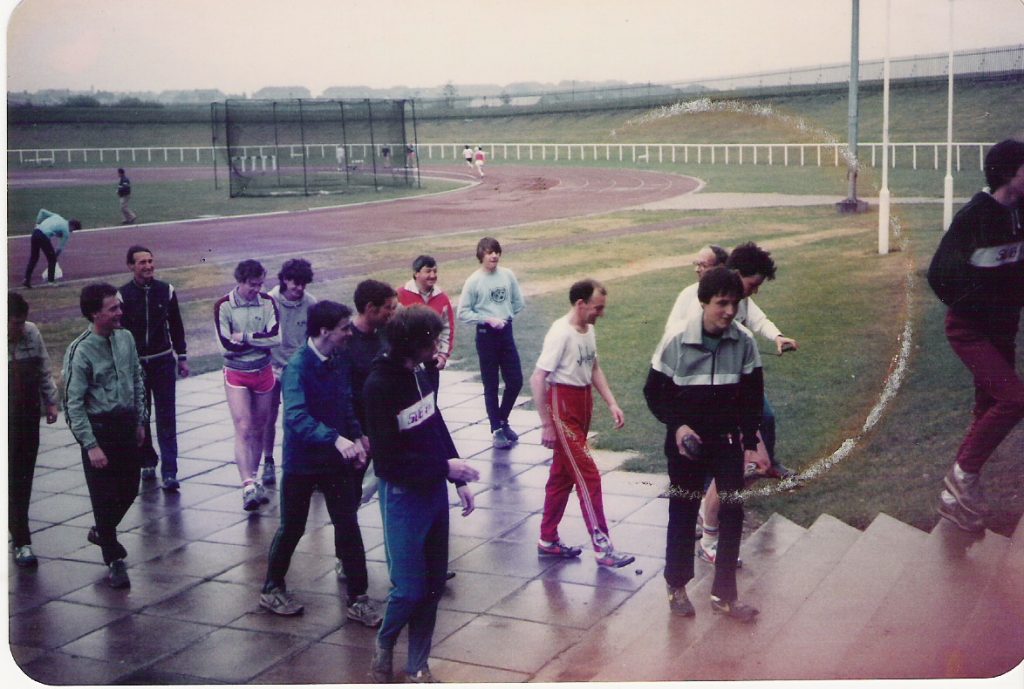 Some of the Glasgow group that he was joining including Graham Getty (Bellahouston), Hugh Forgie (Law & District), Alex Gilmour, Sam Wallace, Pat Morris (Cambuslang), Douglas MacDonald and James Austin (Clydesdale) and Alex Chalmers (Springburn)
Despite living in Glasgow, Steven travelled through to Falkirk on 15th October, 1983, to represent Fife Southern Harriers in the East District Relay Championships. Running on the fourth stage, he was second fastest club runner with a time of 12:26, eight seconds slower than team mate John Cunningham. There was no Fife Southern team in the District championships but Steven ran in the National at Irvine in February where he was tenth in the Junior Championships, just missing out on a place in the team for the World Cross-Country Championships in New York by nine seconds and one place to Alistair Currie.
1985 1500 3.51.5 2
There was more to any year than ranking times though and now, at last Steven's talents were being seen in a series of good races. In April he won a 10K on the road at Hatch End in 30:20 to get the season off to a good start. (He had won the 5K there the previous year in 24:06.) He won the Middlesex County 5000m Championship in 14.23. This was followed by eighth place in the Southern Championships in 14.12 (won by Jonathan Richards). And then he was third in UK Inter Counties 5000 in 14.10.9. "Could have been quicker," he says, " but I paid the price for a first 3000 in 8.13!" Geoff Turnbull won in 13.53.4. Two Scots were out for Middlesex – the late Andy Beattie ran in the 10,000. The story of the 4:01.2 mile is told in the responses to the questionnaire – it was a time that topped the Scottish rankings for the year.
It was also the year when he won his second Scottish selection. He ran in the 5000m along with Bobby Quinn against Iceland on 1st July in Mossfaellsbaer . Bobby was second in 14:36.61, Steven third in 14: 14:43.68 for the Scottish team which defeated both Iceland and Ireland. A good competitive run was when Steven ran 4.06 to win the Crawley invitation mile, defeating Olympian Tim Hutchings – Steven always had a ferocious kick at the end of races and in this one kicked away with 500m to go. Training with Bob Parker's group at that time, he remembers "Bob going mad on the sidelines as he'd told me to wait until the last 100! " Other scalps lifted at that time include GB internationalist Andy Geddes over 1500 in a Middlesex v Civil Service match. The winning time was only around 3.51 but the final 300 was in 39 seconds.. Later in the summer he ran 8.11.6 to win the Middlesex v RAF v Civil Service 3000 beating Mark Flint and Julian Goater.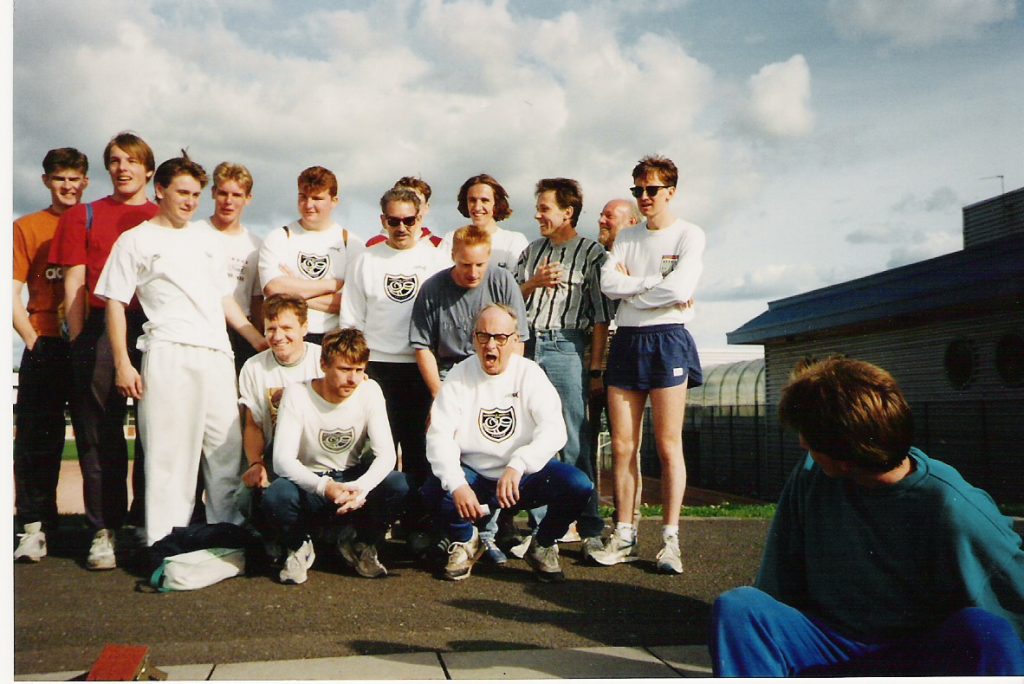 His best run in summer 1993 was when he finished third in the Perivale 5000m road race in 15min 24sec. The event was won by Ali Mohammed (Thames Valley) in 15-08, with David Rocks (Finn Valley) runner up three seconds ahead of the Scot. He had kept his Scottish connections alive all the time he was in England and, as well as his old Fife friends and team mates had joined Clydesdale Harriers with who he had done some training prior to his move south. He is pictured below after a league match over 5000m in Glasgow. That's him on the extreme right wearing the shades at the top of the terracing at Crown Point.
Steven had never run in the prestigious Edinburgh to Glasgow relay before so when he was asked to turn out for the club on the difficult second stage of the race in 1995 he took it and travelled up overnight in 1995. After a disappointing tenth place on the first stage by Des Roache, GB Junior 1500m champion indoors and out that same year, Steven picked up one place to hand over to Shane Daly. He returned the following year and this time took over in first place from Allan Adams but dropped several places before passing the baton to Graeme Reid who would go on to win Scottish Junior and Senior cross-country championships in the next few years.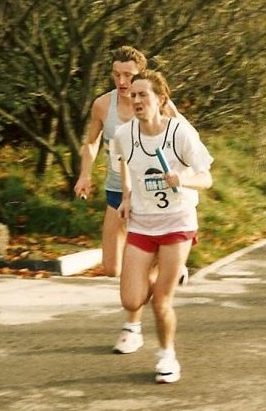 Steven running on the second stage of the Edinburgh – Glasgow, 1995
When he returned to Scotland in 1998 he kept on running but it was not as serious as it had been. For instance he ran in the Beveridge Park 5K races in 2003 where in May he was second with a time of 16:31 and in June set a record for the course of 16:02. Good enough running but not of his previous standards. The problem was of course with his legs – run, start to get fit, get sore legs, stop for a while, repeat.
His next venture in the sport was as a coach. His experiences as an athlete both north and south of the border, his inquisitive nature and intelligence all indicated that he would be a success in this capacity. He had been interested in coaching as far back as 1996 when he was in London and got his club coach award. at that time His actual coaching career started in about 2006 with a small group of 9 and 10 year olds so that his daughter Shona had a group to train with.
Because his runners were progressing and performing successfully others joined his group and he has now reached the stage where he has to divide them into five or six groups with assistance from two other adult club members. The athletes cover three clubs, although the vast majority are Fife members, and cover all age ranges but are mainly U17, U20 and Senior athletes. Steven, like all good coaches, puts in the hours trackside, with sessions most days at either Kirkcaldy or Pitreavie tracks. There is also of course the work put in away from the track in organising the year, organising the individual sessions, liaising with physios, medics and other coaches: when we met for lunch recently the first 20 minutes were taken up trying to arrange a race for an athlete to get a qualifying time via a whole series of texts. The time spent and effort put out is appreciated by the athletes and their parents.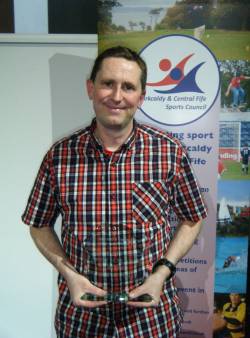 Steven as Coach of the Year in 2013
In 2014 one of his athletes, Adam Scott, won the English Under 15 1500m in the championships at Bedford. The report in the local paper read: "Kirkcaldy athlete Adam Scott finished his season in fine style last Sunday when he won the 1500m title at the England Athletics Under 15 Championships. Adam, who is 14, is a pupil at Balwearie High School and competes for Fife Athletic Club. He is undefeated in his age group over 1500m and prior to his comprehensive victory at Bedford, where he defeated his closest rival by four seconds, he had already won the Scottish Indoor Age Group Championship and the outdoor East District, Scottish Schools and Scottish Age Group Championships. Adam also shattered the Scottish under 15 indoor 1500m record in February taking a whopping 10 seconds off the previous best.
His victory in the England Athletics Championship is, however, his greatest achievement to date and this win effectively crowns him as British champion as all of the main contenders for this title were present at Bedford. Adam, who is ranked first in Scotland in the under 15 age group over 1500m, had one final outing before hanging up his spikes for the season. At the Pitreavie Trophy meeting on Sunday he won the 800m in 2:02.77 to climb to the top of the rankings in that event too. He will now take a short break before setting his sights on the cross country season where he hopes to win the East District and Scottish titles.
Adam has been coached by Steve Doig as part of the Fife Athletic Club group in Kirkcaldy for seven years and his superb performances this summer will undoubtedly inspire his training partners as they strive to match his achievements."
In 2016, 10 years after he had taken up coaching, he was nominated as Coach of the Year by the Kirkcaldy and Central Fife. The following testimonial was posted on the Fife AC Forum:
Tue May 30, 2016 9:17 am
Adam Scott, U18/U20, has been selected to represent Scotland in the Commonwealth Youth Games in the Bahamas in July this year.
I would like to take this opportunity to thank Adam's coach Steve Doig for his commitment and support to get Adam to this point. No athlete ever stands alone and Steve has stood with Adam guiding and supporting him through the successes and the failures; always there, always ready to help Adam no matter what – in typical Steve style of course. Steve has stood in Beveridge park with snow on the ground and has stood track side with the wind and rain belting down all to support Adam and his athletes. As a parent I think that Adam could not have had a better, more dedicated, or more skilled coach than Steve.
Adam has been supported by many others – Gabby Doig, Adam's training partners in Haraka Kasi, Mark Pollard and Robert Hawkins of the Scottish Athletics National Academy, and Sports Aid Scotland and the Robertson Trust.
Adam is not Steve's only Commonwealth Youth Games athlete: Bethany McAndrew of Pitreavie AAC has been selected for the 100m hurdles and is part of Steve's Haraka Kasi training group.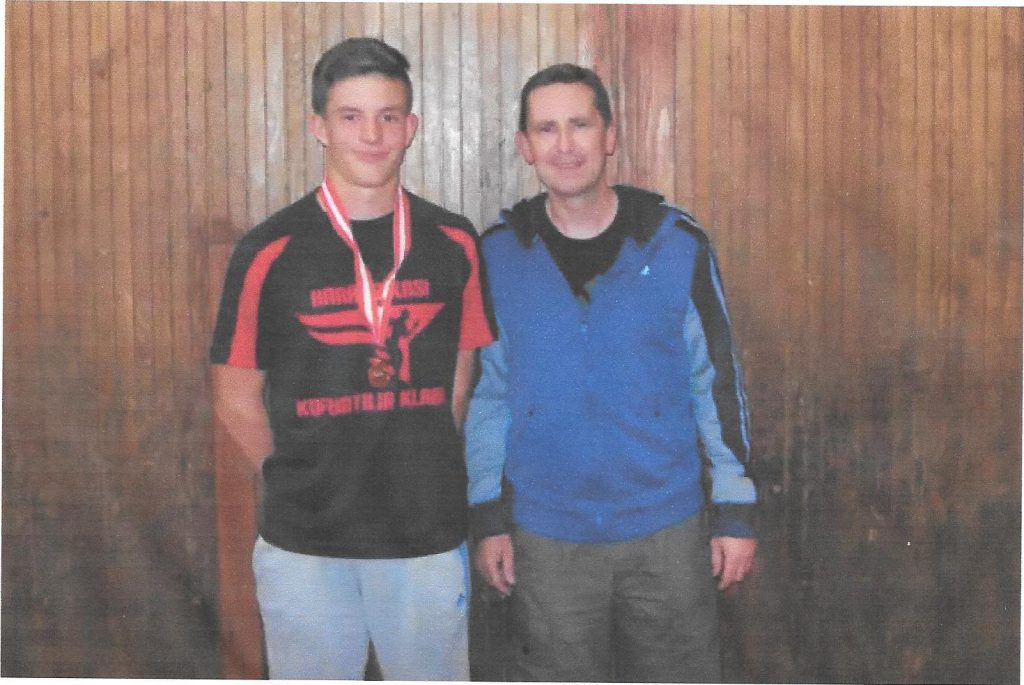 Steven with Adam Scott when he was selected for the Commonwealth Youth Games
The bold typeface is mine just to emphasise further the appreciation expressed. There is mention of the Haraka Kasi group. You can follow their athletes progress at https://twitter.com/HarakaKasi . They describe themselves as an "Athletics training group based round Pitreavie track. Cross club; focused on camaraderie and results – not vests." What is it? Like many training squads, his athletes wanted a group identity but Steve resisted one that used his name – ostentation was never his style in any walk of life. Since the Kenyans are noted distance runners. he came up with the two Swahili words that just mean 'speed' or 'fast'. The athletes liked the name and it stuck. They liked it so much that they all clubbed together, and raised several hundreds of pounds, to buy a personalised car registration plate for him which reads KA51 RUN for him.
Steven Doig:
International runner on track and cross country;
Good club man who supported whatever club he ran for to the best of his ability;
Successful, and respected award winning coach