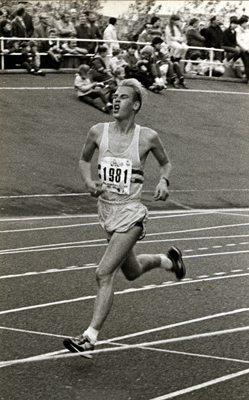 GRAHAM IN ACTION 1986: Falkirk Half Marathon
Graham Macindoe (Edinburgh Southern Harriers and New York City Harriers) was born in Broxburn on 13th March 1963. Maybe better known to us as a photographer of many high quality photographs and, through them, memories and at times moments of inspiration. Where did his running all begin?
– How did you get started? "I got into the sport through a couple of friends who were running and because I liked Steve Ovett. I was never a great runner but stuck at it and ran some okay times and I'm still running regularly."
-Were you coached? The group I trained with were coached by a guy called Ronnie O'Byrne. He was a good coach and even though I was on the slower side compared to some of the others he always gave me plenty of time. He was known for selling running shoes and spikes out the back of his car at races too.
– Was there anyone locally that particularly helped or inspired you? I'd been running for a while when I was introduced to Brian Carty who worked in the Leyland Factory in Bathgate with my dad. He was a big influence and I ran with him occasionally on his long runs. When I moved to Edinburgh I joined ESH and got to know quite a few of those guys and especially Evan Cameron, Sandy Cameron and Neil Thin amongst others. I trained with Scott Cohen a bit back then and got to know Mark Fallows who I'm still friends with as we both live here in the US as does Scott. We even get out for a run together now and again.
– during what years were you competing? I ran competitively off and on in Scotland during the mid '80s then moved to London, but family life and college reduced my running a lot. I restarted when I moved to NY in 1992 and ran some of my best times then. At home I ran a few District Championships and one National but mostly did 10k, 10 mile and half marathons on the road. I only ran as a senior as I only started running when I was about 19. I've managed to keep running reasonably injury free and still run most days. Last time I was back I did a few nice runs with John Gladwin (the Scottish one) and Alex Robertson.
Incidentally, Alex Robertson said that they had two great days training when Graham was back home recently and said that he had done a lot with Evan Cameron, and adds: "I did not even know he was taking all these photos of us back in the day. I am glad he has given us great memories through his posting. All I would like to say is a big thank you Graham, because you have given us some great memories by posting all these photos. Thanks from all the guys of the 80's."
-How did you get into running in the States? I just started running again to keep fit then saw a couple of races locally, so I ran in them, did okay and joined a local club. Soon after I met my mate Patrick and ran with him – we both ran 1:13 in a half soon after. We still run together and did 11 miles the other day. I took a lot of pics in NY too but lost them during my divorce along with other stuff.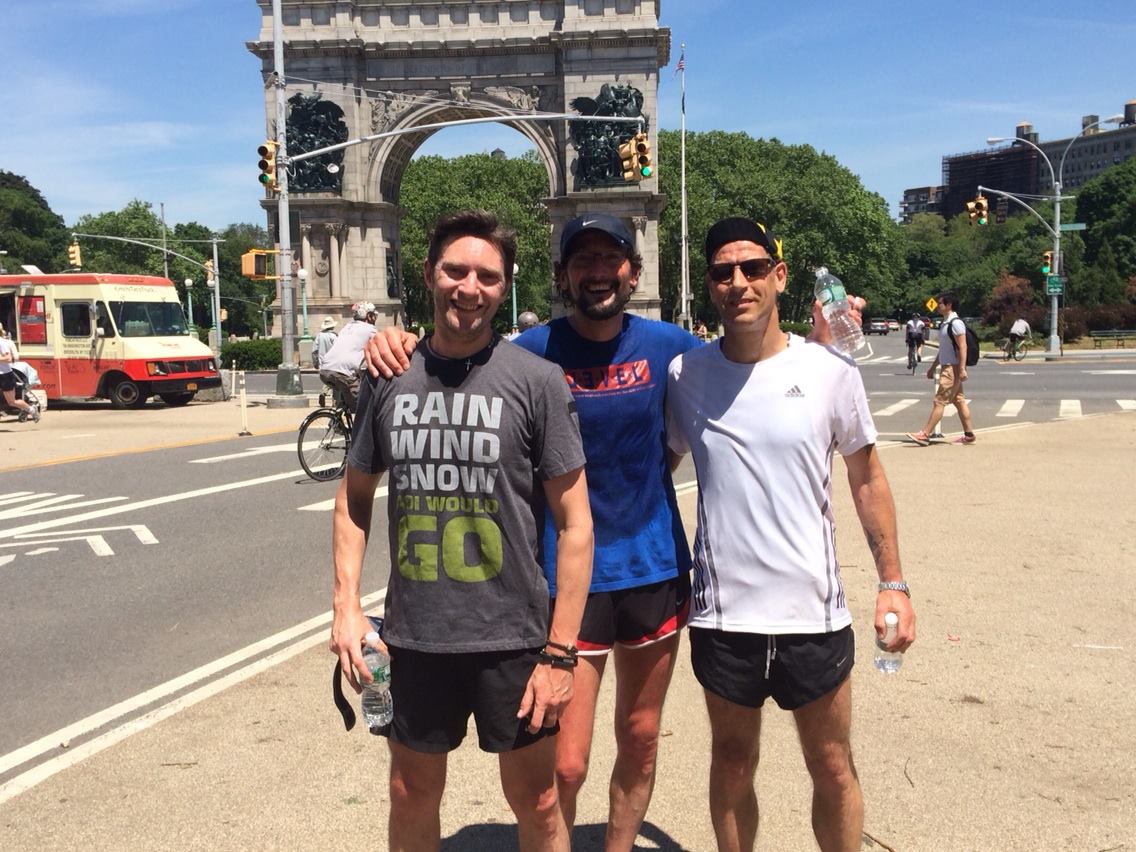 Mark Fallows, Scott Cohen and Graham in Brooklyn
Running in NY as he does now, he really enjoys training with Mark Fallows, ex-Edinburgh AC, and Scott Cohen, formerly of Edinburgh AC, Reebok Racing Club and Mizuno AC, which you can tell by looking at the picture above!
Although he now lives in New York, he keeps his interest in Scottish athletics alive via his Facebook page, on his visits back to Scotland and contact with friends. Back in 2015, his Dad found some old programmes in the local Thrift Shop and on investigation found that they had belonged to Andy Forbes who, in many of them, had noted results. He sent them on to Graham who let us see them and we have them up on this site at Andy Forbes' Programmes page. The programmes are
*mainly from the 50's and 60's but include some from the 1970's,
*include some from the AAA's Cross-Country and the SAAA Cross-Country Championships
*SAAA and Glasgow Championships
*include Rangers Sports and some Highland Games.
He's a lucky man to have a collection that belonged to a man who was an Empire Games silver medallist, Scottish track and cross-country champion and all round top class athlete. Just a few shown below.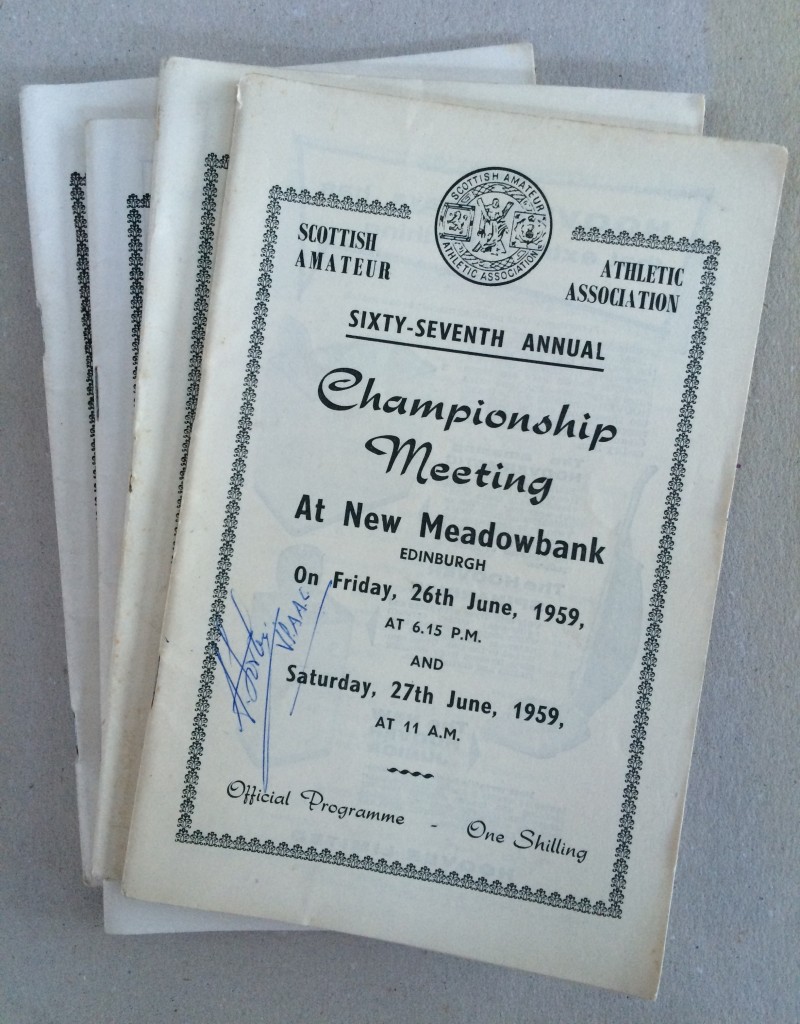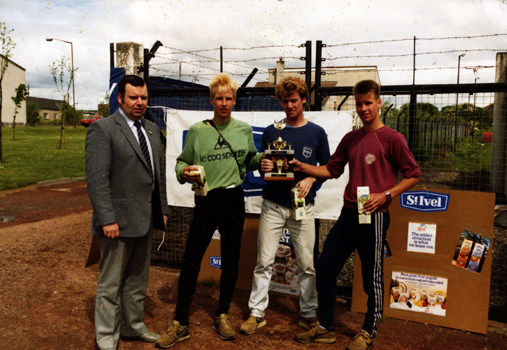 After the Broxburn 5 miler, 1984 : Graham, Dave Howard and his brother Fraser
It should be noted that Graham has always had good runners to train with – for instance, Evan Cameron was a top class endurance runner and Alex Robertson (14:36 5000m, 30:40 10000m, 9:03 steeplechase) was also a very good athlete at home. In America he has been running with Mark Fallows (1:51 800m, 3:43 1500m) and Scott Cohen (8:30 3000m, 14:41 5000m, 31:26 10000m and 2:18 marathon). He himself was a useful runner with a 32+ 10K and a best time of 1:13 for the half marathon.
He currently lives in Brooklyn in NYC and has a 32 year old son, Liam. He also continues to run for keep-fit purposes and follows the progress of Scottish running. He becomes a V60 in March this year and has been running, with a short hiatus, since he was a junior man and he is still smiling in all the running photos I have seen. The man's a real runner.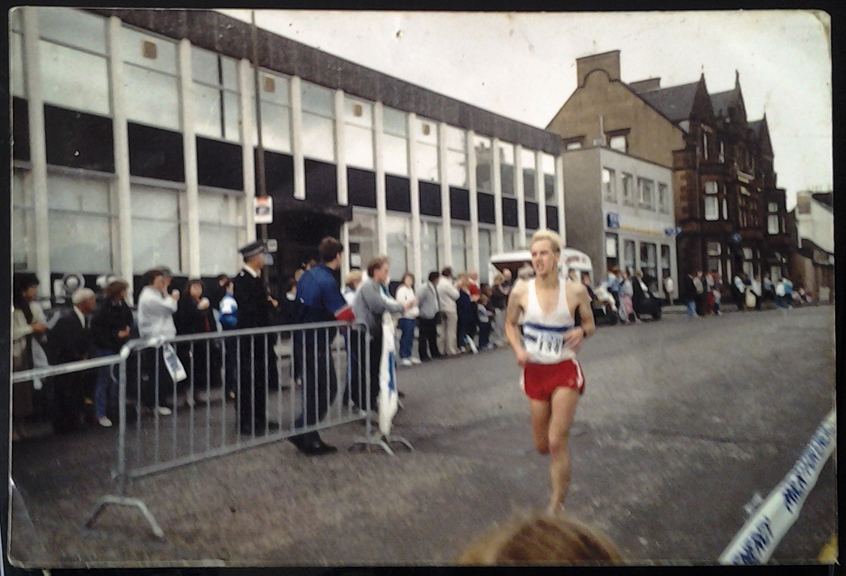 Finishing in the Bathgate 10K, mid 1980s
Like all enthusiasts he has his collection of mementos: note the Kenyan vest and photograph with a famous signature below.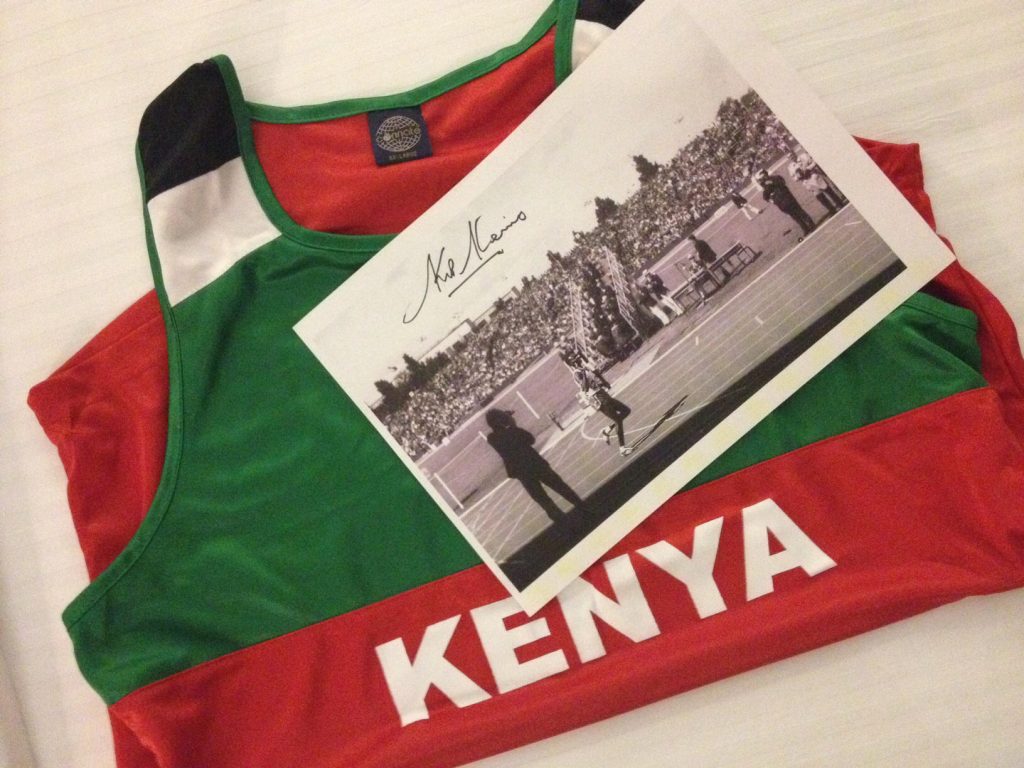 A Kenyan vest and a signed photograph of Kip Keino: that one came from a friend working on the Commonwealth Games Baton relay, he printed out the photo, got it signed and managed to get a vest too. He also has a Steve Moneghetti Commonwealth Games shorts and jacket given to him by Steve himself! How about that, then?
We cannot do a profile of Graham without including the photographs. Follow at the links below for some info about his career as a photographer and a look at just a few of his photographs of the Scottish scene. The photographs and his Facebook page have been the source of a great deal of pleasure to athletes in Scotland, some athletes have rekindled friendships as a result and all have had their memories freshened up.
Graham Macindoe – Photographer Graham and His Friends
Gallery of Champions The Marathon (1) The Marathon (2) Track Race Starts Making the Break