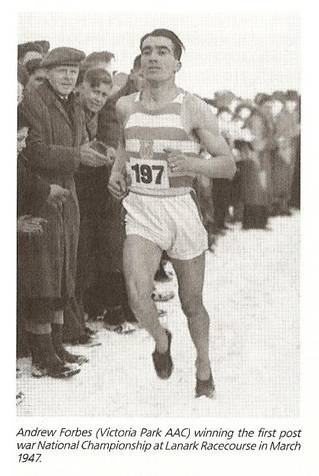 Graham Macindoe is a very lucky man in that his father visits the local Thrift Shop in Bathgate and that particular outlet has provided a whole series of wonderful athletics memorabilia.   First of all there were the Edinburgh to Glasgow programmes – the News of the World ones with pictures – and now there are a lot of programmes from what seems to be Andy Forbes's collection.
Andy was a wonderful man – I only knew him from the early 60's when he was a bit past his peak but he was still a good runner, an elegant runner, a runner who made the whole business look effortless.   He was a class act – Scottish Cross-Country champion in 1947 and 1951, SAAA Three Miles champion in 1951 and 1952, silver medallist in the Empire Games, six times a cross-country internationalist – and that's only scraping the surface of his achievements.   Very easy to talk to, good-natured at all times.   Like everybody who knew him, I liked him a lot.   However – Graham got the programmes into his hands and some are reproduced here.   First of all there is the one from the English National of 1958.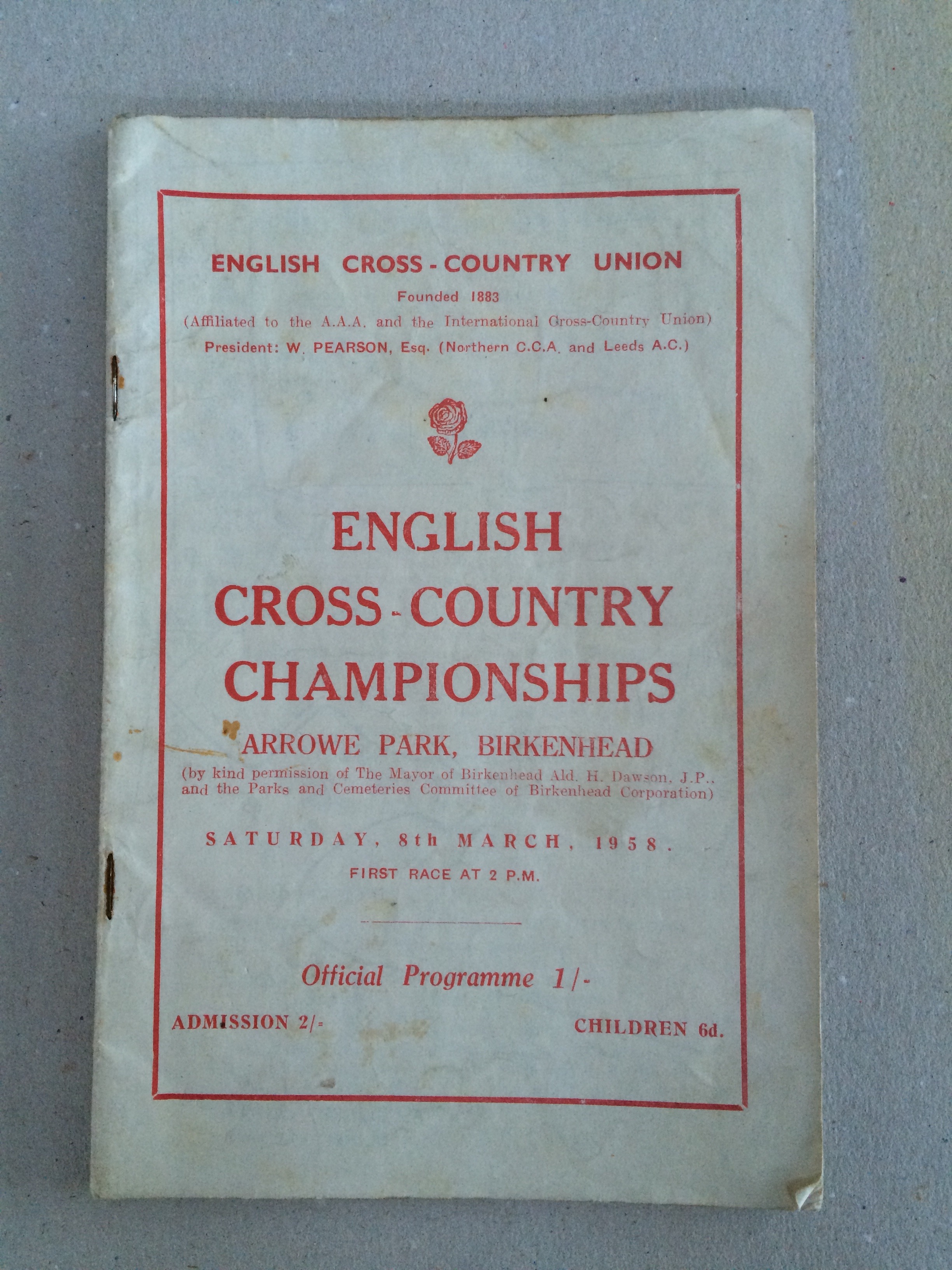 Victoria Park had won the English Championships in 1951, and although the did not replicate this victory they kept taking on the best.   In 1958 the team was fifth with leading man John McLaren ninth.
The next programme we have is from the Scottish National Championships in 1959.
At that time the championships always took place on the last weekend in June – usually some of the heats plus final of the Six Miles on the Friday and the remainder on Saturday.   For several years the 880y/800m had three races over the two days – heats on the Friday and then a semi and a final on the Saturday.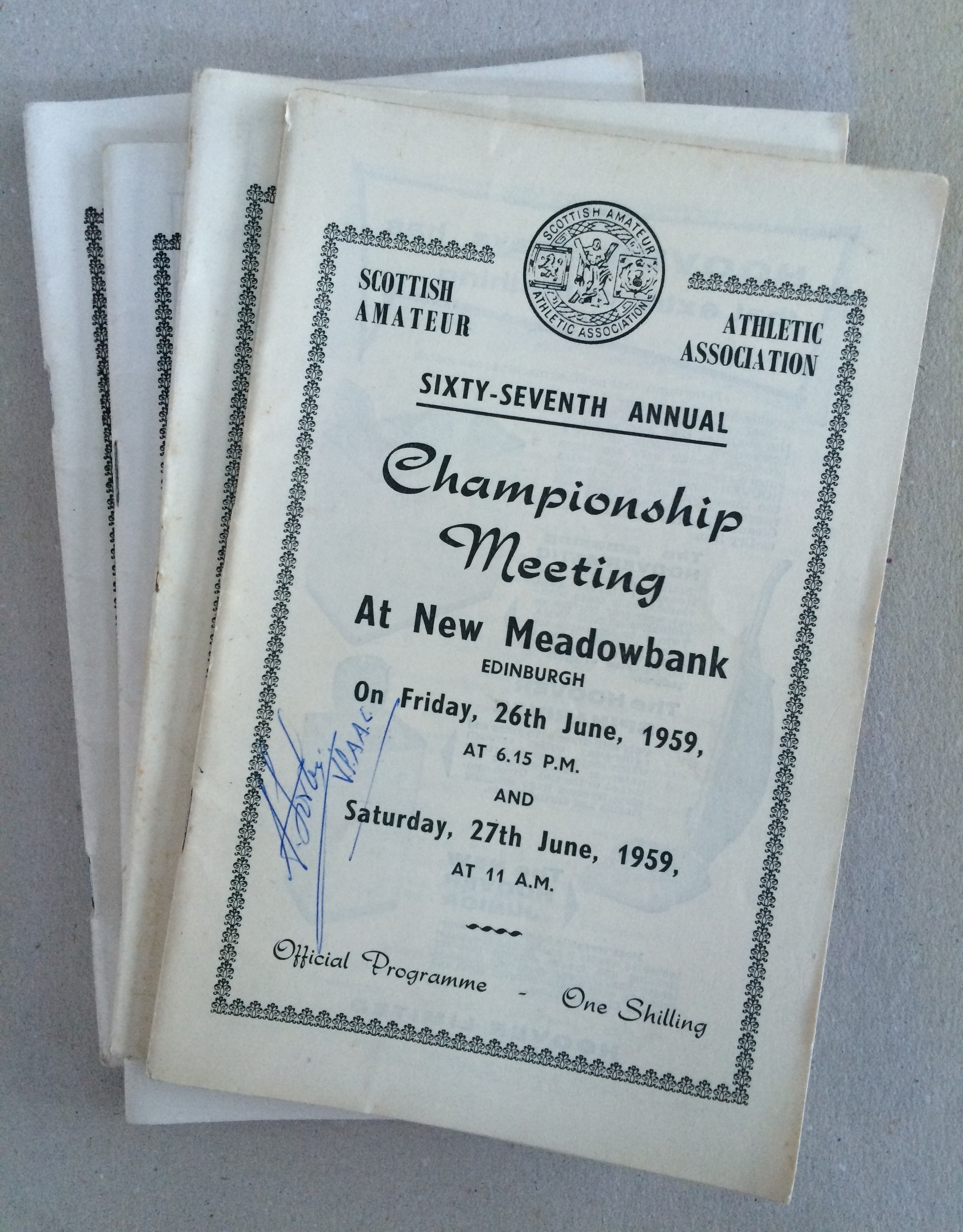 Programmes sold ell although not everybody actually filled them in.   They were then stuck in pockets, kit bags or poly bags beside the picnic brought for sustenance during the afternoon.   The result is that very few completed programmes are still around.   What   follows is the programme for 1961 – or most of it – as completed by Andy.   You'll note that for one event at least the Vicky Park runners results are marked with a wee cross!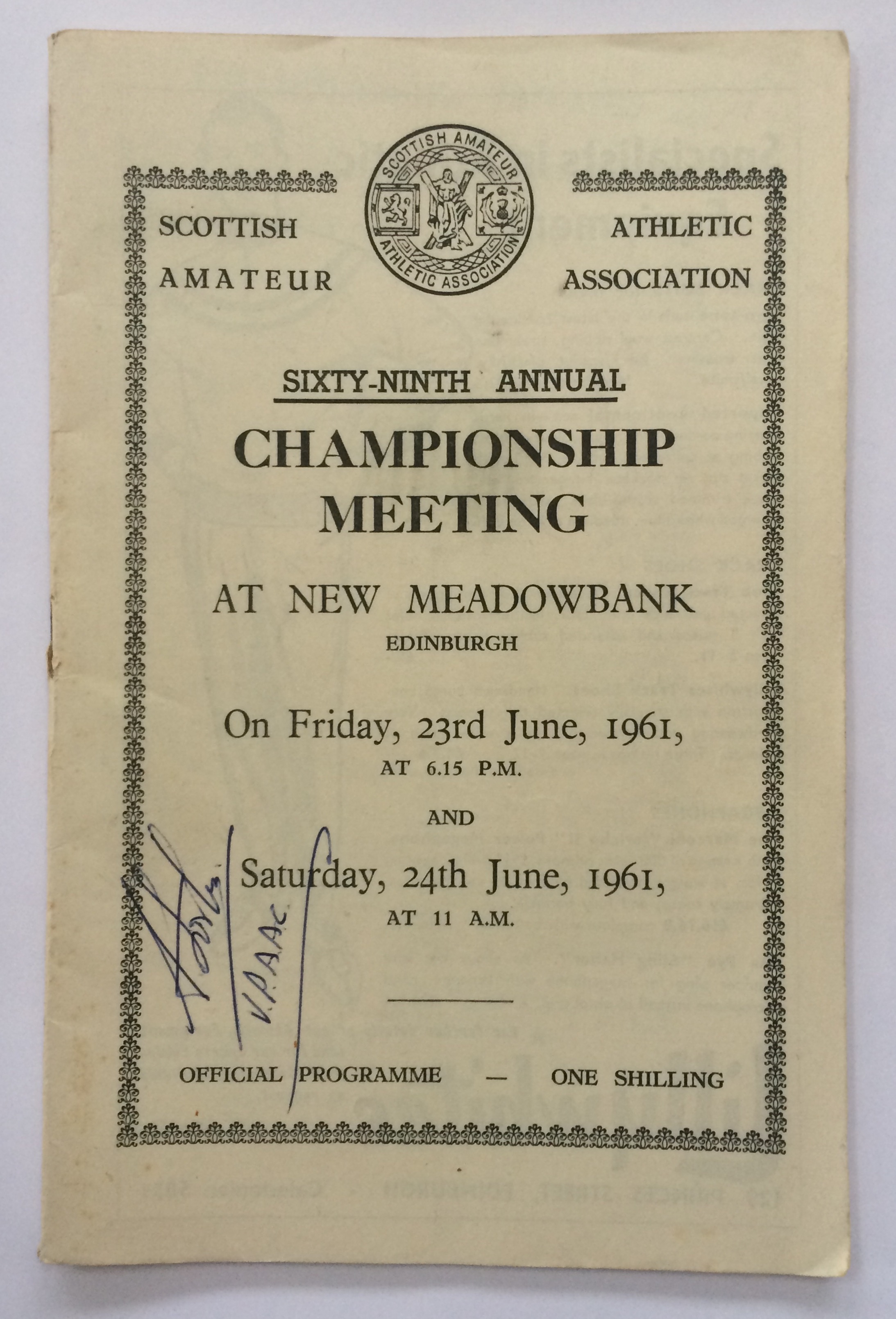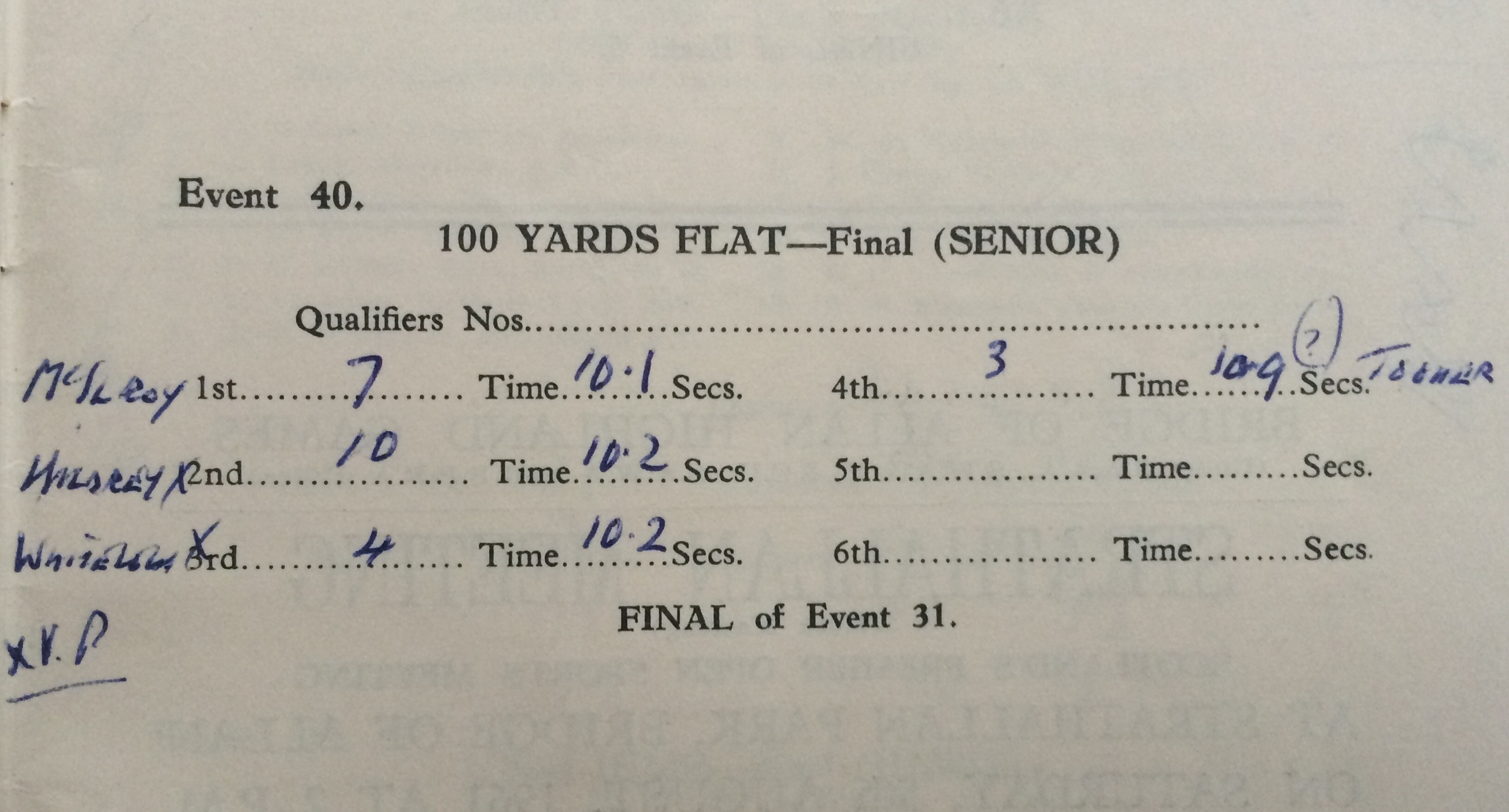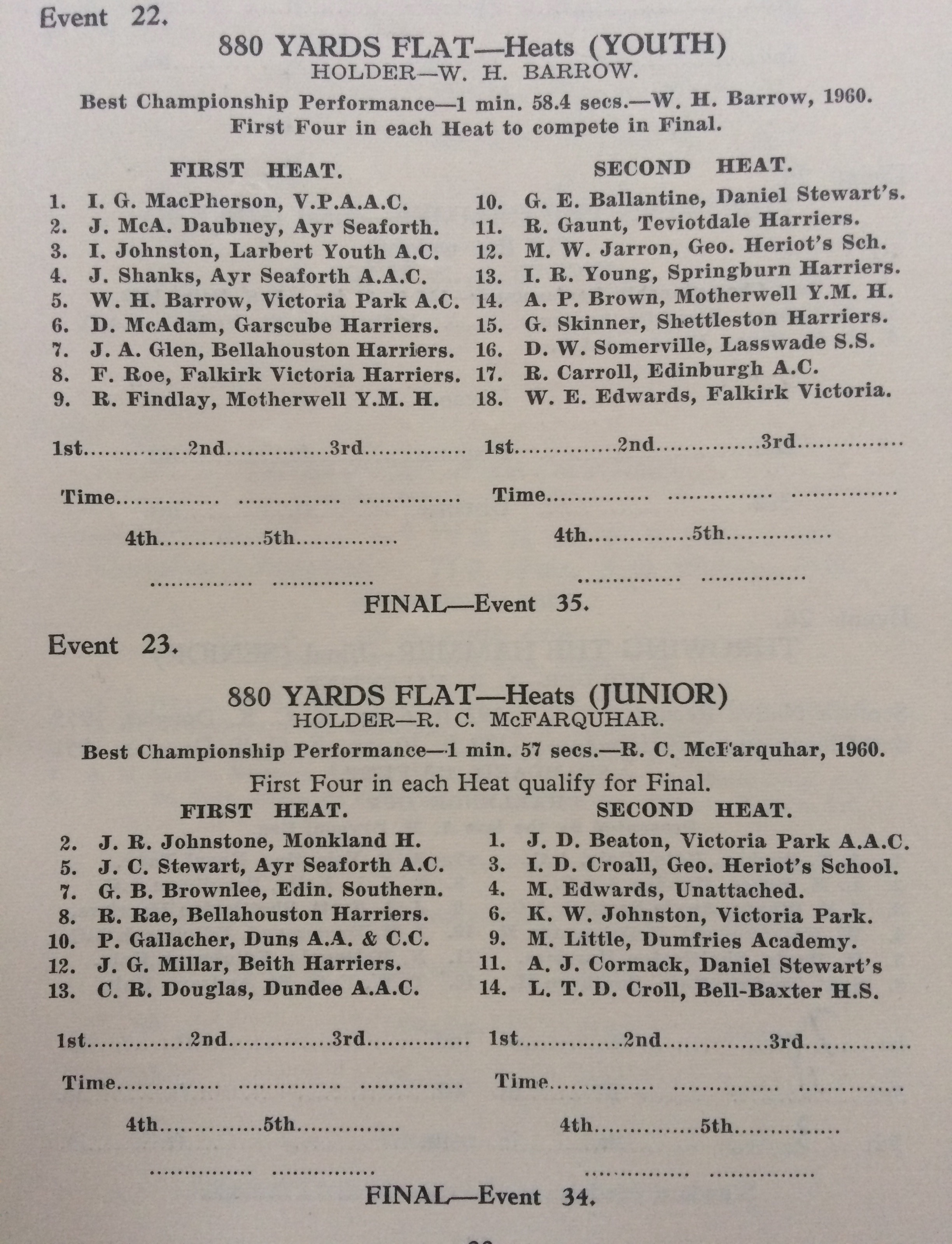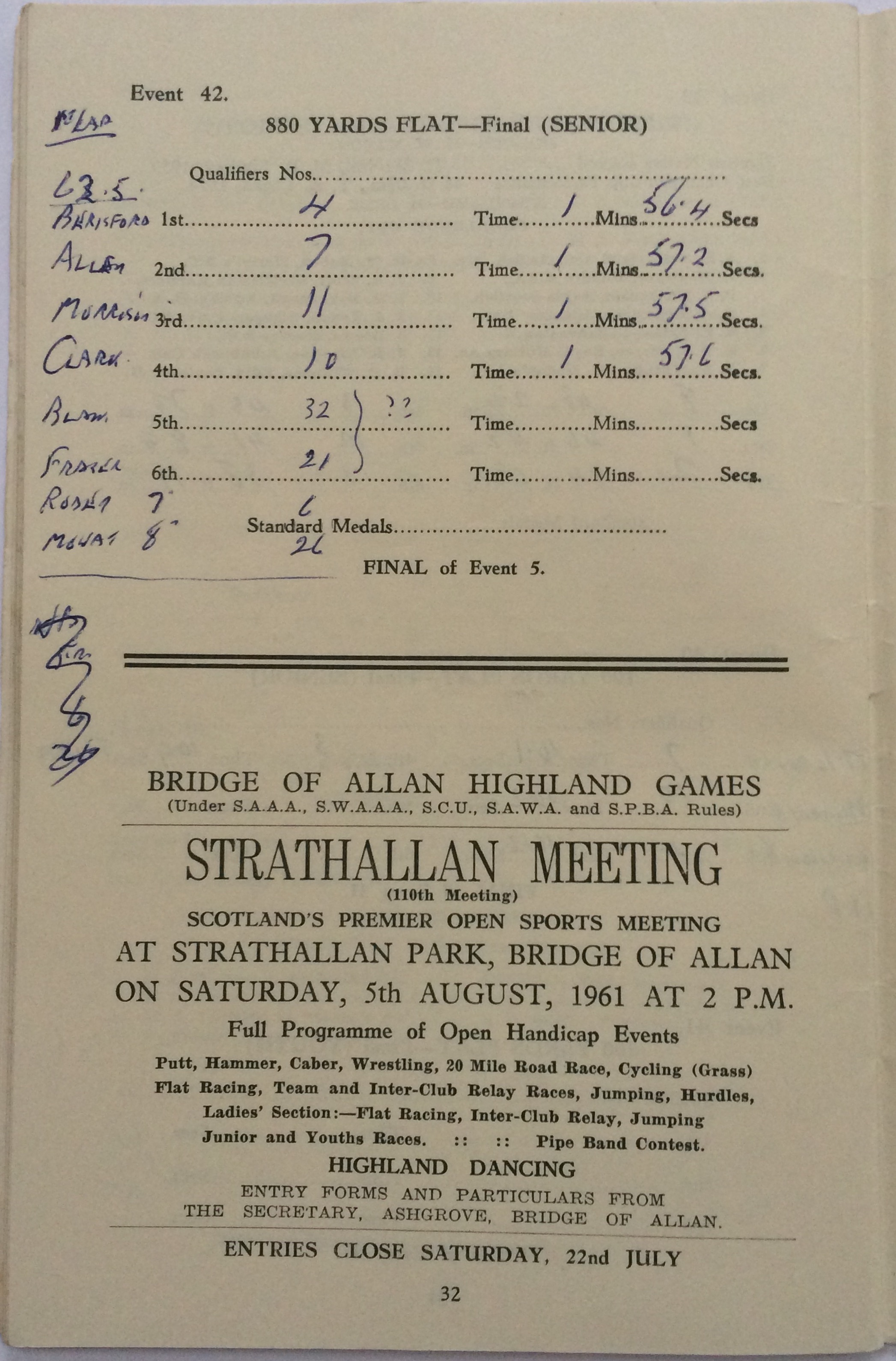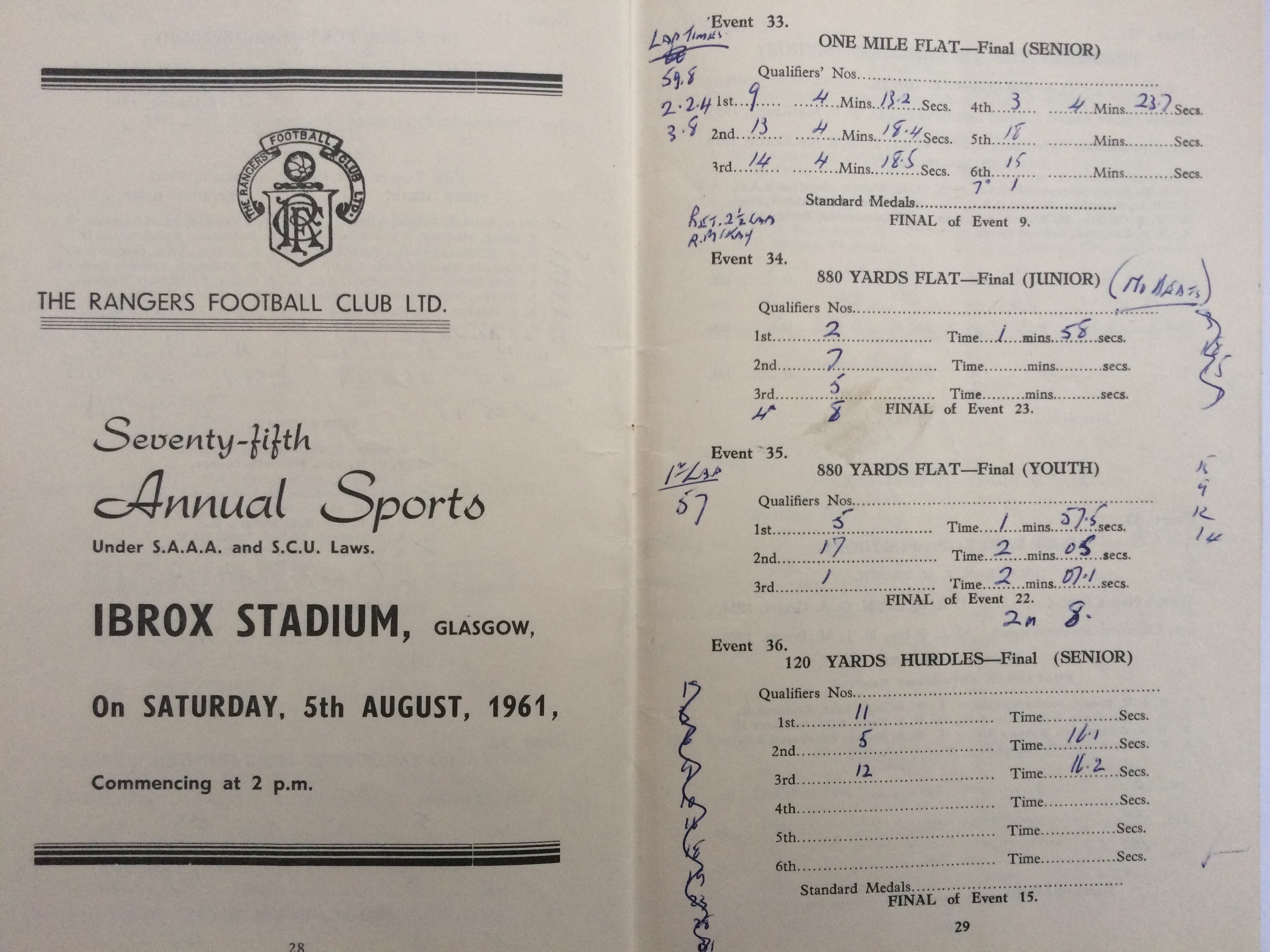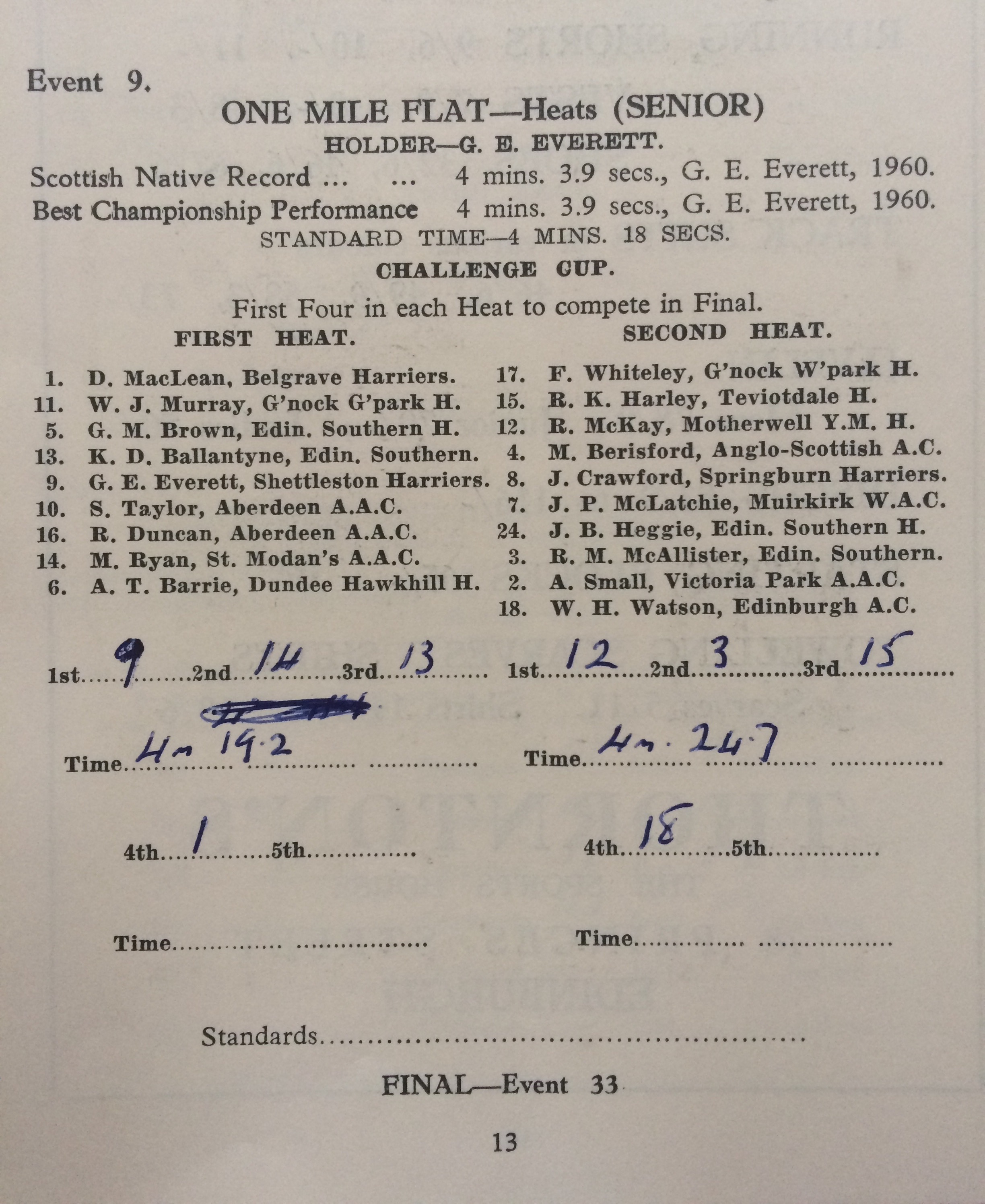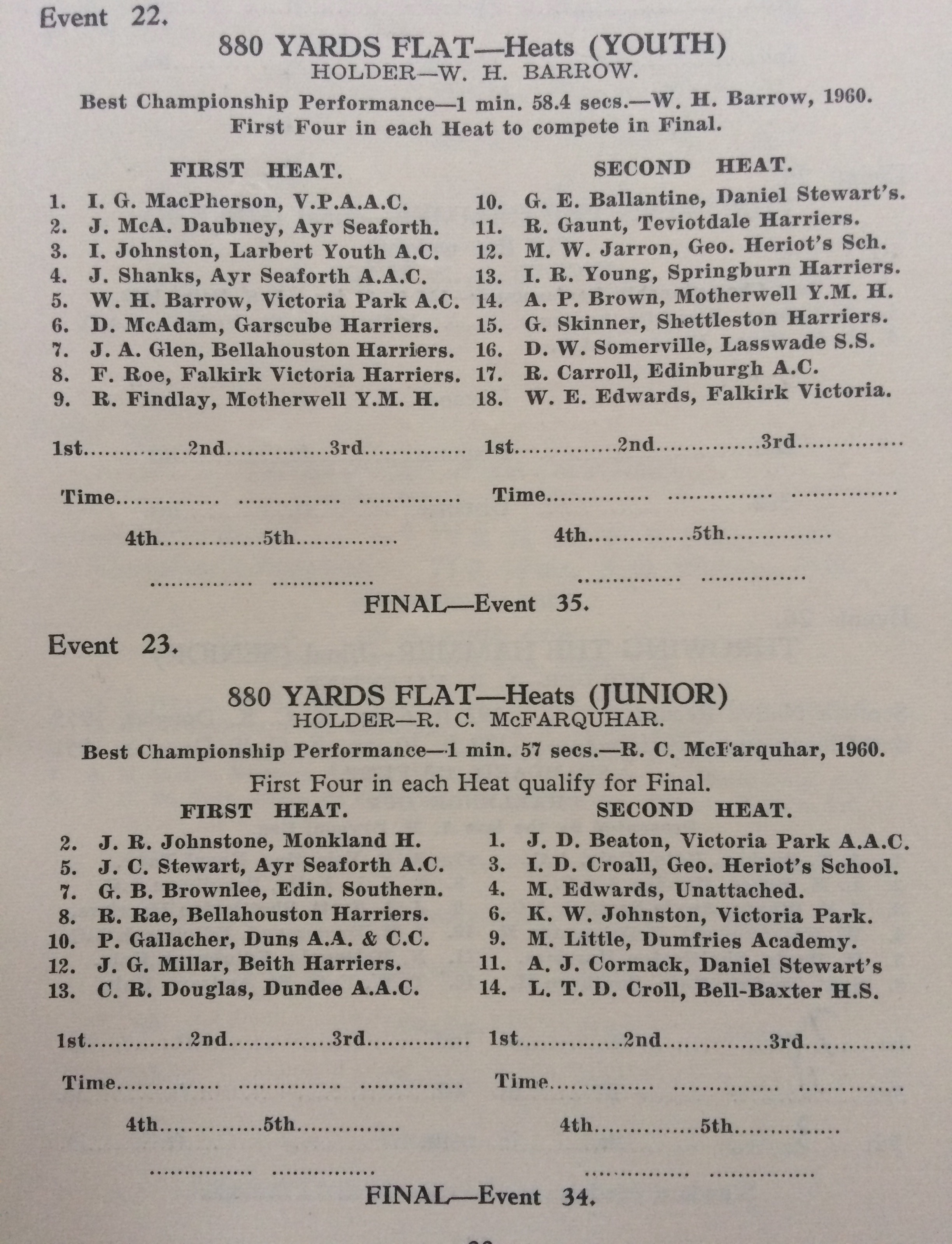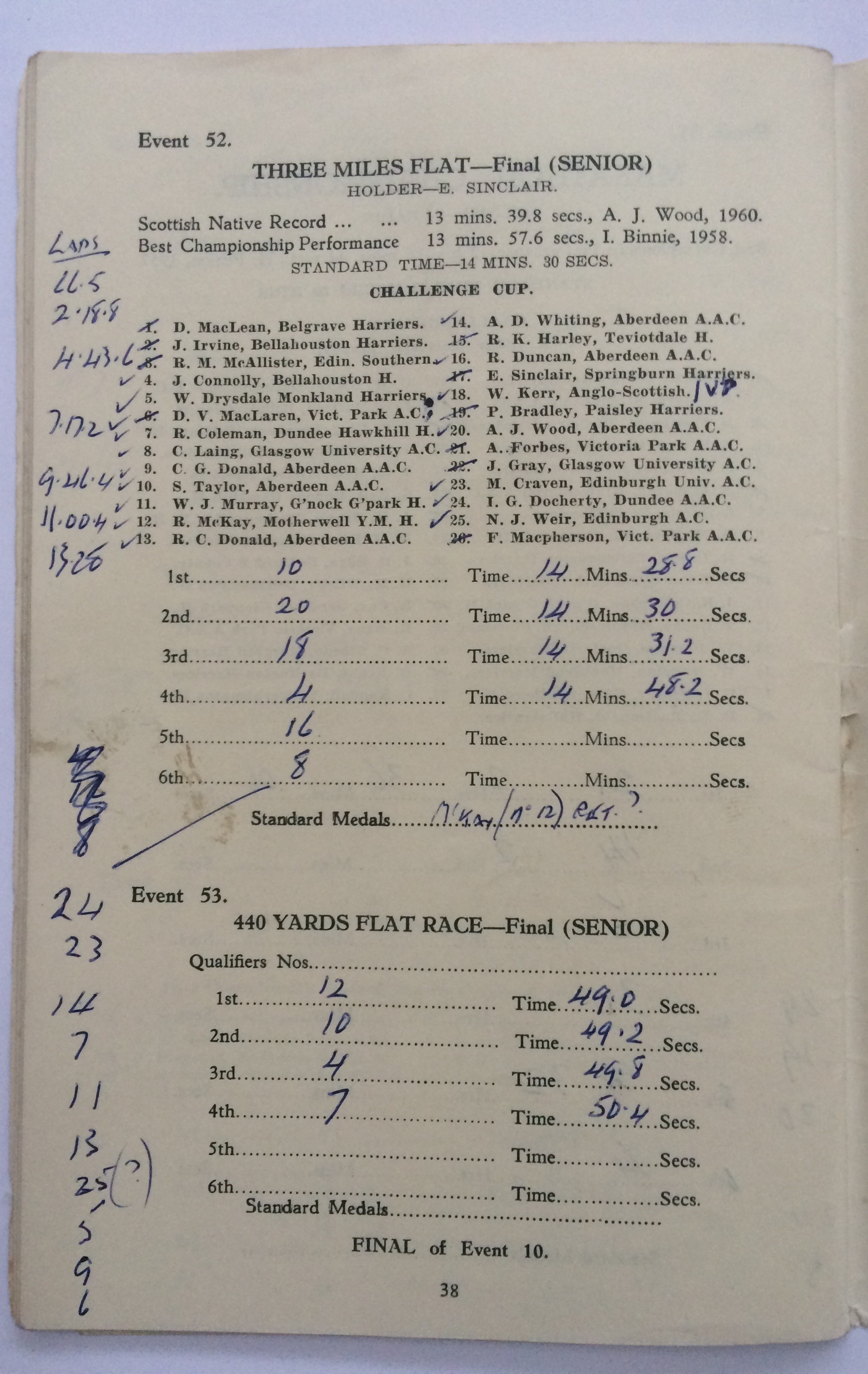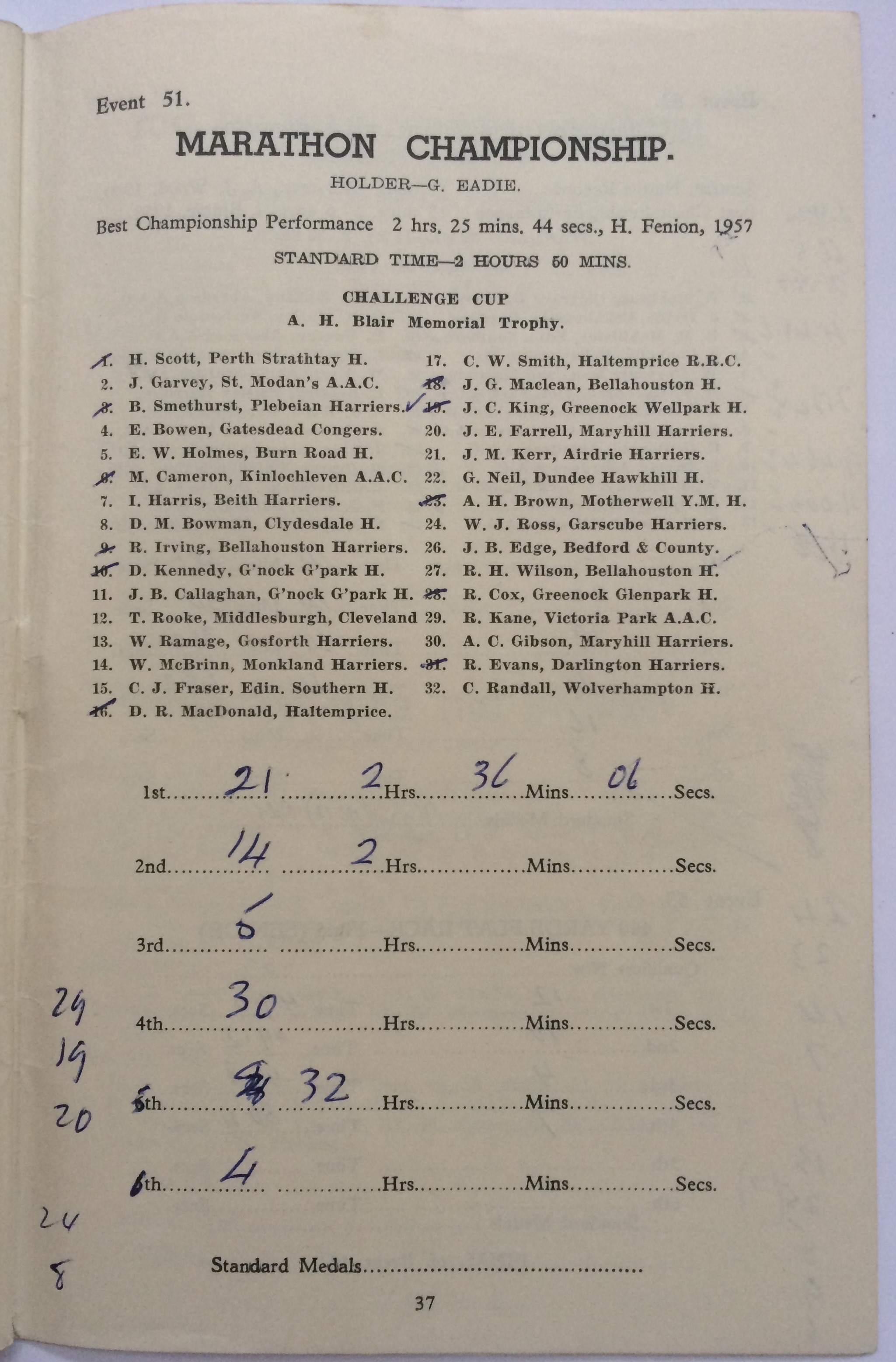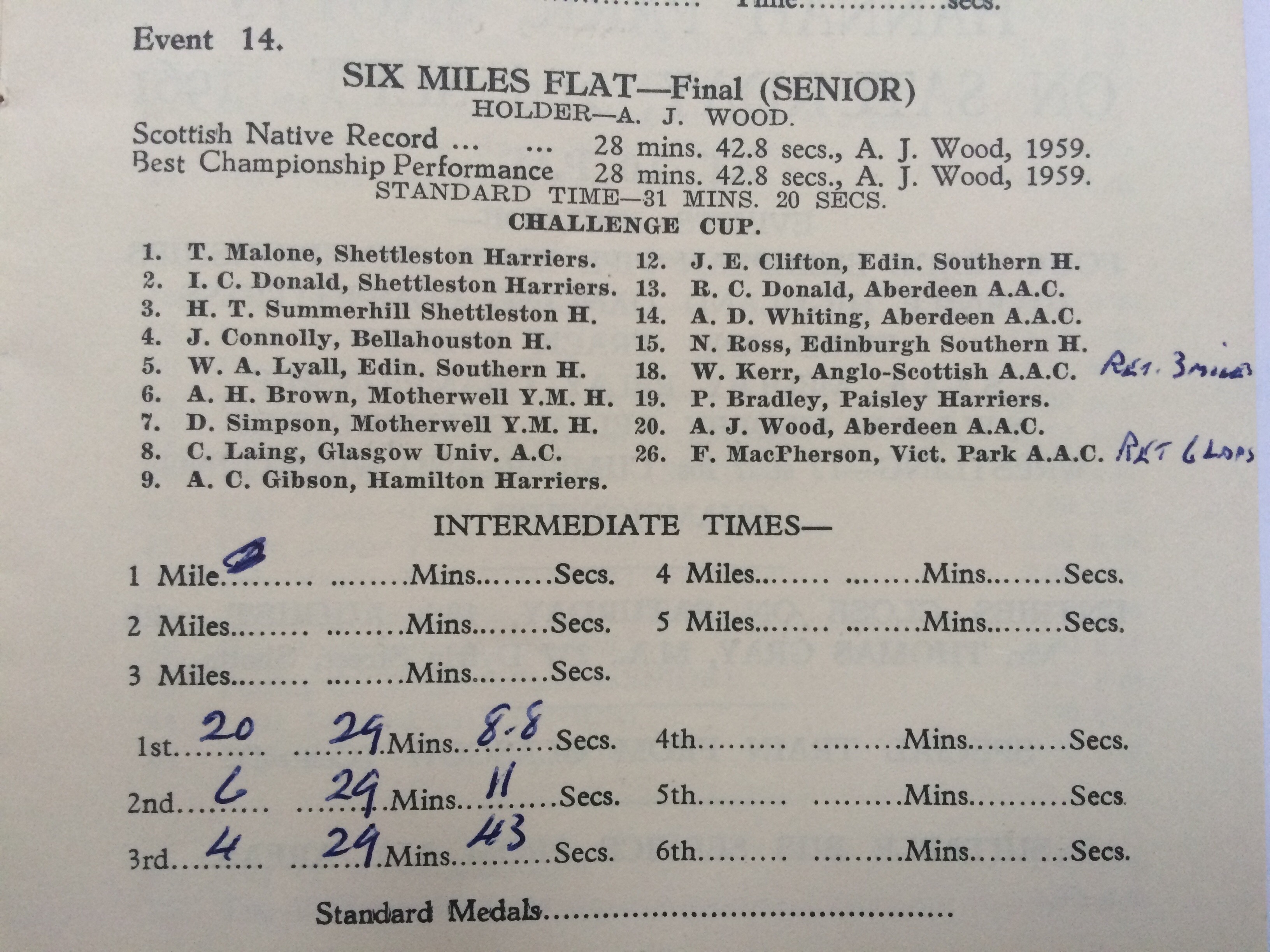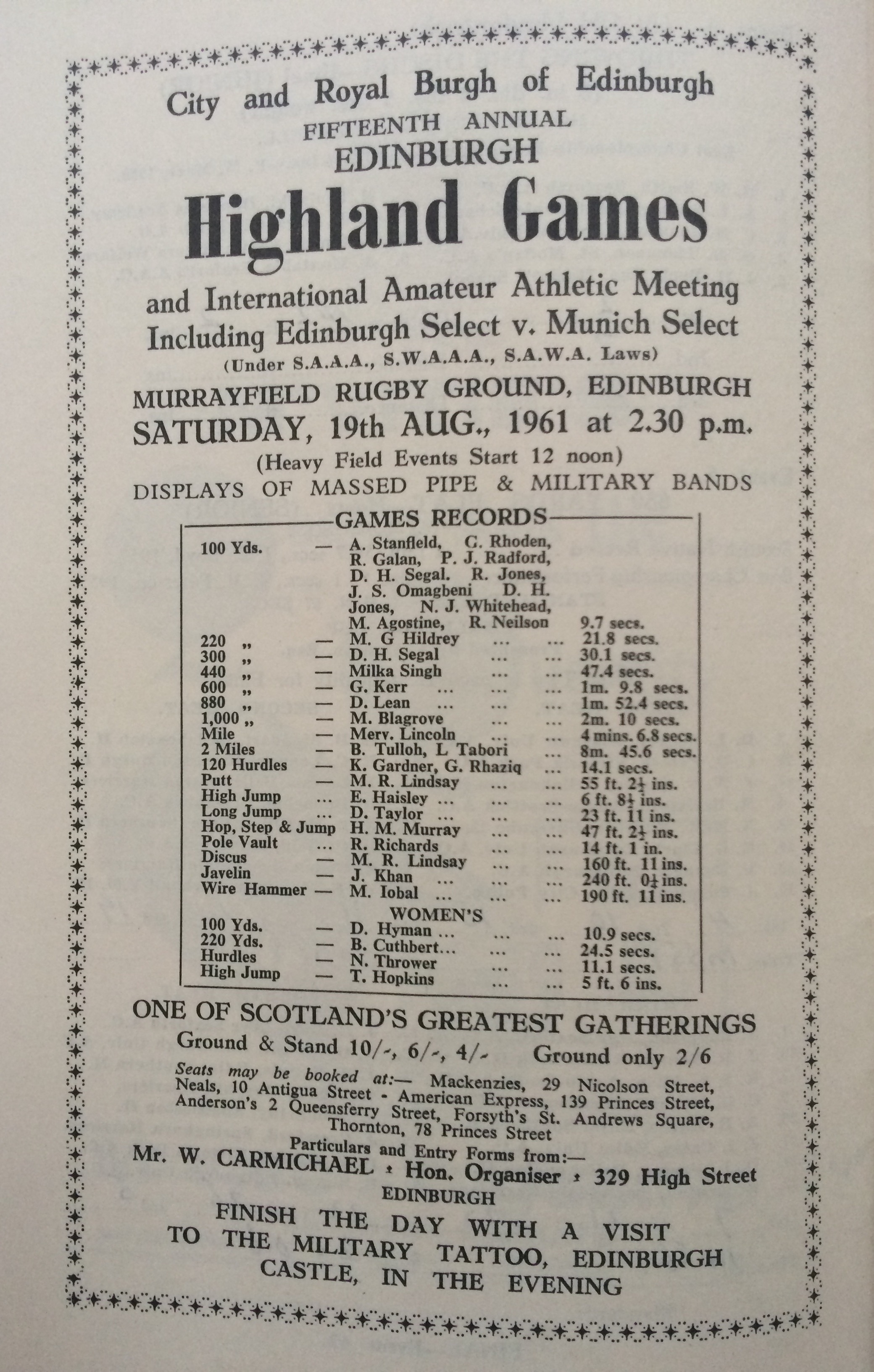 … and if you meant to keep it, you cut out the results from the Monday's 'Glasgow Herald' or 'Scotsman' …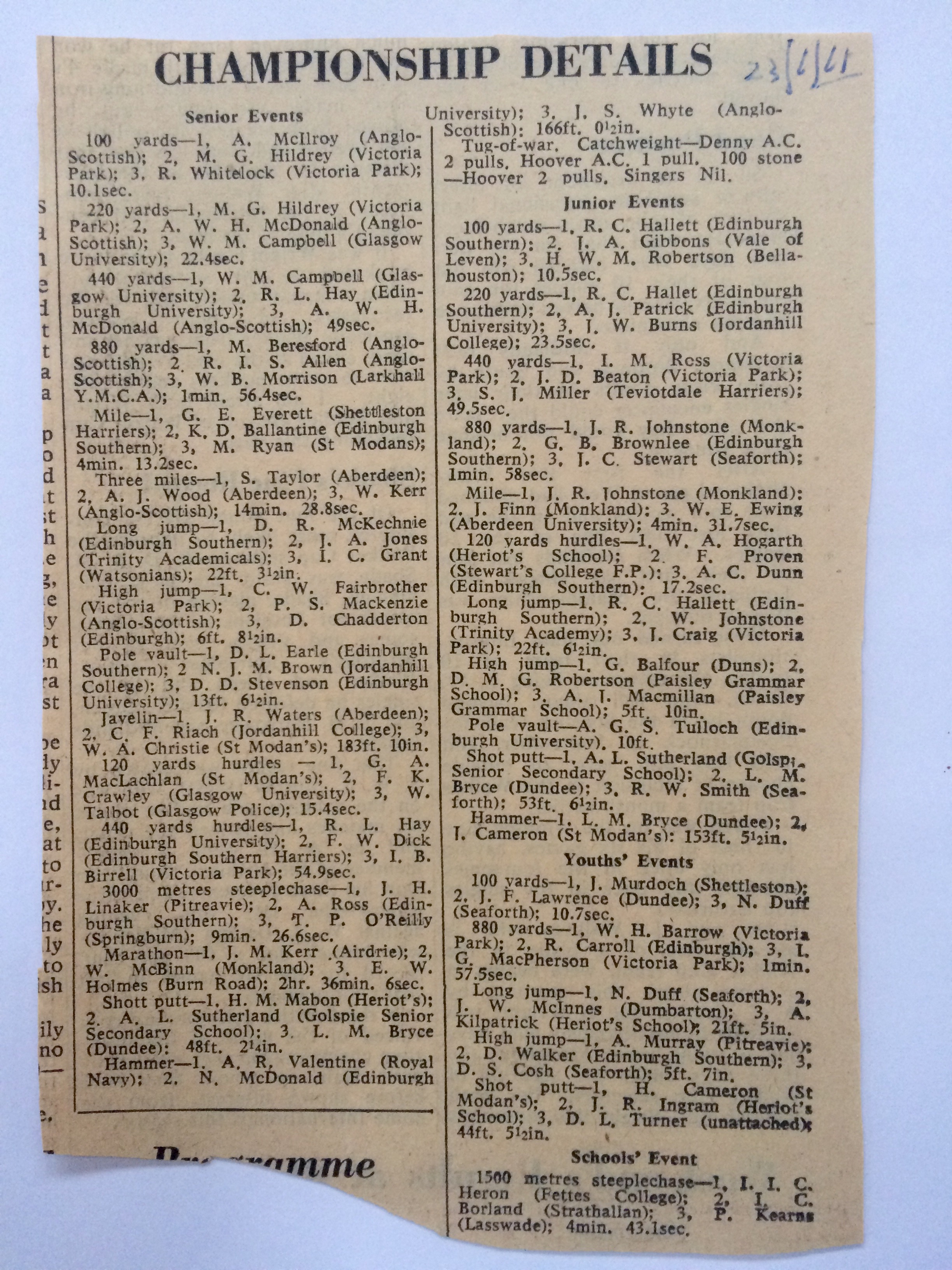 Another meeting which went well for a number of years was the Glasgow Championship meeting at Scotstoun and of course Andy was out in those – but the fields always had quality with Lachie, Ian McCafferty, Frank Clement, Hugh Barrow, Les Piggott and many more competing there.   It's a pity that it's gone with the City Council seeming to see Scotstoun more as a rugby stadium these days despite the quality of the track.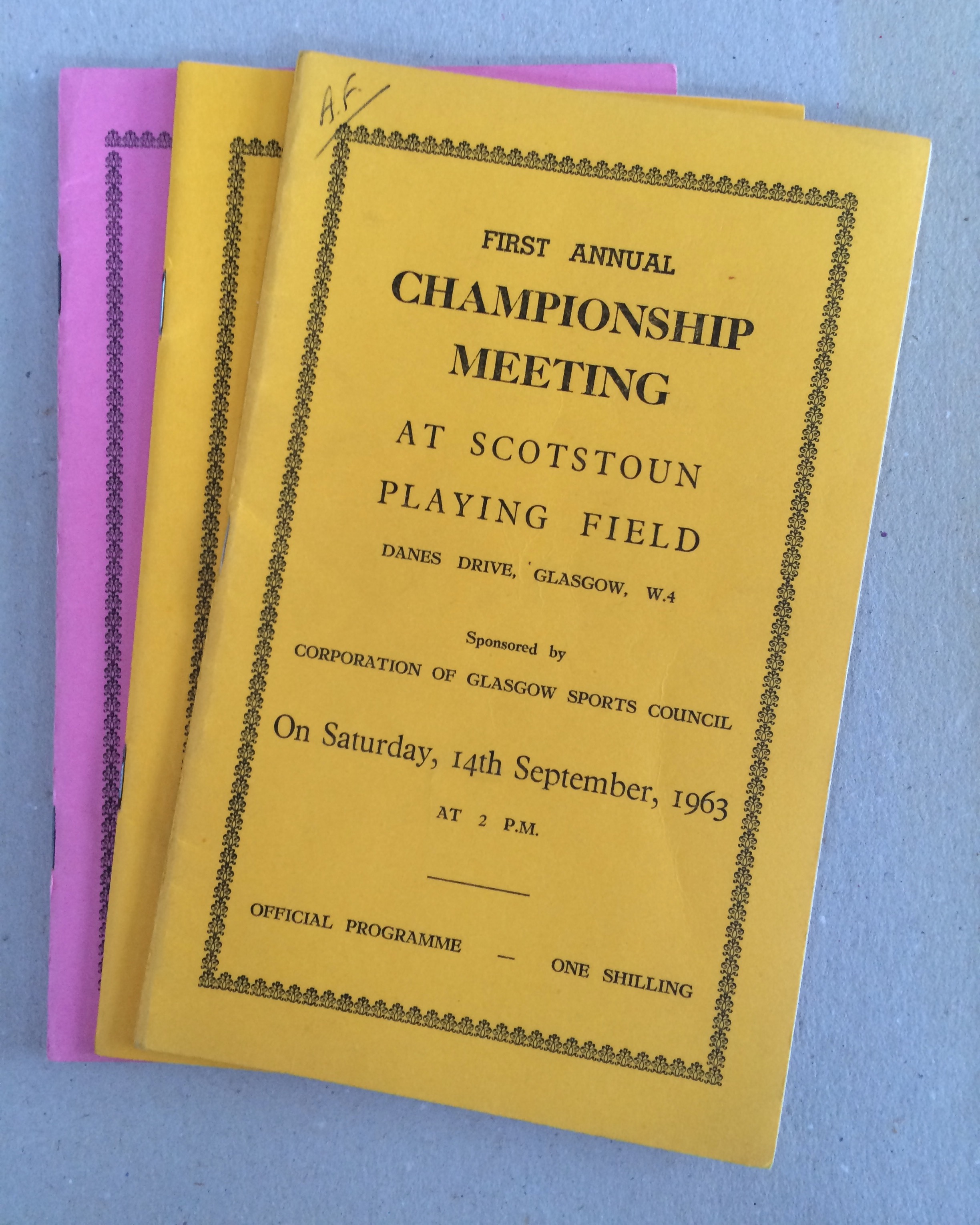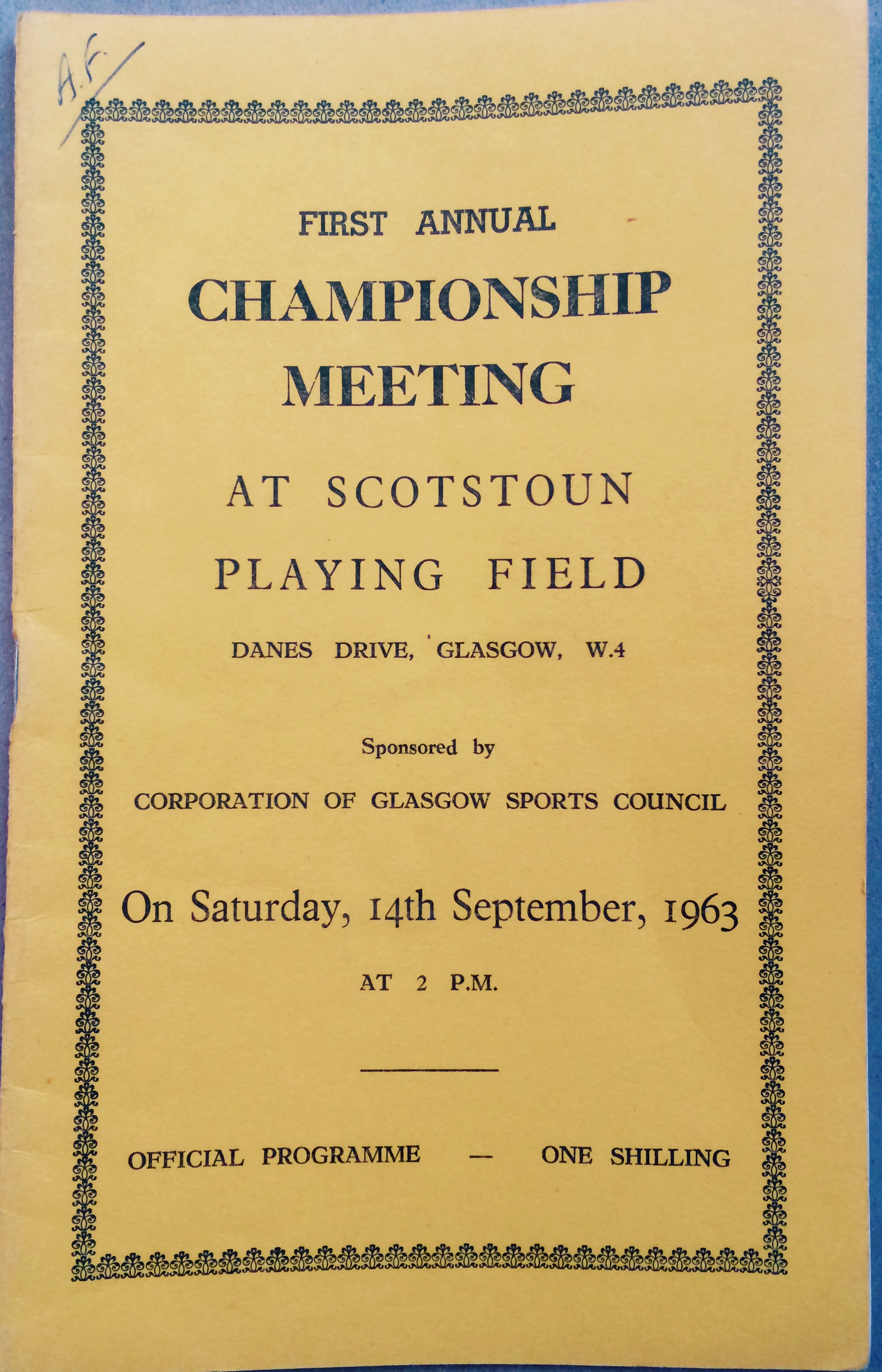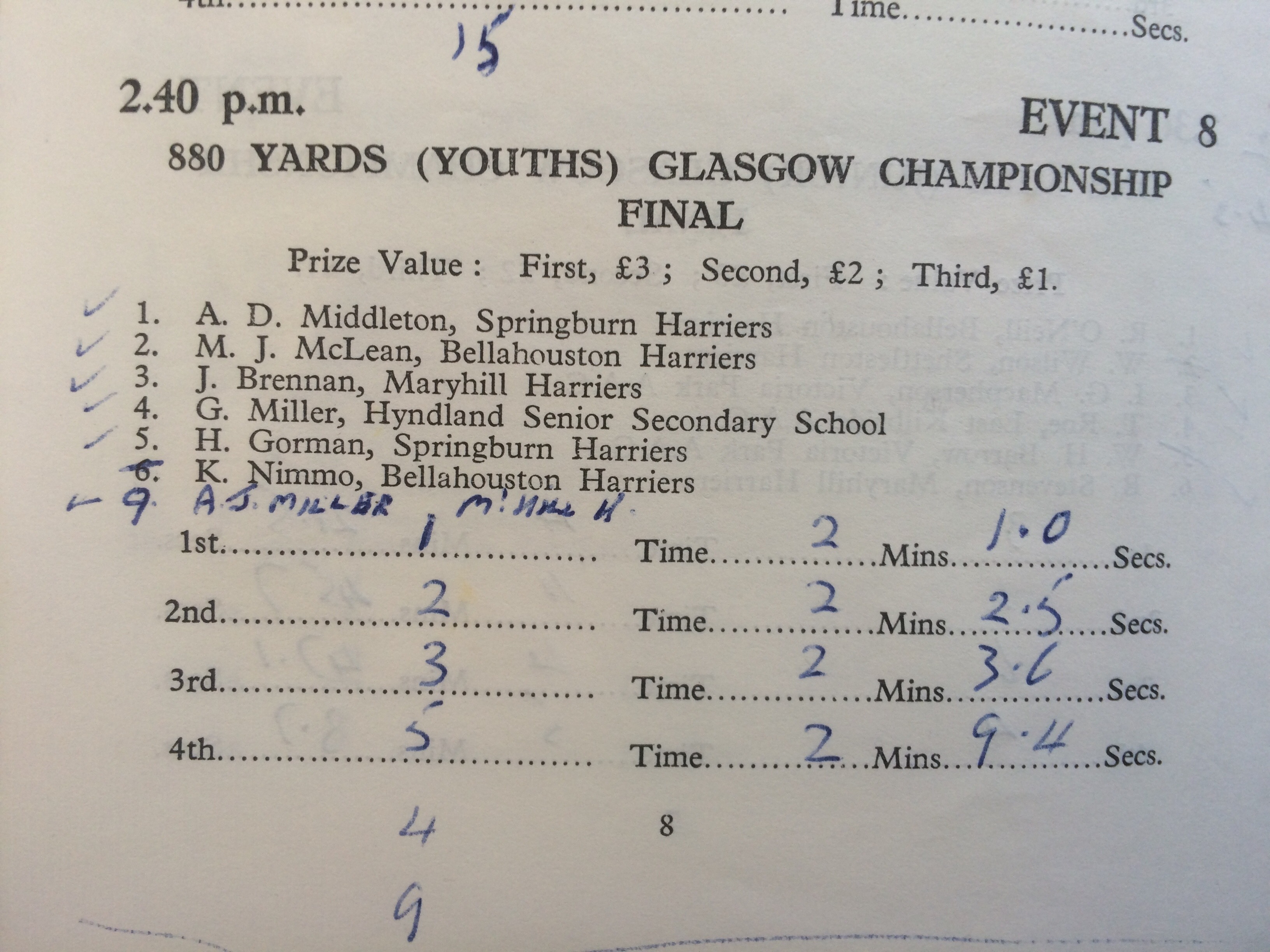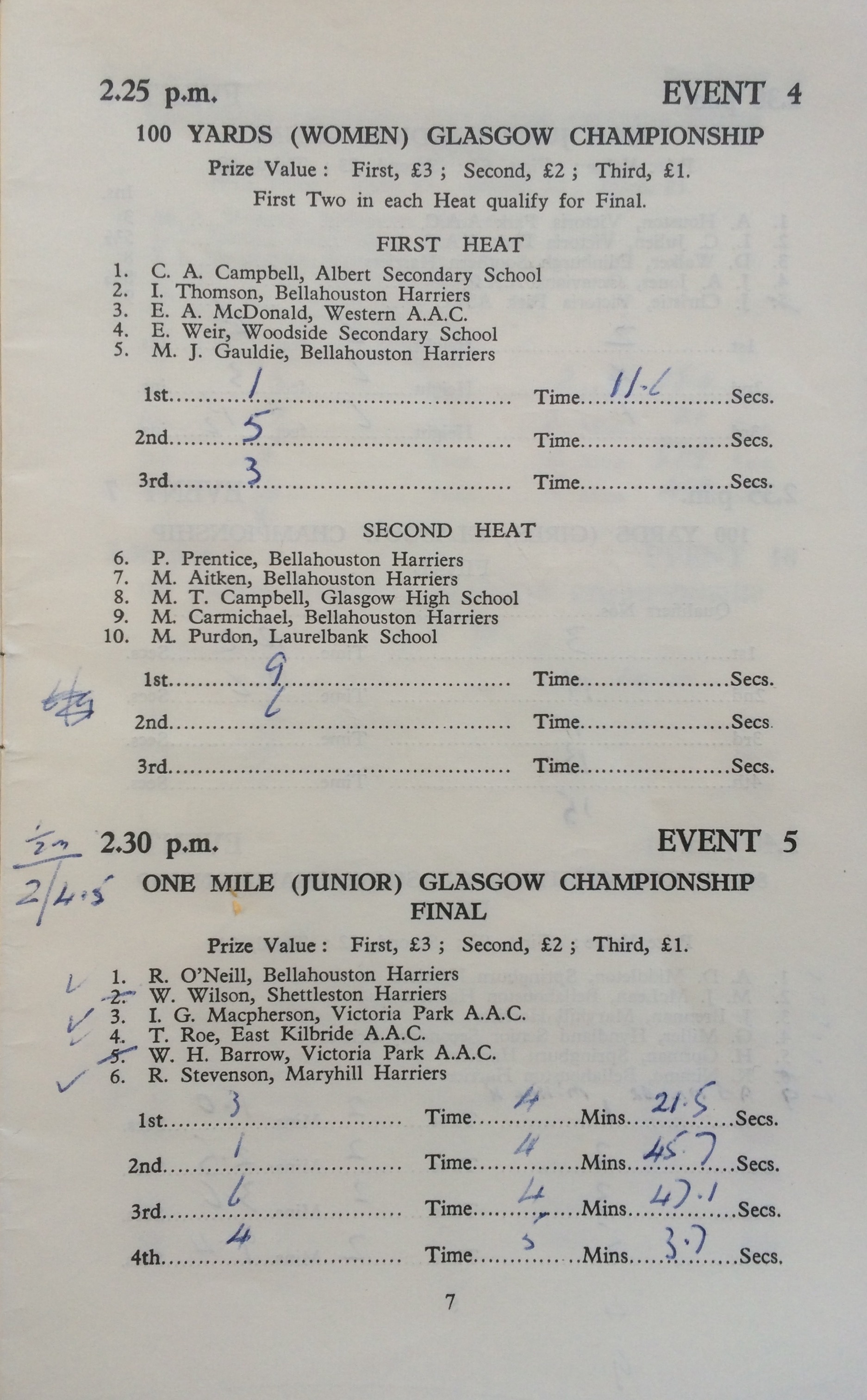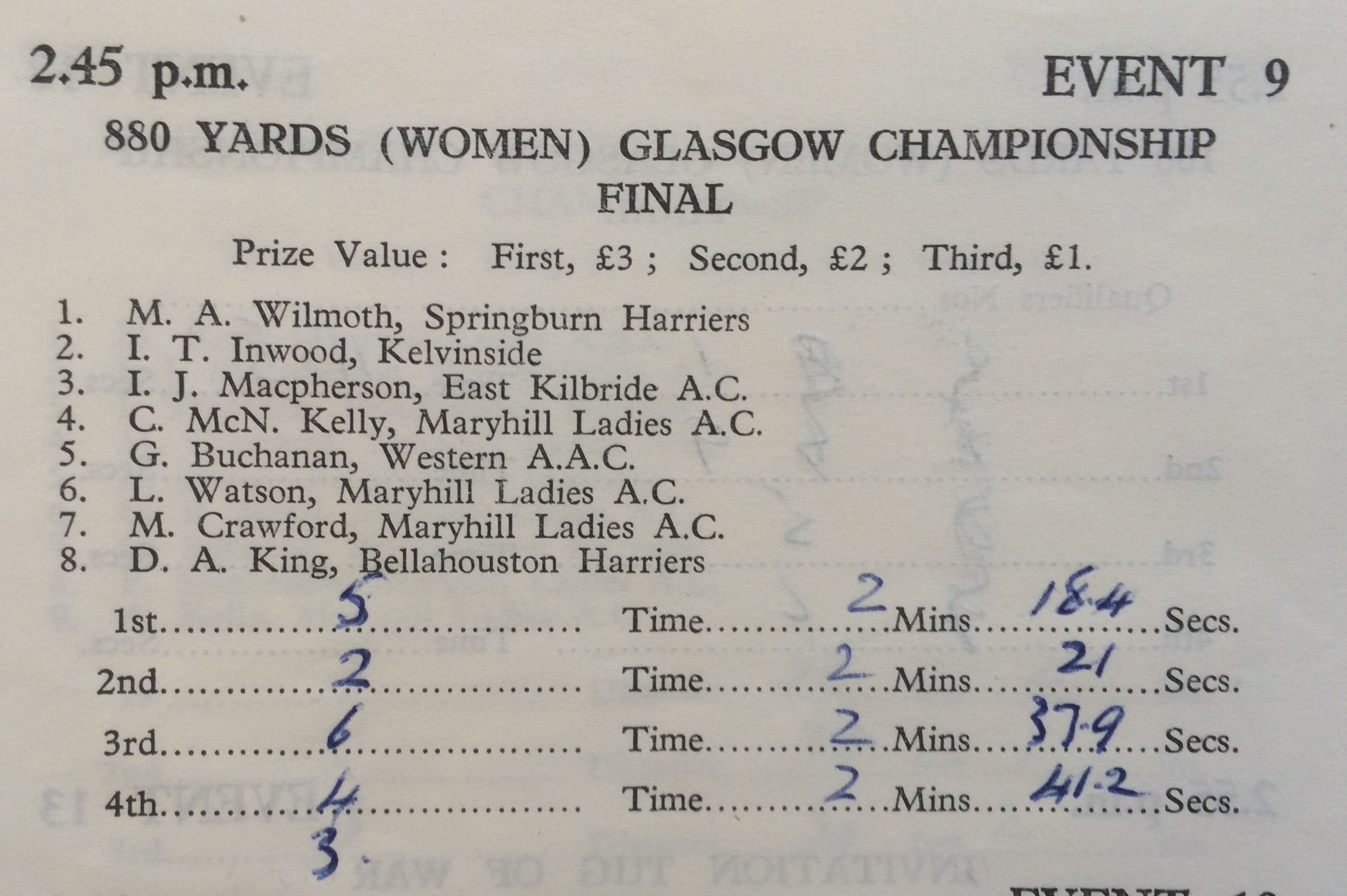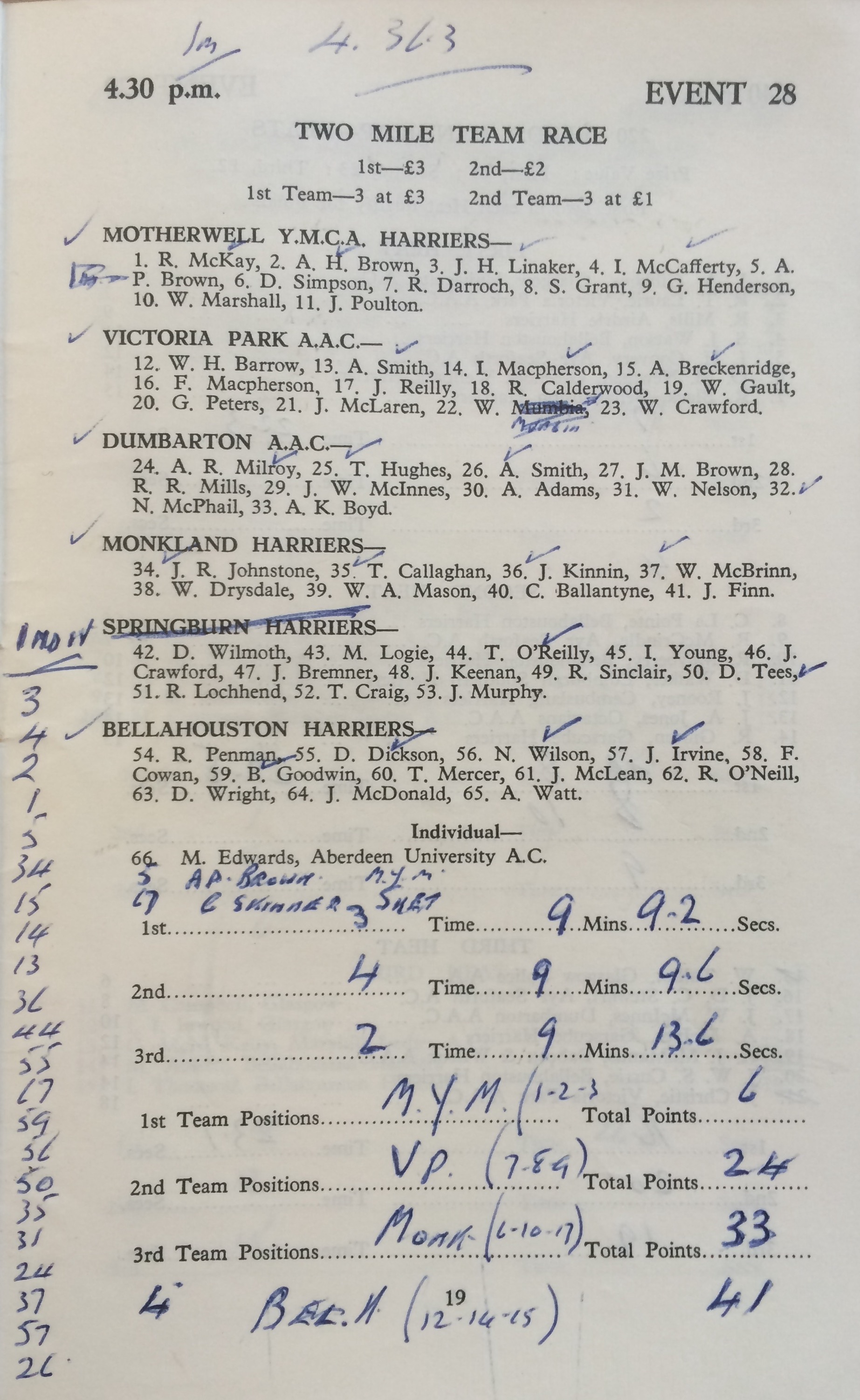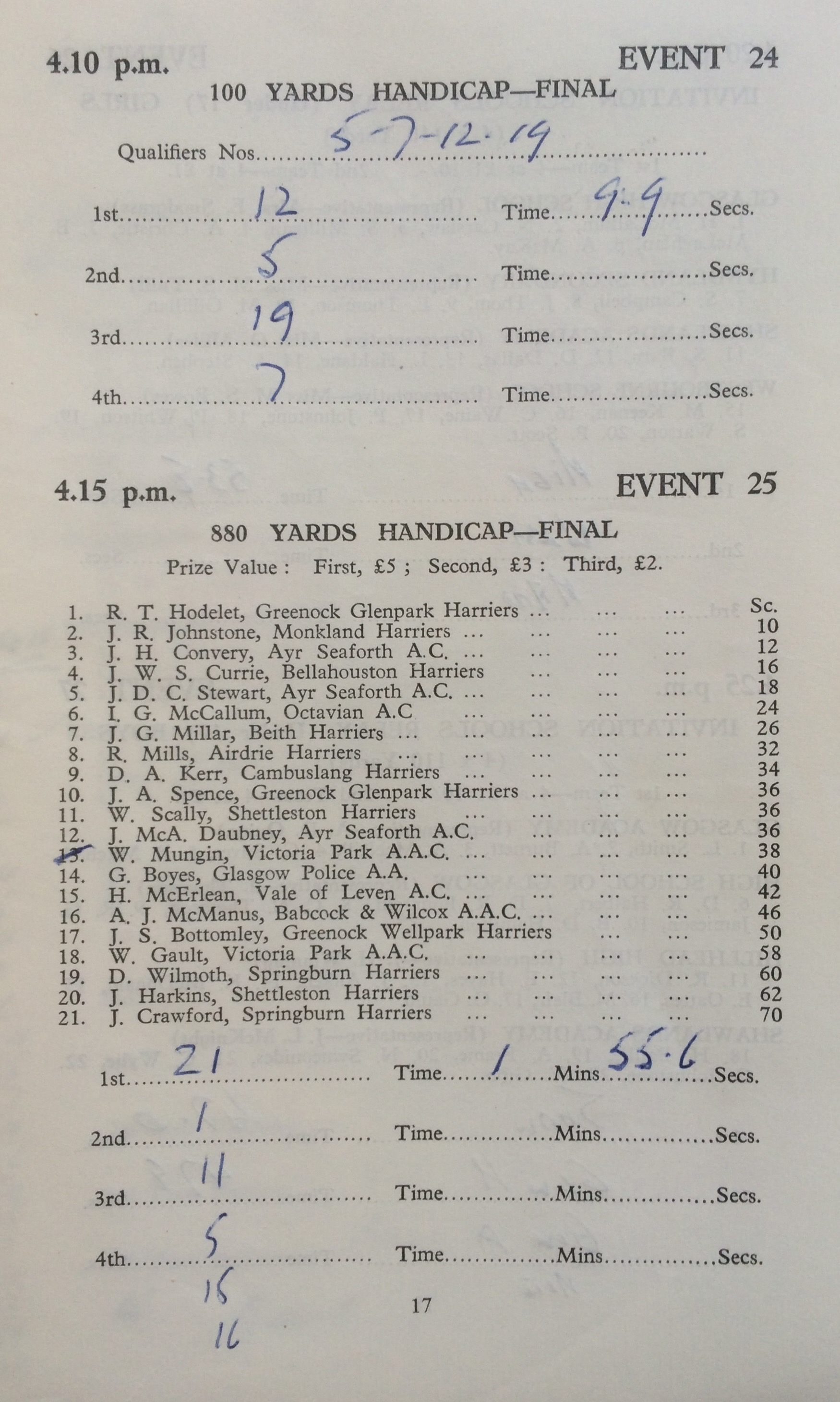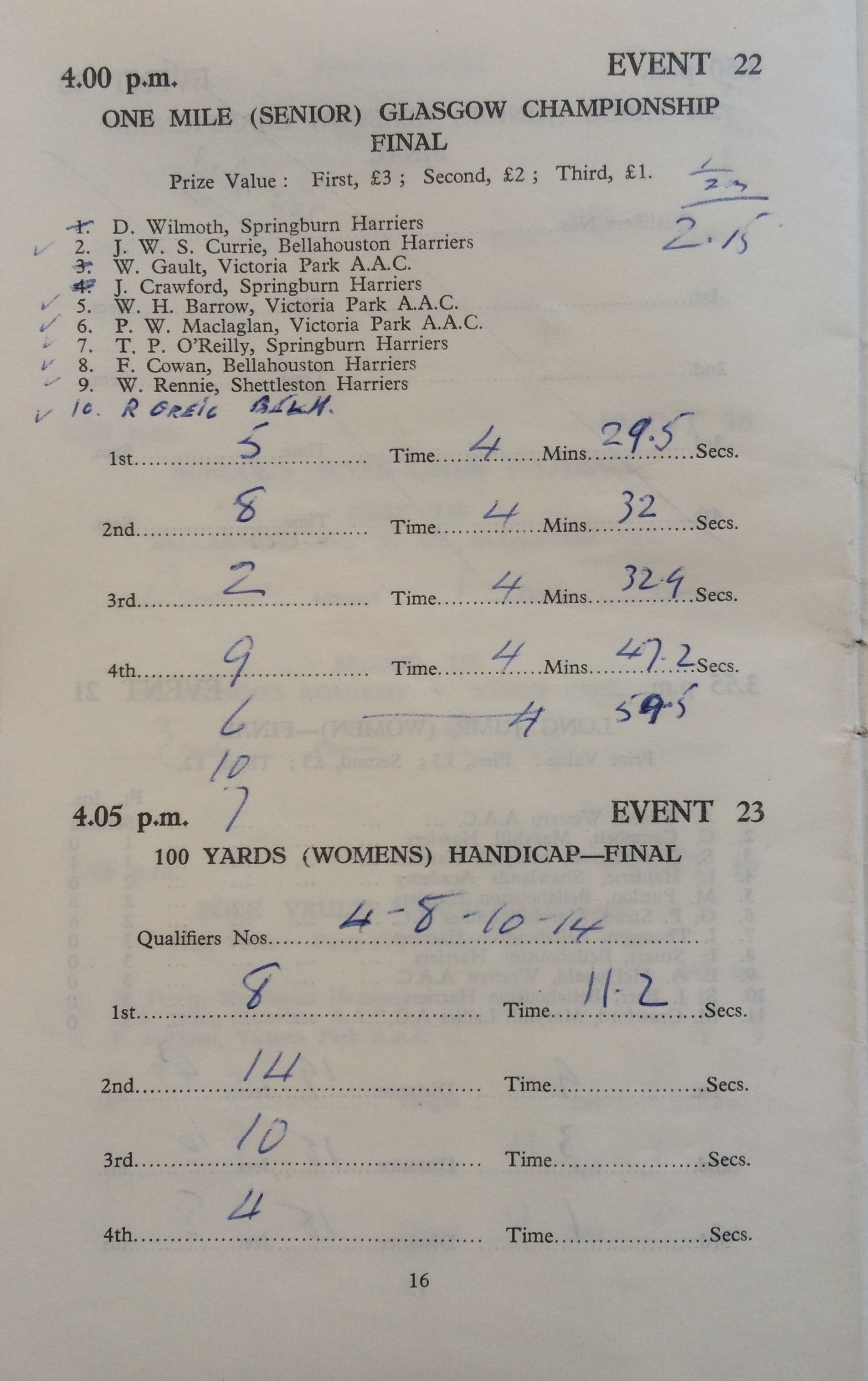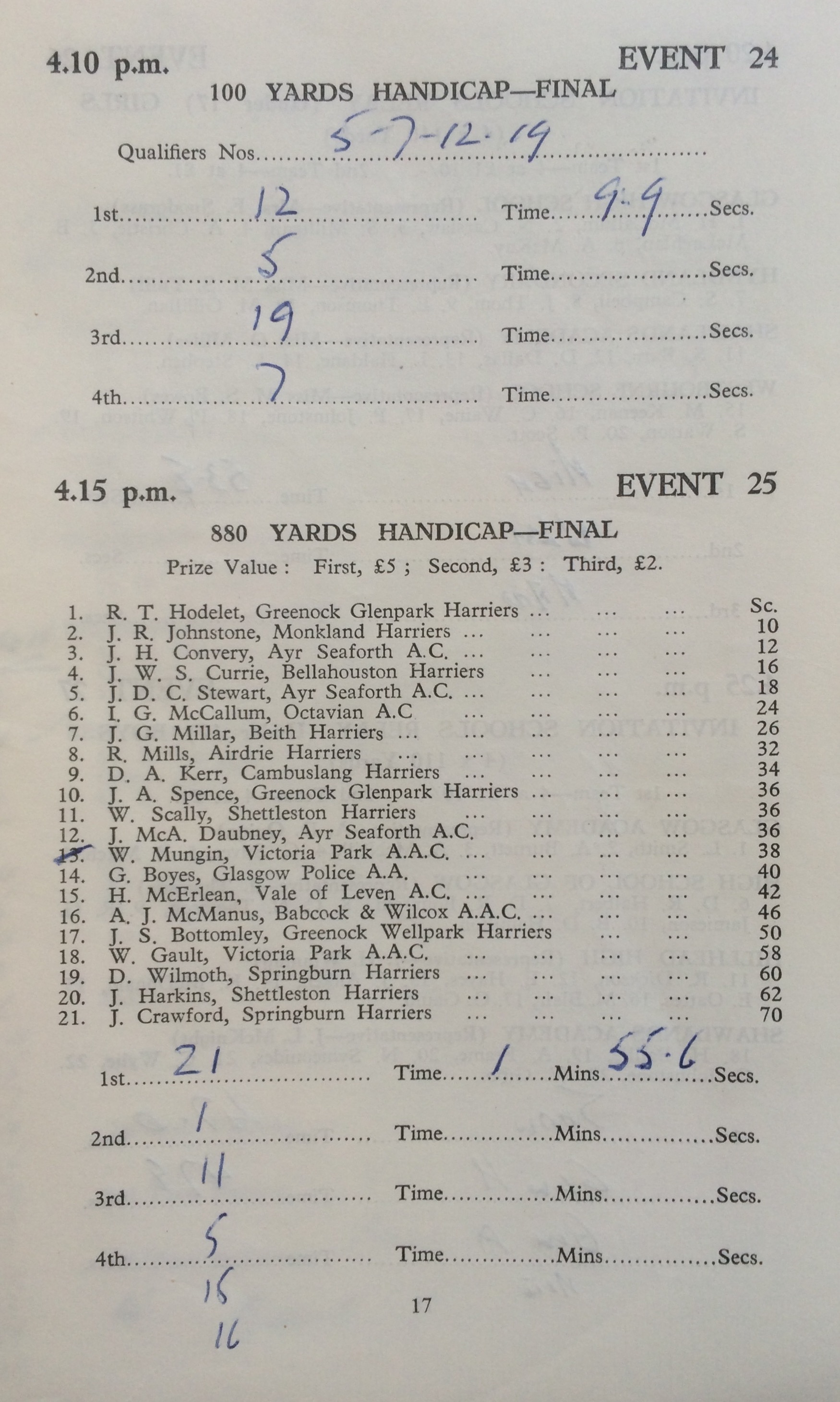 We have had British, Scottish and Glasgow championships but the next programme if from a different kind of meeting, on a grass track in a football field but with a ten miles road race in which Andy probably ran.   I say ten miles but given that top class runners normally took 55 minutes it was probably nearer eleven.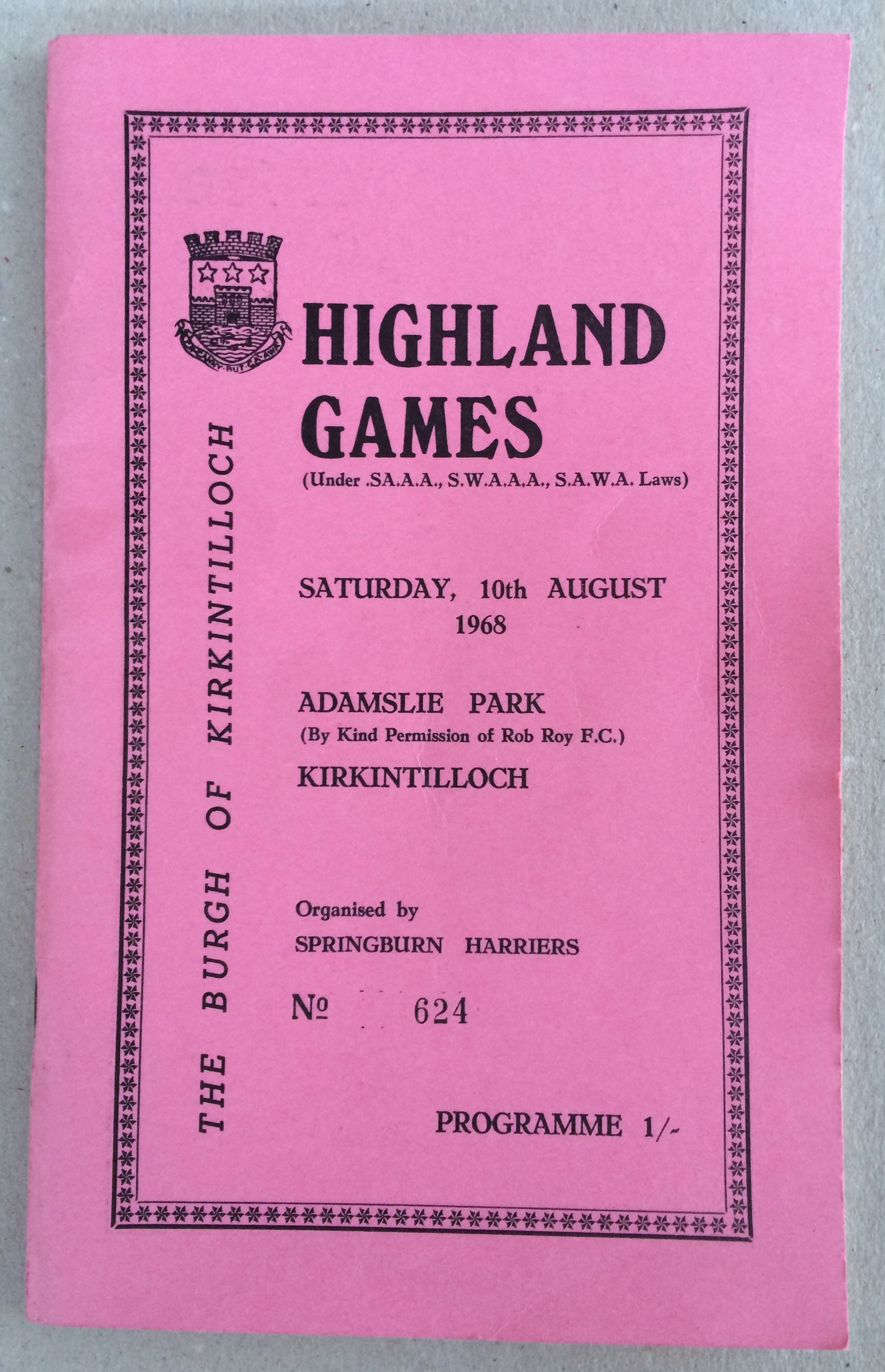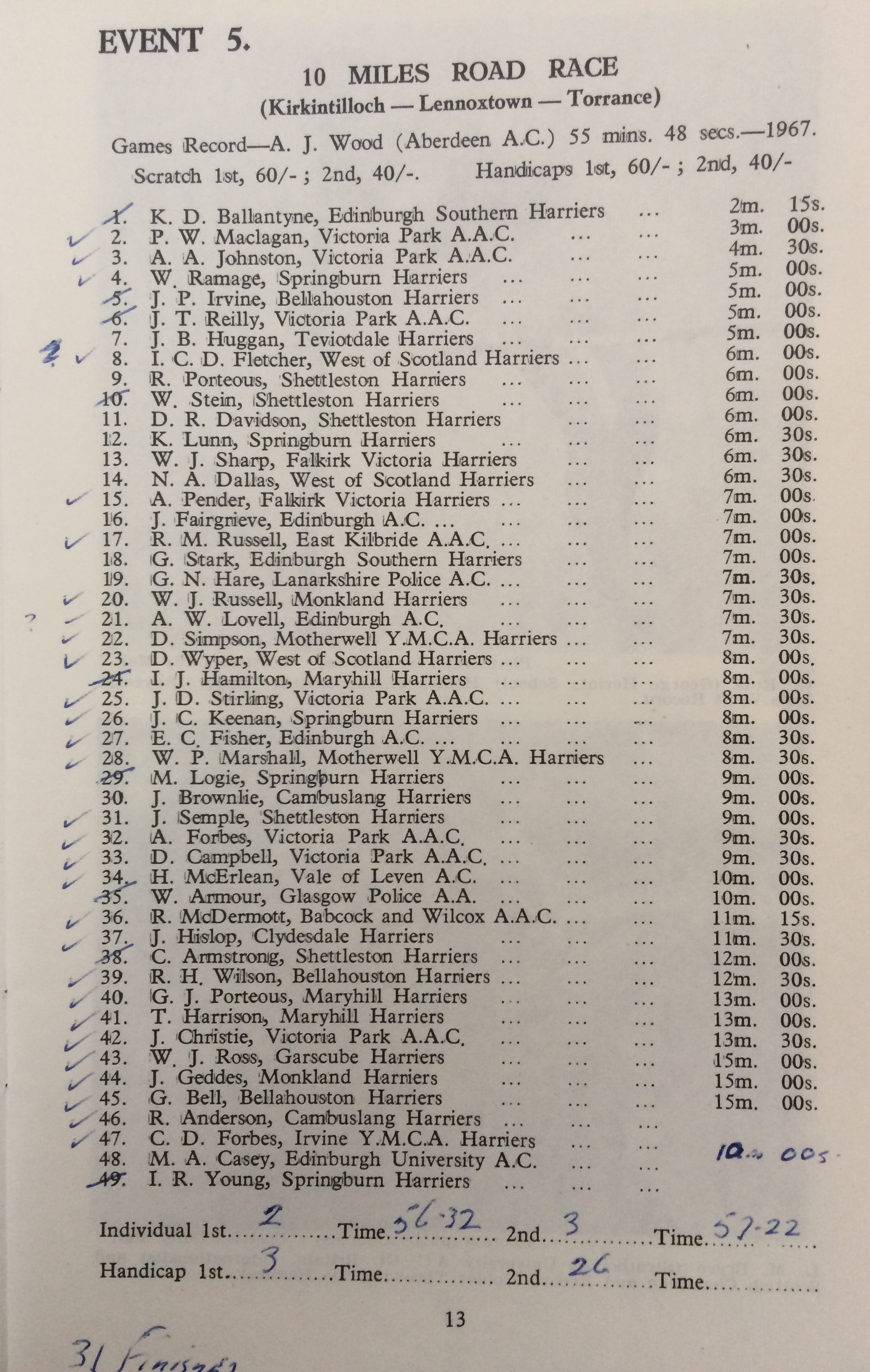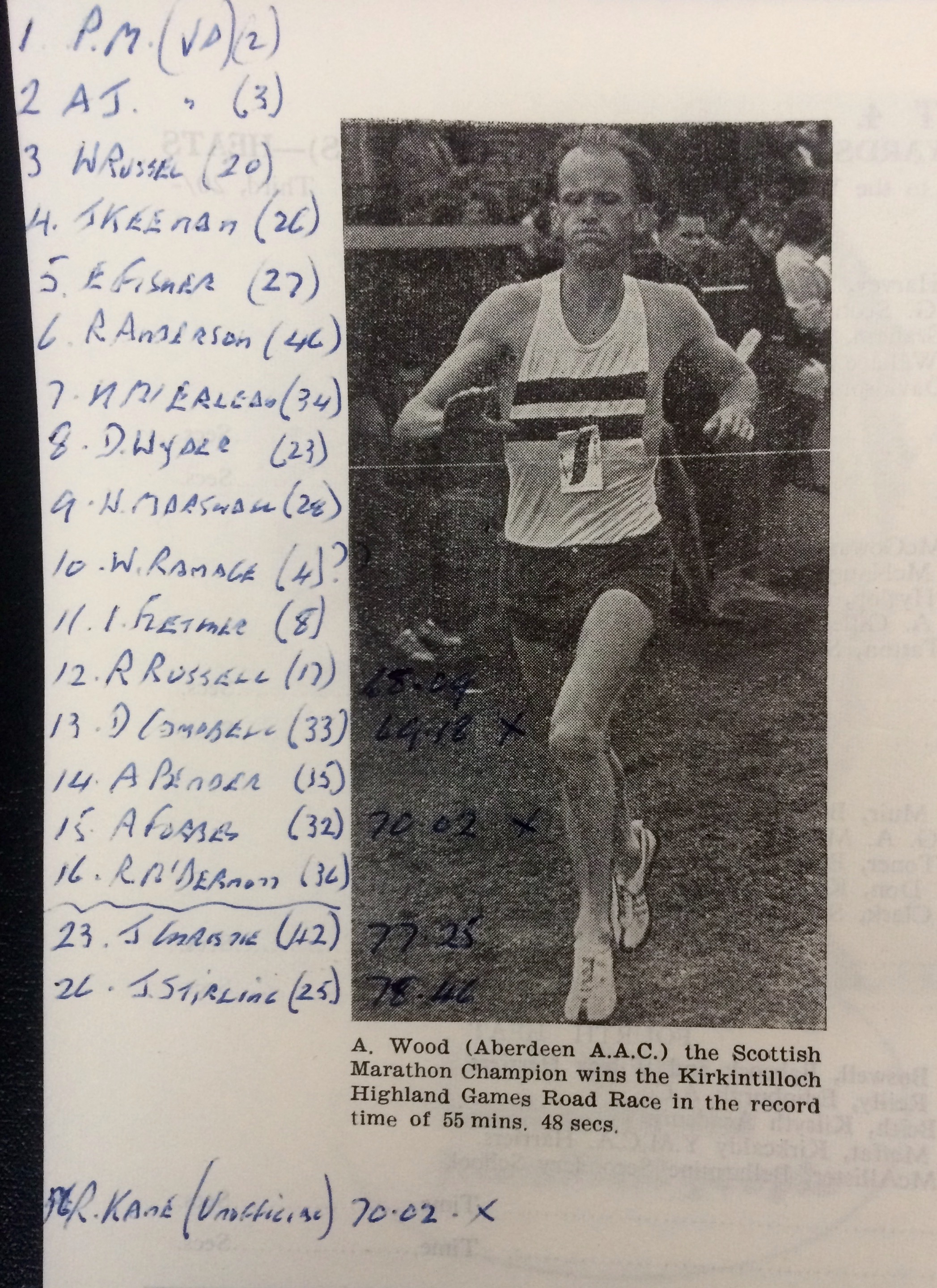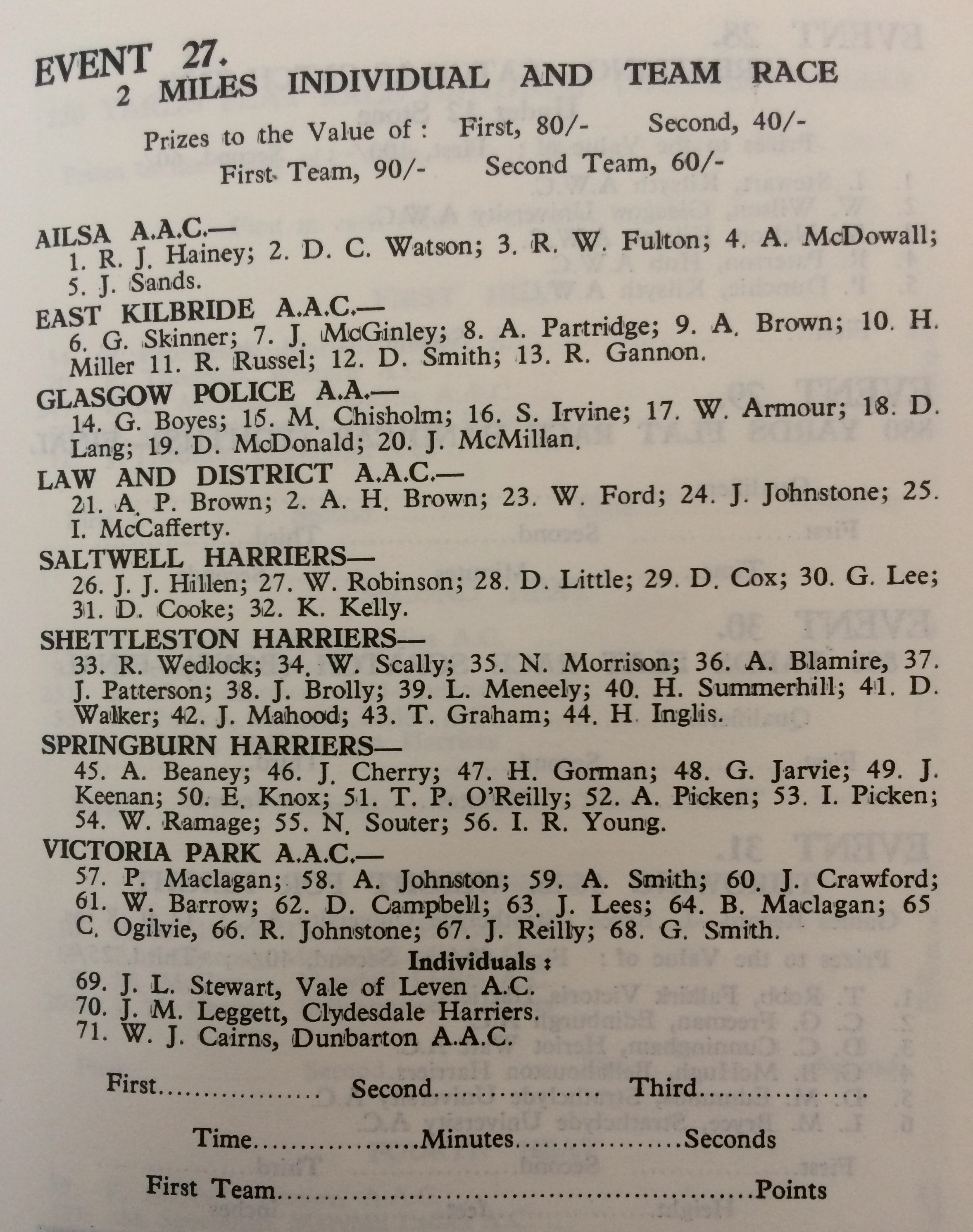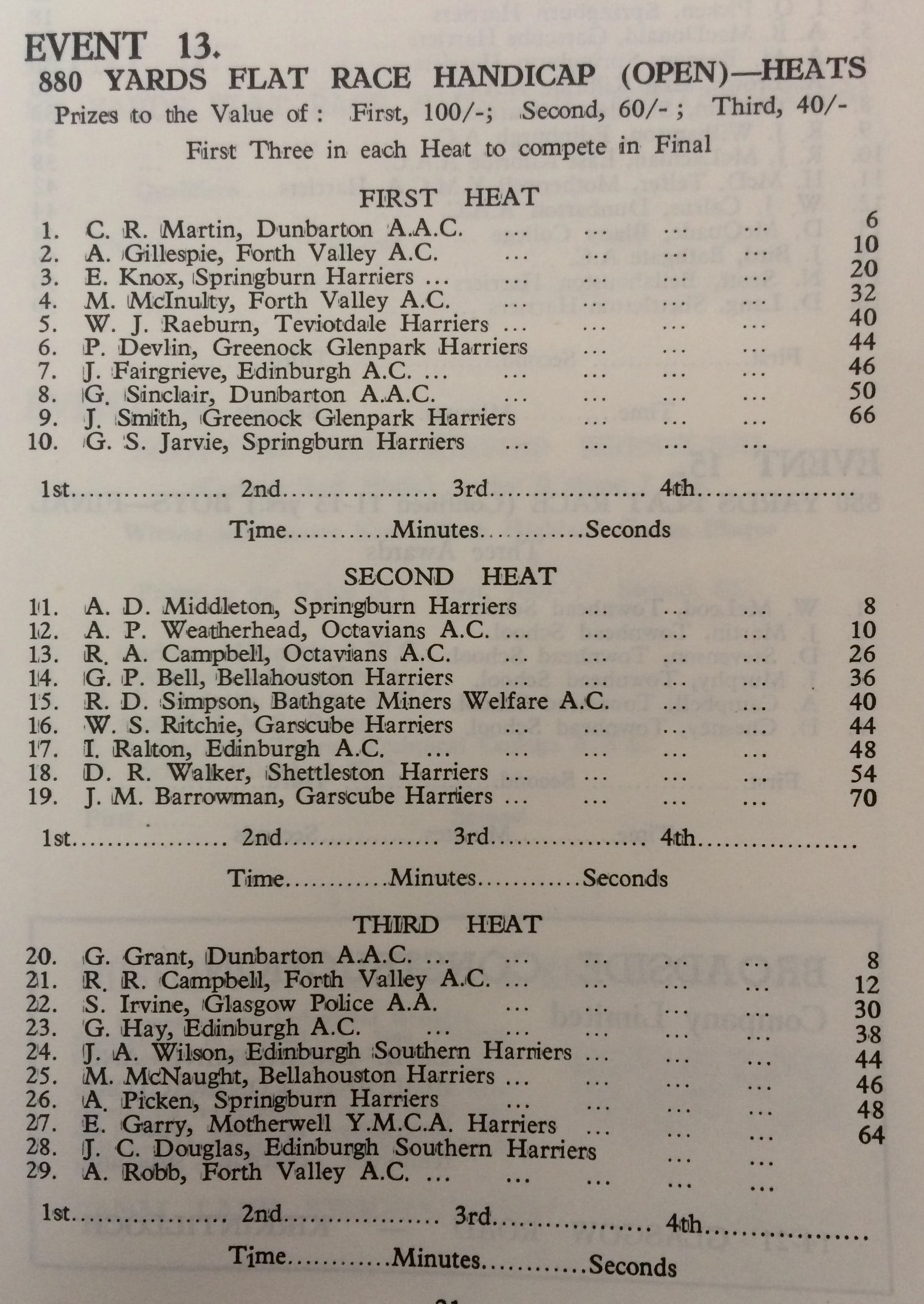 By 1968 Andy was running as a veteran and taking part with his friends Emmet Farrell, Gordon Porteous and David Morrison in road races all round the country – you'd see them at Dunblane, at the Strathallan Gathering, at Gourock and all sorts of meetings.   This programme is from the Kirkintilloch Highland Games in 1968.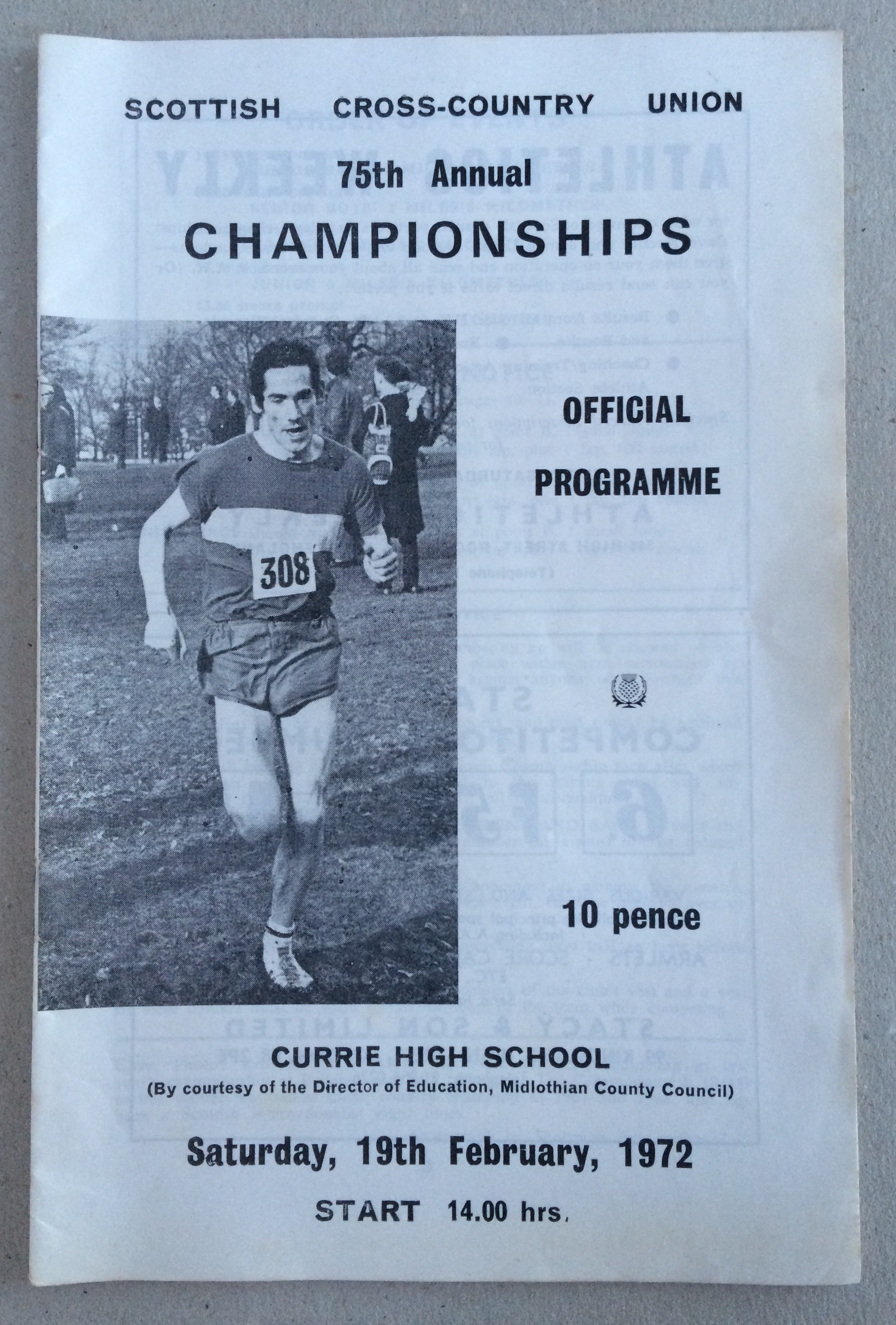 This one is from the National Cross-Country Championships in 1972, notable for the absence of many good runners because of the power workers strike.   The national shortage of power meant that workers were all put on to a four day week, and if one of your days was a Saturday then that was just your luck.   Cover picture is of course Lachie Stewart who actually finished fifth on the day with Ian McCafferty victorious.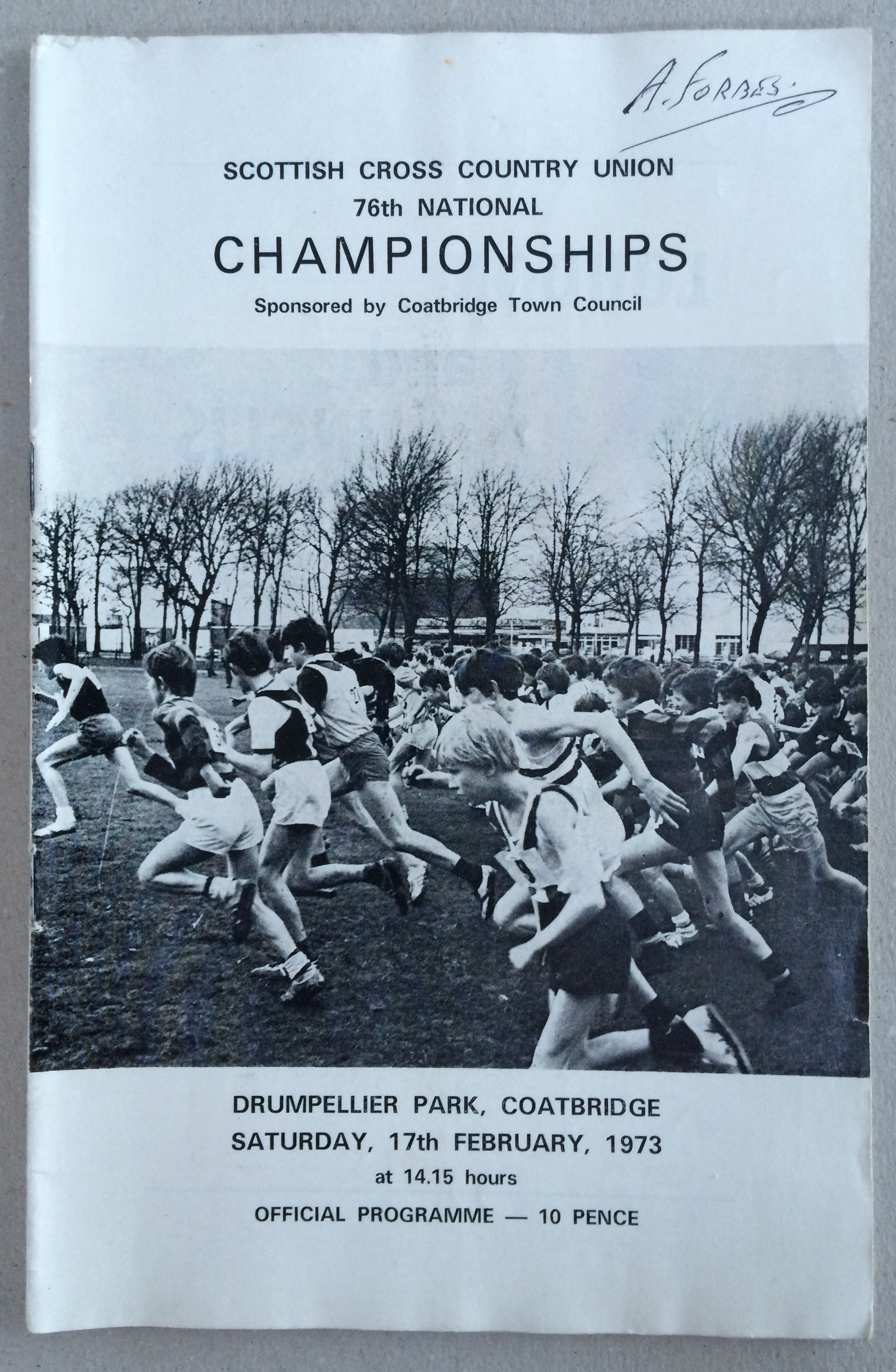 The second in a mini-series of national programmes, and for the first of a series of races at Coatbridge which were well organised, held over good running courses which nevertheless had plenty of variety and where the runners needed the old fashioned skills of cross-country running.   One man who really seemed to enjoy the trails and conditions at Coatbridge was Andy McKean who won from Weatherhead and Stewart.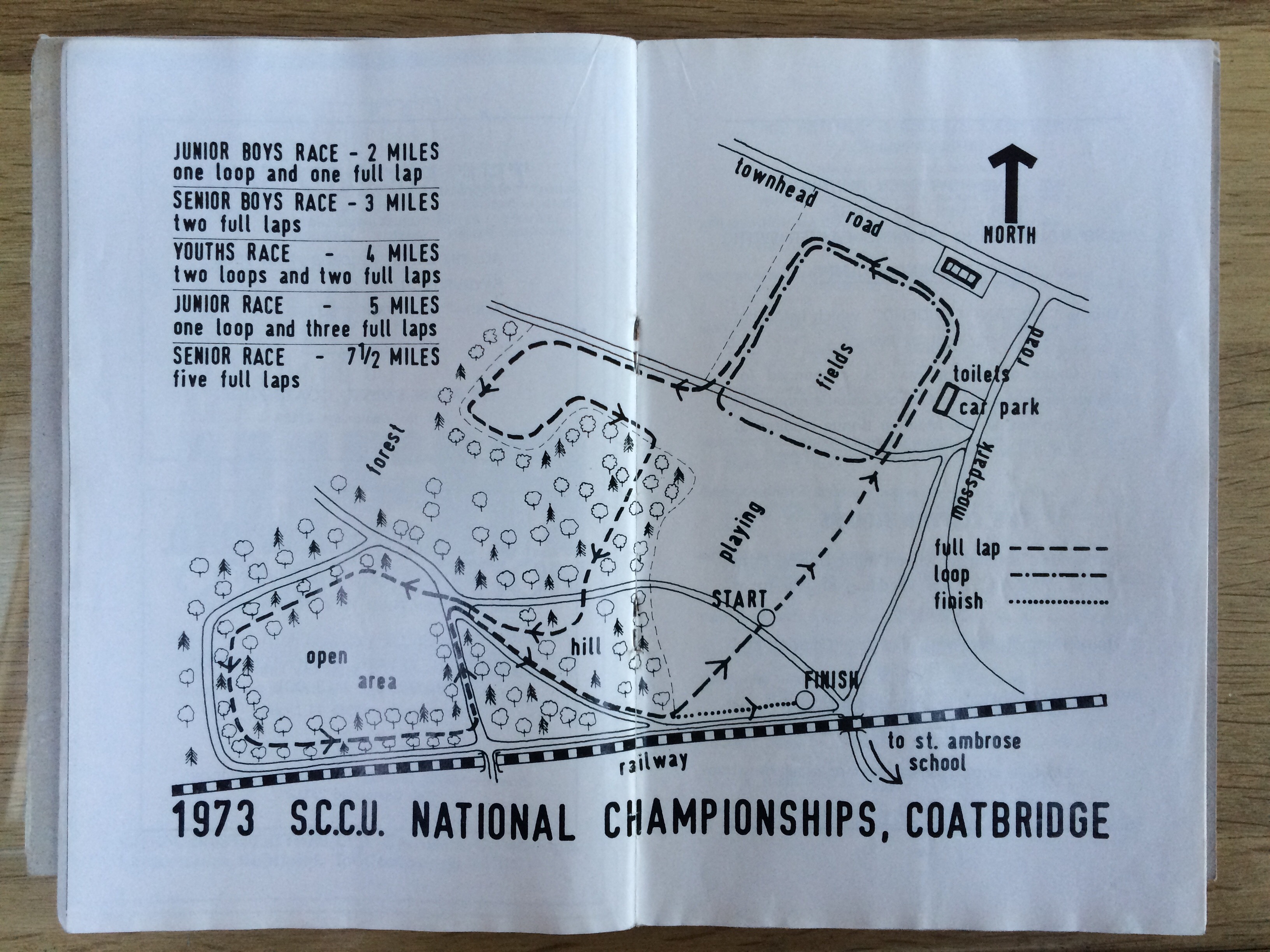 The centre-spread!   The trail for 1973.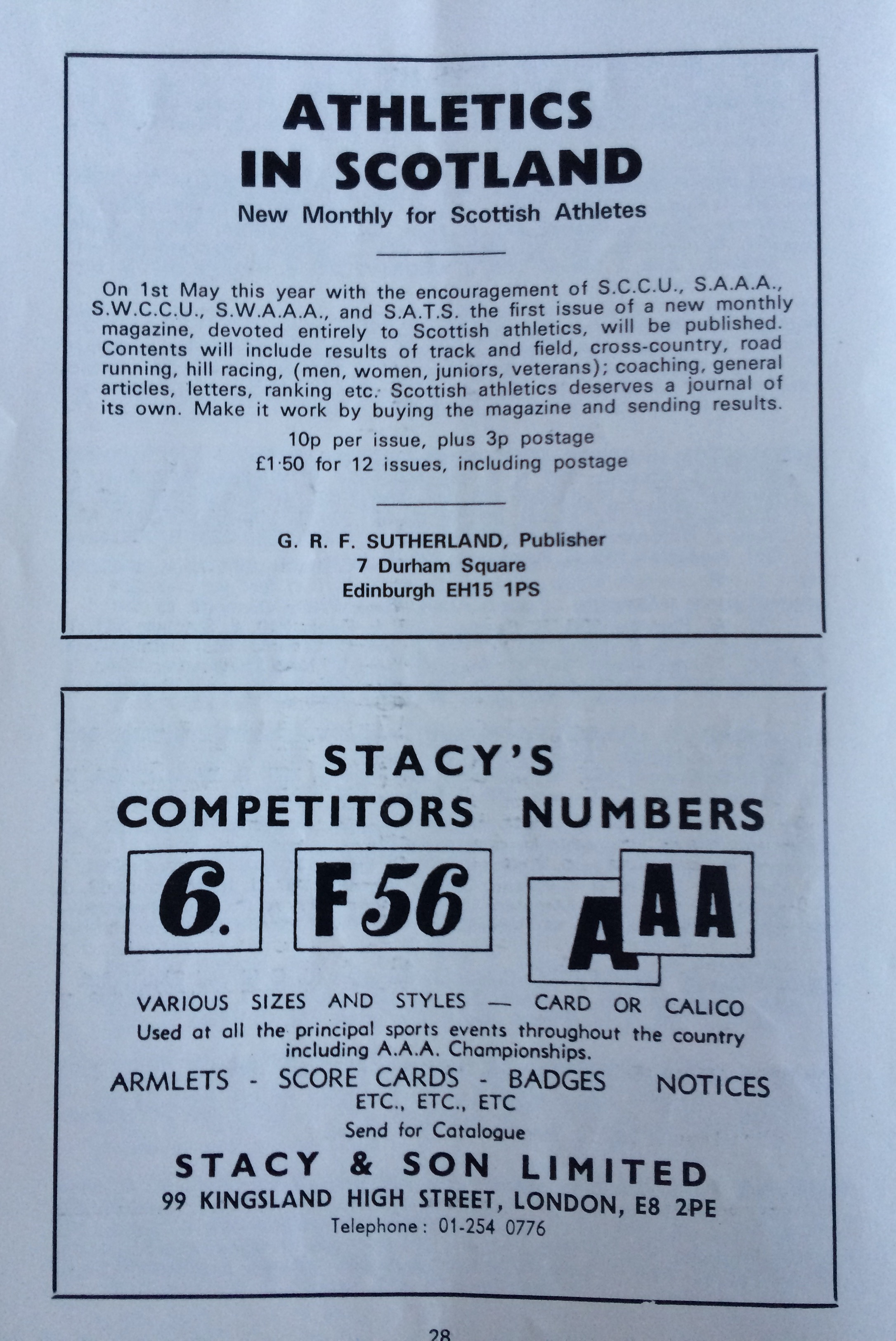 George Sutherland produced a very good magazine.   On A4 paper, every word typed by hand it was a really interesting production: results in detail, ranking lists, race reports from all over the country from the borders to the north and articles on coaching and so on.   It was a real shame when it went.   We often get good magazines in Scotland but they never seem to last very long:   The Scots Athlete from 1946 to 1957, the Athletics in Scotland magazine had a shorter life and the very good Scotland's Runner from 1986 to 1993 – all top class productions, all sorely missed.
And – the bonus picture –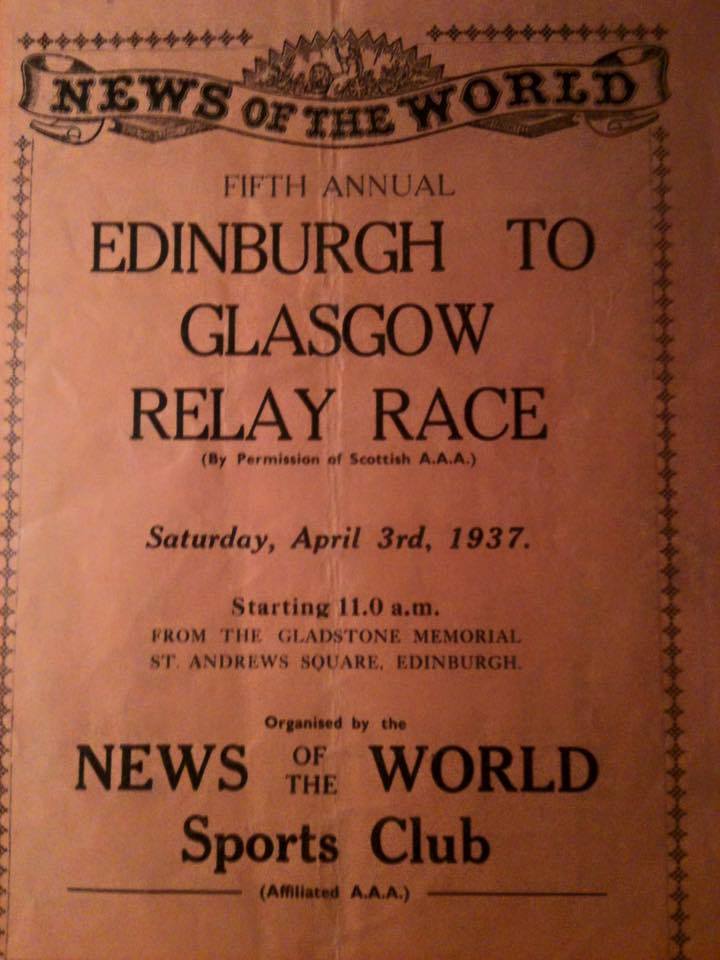 Andy ran the first leg in this one and finished fourteenth.   He had started running in 1935 and we have programmes here up to 1973 and he went on long after that.
A wonderful athlete and a very good man.