Allan Adams (born 3rd January 1944) enjoyed a long running career, achieving most success after the age of 40, when he not only ran marathons for Scotland but also won many age-group titles as a Veteran. Dumbarton AAC was his only club and he served them extremely well. His son, Allan Adams (Junior) also became a prominent Scottish athlete and represented his country internationally. In 1997 he won silver medals in Scottish 10,000 metres Championship and Half Marathon; and secured bronze in the 2001 10k. In 2004 Allan Junior won the Scottish 10k title.
By 1966, Allan (Senior) was representing DAAC in the Edinburgh to Glasgow Road Relay, moving up three places on Stage Three. He took part in the event again in 1972, 1976 and 1983. Allan's clubmates during this period included International runners Graeme Grant and Colin Martin, as well as steeplechasers Hugh Elder and Bill Cairns. Tough guy Alastair Lawson also featured: he specialised in hill and trail races; but no one trained harder than Allan Adams.
His frequent training partner, Colin Martin, started off as a talented young track specialist but in 1988 won the Scottish Marathon Championship, outkicking Donald Ritchie, the ultra-distance legend. Before this triumph (aged 41) Colin and Allan had been doing 90 to 100 miles per week, with Tuesdays and Thursdays devoted to 400, 800 or even mile repetitions with Lachie Stewart and his promising son Glen (later a GB track representative). The Saturday session might be 22 miles on the road; with Sundays an hour and a half over country trails. Both men became extremely fit, due to this arduous schedule.
Back in 1979, Allan Adams appeared in the Scottish ranking lists with a marathon time of 2.32.27. By 1985 (aged 41) he had improved to 2.25.48 and won the Inverclyde/SVHC Marathon in front of David Fairweather and Brian Carty. Then in 1986 Allan produced an outstanding 2.23.03. He was still running 2.26.32 in 1989 and signed off with 2.31.37 (aged 47) in 1991. Apart from World Veteran champions Donald Macgregor, Dave Clark, Alastair Wood and Bill Stoddart, plus ultra-distance legend Don Ritchie, hardly any Scottish Veterans have covered the classic distance so fast.
1986 was his peak as a marathon runner. In April he was 1st M40 in the famous Tom Scott Memorial 10 Mile Road Race, finishing in the outstanding time of 49.12. After that, he set a record for the Cairnpapple/SVHC Hill Race. Then in May, at the Aberdeen International Marathon, Allan Adams ran for Scotland in the match against the 'Auld Enemy'. English team runners were the first three home. Aberdeen AAC's Colin Youngson was first Scot, only a minute ahead of the fast-finishing Adams, who was fifth (and 1st Veteran) in 2.29.10 on a long, hilly course. In September, representing his country again in the Glasgow International Marathon, Allan was second team counter (and 1st Veteran) in his fastest-ever time of 2.23.03.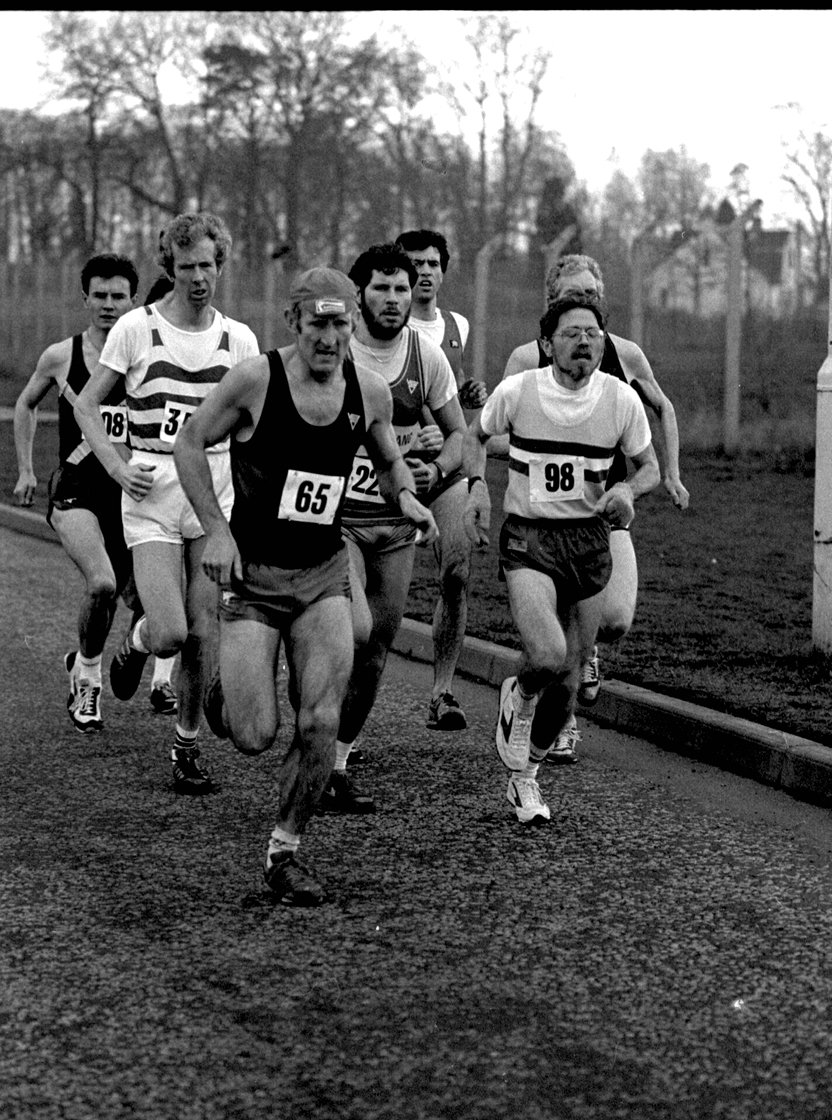 [Allan Adams (number 65) in the Tom Scott 10, 1985. Photo by Graham MacIndoe.]
Further highlights were to come for this Tough of the Road. In April 1989 at the Lochaber Marathon, Allan had a real battle with Colin Youngson for the Scottish Veterans marathon title. There was snow on Ben Nevis behind the runners, as a pack of seven battled into a strong headwind on the way out to halfway. Naturally, Adams showed his strength by leading into the gale, while Youngson loitered in shelter behind the others. After the turn, the pace suddenly increased by about a minute a mile! Colin gained fifty yards but Allan hung on. Every time the leader passed Allan's wife (who kept overtaking the pair in a car) Colin tried to look fresh, but in reality he was tiring. Eventually he threw everything into the last couple of miles and, exhausted, won in 2.29.40 while Allan won the M45 age group in 2.30.09.
Then, in October 1989, Allan Adams became British Veterans M45 Marathon Champion in the Flying Fox event in Stone, Staffordshire. In actual fact, Allan became the only Scot ever to win this event outright, defeating all the M40 runners too! He was timed at 2.29.32, with his Dumbarton team-mate Colin Martin 2nd M45 in 2.33.03.
In Masters Cross-Country, Allan was outstanding, representing Scotland five times in the annual Five Nations British and Irish International fixture: with his best performance being 3rd Individual M45 at Ampthill, Bedford in 1989, when his team won silver medals.
Allan Adams won no fewer than six Scottish Veterans Cross Country titles. In 1985 he finished second M40 (only three seconds behind Greenock Glenpark Harrier Dick Hodelet); and in 1986 he was second again, this time to Maryhill Harrier Brian Scobie.
1989 brought Allan Adams' first M45 Scottish CC gold medal; and he retained this title in 1990, 1991 and 1992. After M45 silver behind Youngson in 1993, Allan continued age-group domination with M50 gold in 1994 and 1995, before injuries brought his career to a halt.
In 2012 a reunion was organised at Drymen by Clydesdale Harrier Brian McAusland. This was attended mainly by old runners from the West of Scotland, plus a few from the East or North. Allan Adams, cheerful and vibrant, looked as strong and energetic as ever!