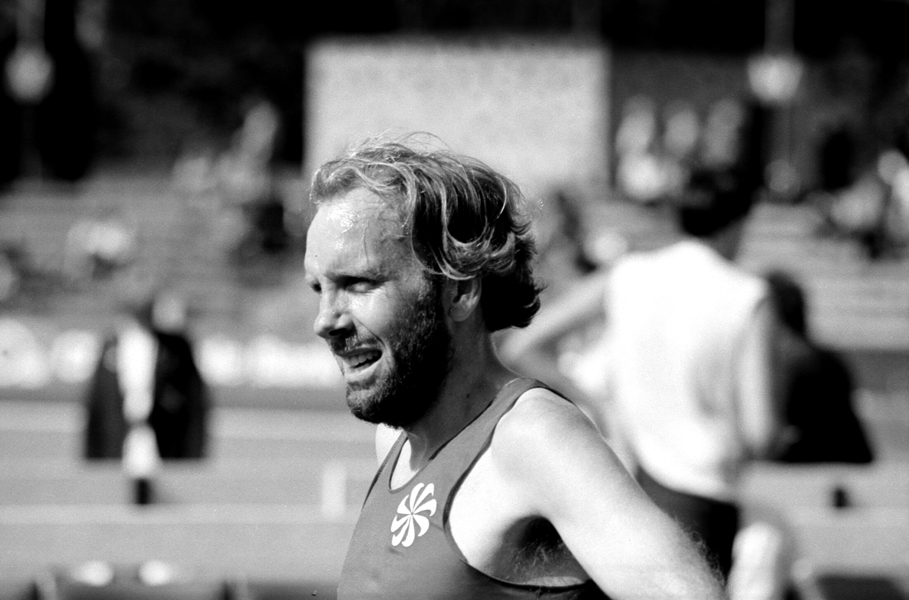 Is Lawrie Spence (above) the best all round endurance runner the country has ever produced? Look at the statistics below and reach your own conclusion. But we should take things in order and we all know who we like – Dave McMeekin, Frank Clement, Hugh Barrow, John Robson, Graham Williamson, Graham Everett, etc. Half milers are included here too because many of them were also 1500m runners and the milers had to run the half mile too. So who were ranked? There is a wee problem in that so many talented distance runners (a) need to run below distance and over distance on occasion; and (b) many enjoyed and performed really well at distances other than their perceived specialism. We'll come back to Lawrie in a moment but Ian Stewart, for instance, was a sub 4 miler as well as national and international medallist at 5000m. Here is the order in which you viewed the pages. NB: It is not a merit ranking. It is the pages that have been read most. Three are seen mainly as 800m specialists, one as a 5000m man and the rest were top class milers.
Men first
Tom McKean – 738
Frank Clement – 463
John Robson – 448
Graham Williamson – 343
Ian McCafferty – 320
Paul Forbes – 289
Hugh Barrow – 284
Peter Hoffmann – 279
Ian Stewart – 270
Alan Gordon – 240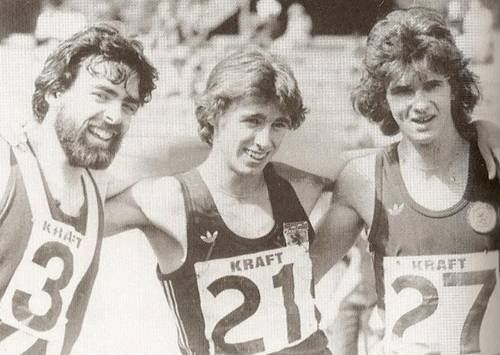 Frank Clement, John Robson and Graham Williamson
It is difficult to see why Tom is so far ahead of the others in the event: he was certainly a very successful athlete indeed with medals at national, GB, international and Games levels and his career is marginally fresher in the minds of current generations but the trio above were so good at what they did – Frank's victory in the Europa Cup at Meadownbank and his run in the Olympic final were outstanding, John Robson has so many top class times to his credit, Graham was one of Scotland's best ever 1500/Mile specialists and also one of the most unlucky, not only in terms of injury but several times at the hands of Scottish or British selectors. The two childhood friends who became world class 400/800 runners – Peter Hoffmann and Paul Forbes, both coached by the wonderful Bill Walker – are still high on the Scottish all-time ranking lists. It is also gratifying to see Hugh Barrow up there – his pages on the website are all very interesting reads and there are several links from his profile page to other items of interest. Many thought he would be the first Scot to break 4 minutes for the Mile, Graham Everett (whom I would have liked to see up here) was one of them. The only Scot ever to hold a world record for the mile, Hugh held world age bests as a youth and Junior. Alan Gordon is a very interesting character who has never really received the credit that was his due. Please have a look at his profile – his running in and just after Bannister's acclaimed four minute mile was of the very highest order.
Lawrie Spence was a sub four minute miler and a 2:16 marathon man with every distance between of a similar standard. He also captained the SCCU team in the world championships as successor in the role to Jim Alder. All he needed to cement his position was a single outstanding performance in a Games or international championships. One of our best ever in terms of times. Click on his name at the top for the whole story.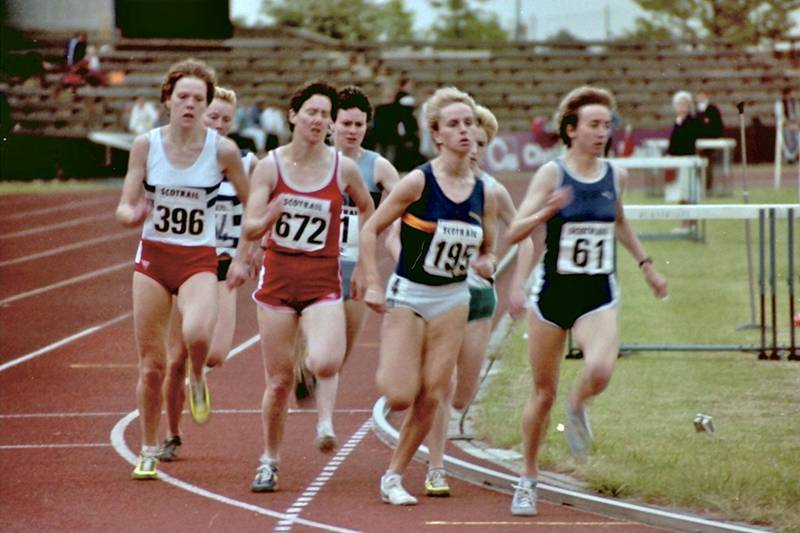 Carol Sharp (61)
Women:
This is possibly one of the most fascinating for me. The list is led off by Carol Sharp who was a top class 800/1500m runner who ran for Scotland and for GB, mainly at 800m. A popular athlete who is now a very good coach in her own right catering for some talented athletes. By far the quickest highest rise of any newcomer was that of Palm Gunstone , 'way up there in second place. Palm won medals in the SWAAA Mile and cross country, ran internationally on track and cross-country before becoming a top class road runner. Her total was given a boost when her club posted a link to the profile but there were still numerous visits when it appeared. It also includes the remarkable Lynne McDougall – Olympic 1500m finalist in Los Angeles and a 2:36 marathon runner. All the distances between were national top ten ranking times for her. Excellent athlete. Christine and Evelyn McMeekin were two very good athletes indeed with excellent times from 200m up to 1500m. They had separate careers with Christine doing really well at 800/1500m and Evelyn at 400m/800m. Unfortunately Evelyn's career was cut short by injury but it's clear that there is still a real interest in them. Molly and Dale were followed in the 'readings' by Aileen Drummond – three women who dominated the sport through the 50's and into the 60's.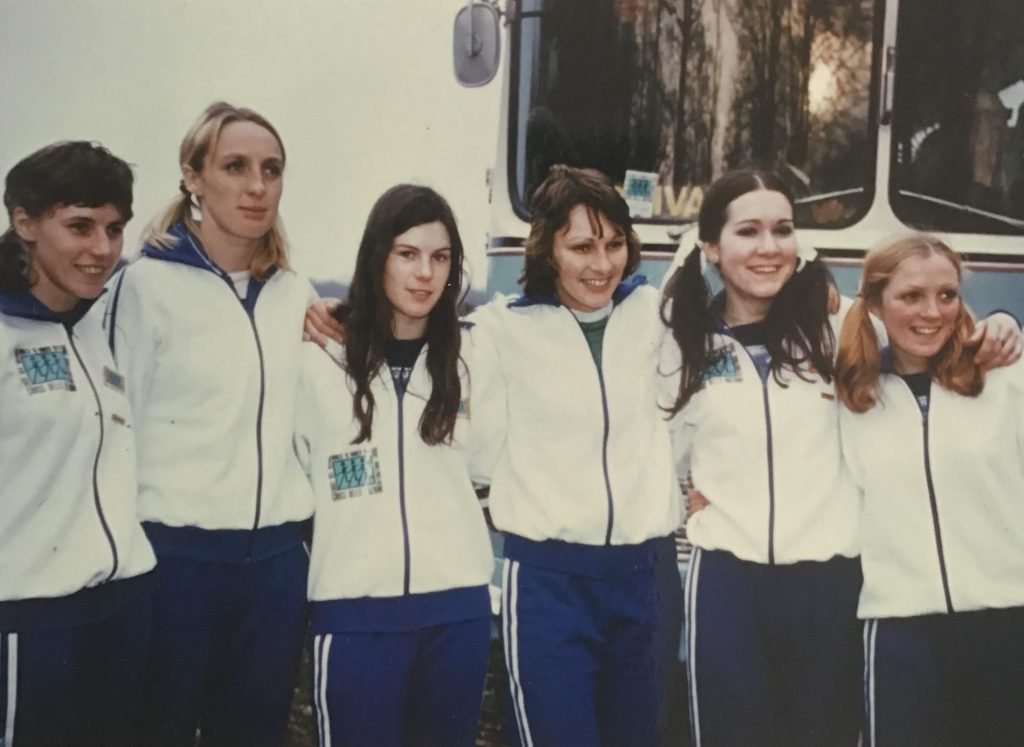 The Scottish cross-country team in Monza, 1974: Palm Gunstone on the left, Margaret Coomber next and Moira O'Boyle second left
As with the men there are several runners who were known for longer distances – Moira O'Boyle was the outstanding example of that. Yvonne was very good at all distances from 800m up and will be dealt with in another page. A Scottish internationalist as well as an Irish internationalist later in her career she was a top athlete over the country too. The generation before that one is well represented by Molly and Dale who are known throughout the UK with Dale being the first ever women's world marathon record holder. The two 800m runners – Rosemary Stirling and Ann Purvis – are well worth their place in the top ten and their careers are well known to the athletics supporters of the 21st century. Margaret Coomber , who started out as Margaret McSherry, ran for most of her top class career in the United States and was one of Scotland's best ever milers.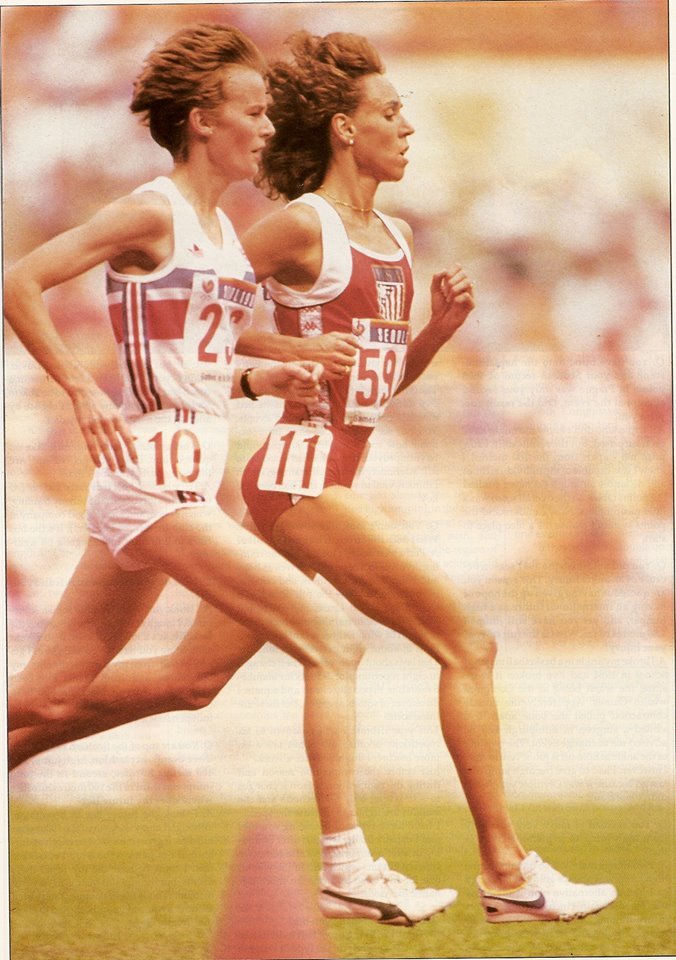 Longer Track Distances: Women
Every one a Scottish international, at least six GB internationals, one an internationalist on track, road and cross-country who later opted to for the triathlon and distances from 1500m to marathon covered. Click on the names for the full story – Olympians include Liz McColgan, Yvonne Murray and Karen Macleod, The amazing career of triathlete Penny Rother really needs to be read as does Sandra Branney's tale of running at home and abroad. Hayley Haining really should have had an Olympic vest – after she had ostensibly qualified, the selectors gave Paula Radcliffe who had been injured the choice of whether she went to the Games or not. Who's going to turn down Olympic selection? And Hayley missed out. Karen Hutcheson has been almost forgotten by Scotland – after starting with Jimmy Bryce's Lochgelly, she moved to England and was a Scottish international with a great run in the Commonwealth Games 10000m. Susan Partridge was a very good marathon runner who represented Scotland and GB and was of a very high standard. Judith Shepherd was a Glasgow AC runner who went on a scholarship to the USA and developed from a very good standard athlete who excelled at 1500 and maybe especially at 3000m events.
Nat Muir, SAAA 5000m, 1983
Men
Another interesting collection of runners reflecting the interests of the site visitors. As you would expect from 5000/10000m men they are all versatile with most running on track, road and over the country with at least two of them being hill running internationalists too. Nat was unquestionably the country's best cross-country runner for a considerable time; as a track runner he took on the best and often enough defeated them. He was unfortunate in that he never won a medal at a major Games which would have sealed a wonderful career. Eddie Knox and Jim Brown were both world cross-country champions as Junior Men and both were also very good track and cross-country runners indeed. Lachie Stewart, Ian McCafferty, Ian Stewart and Allister Hutton were all Commonwealth Games runners and all represented GB . Allister is probably best known for his London Marathon win in a very fast time, but he was also a track runner of note and competed in the 10000m at Edinburgh in 1986. Jim Dingwall won the SAAA Marathon Championship in a record time but he had a top class career as a track runner (one of the class known as 'Head Waiters) before taking to the roads). Tommy Murray and Robert Quinn were great rivals on the track, on the road and over the country before they both ran in the World Hill Running Championships.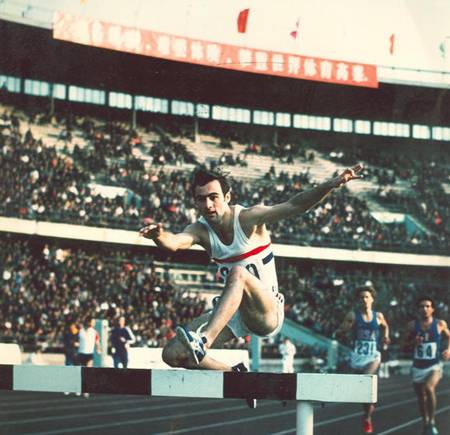 Gordon Rimmer
Steeplechaser
There is quite a range there too – TP O'Reilly (Springburn) appeared on programmes for track meets, cross-country events, hill races and road races for decades. Winner of the very first SAAA 3000m steeplechase championship Tommy was a credit for any team he ran for. He was also the man who got Danny Wilmoth into the sport! Tom Hanlon coached by Ebglishman Gordon Surtees was possibly the best ever steeplechaser and a regular in GB teams for a spell. They were all very versatile and top men over a range of distances with RAF man Gordon Rimmer being most read. Graeme Croll was his team mate at Cambuslang after starting out with East Kilbride and was a very good domestic Scottish runner – with no advantages that were not enjoyed by any runner in the country, he was the top 'chaser for a number of years. Gareth Bryan Jones Alistair Blamire and Ian Gilmour were of the same generation and all widely respected – Bryan Jones went into orienteering after his running career was over and Alistair Blamire had been a member of the BMC and one of the Edinburgh University Hare and Hounds squad in the 1960's. His book 'The Green Machine' covers the period and should also be read.
That's the top ten steeplechase runners but note that an Irishman's page has been visited more than any of them: Peter McColgan – 340 visits.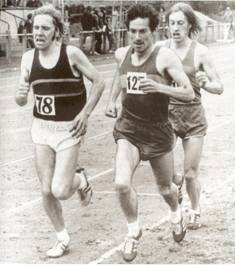 Lawrie Soence (78), Lachie Stewart (127) and Alistair Blamire