Hugh Barrow at the White City
The picture is of Hugh (4) in an international 3000 metres at the White City in London in 1968, behind him is Gaston Roelants of Belgium who had won the Olympic Steeplechase in 1964 and one place in front is Ian McCafferty. As you might guess from that simple statement, Hugh was a considerable talent and graced Scottish athletics for two decades. My first awareness of Hugh dates from my days at Glasgow University immediately after I left the Army in 1958. One of my favourite magazines at the time was 'World Sports' edited by Phil Pilley. It covered more than athletics but all articles were well written and well researched. I went into the Reading Room in the Union one month, picked up the latest copy and …… there was an article about a Scottish runner! Given that there were about two articles per issue about athletics and hardly a one about anything outside London, this was a day to be remembered. The athlete was a young Hugh Barrow who had set a World Record for the One Mile and was being presented with a 'World Sports' plaque at a dinner in London. There was even a picture. More than twenty years later when I was Scottish Secretary of the British Milers Club and Hugh (BMC Member Number 1) was giving me a lot of help in organising races and then in putting on street miles in conjunction with the Luddon Half Marathon that he was organising on behalf of Strathkelvin Council. A long career in the sport and a distinguished one. In 2007 Hugh was interviewed by the BMC News when the club admitted its 5000th member and a link to this most interesting item is at the foot of the page. Late on in his athletics career he ran in many road races up to and including the marathon and he answered the Scottish Marathon Club questionnaire for the very first issue magazine that they were producing. As an introduction to his career it is reproduced here.
PROFILE
Name: Hugh Barrow
Club: Victoria Park AAC, Sale Harriers – and cameo appearances for Belgrave Harriers
Date of Birth: 12 September 1944
Occupation: Retired local government officer (Director of Recreation, East Dunbarton Council)
List of Personal bests:
| | | | |
| --- | --- | --- | --- |
| Event | Time | Year | Remarks |
| 100 yards | 10.6 | 1961 | |
| 220 yards | 24.0 | 1962 | |
| 440 yards | 51.0 | 1962 | |
| 660 yards | 75.3 | 1962 | |
| 880 yards | 1:50.3 | 1967 | |
| 0.75 Mile | 3:00.5 | 1965 | Scottish Record |
| 1500m | 3:45.3 | 1967 | |
| One Mile | 4:01.0 | 1968 | Furth of Scotland Record. |
| 2000m | 5:16.6 | 1966 | Scottish Record |
| 3000m | 8:21.0 | 1969 | |
| 2 Miles | 8:51.4 | 1964 | |
| 3 Miles | 13:52.8 | 1965 | |
| 5000m | 14:26.0 | 1971 | |
| 6 Miles | 29:28.0 | 1969 | |
| 20000m | 71:50.02 | 1980 | |
| 30000m | 1:51.06 | 1979 | |
| Marathon | 2:35:01 | 1079 | |
Also co-holder of Scottish records in teams for 4 x 400 metres and Medley Relays.
Hugh Barrow (right) with the record breaking VPAAC relay team
Has Any Individual or Group Had A Marked Effect On Either Your Attitude To The Sport Or On Your Performances?
Herb Elliott was my inspiration in 1958 seeing him at Cardiff Empire Games was the where it began for me
Joined VPAAC and was coached by Johnnie Stirling .The whole scene at VP in those heady days of the late 50s was extraordinary because the extraordinary was the norm
Everywhere you looked at the Showgrounds you were surrounded by Champions and Internationalists that was just the way it was very exciting for a young runner
A headline wrote "Victoria Park where Champions are born"
What do you consider your best ever performance as a runner?
I have to go with winning the international junior mile Scotland v England April 1962 at Hampden: not so much the time more the experience. The AAA sent up two of the top English junior milers- Bill Chadwick and Frank Martin. The race was part of the pre-match programme for the Scotland v England match and 132,000 were in the stadium. We changed at Lesser Hampden and were offered a steak pie lunch with the mass pipe bands which I declined. After warming up at Lesser Hampden we walked with a police escort down behind the main stand and into the track the atmosphere was electric. I front ran it and on the last lap an ambulance man walked into me – the noise was so loud he never heard me coming! The prize was a tartan rug and Dunky Wright interviewed me live from the pitch for BBC TV. Scotland won 2-0 reversing the nine goal disaster of '61 at Wembley
The sport was a bit different then. You are BMC member number one – what was the effect of the BMC on middle distance running when it started up?
Huge affect it challenged the thinking and attitude UK miling was in a trough following the Bannister Ibbotson era and had become negative in its approach to racing -too many "head waiters". Frank Horwill really shook up the complacency with some really controversial articles. He was some man and I kept in contact with him for years after age never dimmed his enthusiasm he broke the mould
What does the sport owe – if anything – to the BMC?
A huge amount: dragging the standard of Middle distance upwards, which culminated in the Ovett, Cram Coe era. The BMC cannot take all the credit but it certainly set down the agenda required. The aspirations were then achieved by them and others of that generation
There were invitation races (a) Domestically – such as at football matches etc; and (b) at major sports meetings such as Rangers Sports, Glasgow Police. How important were they in the programme?
Massive. very few nowadays including informed scribes realise the status of these meetings I still meet people today who recall fondly the Rangers Sports In no other country could club athletes perform in theatres in front of at times 50,000 and even at times in front of 100,000 but it was commonplace in Glasgow. You also ran at Old Firm matches – on one occasion I ran at one during halftime on New Years Day at Ibrox. It was like entering a war zone dodging the police snatch squads on the back straight and you couldn't run in a blue or green which meant no VP club vest
Scotland v England, 1962 with 132,000 spectators in the Ground
As a man who competed at international level, can you tell us a bit about the representative matches or international fixtures that were part of the scene then?
The 60s brought a wide range of matches v countries like Belgium Iceland and Denmark plus Wales and Ireland We also had regular representative matches with English areas like Midland and Northern Counties. The advent of the British Isles Cup came towards the end of the decade. There were also Rest of Britain matches against England and there was one against the British Olympic Team held at Portsmouth in 1964.
Indoor athletics was in its infancy in the 1950's – where and when did you start competing in these matches? What were the tracks like?
Yes ran at the very beginning of Indoor athletics at Wembley in March 1962 Wooden track twelve laps plus twenty yards to the mile. You coughed up wood dust for hours afterwards. I managed 4m 21 in winning Junior mile. The USA were there and I was in a small Scottish team with Crawford Fairbrother.
Professionalism was also rearing its head. One of my senior club mates was very condemnatory of money coming into the sport but training was also becoming a full time occupation. Can you comment on the amateur/professional aspect?
Professionalism has been with us since the birth of amateur athletics – you could argue it is the reason for the birth of amateur athletics so I have really no issue with it Some of the stuff that goes with it however I am not comfortable with at all but that's maybe more a reflection on modern society which in turn is carried into the way governing bodies operate now– that however is a thesis on its own
The 4 minute mile was achieved when you were coming in to your best running on the track and you were involved in several races where the target was 4 minutes. Can you tell us about any of these races, the atmosphere surrounding them and what they were like to run in.
Yes I ran in quite a few but the one that stood out was the attempt on Jim Ryuns world record of 3m 51 by Kip Keino at Santry Stadium Dublin in. The race took place at half time in a League of Ireland football match quite amazing. Pacemakers included Noel Carroll and what a pace the wind beat Keino and he was outside the record but I managed to crawl in third behind Keino and Mike Wiggs
*
There are lots of very interesting thoughts in there which represent Hugh's considered opinions in March 2015, what follows are his comments in reply to the SMC questionnaire in the early 1980's.
*
What exactly do you get out of the sport? Very difficult to answer: I have got different things out of the sport at different times in my career. Initially it was success and status, now it's a social thing – it means I deserve my pint of beer!
Can You Describe Your General Attitude To The Sport? When you do a personal best, at whatever level, there is this deep feeling of satisfaction.
What Do You Consider Your Best Ever Performance? 880 yard relay leg in the AAA's medley relay championships in 1967. VPAAC Team set a Scottish record – I think it still stands.
And Your Worst? Last leg in the Edinburgh to Glasgow Relay in 1976.
What Do You Do Apart From Running To Relax? Watch TV and eat curries!
What Goals Do You Have That Are Still Unachieved? I really only ever had one goal, ie to be the first Scotsman to beat he four minute barrier for the mile. I missed by one second in 1968. The next year Ian McCafferty achieved this at Reading by running 3:56 and destroyed both Stewart brothers. (This was one of Ian's best runs). I trailed in doing 4:05 and my motivation never really returned.
What Has Running Brought You That You Would Not Have Wanted To Miss? Fitness and Friendship.
Can You Give Some Details Of Your Training? I have always believed in quality. Before quantity. I know that it sounds naive and goes against a great deal of current thinking, but there appears to be a so many athletes who feel by simply doing 'more' is the answer, when what is required is a subtle blend of quality and quantity. I also believe that at a high level the athlete is 'born', he may be honed and polished but he still owes as much to heredity as to training. To quote my old friend Ian Binnie, "It does not matter how much you polish a piece of Walley Glass, you will never make it a diamond." (By the way, Ian Binnie held 50 Scottish records at one time or another.) It is worth remembering that athletes like Bruce Tulloh and Martin Hyman (now running for Livingston AC) won European titles and set British records at 3/6 miles on 40/70 miles per week; and their times would still take some beating today.
That's the questionnaire in full and I feel that it gives a fair coverage of his career and attitudes but we are not finished because there is more to Hugh Barrow than that. In addition to the comprehensive list of best times above there were international and select honours by the hatful. For instance how about
* Scotland and SAAA teams in many forms from 1962 to 1971
* Rest of Britain v England Indoors 1963
* Rest of Britain v Olympic Team 1964
* GB 1967
* AAA 196
* England Northern Counties 1968
AND
World Mile Record Holder at 16 – the only Scot ever to hold a world mile record.
These are far from comprehensive but they are indicative of place in Scottish and British athletics for over a decade.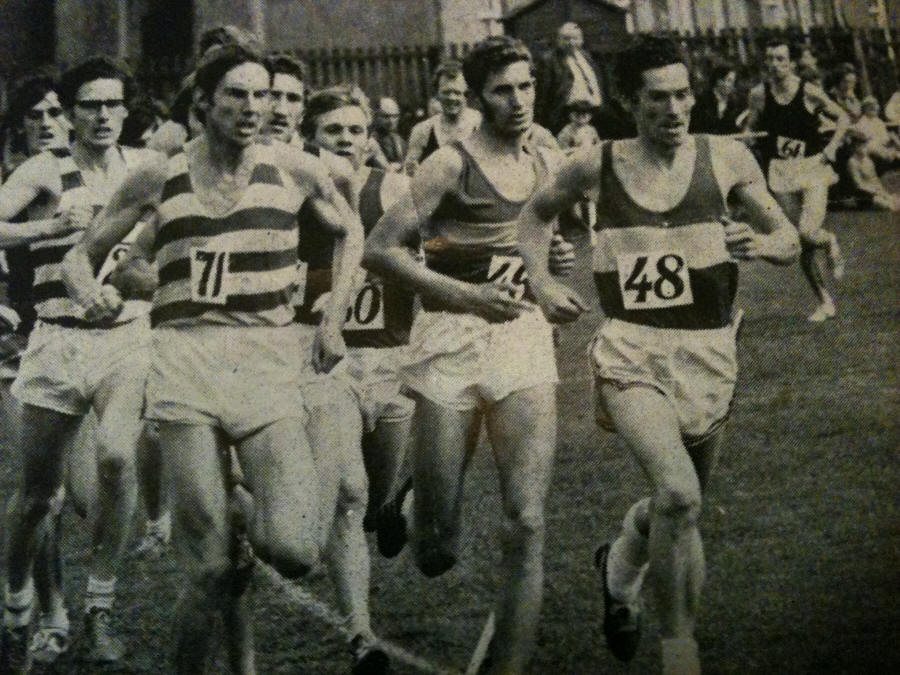 A Kind of Who's Who of Scottish distance running at Babcock's Sports
Including from the left: Pat Maclagan, Hugh Barrow (71), Dick Wedlock (49) and Lachie Stewart (48).
Despite his forays South of the Border with Sale Harriers, it is impossible to think of Hugh Barrow as anything other than a member of Victoria Park AAC in Glasgow. He wore the vest with the blue and white hoops with great pride and in all sorts of races having joined the club in 1958. He wore it on the track, on the roads and even, although he didn't seem to enjoy it as much, over the country. As an example, his whole-hearted commitment to the club can be seen in his running in the Edinburgh to Glasgow Relay Race. An eight stage relay between the two major cities which carried immense prestige, it was nevertheless left out of the programme of many good track men. Hugh ran in 14 races between 1964 and 1979. It was not a case of going through the motions because you were expected to do it. His very first run in the race was on the very difficult second stage: difficult because it was the second longest and difficult because it had almost certainly the very best runners from each of the invited clubs. It's not one to put out a first year Under 20 athlete. The first runner for Victoria Park was also a young athlete and he tried to shadow Alex Brown of Motherwell on the first stage – it was clear that that was his plan but he couldn't carry it out, blew up and handed over in sixteenth place. Hugh went out and brought the club through to seventh place in the second fastest time on the day only 20 seconds slower than Olympic 10000 metres runner Fergus Murray. It was quite an amazing achievement. That effort was given in all 14 races in which he raced on every stage except the short third leg. He won two silver and two bronze medals. He was a clubman par excellence well after his best days. This was as true of him as a committee man as it was as a racer: he held many positions on the Victoria Park Committee and was President from 1972 – 1977 and again from 1986 – 1992..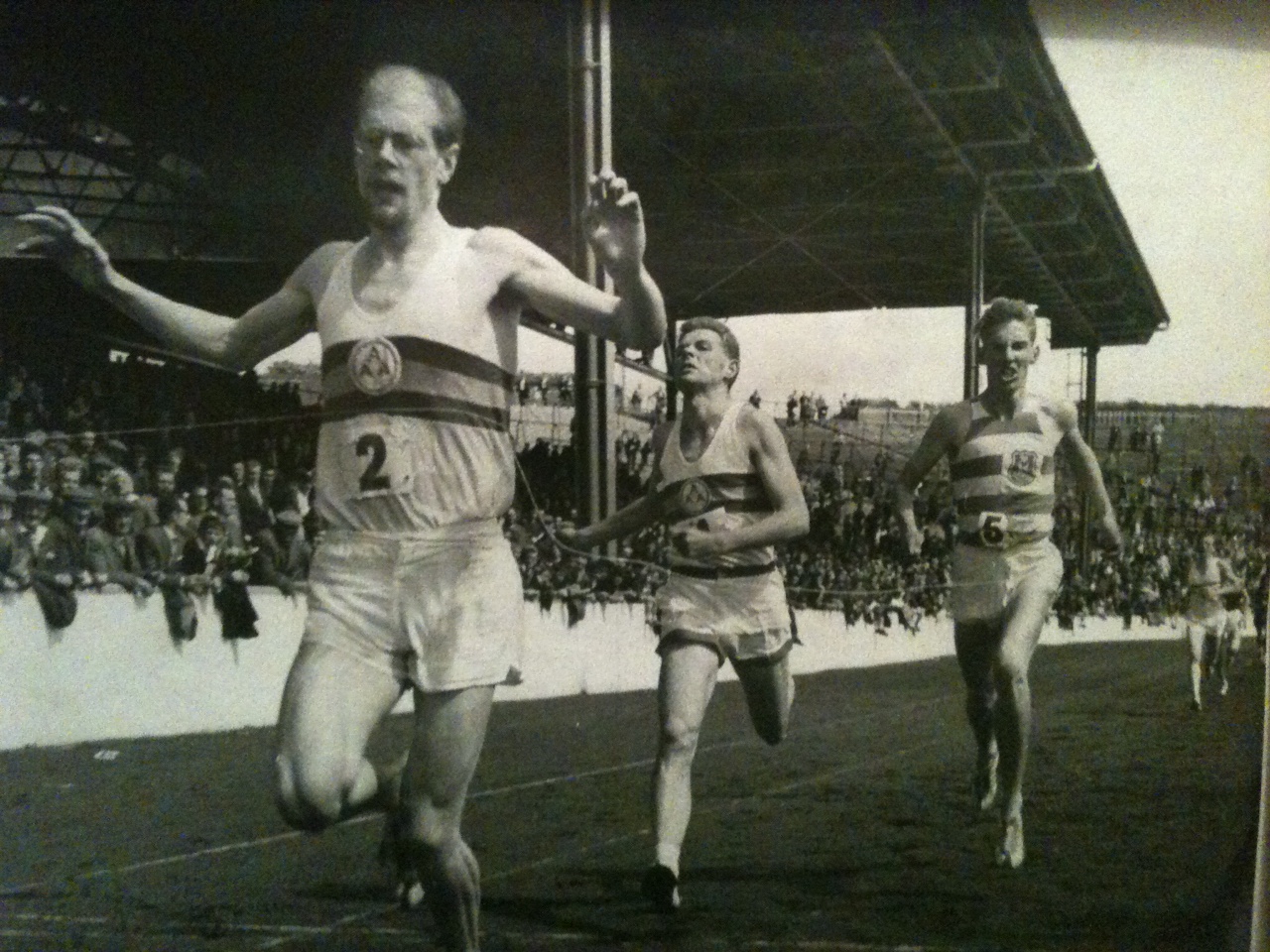 1962, the final Rangers Sports with Hugh in the Invitation Mile. In front is Peter Keeling with John Snowdon, and Hugh. Further down the track are Ken Wood, Jim McLatchie and Bert McKay.
Hugh was known to be good right from the start. As a Senior Boy he won the Scottish Cross Country Championship in 1960, just two years after joining the club. On the track, he won the National Youths (Under 17) 880 yards title in 1960 (1:58.4) and 1961 (1:57.5), the Junior (Under 20) 880 yards in 1962 (1:56.4) and 1963 (1:58.0). However, it is as a top class miler that he is best known and he actually set a World Age record for the mile of 4:10.9 in Santry Stadium in Dublin (the scene of many a world record and top class meetings organised by the showman Billy Morton) in 1961. In the race itself he was second to Irishman Derek Graham whom he had beaten the night before over 880 yards. Hugh was congratulated by Olympic 1500 metres champion Ron Delany. This record stood until 1964 until it was bettered by Dennis Carr of Lowell College with 4:08.7 but it was beaten almost immediately thereafter by the prodigy that was Jim Ryun who became an athletics legend and in fact, in November 2010, it still stands as fourth on the British All-Time lists for Under 17 athletes – only 1.3 seconds behind Alistair Currie in third. Hugh's times as a Junior were simply outstanding – apart from that world record – faster than any 16 year old had everrun the distance in the history of the world – he ran 4:09.1 at 17 and 4:07.7 at 18. That was also the year when he won the AAA's Junior championship. Looking at the times, run on cinder tracks without the benefits of shoe technology or paced races, these would still be good performances.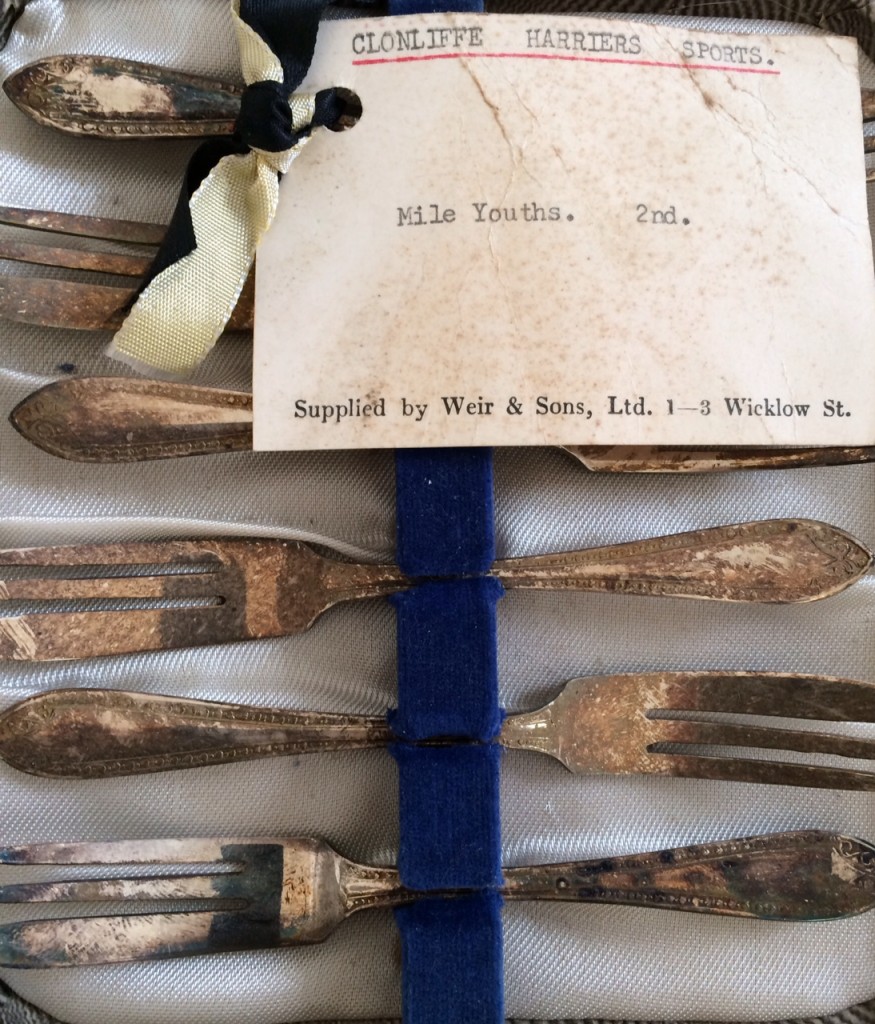 Hugh's Prize when he set the World Mile Record
When the British Milers Club was founded two years later in 1963 he was the very first member. He is still a member of this very elite club and still has Membership Number One. The club has since been responsible for a great improvement in British middle distance running and almost every British specialist in these events has been a member. Founder Frank Horwill is a big fan of Hugh's running and his attitude to racing. In the early 1960's the UK miling scene was not in good nick at all. The usual scene when the mile was run was 'joggity-jog' for three or three and a half laps before a scurry to the finishing line. Frank was scornful of these tactics and demanded that races be run hard all the way. In BMC organised races, pacemakers were used and even, against the prevailing heresies, paid. Hugh seemed to agree with Frank as his running showed. Never afraid to put himself on the line, he was prepared to 'go' early on if he felt that the pace was not on. Even today, in November 2010, Frank has a special regard for Hugh. When as BMC secretary for Scotland I organised any event – coaching meeting, race event, whatever – Frank would ask, "Is Hugh coming? Can we get Hugh involved?" Hugh is equally committed to the BMC and to fast miling: he sponsored meetings, organised street miles when he was with Strathkelvin District Council and took part in other events such as interviewing Steve Cram at Inverclyde when he was brought up to talk to some young athletes.
Staying with 1963 he recalls that he will never forget the afternoon where he ran in front of 130,000 fans at Hampden Park in 1963 as the prelude to Scotland beating England 2 – 0, with Davie Wilson and Eric Caldow scoring the goals. "… although we can sometimes be a bit negative as a nation, sport keeps producing these communal moments which help bring everybody closer together," he says. The link between football and athletics was relatively close at that time with sports meetings being held by for example, Ranger F.C., Falkirk F.C. and with races being held before or at half time in major football fixtures to entertain the crowds. They were of benefit to both sports giving the athletes an opportunity to race before big crowds and gain a higher profile and keeping the football fans entertained and in good spirits. It is a pity that they stopped. However at the end of the 1963 season , at the age of just eighteen, he appeared in the Scottish rankings for no fewer than four events: in the 880 yards he was third Senior and first Junior with 1:53.0, in the Mile he was first Senior with 4:07.7, in the Two Miles he was eighth Senior and second Junior with 9:02.8 and in the Six Miles he was eleventh Senior and first Junior with 30:23.6. Six Miles was as far as he was permitted to race as an Under 20 athlete – even a Ten Mile Race was not permitted to one so young at that time. Athletes living abroad were listed separately and top of that list was Jim McLatchie of Ayr Seaforth AAC with 4:07.9 which was run in America where he was studying on a sports scholarship. The comments on the event in the 'Scottish Athletics 1964' booklet were: "Here again the runners suffered from the lack of opportunities for fast races: the potential is there and could be brought out if sufficient scratch races were organised on good tracks. Barrow was clearly the best of the home Scots, but the impending return of McLatchie should bring about some interesting results."
It is always of interest to runners to look at the training being done by the top men in the sport and from a viewpoint 50 years later, the work he did is still very impressive. First of all, let's look at two handwritten training sheets from 1962 and 1963. The first is for his training leading up to the AAA's Junior Championsip in 1962 in which he was second to Roger Dollimore and looks like this.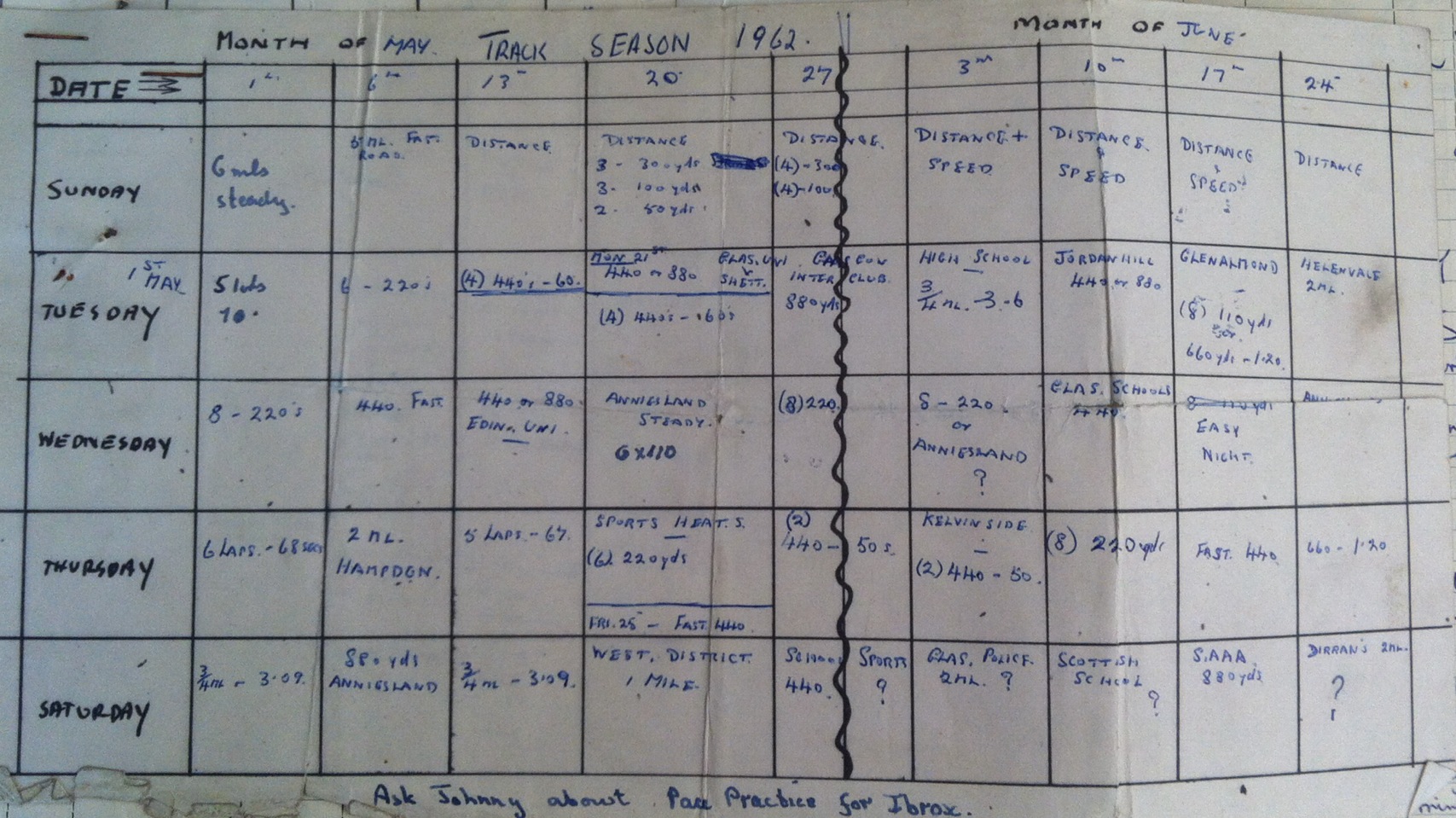 The second is from 1963 and is the run-in to the AAA's Junior mile at Hurlingham in 1963 which he won. These are of course the actual sheets used by him and not post-event, neatly typed out for circulation copies so we know exactly what was done. Both of these sheets were produced by his coach at the time, Johnny Stirling at the club.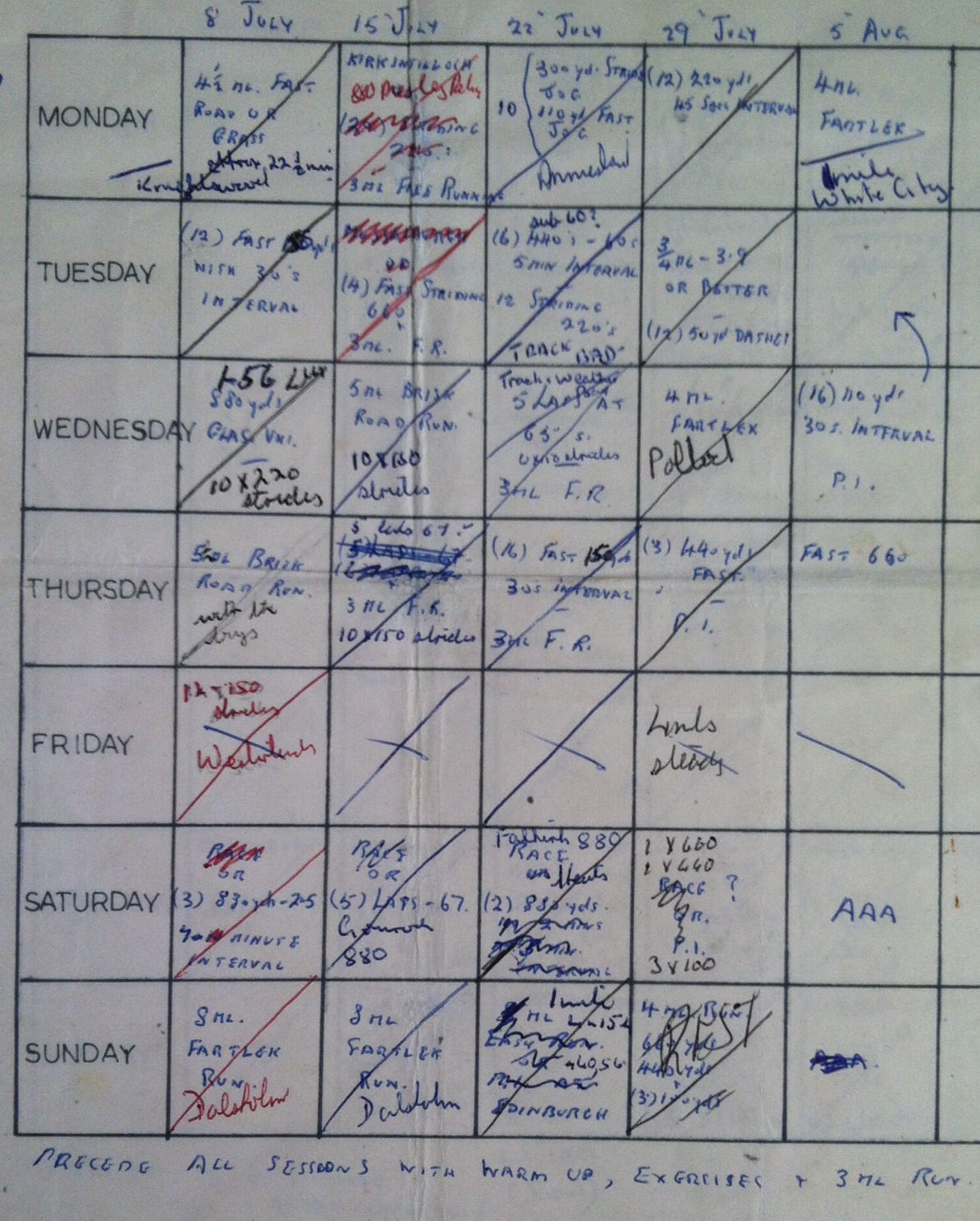 In an article for the 'Herald' in September 2009 by Neil Drysdale, Hugh is quoted as saying that "..it was a burning obsession of mine to become the first Scot to go under four minutes and when you have that kind of ambition, you will do almost anything to make the dream come true." He also points out that at that stage, Victoria Park had some fantastic competitors among their members and they would train seven days a week – and twice a day – if they had the chance. On the Scottish stage too at that point there was a real depth of middle distance talent – Graham Everett (seven times Scottish Mile Champion, AAA's Mile champion), Lachie Stewart (ultimately Commonwealth Games 10000 metres champion and multi record holder), the superbly talented Ian McCafferty as well as the Anglos such as Ian and Peter Stewart, John Wenk and others). He adds, "The memories are priceless, which is probably just as well. At that juncture, athletics remained a last defiant bastion of amateurism and woe betide anybody who envisaged making material gains from their efforts." On one occasion, after appearing as a guest of Arthur Montford on STV's "Scotsport", and receiving the princely sum of £1 for his pains, Barrow was peremptorily instructed to return the cash or risk ostracism from the track." (NB: see Dale Greig's experiences when running the Isle of Wight marathon and the letter from the AAA's to Ryde AC).
Hugh was widely regarded as the Scot most likely to break the magic four minutes – that goes for the top men in the sport and not just the journalists from the various daily papers. His biggest chance of all came in 1965 when, at the age of 21, he was invited by Bruce Tulloh of the International Athletes Club in London to race against World Record Holder Peter Snell and compatriot John Davies, who was also an Olympic medallist, and Joseph Odlozil of Czecholsovakia in Snell's last race in his British tour. What an opportunity!!! The invitation was what any miler in the continent, never mind the country, would covet. And then he picked up an injury and missed the opportunity. To make it even harder to take, five men were under four minutes in that race. A blow like that would have ended many a career – we are fortunate that Hugh stayed in the sport. The letter of invitation is reproduced below.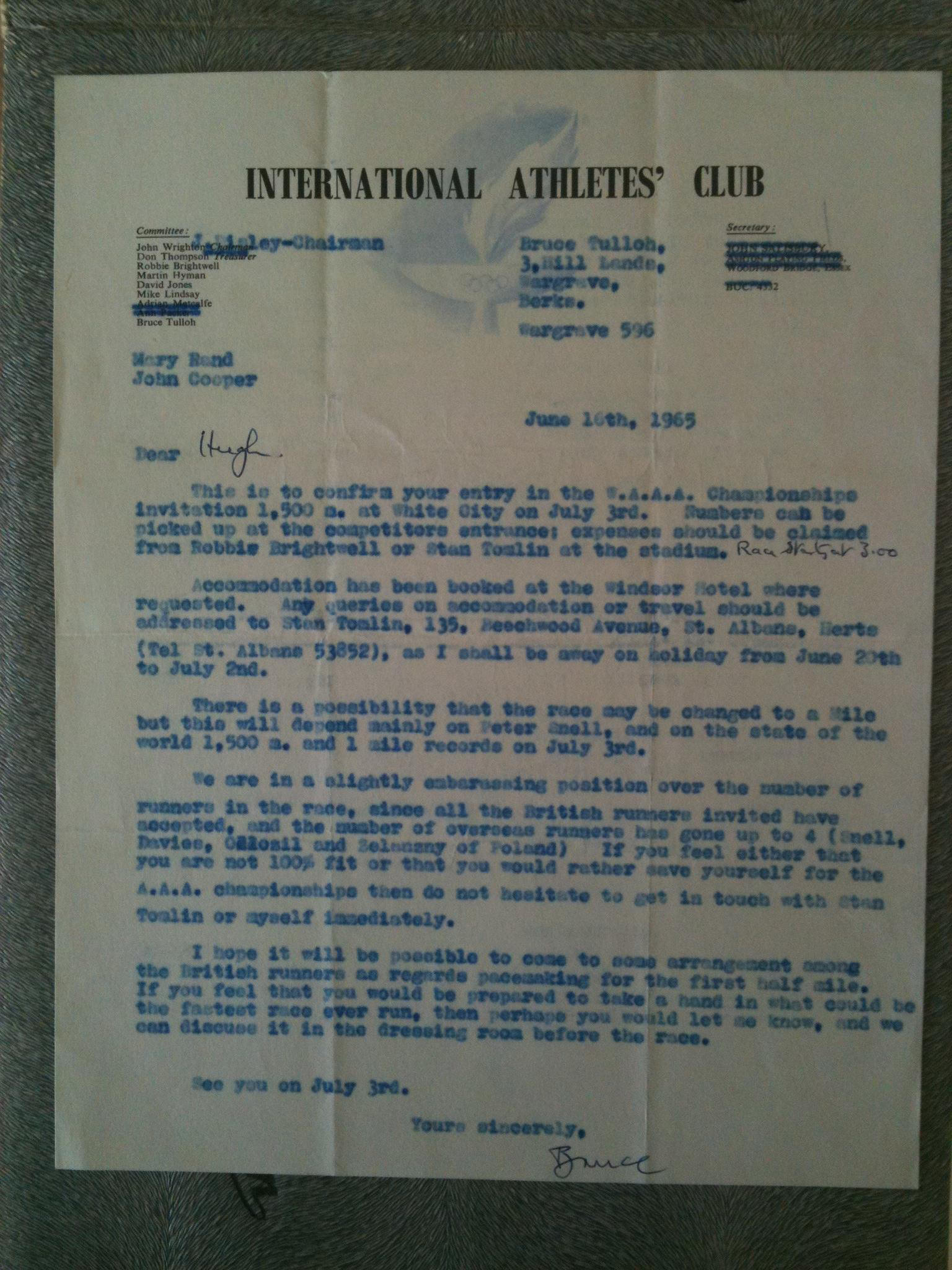 In the course of a wonderful athletics career the places he competed in were many and the incidents numerous and varied but there was an incident in 1965 which must be one of the treasured memories. The Mile has a magic that the 1500m will never match – the Magic of the Mile, the Perfect Mile, Master Milers, Masters of the Mile and so on all helped to perpetuate it. The simple fact of four times round the track is simpler to understand and the pace easier for athlete and layman to calculate must also be part of it and there is no mystery as to why 'invitation miles were (and still are – note the number of Street Miles still in existence) attractive. This incident concerns one such race.
"In the aftermath of the Olympics in Tokyo in 1964, where both Alan Simpson (Rotherham) and John Whetton (Sutton) both made the final of the 1500m, they became the dominant force in British in the middle distance scene at a time when 'invitation miles' were highlights in the programme for many meetings the length and breadth of the country. However Whetton, the King of the Boards', was dominant indoors and Simpson, the 'Head Waiter', dominated outdoors. This outdoors domination of Simpson led to promoters starting to lose interest in putting on invitation miles so it was felt that Whetton had to get an outdoor win over his rival to whet spectator appetite. So on a June Friday evening in 1965, we arrived at Mansefield Park, Hawick, for the Common Riding Invitation Mile. The field also included former world record holder Derek Ibbotson, along with the likes of Teviotdale's Craig Douglas, VP's Graham Peters and myself. It was felt that a Whetton win would help the attendance when the show rolled on to the Rockingham Miners' Gala Day in Barnsley scheduled for the following day. On a tight five laps to the mile grass track laid out on the rugby pitch, such was the dominance of the dynamic duo, it was agreed that Whetton would edge out Simpson coming off the last bend. However Graham Peters was not in the script and boxed Whetton in. I can still hear him shout to Simpson that he had to go it alone. As commentator we had the legendary Bill McLaren and although he sure knew his rugby he was a bit off the pace when it came to running and got a bit confused by what was happening. probably just as well. For the record: 1. A Simpson 4:03.7; 2. J Whetton 4:04.4; 3. H Barrow 4:06.0
It is difficult to understand in the twenty first century the quality of athlete competing frequently in Scotland in the 1950's and 1960's. For top class athletes like Hugh, the opportunity to face the best was more than welcome. For instance when the floodlights were installed at Westerlands on 18th October 1966, the official opening involved a rugby match between a Glasgow University Select and Hawick with lots of well known names in the teams but there was a mile race held at half time, which Hugh won, where the field included four of Scottish athletics' best ever half milers – Graeme Grant, Dick Hodelet, Duncan Middleton and Mike McLean – every one a Scottish champion, and every one a British internationalist.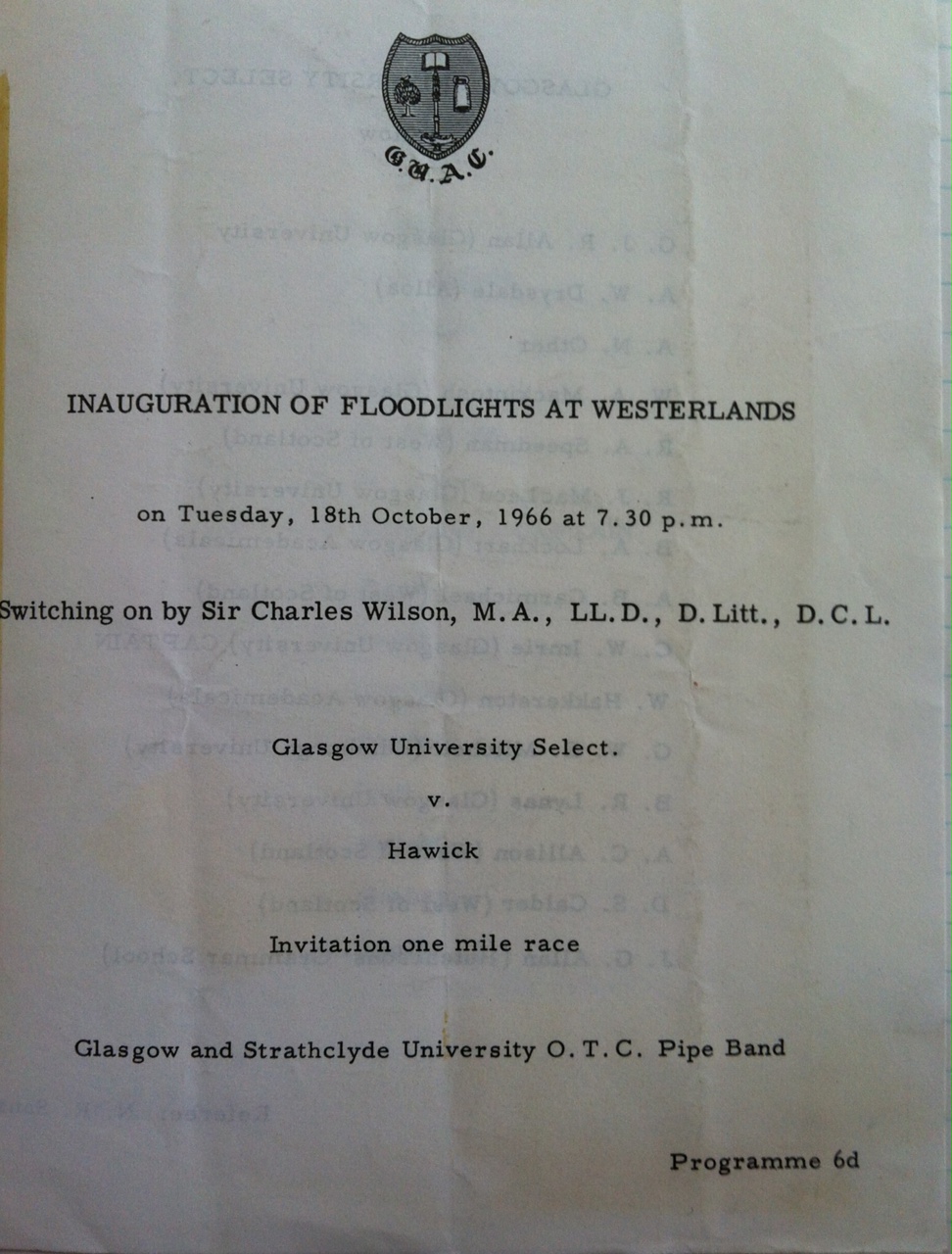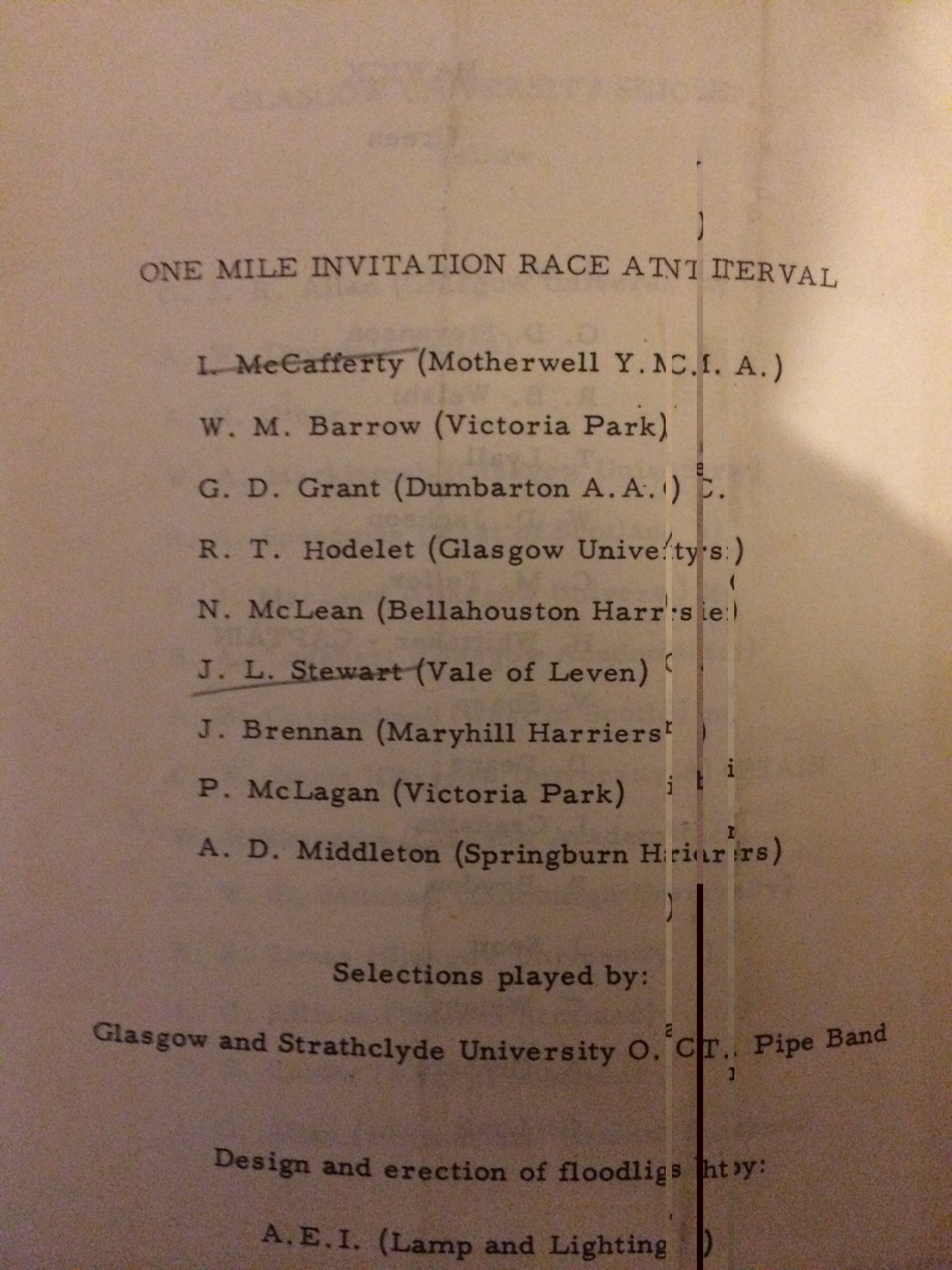 A look at the table of personal best times above reveals that in what are regarded as his peak years in his chosen middle distance events (880 yards to 10000 metres) were between 1966 and 1969. The shorter distances (100 – 440) were achieved earlier and the longer ones (from 20000 metres up) much later in his career. His annual progress and Scottish ranking places for the1960's are listed below. It should be noted that his 1964 season was curtailed through injury and that there were times when there were one or two Anglos ahead of him in the rankings that disguised to some extent his true position in Scottish athletics.
| | | | | | | | | | | | | | |
| --- | --- | --- | --- | --- | --- | --- | --- | --- | --- | --- | --- | --- | --- |
| Event | 1964 | Rank | 1965 | Rank | 1966 | Rank | 1967 | Rank | 1968 | Rank | 1969 | Rank | Comment |
| 880y | 1:55.5 | 12th | 1:54.0 | 10th | 1:55.01 | 13th | 1:50.3 | 2nd | 1:51.8 | 3rd | 1:52.6 | 6th | |
| Mile | 4:06.0 | 2nd | 4:03.1 | 2nd | 4:06.8 | 3rd | 4:03.5 | 3rd | 4:01.0 | 2nd | 4:06.8 | 5th | 1968: 11th GB |
| 1500m | | | | | | | | | | | 3:48.6 | 5th | |
| 2 Miles | 8:51.4 | 1st | | | 9:05.6 | 10th | | | 8:54.8 | 5th | | | |
| 3000m | | | | | | | | | | | 8:21.2 | 11th | |
| 3 Miles | 14:36.0 | 19th | 13:52.8 | 5th | 14:13.0 | 15th | | | | | | | |
| 6 Miles | | | | | 29:55.0 | 8th | | | | | | | |
| 10000m | | | | | | | | | | | 29:28.0 | 8th | |
It was a time when there were many very good middle distance runners in Scotland and Britain – the Scottish 880/800 scene had Mike McLean, Duncan Middleton, Dick Hodelet, Graeme Grant and Craig Douglas among the home Scots and the Mile had Ian McCafferty and Lachie Stewart sandwiched between the Graham Everett and Clement/Robson/Williamson eras; there were many Anglos competing too in his chosen events – John Wenk and John McGrow in both 880 and Mile with the Stewart brothers Ian and Peter being really world-class in the 1500/5000 metres events. Competition was tough, results were hard to come by and to be Scottish Number One was a pinnacle in its own right.
"IF YOU CAN'T KEEP UP, DON'T COME OUT"
Runners and coaches are always interested in the training done by the top athletes. When asked about it in the Scottish Marathon Runners questionnaire at the top, Hugh spoke of his approach to training and his belief that quality was far more important than quantity. What does he have to say about the training that he was doing during his early days? Arriving at Victoria Park in 1958 training was simple and unsophisticated. Winter training involved the traditional pack runs which were always of high quality but sometimes just 'eyeballs out' fast running. On Tuesdays it was five or six miles and on Thursday four or two and a half miles. The cry was apparently "No one in front of Binnie, no one behind Kane". (Interesting that a more formal version had been used in early days of road and cross country running where the pack was led by a designated 'pace' and kept in control by the 'whip' or 'whipper in' at the back) Ian Binnie was the club top dog at the time and Ronnie Kane was an established first team runner and Scottish internationalist. These runs were all from the Whiteinch Baths beside Victoria Park and they were all timed. "If you lost a few seconds going out the door, you never saw them again!" The Saturday run was again at Whiteinch or from Milngavie Laundry for six to nine miles of real cross country. On Sundays they would go to Mountblow Recreation Ground in Dalmuir Clydebank, starting with a run up the very steep, three quarters of a mile Mountblow Road for a run along the grass island for six to ten miles or on occasion turn left and run down the Boulevard to the junction with the 'Low Road' back through Old Kilpatrick and Gavinburn for a very hilly route. The training was all very simple and very hard. Hugh recalls once asking Binnie for advice and the reply was "If you can't keep up, don't come out."
The track training that he did with Johnny Stirling (see above) when he was running really well in the early days was based on Frank Stampfl's work with Bannister, Chataway and company. Other top runners of the time found the same source of inspiration – for instance Lachie Stewart says that the very first book on athletics he bought was 'Running' by Frank Stampfl which cost 2/6d when published by Four Square books in the late 50's. Hugh quotes sessions such as 8 x 440 in 60 seconds with a two minute recovery which was progressively reduced as they got fitter. This was the case with other sessions such as 4 x 880 in 2:5 starting with a four minute recovery; 12 x 220 in 27-29 seconds starting with a 90 second recovery. There were also three quarter miles time trials and the training was varied with 4 – 6 x 660 in as close to 90 seconds as possible. Two things strike me when looking at these sessions: the first is that there is a similarity to some of the training done a couple of decades later by the best British runners and given the times that he was running off it, then if sensibly applied it is a winning formula; the second is that there were no 'sets' mentioned. It was a number of reps – 12 x 220, 8 x 440, etc. The present generation do sets, like two sets of 4 x 400 in 60 which makes the session more manageable but it is harder to do eight straight off the reel. I have already mentioned Lachie Stewart and one of his lines when he was running well was that, in the Scottish weather, to break a session into two or even three sets meant having to do a warm up before every set!
How did he compare with others racing at the top level in the 1960's? The invitation quoted above from the IAC indicates that he matched up very well. These invitations did not come to everybody – they were sent to the right people for a particular task and Hugh received a good share of them. For instance when Kip Keino went to Dublin to have a go at Jim Ryun's world record for the mile of 3:51 at the famous fast Santry track. He had a call at the last minute from Dunky Wright to ask if he were available and told to fly out on a Sunday morning Aer Lingus to Dublin. The race was at half time in a football match and the Irish pace makers were two really outstanding athletes – Noel Carroll and Derek McLeane! The field went off like madmen and Mike Wigg of England collapsed on the last lap causing Hugh to hurdle him. Keino he says was a real gentleman, stood on the starting line looking down the track, Hugh says staring into eternity, jargon now would diminish it to 'focused' or some such, but the wind beat him and he only managed 3:56. Hugh missed the four minutes but the point being made here is that he was frequently invited to compete in that kind of company.
After being very successful with the coaching being done by Johnny Stirling, things started to get a bit stale about 1966. In such a situation, a runner always tries to analyse the situation himself apart from discussions with other athletes, officials and coaches. If the athlete is any good, every other coach wants a bit of the action and it can be very confusing. I knew a very good runner who went to live in London and he was approached by one club which said that he was too weak on the left side, they could help him by strengthening the other one, a second club said that the problem was alack of the proper balance, they could help with that and yet another said that the whole difficulty was with his weak back. This advice can all get too much and in that situation, the safe thing often seems to be to go to the national coach and see what he thinks. However it worked out in Hugh's case, he asked John Anderson, who had a very good middle distance squad indeed and started training with him. The work done altered and I reproduce part of one of his letters to Hugh which contained training sessions for him to carry out. There was regret at leaving Johnny who had done so much for him in the eight years they had been working together and the athlete coach relationship is a very special relationship, different from any other in sport. There was however no regret at moving to work with John at that point – he learned a lot from him too.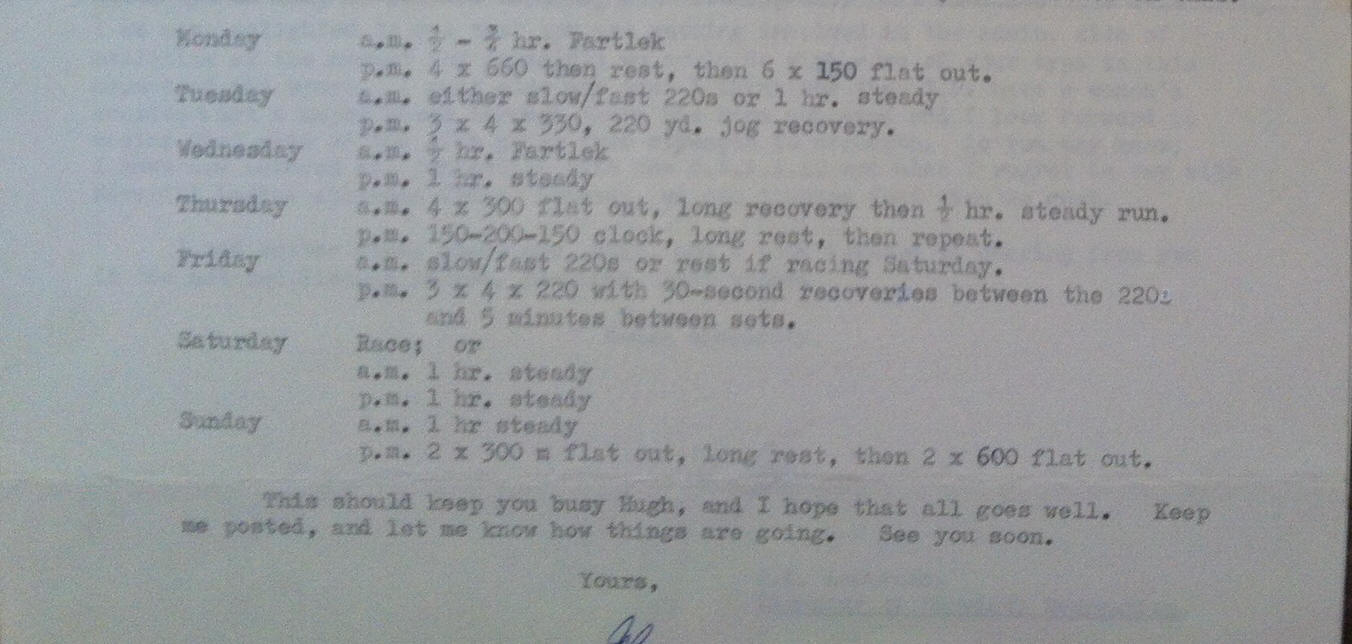 Through the 1970's Hugh's interests broadened and he gradually started to do more and more road running covering distances right up to the full marathon distance. He was known to be a good road runner over short distances such as the McAndrew Relays where he had set the fastest time, and up to 7 miles in the Edinburgh to Glasgow. He simply extended his range to 26+ miles! The personal best times for 20000 and 30000 metres were recorded in a SMC race held at Coatbridge organised by John Softley. He also of course continued to race cross-country for his club and to turn out in the Edinburgh to Glasgow Relays right up to 1979.
As will be noted from the above his last pb was set in 1980 and he continued running on the roads and country after that but his main contribution to the sport in the 1980's was the prodigious amount of work done in encouraging and organising events. As Scottish Secretary of the BMC I had received a fair bit of assistance from him and when I wanted to organise Coaching Days, he was able as Recreation Manager at Strathkelvin Council to help in various ways by finding us appropriate accommodation at Huntershill and at the Bishopbriggs Sports Centre. On the three occasions when Frank Horwill travelled up from London to take part, he was put up by Hugh. Then when the Springburn 12 Miles Road Race became the Strathkelvin Half Marathon and then, after sponsorship by the firm was obtained, the Luddon Half Marathon Hugh along with others such as Alistair McFarlane and Alex Johnston, worked really hard to make it a success. I believe that t was the most sponsored race in Scotland with many prizes – all of them of good value although some were kind of quirky – eg the winner of the Under 17 Street Mile one year won a year's supply of mince and tatties! After the first 'Luddon' he wrote of the experience in an article in the SMC magazine. I quote (selectively) from it. "I am sure that Alistair McFarlane will agree with me when I say that we both learned a great deal through this first attempt at promoting a large scale race. The support that I received from the various Departments of Strathkelvin Council was much appreciated and linked with help from Glasgow District Council and a wide range of voluntary organisations assisted in making this event a success, not forgetting the ever-present and long suffering race officials. There were several problems that we did not anticipate such as the 'Half Marathon' debate with the SAAA and the guidelines laid down by Strathclyde Police Traffic Section. The start time of 9:00 am was not negotiable and with race fields across the country ever increasing this may be one of the factors that race promoters will have to face. The police also required us to erect some 120 road signs and this led to expenditure of approximately £450 via the Automobile Association…. " Hugh goes on to detail several other problems, thank the volunteer organisations who had offered assistance and says that "… within 20 minutes of the manual input being edited the computer printout was available and the results were published in the Kirkintilloch Herald on the Tuesday following the event." That gives us a flavour of all the work that had to be done by Hugh and Alistair and was done willingly right up to the race and afterwards in planning for the next year. It really was a marvellous race – large fields, many top class runners every year, enough car parking, more than adequate stewarding and well-organised reception and number issuing procedures. There is more about the genesis of this event on Alistair McFarlane's page on this website.
Given the success in its first year, Hugh then decided that a Street Mile would be good for the runners and would be an extra attraction for sponsors while entertaining the spectators once the half marathon was out on the road. He invited me in to his office in Bishopbriggs and we decided that it would be invitation only, that there would be races for Men, Women and Under 17 Youths. The Youths would run with the Women to give the top athletes a hard race. The course came from Lenzie in the straight Kirkintilloch Road and apart from the sharp climb up to the shops in Lenzie was almost entirely downhill. Liz Lynch (later McColgan) won the Women's race in the first and third years, Yvonne Murray in the second; the Men's race had such stars as local hero Adrian Callan, fellow sub four minute miler Alistair Currie, GB steeplechaser Dave Baptiste from London, Tom McGrath the Irish Internationalist, Sam Wallace, the top Under 20 1500m runner in GB at the time and the Youths race had Glen Stewart, Frank McGowan, Bobby Mooney and several others of good quality. The responsibility for the course, marking, starting, time-keeping, recording and of course accommodation (which for the milers was at Lenzie Rugby Club with their own showers and a bar available!) were all dealt with by the Organising Committee.
Although he did not do it on his own and others on the Committee put in as much effort, Hugh's contribution was equal to any and was an indication that his enthusiasm, energy and devotion to the sport had not waned in any way. And of course he was still on his own club Committee until at least 1992 and was also a member of the SMC Committee while organising the Strathkelvin/Luddon Half Marathon.
When he left his post at Strathkelvin District Council he was very quickly snapped up by the West of Scotland Football Club (ie a rugby football club) as Secretary and was very successful there, had a year as President of the Glasgow Accies club. Secretary of the Glasgow Hawks from 1997 to 2007, he was President of the Accies from 2007, 2008. He also has responsibility for both the Glasgow Hawks and the Accies websites. His interest in athletics has never diminished – when we had the BMC Grand Prix in Glasgow in the early years of the new millennium, Hugh was there meeting old friends, enjoying the races and generally having a good time. Hugh was a top class athlete – and much more.
I have referred to Neil Drysdale's article on Hugh in 'The Herald' – the entire article can be found at www.glasgowhawks.com/news/6913 and is well worth reading. It is an excellent portrait of Hugh as a person and of the breadth of his sporting interests.
Hugh was still working with the Hawks and vitally interested in sport when the Commonwealth Games came to Glasgow in 2014. He was one of the first volunteers to work on his third Commonwealth Games and was also one of those chosen to carry the Games Baton. Before he did so, Kevin Ferrie wrote an article in the 'Herald' which makes very interesting reading and you can find it at
www.heraldscotland.com/mobile/sport/commonwealth-games/cwg-news/a-largely-unsung-stalwart-of-scottish-sport-hugh-barrow-was-quicker-than.24811624

Hugh answers the BMC Questions Colin's Cuttings The Frank Horwill Award