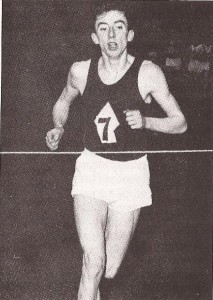 Eddie Knox was a top-class runner by anybody's standards and at Springburn Harriers he was the first of a whole series coached by international track and cross-country runner Eddie Sinclair. He was followed in rapid succession by such talents as George Jarvie and Freddie Farrell and several more including Graham Williamson who were brought along by Eddie. Very friendly and easy to get on with, Eddie Knox was always a club man too and was part of a very good group that included such as Harry Gorman and Mike Bradley.
Edward Knox was born on the 9th of May 1947. Eddie remembers his first attempt at running was when he was as a pupil at Chirnside Primary School. Heats were held for the Glasgow Schools Championships. These involved P6 and P7 lining up and running the length of the football pitch. He was so slow off his mark that it halfway before he caught them. The Championships were held at Scotstoun where they faced Hutchie Grammar, Glasgow High School among others, several wearing real track suits. Although defeated it was his first competitive outing. Then when he was in the third year at Possil Secondary where he ran in the school championships and other events, school mate Harry Gorman, who was already a member of Springburn Harriers, invited him along to the club. He was in the Under 15 age group at that time and left school at 15. After enjoying playing about with other events such as the discus he came to distance running. Someone gave him a pair of spikes and senior member Dunky McFarlane encouraged him to dubbin them to keep them soft. Unfortunately Eddie dubbined the soles as well as the uppers and the result did not initially have the desired effect! His first race for the club was in the Lanarkshire Championships where he finished seventh – in a Victoria Park vest! He had been coached by Eddie Sinclair right from the start. There were several packs for the boys who were taken out for a three-quarter mile steady run. Eddie was running at school every day and felt th pace of these runs was too slow so after two or three, he just took off and ran at his own pace.
As a Youth and a Junior he enjoyed tremendous success, culminating in a superb victory in the 1967 ICCU Junior International Cross Country in Barry, Wales. Although this quiet, popular man continued to represent his only club – Springburn Harriers – for several years after that, sadly Eddie did not manage to improve as a senior athlete. Eddie first appears in Colin Shields' centenary history of the SCCU (the source of several quotations in this profile) in 1964, when he won the National Youths Cross Country title. The 'Athletics Weekly' when reviewing the National Cross-Country Championships said, "The Youths event was as expected a fight between the Springburn runners E Knox and AD Middleton with Knox the winner by almost 40 yards, thus reversing the Midland District result when Middleton won and Knox was only third." On the track that summer, he won the SAAA Youth Mile at Meadowbank in 4.19.7, and also ran two miles in 8.58.6 and three miles in 14.30.6.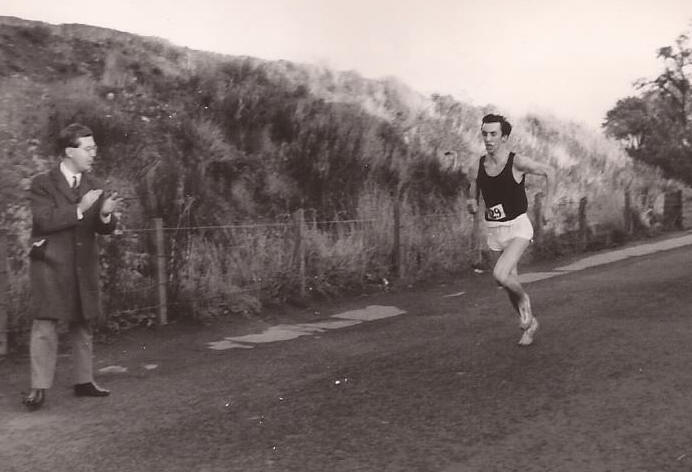 Eddie in the Kingsway Relay in 1966: Bob Dalglish supplying the encouragement
A Youth (ie Under 17) in season 1964-65 Eddie won pretty well all he set out to win other than the District championship which was taken by team mate AD Middleton. In 1965, Colin Shields commented, "Eddie Knox (Springburn H), with 30 wins in the past nine months, through a long, exhausting racing programme on track, road and cross country, won the Midland District Youths CC by the remarkable margin of 41 seconds." Springburn Harriers won the team championship. He went on to add the National Youths title, by 34 seconds from John Fairgrieve (Edinburgh AC), the Scottish Schools champion. "Eddie Knox of Springburn simply ran away with the Youths event to record his second successive victory in this race." After this performance, Eddie was selected for the Scottish Junior team for the ICCU Junior International CC at Wellington Racecourse, Ostend, Belgium. There he finished an excellent fifth (first Scot), just four seconds behind third place. On the track, Eddie improved his three miles time to 13.57.4, which ranked him as top Junior and eighth Senior in Scotland.
The report on the McAndrew Relay in October 1965 started with this. "there among the leaders was veteran I Binnie (Victoria Park) striding along comfortably with KD Ballantyne (Edinburgh Southern Harriers), E Knox (Springburn) and R Coleman (Dundee Hawkhill) …." The report on the first stage ended with "Despite having lost valuable yards when he mistakenly turned into Southbrae Drive from Anniesland Road (the marshal's faulty positioning there was soon rectified) Knox ran a great race and sent his second man off ahead of all the others." Eddie won the first stage with the sixth fastest time of the day although Springburn could only finish eighth. In the Kingsway Relays at Dundee two weeks later the club team was ninth but the report mentioned Eddie's fourth fastest time of the day with E Knox is rarely acclaimed in these road relays because his club, Springburn are unable to maintain the progress he gives them. On Saturday, he ran his club from eighth to first place in 13:32, the fourth fastest time of the day, but over the last two legs eight places were dropped." On 30th October, in the Midlands Relays at King's Park, Stirling, Eddie had the fifth fastest time of the day, twenty eight seconds slower than Lachie Stewarts's leading effort, with his team – Duncan Middleton, Moir Logie, himself and Davie Tees being fourth and just out of the medals.
In the Glasgow University road race at Anniesland, Eddie was not mentioned at all in the report despite finishing third behind Lachie Stewart and Bert McKay (Motherwell) but his recent running had been noted and he was selected that afternoon for the SCCU team to meet the British Army at Glasgow Green on November 27th. On the 20th of the month, Eddie ran in his first Edinburgh to Glasgow and some run it was. On the very hard second stage he moved his club up no fewer than seven places – from thirteenth to sixth – with the second fastest time of the afternoon. The 'Glasgow Herald's correspondent called it a "sterling run." In the report of the SCCU v British Army match, the focus of the race was the struggle between Lachie Stewart and Eddie Knox for first place. The victory went to the more experienced Stewart by 40 yards at the end. First Saturday in December was the county championship and Eddie was second to Bert MacKay in the Lanarkshire championship and the second Saturday was SCCU v Scottish Universities where Lachie won again and Eddie was second – both being inside Fergus Murray's course record at Cambuslang: Murray was third 20 seconds behind Eddie and behind him were the Brown brothers. He then won the club 5 miles championship on 18th December. In the Nigel Barge Road Race on 8th January, Eddie was second again to Lachie Stewart. "In second place was E Knox who at 18 runs with a maturity one associates with a much older person. Although he was 21 seconds behind the winner, his time was still 3 seconds inside the old record and for his efforts he won the prize for the first junior to finish.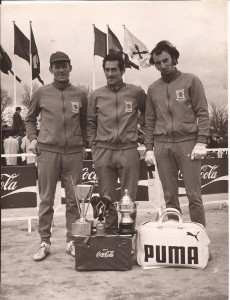 Bill Stoddart, Lachie Stewart and Eddie (right) in Madrid
Further progress was made over the country in 1966, when Eddie was a first-year Junior. On 8th October the club won the Lanarkshire Relays with Eddie being highly spoken of in the race report in the 'Glasgow Herald': "The winning trick was clearly going to be taken by Springburn when their ace in the pack, E Knox, set off determinedly after I Howarth (Motherwell) and Martin McMahon (Shettleston) in that order. Long before the half-way point in the two and three-quarter mile leg, Knox had the measure of the two others. Howarth in particular wondering where it was all going to end. McMahon comfortably overtook him for a clear second place for Shettleston." Eddie was equal third fastest for the day with Alex Brown (Motherwell). In the Midlands Relays at Stirling on 26th October, the Springburn team was fourth with Eddie's 12:24 their fastest club time by half a minute. On 5th November in the Glasgow University Road Race he was fourth behind Lachie Stewart, Andy Brown and Jim Brennan (Maryhill) but in front of Alex Brown and Dick Wedlock. On the 19th of the month, he ran the fifth fastest time on the difficult sixth stage of the Edinburgh to Glasgow Relay to lift his club from 11th to 9th. After the race he was told that he was a reserve for the Scottish team to compete against the British Army at Carlisle the following week: the selectors were at least keeping their eye on the first year Junior, and he was selected a week later for the team against the very strong Scottish Universities. The Lanarkshire Championships were held, as were all the county championships, on the first Saturday in December and Eddie did well in what was possibly the strongest of these to finish fifth. The match against the Universities was held from King's Buildings in Edinburgh and Eddie was fourth behind John Linaker, Alex Brown and Gareth Bryan-Jones. It was three very good runs on successive Saturdays.
Lachie went on to win the Midland District Senior CC, with Eddie Knox "one of the youngest runners in the race, second (but winning the District Junior title). The strong whipcord frame and sharp features of Knox would become familiar in championship events as his talent and strength gained him many successes." The redoubtable Ian McCafferty (Law and District) retained the National Junior CC, 49 seconds in front of Eddie Knox and Alistair Blamire (Edinburgh University). In the Junior International Championships at Soussi Racecourse, Rabat, Morocco, Eddie Knox ran brilliantly to finish third, just five seconds after the silver medallist. He also led the Scottish Junior team to bronze medals, behind England and Belgium. Colin Shields' report on the race read, "Eddie Knox showed his ability in the Junior race when finishing third, just five seconds behind the silver medal position, with the Scots team continuing their good record when finishing third of eight countries behind England and Belgium." During the track season, Eddie recorded 4.18.4 for one mile (thus winning the Scottish Junior title in a new championship record); and 13.48.4 for three miles (eighth in the senior rankings).
1967 proved to be Eddie Knox's best year. He started by recording a third place behind McCafferty and Stewart in the Nigel Barge Road Race – 27 seconds behind the winner and two seconds behind Stewart. Springburn was third in the team race with Knox 3, Harry Gorman 18 and Davie Tees 24. The following day he was second, 160 yards down, to McCafferty at Grangemouth in a 5.75 mile race with Springburn (Knox 2, Ian Young 3, Davie Tees 7, Harry Gorman 15, Moir Logie 18, Alan Picken 19) first team. He followed this a week later by finishing second to the flying McCafferty in the Springburn Cup road race at Bishopbriggs. After lamenting the absence of Lachie Stewart and lauding 'the flying McCafferty' the Glasgow Herald reporter had this to say, "A spirited assault by E Knox was worth watching. In only his second year as a Junior competitor, Knox has still much physical development to come. There can be no doubt that in the National championship next month he will be a worthy successor to his conqueror on Saturday." With Harry Gorman 12th and Davie Tees 17th, the team was second to Motherwell for whom the Brown brothers were fourth and fifth. Missing the West District Championships the following week, he was out again on 28th January in the Edinburgh Southern Harriers 4 x 2.5 mile relay where he was second fastest behind Andy Brown's record breaking time of 11:34 with 11:37. A week later he won the club Junior championship by 13 seconds from Harry Gorman. It was two weeks to the National Junior CC at Hamilton Racecourse which, Colin Shields said, "was the closest race of the day, with Eddie Knox and Alistair Blamire locked together throughout the five miles. Neither would give way, whatever the pressure applied by the other until, in the final 100 yards, Knox forced his way ahead for a narrow one second victory over Blamire, who had the satisfaction of leading his EU team-mates to gold medals." Ron Marshall in 'The Glasgow Herald' commented "the battle in the Junior race between E Knox and J Blamire was the feature of the afternoon. Over all but the last 100 yards of the five miles they were inseparable, but over that last vital stretch Knox got his head in front and managed to repulse Blamire's dying effort." Following the race four Juniors were chosen for the International – Knox, John Myatt, Norman Morrison (Shettleston) and Jim Cook of Garscube. Only one week later Eddie ran a disappointing race in the English National when finishing nineteenth. Then at Barry in Wales, Eddie Knox emulated Ian McCafferty (in 1964) when he became Junior International Cross Country Champion "in an exciting race. He was in the leading group throughout and edged his way into the lead 400 yards from the line, holding on for a two-second victory over a Belgian, Eddie van Butsele. Scotland finished third in the team championship." That was Colin Shields' take on the race but the 'Glasgow Herald' noted only the result while reporting at length on the Seniors and ignored Scotland's only victor. However, when publishing his own Scottish cross-country ranking list, Ron Marshall had this to say about him: "It was hard to fit our brilliant Junior into this list because he is segregated in the big meetings but I felt he was good enough to rub shoulders with our top half dozen Seniors. On the occasions when he has run against them, he showed up well as his record will show. As a Junior he won the National and International titles, what more could we ask?"
In the summer, Eddie started out with a win in the West District Championships on a foul afternoon at Westerlands in 13:54 from Alex Brown and Pat Maclagan. The following week it noted that he was leading the Springburn Harriers club championships with 27 points. On 24th June at Meadowbank, Eddie won a bronze medal in the SAAA three miles championship behind Lachie Stewart and club mate Ian Young running in the colours of Edinburgh University in a time of 14:14. His fastest three miles that season was 13.54.0 (8th in the rankings for a third time). He also improved his one mile best to 4.15.1.
Into the 1967-68 season and the first race was the McAndrew Relay at Scotstoun and there Eddie was second fastest, only one second down on Ian McCafferty but ahead of the rest of the field including Andy Brown, Alex Brown, Pat Maclagan and Gareth Bryan Jones. One week later he was third fastest, this time behind Alistair Blamire and Alex Brown, in the Lanarkshire AAA road relay race at Bellshill. This was followed by fastest time in the Dundee Kingsway Road Relay the following week. The race was a real battle between Shettleston and Aberdeen but the 'Glasgow Herald' pointed out that "It mustn't be thought that the other clubs were mere props for for the display of these two clubs. Springburn Harriers, for example, were close enough to Shettleston at half way to cause consternation in the camp. And the man doing the damage was Knox, the Junior international cross-country champion. He started the second leg in eighth or ninth position, forged up the brae at the Old Glamis Road into fourth, and flicked into overdrive on the level run of nearly a mile along the Kingsway. His quarries were Ballantyne (Edinburgh Southern), Ewing (Aberdeen) and Scally in that order. The first two he managed but the third was just out of range by 10 yards. Knox had the satisfaction, nevertheless, of running 13:28 easily the fastest of the day." Second quickest was Bill Scally in 13:40 and the Springburn team was fourth. In the Midlands District relay at East Kilbride seven days later, Springburn was second behind Shettleston but this time Eddie was third fastest in the race but only second fastest in the Springburn team! Harry Gorman whose running had been erratic so far ran out of his skin on the third stage to turn in a time of 14:02 which was four seconds faster than Knox. The team was Alan Beaney, Harry Gorman, Eddie Knox and Dunky Middleton. Incidentally, Harry was only one second off the fastest of the day which was down to Dick Wedlock of Shettleston. The first Saturday in November meant the Glasgow University Road Race and Eddie was second to Lachie Stewart, only two seconds down. On November 11th, he won the club trial for the Edinburgh to Glasgow Relay breaking the course record by 19 seconds. He beat Harry Gorman by 12 seconds, so he was inside the old record too. Then running on the second stage in his third Edinburgh to Glasgow relay, he held on to fourth place with equal second fastest time. On 28th November Eddie ran in the representative match between the SCCU and the English Northern Counties and finished fifth for the team in an overwhelming SCCU victory. On the same day he was selected with Jim Alder and Lachie Stewart to run in Granollers, North of Barcelona and for the bigger SCCU team to meet the Scottish Universities on 9th December. On 2nd December he was second in the Lanarkshire Championships to Ian McCafferty.
Then on 9th December 1967, the report read "in a stirring contest over a grassland trail at Knightswood, which was not affected by snow, the Scottish Cross Country Union select snatched a six-point victory from the Scottish Universities representatives in the annual six miles team race. Holder of both the Scottish and International Junior cross-country titles, Eddie Knox gave an outstanding performance to win his first major senior event and so gain first place points for the SCCU team. However, while the slim, lightly-bearded 20-year-old Springburn Harrier, who was runner-up to Ian McCafferty the previous week in the Lanarkshire championship, dictated the pace for almost the entire distance and seemed to have the race comfortably won a mile from home, he was all but caught on the tape by Alistair Blamire of Edinburgh University Hare & Hounds, who closed in on Knox with a typical last-gasp finishing burst. Knox won by two seconds." As we might expect, Ron Marshall in the 'Glasgow Herald' added to the detail the following Monday, "In some races it is hard to say whether the pace is fast but the impression was of the leaders being jet-propelled round the springy grass circuit. E Knox (SCCU) and A Blamire (Universities) ran like machines stuck in top gear and making no concession to the hillocks they encountered all along the way. But machines cannot show the feelings and the faces of these two – Knox in front desperately trying to shake off his long-haired assailant and with perhaps just a touch of anxiety in his eyes and Blamire stretched to the limit, refusing to admit he has reached it, retaining the cold grimace of challenge about his features. Knox won all right but only two seconds separated them at the finish."
On 8th January 1968, Eddie was eighth in a very high-class Nigel Barge race at Maryhill to get the New Year off to a fairly good start – he was only 25 seconds down on the winner, Gareth Bryan-Jones. On 13th January he was fourth in the Springburn Cup race, a position that Ron Marshall found difficult to understand since he was the outstanding man in the field, he hinted however that with the Midlands championship the following week (he had never won a Midlands title) he was just out for a spin. But when it came to the race, with Stewart and McCafferty racing on the Continent that day, Eddie could only finish eleventh, explaining that he was still suffering from a cold. As part of a Scottish team along with Jim Alder and Lachie Stewart, Eddie travelled to Hannut in Belgium on 3rd February. Lachie won the race, Jim Alder was seventh and Eddie was sixteenth to be second in the team race. Eddie didn't run in the club championships the following week.
On 24th February 1968, Eddie Knox was second to John Myatt (Strathclyde University) in the Scottish Junior Cross-Country Championship. The 'Glasgow Herald' commented initially that Myatt hammered Knox but then described the race thus: "Myatt won by 60 yards from Knox in the five and a half mile race for the Junior title. Both runners drew clear of the field of 160 early on but Knox, struggling to find his form, found it difficult to keep in touch with Myatt who by half distance was in complete command." It is interesting to note that Alistair Blamire (one year older) had improved considerably to gain a silver medal in the Senior National, only one second behind Lachie Stewart (Vale of Leven). Myatt and Knox were listed as reserves for the Scottish team to run in the International in Tunis on March 16th. There was no doubt however of Blamire's inclusion.
In summer 1968, Eddie did not run in the Open Scratch meeting at Scotstoun on 11th May where Harry Gorman won the Mile from Mike Bradley of Paisley, nor did he contest the West Districts the folllowing week at Westerlands where Ian McCafferty won the Three Miles in 13:50.3 from Lachie Stewart and Alex Brown. Nor was he placed in the SAAA Championships at the end of June nor did he appear in any results in the 'Glasgow Herald' for that summer. He did however appear in the rankings with, by his own standards, not very good performances: 14:37.6 for 5000m and 8:37.6 for the Two Miles.
Into winter 1968-69 and Eddie ran for the Sprinburn team that finished fourth in the McAndrew Relay with a time of 14:11, ten seconds down on Harry Gorman and only third fastest for the club. There was very little coverage of domestic athletics over the next three weeks due to the extensive reporting on the Olympic Games but in the second week in November there was no Eddie Knox in the Springburn team for the West District Championships. Eddie ran in the Edinburgh to Glasgow on the 15th November, on the sixth stage, and held seventh position for his club with the sixth fastest time of the day in a really star studded field. Probably because of this and his known quality, he was on November 25th he was selected for the SCCU team to take on the Northern Counties the following week. In the race itself he was fifth in 27:23 with Alistair Blamire winning in 25:50. Nothing was heard of him in a competitive sense for the remainder of 1968 and it was into 1969. Eddie first appears in the results when he was seventh in the Midlands Championships at Cleland on 18th January being third Springburn runner in the team that won the championship. In February 1969, Eddie Knox finished sixteenth in the National CC on a frozen Duddingston Park, Edinburgh. The course was one of the worst I have ever seen or run on for a National Championships – five one-and-a-half mile laps of a frozen Duddingston Golf Course in Edinburgh with steeplechase barriers substituting for natural obstacles. At one point where there were two such barriers side by side, some of the runners at the start just pushed it over and the official to the side was shouting for the remainder of the field to "go over the one still standing!" Many dropped out, others ran well below their capabilities and yet more just did not start. But with the international that year to be held in Scotland in Clydebank, almost all of the top men were there. Eddie's sixteenth was actually a good run – behind him were Alastair Wood (17th), Alistair Blamire (18th), Craig Doiuglas (19th, Jim Brennan (20th) and Ken Ballantyne (21st); immediately in front was Andy Brown. But there was no international for him in 1969.
The 1969 track season started for Eddie at the Land'O'Burns Trophy Meeting at Ayr on 17th May when, on a very blustery day not conducive to track endurance running, he was second in 14:12.9 to Dick Wedlock (14:09.4) in the 5000m. In the West District Championships two weeks later, Eddie stepped down a distance to the 1500m where he was second to Mike Bradley of Paisley (3:57.4) in 4:00.2. He was unplaced at the SAAA Championships in Grangemouth that year but by the end of the year he had managed to have two performances recorded in the national rankings: in the 3000m he had 8:37.6 which placed him 18th and in the 5000m he had 14:37.6 which placed him 21st.
In October 1969, Eddie Knox received a wee mention in Ron Marshall's coverage of the McAndrew Relay at Scotstoun, Glasgow. "Springburn Harriers had their troubles. Eddie Knox, their lead-off man was somewhere round the course, limbering up when the starter's gun went off. He eventually got away some two-and-a-half minutes late and subsequently the team failed to make the first ten places when they might have been expected to make the first three or four." He redeemed himself the following week in the Lanarkshire relays when the report read: "Eddie Knox (Springburn) showed a complete return to his best form when he he completed the course in 11:51 – the fastest time of the day – and gave his team a lead after the first leg." Dick Wedlock was second fastest on 11:52 and Alex Brown third on 12:00. The Springburn team was second in the Dundee Kingsway relay the following with a team of Tom O'Reilly, Harry Gorman, new runner Mike Bradley and Eddie on the last stage. He had fifth fastest on the day. In the Midlands relay the following week, Springburn was third team and Eddie was third fastest on the day. On November 8th he was second to Pat Maclagan (Victoria Park) in the Glasgow University Road Race. Then he was eighth fastest on the sixth stage of the Edinburgh to Glasgow holding ninth position. Eighth doesn't sound too hot until you realise that among those ahead of him were Fergus Murray, Lachie Stewart, Alastair Blamire, Jim Wight, John Myatt and Alex Brown! On to the inaugural Allan Scally Relay at Barrachnie and with the team in second place Eddie ran a good if undistinguished last stage. On 29th November at Edinburgh Eddie was a member of the SCCU team which beat the British Army – and won the race ahead of Bill Stoddart to win the team contest. In the Lanarkshire Championship on 6th December, Eddie was third behind Lachie Stewart and Dick Wedlock of Shettleston, and the team finished second.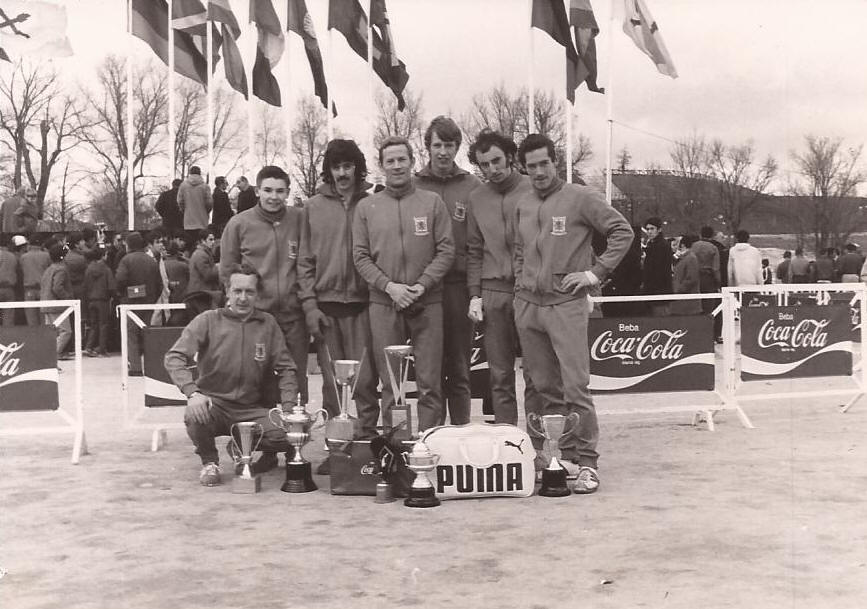 On 13th December, he finished second behind Adrian Weatherhead (EAC) in the SCCU versus SU contest at Paties Road, Colinton, Edinburgh. Ron Marshall again, Adrian Weatherhead made most of his local knowledge by leading virtually from start to finish of the one-and-a-half mile course which they covered four times. He was being harried considerably by Eddie Knox and Gareth Bryan-Jones in conditions that would have deflated a lesser competitor. 'The wind was cutting me in half but when I looked round the gap wasn't closing at all,' Weatherhead said after the race. He swept over the finishing line 20 yards ahead of a fast-finishing Knox with Bryan-Jones third, but two minutes later there was a shock for Knox. He was disqualified for not wearing a number. His initial reaction was unprintable but he then followed that up with, 'It's my favourite trick.' Apparently Knox has a habit of overlooking this footery but important detail." Anyway his lapse did not stop his selection for Granollers in Spain the following Saturday. He ran well here too. Weatherhead was the leading Scot in seventh (24:58.6) with Knox fourteenth (25:26.2) and Wedlock fifteenth. (25:28.2).
In the Nigel Barge race on 9th January 1970, Eddie was ninth in a very strong field indeed. With teh Commonwealth Games to be held in Edinburgh that summer every distance runner in the country started the year with the intention of impressing the selectors early and often! Alistair Blamire was the victor at Bishopbriggs the following week with Pat Maclagan second and Eddie Knox in a race enshrouded in thick fog. Running in Lenzie on 24th January Ian McCafferty had one of his really brilliant runs and Eddie In second place was seventy two seconds back. On his day, McCafferty had to be one of the best runners in Europe if not the world and Eddie caught him on such a day in Lenzie in the Midland Championship. Most clubs held their championships on 7th February that year and "Eddie Knox overwhelmed the opposition in Springburn Harriers club championship, defeating Harry Gorman by over three minutes." He was on international duty again on 14th February in Madrid when he was nineteenth behind Lachie Stewart (1st) and Bill Stoddart (10th). He was reported to be on the fringe of selection for the Scottish team for the international along with Norman Morrison, Bill Mullett, Gareth Bryan-Jones, Bill Stoddart, Don Macgregor and Adrian Weatherhead. In the National at a wet and unpleasant Ayr Racecourse, Mullett was 3rd, Morrison 5th, Weatherhead 6th, Stoddart 9th, Macgregor 12th and Bryan-Jones 13th with Eddie down in 20th.. The first three made the team and Eddie had run his last international championship.
In summer 1970 Eddie's best 5000m was slower than in 1969 on 14:38.6 and 18th place. In summer 1971 he wasn't ranked at all and in 1972 he was ranked in the 3000m (838.0, 22nd), 5000m ( 14:41.0, 24th) and 10000m (30:42.6 14th). Despite track results slipping from his own high standards his country and road running was still good.
Winter 1970/71 and in the McAndrew Relay Eddie was a member of the Springburn team that finished fifth but was the third fastest member of that team. He was also third fastest of the club in the Lanarkshire relays the following week when the team was third behind two good Shettleston teams. On November 7th Springburn was second in the Midlands Relays with Eddie second fastest club man behind Harry Gorman. In the Edinburgh to Glasgow Relay on 21st November, Eddie ran the sixth stage and dropped one place (from sixth to seventh) in a team which finished ninth. On 7th December in the Lanarkshire championship Eddie could only finish twelfth and his team was second with Mike Bradley fifth and Tom O'Reilly twenty first. In the District championships, he was seventeenth finisher when Springburn was fourth. In the National in 1971 he was twenty third and second Springburn Harrier, Mike Bradley in sixteenth being first. There were no ranking places for him that summer at all in any events but he went into the 1971/72 winter round as a regular member of the Springburn team.
Running on the third stage of the McAndrew Relay he was part of the team that finished fourth. In the Lanarkshire relays the following week, Eddie ran on the second stage and kept Lachie Stewart at bay until the very last stride but nevertheless he had the fourth quickest time, behind Stewart, Ron McDonald and Jim Brown, in the victorious Springburn team which also won the Youths and Boys events. In the Edinburgh to Glasgow he ran on the mostly downhill fourth stage and held third place with the fifth fastest time of the day. On to December and on the fourth of the month, in the Lanarkshire championships Eddie Knox was fifth finisher behind McCafferty, Borwn, McDonald, Wedlock and Morrison to lead his team to third place. He finished 1971 with second fastest time to Mike Bradley in his club's Christmas race. In January 1972 there was a clash of fixtures when Springburn moved their road race to the date already slated for the classic Nigel Barge race at Maryhill. Most runners went to Maryhill but with big prizes on offer many of the fast men went to Bishopbriggs. It was Eddie's home race and he went along and performed very well indeed to be fifth, less than a minute behind winner Dick Wedlock. Obviously running better than in 1971, Eddie was second to Mike Bradley at the East Kilbride road race the following week and with Harry Gorman in fourth they easily wn the team race. In the West District championships, Eddie Knox "gave possibly his best performance of the season" when finishing fourth behind McCafferty, Jim Brown and Alistair Blamire. One week later at the end of January, Eddie won the Inter-Counties race from Jim Wight by three seconds after taking an early lead. This had clearly been his best start to the year for some time. In the National, held at Currie when the government was operating a four day working week, many athletes were unable to attend but Eddie was a very good tenth in a race dominated by a duel between Jim Alder and Ian McCafferty. The following week in the Grangemouth 'Round the Houses' race, Eddie was third behind Jim Dingwall and Willie Day and only half a minute behind the winner. Into the summer season of 1972 and in the Lanarkshire championships at Carluke on 14th May, , Eddie won the 5000m in 14:52.2. In the West District Championships which took place at the same venue just two weeks later he was second in 31:23 in the 10000m behind Willie Day of Falkirk (31:04.4). By the end of that summer, he had best times of 8:38.0 (3000m), 14:41 (5000m) and 30:42.6 (10000m).
Although Eddie did not appear in the official track rankings after 1972, he continued to run on the roads and over the country for several more years, always well and occasionally very well, which can be noted in the following table.
| | | | | |
| --- | --- | --- | --- | --- |
| Date | Race | Time | Place | Comments |
| Nov 1973 | Midland Relay | 13:11 | Team 4th | J Lawson 7th, H Gorman 1st, A McFarlane 3rd, E Knox 4th |
| | E-G | Stage Six | Dropped from 5th to 7th | Very high quality year: D Macgregor, G Hannon (NI), N Morrison, D Logue, J Dingwall, etc |
| 19th Jan 1974 | Midland Championship | | | No result available, Springburn won the team race so he probably ran |
| 16th February 1974 | National Championships | Not in first 50 | | |
| November 1974 | Midland Relay | 13:28 | 9th fastest time | T Paterson, E Knox, J Martin, J Lawson |
| | E-G Relay | Stage Six | Maintained 5th | Sixth fastest time |
| 18th January 1975 | Midland Championship | 32:59 | 8th | Winner 32:33 |
| 15th February 1975 | National Championship | 38:22 | 15th | A very good national against all the top men in the country |
| 15th November 1975 | E-G Relay | Stage Four | Maintained 11th | 7th Fastest |
His complete track ranking are in the following table.
| | | | |
| --- | --- | --- | --- |
| Year | Distance | Time | Ranking |
| 1964 | 1 Mile | 4:19.7 | 20 |
| | 2 Miles | 8:58.6 | 5 |
| | 3 Miles | 14:30.6 | 16 |
| 1965 | 2 Miles | 9:03.0 | 12 |
| | 3 Miles | 13:57.4 | 7 |
| 1966 | 1 Mile | 4:18.4 | 26 |
| | 2 Miles | 9:08.0 | 13 |
| | 3 Miles | 13:48.4 | 8 |
| 1967 | 1 Mile | 4:15.1 | 25 |
| | 2 Miles | 9:17.2 | 28 |
| | 3 Miles | 13:54.0 | 8 |
| 1968 | 1 Mile | 4:16.8 | 19 |
| | 2 Miles | 9:09.4 | 19 |
| 1969 | 3000m | 8:37.6y | 21 |
| | 5000m | 14:37.6 | 18 |
| 1970 | 5000m | 14:38.6 | 18 |
| 1972 | 3000m | 8:38.0 | 22 |
| | 5000m | 14:41.0 | 24 |
| | 10000m | 30:42.6 | 14 |
His best 5000m time above is 14:37.6 – a time that would have ranked him in the top ten in the country in every year from 2003 to 2010 and just outside that group in 2011 and 2012.
Some extracts from Eddie's diary are interesting. The 1965 sesions were done after returning from night school.
7th June, 1965: 5 x 440y in 61/61/63/64/65
8th June, 1965: 12 x 300 in 40/41
9th June, 1965: 4 x 220 (all between 26.4 and 26.9)
10th June, 1965: At work until 7:15, arrived ten minutes before the start of the Club Championships: 440 – D Middleton 53.2, E Knox 54.5; Three Miles: E Knox 14:52.
Then two years later we get:
Monday, 27/7/67: am: One and a half miles. pm: 30 x 200 in 30 seconds with 100m recovery.
Tuesday, 28/6/67: 6 x 300m fast
Wednesday, 29/6/67: am: One and a half miles. pm: 3 miles and 1 mile invitation races at Celtic Park: 14:40 for the 3 miles behind the winning 14:08; 4:58 in the Mile behind the winning 4:22.
Thursday, 30/6/67: Mile and a half time trial in 6:48. 6 x 100m averaging 15 seconds each.
Friday, 31/6/67: Rest Day
Saturday, 1/7/67: 12 x 200m unchecked but fast.
Sunday, 2/7/67 : Long run of 8 – 10 miles.
Eddie says that his biggest regret as far as running is concerned is that the marathon was not more popular or 'the In Thing' in the early 1970's. He had lost interest in racing but not in running. Round about 1970, he had done some work with John Anderson and did a big session of 200m x 100 with 30 seconds recovery. He started doing big sessions and trying to race off some huge sessions. He kept this going for a year or so. Sessions keyed off the one above included 20 x 800 in 2:15 which he found 'comfortable') and 40 x 400 which averaged 'not as slow' as 70 seconds. He did this for about a year and adds that just by slowing the pace by a couple of seconds a lap he could get in long sessions without too much difficulty. In 1964 at the age of 17 he ran in the Lanarkshire 12 miles road race where he went round with Gordon Eadie and found the pace more than comfortable. He remembers running a loop of approximately 20 miles from Milton in Kirkintilloch – and he can give you the exact route followed.
Away from the sport he worked for the Daily Express as a compositor and proof-reader. He then went to the short-lived Scottish Daily News and not being too happy with the new printing system, did a management course. This led to a job in charge of leisure at Coatbridge where he did a very good job and even competed for the local team in the BBC 'It's a Knockout' programme.
However you look at it, Eddie was a top class athlete and a tough competitor at a time when the standard in Scotland was very high indeed – he would have been an even bigger star on the current scene at Scottish athletics. The thought of what he could have done in the 26.2 miles of a marathon is an intriguing one.
Eddie died tragically early in October 2019.