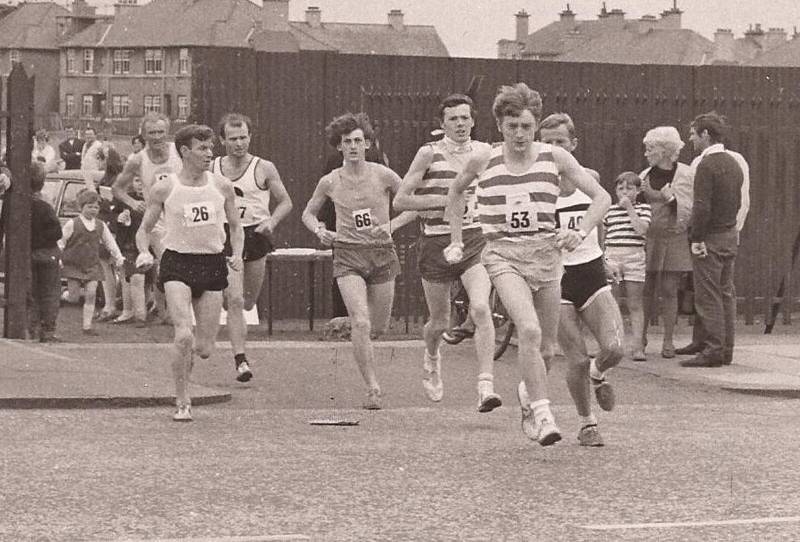 Alastair (53) leaving Moorcroft Park at the Babcock's Sports in 1970 in the 14 mile road race which he won in 1:12:31
Behind him is Bill Stoddart (Wellpark) and Joe Reilly (VP) with the three Clydesdale Harriers,  Cyril O'Boyle, Ian Leggett (25) and Allan Faulds (27 on the left
Alastair Johnston was a superb athlete on all surfaces and one of whom his club can be justly proud.   He was always well-liked by all endurance racers.  This did not alter the fact that he was always a class athlete.   He will also unfortunately be remembered  for the dreadful accident at Meadowbank, when a stray hammer escaped the cage, accelerated off the track where it hit Alastair, breaking  his leg.    It was an accident that changed the organisation of athletics meetings for ever after.   Alastair was an outstanding runner at a time when Scotland was very lucky to have possibly the best generation of talent in my lifetime – and have a look at the scalps that Alastair took at one time or another as you read the profile!   They are all there – Olympians, Commonwealth Games athletes and Scottish and British champions.    His career post-accident was really first class but it should have been so much better.
Colin Youngson has written the profile which follows but first we have Alastair's own replies to the questionnaire in the box below.
Name:   Alastair Johnston.
Club:   Victoria Park AAC
Date of Birth:   17th January, 1947.
Occupation: Chartered Accountant (just retired!)
Personal Bests:   5000m:   14:11 (1972);    10000m   29:55 (1970);   Marathon:  2:19:31 (1970)
How did you get involved in the sport?   I got involved by "following in my brother's footsteps."
Has any individual or group had a marked effect on your attitude to the sport or to individual performances?   My club's high standard in all aspects of the sport was my biggest motivator.   ie in reputation/achievements/role models, coaching, management, admin (led by the meticulous Bill Armour), competitiveness, friendships and team spirit. .  I would like to make a special mention of  the coaching received under the redoubtable Johnny Stirling.   Also being fortunate to be competing at a time when Scottish Athletics was at its peak possessing many fine world class distance runners who were also great role models for me.
What exactly did you get out of the sport?   I found running both exhilarating and competitively challenging and that it was a sport that did not rely so much on natural ability as on consistent hard work.
 What was your best performance?   The 1970 Commonwealth Games Marathon Trial, breaking 2:20 – first ever and only marathon.   I led at 20 miles and finished sixth (fifth Scot) only two minutes behind the winner, Jim Alder, who led in the other all-time greats of Scottish and UK distance running, Don Macgregor, Fergus Murray and Alastair Wood.
What ambition did you have that remained unfulfilled?   My ambition was to represent Scotland in the marathon at the 1974 Commonwealth Games in Christchurch.
What did you do – apart from running – to relax?   My other sport was – and is – golf.
Can you give some details of your training?  I did not manage, or have the inclination, to do a big mileage but was happy with an average mileage of about 50 or 60 miles a week but done usually at a fast tempo.   (I was often accused of "racing" in training!)
Colin writes: "Alastair Johnston of Victoria Park AAC was very well liked and highly respected by his contemporaries in the 1960's and 1970's.   He shone occasionally in track and cross-country events but it was clear that he was especially talented in road races.   Sadly, just as Alastair was about to break through to consistent international standard, he suffered a horrible, totally unexpected injury, which made it impossible for him to achieve his sporting ambitions, although he ran well, especially in the Edinburgh to Glasgow Relay for another decade.
The record books show that Alastair made an immediate impact as a Junior, running his first Edinburgh to Glasgow Relay in 1965.   He was not only the fastest man on the eighth stage, but also broke the stage record and Victoria Park won bronze medals.   What a debut!   In 1966 he was even better setting a record (26:22) for the fifth stage, breaking that set many years earlier  by miling great Graham Everett as VP finished second behind Edinburgh University.  He was less successful on Stage Two in 1967 but his promise as a road runner was very clear.   Yet he had finished no better than eleventh in the National Junior Cross-Country Championship in both 1966 and 1967.
During my first year at Aberdeen University I became acquainted with Alastair as a quiet friendly runner from Strathclyde University.  Although there were many talented competitors in his enthusiastically sociable team, few were fairly abstemious gentlemen!   In January 1967, the Scottish Universities Cross-Country Championships started and finished at King's Buildings in Edinburgh via a shockingly steep ascent and descent of the Braid Hills.   Eight runners from the unarguably superior Edinburgh University team took off and only Myatt from Strathclyde managed to hang on.   As the route entered some fog, I was running alongside Alastair.   Neither of us relished the underfoot conditions and both, it became clear, were unfamiliar with the route.   Having gone astray in thirteenth position we eventually regained contact with the race in thirty fifth!   Furiously we started overtaking like crazy.  I finished seventeenth and believe that Alastair actually managed to reclaim thirteenth.
In November 1967, Aberdeen and Strathclyde Universities both sent cross-country teams to Belfast and Dublin to race against Queen's, Trinity and UCD.   Alastair took part in this last 'Irish Tour' weekend (before the political troubles started) In the muddy contest at Queen's, Belfast, on the Saturday, Alastair was second, ten seconds behind John Myatt, and then went one better when finishing first on the Sunday at Trinity College, Dublin, fourteen seconds up on Myatt.   The second race was mainly through Phoenix Park which was road and parkland and much more to Alastair's liking!   By early December Alastair showed decent form in the annual Scottish Universities v Scottish Cross-Country Union competition at Knightswood Park, Glasgow, when he was sixth SU counter.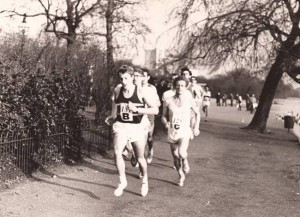 Alastair in the Hyde Park Relays in February 1968 when the Strathclyde team (noted below) was sixth
(A Johnston, I Picken, I Mitchell, D McFarquhar, J Myatt, C McIvor)
The Tom Scott Memorial Road Race over ten miles from Law to Motherwell, was an Easter classic.   I did reasonably well (53:22) in my first attempt in April 1968, but Alastair's superiority on the road was obvious, as he was tenth (against the top Scottish runners) in 51:04.   There were several of what Alastair considered successes in the course of 1968.   He had started the year by winning the New Year's Day race at Beith  ahead of Norman Morrison of Shettleston and Pat Maclagan.   This was usually a heavy plough course with a stream at one point which you just ran into to be faced with a three foot bank as you emerged.   In 1968 however, because of a foot and mouth epidemic it was held on the road, again to Alastair's liking!   He also had good runs in the traditional year starter of the Nigel Barge Road Race at Maryhill where he was seventh, the Springburn Cup Road Race (sixth)  and the Midlands Cross-Country Championships where he was seventh.   In University competition, Alastair was third in the Scot Unis and as a result was picked for the Scottish Universities team against the English Universities at the well-known and muddy Parliament Hill Fields where Scotland won – Alastair Blamire seventh, Dave Logue tenth, John Myatt twelfth, Jim Wight fourteenth, Andy McKean eighteenth and Alastair Johnston twentieth.   The points between the two countries were even but since Alastair was one place ahead of the English final counter, the Scots won!   He also helped the Strathclyde University team to a good sixth place in the Hyde Park Relays when he was second on the first stage in the excellent time of 13:55.   During the next three years, Alastair crossed my path on several occasions but I never got near him on the road.   In late 1968 he was 26 seconds faster in the Kingsway Relays in Dundee, although he once again showed his comparative dislike for cross-country when finishing fifty first in the 1969 Senior National at Duddingston (two places behind me, another mud-hater).
Alastair reckons that his only notable performance in early 1969 (when he was bogged down in final year studies) was a good second stage (14:05) in the Hyde Park Relays which helped Strathclyde finish an excellent third.   He was in good form towards the end of the 1969 track season winning a steeplechase at Grangemouth in 9:38.0 and running 10000m at Scotstoun in 30 minutes precisely.  A lot of confidence was drawn from winning the 18 Miles Road Race in 1:35:44 at the Bute Highland Games and breaking the record by no less than two minutes.   This was a regular fixture on the Scottish Marathon Club calendar and had been won by many of the best of Scotland's distance runners over the previous 20+ years.    In the E-G that year he was given the responsibility of taking the baton on the formidable Stage Six and finished fifth fastest (behind Lachie Stewart, Fergus Murray, Alistair Blamire and Jim Wight) with VPAAC fourth.   Shortly afterwards he ran well (this time for the SCCU) in the December 1969 fixture versus Scottish Universities at Colinton, Edinburgh, finishing tenth overall, beating good runners like Mike Bradley and John Myatt.   In the 1970 Senior National Cross-Country Championships at Ayr Racecourse, Alastair improved to a thoroughly respectable eighteenth place.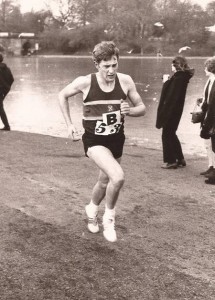 IN Strathclyde colours again: Hyde Park Relay, February, 1969, where the team was third
(Team: A Smith, A Johnston, I Mitchell, J Myatt, C McIvor, I Picken)
All good Scottish runners wanted to make the team for the 1970 Commonwealth Games. The year had started well for him with third fastest on his home trail with third quickest time in the McAndrew Relays in 13:44.  It was also notable because he was one whole second faster than Lachie Stewart!  The marathon trial took place on 16th May and Alastair was amongst the front runners for most of the way and led at 20 miles.   Despite the fact that it was his debut at the event, he finished strongly to record a very promising 2:19:31 in sixth place (fifth Scot and only two minutes behind Jim Alder who won the event – see questionnaire)) ahead of fellow VPAAC runner Pat Maclagan (who went on to win the Scottish Marathon Championship in 1971).   After the 1970 trial, Alastair was offered a Great Britain vest to participate in a major international event – the Toronto Marathon on 25th August.   Unfortunately he had to turn this chance down due to professional accounting commitments so Pat Maclagan took his place and ran well.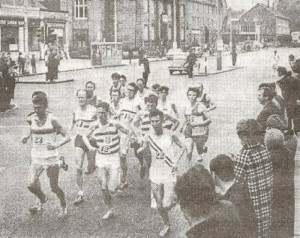 Commonwealth Games Marathon Trial, May 16th, 1970: Alastair partially hidden by Jim Wight (22) and behind Pat Maclagan (12)
Six men, including Alastair, under 2:20: 1st J Alder (2:17:11), 2nd D Macgregor (2:17:14, 3rd F Murray (2:18:25), 4th B Jones (NZ, 2:19:03), 5th AJ Wood (2:19:17), 6th A Johnston (2:19:31)
Alastair achieved another two pb's in 1970:   10000m in 29:59.4 for fifth in the SAAA Championships only two weeks after the marathon, and 9:25.6 for a steeplechase at Grangemouth behind Commonwealth fourth placer Gareth Bryan-Jones.   Earlier, Alastair had won the the West District 10000m in front of the consistently very good Colin Martin.   In the 1970 Edinburgh to Glasgow he switched to Stage One and was fourth, only 12 seconds down on the fastest man, Craig Douglas of Edinburgh Southern Harriers.   Victoria Park won bronze again.   Then in the SCCU V SU at Knightswood, Alastair showed real cross-country progress when he finished an excellent third overall, just behind the flying Monkland Harriers, Ron MacDonald and Jim Brown.   I was pleased with eighth, in front of my future VP team mates Pat Maclagan, Hugh Barrow and Joe Reilly.   One of the more popular Sports Meetings at the time was the Babcock's Sports at Moorcroft Park in Renfrew where one of the feature events was the 14 Miles Road Race – everybody with pretensions to being a road racer turned out in it.  In 1970 Alastair won it in 1:12:31 beating a very good field and setting a new course record.
When I joined Victoria Park in September 1971, Alastair was a committee member and also running very well indeed.   As mentioned in his questionnaire answers, Alastair had already run very well in the 1971 Nigel Barge Road Race and Springburn Cup and had finished third behind international runners Jim Brown and Norman Morrison in the Midlands Cross-Country Championship.   Along with Bill Mullett and Peter Stewart he was chosen for a small Scottish team to run in Hannut, Belgium, international race and finished a worthy sixteenth.   After that Alastair was injured for a while.   He had pulled his Achilles tendon in March when finishing a close second to Andy McKean in the very hilly Edinburgh University 10 miles road race at King's Buildings.   It was one of his best performances – while Andy won in 49:06, Alastair was second in 49:11 with Jim Wight third in 49:46 – Fergus Murray was sixth with Colin seventh in 51:04. Injuries happened now and again, possibly because he nearly always pushed hard in training and did not bulk up his weekly mileage with recovery session.
However, he was flying by October 1971.  To my chagrin, I had learned the hard way that VPAAC club runs on Tuesdays and Thursdays were short but speedy.   Coach Ronnie Kane would set off with the 'slow' pack issuing a strict order to the genuinely fast pack to give less talented clubmates two minutes start.   No chance!   Maybe sixty seconds after they left, we flew out of Scotstoun Showgrounds in pursuit.   There were a number of traditional road courses, but the one I remember with horror was the four mile 'Shorter Knightswood Backwards'!   A tight, silent pack rapidly overtook the others and swept away along dark pavements under dim streetlights.   Guys like Pat Maclagan, Albie Smith, Hugh Barrow, Innis Mitchell – and sometimes the great retired racer Ian Binnie – ensured that the pace was relentless.   I struggled to keep up since I could never remember the route!   However Alastair Johnston was The Man to "beat" in these so-called training runs (although his close rival Pat might argue the case).
Once the Victoria Park McAndrew Relay Trial had been endured, the big day came: the Victoria Park AAC Road Relay (ie the McAndrew Relay).   This long-established event was new to me, a stranger from the North East, but I was captivated by its intensity.   On 2nd October 1971, no fewer than 306 club runners participated.   Alastair was outkicked up the hill at the end of the first stage by Willie Day of Falkirk Victoria Harriers and eventually Victoria Park's first team (Johnston, Mitchell, Maclagan  and Barrow) finished second to the mighty Shettleston.   However Alastair's 13:47 was fourth best behind Jim Brown, Lachie Stewart and Willie Day.  Then on Saturday, 13th November Pat and Alastair 'enjoyed' a tremendous battle in the five and a half miles Glasgow University Road Race.   Eventually Pat (25:05) won the sprint on the Westerlands track by a single second.  I was fifth, 23 seconds slower, with Davie McMeekin and Hugh Barrow close behind.
Victoria Park were obsessed with (a) the McAndrew, and (b) above all, the Edinburgh to Glasgow.   This was a specialist road running club; cross-country was optional for most of us.      It seemed that this year, 1971, Victoria Park might have a chance of victory in the greatest relay race of them all.   Unfortunately we finished second, 59 seconds behind, and forty years later some of my former clubmates continue to blame me.   I can understand their point of view and still feel contrite although Shettleston might still have won anyway.  What happened was that Davie McMeekin ran the fastest time on Stage Three and handed me a twenty one second lead over future Commonwealth Marathon bronze medallist Paul Bannon of Shettleston.   I shot off, full of determination.   Sadly this leg was new to me, there was no marshal at the Bathgate junction, and I zoomed straight on to the bypass.   Someone yelled and I cut right across  some bumpy grass and back on to the route having lost nearly all of my hard preserved lead.   Depression set in, Paul rolled past and eventually took another ten seconds out of me by the changeover.   Net loss, 31 seconds.   Incredibly, Joe Reilly put us back into the lead and Alastair (second fastest on Stage Six) finishing only twelve seconds behind the outstanding Dick Wedlock, but Shettleston ground out a winning lead over Seven and Eight.   What a rotten shame, although the newspaper reports all congratulated VP for making a real contest of it.
I know that Alastair was selected for the infamous SCCU 'International Training Sessions' at that horrendous mudbath, Cleland Estate, Motherwell.   Unlike many, he did turn up at these sessions fairly often – including some held at Pollok Estate – and still loved trying to burn everyone off.  He says: " At Cleland most of the run was on road and I remember Jim Alder, Jim Brown, Andy McKean and I testing each other up the final big hill on the main road before turning back into the Estate."   Hewas selected to  represent the SCCU – which he did with distinction – once more in December 1971 at Merchiston, finishing fifth individual and third counter for his winning team.   I was twelfth, thirty seconds behind.
On 1st January 1972, once again I was firmly put in my place on Alastair's favourite surface.   He, Willie MacDonald and I travelled down by train to the prestigious Morpeth to Newcastle thirteen and a half miles road race.   It was wet and cold throughout but Alastair (1:05:56) ran brilliantly to finish a close third behind Jim Wight of EAC (1:05:47) and local hero, Jim Alder (1:05:54).   Over three minutes later I managed sixteenth, Willie was forty fifth and Victoria Park finished third team (prize: three frying pans!)   We were honoured when Jim Alder, (the proudest of Geordie Scots) chatting non-stop walked us all the way into town to the railway station.
Although Alastair ran the January 1972 Midland Cross-Country again, he missed the National at Currie.   The truth was that after the poor run at the Midlands, where he was twelfth over a muddy Bellshill course, Alastair was both injured and ill for the next few months of 1972.
On the 27th May, Alastair (14:32.4) finished only one second behind his old rival Dick Wedlock in the West Districts 5000m at Carluke.   A couple of weeks later on 11th June in a Scottish League Match at Meadowbank he revised his pb utterly with a superb 14:11.8, seven seconds down on Fergus Murray of Edinburgh Southern Harriers.   Undoubtedly Alastair was in the form of his life and prospects were excellent, not only for the SAAA Marathon Championship, but also for the Scottish 10000m championship (which was to be part of the GB v Poland match at Meadowbank on 17th June).   I ran the race, which was contested by a big field for that era of 34 competitors, and was relieved to avoid being lapped and end up ninth on a difficult, windy day, in about 30:45.   Jim Brown won in 29:25.4 and Fergus Murray was second in 29:38.8.
This result became totally irrelevant when we learned of the freak accident which had destroyed Alastair's chance of achieving his true potential.   When I glimpsed my friend lying at the side of the track, there was shock and disbelief.   Instead of fighting with Fergus for a well-deserved silver medal, Alastair's season had ended in agony and frustration.   There is absolutely no doubt in my mind that Alastair Johnston would have won the 1972 Scottish marathon.   Probably the time would not have been ligtning fast due to the headwind after the turn at halfway.  However on a better day, Alastair was certainly capable of between 2:15 and 2:17, and on 23rd June, 1973, when the Scottish Marathon was also the team trial for the 1974 Commonwealth Games, Alastair would have been a genuine contender.   Donald Macgregor and Jim Wight who finished first and second that day, and were selected for New Zealand, would have had a real battle to defeat the strong smooth striding athlete from Victoria Park.
Alastair himself takes up the tale of the season after his recent fast 5000m races including a pb of 14:11 and comments on the accident as follows:    "Please note that I was using the 5000's along with the following Saturday's fateful 10000m on 17th June as warm-ups only for my attempt at recording a significantly good time (of around 2:16/2:17) in the marathon at the Scottish Championships on 24th June (which might possibly lead to recognition as a contender for Christchurch).   The 10000m race at Meadowbank was in fact the SAAA's championship and quite unique as it was incorporated in the first British International match every held in Scotland – GB v Poland – which attracted live TV and a crowd of over 10,000!   With three or four laps to go I had broken away with Jim Brown and Fergus Murray with each of us sharing the lead.   Going into the penultimate lap, Jim made a decisive break which Fergus attempted to cover.   I was slower to respond and became slightly isolated in the back straight and was hit by the hammer at around the 200m mark, adjacent to the hammer circle.   It had been released accidentally almost at right angles by Barry Williams, the British record holder.   It burst through the inadequate protective netting and bounced once on the track and into my left tibia.   Ambulance men arrived quickly and tried to get me back on to my feet seeing only the bleeding coming from my left shoulder caused by my fall.   However the hard reality for me was that I had seen where the 16 lb. ball had struck and I had no feeling in my left foot – something serious had happened to my leg!   I had no concerns about not being able to complete this race, but realised immediately and more importantly that I would not be able to run in next Saturday's Scottish marathon championships and possibly realise my aspirations!   Apart from the physical damage it was a real psychological blow to my morale as I was sure that I had probably been at the peak of my abilities at that point in time.
However I was greatly consoled by the huge wave of sympathy and support I received from my Club, friends and fellow athletes who visited me in hospital that night and at my home during my convalescence.   I have to mention also that my assailant himself, Barry Williams, came up to the hospital and offered me his sincere regrets along with the two heads of British male and female athletics, Arthur Gold and Marea Hartman, who were so pleasant and concerned about what had happened and presented me with a pair of BAAB cufflinks as a memento of their visit.
I was in full length plaster for about four to five months.   Thereafter, building up the "withered" leg was painful but with the encouragement and support of the club, friends and fellow athletes, along with great physio help at Firhill from Jackie Husband, Partick Thistle's coach, who was a friend of my father, I managed to start light jogging by early 1973.   I eventually returned to racing at the McAndrew Relays in October of that year, recording a reasonable time.   Thereafter I continued to race well as a club athlete and enjoy my running for about another ten to fifteen years, but unfortunately I never regained the standard or the motivation that I had at the time of my accident.
The lessons learned by my misfortune were no doubt that in order to provide more safety for all at track and field meetings, the area surrounding the throwing circle had to be protected more robustly and that throwing events like the hammer and discus should be timetabled not to coincide with middle and long-distance track events where the track can be 'cluttered' with athletes for thirty to thirty five minutes as was the case in my 10000m."
Eventually he regained fitness and his first big comeback race was actually in Chicago in September 1973!   He was visiting his brother Ken who lived there at the time and Ken knew big Jim McLatchie.   Jim had been a member of Doon Harriers and then Ayr Seaforth AAC before going on scholarship to Lamarr Tech in Texas.   Jim was an outstanding middle-distance runner in the mid-60's; Alastair met him, they trained together several times and Jim got him an entry to the AAU 30K Championships.   It was run over nine laps of Jackson Park and Alastair finished a good fourth in 1:40:21, about two and a half minutes behind the winner.   Domestically he was back in time to represent his club in the 1973 McAndrew and record the third fastest time of 13:52 (equal with Fergus Murray) followed by running a good sixth stage in the Edinburgh to Glasgow recording 32:30 (seventh fastest against very good opposition) and VP were fourth.   Although Alastair's fitness increased to a good level, his injury meant that he was unable to train as hard as previously and could not tackle the long road races which would have been his forte.   In 1974 he ran well in the inaugural National Cross-Country Relay Championship with Victoria Park finishing fifth.   They were fourth in the E-G with Alastair fourth fastest, once again on the important Stage Six behind internationals Andy McKean, Jim Brown and Dave Logue.   When his club was down to sixth in the 1975 E-G, it was through no fault of Alastair Johnston who was third fastest on Stage Five behind the outstanding new record set by Allister Hutton and the prominent Northern Irish Great Britain marathoner, Greg Hannon.   His other E-G performances were as follows:
1976:   Stage Six:         Sixth Fastest:        Team fourth
1977:   Stage Four:      Second Fastest     Team seventh
1978:   Stage Four:      Fourth Fastest      Team second
1979:   Stage Four:      Second Fastest     Team fourth
1980:   Stage Three:    Third Fastest        Team third
1981:   Stage Eight:     Fourth Fastest       Team fourth
In addition Alastair took part in the very first National Six Stage Relay in 1979 when Victoria Park finished fifth .
Altogether Alastair ran in his favourite event fifteen times from a possible seventeen successive races.   He won six medals and set two fastest times which were both stage records.   Despite his dreadful injury in 1972, he maintained a very high standard and any Scottish club would have been delighted to have him in their Edinburgh to Glasgow team
I remember Alastair's final two performances well: both were duels which demonstrated that, even towards the end of his career, the spirit remained strong.   In 1980 there was a really fierce headwind.   The distance of Stage Three had been extended.   As we waited nervously at the changeover, Alastair and I could see Ian Elliott of my club (ESH) sprinting towards the changeover in the lead only one second ahead of Alastair Douglas (VP).   Fearing my old friend would 'sit' behind me, I grabbed the baton and tore off into the gale and narrowly succeeded in breaking contact, before settling into a battle against the elements.   Alastair chased as hard as possible but when I flopped over the line exhausted (setting the fastest time for the stage, only 31 seconds up) the tables were quickly turned and Vicky Park shot past, since the ESH runner had not anticipated my arrival and was enjoying a 'comfort break' in a field!   The air turned blue as I communicated my unhappiness!   Eventually our clubs engaged in a tactical joust for the bronze medals which were won by the wily Bobby Blair (VP).
By 1981 I had moved north to my home town and was representing Aberdeen AAC.  On the final stage we had to chase Victoria Park for the third team spot.   During the warm-up we both whinged like old men about suffering from 'man flu'!   Alastair took over 22 seconds in front and this time I had to chase him.   He put up stern resistance but very gradually I caught up, took a breather and tried to run away.  No chance.   He settled in behind.   It is fair to say that neither of us is a renowned sprinter.   When I made my final effort, Alastair was unlucky not to pass me, since (laughing?) spectators made the finishing funnel very narrow indeed.  I apologised, he was magnanimous, and we both enjoyed the contest.
Alastair was a very good runner for a very long time, but with better luck he would certainly have been a successful international marathon runner.   More importantly, he always was and remains a very good man.
Colin's account of the career of Alastair Johnston (who was clearly a very good friend and close rival for several years) ends here and his opinion that Alastair was destined for great things but for the dreadful accident in 1972 is shared by all Scottish athletics aficionados everywhere.   He was a good athlete to watch, he was fast, he was intelligent and he was determined.  His affability disguised the determination but it was there, no doubt about it!  All qualities that are essential in a distance runner.   Given that his debut marathon was sub 2:20  for fifth place in a big field of top class marathon runners speaks volumes for his temperament and ability.    Even after the accident and his comeback, he says that he never regained the standard or motivation but if you look at what he did – even the racing against Colin in the E-G when Colin was racing very well indeed – he had a very good career in the sport.    We could well do with an Alastair Johnston in Scotland's colours in 2014!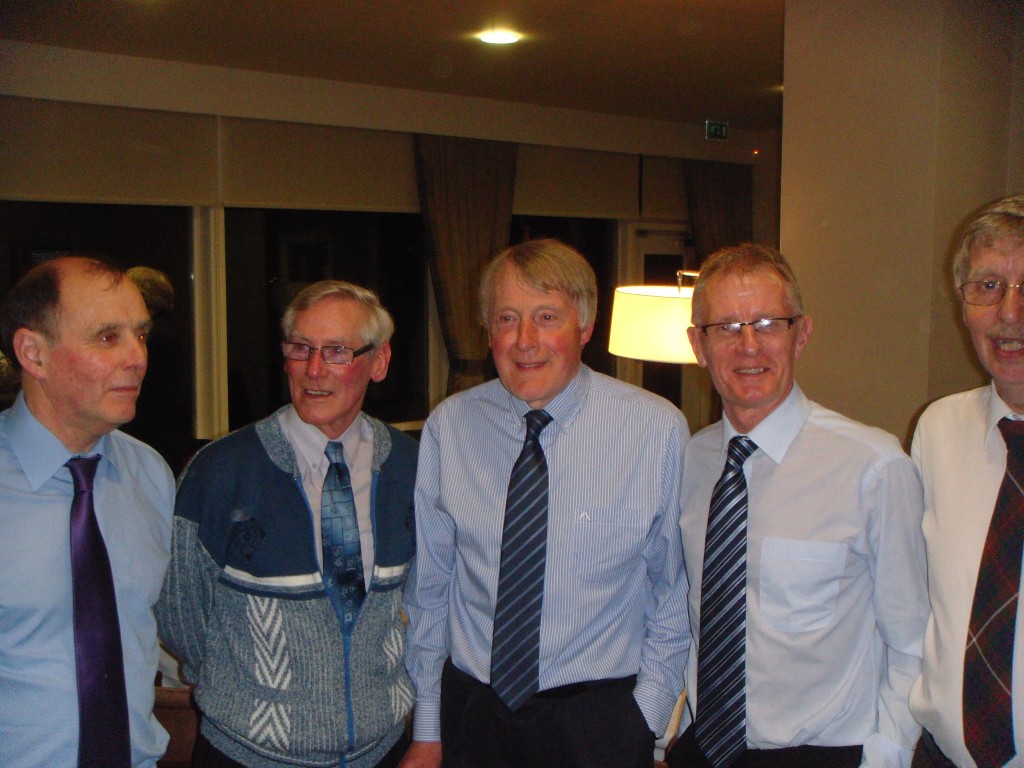 Doug Gunstone, Lachie Stewart, Alistair Johnston, Dave McMeekin and Colin Youngson
April 2012
Hugh Barrow has uploaded Alistair Johnston's video of classic races (McAndrew, E-G, National, etc) to youtube.   It is at  http://www.youtube.com/results?q=burning+up+the+roads+of+scotstoun The quality varies as you might expect in a film 40 years old with some shot in the near dark of the conclusion of the E-G in late November but really worth seeing.  Have a good look.