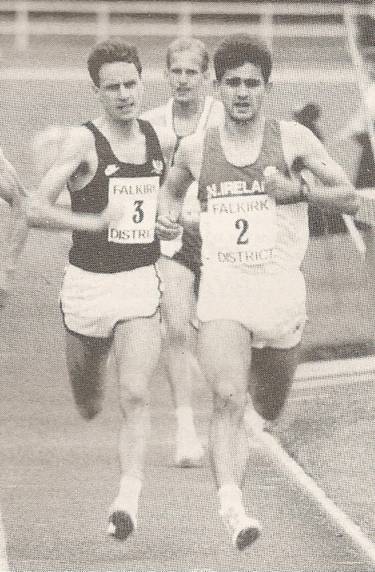 Robert in the 3000m at the 1991 Small Nations Championships
Robert Quinn is and always has been a remarkable athlete. Known to be high quality and with a bright future he was the victim of what can only be called a horrific accident that would have ended many a career in sport, he continued to improve and has won Scottish International honours on the track, on the road, over the country and as a hill runner. I dissent from the view sometimes expressed that he came back 'better than ever': nobody comes back from such an incident better as an athlete. It may have made him tougher as a person or more determined as an opponent, but no one knows just how good he could have become. Nevertheless he has had a career that would have been the envy of many an athlete. So, even although he is still running and racing at a high level, it is appropriate to look at his successful career in some detail. Finally the fact that he joined Kilbarchan AAC in 1981 and is still running in 2011 – 40 years later – means that not all races, etc, can be covered here. It would require a book of its own to do that but there will be enough to tell the reader about the quality of athlete we have here, how his career progressed and all aspects will be included.
To start with I will quote from an article in 'Scotland's Runner' of August 1989 by James Allen.
"He (Robert) was all of 15 or 16 years old when his interests in sport stretched beyond the usual kick-abouts. 'I played a bit of football but I was always pretty mediocre. I liked most sports but I always won the cross-country races we had round the school playing fields. I suppose I realised that I maybe could do something in running when I won a five mile sponsored run that my uncle's football team had organised. M y dad found out about our local athletic club, Kilbarchan, and took me down there. The first training run I did down there was a nightmare. I was last on every rep. But the training soon paid off. I joined the club in October 1981 and by March 1982 I was eighth in the British Schools Cross-Country Championships and eleventh in the National Cross Country.' Quinn lost no time in proving his initial successes were no flash in the pan; in 1983 he started the year in style by winning the Youths National, relegating burgeoning talents Stevie Marshall and David McShane to the silver and bronze positions. 'That race still goes down as one of my best ever victories, because it was completely unexpected', he recalls. From now on winning would be expected of Robert Quinn, and he was about to start a period of complete domination of his age-groups.
In season 1983 – 1984 he won the Midland District Championship and was the first winner of the Mackenzie Medal; Colin Shields: 'Robert Quinn (Kilbarchan) won the inaugural Junior championship race receiving the Mackenzie Medal for his victory. This trophy consisted of one of the gold National championship team medals won by George MacKenzie in the pre-First World War period, donated by the MacKenzie family and mounted on a plaque to be presented to the West District Junior champion.' 1983 also saw him run in his first ever Edinburgh to Glasgow eight man relay race. He ran on the first stage and finished a very good fourth. He then won the National of 1984 prompting this observation from Colin Shields in his history of the SCCU, 'Whatever the Weather': 'The previous year's Youth Champion, Robert Quinn, won the Junior title at his first attempt, the first runner since Nat Muir in 1975 to achieve this – with his Kilbarchan club-mate Alan Puckrin finishing runner-up 50 yards behind.' Robert went on to Glasgow University in 1984 and his friendship with Puckrin developed. 'Alan was a big influence on me. He was older but made the same age group because of the date of his birthday. I suppose we were pretty inseparable in races too. I won the Renfrewshire, West District and National Championships and Alan was second in them all.' Quinn's 'marvels over the mud' as Allen put it, won him a coveted place in the Scottish junior team for the 1984 world cross-country championships in New York. Despite feeling slightly intimidated by the company he finished a superb twentieth. The rest of '84 was taken over with Quinn's first serious track season, when he set a pb of 14:24 for 5000m and won junior track vests at Scottish and British level. (Allen reports that he also discovered he had a talent for downing a pint of beer in three seconds flat! This has been confirmed by a couple of his University friends). However one of the highlights over the country in 1984 was leading the Glasgow University team to victory in the British Universities Championship. This was the University's first win in the event since 1939 and was most unexpected – especially by the English Universities, although with runners such as Quinn (fourth), Alastair Douglas, Andy Girling, and Plug Wilson, the Hares and Hounds were too good to ignore.
At the start of season 1984 – 1985, saw a continuation of the previous year's great form. He won every single age-group race he competed in at junior level, won every domestic cross-country title for which he was eligible, including the National , beat Paul Roden, the English junior champion, established himself in the senior Scottish team. In November '84 he had run a superb fourth stage of the E – G and returned the fastest time on the stage while moving his club up from tenth to third. As a result of his fine running in the National he went to the World cross-country again, this time as a senior man. 'I was the youngest competitor in the senior race. I was a bit out of my depth. It's an unbelievably fast start. Basically you sprint flat out for 400 metres until your legs are full of lactic acid and you still have 7.5 miles to go.' In the summer Robert would place second in the Scottish 5000m final in 14:03 losing out to George Braidwood by only two seconds. I was really pleased to hack all that time off my pb and it was great to get second place because four of us went into the last lap together.' Quinn's great summer continued when he represented Scotland at senior level in their match against Norway, Ireland, Israel and Wales before heading into the winter 1985-1986 season.
'Everything was going to plan: now I was only 15 seconds away from a qualifying time for the 1986 Commonwealth Games. I was confident that a good solid winter would see me knock that bit off my best 5000m time,' he says. He had the solid winter he was after, with the highlight perhaps being ninth in the World Student Cross-Country Championships. The winner was Australian marathon maestro Steve Moneghetti. Robert was still in the lead pack with a mile to go and only two falls prevented him finishing higher. The winter work over, Quinn was looking forward to honing himself into shape for his assault on the Commonwealth Games. Surely he would do it.
May 8th, 1986, will always be a black day in the training diary of Robert Quinn. What began innocently enough as a training run with friends would end disastrously and send shockwaves through Scottish athletics. It was an ordinary enough day – there was a twenty first birthday party for one of the girls that night and they were intending to be there. As usual they went out for a run – Robert, Alastair Douglas and Ross Welch. Then it happened. At first we heard he had been knocked down, then we heard that he had been struck in the passing by a motor-cycle but the story that Robert told to James Allen was as follows: 'We were running in single file along a country road when this motor-cyclist came over the brow of the hill, lost control of his bike and ran into the side of me. I tried to pick myself up but couldn't. It was then I looked down and my foot appeared to be almost dangling off. I didn't black out and at that point I wasn't in a great deal of pain, due, I think, to being in severe shock.' Everyone was in severe shock as well: the girls were waiting for the boys to turn up for the party and when they weren't on time, they were getting really mad at them. When they finally turned up, very, very late, they were chalk white. It being before mobile phones, etc, they had had no prior warning of the accident. Meanwhile for Bobby, the initial impact of the accident had been replaced with a sickening pain, two pins in his leg to hold it together and the devastating thought that he might never run again. He is fulsome in his praise of the hospital's work at the time. He is quoted by Allen as saying: 'They asked me what level I ran at and promised to do their very best to fix me. It was a terrible time, being terrified about never being able to run again.'
His friends all rallied round and he actually 'ran' in the 10K at Inverness on crutches in a remarkable time of 75 minutes. He describes it as the hardest race of his life. Before the event he had taken a felt tipped pen, crossed out the word FUN in Fun RUN and substituted SERIOUS! Just to document the event, three pictures of the race are below (courtesy of his friend Doug McDonald). The first is of him crossing the line, the second is a measure of how much effort was actually called for and the last is the man himself with some friends afterwards.
When the plaster came off, the bones weren't right so there was another lengthy operation and another full length plaster from foot to hip. He says, 'the second plaster came off in January 1987 and my leg was like a twig. It was obvious that it would be a slow build up. I was getting three hours a day physiotherapy with Lena Wighton at the Western Infirmary and that really helped my leg get back to something like normal. Then I started doing water running with a wet vest to try and regain a bit of fitness.' He managed to get himself back running but he had a pronounced limp and his performances were not the same – how could they be so soon? But even worse than that he was getting a lot of pain in the leg. 'I was told that it wouldn't hurt but I was always getting pain in runs and was constantly taking anti-inflammatory tablets. I just couldn't keep going like that so when Jimmy Graham, an orthopaedic surgeon, told me about an operation where part of my hip could be taken and grafted on to the gap in my fibula, I jumped at the chance. I was told there was only a 50% chance of it working but I knew I had to take the risk. If there was any chance of me getting back to my form I wanted to take it.' James Allen goes on "In a bizarre weekend when he was due to have his operation, Quinn checked in to hospital to have his leg painted with a black arrow so they would get the correct leg in the operating theatre – and then promptly checked out again to do some racing. He managed to get himself a weekend pass to indulge in what has been known since as the 'shortest track season in history'. On the Saturday he took on Tommy Murray over 1500m in the Renfrewshire Championships and beat him and then finished second to Willie Robertson over 5000m in a Scottish League race on the Sunday! 'I was pretty sad after those two races while I was in hospital waiting for the operation, but I knew it was something I had to do, a gamble I had to take.' Being in plaster once again caused severe muscle wastage for Robert and once again the laborious, not to mention lonely, job of building it up again commenced. He was doing four sessions a week in the pool just as he would previously have done them on the track. His first run consisted of a 10 minute hop, but gradually, bit by bit, he was getting there and this time the pain was fading away. It should be noted that Bobby gave a lot of credit to Rona, his fiancée, his friend Alastair Douglas and his coach Derek Parker who provided the support and practical help to get him back.
Quinn couldn't have picked a better (or maybe worse) race to re-enter the world of athletics. The Edinburgh to Glasgow Road Relay was the event. Robert ran the first stage for his team and was fifth at the changeover, a mere 20 seconds down on the stage 'winner', his friend Ian Archibald who was running for East Kilbride. (For some reason James Allen has Robert racing the third stage and having second fastest time although the archive gives the result as shown here: check it out at www.salroadrunningandcrosscountrymedalists.co.uk on the Edinburgh to Glasgow results page in the Archive.) He was back in business.
By December 1987, he was winning the SCCU Inter District Cross Country at St Andrew's in 30:25 for the 6 Miles ahead of David Donnet's 30:40. On the 26th December he took part in the Kilbarchan club 11 Mile Road Race and finished first equal with Robert Hawkins and Jim Fairley in 59:22 – maybe the finish was staged but the time indicates that it was no easy-peasy festive run! At the end of January it was the Seven Miles Kirkintilloch Olympians Road Race that he tackled and he finished second in 36:57 which was only two seconds behind winner Alan Robson. He missed the National in 1988 just as he had missed the other championships (County and West Districts) that winter but he was clearly on the mend.
The following winter (1988-89) he ran a very good third leg of the Edinburgh to Glasgow in November when he moved his club from nineteenth to eleventh on the difficult switchback going. On 4th December in the SCCU v Northern Ireland v Scottish Universities v Civil Service, he was seventh in 29:57 ahead of Peter McColgan who was also timed at 29:57. A week later and it was a trip to Irvine for the Harriers v Cyclists race and he was second to Alastair Douglas with no times being given. At the end of January he competed in the CAU Inter-Counties Cross-Country at Derby where he was nineteenth in 39:18. In February the National Cross Country Championship was held at Hawick in quite dreadful conditions: in a television interview after the race Steve Ovett commented that at one point he thought he had made a mistake when he found a bit of firm ground! Bobby was fifth – one place behind Ovett. I say fifth but if you take out Ovett and Paul Evans, whose Scottish credentials were a bit flaky, Bobby was third Scot. Close but no medal! He also competed in the World Championships Trials at Gateshead where he was thirty seventh. Less than two years after the accident he was now running at a very high standard on road and over the country and in all weathers – a quite remarkable recovery but there was better to come.
Robert started the summer of 1989 with a fourth place in the Clydesdale Harriers Dunky Wright road race in 26:09 behind Adrian Callan (26:01), Nat Muir (26:03) and Allister Hutton (26:05). A really high class group of athletes. That was on the 11thMarch and on the 23rd he ran in the SCCU National Six-Stage Relay at East Kilbride. He had the fifth fastest time on the long stage with athletes such as Gary Grindlay, Tommy Murray, Charlie Haskett and Peter Fox recording slower times. Two of these were behind him again on 6th May when he won the Adidas Torsion 5K in Glasgow in 22:51 – Peter Fox was second in 22:54 and Tommy Murray third in 23:00. Three days later there was another victory at the 10K in Lennoxtown when he set a new record of 29:54. His first track run of the season was on May 17th when he raced in the Scot Unis v Scottish Juniors v Track League over 3000m and finished second in 8:17.9 behind Adrian Callan's 8:11.0. Ten days later he raced in the 5000m at the West District Championships and won comfortably in 14:23.5 from Tommy Murray's 14:34.5. On the 18th June he ran in the League for his club and won the 5000m in 14:28.2. He did not run in the SAAA Championships but did represent Scotland in the Small Nations International in the 5000m where he was third in 14:03.8 which equalled his personal best. He ran in a good 3000m at Shettleston Harriers Open Meeting on 9th August against Chris Robison, George Braidwood, Graham Crawford, and Billy Coyle and won in 8:15.1. In the final Scottish League fixture at Crown Point in Glasgow he won the 5000m in 14:48.58. On the 27th August he ran in the Inter-District he at Grangemouth he won the 5000m in 14:08.6 and on September 17th racing in the Munich v Edinburgh/Scottish Select, he won the 5000m in 14:47.88. His best 5000m time of the summer (13:57.8) had him placed fourth in the annual rankings.
Missing the McAndrew Relays on 7th October Robert was second fastest in the Renfrewshire Relay with Tommy Murray being the man in front. On 28th October at the National Relays he was sixth fastest and at the start of November finished sixth in the Glasgow University Road Race in 22:47. The very next day he went to Gateshead for the Preston Open Cross Country race where he was eleventh and third Scot. In the Edinburgh to Glasgow he was given the honour of running the second stage – the one where tradition has all the big guns out – and he pulled Kilbarchan up from nineteenth to twelfth! Then he confirmed this form when at the start of December he won the International and Inter-District fixture at Cumbernauld in 33:29. Into the New Year and on 27th January 1990, Robert Quinn was sixth in the CAU Inter-Counties at Corby in 40:26. He then went indoors for the Scotland v Belgium v Ireland v Norway in the Kelvin Hall where he was second in the 3000m in 8:17.3. In the National Championships at Irvine on 24th February, he was third behind Peter McColgan and Anglo-Scot Neil Tennant. His time of 43:26 was 28 seconds behind the winner's 42:58. Nobody disputes Tennant's Scottish eligibility or the fact that McColgan was living and competing regularly in Scotland but Bobby could arguably be regarded as the top Scot on this occasion.
On the track he won the West District 5000m at Ayr in 14:09.91 which placed him seventh in the rankings at the end of the year. He did not follow up with a run in the Scottish Championships in 1990 Before that there was a victory in the Saltcoats 'Round the Houses' race in a new record for the course of 19:33 with his good friend Alastair Douglas only one second behind. Kilbarchan had dropped to Division Three of the Track League that year and like all good club men Bobby did his bit -on 5th August at Coatbridge he won the 1500m in 3:57.1 and the 5000m in 15:51.5. On the eighth he ran in the 5000m at Shettleston's Open Graded Meeting where he was fourth in 14:12.6 and then on 6th September he won the Calderglen 10 Mile Road Race at East Kilbride in 49:50 and Alastair Douglas was again second in 50:43.
The first race he tackled in the 1990 – 1991 season was the George Cummings Relay at Kilbarchan where he was second fastest over the course in 11:15 which was four seconds slower than Steve Ovett recorded but was eight seconds quicker than Nat Muir. Robert then went to the McAndrew Relays at Scotstoun and was seventh fastest with 15:17 just two seconds better than Nat Muir recorded. In the West District Relay at Twechar, Ovett and Binns (both Annan) had equal fastest time of 10:16 and Robert and Tommy Murray had equal third fastest time of 10:23 with Nat Muir fifth with 10:29! Three races, three times quicker than Nat Muir! On 28th October in the National Relays though, Muir struck back: Ovett had fastest time of 11:20, Muir and McColgan had 11:23 and Robert was timed at 11:25 for fourth.
Placed third in the Glasgow University race in 22:39, three seconds behind winner McColgan and two behind second placed Geoff Wightman, he went into the Edinburgh to Glasgow where he was running the longest stage, Stage Six, where there was again fearsome opposition at a point in the race where the gaps have really started to open up, he picked up one place from eleventh to tenth. He travelled down to Gateshead again on 23rd November for the Safeway Cross Country and finished second on the 6900m course in 20:42 behind the crack Kenyan, Benson Masya (20:04). December 1990 was the month for representative appearances with the International Cross-Country at Cumbernauld on the 15th resulting in a win for Robert with County Durham on the 29th where he was second Scot when he finished eighteenth in the 8000m race. He started January 1991 with a representative match as well: the Celtic Countries International at Limerick in Ireland where in a real international field (first was a Kenyan, second runner came from the USA and the third placer was also Kenyan) Robert in thirteenth place was first Scot. He had missed the West District Championships as well as the Nigel Barge and Jack Crawford Road Races and then travelled to the CAU Inter-Counties event at Leicester where was twelfth and second Scot behind Chris Robison. In February he travelled to Elgin to compete as a guest in a Northern League cross-country race which he won in 30:53. He didn't run in the National in 1991 and his next race was the Clydesdale Harriers Dunky Wright race on 9th March which he won from a sparkling field in 26:04. Allister Hutton was second (26:10), Tommy Hearle third (26:13) and Nat Muir fourth (26:19. Later in the month he ran in the Six-Stage Relays at East Kilbride where he was fifth fastest on the long leg.
It is straightforward enough listing times and events but the flavour and intensity of the racing at this time is not always conveyed by them. In the race just quoted, Hutton was always a formidable opponent and he liked the Dunky Wright as part of his preparation for the London Marathon each year; Tommy Hearle was doing some of the best running of his career and Nat Muir is, like Hutton, a legend! Bearing this in mind, I will quote Colin Shields's report on his next race, just to give a flavour of the typical race. The race was the Renfrewshire 10 miles championship road race on 13th April 1991. "A good field of over 80 athletes took part in the Renfrewshire 10 mile road race. Within a mile of the start, the field had already began to string out. John Duffy (Spango Valley), Gerry Gaffney (Wellpark Harriers), Tommy Murray (Glenpark Harriers), Robert Quinn and Adam Eyre-Walker (Ed U) – had pulled away and were all working hard as they reached the hilly part of the course. Duncan McFadyen (Wellpark) and Cammy Spence (Spango Valley) were only slightly behind and remained close enough to provide a threat to the leaders. With the hills past, the leading five had gone further away and the race was now on. The first move came after the Gantock Hotel as Duffy moved to the front and Eyre-Walker dropped off the back. Murray was next to apply the pressure in an attempt to break the pack: this time Gaffney dropped off the pace. The decisive move occurred with two miles remaining. Robert Quinn who had been at the back of the front group burst through and immediately he was 50 metres up on Duffy and Murray. Quinn put in another sustained burst and his gap increased to 250 metres at the finish which he crossed in 50:43. Behind him Duffy outsprinted Murray for second place. Gaffney was fourth. A sprint finish in which McFadyen was stronger just edged out Spence." Hard running at the front with first one and then the other trying to break clear and competition all down the field. It was even harder when the field included Muir, Hutton, Murray, Douglas and Quinn.
On May 14th in the West District Track Championships at Ayr Robert won the 5000m from clubmate Hearle in 14:12.67. In the SAAA 10000m at Crown Point on July 5th he was third in 29:46.34 behind two Englishman with the winner (D Swanston) running 29:41.5: Behind Robert were Chris Robison, Tommy Murray and Tommy Hearle. Ten days later he won the Saltcoats race in a new record of 19:17 before going back on to the track at the Shettleston Harriers Open Graded meetings: on 21st August, in the first one, he was fourth in the 3000m in 8:11.6 and in the second on 27th August he won the 5000m in 14:06.4.
The new season of 1991 – 1992 began in October and Robert had fourth fastest time in the West District Relays on the 19th. In the Glasgow Un race on 9th November he was second to England's Paul Dugdale in 22:23 – Dugdale's time of 22:19 was a course record. On the 17th of November in the Edinburgh to Glasgow he ran on the second stage and moved his club from twelfth to third. When it came to the National in 1992, he finished third in 34:19 behind Tommy Murray (33:58) and Chris Robison, second in 34:17. In the summer of 1992, Robert Quinn was unable to train on a track from May because of injury and was restricted to substituting sessions wearing a flotation jacket in a swimming pool. The only race recorded in the Yearbook for 1992 was on 30th May when he won the West District 5000m in 14:21.66 which ranked him eighth for the season. He was ready for action properly when the relays came along in October that year.
Tommy Murray was in superb form at that time and others such as Chris Robison were top class runners who would not give in to anybody, but at the 1992 West Relays Quinn had the fastest time of the day with 12:27 to Murray's 12:33 to give Kilbarchan victory over Cambuslang, for whom Murray was running at that point. Murray wasn't happy – he had fallen and reckoned that but for the fall he would have had fastest time and Cambuslang would have won. Came the National Relays on October 24th and Murray it was who had fastest time: 13:00 to Quinn's 13:10. Robert had run an excellent race pulling in both of the Reebok Racing Club teams and getting his club in to second place behind Cambuslang with the second quickest run of the afternoon. Missing the Allan Scally Relays, he next raced in the Glasgow University Road Race and finished second in 22:38 behind the record setting Paul Dugdale's 22:35. Came the Edinburgh to Glasgow and he ran the fastest time on the second stage with an amazing run which moved Kilbarchan from eleventh to third. In the annual International Cross-Country Race at Cumbernauld in December he won in 32:37. Then there was the representative match in Mallusk in Ireland on 4th January where he was eleventh and second Scot before heading in to the West Districts Championships at Kirkintilloch. Again he was second (36:41) to Tommy Murray (36:18) who was a full 23 seconds in front. Murray really was in terrific form at this point and emphasised the point when he won the National on 27th February 1993 in 42:12 from Robert in second with a time of 43:08.
However 1992 was also the year of what Robert considers to be his best ever cross-country performance on the international stage. Robert won the British students cross-country by quite a long way and as a result captained the UK team in the World Student Cross-Country Championships in Dijon in France. At this event Robert won the individual bronze medal and led the British team to the bronze medals. He himself was only seconds behind winner Sean Creighton who had been sixth in that summer's Olympic steeplechase. The excellent GB Athletics website is a statistician's dream and has major UK medallists at cross-country on it at the following link: http://www.gbrathletics.com/bm/xc.htm
Robert's running in the 1990's would turn out to be some of the best he would do and he started to show some of this in the summer of 1993. He had three races at 5000m ranked in the Yearbook: 14:12.8 at Wrexham on 8th August in the International against Wales, Northern Ireland, the North of England and the Midlands of England, 14:13.64 at Loughborough on 4th July and 14:16.40 at Grangemouth on 10th July when finishing second to Chris Robison in the SAAA Championships. There were also two ranked races over 10000m. On July 24th at Linwood he won the Scottish 10000m championship in 30:07.59 from Tommy Murray (30:12.32) and then in Loughborough on 15th August he ran 29:37.4 for a personal best. The Yearbook remarked, "Robert Quinn won his first Scottish track title in an engrossingly 'cat and mouse' race defeating Tommy Murray at Linwood. He later improved his personal best with a run over 30 seconds faster in England."
The first representative match of the season came on 19th December at La Mandria in Italy where he was ninth and second Scot in the Five Nations international. In the Edinburgh – Glasgow on 14th November 1993 he ran on the second stage and moved from sixth to second with the second quickest time of the day – behind Alan Puckrin who was racing for Glenpark Harriers. Robert did not run in the National Cross-Country Championships in 1994 or 1995. In summer 1994 he only appeared in the one ranking list and that was the 3000m where on 13th July he won in 8:14.24 which placed him number nine in the country for that summer. On the road he ran 30:12 for the 10K in Alexandria in June which placed him third for the season behind Chris Robison (29:46) and Peter Fleming (29:52).
At the UK Cross-Country Championships in 1995 Tommy Murray was fourth and Bobby fifth and they both made the team for the World Cross-Country Championships held in Durham.
He was ranked in no fewer than four track and one road event in summer 1995. His time of 4:13.1 for the Mile in Dundee ranked him ninth in Scotland and in the 3000m he was seventh thanks to an 8:16.1 at Grangemouth. There were however four 5000m times recorded and a championship medal for second place in the West District Championships with 14:00.91 behind Chris Robison's 13:59.4. This time put him in third place in the rankings with the other time being 14:12.6 at Narbonne in France on 29th July, 14:16.6 at Coatbridge on 23rd April and 14:23.3 at Birmingham on 15th July. He was also ranked number three in the 10000 where there were two good times recorded: 29:55.2 when finishing third in the Scottish Championships but he went even quicker for a pb of 29:14.23 at Loughborough in a fast World Championships Trial on 11th June. On the road he was ranked sixth for his 10K time of 29:47 set at Grangemouth on 19th February.
The cross-country season 1995-96 was when he lifted his first cross-country championship and introduced a five year spell where he was first four times and third once. These five years will be dealt with together with the intervening summer seasons being treated separately. On 13th January 1996 at Luton in the CAU Inter-Counties Championship, he finished an excellent seventh to be first Scot in the event. The next race was the big one. In the National he was ten seconds clear of Tommy Murray who was followed home by Alastair Russell, Chris Robison, Glen Stewart, Keith Anderson and David Ross: no easy victory then. On 3rd March at Ashington it was the BAF Championships and Robert finished ninth. The Yearbook says: "Robert Quinn missed out on a world place, being named as a non-travelling reserve after finishing strongly in a race in which the course was found to be short. Quinn finished ahead of tenth placed Rob Denmark who was selected." The implication being what every Scot felt at the time, he wuz robbed! And it would be hard to differ from the sentiment that Robert should have been in the GB team for the World Championships. He was unfortunate that his career came after Scotland was dropped from the World Championships for he would surely have been challenging for most runs in the race, he then did what was asked of him for the UK team but was passed over in favour of the Englishman who was behind him. Nevertheless, it was a wonderful end to the season
In season 1996-97 he ran in the Margate International on 10th November where he was again first Scot finishing eleventh in 24:04. In the Edinburgh to Glasgow later in the month he ran the second stage and ran very well to bring his club from fourth to second. On 14th December it was back to Cumbernauld for the Inter District Championships where he was second to Phil Mowbray (eight seconds down) and in that year he was also seventeenth in the World Mountain Trophy in Austria. He started 1997 with 19th place in the Coca-Cola International in Belfast and on 16th February at Perth he was third behind Chris Robison and John Downes, an Irishman running for Salford in England. There was a lot of discussion about the permission for Downes to run and most that I spoke to were against it, but he did run and finished second.
Season 1997-98 Edinburgh – Glasgow he ran the third stage and pulled his club from seventh to third. The next big one was the Inter-District at Cumbernauld on 13th Dec where he was third behind Phil Mowbray and Pat O'Keefe. That was the lead-in to the National where he won his second title in three years in a very close race with three others of the very best men getting clear and the finishing order was : 1. R Quinn 35:35; 2. Keith Anderson 35:36; 3. Chris Robison 35:37; 4. Glen Stewart 35:38.
He started 1999 with another Scottish Championship win when he was victorious in the SAF 4K Cross-Country Championship at Pollok Park in Glasgow. His time was 13:10, well ahead of John Tonner's 13:33. On the 23rd January he returned to the familiar turf in Belfast for the Coca-Cola International in which he was first Scot (13th) in 25:33 with Chris Robison twentieth in 26:00 and Glen Stewart thirty fourth in 27:04. The National Championships came up on 6th February and were at Cupar in Fife. Robert won again in 38:08 from David Cavers of Teviotdale Harriers on 38:26.
Season 1999-2000 saw Robert miss the Renfrewshire Relays but turn out on the anchor leg of the team for the National Relays where they were second. the Edinburgh to Glasgow on 14th November was one where Robert's run was quite superb: he brought his team from ninth to fourth on the second stage and running the fastest time of the day in the process. On 21st November he was out again in the Margate International fixture and this time he was fifteenth in 27:42. On 18th December he was fifth in the Inter-District Championships at Cumbernauld. On 8th January 2000 he raced in the Fila International in Belfast where he finished eleventh and was first Scot ahead of Phil Mowbray. On 12th February he ran in the Reebok CAU Inter-Counties. in Nottingham over 12K and was again first Scot when he was twelfth in 38:01. Thus prepared he went to the National Championships looking for three in a row. No pressure on him, then. But again, Robert was The Man. He won in 41:16 from old rival Tommy Murray (now running for Inverclyde AC) by seven seconds with Glen Stewart next in 41:51.
First in 1996, 1998, 1999 and 2000 with a third in 1997: a quite remarkable record: and if we add in the SAF 4K Championship in 1999 that makes it five national Cross-Country Championships in five years!
Let's go back a bit and trace Robert's progress on the track over the five years when he was performing so well over the country. In summer 1996 he started with second in the SAF Road Race 10K Championships in a time of 29:31 behind Glen Stewart's 29:28. On the track he was ranked fourth in the 5000m with 14:16.8 which he set when winning the West District Championship and he had two more times in the Scottish top twenty – 14:19.3 in Dublin in June and 14:19.68 at Crown Point also in June. When we say he was third Scot the following quote from the Yearbook "Three Scots bettered 14:00 albeit Paul Wilson, being a newly discovered Scot who does most of his racing in South Africa and USA, ….." That was the last we ever heard of Mr Wilson so Robert should be properly ranked number two for the year. In the 10000m he was ranked number one and also had the number two time for the year. He ran 29:48.47 in Birmingham on 14th June and 29:49.77 when winning the SAF Championships from Neil Wilkinson of Salford. The Yearbook again: "Once again the National proved to be the most important race of the season providing 7 of the top 8 fastest times recorded in Scotland. Robert Quinn who recorded the season's fastest time at the AAA won the National reversing the positions from 1995." On the roads he was ranked in both the 5000m and the 10000. In the former he was seventh with a time of 14:46 at Barrhead on 26th May and in the latter he was fourth with 29:31 which was run at Motherwell on 6th April.
In 1997 he had four times in the top Scottish rankings with the best (14:14.8 at Crown Point in June) being number six in the country. the others were 14:26.11 when he won the West Districts; 14:23.0 at Greenock on 15th June and 14:28.3 at Meadowbank on 18th May. On the road he was ranked at number one in the five miles with 23:22 at Chelfield on 2nd February and in the 10K he was sixth with 29:44 at Helensburgh on 22nd May. In 1998 he was ranked in no fewer than three events. In the 1500m he was twelfth with 3:53.1 at Scotstoun in June and in the 5000m he had three times. The quickest was 14:19.3 when he was second in the West District, then there was 14:26.8 at Crown Point in June and then he was timed at 14:42.88 at the Scottish Championships where he finished third. In the 10000m he had the top four times in the country. He won the SAF 10000 at Meadowbank in June but there were two faster times – 29:20.72 at Lisbon in April and 29:25.55 at Bedford in July. His fourth time was 29:43.88 at Prague in June and the Yearbook had this to say: "Robert Quinn recorded the top time of the year in the early season European 10000m Challenge at Lisbon and was just 5 seconds slower at the AAA Championships three months later. We had to rely on the National Championships race at Meadowbank which Quinn won by 10 seconds for the next four ranked runners." On the roads he was Number One for the 5 Miles distance with 24:00 at Balmoral on 11th April.
He only was ranked in one event – the 5000m – in summer 1999. He was second in the SAF 5000m Championships in 14:21.7 to Anglo-Scot Christian Nicolson of Team Solent (Southampton) who did 14:20.4. His best time of 14:09.4 at Loughborough in May had him fourth in Scotland and he also had 14:23.0 at Crown Point in Glasgow on 16th May. On the road he was number 14 in the 10000m rankings. ore will be said of his hill racing ability separately but in 1999 he was eighth in the European Mountain Running Championships and ninth in the World Trophy. In 2000 he was not ranked at all on the track but was number four in the country over 5K on the road where he ran 14:27 at Clydebank on 18 March. He was ranked at number twelve at 3000m in 2001 with his best time of 8:31.12 but I would like to have a closer look at the list for a moment. I have mentioned Paul Wilson above – I do not know any Scot who ever met him or saw him in action. To claim him as Scottish was maybe pushing things a bit. It was however a time when more Anglos and foreign based athletes were sending in times or coming up for races bringing their qualifications with them. In this 3000m ranking list there were no fewer than six Anglos ahead of Robert: Christian Nicolson (from Southampton), Jon McCallum (from Croydon), Andrew Caine (from the North of England and whose father ran for England), Kevin Nash (Belgrave), Neil Wilkinson (from Salford) and Simon Plummer. With no offence to any of them, most of whom ran well for Scotland, it is a straight historical fact that there were more of them at that time than ever before!
His cross-country career had a slight hiccup in 2001 when he missed almost every one of his usual races – no Reebok CAU for instance, no Cumbernauld Inter-District or International – and he did not run in the National Championships which was a pity after his three-in-a-row. Season 2001-02 would be better. Before Christmas in the biggest race in the first half of the season, he ran the second stage of the Edinburgh to Glasgow and brought Kilbarchan up from eighth to seventh with his usual good run. In February 2002 he was eighth in the Reebok CAU Inter-Counties at Nottingham in 37:53 to be leading Scot. Two weeks later, 23rd February, he ran in the Fila SAF National Championship where he was a very good second to Glen Stewart's 39:23. This was maybe a significant result: Glen was to run in both the 5000m and 10000m at the Commonwealth Games in Manchester later in the year and he was the main man in Scottish endurance running for the next couple of years. He could not repeat his father's victory in 1970 – the Africans were in greater numbers, more experienced and better prepared than most but he did have the satisfaction of being first Briton home in the 10000m. In 2003 Robert was again only ranked in the 5000m on the track: he won the West District title with 14:53.17 but his best performance of 14:45.60 at Meadowbank on 11th May placed him twelfth in the country. On the road he was ninth in the 5K with 14:58 recorded in Clydebank on 22nd March. His cross country running in early 2005 was good: on 10th January he won the West District Championship in 35:25 ahead of Jamie Reid on 35:28 and on 1st February in Glasgow he was second to Andrew Lemoncello in the SAF 4K Cross-Country Championships. However the National, while featuring a good run by Robert had some ominous portents. The first five placings were: 1. Glen Stewart (34:52); 2. Phil Mowbray (34:57), 3. Andrew Lemoncello (35:02); Martin Graham (35:06; 5. R Quinn (35:09). Tthe ominous feature was that they were all home-grown Scots and all were very young. Mowbray less than the others but he could still give Robert eight years. Robert was the only one of the former elite still there: the top ten did not feature Tommy Murray or Chris Robison at all.
| | | |
| --- | --- | --- |
| Distance | Time | Year |
| 1500m | 3:53.62 | 1990 |
| 3000m | 8:08.51 | 1991 |
| 5000m | 14:00.91 | 1995 |
| 10000m | 29:14.23 | 1995 |
| 2 Miles | 9:32 | 2010 |
| Road | | |
| 5K | 14:15 | 2003 |
| 10K | 29:44 | 1997 |
| Half Marathon | 66:50 | 1996 |
Robert became a veteran (M40) in 2005 so it is appropriate to look at his personal best times and they are in the table above. The 2 Miles time is slow but then it has seldom been raced over the last twenty years or more. However, although his career seemed to be winding down at this point that was far from the truth: he more cross-country to do, he had more track to do and he had a newish career as an international hill-runner. There will be a look at that aspect of his running as well as a look at his running as a veteran competing against younger men and as a veteran athlete. The truth is that he never ever really made a separate career as a vet: he entered all the same races but maybe slightly fewer than before with good results (eg two tenth places in the Senior Men's National) and it was only later that he entered vets events and when he did he usually won (eg in 2011 as an M45 he won the race, took also the M45 award and that gave him eleven National titles since his first in 1982!)
As an over 40 he has so far only run three times in the National and then with distinction: in 2008 he was tenth, in 2009 he was again tenth and in 2011 he was sixteenth. The last was particularly praiseworthy: it was a National with lots of young men in the first 100 in distinction to previous years dominated by older, more experienced (and maybe a bit slower) runners, they were virtually all home Scots and Bobby was the only M40 in the first 30 and in fact he was coming up for his 46th birthday. Always in a good position he ran very well indeed. In Veteran's athletics he first appears in the cross-country championships in 2008 after the new M35 category had been devised. As an M40 he won the championship comfortably from David Millar and Steven Wylie who were both M35's. In 2009 he won again from Steven Wylie who was still M35). Robert missed 2010 which would have given him three-in-a-row here as well had he won it but he was back in 2011 when he was overall champion again – as an M45 he won with room to spare from Kerry Liam Wilson and Steven Wylie who were both M40's! Ran three, won three – so far! At British level he was also a star and, says Colin Youngson, a hero to all Scottish vests from W35 to M70 when he was first in the M35/M40/M45 in the British and Irish Masters Cross Country International (5 countries including Ireland) at Stormont, Belfast on 16th November 2007. On 15th November 2008, Bobby (M40) was second to England's Tim Hartley but well clear of Welsh International steeplechaser (based in USA) Justin Chaston. It was run that year on a very hilly and muddy course in Singleton Park, Swansea. Bobby himself rated this as a better run than his gold the previous year. In 2010 he won the Scottish vets 5000m on the track at Pitreavie on a day when the wind was very strong: Bobby was not the only runner who likened turning into the home straight on each lap like "running into a brick wall."
With all the success he has had why did he add in hill and mountain running? He reckons that he was always a good climber and being light with a good strength to weight ratio so he was suited to it in a way that many cross-country runners are not. It was also a good way to re-invigorate his running career and extend international running well into his thirties. Spending summers racing over the most beautiful mountains in Europe and beyond he describes as 'great' – and who would disagree? His record is fantastic. Look at the international results in the table below. For full details you can go to the World Mountain Running Association Website at www.wmra.ch The World Championships tend to be held in September. the Europeans in July and the Commonwealths have only been held once – in September 2009. So far though he doesn't seem to have put 'veteran' and 'hill running' together to get the Masters World Mountain Running Championships together,.
Year
Event
Place
Venue
1994
World Mountain Trophy
8th
Germany
1995
World Mountain Trophy
7th
Edinburgh
1996
World Mountain Trophy
17th
Austria
1997
European Mountain Running Trophy
23rd
Austria
1998
World Mountain Trophy
3rd
France
1999
World Mountain Trophy

European Mountain Running Trophy

9th

8th

Borneo

Austria

2000
European Mountain Running Trophy
6th
Poland
2001
European Mountain Running Trophy
16th
Slovenia
2002
World Mountain Trophy
39th
Austria
2009
Commonwealth Mountain Running Championships
10th
Keswick
There is also a Grand Prix for Mountain Running – see the link above – which involves races all over the Continent including major championships. Robert actually won one of the major Grand Prix events in 1999 at Lenzerhide. His overall world ranking in 1999 was third, in 2000 fifth, and in 2001he was ninth. The rankings can be found using this link:
http://www.wmra.ch/index.php?option=com_content&task=view&id=570&Itemid=39
*****
So that's Robert's career as an athlete up to the start of 2011: 11 National Cross Country titles between Under 17 and Over 45, a 4k Cross Country Championships and many victories on the track. At the age of 44, he is the current Scottish 10000m champion! One of his claims to fame is that he is the first person to gain full senior UK representative honours across all major surfaces –
Track: European 10000 Challenge, Lisbon, 1996
Road: World Ekiden Road Relays, Copenhagen 1997
Cross-Country: World Championships, 1995
Mountains: see the Table
GB and Scottish International vests on the track, over the country, on the hills and on the roads. There could/should have been another GB cross-country vest in 1996 (see above) but for bad luck and selectorial vagaries! A talented athlete, a superb worker, a ferocious competitor and a real and practising lover of our sport. Long may he continue to bring us pleasure!
Robert was profiled again in the December 2018 Scottish Veteran Harriers Club Newsletter. Here is the information about his Veteran/Masters career.
As a Masters athlete, Robert has also enjoyed many successes, despite periods of inevitable injury. His M40, M45 and M50 Scottish Masters XC wins have been mentioned earlier in this article. Kilbarchan won team bronze in 2008 and silver in 2009. In 2007, he was first Masters finisher in the Gateshead UK XC Challenge. On the track, he was first in a gale-torn 2010 Scottish Masters 5000m at Pitreavie (a title he regained in 2013); and, also in 2013, won the Scottish Masters indoor 3000m at the Emirates Stadium, Glasgow.
Robert's three races for Scotland in the splendid annual British and Irish Masters XC International have been outstanding. In 2007 at Stormont, Belfast, he won the M40 title and at the presentation was cheered deafeningly as the hero of his entire team (female or male, aged 35 to 70 plus). In 2008 at the very muddy and hilly Singleton Park, Swansea, he may have been second to England's Tim Hartley, but considers this run to have been even better than Belfast. At Derry in 2017, despite being hampered by limited training due to injury niggles, he narrowly missed a medal, battling to fourth M50.
In the Scottish National senior cross-country Robert finished first Master three times, in 2008, 2009 and 2011, with his best position tenth.
In UK Masters rankings, Robert has been first M40 in 3000m, 5000m, 10,000m and Parkrun; and first M45 in Parkrun.
In 2018 he has taken a break from running, hopefully freshening his legs for future age-groups! Naturally, he remains very fit. This summer, as well as completing bike tours of Arran, Mull of Kintyre, round Loch Fyne, Bute and Rothesay, Robert cycled up major Pyrenean climbs like Luz Ardiden and the Tourmalet. In fact, before the road was closed on 27th July, he 'nipped' up the Tourmalet again to take photos of the Tour de France racers who were not far behind.
Brian McAusland finished his profile with the following. "A talented athlete, a superb worker, a ferocious competitor and a real and practising lover of our sport." All his many friends, including SVHC runners, wish this intelligent, friendly, admirable man a speedy return to running.