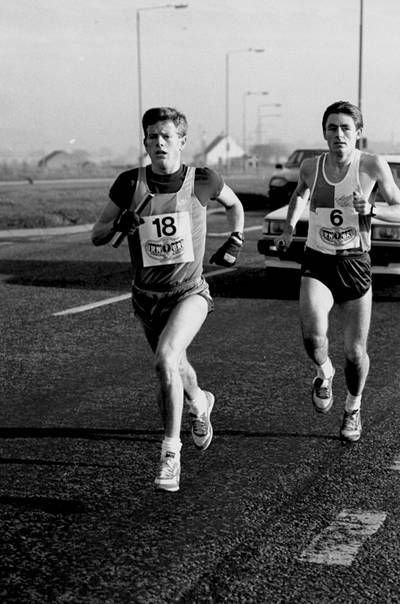 Chris Robison leads from Craig Ross (Dundee Hawkhill Harriers) in the 1985 Edinburgh to Glasgow Relay
I first met Chris Robison at a BMC Conference and AGM which I was organising at Jordanhill College in 1985.   It was a good conference with exactly 100 people attending over the two days to hear Peter Coe, Jimmy Hedley, Frank Horwill, Malcolm Brown and Alex Naylor talking about various aspects of middle distance training.   Most Scottish clubs were there – and four-minute miler (well, 4:00.3, if you want to be picky) and English international cross-country runner Chris was there having just arrived in Scotland to take up his new posting.    Word took about five minutes to circulate and for a big chunk of the week-end Chris was pestered by folk giving good reasons why he should join their club.   He fended them off effortlessly.  Some were sceptical of his 'Scottishness' but the scepticism disappeared when this first-class athlete who could have continued racing for England chose to represent Scotland on track and country and turn out for his club in all the major, and many not-so-major, competitions.   Chris who was only 24 at the time of the conference with a nice symmetrical birth date of 16/3/61 would end the millennium with personal bests as indicated in the table below.
| | | |
| --- | --- | --- |
| Distance | Time | Year |
| 1500m | 3:42.8 | 1982 |
| Mile | 4:00.3 | 1984 |
| 3000m | 7:58.6 | 1986 |
| 5000m | 13:55.7 | 1994 |
| 10000m | 28:39.5 | 1986 |
| Half Marathon | 62:58 | 1991 |
| Marathon | 2:22:24 | 1991 |
To that you can add a Five Miles time of 23:26 at Portsmouth  in the North End 5 in 1982 as well as 24:01 at Bridge of Earn in 2000 at the age of 39.    The titles won since settling in Scotland include three national cross country championships (plus four seconds, a third and a fourth in possibly the closest ever first four finish in the history of the event, two 5000m championships on the outdoor track and a 3000m indoors plus a road racing 10K title in 1993!    He also ran in ten Edinburgh to Glasgow races turning in five fastest times and two second fastest times on his stage.   A very quiet and unassuming man, Chris deserved every one of them and all the success he has achieved in athletics.     He is also well-known for his chosen career in the Navy and training round the deck of HMS Glasgow at one point (9 laps to the mile – half the distance of a lap of the Kelvin Hall track!) which makes his profile the more fascinating.
Born and raised in Derbyshire, he took up the sport there and ran for the Derby and County AC.    Chris says: "My first recollection of any form of athletics was school PE and having to run a 1500m on a grass track along with the rest of the class.   I finished in second place in about 5:15 and thoroughly enjoyed it.   My taste for competition had been ignited at the age of 12.
Sport for me in those early years at school was a mix of rugby and cross country in the winter and limited athletics in the summer.   By the age of 15 it was clear that rugby was not going to be my most successful sport and with some minor successes in my own school at cross-country and sports day I decided to spend more time on running.   My PE teacher would assist my pace judgement by asking me to do laps of the track at a certain pace and he would blow the whistle at the time on which I was supposed to be passing every 100m.   Crude but effective and I still treasure these early memories of instilling pace discipline.  
It was not until 1976 at the age of 15 that I ventured anywhere near an athletics club.  Up until then I would do some steady running once or twice a week from home and whatever the PE teacher recommended at school when he had time to stand by the track while I tried to run laps at various speeds.  
The Montreal Olympics really lit a flame (excuse the pun) for me and I found myself following anything remotely linked to athletics.   I had started attending training on a semi-regular basis at Derby and County AC.   It was about two and a half miles to the track and I would jog down and back after school twice a week for the club session.   There was a strong group of teenage boys and I was just an average club athlete 'hanging in' on the regular sessions of 20 x 200 with the standard cross-track jog recovery, or maybe the 400m reps.   I recall these sessions being hard work both physically and mentally.   Having done very little structured training up until this point, this was far more intense  and coupled with the 5 mile round trip jog to and from the track I was running very tired.   Although I was middle of the pack both at training and in the club races I was incredibly motivated to stick at it and see if I could improve.   Additionally we had a superb camaraderie within the training group with at least 10 boys all about the same age all training together.   We would go to races together in a big minibus owned and driven by the coach and the social side of the club life was excellent.
Improvement for me was more gradual.   Early results show finishing 108th in my first English Schools Cross-Country and often not making the scoring team for Derby AC 'Youths Teams' when we ran in the Midlands Cross-Country Leagues.   I was exceptionally slight up until the age of 18 but I slowly matured and built up my endurance over time from having to run to and from training sessions.   I also lacked any kind of speed and naturally raced over the longer track distances – 3000m and 5000m.   My first indication of any sign of genuine ability occurred completely out of the blue at the English Schools cross-country championships in 1977.   Having finished sixth in the Derbyshire county trials, I went to the English Schools at Redditch with no real aspirations other than beating the 108th of two years previous.   With a mile to go I found myself in about 18th place with my coach screaming that if I was able to pick it up then there was an outside chance of an England vest!    Unbeknown to me, there was a home countries international event and the top eight were selected with two travelling reserves.   I finished eleventh.   It was a massive breakthrough.   To this day I do not know how I made that level of improvement and was able to run so well compared to my club peers.   I was a changed athlete and suddenly believed that I could be successful.
The 1977 track season saw significant improvements over 3000m and I ran 8:57 to qualify for the English Schools Track Championships.   That was another steep learning curve with warm-up areas, the need to sit in a holding area and many hundreds of spectators.   The highs of the cross-country season were a distant memory as I managed to prevent being lapped (in a 3000m!)   One of the officials questioned my qualification time and suggested that I should not have been running.   It was not what I needed to hear at that point as I was trying very hard to keep back the tears.   That race was a tipping point and I was determined that I would never repeat that experience.   It also stood me in good stead for later much bigger competitions and the pressure that comes with them.  
As a footnote, that same official who had criticised me was officiating in an event that I ran at four years later – the Dewhirst Games.   After running a pb of 8:05 and finishing third in a decent class field, he came up to me and congratulated me adding that he had watched my improving career with interest since his comments in 1977. 
My track times improved moderately across the board over the next few years and in the summer of 1979 I prepared to leave home and start a career in the Royal Navy with pb's of just under two minutes for the 800m, 3:59 for the 1500m and 14:55 for the 5000m.   I still struggled to run sub 60 seconds for 400m at this point.
I joined the Navy in September 1979 and really did not know what to expect as far as the running career was concerned.   Fortunately I was to spend most of the first two years on land at the Naval College at Dartmouth in Devon.   For anyone that knows that part of the world, you cannot fail to become good at running up and down hills!   I spent three months at sea in early 1980 on the training ship during which time I had the pleasure of running the Gibraltar Rock Race (more of that later!) and learning to keep fit on a warship at sea (more of that later as well!!!)   What was significant about this time in my life was my maturing physique – maybe the fact that I was a late developer and also because I was regularly required to do physical gym work, parade ground, sailing dinghies and a range of other outward-bound type activities that until now had been alien to me.   I grew and I beefed up!
The outcome of this was returning from my spell at sea in Spring 1980 about a stone heavier than when I left home.   I made the decision to use this additional strength to try and develop some speed and do something about what was clearly a weakness in my running ability to date.   I ran hill reps, did speed work, drills on the 200 steps that went from the college down to the quayside and some basic gym work.   The outcome was significant and over the next 14 months I improved my 1500m time from 3:59 to 3:44.6.   More significantly I ran a 51.7 400m and I was beginning to win track races with a sprint finish.
As I look back on my career, this is probably one of the most significant decisions I had made, and what's more it had not adversely affected my endurance capability – in fact quite the opposite.   During the same period I finished second in the 1981 Junior Inter-Counties just behind Dave Lewis, got third place in the Junior National behind John Doherty and gained my first senior Combined Services vest when finishing third in the annual match against English Cross-Country Union, British Police, British Polytechnics and British Universities.    Things were looking good.   I loved my running.   The Navy Training regime at the College was suiting me and I was gaining confidence across all the athletic disciplines.   Winning the 1981 Inter Services 1500m championships outsprinting both Steve Jones and Roger Hackney (both RAF) in Portsmouth in 1981 in front of the Admiral was a highlight.   I knew my career was going to put some serious restraints on how far I could go with the running but these early successes had allowed me to make a name for myself that may help in securing access to major events in the future."
His first club run in Scotland was in a Spango Valley AAC B Team at the Kilbarchan relays in 1985 BUT ….  "if the truth be known, my first race in Scotland was in a home countries International cross-country at Cumbernauld in 1982 – running for (shhh!) England.   I finished third behind Paul Davies-Hale and John Theophilous (Wales).   Can't remember who was in the Scottish team that day but it will be in my scrapbook somewhere!!  His first run in the Scottish Cross-Country Championship was not until 1987 when he was second to Nat Muir but by then he had run in two Edinburgh to Glasgow races for Spango Valley AAC (based in Greenock) – he had married a local girl whose brother was a runner so all the approaches from clubs as far away as Glasgow, and even further, were clearly to no avail.   His first E to G was in November 1985 when he was on the second leg and pulled the club from eighth to first in the fastest time (28:33) of the day; the team was fifth.   In  November 1986 he raced on the fourth stage where he moved from third to first in the second fastest time of the day to see the team finish the race in fourth place.  In the track rankings for 1986, he was placed second in the 2000m behind Nat Muir with his best time of 7:58.6, fourth in the 5000m with 14:00.85 and topped the ratings for the 10000m with a very good 28:39.35 with Nat Muir second  less half a second slower (28:39.65.)
The 1986-87 cross country season was a good one: Chris ran on the fourth stage for Spango Valley turning in the second fastest time on the stage a lifting them from third to first.   This was followed the E to G run with a win at Bellahouston Harriers Open CC Race on the 22nd in 33:03 to Eddie Stewart's 33:10 which was good enough for him to be selected for, run in and win the quadrangular international cross-country race at Stirling University between the SCCU, Ireland, Scottish Universities and a Scottish banks team.   He defeated Terry Mitchell by 11 seconds.  On the 2nd January, in the New Year's Day Road Race at Beith, Chris won by 32 seconds from Alistair Douglas and ahead of such Scottish stars as Hammy Cox, Alistair Currie and Gordon Crawford.  On 13th January at Portsmouth he was second in the Inter-Services Cross-Country Championship to Steve Jones (RAF) who ran 31:42 to Chris's 31:48.  A week later he won the West District Cross-Country Championships at Kirkintilloch from fellow Spango Valley runner, Tommy Murray.   After a torrid battle over mud covered and hilly trail with the lead constantly changing hands, he prevailed by eight seconds.    In his preview of the National Cross-Country Championships that year, Doug Gillon (writing in 'Scotland's Runner' said "then there is Chris Robison of Spango Valley, Derbyshire born, and a member of England's team in the world championships two years ago, but who, since being posted to HMS Gannet at Prestwick, has opted to run for Scotland.   In the National his second place to Nat Muir was 22 seconds down but eleven ahead of Allister Hutton.   His place was assured for the World Championships where he improved on his previous year's performance.   It was a significant race because the Championships, to be held in Warsaw, were to be the last in which Scotland would compete as an independent nation.   In future there would be only  great Britain team instead of the four home countries all running independently.
He started summer 1987 racing over a variety of distances.  On 6th March, he was sixth in the Kodak 10K Classic National Road Championship behind Nat Muir, Allister Hutton, Paul O'Callaghan from England, Tim Hutchings from Crawley and an Irish runner in a time of 29:38.   Three weeks later it was the fourth stage of the National Six Stage Relay at East Kilbride where he was not only fastest on the fourth leg but fastest long leg runner overall with a time of 30:48.   Nobody else was inside thirty one minutes..   A month later he turned out in the Adidas Challenge 5K Road Race in Pollock Park, Glasgow, and finished second to Peter Fleming in 14:30 to Fleming's 14:14.   A week later in the Pearl Assurance Half Marathon he was second in 66:09 to Terry Greene from Ireland who won in 65:44.   Another week later and he raced in the Gallery Street Mile at Kirkintilloch on the day of the Luddon Half Marathon, and was fifth in 4:02.   Unfortunately he did not run in the SAAA Championships in June but he was fourth in the Runsport 10K in Stirling in 30:07 (Allister Hutton won in 29:09) and nine days later in the Inverness People's 10K he was second (29:41) to Peter Fox (29:28).   The "Scotland's Runner" magazine had held a road running championship over a series of races during the summer and in the September 1987 issue, there was a photo of a smiling Chris with the caption: "Chris Robison ….. hovering high above his rivals in the championship."   The text read: "Chris Robison, the Royal Navy Lieutenant who navigates Sea King helicopters from Prestwick Airport, has moved into a commanding lead in the men's championship table.   His improvement of 70 points from his seventh place last month was due to good runs in the Runsport 10K (fourth) and haf marathon (second) places at Stirling and third place in the City of Edinburgh 10 mile road race along Cramond Esplanade."   The points table had Chris top with 143 points from Frank Harper (Pitreavie) on 105 and Alex Gilmour (Cambuslang on 100 points.    His win in the League was confirmed in the December issue where he had 221 points to Harper's 138 and Alistair Douglas's 134 with Gilmour slipping to fourth (119).   The report read:   "Robison who was stationed at the Royal Navy air station at Prestwick for over two years, is now back in his home town of Derby but, having married a Greenock girl whose brother Terry Wilkie is a member of the Spango Valley club, will return to Scotland for the big Scottish championships events."
In season 1987-88, he started with an outstanding run in the Scottish National Four Stage Cross Country Relay Championship at Gala where he had second fastest time of 11:39 – just one second slower than Springburn's Adrian Callan.   The Spango Valley team of Cameron Spence, Stephen Connaghan,  Chris Robison and Lawrie Spence finished third behind Cambuslang and Springburn.  He had another run on the second stage of the E to G and managed to turn in the fastest time on the stage yet again (29:10) in moving his team from fourteenth to sixth with the team finishing tenth.  He married Carol in September 1987 and left Scotland and was posted to various spots in England for six months.  There was the Royal Naval College in Greenwich in Autumn followed by three months in the careers office in Derby.   He reckons this set him up for his best winter period.   First in the Inter-Services (always a very tough race) followed by fifth in the English National and second in the Scottish behind Neil Tennant from Luton in 38:47 to Tennant's 38:14 with a man who would be both rival and team mate, Tommy Murray, third in 38:50.   After fifth in the first ever trial for a GB team in the World Championships, he was automatically selected for the team in the World Cross Country Championships which were held in Auckland, New Zealand that year and improved yet again to finish just outside the first 100 runners.     This meant that in four years he had run for England (85), Scotland (86 and 87) and Great Britain (88) in the same championships.   He ran his first marathon off the back of the cross-country season in London and ran what he says felt like an easy 2:24:42.   He was mentally pretty near exhaustion after the winter season having done too much racing, travelling, etc.   It was he says pretty clear to him that he was never going to be a marathon runner – but it would have been nice to se what he could have done, all the same!
In April 1988, he joined a new air squadron and went to sea on the carrier HMS Illustrious for most of the next 12 months – right up to summer 1989   He pops up again in the records in the Scottish Championships, 1989, in the 10000m where he was fifth in 29:42:00 in a very tough race.   Result: 1.   Kevin Forster   29:03.8; 2.   Mike Carroll   29:22.5;   3.   K McCluskey (Copeland)   29:30.5;   4.   D MacFadyen (Greenock Glenpark)   29:33.4;   5.   C Robison   29:42.00;   6.   Alan Robson   29:42.7.     He went on to race a lot, and race well, in August.   On 9th August in the Shettleston Harriers Open Meeting  he was second to Bobby Quinn (8:15.1) in the 3000m with 8:19.1.   Nine days later in the British Airways 10K in Glasgow he was second again – this time to Nat Muir with 30:22.3 to Nat's 30:22.2 with Allister Hutton third in 30:27.   Two days later, 20th August, he was second for the third time, this time in the Barnsley 6 mile road race where John Nuttall won with Chris second in 30:51 and clearly unhappy Nat Muir third in 31:27.
Chris missed most of the 1989 – 90 winter season for the reasons given and did not run in either the E to G or the National.   He ran in the Inter County Championships at Corby on 27th January and finished third in 40:19 running for Cornwall, presumably he had been posted to a Naval base there, but the next Scot to finish was Bobby Quinn in sixth in 40:26.   This was enough to get him into the World Cross-Country Championship trials to be held in Bellahouston Park.   On a course described as "heavy but not impossible" he finished fourth (33:04) behind Adrian Passey (England: 32:46), D MacNeilly (Ireland: 32:59) and Paul Taylor (England:: 33:04).   "Scotland's Chris Robison (IBM Spango Valley) was pipped for third place by England's Paul Taylor but comfortably secured his position in the UK team for the World Championships in Aix-Les-Bains.   The event was held on 25th March and Chris after missing so much time over the previous year and a half finished 90th which was to be his best placing ever in the event.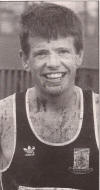 Chris after qualifying for the World CC Champs, 1990
(Photo from 'Scotland's Runner' by Peter Devlin.)
On 26th May, 1990, he was second to Robert Quinn in the West District Championship 5000m in what was to be his season's best time of 14:11.91 behind Quinn's 14:09.91.   In the SAAA Championships at Crownpoint Road in Glasgow he was fifth in a very competitive 10000 metres, which was won by England's Olympic 5000m and 10000m runner Eamonn Martin in 28:40.78, in 30:22.61.     These times had him placed sixth and seventh respectively in the end-of-season rankings.   He finished the summer season with a win in record time (29:52) in the Bill Elder Memorial 10K road race at Greenock ahead of Hammy Cox (30:50).
His next winter (1990 – 1991) started in great style.   The traditional start to the winter season is the McAndrew Relay at Scotstoun and that year the talking point was the appearance of Steve Ovett.   Steve had retired from international athletics and come to Scotland to stay in the Borders.   He had joined Annan AC, as had Steve Binns after him and together with locals Rob Carey and Mike Carroll they made a formidable striking force.   It was an exciting race, as indeed it always is, with Steve Ovett turning in the fastest time of 14:49, six seconds ahead of Chris who was second quickest.    In the E to G in November, 1990 he was back on the second stage and turned in the fastest time of the day moving his club up from fourteenth to sixth – a wonderful run on this stage of endurance running giants.
In the Edinburgh to Glasgow Relay in November 1991   he had fastest time on the second stage when taking Spango Valley from fourteenth place up to fourth – they finished the race six stages later in seventh position.   The National Championships in 1992 were won by Tommy Murray with Chris second in 34:17, just 19 seconds adrift with Bobby Quinn a mere two seconds behind that.    This three-way rivalry was a feature of Scottish athletics for a period about ten years with all three having their successes – eg all won the National Cross-Country Championships, all three won track championships, all three ran for Scotland on the country, road, track and hills, all three had outstanding runs in the various relays and road championships and Scotland was fortunate to have them competing as often as they did.  Chris again qualified for the IAAF Cross Country Championship which was held in Boston in 1992 and in the race itself, he finished 115th.    Chris's best track time in 1992 was a quick 5000m in 14:47.9 in September which ranked him twenty first in Scotland and on the road he was first in the SAF 10K Championships at Alexandria on 27th June in 30:01 which was the fastest time in the country that year and his best half marathon was on 14th March at Hastings where he was ninth in 66:54.
1992 – 93 was a disappointing run for Chris in the E to G when his 30:13, slowest run he had ever done so far, was only good enough to keep sixteenth place for his team.   In the National in 1993 he did not run. With 8:24.2 in the Kelvin Hall on 10th March.    He was however more active during the summer of 1993 where he was sixth the 5000m rankings with 14:13.63 run at Ayr on the 16th of May to win the West District race from Alan Puckrin (14:15.45) and then ran 14:14.13 at Grangemouth to win the National title from John Sherban (14:15.8) and Bobby Quinn (14:16.4).    He won a 3000m race at Gourock earlier in May in 8:19 from Alan Puckrin (8:20.1).   He also ran a 29:31.70  10000m at Crystal Palace on 12th June when finishing eleventh and 29:58.1 for the same distance at Crown Point when defeating David Cameron (Shettleston, 30:43.7) for the same distance.   The Scottish Athletics Yearbook pointed out that his 10000m time "… was almost a minute outside his best, set seven years ago."   If the hint was that he was past his best, well – how wrong can you be?
He started season 1993 – 94 (Commonwealth Games coming in 1994 added a bit extra to the whole training and racing year!)  with another cracking run on the second stage of the Edinburgh to Glasgow Relay when he was second fastest taking Spango Valley from eleventh to sixth.   He finished the winter in great style by winning this 10K time of 29:35 when winning in Edinburgh on 1st October.    There was also a fast 10 miles in Gosport on 24th September.   1994 started with a 3000m indoors at the Kelvin Hall  where he won the championship from Graeme Croll (8:10.32) and Tommy Murray (8:18.10).  And in the National Cross-Country Championship at Irvine he won in 32:45 from Tommy Murray (33:06) and Graeme Croll (steeplechase champion from East Kilbride, 33:13).
On the roads he was fifth in the 10K at Alexandria in 29:46 but on the track Chris had a very good season.   He won both West District and National 5000m titles.   The former was won in 14:09.98 from John MacKay (Shettleston) in 14:34.02, and the latter was in 14:08.52 from B Clas (USA, 14:09.62).   In the rankings he was second with 13:55.7 at Grangemouth in August, fourth with 14:08.52 and fifth with 14:09.98.   In the 10000m he travelled to the AAA's championship at Sheffield on 11th June to record 28:51.12 when finishing sixth.   This ranked him number one in Scotland.   The Yearbook had this to say: "…Chris Robison took advantage of a fast race in the AAA's to be the only Scot to better 29 minutes this season, but his run was still over 12 seconds outside his eight year old best for the distance."
Then there were the two international fixtures.   First in the Scotland v Wales v South of England v Midlands Counties v North of England indoors at Birmingham on 26th February when he won the 3000m in 8:05.94; and then on 21st May in Turkey in the Scotland v Israel v Wales v Turkey match he was third in the 5000m in 14:50.37 in a race won by Turkish runner in 14:08.23.
Then there was the big one!  He had gained selection for the Commonwealth Games:  This year the Games were in Vancouver in August where he took part in the 10000m.   In a Commonwealth race including many of the major African countries that dominate endurance running at the time, Chris ran well but was tenth in 29:50.23.    On a night not suited to endurance running, he stuck to his task and seeing several athletes drop out – including team-mate John Sherban – did not seem to affect him at all.
In to season 1994-95 he ran in the E to G in what was to be his slowest ever second stage and the only time when he ever dropped a place.   It had been a good year but a long one with a lot of racing and travelling as well, of course, as his day job.   In the relay he ran 32:52 and dropped from thirteenth to fourteenth.   The Spango Valley team was not at its strongest but he turned out and raced for them.   By the National in Perth in February 1995 he had recaptured some of his old verve and finished second in 41:29 to Anglo Keith Anderson who won in 41:08 with Graeme Croll, third again, only two seconds behind Chris. On the track in summer 1995 he was ranked second in Scotland in the 5000m with his best time of 13:59.45 at Wishaw on 13th May when winning the West District championship.   The Yearbook commented, "Chris Robison was again second ranked in the event, narrowly bettering 14:00 in an exciting West event where in a whirlwind final lap, he just got the better of a rejuvenated Bobby Quinn."   Quinn's time was 14:00.91 and Adrian Callan in third recorded 14:05.58.   When it came to the SAF Championships however, it was a different story with Chris finishing third (14:29.33) behind Dermot Donnelly (14:16.40) and Adrian Callan (gaining revenge with 14:18.82).    Chris also turned in times of 14:10.0 at Pitreavie on 28th May, 14:14 at Coatbridge on 23rd April and 14:29.33 at Meadowbank on 24th June.   In the 10000m track, he went to Loughborough on 11th June for the GB World Championships trial and finished third in 29:03.69 with Bobby Quinn running 29:16.23.   These were season's bests for both men and made them numbers one and two in Scotland.   There was also some road running and he was rated number four with his 10 K time run in Edinburgh on 1st October of 29:35 and in the 10 miles there was a good 49:59 at Gosport on 24th September.
In January 1996, he was fourth in the National behind Bobby Quinn, Tommy Murray and Alaistair Russell.  The big feature for  1996  however was that there was a new club on the block.   There were three Greenock clubs in membership of the governing body in Scotland:   Greenock Glenpark Harriers, Greenock Wellpark Harriers and Spango Valley AAC – the Women's club of Greenock Rankine Park had long since folded.   Numbers were declining and meetings were held with a view to the clubs amalgamating to make one strong club.   Glenpark felt that they could not go along with what was proposed but nevertheless Inverclyde AAC emerged from the union of Wellpark and Spango Valley along with some members of Glenpark who thought they liked what was on offer. Chris was one of the prime movers in the amalgamation being very keen to promote a strong club in the town that provided all athletes with a chance to compete in all disciplines, but especially on the track.  Chris was keen to further develop his club career by joining Shettleston who at the time were regularly competing in team events throughout the UK.    For a short time therefore, Chris ran with the local Inverclyde colours on the track but in country or road races where there was no representation, he competed for Shettleston Harriers and both parties gained from the connection.   Chris accordingly appears in the rankings for 1996 under the banners of both clubs.   In the track standings, he ran a good 14:15.8 at Portsmouth on 2nd July to finish first and at Crown Point Road on 29th June he did 14:16.5.   The latter time was when he finished second to Phil Mowbray (14:16.42) in the SAF Championships.   These were in the Inverclyde colours.
Then running as a member of Shettleston Harriers he was ranked as follows for road events in 1996:
| | | | | |
| --- | --- | --- | --- | --- |
| Distance | Ranking | Time | Venue | Date |
| 5000m | 2nd | 14:22 | Solihull | 6 October |
| 4 Miles | 2nd | 19:20 | Holy Island | 30 July |
| 10,000m | 1st | 29:10 | Solihull | 6 October |
| 15,000m | 1st | 46:06 | Majorca | 26 September |
| 10 Miles | 2nd | 48:51 | Leyland | 18 August |
| Half Marathon | 3rd | 65:10 | Majorca | 29 September |
Into the 1996 – 97 winter season and Chris tackled road, cross-country and indoor track.   Indoors he won the Scottish 3000m championship in 8:26.04 on 19th January.   His first run for Shettleston was in the Ekiden Relay at Greenock in September 1996 when they won the title for the second successive year.   In October he travelled with them to the BAF 10K Championship at Solihull in Birmingham where he finished third in 29:20 leading the club not only to the team title but also representing the West District to the Inter-District title.   In November he ran in the Allan Scally Relay team that finished second to Racing Club.   In the Edinburgh to Glasgow he ran on the second stage bringing the club from second to first but they slipped back to second and he picked up a silver medal.   Missing the West District Championships he was fourth in the Inter-District at Cumbernauld in December and in February he won the Grangemouth Round the Houses 10K.   On 16th February, 1997 in the National Cross Country Championships he won his second title – this time he defeated John Downes (who many claimed should not have been allowed to race) in a time of 37:19.    His next race was the UK Cross-Country Championship at Luton where he finished second.
On the track in summer 1997, he was ranked in the 1500m for the first time in many years with 3:50.69, run in Spain on 21st June – the ranked him fifteenth in Scotland; his indoor 3000m time had him top of the rankings. and he raced to 14:07.1 at Hexham on 8th October when he placed third in a time of 14:07.1    The statisticians in their Yearbook said, "With Chris Robison waiting until October to record his best time in the Northumberland Multi-Terrain Challenge against Kenyan opposition …."    He topped the 10000m lists again with 28:47.26.2 which gained him fifth place in a race in Sheffield on 29th June.   On the roads, again in Shettleston colours, he was second quickest in the Mile with 4:17.3 set in Seaton on 8th October, and his 10K time of 29:26, run in Norham on 5th October had him in fourth place.
Although he missed the McAndrew, West District and Scally Relays in 1997, November saw him win his second Edinburgh to Glasgow medal when the Shettleston team which he was representing on the eighth stage finished second with Chris having second fastest time on the eight stage.   The National in 1998 had probably the closest finish of any – certainly of any that I have seen or read about – 4 runners covered by four seconds!    Bobby Quinn won in 35:35, Keith Anderson was second in 35:36. Chris Robison was third in 35:37 and Glen Stewart was fourth in 35:38!    Needless to say he was first Shettleston man to finish.   He was not finished with either the 1998 cross-country season or the IAAF Championships yet!   He again qualified for the GB team in the world championships and earned his trip to Marrakech, after being fifth n the trial at Cardiff, where he finished eighty seventh – his best placing in six races at the championships spread over13 years!     He was actually getting faster again on the track:  finishing second at Grangemouth on 17th May, he ran 3:55.9 for the 1500m.   In the 5000m he was third in the West District at Scotstoun on 10th May in 14:21.21  (he also raced to 14:22 at Hexham on 29th May).   The West District result was: 1.   Glen Stewart 14:03.34; 2.   Bobby Quinn   14:19.3 and third Chris in 14:21.21.   On the roads he was ranked in three events :in the 5K he was top with 14:42 run at Dewsbury on 8th February; in the four miles, he was second with a time of 19:31 run at Ford on 25th May and in the 10K he was again top of the heap with 29:16, recorded at Dewsbury on 8th February (all run in Shettleston colours.)
In 1998 Inverclyde was in road and cross-country action and Chris turned out in the Edinburgh to Glasgow for the last time: in the black and white stripes of his local club, he ran the fastest time of the day on the tough second stage – exactly thirty minutes – and brought the club from fourteenth to seventh.      Basil Heatley of Coventry Godiva Harriers once wrote a reply to a letter in 'Athletics Weekly' which had said that good runners in teams which were down the field could never run as fast as they were able because the incentive wasn't there; Heatley's reply was that in such a situation the really good athlete really works to get his team back into the race and that's incentive enough.   Chris, like many other class athletes, lived that philosophy.   In eight races for his local club in Scotland's premier road race, he had a total gain of 39 places!   His biggest collection was in 1991 when he moved from 14th to fourth with the fastest time of the day.    To me that says as much about the man as most of his more glamorous races.   He did not run in the National in 1999, nor did he in 2000.
There was very little recorded in the way of track running in 1999 or 2000.   Not ranked on the track in either year, his road rankings were as follows:
1999:    1 Mile   first   4:21  6th August   Dunfermline.   2 Miles   third   9:21   Dunfermline   3rd September;     10K   29:47     Dewsbury     7th February.
2000:    5 Miles   third   24:31   22nd April   Balmoral;   10K   sixth     30:18   Alexandria   25th June;   half marathon   68:06   Glasgow   20/8.
There was however another athletics challenge that took up his time in 1999.    Not content with winning international vests on the track and on the road as well as over the country, Chris took up hill running.    (It seems to be a Scottish thing, calling mountains hills.    There is the story of the Scotsman camping out in South Africa hearing a voice outside his tent saying "Would you look at these hills?"   Since the hills in question were the Drakensbergs, he knew the speaker had to be a Scot.)    The first the public heard of it was from an article by Doug Gillon in the 'Herald' of 31st May, 1999.   "Athletics Scotland internationals dominated the English team trial races on Latrigg and Skiddaw at Keswick yesterday for the uphill-only mountain running European Trophy in five weeks time in Austria.   Great Britain selection for the Grand Prix Series was also at stake.   Bobby Quinn (Kilbarchan AAC) beat all the opposition over the 6.5 mile 3000 feet climb race agreeing to a dead-heat at the end with Richard Findlow (Bradford) having led for most of the way.   Fellow Scottish cross-country champion Chris Robison (Inverclyde AAC), still a novice at hill running, held off fast finishing Alan Bowers (Cumberland) for third."   Two weeks later they finished first and second in the Glas Tuileachean Hill Race at Glenshee, which had been designated as the Scottish hill trial,  with Bobby first in 35:52 and Chris second in 36:19.   They both went to run for Scotland in the World Mountain Running Trophy race that year  at Mount Kinabalu Park in Borneo in September where he was second Scot to finish (seventeenth in 58:47) behind Bobby Quinn (ninth in 57:13) with Colin Donnelly (26th) and Tommy Murray (28th) being the next two Scots to complete the course.   The interest continued into 2000 when he ran in the European Mountain Running Trophy where, with Bobby Quinn and Neil Wilkinson he was a member of teh team which finished second.   The European Mountain Running Championship at that point had four teams from Britain taking part but when it was re-organised in 2002, it re-organised the four Home Countries out in favour of a single GB team.   He also travelled to Bergen in Germany in 2000 to compete in the World Mountain Running Championships where he was first Scot to finish when he crossed the line in twenty fifth in 52:29
But the winter season of 2000 – 01 would spring one of Chris's biggest surprises yet!   On 26th February 2001 Doug Gillon wrote an article in 'The Herald' under the headline "Robison proves to be ageless wonder: As 40 looms, Scotland's endurance coach shows the way to be a winner."    What was it all about?    Read on : "Chris Robison became the oldest man ever to win the Scottish cross-country title at Irvine last Saturday, just 20 days before his fortieth birthday.   Robison's third title at such an age, and bronze for his 39 year old Inverclyde club-mate Tommy Murray, tells much about the current health of the sport, yet despite his advancing years, the future lies in Robison's hands.   The former Royal Navy helicopter navigator is Scotland's full-time endurance coach, charged with seeking out talent an rescuing the sport from decline.   "I think it helps that I can lead by example," said Robison, "This will help give me credibility."   Robison has won an international vest in every year for the past 20 representing Scotland and Great Britain in world cross-country championships and on road and track, and hills as well as the country.
"He was in the 1994 Commonwealth Games team but Saturday's run over 12,000 metres of the Beach Park at the Fila National Championships surely represents his finest hour.   He had to call on every ounce of experience and concentration to despatch younger opposition which had seemed insuperable, notably Glen Stewart, only Scot to have won a place in Britain's world championship team for Belfast next month.   Second in the British 4000m trial race earlier this month, Stewart had failed to recover fully from a cold.   By pushing hard from the gun, Robison forced him to dig deep early.   Within a mile he was sweating ominously, and he abandoned after two of the three laps.   Robison almost paid for having pushed the needle into the red, but held on to win in 38:49 from the fast-closing Andy Caine (38:58) with Murray another six seconds back.   "That was tough – especially the final mile," said Robison, "I only really started training hard at Christmas because I was struggling with my work-load."   Robison needs no lessons in time-management however.   Even on duty, he maintained fitness during NATO exercises in the North Atlantic by running round the deck of a destroyer."
That's Doug's way of saying that Chris won the Scottish cross-country title when he was nearly 40!   It really was a remarkable feat at a time when he was already looking at his career options after the racing at the top had to stop.    o-ordination, well-drilled teams
In the course of 17 years in the Royal Navy, Chris reached the rank of Lieutenant Commander but his future is totally committed to sport.    He was appointed Scottish Athletics National Endurance Coach towards the end of 2000 and in 2002 took on the additional responsibilities of  Performance Director.   In 2002 he was Lead Coach at the Commonwealth Games in Manchester.   In 2004 he was appointed Policy Director for the Scottish Sports Association – a post he held for approximately five and a half years before leaving in February 2010 to take up a post as Lead Manager with sportscotland.  His job with SSA was to lead on policy matters and ensure that the voice of the various governing bodies is heard and that the needs of these bodies are met.   While there he sat as a member of the Parliamentary Cross-Party Group on Sport at the Scottish Parliament where he "developed excellent working relationships with many MSP's.   He is a respected source of information and advice for Parliamentary researchers and leading journalists."    The quote is from www.zoominfo.com which has a fairly detailed account of Chris's activities and posts after he had stopped the high level competing although he is still very active in sport himself.   He also was a member of the SCVO (Scottish Council for Voluntary Organisations) and was for a time on secondment with the Scottish Government Sports Division where he led a review of the National Strategy for Sport – Reaching Higher.   The list of groups, committees, working parties and statutory bodies – virtually all sport-related – on which and for which he has worked is long but the commitment to the Scottish cause made in 1985 is being honoured handsomely to our benefit.
What did his time in the Royal Navy contribute to his success?   Well if we go back to Doug Gillon's article about Ageless Robison he is quoted as saying "the service taught that if you want something badly enough, get organised, and plan thoroughly, you can probably achieve it.   It has everything to do with lifestyle philosophy and motivation.   For every hour in the air you need two planning, just as for every moment you spend racing you spend much more preparing to compete.   Flying helicopters, saving lives, is about co-ordination, well-drilled teams and planning."
We have emphasised how full his life is at present – he is no stranger to a ten hour day, he finds time to cycle, run and take part in many physical activities – we haven't mentioned his coaching career yet.   Currently working with John Newsom of Central AAC, will it become a regular part of his routine?    The old saying that, "if you want a job done, ask a busy man" might have been coined with someone just like Chris in mind!
Chris and John Newsom: he must be a real coach – he's got two stopwatches!
But whatever the reporters, pundits and athletics historians say, the people who get really up close and see what a runner is like are the other runners who faced them on the starting line and raced them for the finish.    One of Chris's rivals,Bobby Quinn, had this to say about him: "I had many memorable races with Chris.   Throughout the 1990's, over the country, the National title or first Scot in the UK trial always seemed to come down to a joust between Chris, Tommy Murray and myself – these were great days and for each of us you knew at the start of the season if you could get the better of the other two, you would be top of the pile.   Other athletes would run well before Christmas or in relays, but when it got to the business end of the season, it would be all about getting the better of Chris and Tommy.   Chris had periodisation and peaking down to a fine art, he was the master of this.   You always knew Chris was a really dangerous opponent if he was aiming for something, whether it be winning the National or making the team for the World Cross.   He had tremendous strength and determination but also had a wicked finishing kick which made him very difficult to beat if he was on song.   He was a great team-mate (and friend) as well as a rival – one of my earliest memories of being part of a Scottish team with Chris was when we won the prestigious team race at the Gateshead International Cross Country Race in 1985 (with Nat Muir and Lawrie Spence).   His National victory in 1997 (in Perth) was superb and his victory in 2001 (just short of his fortieth birthday) was inspirational but I think his best performances were usually at the British Championships (again demonstrating the art of peaking) where he would regularly be first Scot and usually end up in the UK team.
I've had some great tussles with Chris (and Tommy) on the track, road and country, and even on the Mountains – and over the last few years when I have still been doing some races, it has not been quite the same, I miss the challenge from my old Renfrewshire rivals."
A sincere tribute from one of his toughest rivals – a compliment that Chris thoroughly deserves, and a fitting place to end the profile.