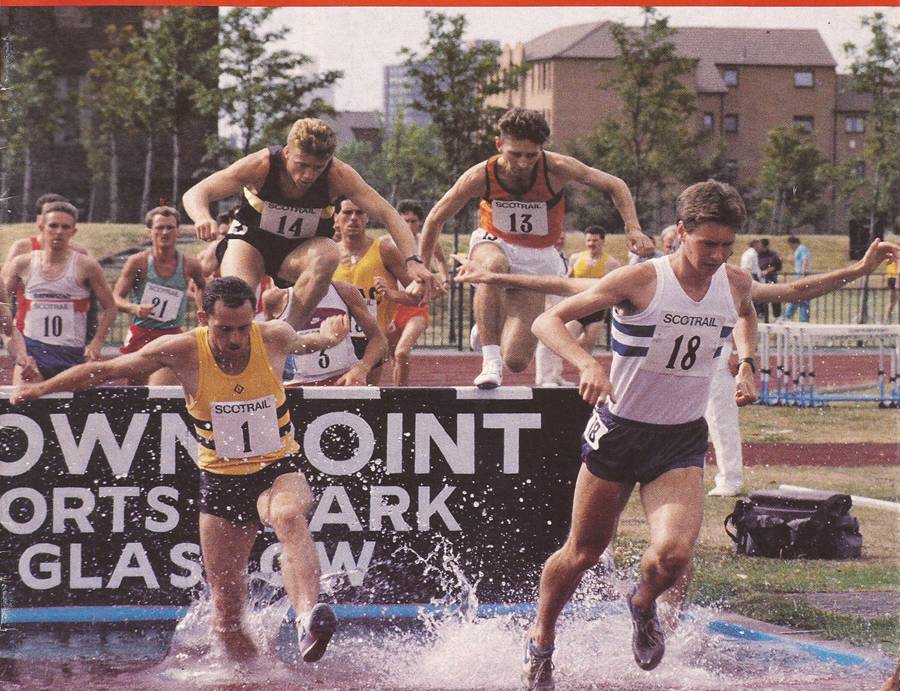 Graeme (1) in the SAAA Championships in 1991.   He won in 9:05.5
I first met Graeme in the late 80's when he was a member of John Radigan's East Kilbride AAC training group along with several other very good young athletes.   He ran with several good East Kilbride Senior Men's teams in the Edinburgh to Glasgow and switched clubs to Cambuslang Harriers in 1991 after John left to go to England for business reasons.   Graeme went on to become a very good all-round distance runner but particularly in the steeplechase where his talent stood out and he won several Scottish championships.    Before we go to his story in detail, we can look at Graeme's replies to the questionnaire.
Name:   Graeme Croll
Club/s:   East Kilbride AAC, Cambuslang Harriers, Wolverhampton and Bilston AAC, Thames Valley Harriers and Giffnock North AAC.
Date of Birth:   1st February, 1966
Occupation:   Firefighter
Personal Bests:
| | |
| --- | --- |
| Event | Time |
| 800m | 1:56 |
| 1500m | 3:50.2 |
| Mile | 4:09 |
| 3000m | 8:07 |
| 5000m | 14:05 |
| 10000 Track | 29:50 |
| 10K Road | 29:30 |
| 10 Miles | 49:40 |
| Half Marathon | 64:50 |
| Marathon | 2:41:44 |
| Steeplechase | 8:40.439 |
How did you get involved in the sport?   I played football but could always run and run, so at 19 I thought I'd join a club and that was it!   That was in 1985 and I had run my first marathon when I was 18 in 3:16:00.   My best two years  were 1995 and 1996.   I soon found that I had a flair for the steeplechase and my times came down quite quickly winning my first Scottish title in 1988.
Has any individual or group had a marked effect on either your attitude to the sport or to individual performances?   No one in particular: I just liked to watch the top athletes and get inspired.
What exactly did you get out of the sport?   Apart from a fit and healthy lifestyle, I got to international standard and the opportunity to see a lot of countries around the world, and a bity of recognition within the athletics world.
Can you describe your general attitude to the sport?   Very positive and competitive, especially when I was at a high level.   I loved having the feeling that you were flying.   You knew you had to be selfish at times to train and achieve this.   I didn't drink for 10 years when I was training hard.
What do you consider to be your best ever performance/performances?   I had a lot of great runs in my career and I remember them all.  The one that meant most to me has to be my first ever Scottish steeplechase title in 1988 at Crownpoint.   I had had my first Scottish vest two weeks before that where I came second taking 12 seconds from my pb.   I knew this race was it and I ran it perfectly, not hearing the spectators as I was so focused and, hitting the front with 300m to go, I took another 10 seconds from my pb to 8:51 – the first time under 9 minutes.   My other great one was the Scottish Half Marathon where I came ninth and first Scot in 64:50.   Again another perfect race.
And your worst?   My worst has to be my first London Marathon: having run  25 miles in training in 2:30, I went off too fast and hit the wall.   I still have to master the distance.
What ambitions do you have that are still unfulfilled?   There are a few regrets that I never got to the Commonwealth Games and I wish I had found athletics at an earlier age as I think I could have knocked on the Olympic Door???   Ambitions have changed now with age as I have taken up the triathlon and want to get the pb's down for that as I'm still competitive.
What did you do apart from running to relax?   Just the usual: out for good food, DIY, sunbathing (when we had sun!)
What did running bring you that you would have wanted not to miss?   A fit and healthy lifestyle, the competition between your club mates and rivals and seeing the world.
Can you give some details of your training?   I was never a high mileage athlete but focused on quality.   During the summer, I would be 35 0 40 miles per week max and would up that to around 50 in the winter months.   When I did marathon training I would go up to 70, any more I found too hard.   I have kept a diary of all my training since 1986 and it is nice to look back over the good and bad times.
Graeme Croll was a first class endurance runner with six Scottish steeplechase championships and one at 10000m to his credit, he was also very good on the road and over the country with many gold medals to prove the point.   He also picked up Scottish representative honours in all three disciplines.    He was unfortunate to be running at the same time as Scotland's best ever steeplechaser (Tom Hanlon who is still twelve second plus ahead of the second on the all-time list) but Graeme is above Alistair Blamire, John Linaker, Lachie Stewart and Bill Mullett.   With several places in the top ten at the National Cross-Country Championships, he would ten years earlier have run in the World Championships: unfortunately all his best running over the country was done after the four home countries had been merged into a single British team.   His quality is undeniable.
He started his athletics with East Kilbride AAC on the outskirts of Glasgow and quickly proved his worth.   While there he ran in four Edinburgh to Glasgow Relay teams between 1985 and 1988 and there was no East Kilbride team in the 1989 race.   He was selected to run on the very difficult second stage against all the top runners from the top twenty clubs in the country.   At barely twenty years old and totally inexperienced, the first race was a very big task but he ran well enough to maintain fourteenth place for his club.   A year later in 1986 he dropped two places but 1987 was really difficult.   The very good Ian Archibald led the field on the first stage leaving the young Graeme totally exposed just ten seconds clear of runners such as Calum Murray, Ian Hamer, Peter McColgan and Chris Robison.   He dropped to ninth but actually did well in limiting the damage to that extent.   The following year he was bold enough to tackle the second leg for the fourth time and actually improved his club position from thirteenth to eleventh with eighth fastest time of the day and one of the two men he caught was Ian Hamer.   The club was not in the event the following year and his next appearance in the event was to be for Cambuslang Harriers in 1990.   His progress over the country was just as marked.   In February 1987 he ran into thirty sixth place to be third East Kilbride runner (Ian Archibald was fourteenth) in a team which finished nineteenth.   The year later he did not run but in 1989 on that dreadful day at Wilton Lodge in Hawick with snow everywhere and no firm footing anywhere he was sixty ninth but very few ran to their ability that year!   His last run for EKAAC in the National was in 1990 when he was twenty first over the Beach Park Course in Irvine.   His track running also showed signs of improvement and he won his first SAAA steeplechase title in 1988.  He had been asked soon after he joined the club if he would like to run the steeplechase for East Kilbride in the Scottish Men's League, he did and ran at Wishaw finishing with a time outside 10 minutes but he had enjoyed it.  He moved to Cambuslang Harriers in March 1990 and although he competed for several other clubs (two in England and currently he is running for Giffnock North) that is the club to whom he gave his best years and with which he will always be associated.
*
1990 was a good year for Graeme.   He set a Division Two of the Men's League record for the steeplechase of 8:52.8 and a week later he won the West District Championships steeplechase with 8:56.7.  He set his personal best for the 800m of 1:56 in June – that remained his personal best despite it being clear to all that he could have been much quicker.   He just did not run mny at all. There were two representative outings in July: on the 24th he was in Vienna where he did not run too well and was seventh in 8:52 but one week later on a trip to Iceland for the match against Iceland and Ireland he won the steeplechase in 9:09.   The [poor time is down to a poor flight over, poor accommodation in a dormitory where some athletes used sleeping bags and not a nice day for the meet itself.   Still, a win is a win.   He was running a series of Sri Chinmoy races on Glasgow Green with Adrian Callan and it was suggested that he turn out for Wolverhampton and Bilston AAC in England in the British League as several other Scots were doing at the time.   He did and turned out for them in August in the GRE Gold Cup Final where he was third in the steeplechase in a new pb of 8:48.9.   That was cut down to 8:48.0 in August at the Inter District match at Grangemouth.   On 29th August he took part in a quite extraordinary paced 3000m at Crown Point where the first eight were between 8:05 and 8:09 with Graeme fifth in 8:07.   Placed runners were David Donnet (1), John MacKay (2), Robert Fitzsimmons (3), Adrian Callan (4), Graeme Croll (5), Peter Fleming (6), Billy Coyle (7), Bobby Quinn (8).   Graeme travelled to Ayr for the half marathon in September where he ran a very good pb of 66:57 for fifth place.   In November 1990 he ran the fourth stage of the Edinburgh to Glasgow and taking over in fifth which was his highest ever position in the event, he held the position.      The club, having won the Scottish Championship was invited to the European Clubs Championship in France and finished a quite outstanding sixth.   Graeme was the top Cambuslang man home when he crossed the line in 30th place to be followed by Charlie Thomson (34th), Eddie Stewart (35th), Jim Orr (43rd), Doug Runciman (47th) and Stephen Wyllie (54th).   The race was won by one of the Castro twins in 31:38 with Graeme not far behind in 33:34.    On 23rd March 1991 he ran in the Six Stage Road Relay and running on the fifth stage he moved up from third to second but the team fell back again to fourth and out of the medals.   .In February 1991 he finished in ninth position in the National in a tight finish: it was his first time in the top ten and he was timed at 40:06, Chris Hall (DHH) was 40:07, George Braidwood was 40:08 and Charlie Thomson 40:09!   The team was first and he had a gold team medal for the first time in a National championship.
In summer 1991 Graeme won his second SAAA Steeplechase title in 9:05.50
In the first of the major winter events in 1991 – 1992, the National Cross Country Relay in October, he was not in the A Team but he was clearly the fastest in the B Team and seventh fastest of all the teams in the event that day.  Came  the E-G and Graeme ran the sixth stage on which he again maintained his position: this time he was third at both change-overs and the team picked up to second and he got his second major team medal.   He improved his position in the National yet again and this time he was sixth finisher and the team was first.    Then on 28th March 1992 in the Six Stage Relay, Graeme was fourth fastest long stage of the day and the team finished third.
The national rankings for summer 1992 had Graeme fourth in the 3000m list with a time of 8:00.1 and second in the 3000m steeplechase behind Tom Hanlon with 8:44.4 run at Grangemouth on 30th August.   he also ran 8:51.88 at Meadowbank on 2nd August, 8:52.07 at Meadowbank on 4th July and 9:06.04 at Sheffield on 6th June.   In the SAAA Steeplechase in 1992 he was second to the Englishman Wayne Aylesbury which gave him a silver to add to his two gold medals already won.   His finishing time was 8:52.07 with George Matheson (ESH) third in 8:57.58
In the National Relay in October, 1992, Cambuslang were once again first team with new man Tommy Murray turning in the fastest time of the day on the first stage and Graeme being fourth fastest overall.   In the E-G, it was back to his old favourite from his East Kilbride days – the second stage in the 1992 Edinburgh to Glasgow but this time he moved the club up from third to second but there were to be no medals that year.   He missed the National in 1993 but in the Six Stage Road Relay he ran the third (short) stage and ran the fourth fastest of the day moving the club up to third from sixth and helping it to second place and silver this time.
1993 saw Graeme win the SAAA steeplechase in 8:53.1 and it would be the first of four consecutive championship wins.  The 'Glasgow Herald' said  "It was a runaway steeplechase win"  and runaway it was with the second man (Billy Jenkins of Glenpark) finishing in 9:07.07.
Graeme ran on the last stage of the National four-man cross-country relay in October, 1993, and he was asked to run the sixth stage in the E-G when he held on to eighth place and saw the club move up to bronze medal winning position by the finish.  At the end of January 1994 he was second to Tommy Murray in the West Disstrict Championships at Linwood with his club winning the team race.   The National Cross-Country Championships in 1994 saw what might well have been his best ever race when he placed third in 33:13 (behind Chris Robison in 32:45 and Tommy Murray in 33:06) with Cambuslang winning the team race again and adding to his gold collection. Graeme appeared in both British and Scottish ranking lists at the end of another good summer on road and especially track.   His flat 3000m time of 8:10.32i (second in the Scottish Indoor Championship to Chris Robison) ranked him seventh in Scotland and sixteenth in Britain, his best steeplechase was 8:49.00 finishing ninth at Sheffield on 12th June  which ranked him second in Scotland and thirteenth in the UK.    He also had runs at 8:50.30 at at Sheffield when he was second in the second Heat of the AAA's Championships,8:53.26 when he won his second consecutive steeplechase at Meadowbank 8:54.50 in May when finishing second in the Small Nations international at Istanbul, 8:56.5 when finishing first at Grangemouth and 8:59.10 at Meadowbank on 8th July.   The Statistical Year book said, after commenting n Tom Hanlon's really excellent steeplechasing,"Graeme Croll was one of the others under 9 minutes but failed to dip under 8:40 as expected."
In the National Cross Country Championship Relay in 1995, the team finished second but Graeme was still well up the field with fourth fastest time.   It was bronze for Cambuslang in the Edinburgh to Glasgow with Graeme again holding his position – this time he took over in third and handed over in third.   In the National in February 1995 he was again third in the National Cross-Country Championships – this time behind Keith Anderson (an Anglo only recently signed by Cambuslang) and Chris Robison but ahead of Adrian Callan, Tommy Murray and John Robson.   The team was again first to close in.   In the Six Stage in March he ran the second (long) stage and had fourth fastest time of the day moving the team from fourth to first.   Graeme was never a big mileage runner and for the eight weeks from the start of February in 1995 he covered60, 70, 73, 68, 51, 79, 67 and 70 miles.
 On the 26th March he went to Alloa where he was second to Stephen Wyllie in 67:37 – just one week before the London Marathon.   "I was a bit naive!" he said and the result was a 2:46 London Marathon.   He had been going well and had sponsorship from Asics who had put him up in the Tower Hotel in London and he could almost certainly have run better than he did.  Later in the year, Graeme had possibly the best competitive week end of his life at the SAAA Championships in late June..   On the Friday night he ran in and won the SAAA 10000m in 29:50.69, and then he went out in the steeplechase the following afternoon – and won that as well, this time in 9:00.98.    The Statistical Yearbook said of the 10000m victory, "The National Championship race emphasised its position as the most important race of the season when six of the seven fastest times of the season were achieved with with the three medallists all under 29:56.   However when 29 year old steeplechaser Graeme Croll, out on a Friday night warm-up for his speciality the following day, wins the Scottish title from long distance specialists the lack of achievement in this lack-lustre event is cruelly emphasised."   The truth was probably that the other steeplechasers, knowing how good he was at that point, just showed him too much respect.  One of the men who finished behind him in the Glasgow race said, "We all knew that he had run the night before and we all knew that he couldn't have fully recovered. But we all sat back and no one would push it out.   We were all waiting for a medal and when Graeme took off we weren't able to do anything about it.   Someone should have pushed it early on."   However it worked, he had his third championship in a row!   Doug Gillon wrote it up in the 'Glasgow Herald' on 26th June, as follows: "Graeme Croll won the steeplechase for the third successive year, completing a unique championship double and laying claim to the title of the iron man of Scottish athletics.   Less than 19 hours earlier the Cambuslang man had won the 10000m title.   He now plans to run in the 'chase at the AAA championships so long as he can get time off work."   For the record he won the 10000m by six seconds from S Wright of Gateshead.    In 23rd July at Sheffield he ran his fastest time of the summer – 8::40.49 when finishing second and that time was enough to make him number seven in the British Rankings.  He also featured in the British rankings for 3000m (8:23.4 for 71st), 5000m (14:17.3 for 43rd) and his winning time in the SAAA event placed him 21st in the 10000m rankings.   At the end of summer of 1995, Graeme was ranked at 21st in the 1500m with a time of 3:52.5 run at Crown Point in August: it was the first time for many a year that he was rated at the shorter (for him) distance.   The 3000m time was again a noteworthy performance – a paced race had been set up at Crown Point with Adrian Callan and himself the intended beneficiaries of the pace to be carried by John MacKay and Billy Coyle of Shettleston.   Adrian, unusually for him, dropped out and Graeme carried on for a time of 8:05 with four-lap splits of 4:26, 4:32 and 4:32 plus that last 200.    Although he had no coach as such, he had been advised that year by Scottish Staff Coach Gordon Crawford.   At ten miles he was ranked eighth with 49:45when winning at Millport on 10th September – not many have broken 50 minutes at Millport and the race at that time was billed as just over 10 miles, so it was a very good mark, with the 5 mile time being 25:35.   As if to emphasise his good form that year, he was second in the Glasgow University Road Race on 12th November when he was second in 22:30.  Glen Stewart equalled the course record with a time of 22:18 and Tommy Murray was third in 22:50.   His best half-marathon was 67:37 when finishing second in the Alloa race in March.   Also in the 1995 Road Race Rankings, he was eighth in the 10K with 29:51 which he ran at Cumbernauld in May.
 Into the winter of 1995-96 and  the good vein of form continued.  Cambuslang was third in the National Relays with Graeme the seventh fastest time overall .   Then on the long sixth stage of the Edinburgh to Glasgow he moved up a place from third to second where he had equal fastest time with Phil Mowbray and the team took silver.   In the National there was a slight drop in his finishing position when he was ninth and saw his club finish second to Leslie Deans.  In March 1996 he did not run in the Six Stage Road Relay and the team finished fourth and out of the medals. he did run in the BAF Cross-Country Championships and World Trials at Ashington County Durham on 3rd March where he finished a creditable forty seventh.
 In summer 1996 Graeme was not ranked at 3000m, 5000m or 10000m and his steeplechase time was considerably slower than the year before.   He had the top two times in the rankings ahead of Tom Hanlon (9:00.03) with 8:51.34 at Meadowbank in June and 8:52.2 when winning at Crown Point in August.   In May 1996, Graeme was second in the Polaroid Helensburgh 10K in a pb for the distance of 29:35 which by the end of the season had ranked him fifth fastest in the country: a good start to the year.   He won his fourth SAAA steeplechase title, this time in 9:04.4.   Having won it in 1991, then again in '93, '94, '95 and '96 and having been second to the Englishman in 1992, he had come very close to six wins in succession.   The statisticians had this to say:Graeme Croll's best was almost 11 seconds slower than in 1995 but he was the only Scot to better 9:00 for this event.   Croll won his sixth national title, equalling Linaker's record for the event, with his nearest challenger over 20 seconds behind"   In August he turned in a time of  9:08 for a Sri Chinmoy Two Miles at Glasgow Green when finishing second to Adrian Callan and had good 5Kwith a time of 14:30 when winning at East Kilbride. On August 18th he travelled down to Leyland with Chris Robison for the ten miles and ran 49:38.  He went further up the rankings as the distances increased and he was second fastest half-marathon runner with 64:51 run in the Glasgow event where he was eighth.
This Half Marathon was possibly his best ever run.  Run on 25th August with a huge field he finished first of all the talented Scots who ran and the pictures below show how relaxed he was at the finish – no strain or fatigue obvious from the way he was running.   His father, Hugh, who had run for Victoria Park at one time, was there at the ten miles point and cheered Graeme on, following him down the road to give as much encouragement as he could.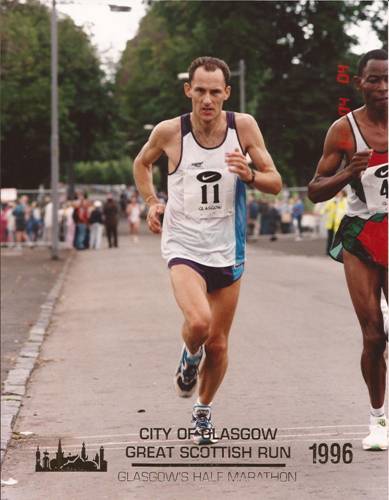 Graeme's Glasgow Half Marathon, 1996 – almost finished
Picture by Ian Watson
In November 1996 he was out on the long, exposed sixth stage of the relay and pulled the club up from fourth to third and the team was out of the medals in fourth.  At the end of the season in the National he was again in the first ten when he crossed the line in fourth place behind Robison, John Downes (an Irishman from Salford) and Bobby Quinn and immediately ahead of Tommy Murray and Keith Anderson whom he beat in the National for the first time.   The fact that Downes was an Irishman living in the North of England was roundly criticised by the cognoscenti but he was allowed to run.    The following summer (1997) started with the half-marathon at Reading where he was ninth in a time of 66:00 on March 16th and two weeks later on 30th March he won the Alloa Half-Marathon in 66:35.   In April he turned out for Thames Valley Harriers in the 12 Stage Relay, running the fourth stage in 23:05 which was the same time as Olympian and London Marathon winner Eamonn Martin.   Also in April he ran half of the London Marathon in 67:30 and stayed at the front of the race for the first five miles.   Graeme appeared in none of the track ranking lists for the year, not even the steeplechase, and with Tom Hanlon basically out of the event (he only ran one and that was in 9:02), no Scot was under 9 minutes for the event.
Winter 1997/98 saw the National Four Stage Relay in Dundee won by Mizuno with a weakened Cambuslang, minus Graeme Croll, finish down at twelfth.   The Edinburgh – Glasgow in November was also without Graeme and the team was down in fourth place.   Graeme was down in forty sixth place in the National in 1998 – by far his lowest for many years.   He continued to run well again and was anchor man for the team which was third in the Six Stage in March.   In summer 1998, Graeme was again missing from the steeplechase rankings but was at number twenty one in the 5000m with a time of 14:37.5when winning at Grangemouth in May.   He also had a 14:50.2 at Crown Point in Glasgow in June in a BMC Regional Race where he was second.   On the roads he appeared again in the ten limes where he was third with a time of 49:31 at Newry, Ireland in late September, and the half-marathon, ninth with 68:08 at Glasgow in August.
Graeme missed the Four Stage in October, 1998, and the Edinburgh to Glasgow in November, the National in February 1999 and the Six Stage Relay.   That summer he again failed to run in the steeplechase and it was obvious that he had run his lest in the event that he had graced for so long.   He was not even ranked in road races in summer 1999 and the Power of 10 website, which is notoriously incomplete but usually manages to get most of the big things right, does not have a race recorded for him between 1998 and 2004.   That doesn't tell the whole truth though
Back in cross-country action he ran the fourth stage in the Four Stage National Relays in October 1999 in a team which, although crossing the line in fifth place, was promoted to fourth after Inverclyde was disqualified.   In the Edinburgh to Glasgow, the team finished fourth with Graeme on the fourth stage where he held third place with equal third fastest time.   At the National Championship in February he was placed seventeenth and was a member of the Cambuslang winning team.   In the Six Stage he ran the last leg for the club's winning team with fifth fastest time on the last stage and in summer 2000 he was ranked twenty fifth for the 10K with a time of 31:26 run at Glasgow on 3rd September and twenty first for the half marathon when he turned in a time of 71:56 for the Alloa race in March..
In the Winter 2000 – 2001, Four Stage Relay, Graeme ran on the fourth stage for the first team which finished fifth at Falkirk; he ran a time of 13:31 which was the fastest for the club but could only lift it up one place.   In the E-G in November he was out on the sixth stage for the second placed Cambuslang, having taken over in second, he held the position with the fifth fastest time on the stage.      In 2001 the Cambuslang team was second in the National Cross-Country Championship behind Hunters Bog Trotters but Graeme was not a member of the winning team.   On the roads in 2001, Graeme was nineteenth in the 10K with 31:35 which he ran at Alexandria in the final Polaroid race, he  ran in the 10 miles at Lytham and was placed sixth with his time of 51:54 and twelfth in the half marathon with 69:21at East Kilbride in June.   The next few years were lean years and Graeme missed more National Championship team races than he started.   The following season started with Graeme absent from both the four-stage cross-country relay and the Edinburgh-Glasgow and into 2002 where he was again missing at the time of the National and also the Six-Stage Road Relay.   Nor is there any record of him running during the summer of 2002.   Graeme was also posted missing at the start of season 2002-2003, being absent from the four-stage national cc relays and from the last ever Edinburgh to Glasgow over a new course that wended its way through country parks and back alleys as well as the occasional piece of road when no better surface could be found.   and after Christmas, he again missed both Championships.    In the winter of 2003 – 2004 he did not run in any of Cambuslang's five teams in the National Relay Championships in October and of course there was no Edinburgh to Glasgow any more; in February 2004 he missed the National but in April he was out on the first stage of the Six Stage Road Relays where he finished fourth with a time in the first six on the afternoon for the short stage.   The team was third and Graeme had his first National medal for several years.
Summer 2004 saw the return to racing of Graeme Croll.   On 7th March he travelled to St Anne's for the Firefighters 10 where clocked 55:39 and on 8th May he turned out in the Dick Wedlock Firefighters 10K in Pollock Park with second place in 32:53.   On 17th June in the Greaves Sports Running Festival 10K in Rouken Glen Park in Glasgow he was fifth in 34:46.   IN the World Firefighter Games International Half Marathon in Worksop on 31st August he was third in 72:49.   None of these were great times but he was back and as a V35.
Winter 2004 – 2005 he was not in any of Cambuslang's five teams in the National Four Stage Cross-Country Relay.   At Christmas he won the Strathclyde Police and Fire Service Christmas Handicap over a 5 mile trail at Lochinch in 25:20.   Again missing the National in February, 2005,    Back in the first team for the Six Stage Relay in March, Graeme was fifth on the first stage but close enough up for the team to be in front by the third stage and eventually win the race. giving him another gold team medal for his collection.   That summer he was again racing on the roads with better times than the previous year.   On 6th March he was again at St Annes for the 10 miler and timed this year at 54:47 (almost a minute up on last year), On 15th May he was in the Firefighters 10K International at Lochinch and won in 32:26 (almost half a minute up).   On 16th June he was in the Greaves Sports 10K in Rouken Glen again and this time he ran 34:13 (half a minute faster).   And on 4th September he tackled the Great Scottish Run Half Marathon in Glasgow where he clocked 76:32.   He came into the 2005 – 2006 cross-country season in better fettle than the previous winter but he seems to have sworn off cross-country, probably as an injury prevention measure.   He was, however, out in the Six Stage, this time running the long stage two and held on to fifth place in the team that finished third giving him another national team medal.   In his final summer as a V35, Graeme was again back on the road.   In March it was the St Annes 10 Miles where he was fifth in 55:25, then in May at The Dick Wedlock International Firefighters 10K he won in 33:08, a month later it was the Greaves Sports 10K in Rouken Glen where he was fourth in 33:48 and in August he ran a Track 5000m in the Scottish Men's League 16:06.9 .   Although he clearly still had a lot to give, he transferred allegiance to Giffnock North AC in his first year as a V40.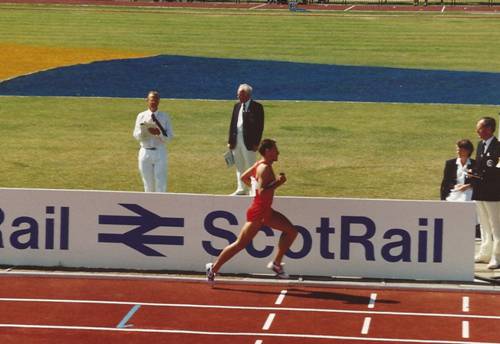 Graeme's first year as a V40 and as a member of Giffnock North, was his most active on the track for some time, but his first run for his new team was the six-stage road relay in March when he ran on the final (long) stage and pulled them fron ninth to seventh place.   On the 22nd April, 2007, he ran at Grangemouth in the Scottish Men's League Division One match at Grangemouth in the 5000m where he was first in the B string race in 15:44.2 before going back on to the roads on 12th May for the International Firefighters Dick Wedlock 10K race at Lochinch which he won in 33:29.   Into June and at the Greaves Sports 10K in Rouken Glen he an into second place in 33:34.   On the track there were two more races that summer – both in the Scottish men's League: on 24th June at Grangemouth he was third in the 5000m in 16:00.26 and on 5th August at East Kilbride in the Central & Southern League he was second in the 3000m in 9:30.04.    In 2008 however his best runs were all on the road he started the year with twelfth (and third vet) in the Jack Crawford Open 10K at Springburn in 34:53 and that set him up for the National Championships a month later where he was seventy fifth finisher over the Falkirk course.   On 12th June it was again the Rouken Glen 10K where he was sixth finisher and first vet in 34:43.   Two weeks later he was back in East Kilbride for the Calderglen Harriers 10K Trail Race where he was third in 36:46.   His summer season ended with the Great Scottish Run Half Marathon in which he was third veteran to finish in the very good time of 76:40.
2009 was his busiest year for a long time with ten races being included in the Power of Ten lists.   He turned out in the Renfrewshire County Five Mile Championships in February where he was fifth and first vet in 26:13.   On 22nd March he ran in a race that he seemed to like, the Alloa Half Marathon, and finished eighth and first vet in 74:11.   On 12th April in the Tom Scott memorial Road Race over ten miles he was fourteenth and, again, first vet in 54:18.   Then there were two races in four days in May – on the sixth he he ran the Troon Tortoises 10K (seventh and first vet) in 33:30 and on the ninth in the International Firefighters Dick Wedlock 10K race he was first in 31:19, and at the end of the month he tackled the Edinburgh Marathon (not known for fast times) where he ran 2:59:29.   On 26th June he returned to the Calderglen Harriers 10K Trail Race where he was third and first vet in 36:56.On 6th September he again raced the Great Scottish Run Half Marathon where he was third vet in 74:16..    Then right at the end of the year he turned out in his club's Christmas 4.8 miles which he won in 26:23.   Ten races, six first vet prizes, one first outright victory and a third vet's award.   Seven out of ten isn't too bad!
There were only two ranked races in 2010 – the Alloa Half marathon where he was eleventh and second vet in 75:15.   That was in March and then the Greaces Sports 10K where he was third and first vet in 34:30.   In 2011 Graeme ran in the Polaroid 10K in Clydebank where he was timed at 44:27 (???) in May and the Polaroid 10K at the Vale of Leven in June where he was timed at 38:51.   In November he ran in the Bellahouston 10K where he was fourth vet with a time of 36:18 and then at the end of November in the Renfrewshire Cross Country Championships he was third vet and fourteenth overall.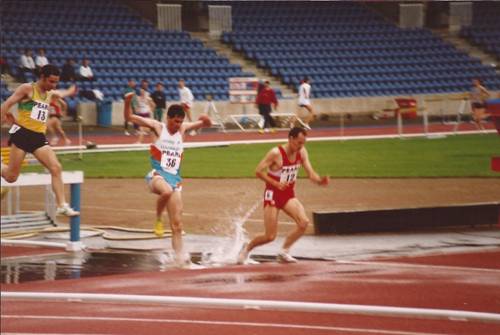 UK Championships at Crystal Palace, 1997
Where too now for Graeme Croll?   He's looking fit and clearly enjoying his sport – which is just turning out to be triathlon.   He just kept getting wee niggly injuries but he could swim (at one point he worked in a swimming pool) and had always been a leisurely cyclist so he looked at the triathlon and did a sprint one in 1911 at Tighnabruaich and found that there were several other runners involved in this event and has decided to carry on with it.   He now has a better running base than he had last year and intends doing three sprint triathlons and two Olympic triathlons this year with the final one being in the World Firefighters Games in Australia.   Watch for the results.   I asked about hill running as an option but he had just run one – at Conic Hill, Balmaha – and hadn't enjoyed the experience and has no intention of taking it up regularly.
That's Graeme career so far and when you look at the various times that he ran – well sub-50 minutes for the 10 miles plus at Millport, 66 for the half-marathon and maybe especially the 8:05 for the 3000m – then his times for the steeplechase might have been a bit quicker.   After the enthusiastic John Radigan left East Kilbride and moved to England, Graeme never had a coach although he did some sessions with Alex Naylor's squad and in 1996 he was mentored or advised by Gordon Crawford, a very good coach and a steeplechaser himself who after a spell as Scottish Staff Coach for the Steeplechase,  moved to other forms of sport including training and fitness work with professional rugby teams including the Scottish National squad.   Friendly, well-liked by those in the sport, Graeme has written himself into the record books and history of the sport.