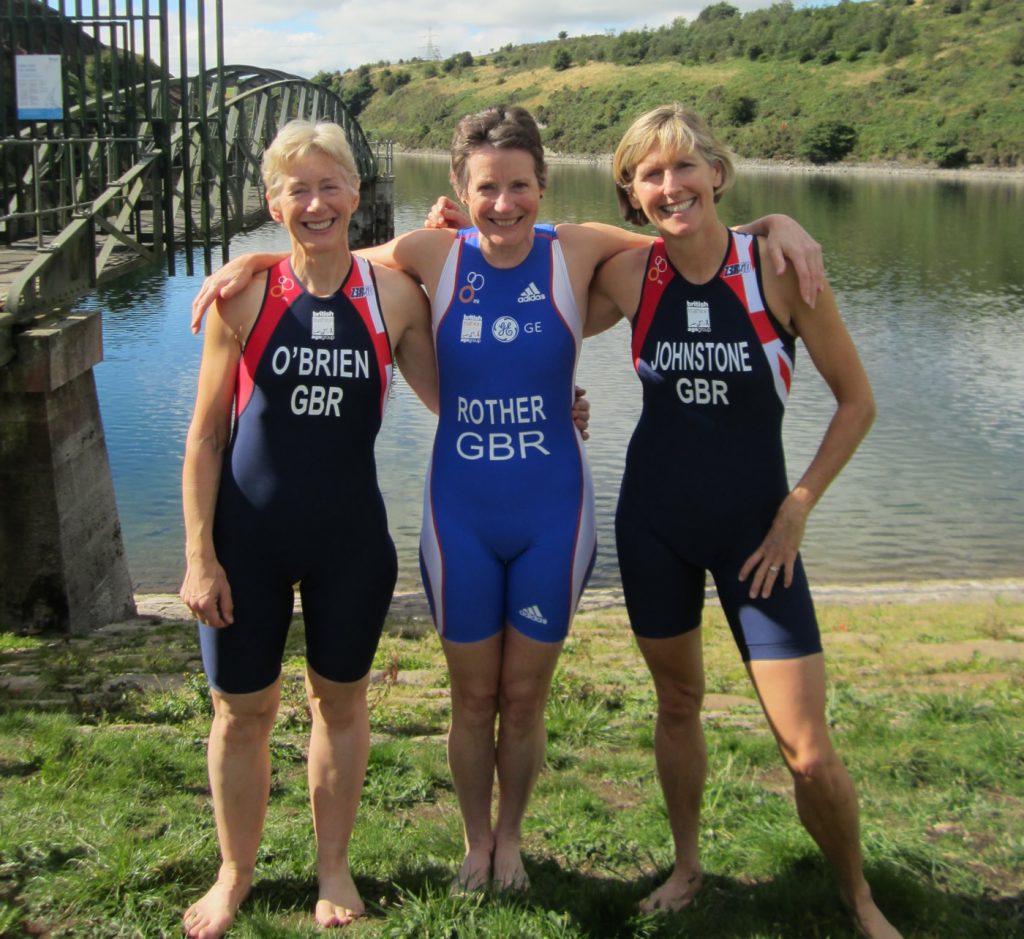 Described on the official Scottish athletics statistical website as
"R Penny Gunstone (15.02.58), Madras College, Edinburgh University; Dundee Hawkhill Harriers, Edinburgh AC, Livingston and District AAC", Penny had a very good career as a runner which started when she won the Junior Championship in Edinburgh on February 10th, 1973, by four seconds from Ann Cherry of Fauldhouse. The following year as a first year Intermediate, she was fourth, in '75 she was third. By 1976 Penny was a member of Edinburgh AC and was fifteenth in her first Senior women's championship. Progressing to 7th the next year she was selected as a reserve for the Scottish women's team in the world cross-country championship. She had come from Junior Girls racing to Senior Women's racing and shown her mettle at all stages. When asked how it all came about, she tells us:
"I started running at the age of 14 having been to see Donald Macgregor running in the Munich Olympics. He taught German at the school I was at in St Andrews and was a good friend of Doug's. Fife schools started an under 15's cross country championship and when PE staff were looking for girls to run Donald suggested my name. I came first equal and had suddenly found a sport I could do. I was small and skinny and not much good at anything else. In 1973 I won the Scottish Junior cross country champs from Ann Cherry.
It was shortly after that I/mum approached Alex Naylor to ask if he would coach me – he agreed and for the next 2 years I continued to improve. I represented Scottish schools at cross country and track. Cross country was my best and most enjoyable discipline. I went to Edinburgh University in 1975, joined Edinburgh AC and was in Bill Walkers squad.
I did OK when at university although in my last couple of years at university stopped running due to injury and pressure of medical studies. I didn't race for a number of years but started again in 1985 when I realised women wearing make up were running marathons! (If they could do it surely I could). The first few years of my working life weren't conducive to training/racing due to long hours and it wasn't until I became a trainee GP that I became more competitive.
I was racing on the roads, cross country and track….nothing very outstanding but I was representing Scotland on road and country. At this time I also started hill running (cross country was rather tame and more like cross playing field)
I loved training and racing in the hills and represented Scotland in 4 Hill running World Cups (1988 Keswick, 1991 Zermatt, 1993 Gap and Telfes in 1996). In 1988, the Scottish Team (Tricia Calder, Joyce Salvona, Barbara Murray and me) won Team Bronze medals in the World Mountain Running Championships.
This was a full house – I had represented Scotland on the track-once in 1976, Cross country worlds 1988, hill running world cup 1988 and a number of internationals on the roads between 1985 and 1988 – sorry, I cant remember the details."
Maybe we can help her a bit with dates. In 1976, Penny ran a Junior International track 1500m against Belgium and Wales. In 1975 she ran a Junior International cross-country match – the Billy Morton Trophy race. in which she was fourth Scottish counter and Scotland were second to England, but in front of NI and Wales. In total between 1976 and 1988, Penny gained 9 Senior vests – two for road; seven for country. She represented Scotland in the Glasgow Women's 10k in 1987 and 1988. In the World Mountain Running Championships, she was 11th and second Scot in Keswick, 34th and third Scot in Zermatt, in Gap (France) she was 42nd and third Scot and in Telfes 48th and third Scot. Marvellous running by any standards. Her track running was good and we can see the improvement over the years from her appearances in the Scottish ranking lists between 1972 and 1995.
1972
1500
5.09.3
30
1973
1500
4.46.0
11
1974
800
2.20.4
19
1500
4.51.6
18
1975 800
2.20.2
23
1500
4.44.2
8
3000
10.33.6
9
1976
800
2.18.6
19
1500
4.38.5
8
3000
10.06.6
3
1977
800
2.17.3
20
1500
4.36.5
9
3000
10.17.4
7
1978
1500
4.35.3
11
3000
9.50.2
5
400H
69.6
17
1980
3000
10.46.2
22
1985
3000
9.49.9
14
1986
1500
4.35.6
21
3000
9.42.8
9
Mar
2.53.0
18
1987
1500
4.37.61
7
3000
9.50.5
17
Mar
2.54.27
10
1988
3000
10.06.6
22
1990
3000
10.25.0
34
1994
3000
10.38.5
38
1995
3000
10.41.6
32
Penny's Track Championship Record: Scottish: 3000 metres 1978 3rd; 1500 metres indoor 1975 1st, 1500 metres indoors 1976, 3rd
Married to Robin Rother 1979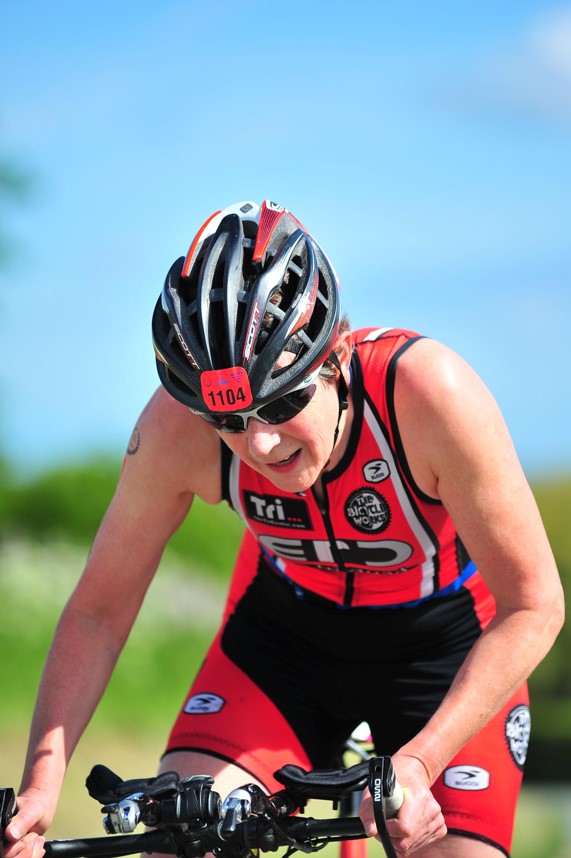 In 1996 I also competed in my first triathlon – like many I moved into it due to running injuries and inability to train at the level I wanted without injury. I loved it!…and have never looked back. After a couple of years I started looking at the world age group championships and wondering if I was good enough to represent GB in my age group. Like athletics there is a world championships based on 5 year age groups, unlike athletics the elite and para triathletes also have their Grand Final at the same event. The benefit of being a young sport I guess.
Turns out I was good enough and since 2001 have been to 15 world championships. I have medalled on 10 occasions- 2 Gold (05,18), 6 silver (03,04,06,14,17,18) and 2 bronze(11,12)
The majority of these were at Olympic distance ( 1.5k swim, 40k bike, 10k run), 2 at sprint distance ( half of the olympic distance).
The next challenge is Ironman. I competed at IM Wales last year and qualified for World Ironman Champs in Kona this year (Not sure it will be going ahead in October)
I retired from GP career in 2017 so now have time to train!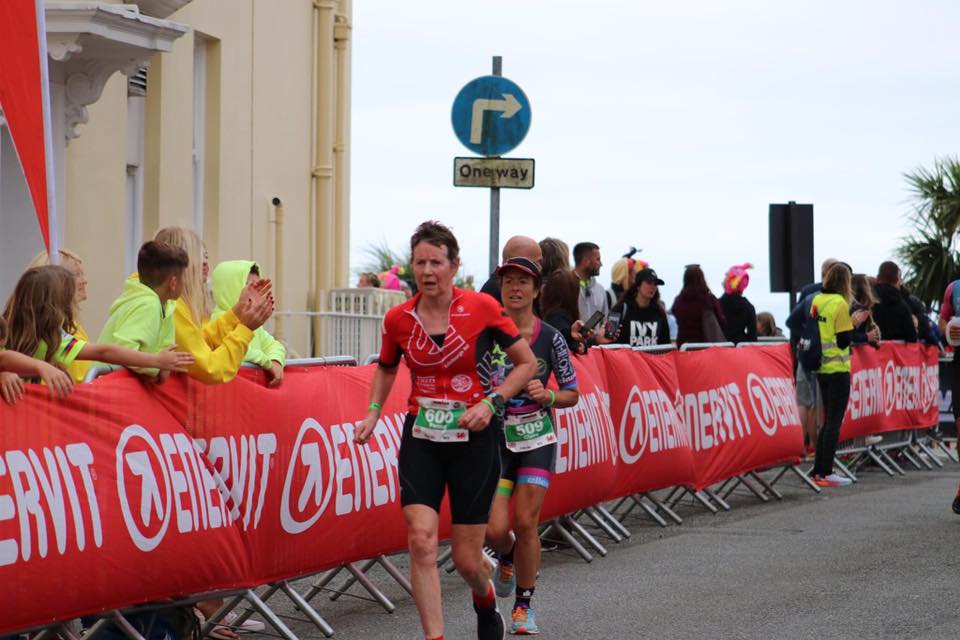 We can look over her career as a triathlete so far by pointing out that competing for Great Britain in the ITU World Triathlon Series, where her roll of honour in the 45–49, 50–54 and 55–59 age group categories over the years includes a gold medal in Honolulu (USA), silver medals in Edmonton (Canada), Lausanne (Switzerland), Madeira (Portugal) and Queenstown (New Zealand), and bronze medals in London and Beijing (China). Note too that she also won the National Triathlon Championships in 2009 and was British Triathlon Female Age Group Triathlete of the Year in 2005.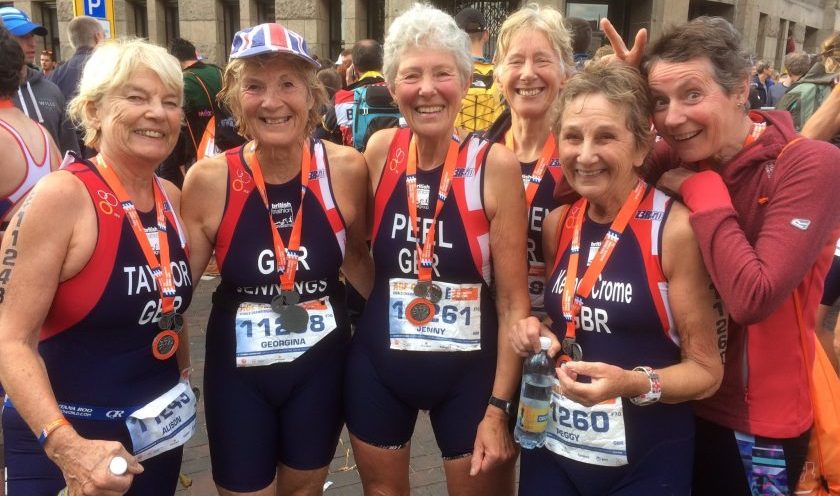 So far we have seen Penny the Runner and Penny the Triathlete. Penny the Coach came next. The photograph is testament to how successful and how happy she is in that role. The question is about how that came about. She tells the story at the Connected Coaches website
(https://community.ukcoaching.org/spaces/3/coaching-adults/blogs/press-release/79/penny-from-heaven-award-winning-triathlon-coach-is-inspiring-women-to-achieve-their-fitness-goals }
"Her first steps into coaching came six years ago when she went along to the Great Scottish Swim at Strathclyde Country Park with three friends. Between them, they had 11 children, and afterwards, Penny asked them if they had ever thought about doing triathlon. 'They were just swimmers and said they had never cycled on the road and would be too scared. So I promised to teach them.'
Weeks later, she had successfully recruited several more members to the Edinburgh Road Club, which is the biggest cycling club in Scotland, with around a quarter of the 600-plus members triathletes. 'Using some of the club bikes, we met at one of the girls' houses because she had a three year old she had to take across the road to nursery at 9am and be back at 11.30am. Then off we'd go.
'We built up slowly until we competed as a group in a 100-mile sportive.' The group has increased rapidly in numbers over the years, and there is no stipulation that you must train in all three triathlon disciplines. Some women have gone on to compete at the World Age Group Championships, and others have taken part in seven-hour half Ironman competitions, but if you want to just swim, or join in the running or cycling sessions, then there is no pressure put on you to 'up the ante'. "
That tells us about how Penny started out as a coach and a bit about the athletes she was working with. But time goes on and coaches, if they are any good, develop. She is now a Level 3 triathlon coach and is a committed coach on the sportscotland Coaching Talent programme. She has won many awards in various coaching capacities including:
2015 British Triathlon Coach of the year,
2015 Triathlon Scotland Participation Coach of the Year,
2015 sportscotland Community Coach of the Year and
2015 UK Coaching Awards Community Coach of the Year.
All the while coaching a number of athletes to world championship events, Penny has also specialised in helping women balance the commitments of a career, family and triathlon training at Edinburgh Road Club. ( Community Coach of the year for encouraging Mums to get involved in swimming). Running (road, country, hills), swimming, biking as a performer, but she is now also an administrator in her capacity of member of the board of Triathlon Scotland as Age-Group director. When appointed, she saw her three main priorities as age group director as being.
Increase Scottish participation at World and European Championships.
Have more Scottish Qualifying races.
Educate clubs and athletes on 'clean' sport.
Age group director could be a full time job in its own right never mind the coaching, never mind the training for her own world class ambitions.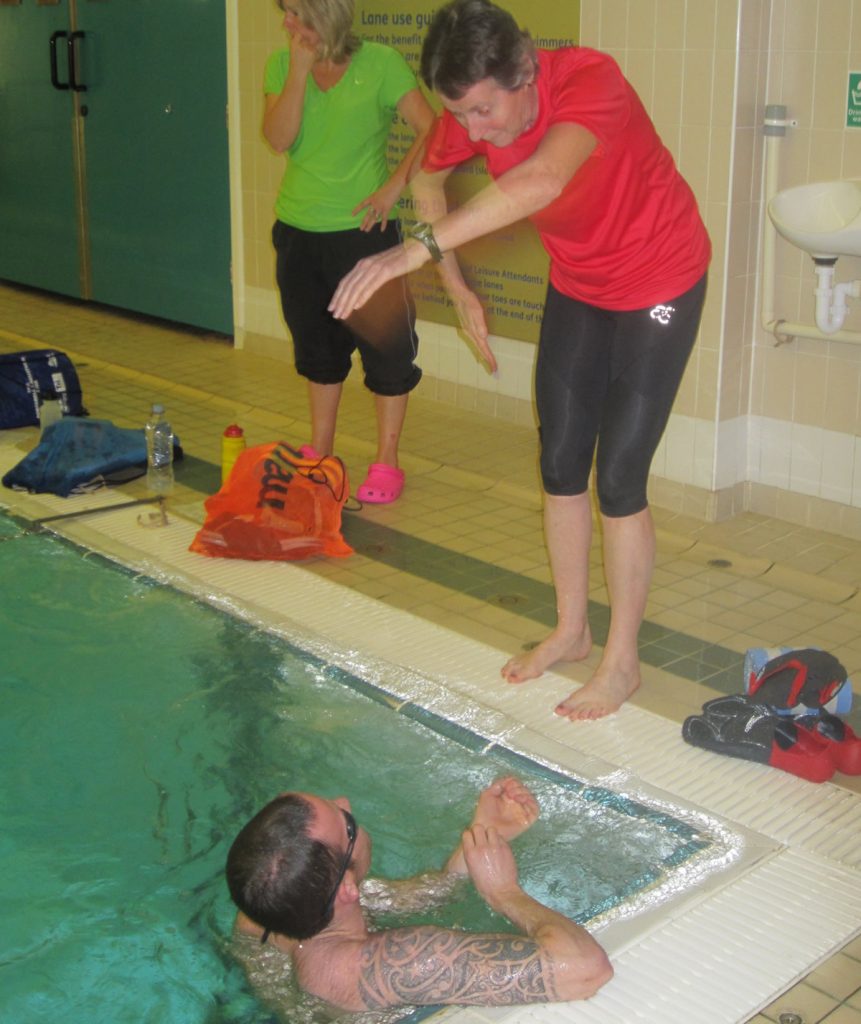 You might think that being an international class runner and triathlete as well as an award winning coach would be enough for anyone, but Penney has another, newer event that has taken her fancy – the swimrun which really seems like a challenge. She says of that one – "One of my favourites is one of me doing swimrun. This a newish concept of swimming and running. It entails swimming in your running shoes and running in your wetsuit! It is done in pairs and involves multiple swims and multiple runs – the one I've done twice at Loch Lomond involves about 10 runs 1.5k-11k (total 25k) and 10 swims 400m- 2.8k (total 8k) Great fun!"
I think she's smiling in the photograph below!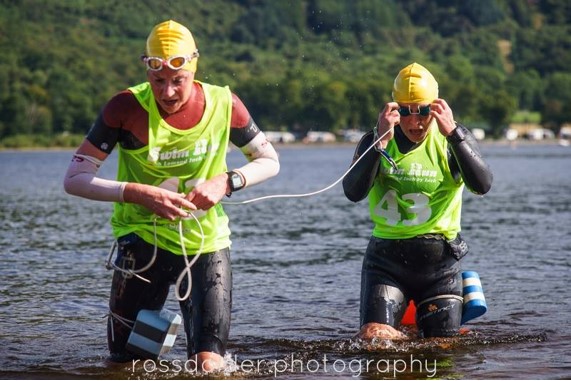 She always said she would take up golf at 60 and bowls at 80. So far she is resisting!