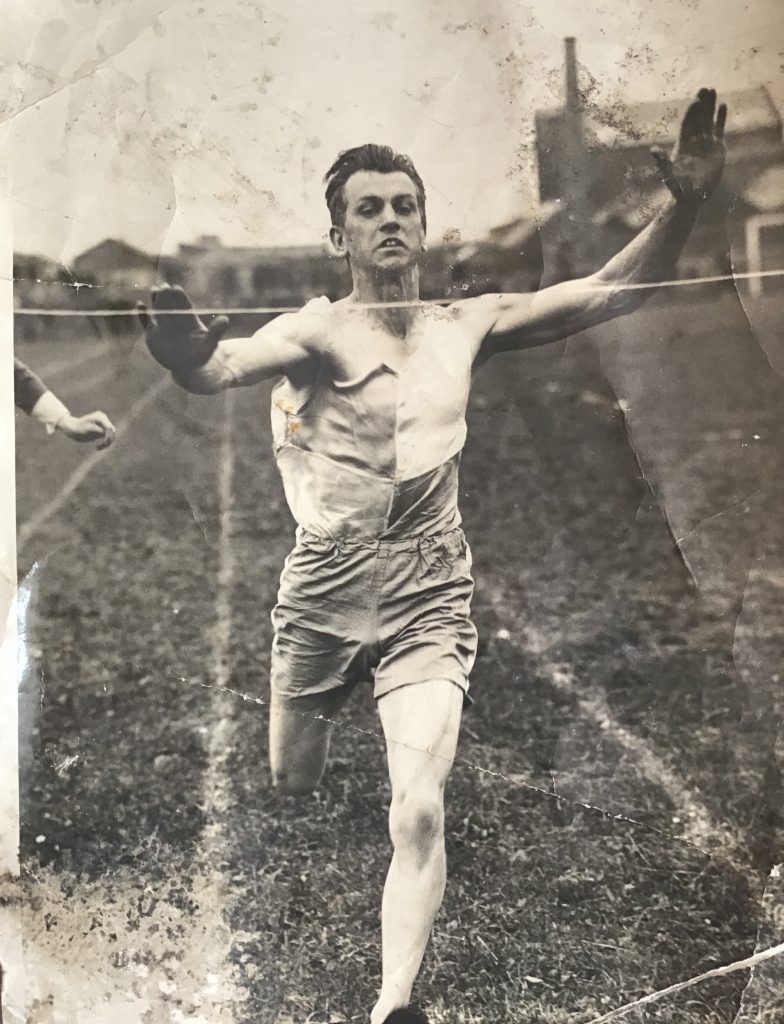 George Lindsay, Palm's Dad
George Lindsay was a member of the Dundee Hawkhill Harriers from the mid-1920's. Margaret was a member from the start of the 1930's and by that fact alone was one of the pioneers of the women's sport in Scotland which was only just finding its feet then. They would go to become field event officials, often working at the same international meetings and in the same events. They were still active during the winter seasons however at cross-country events with Margaret destined to be a president of the Scottish Women's Cross-Country Union and to travel all over Europe with national teams.
He was a Hawkhill Harrier in 1928 and appears in a club photo of that date. As athletes, both George and Margaret ran to a good standard in club championships and events, in inter-club meetings and in open sports contests all across the region. They ran as individuals with George winning races at 100 yards, 220 yards and 440 yards and Margaret competing in 100 yards and 880 yards in open meetings, she won a Mile race in the club championships quite comfortably and both ran in winning relay teams for Hawkhill Harriers. They even competed together in a wheelbarrow race at the combined Hawkhill and Errol sports meeting in 1938. Margaret's wider family was also involved in the Hawkhill camp with William Palmer winning shot, discus and javelin competitions at many meetings over several years and Betty Palmer also competing for the club. George even won the club 5 mile championship early in his career with the Hawks in May 1927. Like all club members of the day, he did what his club needed him to do.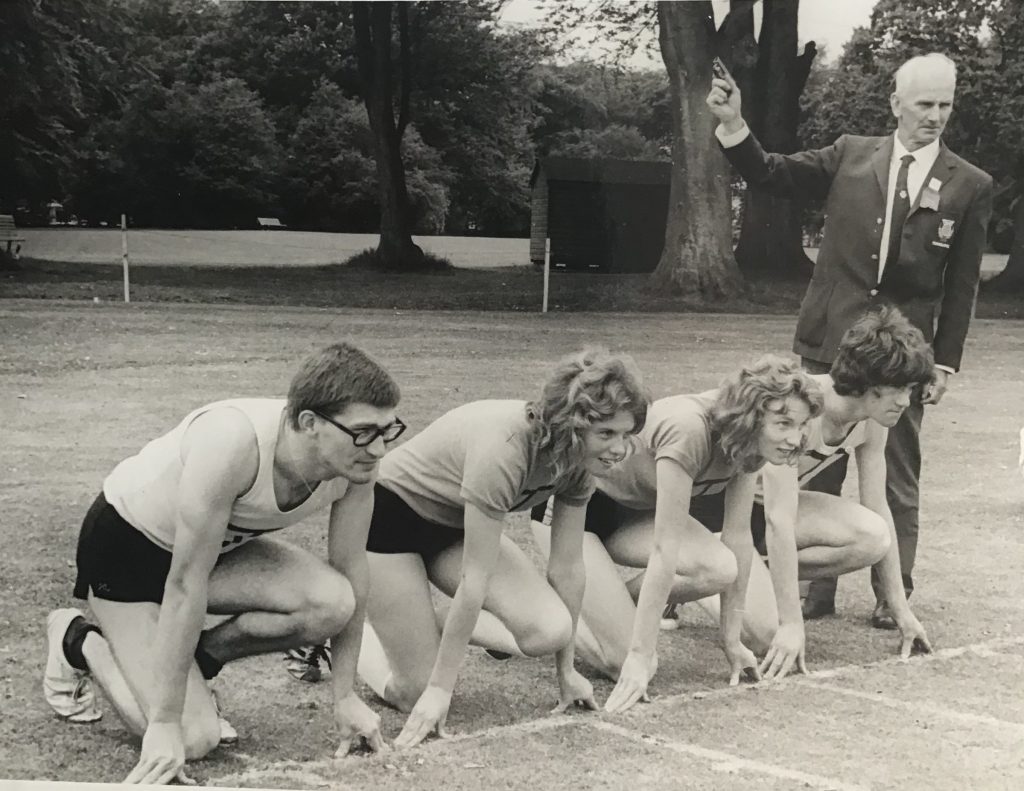 There were no veterans races in those days and like some others he gradually moved into officiating. He worked as a Starter at local events and also got into judging. For example, he was a judge at the Perth to Dundee Walk on May 20th 1961.
Dundee Hawkhill Harriers was one of the very first Ladies Clubs or Sections in the country. It was established in November 1928 and won the national cross-country championship several times. Margaret Palmer was also a club member, being a member at least in 1931-32, and she also appears in a club photo with the date printed on it,. It was very big for a Ladies Section of the time with and amazing total of 41 members were there in the photo. There may have been more as some might not have been there on the day. The family still have a cup which has "DHH Ladies Section 1934-35 Margaret Palmer" engraved on it.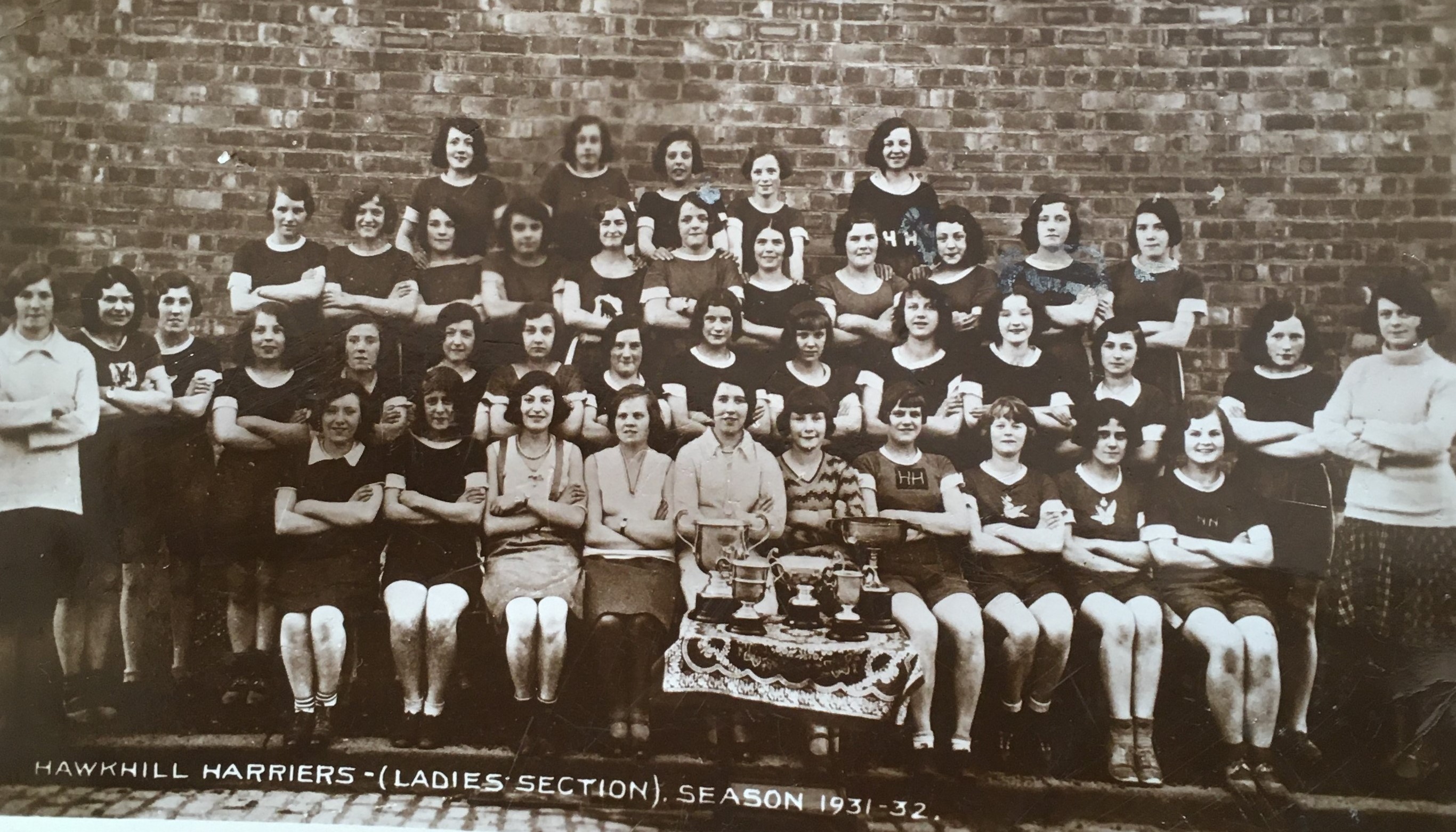 Possibly the earliest women's club group photo. Taken right at the start of the women's cross-country movement, they won the SWCCU Championships twice, were second three times and third once in the seven years between 1932 and 1938 times. A very big section, there are 41 women in all in the photograph. Palm's Mum is in the second back row, five from the right.
She came back into the sport when Palm started running and got involved with the Hawks becoming their President for a few years. She was a member of the Scottish Women's Cross-Country Union and was elected President of that body. Serving in that position in 1973-74; 1974-75; 1975-76 she went all over the country and abroad with teams in this capacity. As in many other such bodies, Presidency was only for three years.
Among the international team duties she undertook were the following: 1974 IAAF World Champtionships Monza, 1976 she was at IAAF meeting at Chepstow, 1978 IAAFCC Glasgow, not sure if that was just as President or perhaps some were team manager."
To pick up on these meetings, which were all big meetings with the best teams in the world at the time competing.
i

n 1969 she was at ICCU meeting at Clydebank where

the Scottish women's team in 1969 finished fifth with Margaret McSherry leading the team in in 18th place.
in 1974 in Monza, Italy, there were 12 teams taking part and the Scottish team, led by Mary Stewart, was eighth. Palm finished 63rd in the race.
in 1976 in Chepstow, Wales, again 12 teams contested the issue and the team was again led by Mary Stewart, ninth this time, and finished ninth.
in 1978, in Glasgow, 18 countries took part and Scotland, led by Judith Shepherd in 22nd place finished 16th.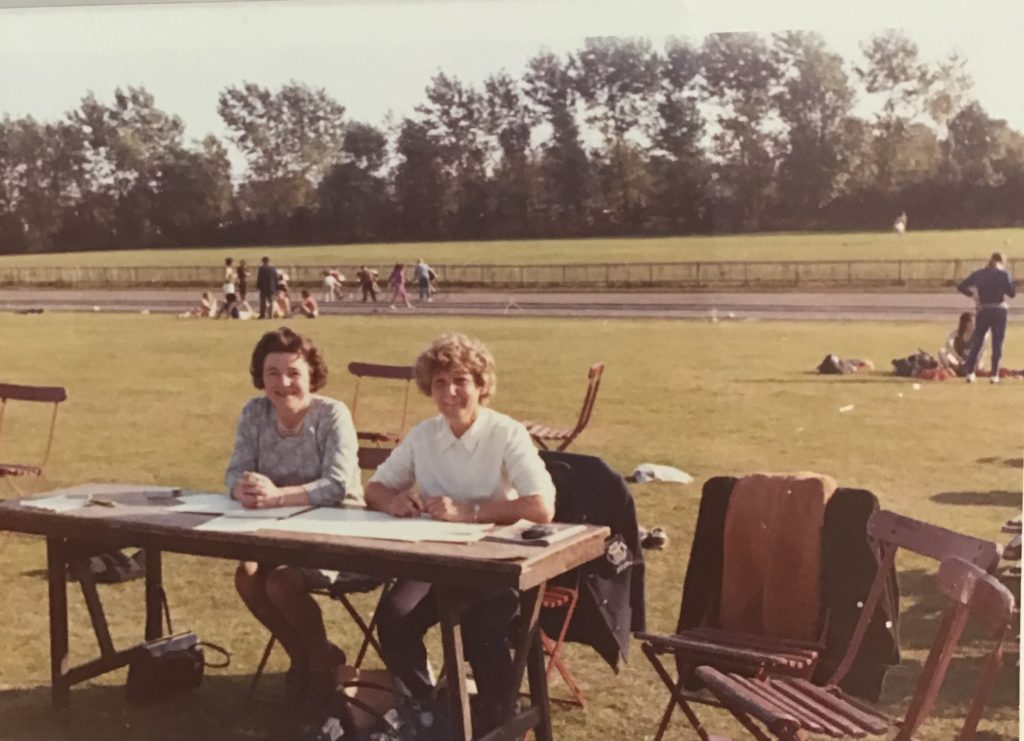 Margaret Lindsay on the right with Mrs Christie officiating in the sunshine.
Both men's and women's cross-country unions had a rule that you could only hold the office for three years. For the men, the President was also the representative to the BAAB for three years. One former President said that three years were no use – for the first year you were playing yourself in, you could do something in the second year but in the third year you were on your way out. It is said that the women were the same but there is no solid evidence for this. Margaret, Palm and Eleanor were all President of the Union but there is no list of Presidents anywhere with their dates in office. The programme for the international in Clydebank in 1969 lists both Margaret and Palm among the list of officials. As a team courier, Margaret is clearly among the great and the good of Scottish athletics from both men and women's organisations. Names like Jim Morton, Brian Goodwin, Colin Shields and Alex Johnston on the men's side, and Pat Spence, Molly Wilmoth, Ishbel Peel and Aileen Lusk are well known in athletics circles with almost all having been presidents of at least one governing body. Back in Dundee, the club was recognised their achievements and both were made life members of their club – as was Palm in her turn.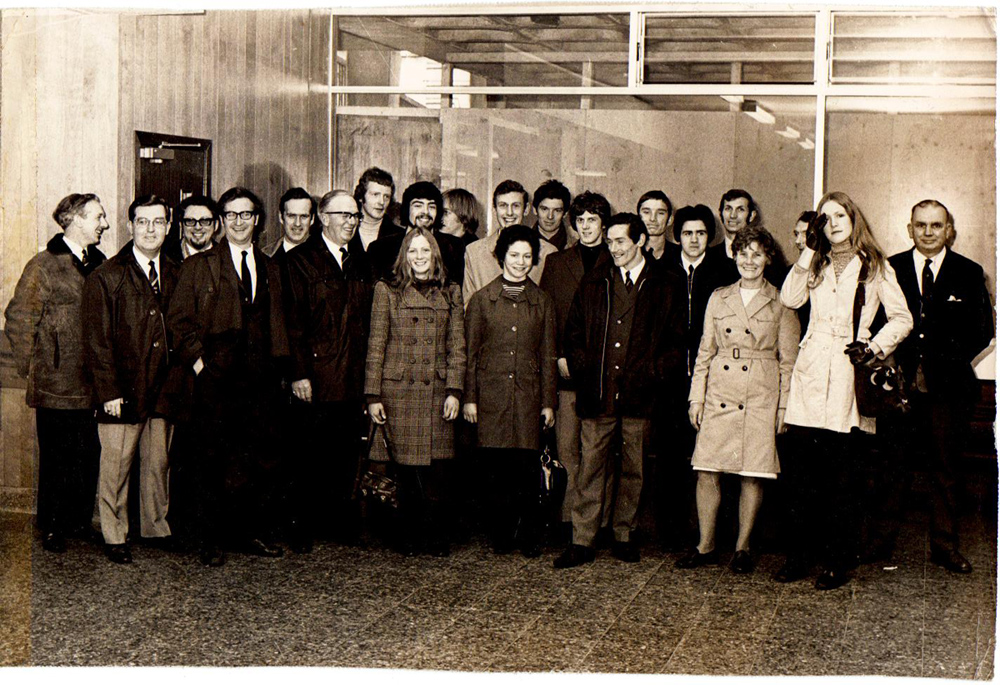 The Scottish Team for San Sebastian in 1971. Margaret, as team manager for the Women's team, is fourth from the right.
Neither George nor Margaret restricted themselves to the country however. They were active on the track and field circuit. This was in In addition to being seriously involved in cross-country running. They officiated at local meetings, district and national championships, and of course when the 1970 Commonwealth Games came to Edinburgh, they were both involved there. George had progressed very rapidly through the ranks to become a Grade 1 field official when Margaret was still at level two, but she progressed steadily.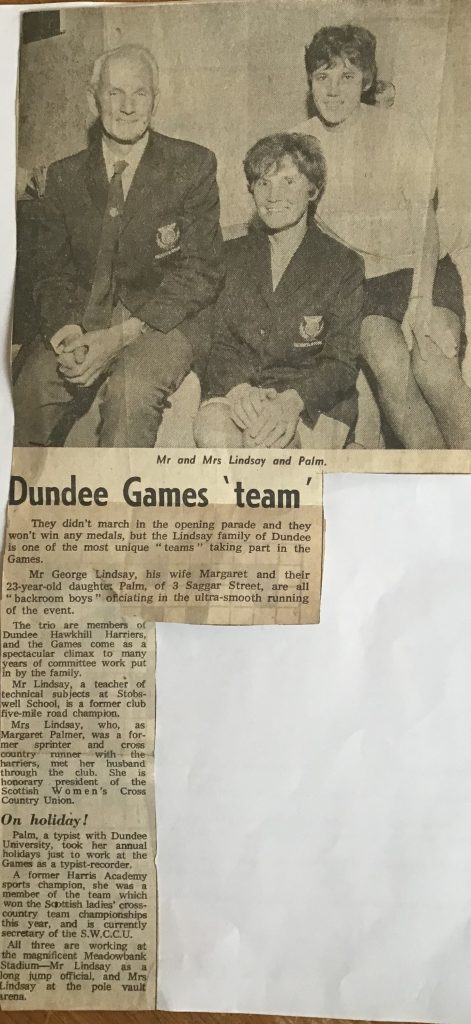 In 1968 Margaret Lindsay was East District representative on the SWAAA General Committee. Not listed as a committee member in 1969, she re-appears on the committee as the SWCCU representative. As far as officiating goes, she was a Grade 3 field judge from 1968 – 1970 and a Grade 2 from 1970 to 1985. So in 1970 when she officiated at the Games, she was a Grade 2 judge. Have a look at the names on the page extracted from the official Games programme. Anybody who mattered was there, but more importantly, they were all very competent officials – they would not have been there otherwise. You will note of course that Mrs AW Lindsay should read Mrs MA Lindsay.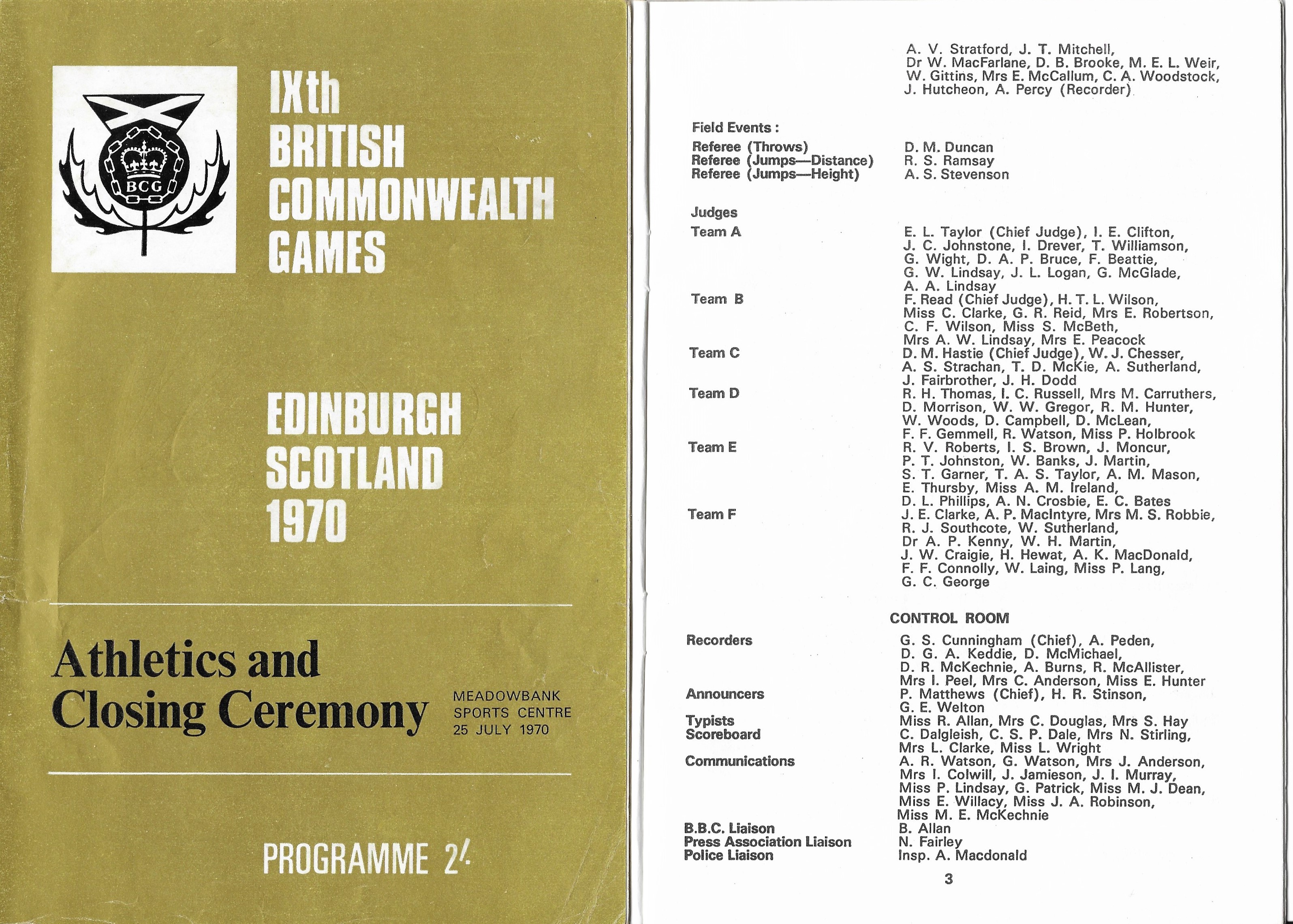 In September 1973 the European Cup Final was held in Scotland – again in Edinburgh. This time it was not a Scottish team but a Great Britain team in the final of one of the hardest fought competitions in athletics with every single point hotly contested. There were only six countries involved – the Soviet Union, East Germany, West Germany, France, Britain, and Finland. There was also a bit of an 'atmosphere' about it because of the drugs and doping issues and the rivalry between the two German teams was intense. The Lindsays were right in the thick of it as the field events, particularly the throws, were the main focus. A harder job than the Commonwealth Games had been.