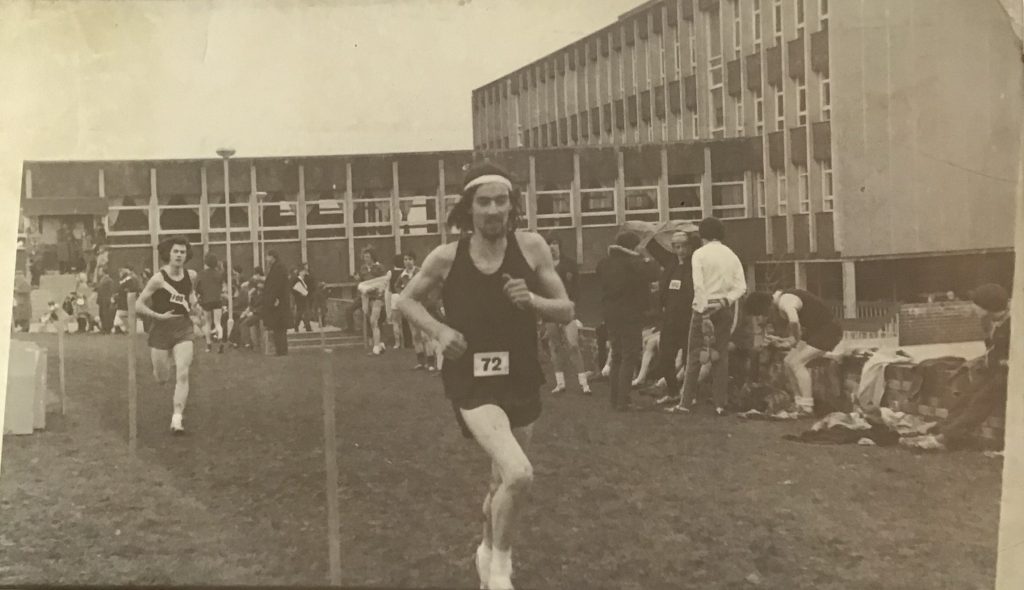 John running in the SCCU Championships, probably Currie in 1972
With no previously known form – at least to those of us in the West and I suspect to many in the East of Scotland – John Gunstone was an unknown quantity when he arrived at Glasgow University in season 1971/72. Who was he? He was the second of the three Gunstone children. Older brother Doug was well known by then and his younger sister Penny was yet to make her mark in the sport. He ran mainly for Glasgow University between 1971 and 1975 joining a very good squad of runners which included Olympian Paul Bannon, Commonwealth Games athlete David Logue and a whole group of good standard club runners. John's career as an athlete was successful but relatively short because his real interests lay elsewhere. Mainly a road and cross-country runner he did run on the track in summer and was ranked nationally in both 1973 and 1974 which were his best years.
1973: 10,000 metres in 31.55.0 which ranked him 22nd in Scotland
1973: Steeplechase in 9.46.4
1974 10,000 metres in 31.59.0 which ranked him 22nd.
Colin Youngson says: "John enjoyed his running at university but did not try to emulate his brother's serious dedication. He was a popular, sociable man who won team bronze with GU in the 1973 Junior National, when he finished tenth. His progression over the country as a member of Glasgow University team began with 20th in the National in season 1971-72, the following year he was up to 10th in the race. John also ran the Edinburgh to Glasgow eight stage relay for Glasgow University in 1972, when they were seventh, and he ran on the fourth stage catching and passing the Edinburgh University runner. At the finish they were still that one place ahead of their east coast rivals. In 1973, he ran on the tough second stage and dropped three places – two of whom were Colin Falconer (fastest time on the stage), Lawrie Reilly of Victoria Park and Ian Elliot of Edinburgh Southern. His third run was in 1974 when he moved up from `4th to 12th . His team mates in these races included such quality athletes as Willie Sheridan, Dave Logue, Paul Bannon with really solid club runners like Innis Mitchell, Stewart Crawford and Campbell Joss.
Captain of the Hares and Hounds in Season 1972-73, President Jim Bogan at the Annual General Meeting praised John for his consistently excellent performances during that year. John was also elected as Public Relations Officer, Dunbartonshire AAA representative and joined the committee of the Glasgow University Athletics Club. In 1973, John Gunstone was awarded a Glasgow University Hares and Hounds Blue.
He did of course run in the University fixtures and John's best achievements during his time at GU (1971-75) included: two appearances for the Scottish Universities Cross-Country Team versus the SCCU Select; being a counting scorer in two Scottish Universities Cross-Country Championship team wins; a team win in the Dunbartonshire Cross-Country Championships; and victory in the Scottish Universities Road Relay.
He finished 11th in the Midland Cross-Country; 33rd in the British Universities Cross-Country and a fine 24th in the Scottish Senior National. In the hilly Edinburgh University 10 Mile Road Race against a good quality field on 2nd March 1974, John Gunstone finished fourth in 51min 55sec. Jim Bogan asserted that 1973-4 had been the best in the Hares and Hounds' history. Famously, John suggested that the Club consider holding an Old Crocks' race; the idea was favourably received."
John started running in season 1970/71 turning out for Hawkhill B team in the McAndrew Relays and then for the University B in November in the Midland District relay. That was the start and as Colin has said he went on to good running career as a student. Over his career at Glasgow, he ran in 22 different races, many only once but as far as major championships are concerned he was always there – the National Cross Country (4), the Scottish Universities (4 ) and the British Universities (3) were all on the schedule with two races for Scottish Universities against the SCCU. His championship record can be summarised as follows.
Season
Race
Place
Time
Team
Comments
1971/72
ScotUnis
14th
36:16
1st
–
-
SCCU (Junior)
20th
29:12
4th
–
1972/73
County
12th
35:36
2nd
–
-
SCCU v ScotUnis
17th
29:40
2nd
–
-
ScotUnis
10th
31:20
2nd
–
-
BUSF
64th
38:01
12th
–
-
Scottish junior
10th
26:06
3rd
–
-
ScotUnis Trial
5th
24:44
1st
–
1973/74
SCCU v ScotUnis
30th
32:48
–
-
ScotUnis
11th
33:30
1st
–
-
BUSF
37th
47:26
5th
–
-
Scottish
24th
-
-
–
-
ScotUnis Trial
8th
33:18
1st
–
1974/75
County
6th
35:14
1st
–
-
ScotUnis
9th
29:27
1st
–
-
BUSF
39th
38:24
5th
–
-
Scottish
36th
39:55
–
There were many other very good results in races like the Tom Scott 10 (11th in 1974 in 50:58), Glasgow University 5 Miles (10th in 26:08 in 1974), Grangemouth Road Race (8th in 1973), and the Edinburgh University 10 miles (5th in 1973 in 51:50). The real big race that was not a championship as such was the Edinburgh to Glasgow Relay and his performances therein have been discussed above by Colin.
When John left University, he joined Victoria Park AAC and represented them in several races before leaving the sport in Scotland altogether. A comment was made about the good quality team that he ran with at Glasgow University but the standard in the country generally at that time was very high indeed. For instance in the 1973 when he was 10th that was an impressive result especially when you look who the first 6 were. Jim Brown, Laurie Spence, Lawrie Reilly, Ron MacDonald, Dave McMeekin and Frank Clement. Then came Alan Marshall in7th, followed by Dave Lorimer, Iain Moncur and Roy Baillie. Furthermore Willie Sheridan was 18th, and an A Hutton 23rd! Exceptional runners all. John has said that in connection with this profile, he was happy to be mentioned as a member of the family who enjoyed and took great pleasure from running.'
The family enjoyment of running continues as John's daughters have done marathons, ultras and cycle mile after mile and one of his sons, Jo, did run for a while as a member of Fife for one year in the 90's.