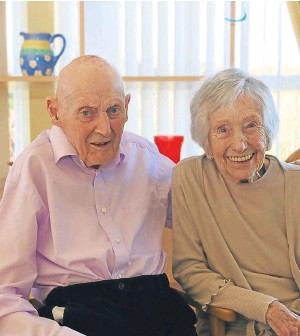 The photograph above was taken in the lounge of St Andrews Care Home on Saturday afternoon 24th March, Frank and Eleanor Gunstone celebrated their Platinum Wedding. Many friends and relatives gathered there to enjoy this very special occasion. Eleanor and Frank came to North East Fife in 1954 when Frank was appointed lecturer in Chemistry at St Andrews University. They had three children (Douglas, John and Penny) who were all talented runners and the family was to have a big effect on Scottish athletics.
Doug tells us that "Dad's involvement in athletics had been providing the car that was used to take us to races earlier in our athletic careers. However he was always very supportive and interested in what we were doing and was always happy for my mother to get involved. He it was who got the Gunstone's to Scotland, working in Glasgow University from 1946 before moving to St Andrews in 1954. He was born in Oldham before moving to Liverpool in his teens. My mother was a Liverpudlian." If you look up Frank Gunstone on the internet you will be told that he was a very gifted academic chemist and his entry in the Prabook website says:
"Frank Denby Gunstone, British chemistry educator. Recipient AOCS Lipid award American Oil Chemists Society, Champaign, Illinois, 1973, Chevrul medal Association Francaise, 1990, Normann medal Deutsche Gessellschaft fur Fettwissenschaft, 1998. Fellow American Oil Chemists' Society; member University Staff Club (honorary member, president 1983-1985)." His career was listed as
"Lecturer, U. Glasgow (Scotland), 1946-1954; lecturer, U. St. Andrews (Scotland), 1954-1959; senior lecturer, U. St. Andrews (Scotland), 1959-1965; reader, U. St. Andrews (Scotland), 1965-1970; professor, U. St. Andrews (Scotland), 1970-1989; honorary research professor, U. St. Andrews (Scotland), 1989-1996; honorary research fellow, Scottish Crop Research Institute, Dundee, since 1996. Consultant in field."
The list of his publications is also available elsewhere on the net and it is considerable.
Although Doug says that he was not really into the sport, he did nevertheless officiate at meetings – I remember officiating with him in the pole vault at the Scottish Championships at Grangemouth in 1979. He was not nearly as involved as Eleanor was. There was though an involvement with the sport in his schooldays where the only running he did was when for the school sports (which was not his thing) they said if anybody did the Mile their House would get 1 point so he and his brother started running the mile so they could take part in the school sports!! He said he used to be the House Secretary so his contribution to running was recording the results for the school magazine.
*
Eleanor was much more a force in the sport. Daughter Penny tells us that: "Mum got into athletics because she used to spend her weekends driving me around events. Like many parents she started officiating so she had something to do whilst waiting around for me. I was born and brought up in St Andrews. There was no athletics club there at the time and when I started running I joined Dundee Hawkhill Harriers as Doug and Palm both ran for them. Along with Donald Macgregor and Ronnie Morrison, Mum was instrumental in setting up St Andrews Athletics club. St Andrews Athletics club later amalgamated with Cupar and Fife Southern AC, a Glenrothes/Kirkcaldy club, to form Fife AC."
Doug corroborates this when he says, "Penny never really trained with the Hawks. The training was done in St Andrews (similarly with me I very rarely trained in Dundee. I didn't need to! From the month before I started at London I trained with Don Macgregor and learned a lot very quickly!)) Mum first got involved on the admin side of the sport in 1974 when a St Andrews Amateur Athletic Club started and a year later merged with Cupar and District AC to form Fife AC."
It is as an official at national level that most in Scottish athletics remember her. She worked her way quickly through the various grades: beginning in 1973, she was a Grade 1 by 1985.
By 1979 was a Grade 1 Track Judge and Grade 3 Judge for Throws and also for Jumps. She very soon upgraded the two field events into Grade 1 and was a qualified Wind Gauge operator. These plus experience gave her the Referee qualification as well. At club level she progressed to club president, an office she held for three years. Her progress through the administrative echelons of the sport was equally smooth. The SWAAA Annual Reports tell us that in 1974 she was the East District Representative and then from 1975-82 she was Honorary Championship & Match Secretary. Dropping the Match Secretary role, Eleanor was She was Honorary Secretary from 1982-85. In 1982-83 EG was SWAAA representative on the BAAB with this role overlapping (1982 – 1985) as one of three representatives to the Commonwealth Games Council for Scotland.
On the SWAAA Committee Eleanor became a member of the executive and was still in post in Scotland when the athletics governing body changed dramatically. Scottish athletics had been organised by no fewer than six bodies – SAAA and SWAAA organised the track side of things, SCCU and SWCCU organised the cross-country season, the SSAA organised the schools athletics, the Hill Runners had their own organisation. After a prolonged period they came together to form the Scottish Athletics Federation in season 1995/96. Eleanor had been a powerful figure during the negotiations and when the new body was set up, she was Vice Convener of the Road and Cross Country Commission. The setting up of this body was not without its problems, some of which were to do with money. Eleanor was largely responsible for the establishment of the Scottish Women's Road Running and Cross-Country Trust which kept some of the money from the women's governing body for the development of women's endurance running in Scotland. Many were not happy but the Trust has worked well to the benefit of women in the sport.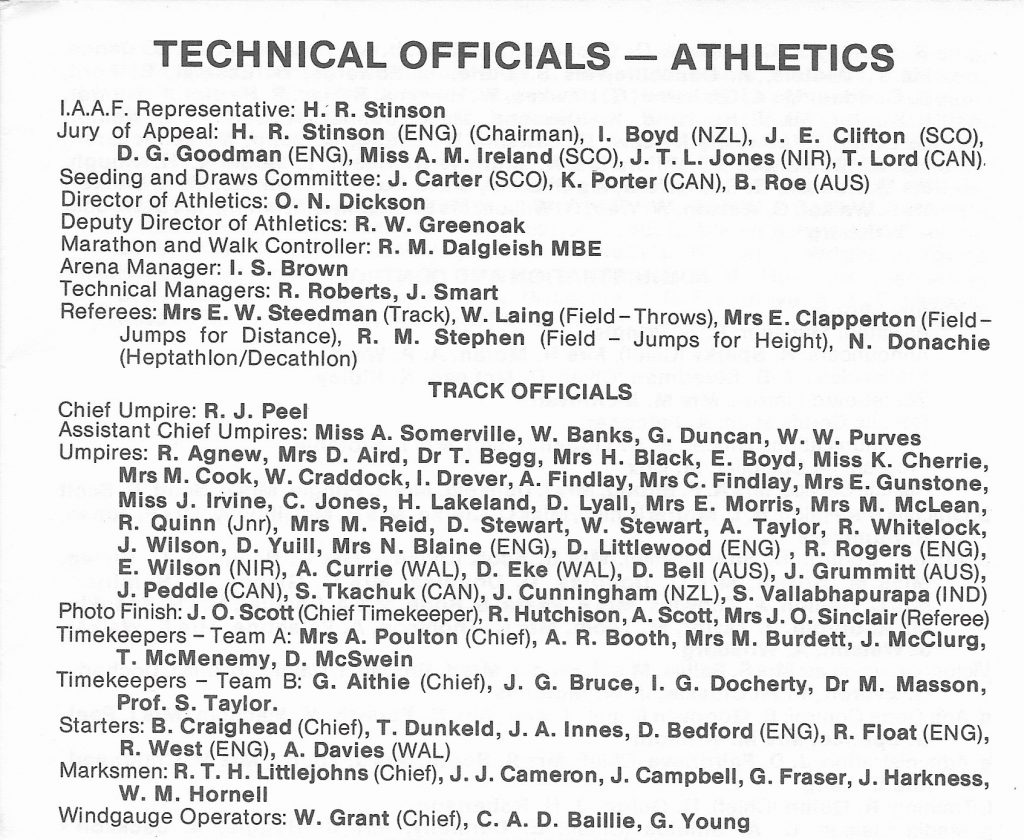 Extract from the Programme for the 1986 Commonwealth Games
Although she was an administrator and official of the highest quality, Penny tells us that "Mum was a teenager during the 2nd world war and her sporting life was curtailed by this. She used to jog with me to the track and then hold the stop watch for me. She did a little bit of running to keep herself fit and at the age of 79 competed in a 'novice' triathlon at Cupar. Distances were 400m swim, 12k bike and 3 k run."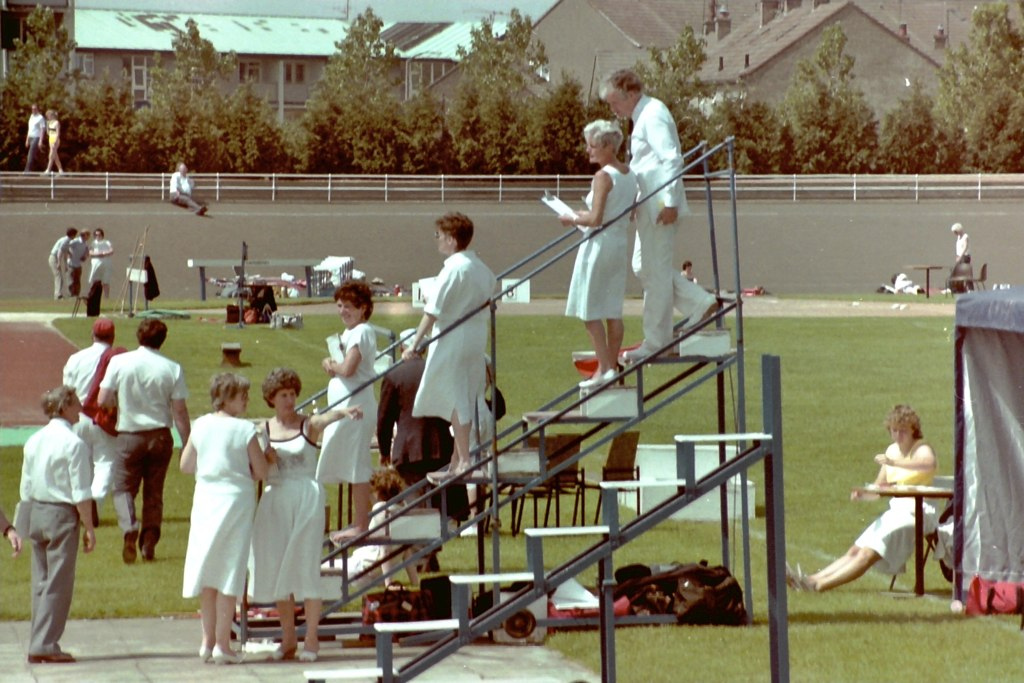 1986, Grangemouth: from the top: David Lyle, Dora Stephen, – , Netta Sinclair, Eleanor Gunstone (on the bottom step)..
Unlike many who are as involved in sport, indeed unlike many who involved in sport to a much lesser degree, she had a full life outside the competitive arena. Apart from the family, she was a local politician of some note. The following summary indicates that involvement.
*Eleanor served on Fife Regional Council and then Fife Council, before standing down in 2007.
* First becoming a councillor in 1966, when she began pursuing improvements to the sport and leisure facilities in the town.
*She lost her seat in 1971, but would return to politics later.
*In 1986 she returned as a councillor – this time representing the Motray ward.
*She would serve for 21 years, resenting Leuchars, Guardbridge and Balmullo until 2007.
Endurance seems to have been her forte – 21 years from 1986 in local government can seem like a lifetime. This was another job that was done in a professional fashion, she would not have lasted as long otherwise.
It is of course eminently possible that one of the reasons that the younger family members remained in the sport was that the family did not have a narrow, sport focused lifestyle. There would be many other things spoken of at the dining table or in the car. Sport as only one part of life is perhaps essential for a continued love of it.
Eleanor was the recipient of many awards but one that had a special place is the one mentioned by Penny when she says: "She received a long service award from British Athletics when she had been officiating for 40 years (considering she didn't start officiating until the 2nd half of her 40's that was some achievement). She also carried the Commonwealth Baton in St Andrews in 2014 – it was my sister-in-law Palm who nominated her for this. It was a proud moment for mum."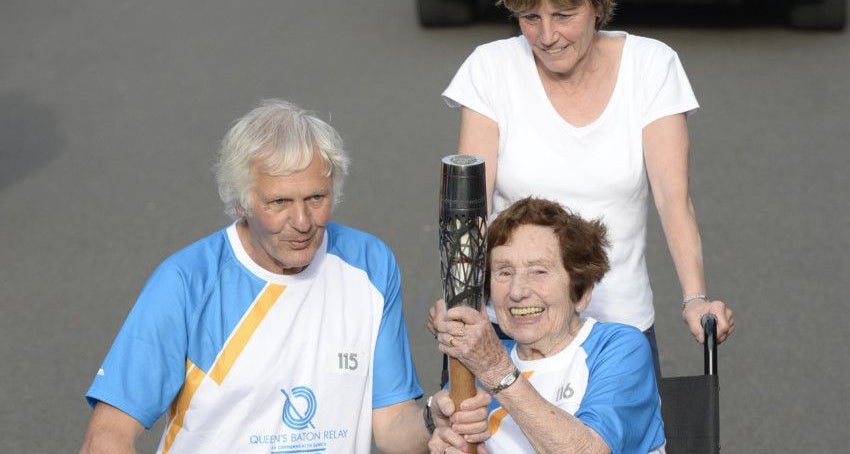 Eleanor with the Games Torch
87-year-old Eleanor Gunstone, one of the founding members of the St Andrews Athletic Club, climbed out of her wheelchair to carry the baton by foot.
Ron Morrison wrote this tribute after Eleanor died in 2017. It is to be found on the scottishathletics website.
Eleanor Gunstone was never anything more than a casual jogger but her impact on our sport is a legacy that most would be proud to have achieved.
Born 91 years ago in Liverpool, Eleanor joined her husband Frank in Glasgow in 1948 two years after he had taken a Lecturing job at the University of Glasgow.
Shortly afterwards, in 1954, Frank moved to the University of St Andrews and developed into a world class Lipid Chemist and at one time Vice–Principal of the University. Eleanor was happy to come in the package and it seems to have worked as Frank and Eleanor celebrated their 70th wedding anniversary in March this year.
Eleanor's interest in athletics started when her daughter Penny showed promise in endurance running and, being helped by Don Macgregor, they and many others set about developing a club in St Andrews in the early 1970s.
That soon combined with the already successful Cupar & District club in 1975 to form what is now Fife AC. Eleanor contributed many years of service on the Committee and lead it as President in 1988-1991.
Eleanor soon understood that the then governing bodies of our sport needed competent people to drive them forward. She was an Executive Member of the SWAA from 1974 until the formation of the SAF including being Honorary Secretary from 1983-6 and representing the SWAAA as a representative on the British Amateur Athletic Board. She was also a General Committee member of the SWCC&RRA from 1975 and Honorary Treasurer from 1977 until the formation of SAF in 1992.
When the SAF was formed by the amalgamation of the four Scottish Governing bodies, Eleanor embraced the challenge by being a member of the Interim Council and acting as both Vice–Convener and Convener of the RR&CC Commission 1992-1998.
Controversially, she set up the Scottish Women's CC & RR Trust to ensure that the SWCCU monies were directed to women's endurance running. It was these monies now administered by the SAL that allowed athletes like Freya Murray to benefit from high altitude training.
Eleanor Gunstone was a Grade 1 Track and Field Judge from 1973 officiating at numerous athletics events in Scotland. In addition she acted as referee at the Scottish Women's Cross Country Championship, the Edinburgh to Glasgow relay and the six-stage National Men's Road Relay Championships.
She convened International events, the East v West Women's match and acted as International Team Manager at track and field, cross country and road running internationals.
As if she did not have enough to do, Eleanor Gunstone served as a local councillor from 1990 to 2007 in St Andrews.
My own favourite story of Eleanor is her insisting that anyone recording at a race must use a pencil and it had better be sharpened at both ends.
In 2014 Eleanor Gunstone was presented with an award for achieving 40 years of service by UK Athletics. Being unable to travel to the presentation in Solihull Eleanor received the award at the SAL AGM that year. Also in 2014 Eleanor carried the Queen's baton for the Commonwealth Games as it passed through St Andrews.
Eleanor is survived by her husband Frank, their children Douglas, Penny and John, 10 Grandchildren and 11 Great Grand Children.