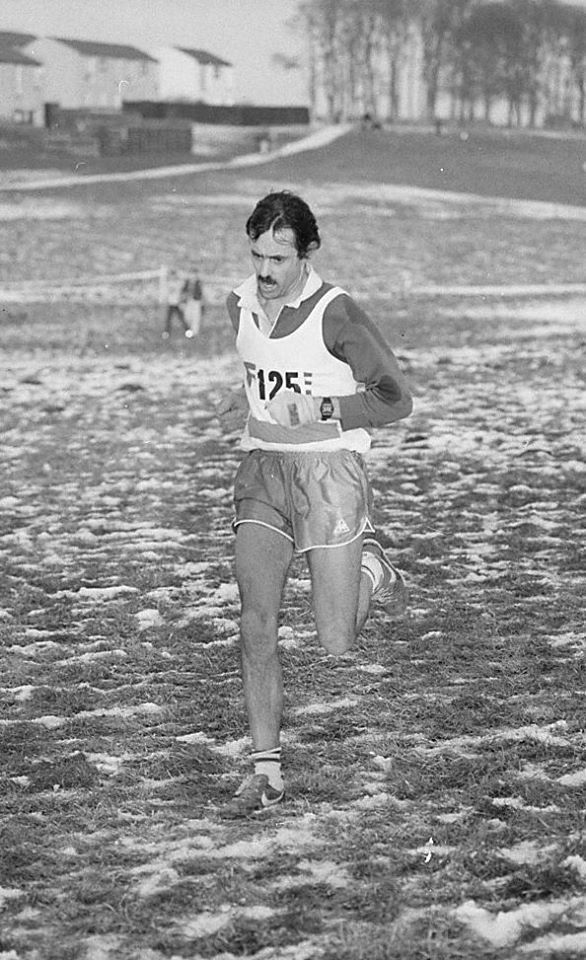 There is no doubt as to the quality of Doug's running. He has deservedly been the subject of a profile on this site in the marathon stars section. An international runner on the road and over the country, multi medallist at the SAAA championships and one of the most consistent runners in the country from January to December for many a year. But the extent of his family involvement in the sport is not really appreciated – even among his contemporaries.
Doug is the oldest of Frank and Eleanor's children and was the first to take up running. It is usually the parents that take the children along to an athletics club and on occasion a parent who comes along with a boy or a girl gets involved at some level. In the Gunstones case, it might well have been Doug who started a dynasty which included his parents. His father Frank was the man who provided the car that transported the children to the clubs and his mother Eleanor was a real driving force in the sport at national for decades and her involvement started with going along to training in St Andrews with Penny.
Then Doug and Palm's two children Kim and Neil were both introduced to the sport, enjoyed it as children and although Kim has a successful career away from the sport she is still running for pleasure and Neil, who is also very successful away from the running track, has had a very good career as an athlete and also continues to run for pleasure. The family connection and contribution to the sport has been significant.
Doug's career in the sport can be outlined briefly here. There were however several particularly notable events in which he played a major part and these will be noted here. We can recap on his career a bit by noting that he appeared on the Scottish track running ranking lists on 38 occasions between 1969 and 1982. They were in events ranging from 1500 metres through 3000 metres, 5000 metres, 10000 metres, 10 miles and the marathon. Times are only one part of the assessment of any runner's career, the competitive record should also be looked at and Doug has a Scottish championship record to be proud of :
1975 10000 1st, 1973 10 Miles 1st, 1975 10 Miles 1st – 3 first places at two distances
1976 10000 2nd, 1977 10000 2nd, 1976 Marathon 2nd , 1973 10000 2nd – 4 second places at two distances
1974 10000 3rd, 1978 10000 3rd; 1977 1500i 3rd – 3 third places at two distances.
There were of course many excellent races against the best of British opposition with trophies won, places gained and at times superb performances in an era when the sport in the country was at an undoubted peak. His best individual performances at standard distances were
| Distance | Time | Year |
| --- | --- | --- |
| 1500 | 3:58.8 | 1972 |
| 3000 | 8:23.0 | 1973 |
| | 8:21.4i | 1971 |
| 5000 | 14:06.8 | 1972 |
| 10000 | 29:25.6 | 1972 |
| 10 Miles | 48:55.4 | 1975 |
| Marathon | 2:19.07 | 1977 |
As we see from the picture below where he is surrounded by top international stars in Madrid (Doug is second from the left in the back row) he was a very good cross-country runner too.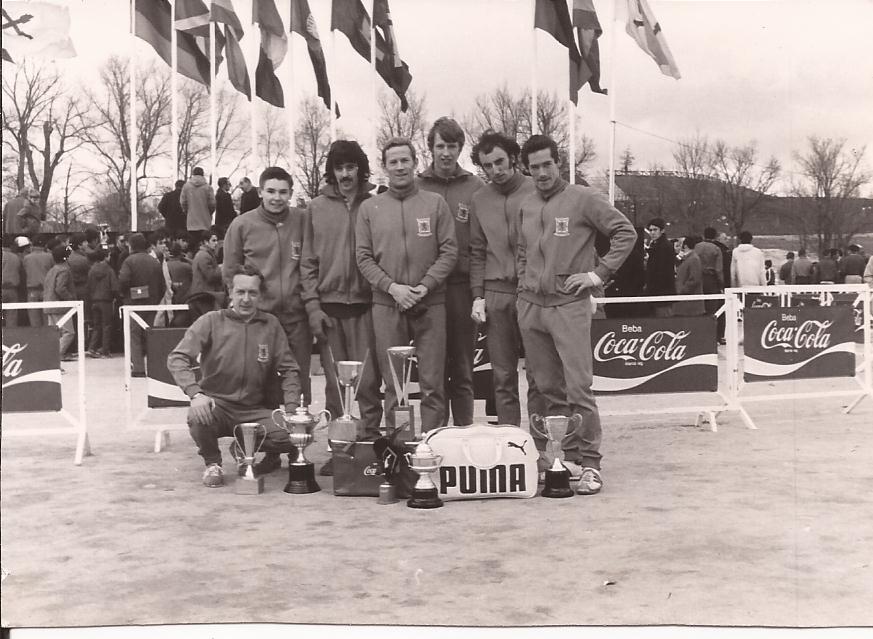 Colin Falconer, Doug, Bill Stoddart, Les Irvine, Eddie Knox and Lachie Stewart with team manager Ewen Murray kneeling.
One of the things that separated him from many of his contemporaries was his continued involvement in the sport once he was past his prime. Nor did he compete on the veteran athletes circuit. He went on racing as a senior man athlete against all the others in the country without the veteran or any other filter being applied. He ran well, he got results. He ran in total 44 consecutive times in the national cross country championships.
His last was in February 2012 and it was only when ill health stepped in.
He couldn't stay away however, and as soon as he could he started back into the sport running in parkruns, and local open road races. His record over the period from 2010 as listed in the runbritain pages includes almost 100 races plus outings in League matches.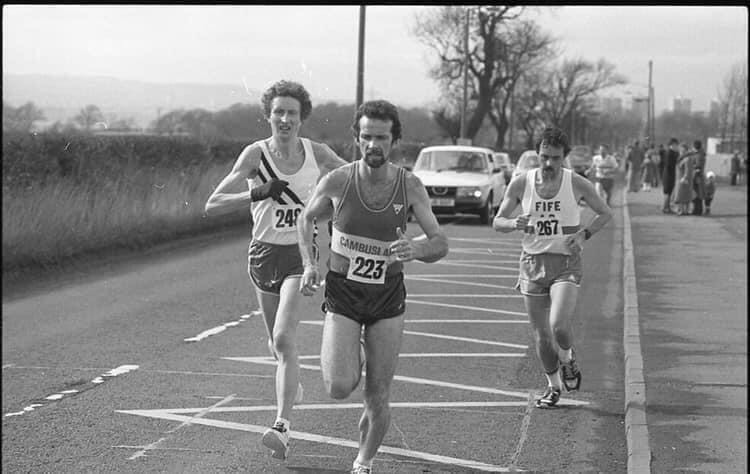 Doug (267) running in the Tom Scott 10 miler in 1985
But while looking at his current athletic career do not forget that Doug was a very good cross-country runner who ran in the IAAF World Cross-Country Championships twice – once as a Junior in 1970, and once as a Senior in 1975. His consistently high standard can be seen just by looking at the decade between 1970 to 1979 in the National.
1970: 6th Junior; 1971: – ; 1972: 8th; 1973: 13th; 1974: 8th; 1975: 10th; 1976: 15th; 1977: 11th; 1978; 17th; 1979: 18th.
If we want to see how the scene had changed over this period, then we only need to look at the top cross-country runners. In 1972 when he had his first run as a senior man, the first five were Ian McCafferty, J Alder, A Blamire, A McKean and L Stewart. By 1979, the top five runners were N Muir, L Spence, J Brown, J Dingwall and G Rimmer.
We can also mention two events which illustrate the standard at which he was running:
He was part of the Edinburgh AC team that won the national cross-country championships with only 37 points – their six counting runners being in the first 11 with Jim Dingwall 13th and not a scoring man. As Colin Shields tells it in the official history of the SCCU, it was one of the lowest scores in the history of the championship, indeed their next six counters would have been fourth team had they been a separate club. Victorious Team – 6 in first 11; ie 1. A McKean, 2 A Weatherhead, 5. J Alder, 8. A Wight , 10. D Gunstone, 11 J Wight. 37 pts; ESH 101 pts.
He was part of the Edinburgh AC team which had already shown pace and endurance the previous March when from 6 p.m. on 28th September 1974, at Meadowbank Stadium, Edinburgh Athletic Club broke the world record for the 24-hour 10-man x 1 mile relay. This outstanding feat even out-performed the world best for a composite team and the U.S. Olympic Training camp select, in addition to the record for members of a single athletics club.
Their final distance was 297 miles 1145 yards (or 479.009 kilometres). This translates to an average of 4 minutes 50.27 minutes per mile. Most runners ran 31 or 32 miles with between 40 and 45 minutes between and only one dropped out. Doug's contribution was to run 31 separate miles with a top speed of 4:42 and a slowest mile of 5:04, with an average of 4:52.4 per mile.
The heroes were: Jim Alder, Jim Dingwall, Doug Gunstone, Phil Hay, Danny and Ronnie Knowles, Alex Matheson, Joe Patton and, unsurprisingly, Alex and Jim Wight. Truly an amazing achievement.
Following this feat there was a very interesting article in the British Journal of Sports Medicine.
http://www.ncbi.nlm.nih.gov/pmc/articles/PMC1859579/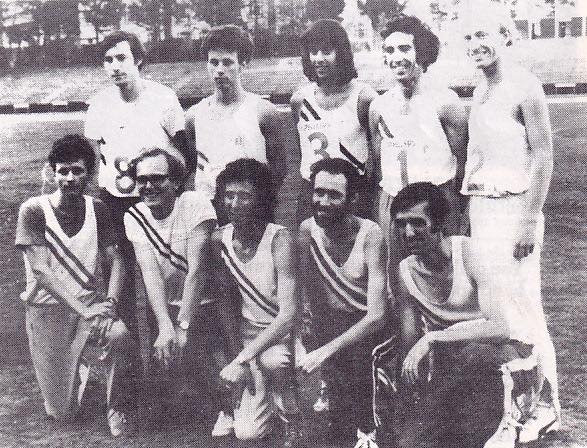 To be part of a world record holding squad is quite an achievement. Not many Scots can equal that – other than nine former EAC members!
back row from left Joe Patton, Twin Knowles, Doug Gunstone, Jim Alder, Jim Dingwall
Front row Twin Knowles, Phil Hay Alex Wight, Jim Wight and Alex Matheson.
The Knowles twins were notoriously difficult to distinguish even to their contemporaries in the EAC team
---
Doug also spent some time coaching the endurance runners of the Kingdom Juniors team, passing on some of the knowledge gained from many years of top class running. Well liked in the running fraternity he can be seen in the picture below chatting with another top class runner from his own running days and enjoying the evening.
Earlier we spoke of his consistency but there is another statistic that he might call trivia but would amaze some and interest almost all Scots runners – he has run inside 15 minutes for 5000, no fewer than 53 times! All run between April 1970 and May 1981. Finally it should be pointed out that Doug, international runner, national champion, world record holder has never changed in his manner or his attitude but I maybe suspect that he is content to be called what he is – a lifelong runner. To be a famous runner, as the Irish might say is quite an accolade.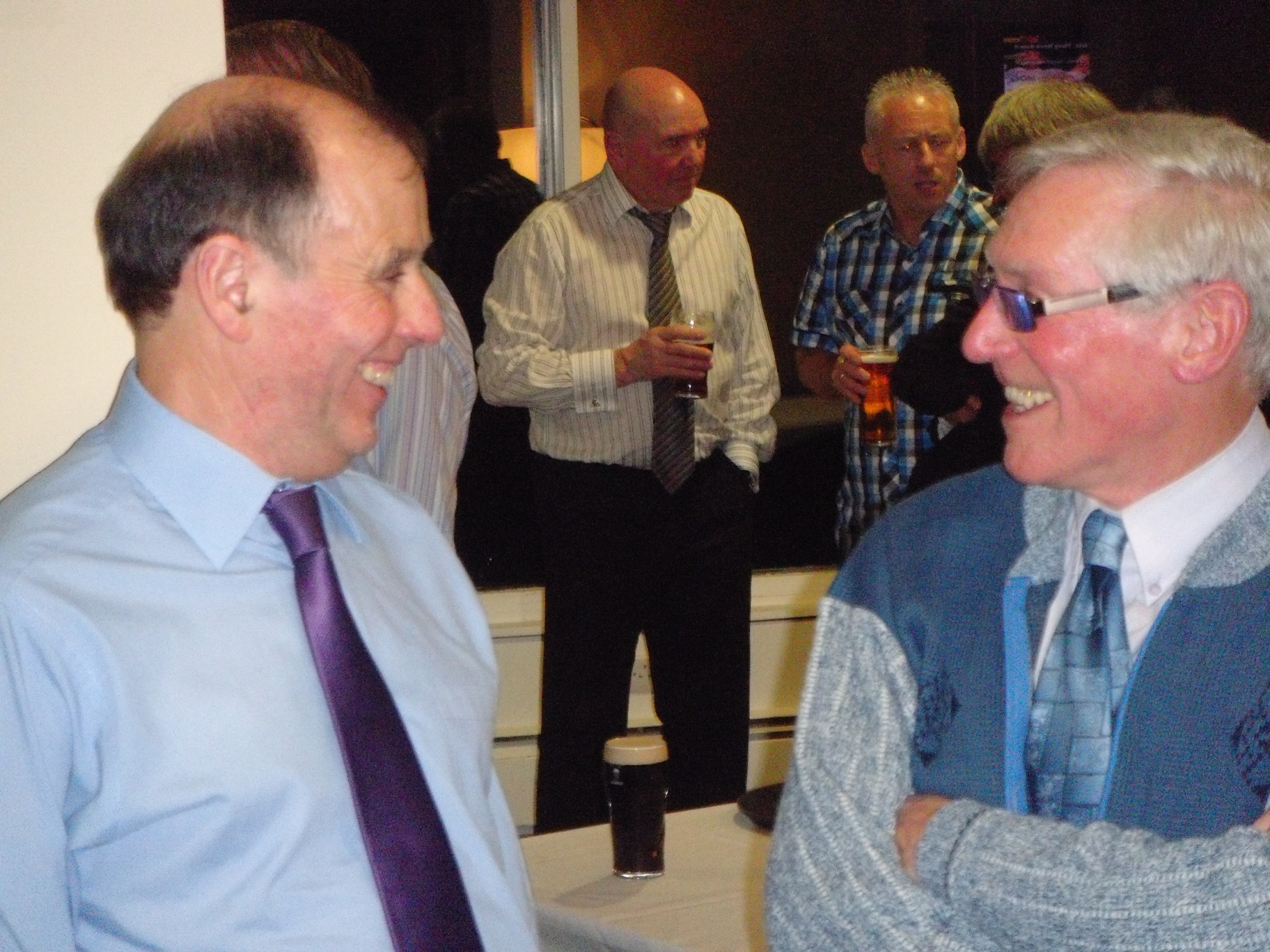 Doug with Lachie Stewart at a reunion in 2012