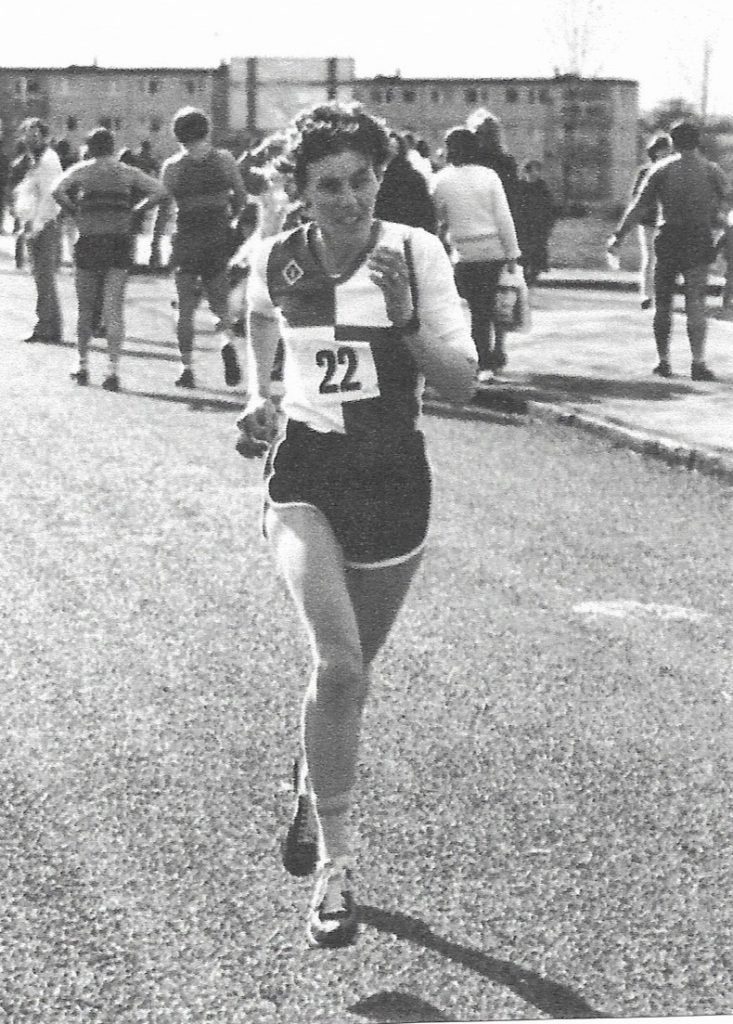 Palm winning the Tom Scott 10 Miles in 1985: winner in 66:42
Palm Lindsay was brought up in a family associated with running. All through her childhood her parents had been members of Dundee Hawkhill Harriers, first of all as runners and subsequently as officials, and her sister had also been a member of the club. When Palm was about 13 years old her Dad took her along to the club where she started off being coached by Tom Crighton. Her Dad was a starter in the area although the main starter was a chap called Sid Whyte. Palm is best known as a cross-country and road runner but before looking at that, it should be pointed out that she was actually a good track runner. This was almost all at the start of her career and, although there was an overlap, the most successful and long lasting period came after the track running.
Almost from the start she was performing well. In the East District Track Championships in 1963 she was a medallist in the high jump (and she was ranked eleventh in Scotland in that event in 1969 too), and there were creditable performances in long jump and javelin too. In 1964 she was first equal in the Harris School Sports Championship. Club champion in 1966, 1968, 1969 and 1974, there were successes in the East District Track championships too. In 1965 she was first intermediate in the 880 yards and in 1967 second in the Mile.
Competitively, Palm's track championship record there was also good. In the District Championships, she won the 3000 metres 1971, 1973 and 1974, and in the 1500m in those years she was second, third and first. Places in the National championships were also hard fought, partly because there were so many England based runners coming up who only ever set foot on a Scottish track , but nevertheless Palm raced well. On 23rd June 1973 she was third in the 3000m and also a member of the Medley Relay team that finished third. On 22nd June 1974 there was a second in the 3000m and a fifth place in the 1500m. Also in 1973, she won the indoor 1500m, with a very convincing victory. The results read: 1. P Gunstone 4:47.9; 2. F McKenzie (Pitreavie) 4:58.9; 3. L Inglis (Edinburgh AC) 5:00.3.
Palm's rankings in the official Scottish track statistics lists are as below. She had personal bests of 5:03.1 for 1500m indoors, 4:57.02 for the same distance outdoors, and 10:40.8 for the 3000m.
Year
event
performance
ranking
1965
880y
2.37.0
20
1966
HJ
1.45
11
1968
1M
5.55.2
19
1971
1500
5.03.3
16
1971
3000
10.58.2
6
1972
3000
11.16.0e
1
1973
1500
5.03.7i
24
1973
3000
10.40.8
6
1974
1500
4.57.02
2
1974
3000
10.29.0
7
There were also good performances in field events other than the high jump – eg the javelin and long jump – but distance running was always her forte.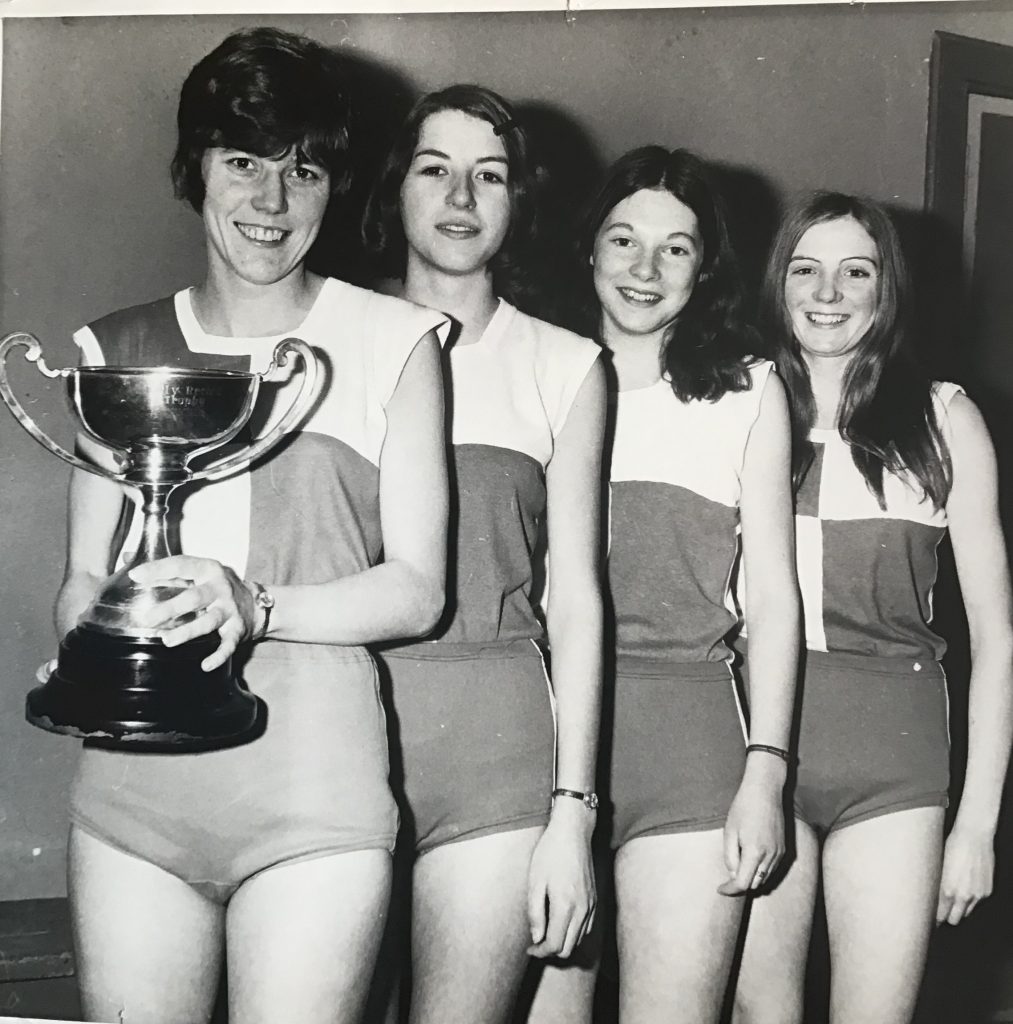 The Hawkhill team after the first SWCCU Championship win
Palm, Joan Will, Ina Coull and Christine Haskett
By 1969, Palm was a very good cross-country runner, a member of the group coached by the well-known Dundee coach Harry Bennet. She was successful at club, District and National level, ran against the best in Britain in the English championships and in International Championships. In the club championships, she was victorious in 1964/5, 1965/6, 1967/8, 1968/9 and 1973/74; in the East District championships, there was a third place in 1971, and then first in 1972, 1973 and 1974. The next step up the competitive ladder was the National Championships where she competed every year from 1969 to 1976. which should maybe be looked at in more detail.
Her first Scottish National Team Gold medal came in season 1969/70 when Christine Haskett (2nd), Palm (10th) and Joan Will (20th) won the title. It was a time when there were real speedsters at the top of women's cross-country in Scotland and the top ten in Palm's race were 1st M McSherry; 2nd. C Haskett; 3rd. S Fitzmaurice; 4th. S Kirk; 5th. A Barrass; 6th. M Speedman; 7th. K Mackie; 8th. D Greig; 9th. L Watson; 10th. P Lindsay . There were quite a few very fast runners behind her too – eg Georgena Craig was eleventh. Four of the first five in the race were Anglo-Scots. Every one of them was a top ranked track runner and two would go on to become very good marathon runners. Palm's run in tenth was a very good one. The following year (1970/71) the Dundee trio successfully defended their title but all moved up the field a bit – Christine won, Palm was 7th and Joan 14th. Finishing places were 1st C Haskett; 2nd M McSherry; 3rd A Barrass; 4th S Sutherland; 5th B Grinney; 6th R Murphy; 7th P Lindsay; 8th. M Speedman; 9th L Watson; 10th D Greig. The unfortunate thing for Palm about this race was that she was only a single second behind Rose Murphy of Bathgate and that cost her a place in the international st San Sebastian as the first six were picked. By 1971/72 Margaret McSherry was Mrs Coomber. Palm was again the top ten and Hawkhill won the title for the third consecutive year. The winning team was Christine 2nd, Palm 9th and Fiona Murdoch 13th with Joan Will in 14th. Places at the finish were 1st M Coomber; 2nd C Haskett; 3rd A Barrass; 4th M Chambers; 5th B Stone; 6th. W Sosinska; 7th P Spence; 8th E McCulloch; 9th P Lindsay; 10th S Henderson. Again four of the first five were English women.
Like the other members of the winning teams, Palm's training and racing had been guided by Harry Bennett, the well known coach at Dundee Hawkhill. Times change, athletes change too and Palm's running and the success that she enjoyed after that were down to Doug's guidance. She chose her own routes and long runs and decided when they had to be done, but Doug kept her on the right path with the various sessions such as hill sessions, Fartlek and rep sessions and how often to include them. They enhanced her enjoyment of the sport, attitude to it and the many successes that came thereafter.
Winning teams do not usually happen by accident. The fact that Christine, a quite superb athlete, Palm and Joan were all SWAAA medallists in the track over 1500m and 3000m was obviously a key factor in their success. In 1972/73 Palm was Mrs Gunstone and finished fifth. The team was unplaced partly because Christine Haskett was running for Stretford in England and the Athletics Weekly had this to say about the race: In the Senior race Christine Haskett – now training in social science in England and entered from Stretford AC – broke away from holder Margaret Coomber and Ann Barrass in the last quarter of the race to win impressively. With Mary Chambers fourth, Palm Gunstone – top of the domestic scene all winter – was the first home Scot in fifth position. Dale Greig with eyes on the Boston Marathon in April, was happy with her finishing position in the first dozen." An interesting wee sidebar is revealed in the following comment, also from Athletics Weekly: "In the Junior Race Anne Cherry was bidding for her third title in a row, but could not shake off Penny Gunstone, who finally broke the "Fauldhouse Flyer" in the run-in to win by four seconds." Palm's place gained her her first selection for the international, held in Belgium that year, where she finished 74th.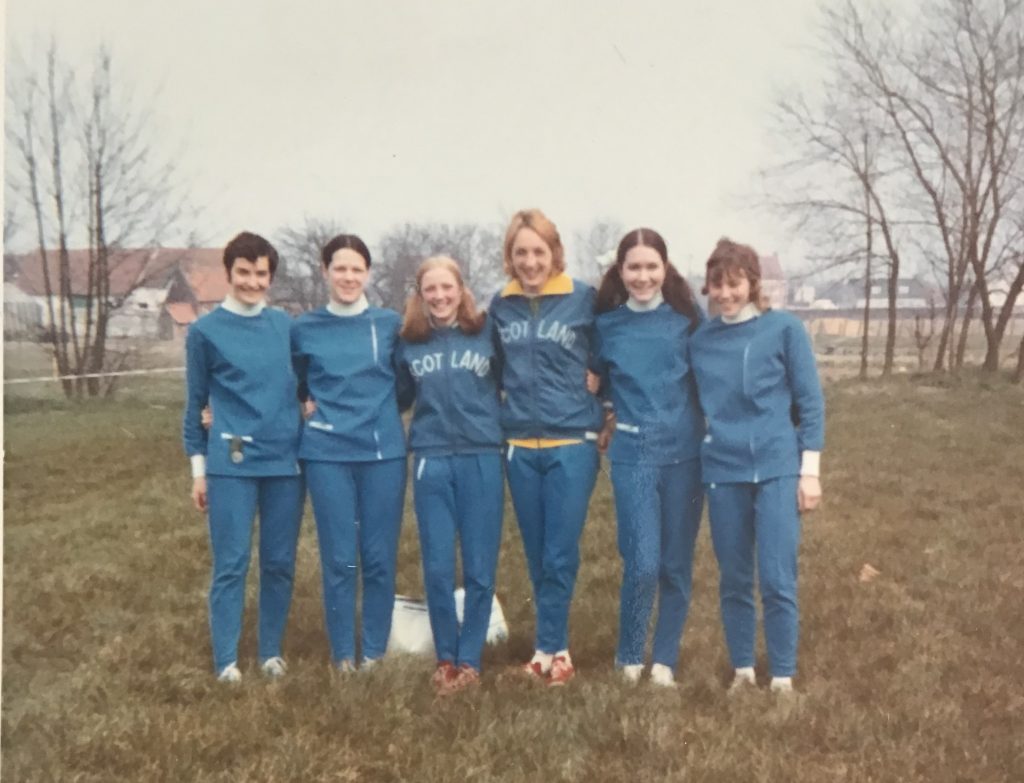 The club had also, run well in the Scottish Road Relay Championships with Palm having good runs all the time. The club was second in 1970 and she had the third fastest lap time; second again in 1972 and in 1973 they won the race with Palm having the fastest time of the day.
In 1973/74 the winner was Moira O'Boyle from three Anglo-Scots in Haskett (Stretford), Barrass (Aldershot) and Purseglove (Westbury) with Palm in fifth place. The 'Athletics in Scotland' magazine reported that 'Palm Gunstone, wife of Douglas, ran one of the best races of her career to finish fifth overall in the race in 23:17, thus clinching her place in the Inter-Territorial Championships at Leicester on the 23rd.' This race on the 23rd was to be a quite momentous event. Palm thinks it was the best race she ever ran. The lengthy report in the 'Glasgow Herald' which came under the headline of "Scots selectors saved from embarrassment" read:
'The 12 women who select Scotland's cross-country teams will meet on Wednesday to choose six senior runners for the women's cross-country international at Monza, Italy on March 16th. Quite a few of them will be breathing sighs of relief after having seen the resukts of the English cross-country championships on Saturday, because one potentially embarrassing situation has been thankfully avoided.
The difficulty stems from the presence among the selectors of Mrs Lindsay whose daughter, Mrs Pam Gunstone, is a strong contender for a team place. The fly in the ointment is one Mrs Arlene Purseglove – no, not a character in an Ian Fleming novel but a little known Anglo-Scot who came fourth in the Scottish championships two weeks ago beating Mrs Gunstone into fifth place. Consternation in the ranks. The three others ahead of the aforementioned Miss Purseglove are all certain of selection. Moira O'Boyle, Christine Haskett and Ann Barrass. Add to them the 16 carat certainty Mary Stewart must be despite missing the Scottish and English races, and the other top ranked Anglo-Scot Margaret Coomber and one reaches the conclusion that the remaining sixth place is a toss-up between Miss Purseglove and Mrs Gunstone.
In Saturday's English championship race at Leicester Mrs Gunstone ran the race of her life by finishing 22nd in a field of 200, but what was more important to her, and no doubt to her mother, she finished 13 places in front of Miss Purseglove who was running for the London club Westbury Harriers. Wednesday night's deliberations will certainly focus on the relative merits of these two girls, but with Mrs Gunstone showing immense improvement this year, I doubt if the 12 selectors need feel any embarrassment at plumping for their colleague's daughter.'
Doug was selected for the men's team and both represented Scotland in Italy in March.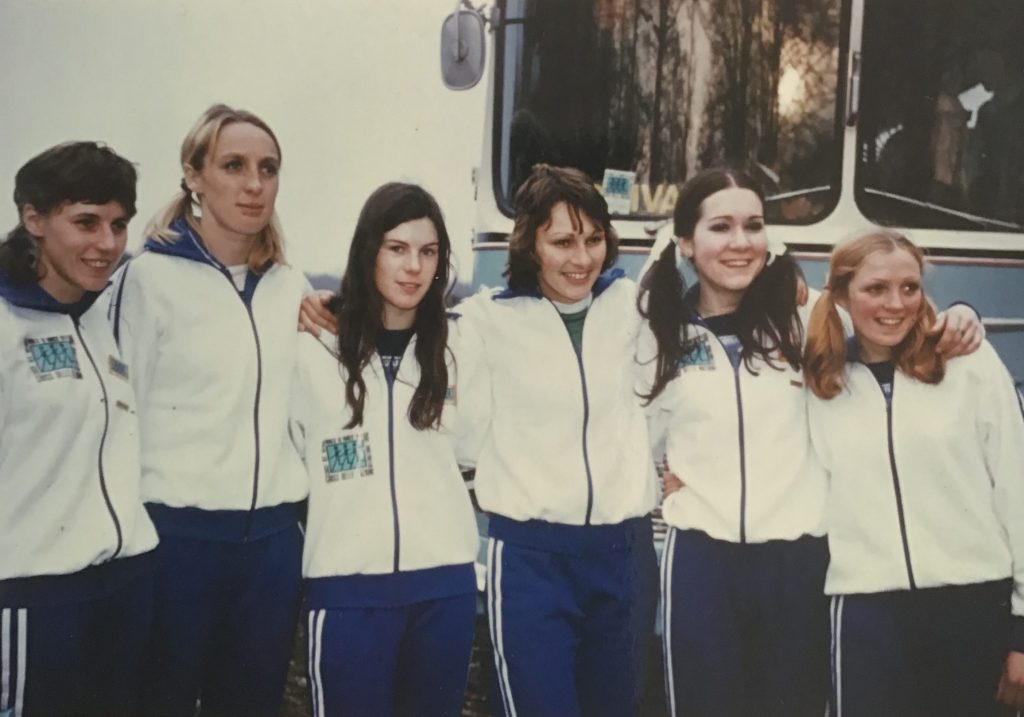 Scottish women's team for Monza in 1974 – Palm on extreme left.
In 1974/75 Palm finished fourth – her highest placing since her debut in the senior event in 1969. In the race, held at Lesmahagow, the first three were all Anglos and Palm,who according to the Athletics Weekly 'ran most of the race in isolation' again had to wait for selection since neither Mary Stewart, another Anglo who could not fly up from Birmingham because of a strike at the airport, nor Moira O'Boyle, suffering the effects of of smallpox vaccinations, could run. She was selected however, and finished 67th in the race held at Rabat in Morocco. She had earlier – on 18th January that year, run for the Scottish team, crossing the line in 14th, that finished second to England in the Home International held in Coatbridge.
By winter 1975/76 Palm had basically stopped serious training. Doug and herself had moved to Lenzie, near Glasgow, and she turned out in the National Championships that year as part of the Victoria Park team and – with Moira O'Boyle in second, Noreen O'Boyle being 26th and Palm in 28th – won another medal in the team championships, silver this time to go with the three golds with Hawkhill.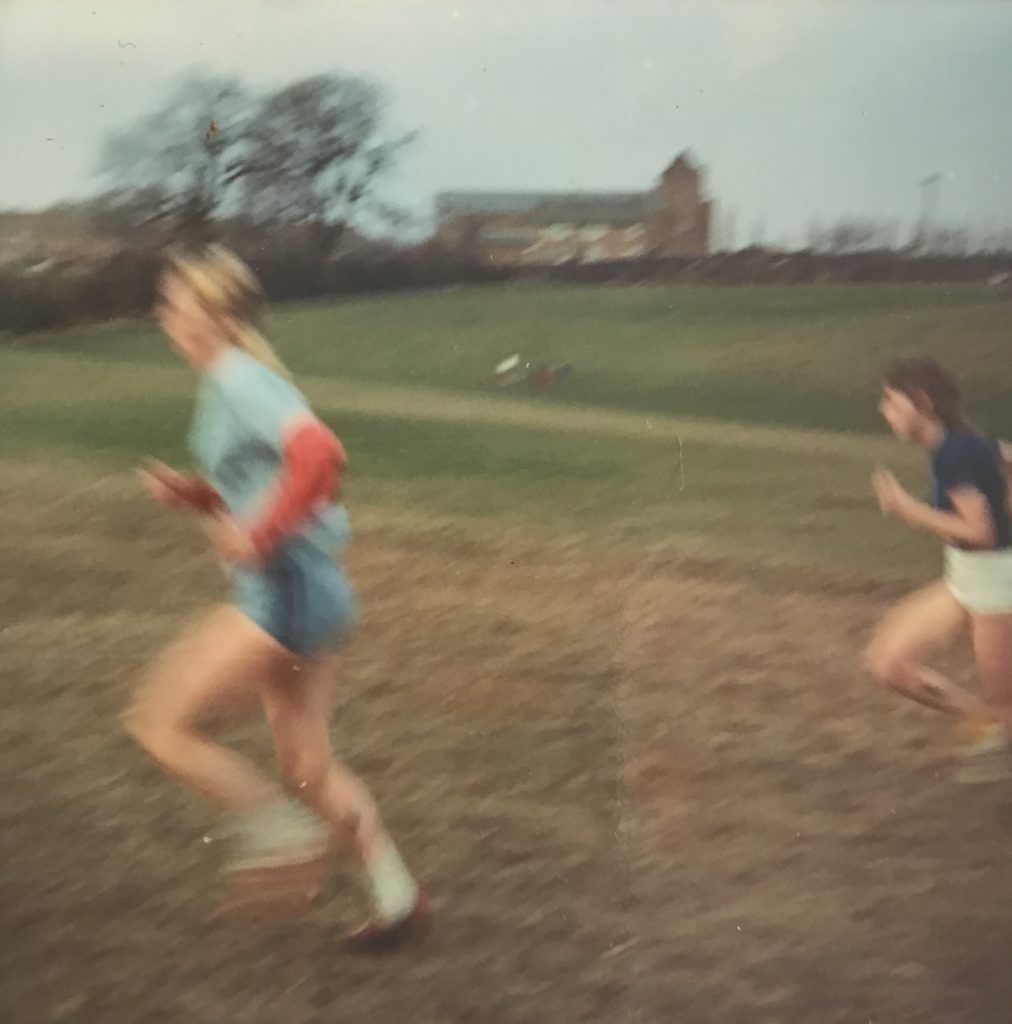 Palm and Margaret Coomber in Leicester, 1974
Over the period between 1969 and 1975 Palm had run in every English National Cross-Country Championship: 1969 – Aldershot – 51st, ; 1970 – Blackburn – 52nd; 1971 – Wolverhampton – 44th; 1972 – High Wycombe – 61st; 1973 – Rawtenstall – 33rd; 1974 – Leicester – 23rd; 1975 – Parliament Hill – 28th. These races often incorporate domestic international matches – as the photograph above shows
"The individual I admired and think greatly of, and who gave me the desire to compete in cross-country, road and hill running was Dale Greig. She was quite a private person but once I got to know her I found her to be one of the most under-rated of athletes. Dale was a true pioneer of women's cross-country and road running, and it's a shame that the majority of women competing in these mass events will never have heard of Dale, or realise that without the determination she had to get women included in all types of races a lot of races in Scotland would not exist today."
Given these comments and the inspirational effect of her friendship with Dale, it should be no surprise that she ran a marathon – the 1981 version of the London Marathon where she ran a very creditable time of 4 hours 14 minutes and 40 seconds, given that with two very young children and limited training it was a good run. The following year she again tackled the event taking four minutes from that time (4:10:39). Palm's running from this point was entirely road and cross-country with some hill running added. She returned to the East District Cross-Country Championships where she had performed so well in the past and in 1983 finished 14th with 19th place in 1984 being good enough to help Hawkhill to a team bronze medal. These were probably good enough to win veterans medals because her running at that point was good enough to win the Scottish Vets Cross-Country medals in 1984 (1st) and 1985 (2nd). In 1984 she had a really active and successful series of races including
4th February, Scottish Vets Championships, 1st
11th August, Largo Law Hill Race, 1st
26th August, Glasgow Hospice 10K, 1st Vet
7th October, Vets Races Victoria Park Road, 1st
4th November, Vets Races, Aberdeen Cross Country, 1st
In 1985 the SWCCU Road Race 10K Championship, incorporating the Prince and Princess of Wales Hospice run, was held in Glasgow. Palm entered and ran well – so well that she was first veteran and Scottish champion. First veteran in this Ladies Only race was no easy task. It was to be a good day for Dundee – Liz Lynch, home from America, won the race and Palm was first vet to finish.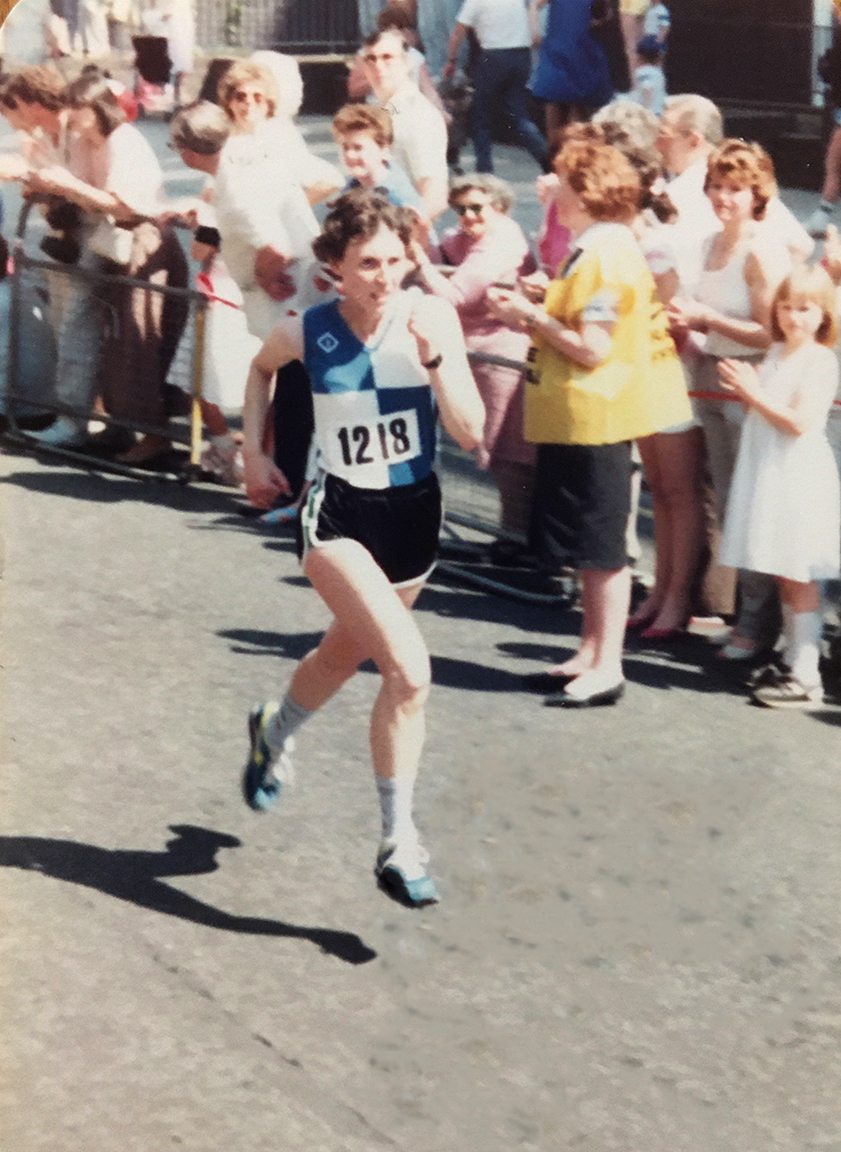 Palm wins the Glasgow 10K Race
Her principal races that year were as follows.
24th February 1985, Scottish Vets Championships, 2nd
13th April, Tom Scott 10M, 1st Lady + 1st Lady Vet
19th May, Glenrothes Half Marathon, 1st Vet and 2nd Lady
2nd June, Glasgow Hospice 10K, 1st Vet.
16th June, Lomonds of Fife Hill Race, 1st
4th August, Auchtermuchty, 1st
10th August, Largo Law Hill Race, 2nd Lady
The London Marathon experiences inspired Palm to aim for her home town version – the Dundee Marathon was one of many that had sprung up across Scotland at the time, and this one was given a big build up including regular daily radio slots by Donald Macgregor on training for the distance as well as schedules in the local papers. It was to be held on 28th April when the weather could have been expected to be fairly good for distance running. However, Pressreader tells us that 'April showers were in full flow as runners from across the country flocked to Dundee …" and after the race Doug, Scottish Marathon Club treasurer at that point, reported on the race with an opening line of '"A cold, if not gale force, westerly wind greeted runners and soon after halfway, even for the leaders, this was accompanied by sleet. This made life miserable." Neither did full justice to the conditions – it was maybe sleet at the finish, but it was certainly snow during the race! Palm had been training hard and hoping for a sub-3 hours time. It was all planned carefully including deciding which male runners to run with. But the race stewards had other ideas and separated the men from the women by a rope which split the road in half with women on one side and men on the other. In addition they were lined up alongside the fast men. She started a bit quickly but then the sun which had been shining brightly at the start changed to snow. In short sleeves and not wearing gloves she was frozen by the time her Mum had managed to get a pair of glove to her at about halfway. All the runners were suffering to some extent – Palm points out that the runner in front of her was given an anorak by a spectator! She started walking for a bit but a friend in the race caught up with her and encouraged her to press on because a 3:15 time was on. She didn't quite make that but her finishing time was 3:17:39. As Doug said in his article for the SMC Magazine, "This (weather) made life miserable." It was still a very respectable time.
It has been really memorable career so far – a good track runner, a very good road runner and an international cross-country athlete. She really loves running and there have been moments and memories scattered through her career in the sport. For instance, she ran in the Around Cumbria race in 1978 when her daughter was about 9 months old after being invited by Dale Greig. Dale was concerned after persuading the organisers to put on a women's race that nobody but herself seemed to be going to turn up so she asked Palm if she would go. She really only went as it was Dale who asked and didn't want all her efforts to be wasted or her embarrassed as they had put up a trophy.
Then there was the cycling. Another unknown was that she joined the Heatherbell Ladies Club back in the late 1960's because she was friends with some of the cyclists: and on 3rd June 1969 she took part in their club championship 15 mile time trial. Despite falling from her bike at a turn, she won the Novice Trophy and gained their bronze standard for her time of 44:04. Palm at that time used to attend a circuit class and one of the cycling coaches there had maintained that cyclists were only 'bike fit' and not physically fit. He encouraged her to take part in the championships where the competitors went off at one minute intervals – she nearly caught one of the top club members. Fortunately for us, she decided to stay with athletics!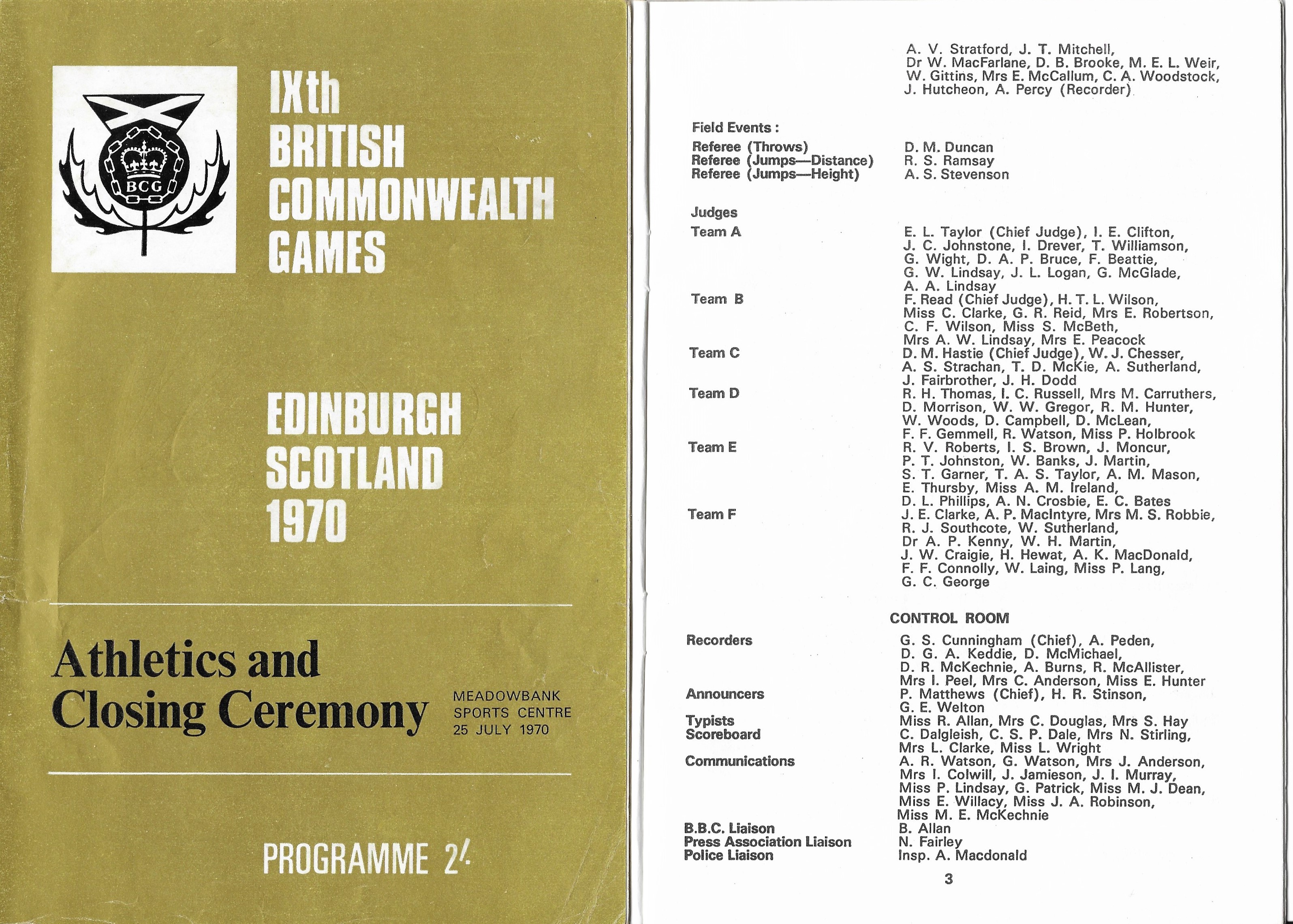 The programme above is a reminder that Palm is more than just a runner of serious ability. In addition to being a talented athlete, Palm was also an effective and efficient administrator in the sport where she was Scottish Women's Cross-Country Union Secretary in 1969/70, 1970/71 and 1971/72. This was followed by three years as President in 1979-80; 1980-81; 1981-82. By the time of the 1970 Empire and Commonwealth Games in Edinburgh, she had already officiated at the international cross-country championships in Clydebank in 1969. The late 1960's and 1970's were a very significant period in Scottish athletics with the sport enjoying a high profile. Palm's name can be seen at the foot of the page as one of the Communications team. When asked, she tells us that her job was to answer the telephone if and when the judges phoned up with any queries. As one who has been in a similar team for the GB championships at Meadowbank, it is not a sinecure but as Palm said, they were housed up in the box which overlooked the entire arena so they had the best seats in the house. Not all tasks which were allotted to her as Secretary or President of the Union would be as rewarding.
It all comes back to the running though and we can close by echoing Palm's comments that she is glad she discovered road and cross country running. Reasons? The officials who would stand in all sorts of weather encouraging all runners right down to the last across the line; the runners who are very friendly and always friends for life and finally because she has seen parts of the world she would not otherwise have seen at the time.