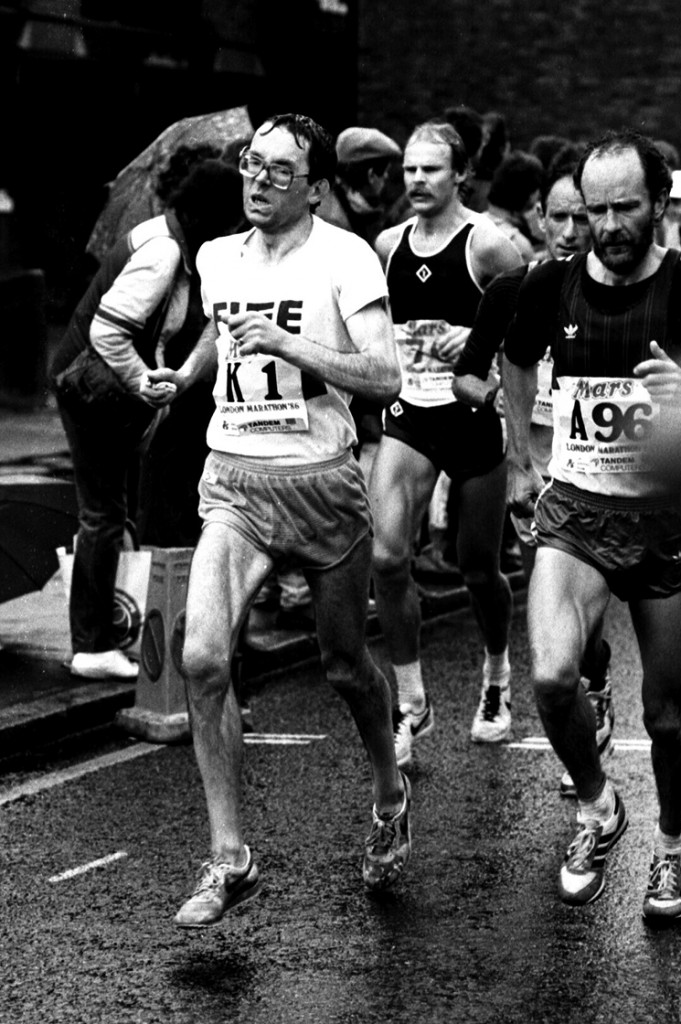 Donald Macgregor
Olympian Donald Macgregor has written about the first two People's Health Dundee Marathons (both of which he won) in his fascinating autobiography "Running My Life". Aberdeen and Glasgow had led the way, while the Edinburgh People's event had not been a success. However Dundee – the 'City of Discovery' – was determined to create a well-organised, popular event. It was sponsored by Radio Tay, The Courier, the Health Organisation Council and the City of Dundee.
1983 24th April: City of Dundee People's Health Marathon
1 Don Macgregor (Fife AC) 2.17.24 1st Veteran
2 Terry Mitchell (Fife AC) 2.20.50
3 Rab Heron (Brighton and Hove AC) 2.21.26
4 Craig Ross (AAAC) 2.22.43
5 Murray McNaught (Fife AC) 2.23.34
6 Sam Graves (Fife AC) 2.23.57
1st Woman: Marjorie Thoms 3.02.08
According to Don Macgregor, "the course started in City Square then went round a small loop then westwards towards Invergowrie, Back to Broughty Ferry past HMS Victory and the shipyards. Next was a wide arc north of the Kingsway, past the Dundee University playing fields at Downfield, before rising to the highest point about 21 miles, just before Lochee. Then the course descended in swoops towards the city centre before flattening out into the main street and the finish gantry in City Square."
A huge field of around 3500 started, on a cool day, ideal for running. Richie Barrie (Dundee Hawkhill H) led for sixteen miles and he and Macgregor broke away after five miles. After Richie dropped out, Donald describes concentrating hard during the last ten miles on his own. "You have to stay focused all the way. It's possible to exchange remarks for a second or two but best not to stop. Better to take sponges and drinks on the run, snatching a cup of water or juice or in some cases a special drink from the tables, and pour the water – not the juice – over your head, wiping head, neck, face, arms and thighs with a well-filled sponge or two. "I got to the top of the hill with an effort and after that my cadence grew more fluent; I was able somehow to run more smoothly and on the downhill my stride lengthened. Gradually the lead over Terry Mitchell, who had moved into second and had been catching me, increased. At the finish it was over three minutes……It was the fastest time by a veteran in the UK that year. Charlie Robertson of Newport, Scottish marathon champion in 1948 and 1952, won the over-65 title with around 3.20."
1984 29th April: City of Dundee People's Health Marathon
1 Don Macgregor (Fife AC) 2.18.16 1st Veteran
2 Charlie Haskett (Dundee Hawkhill H) 2.18.41
3 Murray McNaught (Fife AC) 2.19.44
4 Alastair Macfarlane (Springburn H) 2.19.56
5 Don Ritchie (Forres H) 2.19.58
6 Terry Mitchell (Fife AC) 2.20.24
1st Woman: Margaret Baillie 2.51.12
2000 ran.
Since the first Dundee Marathon, "Don Macgregor's Marathon Manual" had been published by the Scottish Health Education Group and Radio Tay. This was full of excellent advice. In addition, to encourage would-be marathoners, Don had delivered no fewer than 26 four-minute weekly slots on Radio Tay on Saturday mornings.
The author describes the race. "The weather was a bit colder but again not too windy. The pack ran together for the first few miles, until Terry Mitchell and then Charlie Haskett pulled away from me along the outer roads from 15 miles onwards. I did not think I would be able to catch Terry, but somehow reeled him in, then went after Haskett. I passed him as we started the downhill, and he couldn't respond sufficiently to stop me building up a slight lead. I didn't look back until the bottom of the hill. He wasn't far away, but far enough. I crossed the line considerably less fresh than in 1983, 25 seconds to the good. Charlie was obviously disappointed, but I was relieved rather than exultant."
In "Relay", the Fife AC magazine, Don was less restrained: "On the downhill, DFM sensed that CH's dominance had gone, and forced the pace on the Lochee Road – and a gap opened – yippee! Bit by bit it grew to 30 yards, 50, 70 and by 25 miles it was clear that only falling over would stop 'Der Alte' from repeating his 1983 victory. "I wish I could have spent a bit more time running up and down that last 300 waving at the crowd," said the slightly amazed champion, who thought Time's winged chariot would get him this time. McNaught ran excellently to confound the lack of mentions pre-race, and took himself down to 2.19.44. Five were under 2.20 – classy stuff! Terry, though disappointed, really made the race and was, despite fading, faster than last year. Sam Graves sped to 2.22.19 (PB)."
"Margaret Baillie was the superstar of the ladies race, winning by sixteen minutes (and one second), from 1983 champion Marjorie Thoms in a splendid 2.51.32. It was Margaret's third marathon and she finished in excellent shape. For those of you who don't know her, she's rather small, looks fit, and like men's winner Don, has two children (now there's a hint if you're looking for the secret of success!) The Courier described her as "mother of two" but refrained from "father of two" for any of the men. Bell-Baxter PE teacher Jocelyn Scott, who ought to be an FAC member, was third in her debut in 3.13.55. Great stuff! Kim Macgregor (3rd marathon) was encouraged (she said on the radio anyway) by news filtering back of father-of-two's victory, to scamper home about 8th or 9th of the ladies in 3.25.04, and that includes time spent waiting to be registered by the key-in man, she swears. A PB by 23 minutes – all the miles were worthwhile."
1985 28th April: City of Dundee People's Health Marathon
1 Murray McNaught (Fife AC) 2.20.25
2 Craig Ross (Dundee Hawkhill H) 2.23.10
3 Doug Hunter (EAC) 2.24.25
4 Sam Graves (Fife AC) 2.25.44
5 Charlie Haskett (DHH) 2.26.06
6 Peter Wilson (AAAC) 2.26.31
7 Don Ritchie (Forres H) 2.26.35 1st Veteran
8 Dave Hamilton (DHH) 2.27.43
9 Dave Wyper (Bellahouston H) 2.28.06
10 A. Graham 2.28.30
11 Peter McGregor (VPAAC) 2.28.31
1st Woman: Ann Curtis 2.48.00
2 Tricia Calder 2.48.26
3 Jill Danskin 3.02.21
4 Carol Gray 3.02.36
5 Caroline Moorat 3.03.14
6 K. Sloan 3.04.58
7 Gail Pope 3.06.12
8 Sheila Cluley 3.08.06
9 A. McMurray 3.09.27
10 A. Wilson 3.09.52
Doug Gunstone reported for the Scottish Marathon Club magazine. "A cold, if not gale force, westerly wind greeted runners and soon after halfway, even for the leaders, this was accompanied by sleet. This made life miserable, especially for the slower runners in the second half of the race."
"2215 faced the starter (only 65 did not reach the finish) and a large group of over fifty formed at the front for the first three miles out the Perth Road and against the wind, but as the course swung around and runners enjoyed a following wind, the pace increased considerably and the bunch was reduced to around 20. It was Craig Ross who made the first serious break as the course turned back into the wind at 11 miles, and started to climb away from the Tay. By halfway, in around 69 minutes, he was pulling clear ……… For a couple of miles it looked as if Craig might run right away, but gradually the joint pre-race favourites, Charlie Haskett and Murray McNaught began to peg the lead back and by 17 miles shared the lead. The next few miles saw Murray hanging on as Charlie made his bid but on the last uphill climb towards the 22 mile point Murray made his move and soon pulled clear, running in an easy winner, almost three minutes clear of Craig Ross. Craig had stuck to his task well after being dropped and he enjoyed his most rewarding marathon for some time. Doug Hunter ran a typically steady race for third place, and Don Ritchie took the veterans award, a week after running the London Marathon. The team race was won by Hawkhill Harriers, who comfortably beat Fife AC, the winners in the previous two years. The women's race was won by Ann Curtis, who led all the way and was rewarded with her first sub-2.50 clocking and a course record. The late rush by Tricia Calder was not quite enough and she was still 36 seconds behind Ann at the finish. Murray's winning time was only 41 seconds slower than his PB, and after what was on his own admission an unspectacular winter season, his ability to peak for the race that he was aiming for is highly commendable……. Mass participation road racing appears to be here to stay in Dundee."
"Relay" is less serious in tone. "Who won his last victory at Babcock and Wilcox Sports in 1964? Who asked NOT to be made favourite for Dundee? Who looks like a Spaniard – so much so that the SAAA officials mistook him for one last year? Who showed on Snowy Sunday that he had convinced himself he was a winner? Who passed impetuous ex-FAC man Craig Ross and pulled three minutes clear of him and last year's second-placer Charlie Haskett to cross the line with both blue gloves thrust skywards and last year's winner shouting about him over the Radio Tay airwaves? Whose wife said of his victory, "I never expected anything else"? Yes, the answer is our latest Fife AC hero Murray McNaught, the architect of victory."
1986 27th April: City of Dundee People's Health Marathon
1 Colin Youngson (Aberdeen AAC) 2.20.03
2 Murray McNaught (Fife AC) 2.21.08
3 Sam Graves (Fife AC) 2.23.44
4 Craig Ross (DHH) 2.24.02
5 Peter McGregor (VPAAC) 2.29.24
6 C. Hoffman (2.32.02)
7 George Reynolds (Forres H) 2.32.09
8 E. Jones 2.32.16
9 Ken Duncan (Pitreavie AAC) 2.32.23
10 Mick Francis (Forres H) 2.33.17
1st Woman: Morag Taggart (Pitreavie AC) 3.06.40
2 E. Kyle 3.11.10
3 C. Chambers 3.12.37
4 U. Webernboerfer 3.13.40
5 M. Rabold 3.14.09
6 J. Armstrong 3.15.18
7 L. Simpson 3.16.50
8 E. McMurray 3.17.59
9 P. Webster 3.25.43
10 J. Baxter 3.27.33
Fewer runners entered: 1650.
The winner's diary notes the following. "I did not do the pre-marathon diet but tried ginseng tablets with yeast and iron and avoided milk or cheese the week before the race. Nevertheless I had the usual problems with catarrh for ten miles. There was a headwind so the pace was slowish and about fifteen kept together. Suddenly, on a short steep hill about twelve miles, the group was down to three – Murray McNaught, George Reynolds and myself, with Sam (or Ian) Graves chasing. We dumped George, and then I mashed Murray up the big hill after 19 miles. He kept the gap to 65 seconds. Felt strong but underestimated the speed (thought it would only be about 2.23) and slowed a little to chat with the lead cyclist. Then, when I saw the finish clock in the distance, I had to go mental trying to sprint but just missed ducking under the magic 2.20. Still a good run for me at the age of 38."
26 year-old Morag Taggart from Dunfermline said that she had hoped for a faster time but the hot conditions had not helped. "But it was a good race," she enthused, "The spectators, especially, made the day."
1987 26th April: City of Dundee Peoples Health Marathon
1 Terry Mitchell (Fife AC) 2.22.19
2 Charlie Haskett (DHH) 2.28
3 Sam Graves (Fife AC) 2.29.13
4 George Reynolds (DHH) 2.29.59
5 Paul Briscoe (DHH) 2.32.54
9 Stuart Asher (Fife AC) 2.35.15
10 Doug Gunstone (Fife AC) 2.35.49
11 Bob Wood (Dundee RR) 2.36.55 1st Veteran
1st Woman: Jill Danskin (London Olympiades) 3.02.20
2 Margaret Robertson (Dundee RR) 3.09.04
3 M. Muir (Dundee RR) 3.12.16
Team: Dundee Hawkhill Harriers.
853 ran
"Relay", the Fife AC magazine reported: "Phewwhatascorcha! screamed the Courier headline, and there was no denying that this year's Dundee Marathon was indeed a warm affair, with temperatures in the 60s, a pleasant change from the usual wind and snow. Keeping cool at the front of the field was Fife AC's distance dynamo, Terry Mitchell. The race was expected to be between Terry and Dundee Hawkhill's Charlie Haskett, but an increase in pace along the waterfront section towards Broughty Ferry left Terry clear after ten miles. The fair-haired St Andrews chef went on to serve up a comfortable win, putting almost six minutes between himself and the second-placed Haskett. This was Fife's fourth win in the men's race, Don Macgregor having won it for the first two years, followed by an '85 victory by Murray McNaught. As in '85, Sam Graves was second Fife man home, this year's third equalling his highest finish in the race."
The Scottish Marathon Championship was included in this event, so Terry, Charlie and Sam were the SAAA gold, silver and bronze medallists. "The only problem was in the last six miles when I began to feel the pace a bit, but I got to the end okay," said the victor.
24th April 1988: City of Dundee Health Marathon
1 Sam Graves (Fife AC) 2.27.50
2 Paul Briscoe (DHH) 2.29
3 Stuart Asher (Fife AC) 2.29.40
4 Rod Bell (DHH) 2.30
5 Murray McNaught (Fife AC) 2.31
6 Andy Stirling (Bo'ness) 2.31
1st Woman: Jill Danskin (London Olympiades) 3.01
"Relay" reported: "Fife athletes were out in force, as always, for this event and as always dominated the event. Weather conditions were favourable with a cool gentle breeze as the runners set off on their 26.2 mile task (must be mad). Murray McNaught took up the lead early on and remained in front for about 20 miles. Stuart Asher made his move after 15 miles by slotting into second place, but with Murray fading, it was Sam 'When are my subs due?' Graves who made a late burst to win this race at last. Fife AC picked up the team prize, with Sam, Stuart and Murray doing us proud."
14th May 1989: City of Dundee Health Marathon
1 Paul Briscoe (DHH) 2.33.14
2 Bob Wood (DRR) 2.35.45 1st Veteran
3 D. Lancaster (DHH) 2.36.48
4 N. Craig 2.37.20
5 Dave Hamilton (DHH) 2.37.23
6 Rod Bell (DHH) 2.37.38
7 Charlie Love (DHH) 2.40.34 2nd Veteran
8 J. Lumsden 2.40.50
9 Doug Gunstone (Fife AC) 2.42.33
10 Graham Flatters (DHH) 2.42.33
1ST Woman: Jill Danskin (London Olympiades) 3.00.39.
Jill Danskin, a team-mate and training partner of the illustrious Leslie Watson, became the most successful female competitor in the Dundee Marathon, with a third place in 1985 and three wins in succession from 1987-89. Paul Briscoe ran for Dundee Hawkhill Harriers in the Edinburgh to Glasgow Relay; and won a team silver medal in the Scottish National Cross-Country Relay in 1990; plus a team bronze medal in the National CC in 1993.
1990 13th May: City of Dundee Marathon
1 Stuart Asher (Fife AC) 2.28.57 1st Veteran
2 Bob Wood (Dundee Road Runners) 2.29.17 2nd Veteran
3 Paul Briscoe (DHH) 2.29.46
4 Rod Bell (DHH) 2.32.58
5 Dave Hamilton (DHH) 2.36.09
6 Mitch McCreadie (Fife AC) 2.37.29
7 Steve Borland (DHH) 2.37.42
8 Mike McHale (Pitreavie) 2.38.21
9 Richard Davidson (DRR) 2.38.45
10 D. McNicol (Fife AC) 2.38.56.
Stuart Asher, a good hill runner, is a quiet man with considerable athletic talent. He was understandably pleased to win his local marathon after a fine battle with the consistent Bob Wood and previous winner Paul Briscoe.
12th May 1991: City of Dundee '800' Marathon
1 Hugh Mackay (Fife AC) 2.26.03
2 Rod Bell (DHH) 2.26.10
3 Euan Wilkinson (Calderglen H) 2.29.22
4 Dave Hamilton (DHH) 2.30.39
5 Davie Fairweather (Cambuslang H) 2.31.00 1st Veteran
6 Don Ritchie (Forres H) 2.32.03
7 Stuart Asher (Fife AC) 2.32.30
8 George Sim (Moray RR) 2.32.57
9 Bob Wood (DHH) 2.33.39
10 Craig Ross (DHH) 2.35.29
1st Woman: Eileen Masson (Kilbarchan AC) 2.45.52
2nd Aileen Wilson (DHH) 2.56.35 1st Veteran
Eileen Masson also won the Scottish Women's Marathon title twice: in 1988 (Aberdeen Marathon); and in 1991 (Inverclyde Marathon at Greenock).
Before he switched to Fife AC, in 1985 Hugh Mackay set club records for Dundee Hawkhill Harriers: 800m in 1.52.20 and 1500m in 3.48.3; so his ability to produce a sprint finish to win a competitive marathon was not surprising but his stamina certainly was!
Don Ritchie wrote in his training diary: "I ran in the ninth and final edition of the City of Dundee Marathon. My start was fine and I tucked in with the leading bunch, but I drifted off the back as I began to find the pace too hard to maintain. I was pleasantly surprised to regain contact with the group by the time we got to Riverside Drive. I got my first drink at nine miles, but had to stop to retrieve it from the table. This, plus trying to drink it caused me to lose contact with the group, but not with John Duffy of Shettleston. We ran past ten miles in 55.24 and the halfway point in 1.13.06, which was pleasing. Now, however, we were exposed to winds and our pace slowed.
I got my second drink, again 330 ml of 10% solution of Enduro Booster at 17.5 miles. At 18.5 miles we were joint 10th and I decided to try to push on and passed 20 miles in 1.55.50 and I was pulling in the runner ahead. There were some stiff climbs after this and I managed to catch and pass three runners in the last two miles, including George Sim, which was pleasing. My time was a little disappointing, but if I could have held onto the main group until the start of the return journey, I am sure that I could have produced a better time. I am, however, quite pleased with my run."
Thus ended the City of Dundee Marathon, for nine years a successful race on a fast course. The event's rise and fall coincided almost exactly with the boom years of Scottish, and indeed British, marathon running. Maybe the fashion will return in the 2020s?